Are you struggling to get enough conversions on your sales pages?
Your sales page is your best opportunity to explain your products and services to visitors and make them want to buy. If it's not optimized for conversions, you're losing money. And any marketing and advertising budget you're spending to promote it will be wasted.
Wouldn't it be great if you know the secrets of writing high converting sales pages so you could funnel a steady stream of revenue straight to your bank account?
That's what we're going to share in this article. By the end, you'll know how to write a sales page that converts like crazy so your business revenues stay healthy, and growing.
Here's a table of contents so you can navigate them easily.
1. Understand Your Audience
First things first: You can't write good sales copy unless you know who you're talking to.
Before putting pen to paper (or fingers to keys), it's essential to understand who your audience is and what they're looking for when they consider buying your product or service.
One of the best ways to do this is to create a customer avatar or buyer persona. That's a fictional person who represents your ideal customer. While the persona may be fictional, it's based on real data collected from:
Customer surveys
Web analytics
Social media analytics
Other online research
Once you've got a buyer persona, you'll understand your prospective customer's influences, pain points, challenges, and motivations so you can create copy that addresses them. And you can use this information in your copy to specify the audience you're targeting,
Here's our guide to creating a concrete buyer persona to help with this.
2. Create a Value Proposition
When you know who your customers are, you'll be able to articulate your value proposition. That's a statement of the benefit you provide and the problem you solve for your customer, and why you're the best person to do so.
Ideally, this'll be a single sentence or short phrase that'll guide the rest of your copy. Here's a really simple fill-in-the-blank value proposition template by Steve Blank:
We help [X] to [Y] by [Z].
If you filled it in for OptinMonster, you could get something like:
We help marketers and business owners to build their email lists and boost sales by providing high-converting marketing campaign software.
Try it for your own business, then check out our article for more value proposition templates and examples.
3. Get the Price Right
One last thing to determine before you start writing: How much does your product or service cost?
One of the big sticking points for many prospective buyers is the price. To succeed in winning the value vs. cost argument, it'll help if you can make pricing less of a sticking point.
Some proven techniques to try include:
Offering more than one price point. If you have three, it's likely that people who buy will take the middle one, as it looks like better value. This is called price anchoring.
Labeling your price points with descriptive names to help users to self-select.
Make sure your price ends with a 9 – the research says more people gravitate towards this.
Here's an example from WPForms that uses several of those pricing strategies: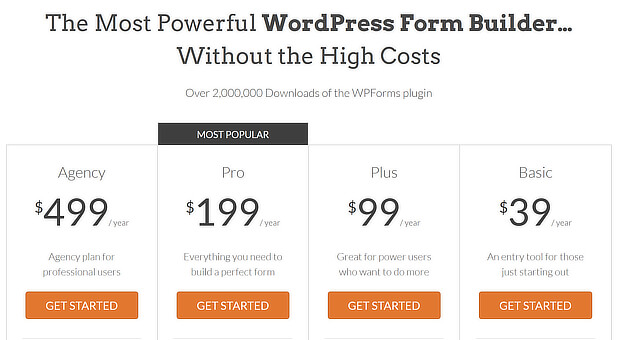 Learn more about pricing strategy in our article on pricing page tips.
4. Determine the Right Length
After you understand your target audience and what you have to offer them, it's time to start writing your sales page.
But how long should the copy be?
The short answer is: as long as it needs to be to get the job done. That'll vary depending on what the copy is for, and how your visitors respond.
As QuickSprout points out, long copy lets you deal with more customer objections, so that when people click the call to action, they're definitely convinced. Long copy's also useful for products and services that need a lot of explanation.
But if you can explain your offer simply, then you don't need to add more copy. For example, Groupon explains its purpose in a sentence and takes you straight to the deals.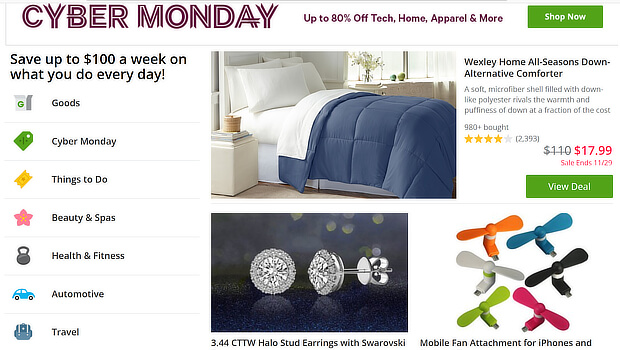 Even a long sales page will include both short and long copy. The short copy caters for those who are already convinced, and is usually accompanied by a call to action near the top of the page. The long copy helps you make the case for those who are less easy to persuade, and will include a couple more CTAs.
For example, here's the short copy for Muck Rack's landing page: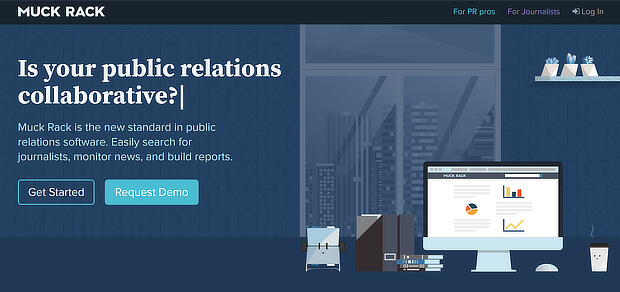 And here's some more detail further down the page: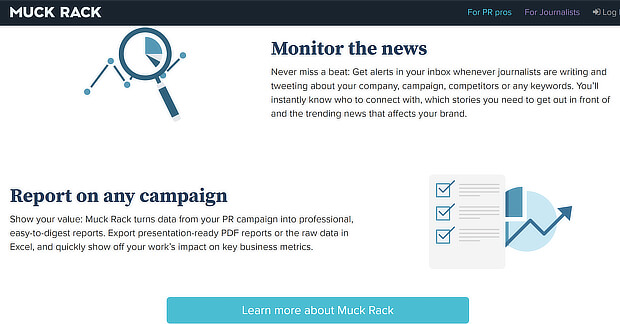 The page also includes testimonials and a final CTA.
How do you know which type of sales page will work for your audience?
In the end, the decision will come down to testing. That's the best way to separate sales pages that convert from those that don't.
5. Nail the Headline and Subheadings
Now you're ready to start writing.
The first step is to create the headline. This is the most important part of your sales page, because if you get it wrong, your visitors will be quick to leave.
The best headlines are short and to the point, but you've still got the subhead to make your case. These tend to be a little bit longer. For example, here's one from Social Media Examiner: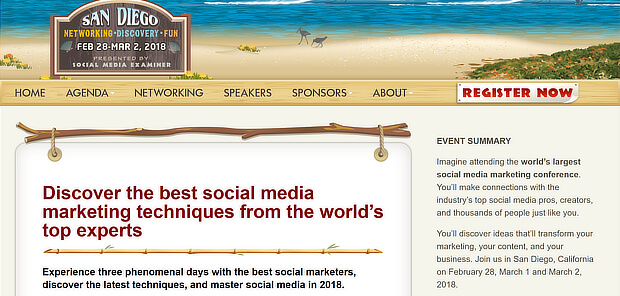 Check out our guide to creating high converting headlines for help with this tip.
7. Describe Your Product
Now, it's time to go into more detail about what your product is, and what it does. This is where you'll reiterate the core problems your visitors face, and break down your solution.
The more descriptive and unique you can get the better. By writing detailed descriptions of each feature, you'll not only have an easier time convincing shoppers to convert, but you can also get some SEO ranking benefits in the process.
For example, here's part of the sales page for MonsterInsights, showing how it provides the key features users want: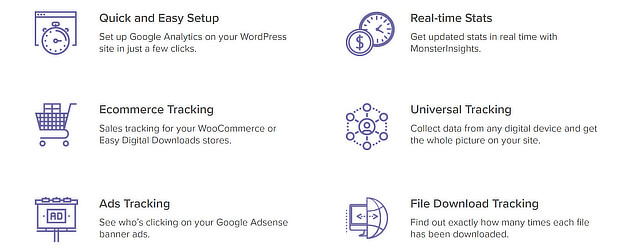 6. Show the Benefit of the Benefit
Anyone wondering how to write a sales page that converts has to understand the principle of features vs. benefits. Your visitors care more about what your product or service will do for them, than they do about all its fancy attributes.
That's why when you look at sales page copy templates, they focus on benefits and not features.
Your benefits will often be listed on your sales page as bullet points, as in the example below from Enchanting Marketing: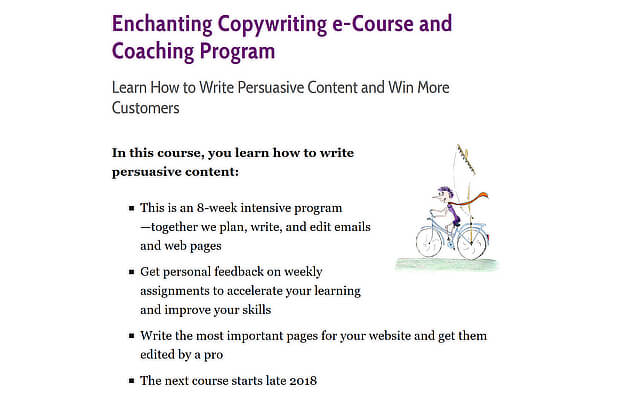 Charles Ngo suggests you go one step further and focus on the benefit of the benefit. For example, if you are selling diet pills, the benefit is weight loss, but the benefit of the benefit could be that you'll be more confident.
James Wedmore uses this on his sales page, showing not just the benefit of free training, but how that training will affect users' businesses: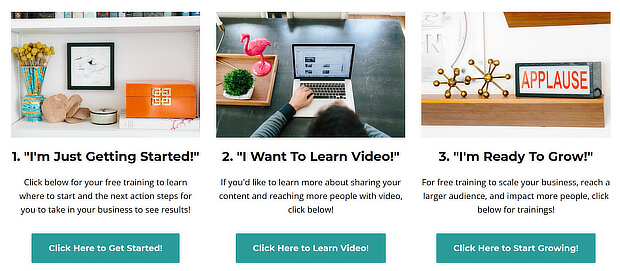 8. Get the Language Right
One thing sales pages that convert get right is the language. Visitors want to know you understand them, so you can use techniques like:
Addressing your customer directly, using "you"
Making them feel like part of the family by using "we"
Showing that you empathize
Telling a story that they can relate to
Using power words to elicit and show emotion
Here's a storytelling example from Crisis Prevention: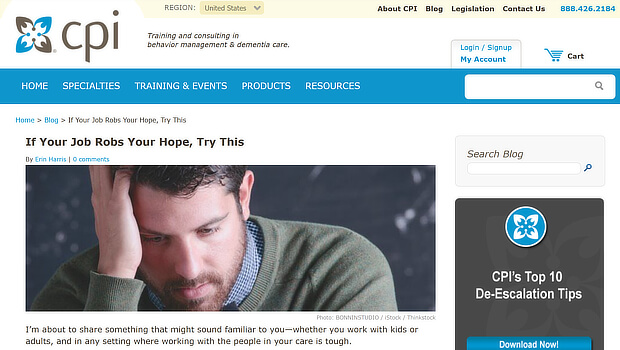 You can make your sales page copy even more targeted by including a "who is this product/service for" section. This allows you to make sure you're talking to the right people. The British Council's Ukraine site includes descriptions of typical users of its MyClass service: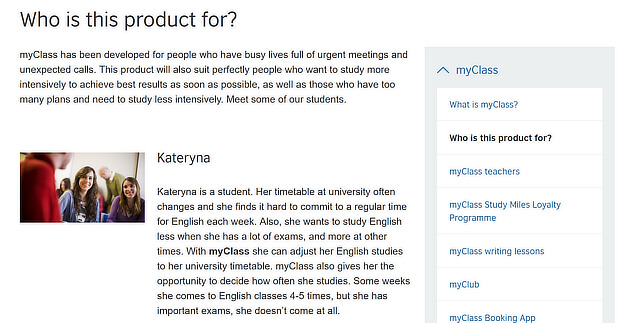 9. Handle Objections
As we said at the start, some people will be willing to buy the minute they land on your sales page. However, others will need more convincing to part with their cash.
The truth is, people can always think of reasons NOT to buy. The best sales pages blow their objections out of the water. Here are some ways to do that.
To address visitors who are unsure why they should buy now, a time-limited discount or offer can help make the sale. You can easily create a popup coupon with OptinMonster to highlight this offer.
If you've explicitly explained who your product is for, then you'll dismiss the objection that your visitor doesn't think it's right for them.
If price is the issue, you can address this by highlighting the value of your product to them, and by using some of the pricing strategies we'll discuss a bit later.
And if they don't trust you, you can handle this with social proof and other trust builders, which we'll discuss in the next tip.
Our article on lead capture has more information on overcoming objections.
10. Prove Visitors Can Trust You
Did you know that 90% of companies only buy from companies they trust? And that 78% of consumers go to brands they trust FIRST when shopping for products and services?
Those are just two reasons why trust factors are so important for creating sales pages that convert. Ways to build trust on your sales page include:
Offering proof of any claims you make, for example, research
Highlighting testimonials from happy customers
Including other forms of social proof that help to enhance your reputation, such as social media mentions and expert endorsements
Giving customers' peace of mind with a money back guarantee
Moz showcases its key stats as part of its sales page:

When you help customers to trust you, it's easier for them to make the decision to buy.
To really kick your sales into high gear, check out TrustPulse. With TrustPulse, you can further leverage the power of social proof. And, adding TrustPulse to your site gives you an instant lift in site conversions by up to 15%.
11. Incorporate Images and Video
Done writing your sales page? Not so fast – don't forget about the impact of visuals.
Even still images grab eyeballs, and you can use them cleverly to direct readers' gaze to the most important areas of the page, as in this example from Vistage: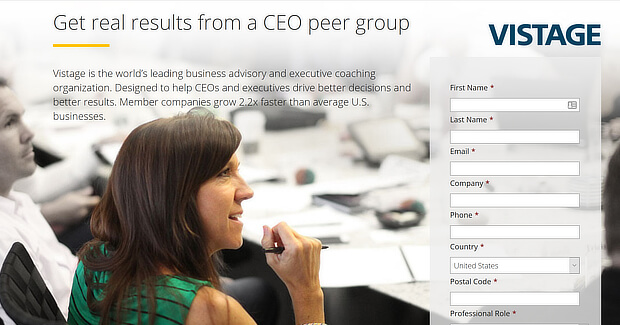 You can also kick it up a notch by using video. Wyzowl's State of Video Marketing report revealed that 81% of businesses who used video in marketing reported an increase in sales.
Other video marketing statistics show that 84% of consumers have made a purchase after watching a video.
A good way to use video on your sales page without reducing your page load speed is to have the video pop up at the right time. You can do this with OptinMonster by following the steps in our tutorial on boosting engagement with a video popup.
You can also check out our roundup of sales promotion examples for design inspiration.
12. Make Your Copy Scannable
Once you have your content ready to go, you'll need to make sure your audience can easily read it.
One of the most important design tips for any piece of online copy is to make it scannable. That means breaking up the text to make readers pause as the skim the page.
In other words, there are no walls of text to make people's eyes glaze over. In fact, at a glance, your sales page should look like it's broken into easily digestible sections.
The best sales pages include:
A combination of short and long lines
Lots of paragraphs
Lists, usually with bullet points
Subheadings
Quotes
You can highlight these by adding design elements like boxes and outlines where appropriate. Here's an example from Thriving Business Community.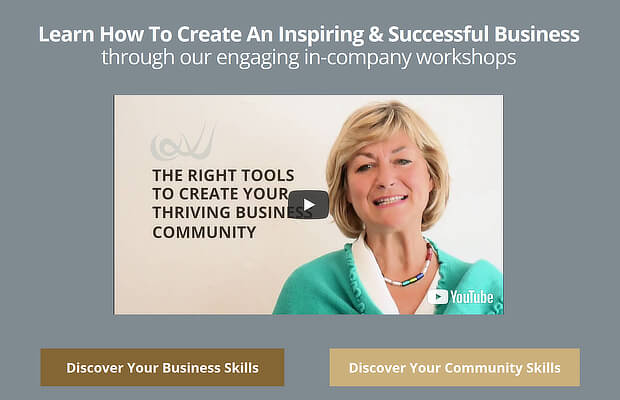 Sales pages that convert will also use a font that's easy to read. It needs to be legible and also large enough for those reading on small screens. Google recommends a minimum font size of 16px.
Check out this list of readable and web-safe fonts to help with choosing fonts to make sure your sales page is scannable.
13. Eliminate Distractions
If you want visitors to focus on your sales copy, you've got to use design to help them.
That means removing any distractions from the core purpose of the page: to inspire readers to click through and convert by making a purchase.
The best sales page examples have no sidebars, and often have minimal headers and footers, or none at all. Everything that's on the page is related to what the site is trying to sell.
Here's an example from Digital Marketer: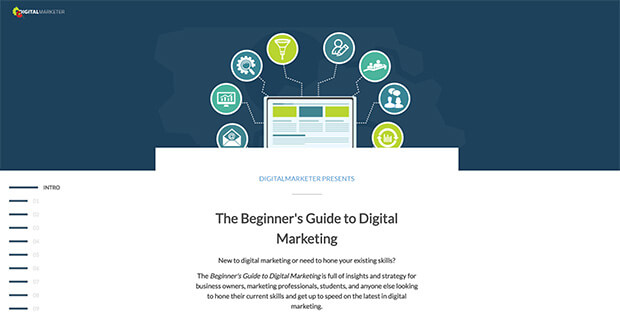 All header menu options have been removed except for the logo linking to the homepage, and there is nowhere else for the reader to go except to continue reading and sign up for a 14-day free trial.
A good starting point for nailing your sales page design is this list of WordPress sales page templates. And you can use these sales page examples from Instapage to create sales pages that convert on any platform.
14. Design a Dynamic Layout
ConversionXL's Peep Laja points out that novelty keeps visitors' attention. That's why it's important to mix things up a bit in terms of design. For example, you can:
Vary the placement of images so they're not all on the same side of the page
Break up the page with different layout elements and styles
Changing the on-page messaging
Here are a couple of examples. StudioPress uses icons and images (placed at intervals on either the left and right) to maintain visual interest.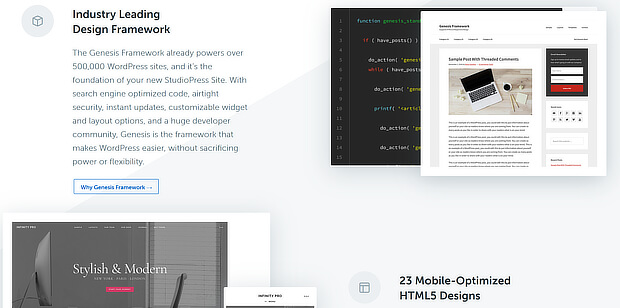 And we change the messaging on our page at intervals. Here's one example: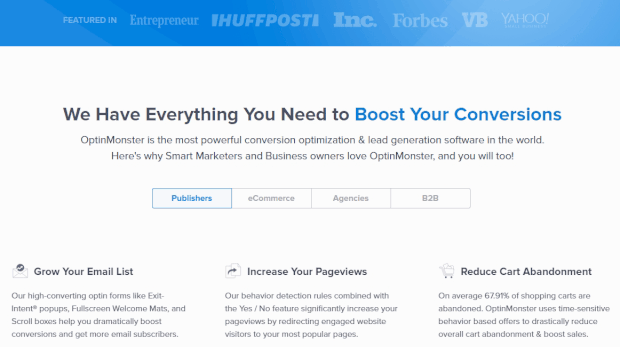 Do this, and your page is more interesting visually, keeping visitors engaged. The longer they're engaged, the better your chances of making the sale.
15. Use Responsive Design
With mobile devices responsible for 60% of holiday shopping traffic and 42% of holiday purchases, you've got to make sure your sales page still works on small screens.
That's where responsive design comes in. It'll make sure your page resizes – and still looks good – no matter what size screen your visitor's using.
For example, here's how OptinMonster's sales page looks on a phone screen: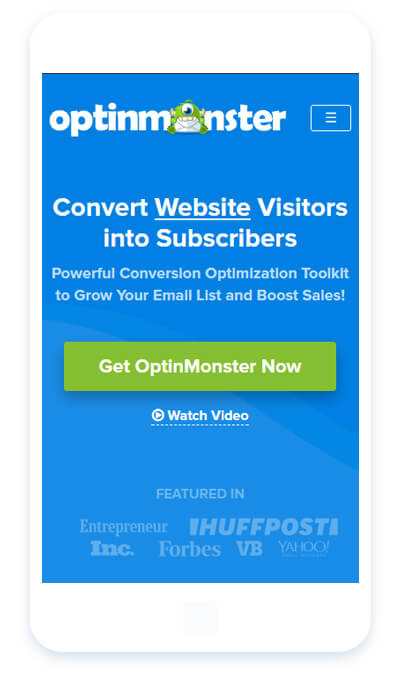 When marketing your sales page you can use OptinMonster for well-designed, responsive, mobile campaign templates that make your sales page even more effective. Here's how you create a high-converting mobile popup.
16. Make a Clear Offer that Impels Action
Finally, your sales page can't do its job without a clear call to action.
Remember, your visitors are only interested in WIIFM (what's in it for me?) so now's your chance to tell them again.
It's the sentence that's going to seal the deal for you, such as this one on Envira Gallery.

It reminds people that publishing is quick and it's a great way to showcase photos in one tidy sentence that sits next to the CTA button.
17. Use Multiple Calls to Action
Look at any sample sales page, and you'll likely see at least three CTA buttons, maybe even more, depending on the length of the page.
The purpose is to make it easy for visitors to buy at whatever point they become convinced. At the very least you'll have a CTA button at the top of the page where your headline and summary copy is, and at the end of the page, for people who read all the way to the bottom, but you'll also include a button anywhere you give a compelling reason to buy.
Our own OptinMonster page has several. Apart from the top and bottom of the page, there are CTAs next to the testimonials, the features list and some of the key benefits.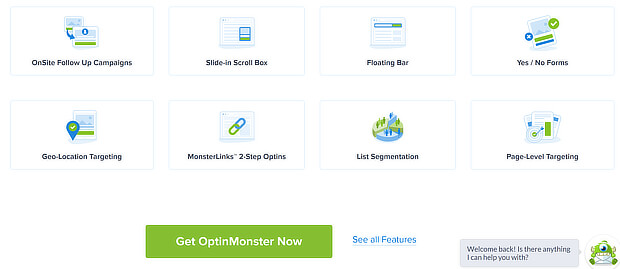 A good CTA:
Shows the benefit of clicking
Uses action words and power words
Highlights value
For help with getting your CTA just right, read our guide to writing the perfect call to action.
Finally, you can add a few finishing touches to compel your readers to take action if they're still on the fence …
18. Make It Urgent
If you really want your sales page to convert like crazy, you've got to use urgency. Human beings hate missing out on anything, and a time limited offer fuels that fear, increasing conversions and sales.
You can have time-based urgency, where there's a discount or offer that's only available for a short time. And then there's scarcity-based urgency, where there's a limited supply of whatever's on offer. Amazon uses scarcity-based urgency all the time by highlighting products that are about to be sold out in red, or by showing when deals are almost fully claimed.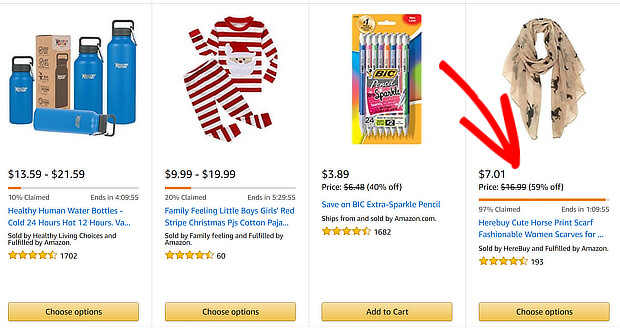 You can do the same on your sales page by using an on-page countdown, or by using OptinMonster to create a countdown popup.
Product completely out of stock? Here's how to win more sales with "out of stock" pages.
19. Use Exit-Intent®
Sometimes, visitors need a little extra help, or can't find the information they're looking for. When this happens, you can save the sale by prompting them get in touch with you before they leave the site.
One of the best ways to do that is to use OptinMonster's Exit-Intent® technology, which detects when people are about to leave and shows your campaign at just the right time.
We use it here on the OptinMonster site to encourage visitors who've been browsing for a while to ask us their questions.
That's all! By putting these tips into practice, you'll see a boost in your conversions and your bottom line.
To help you even more, we've lined up a few more sales page examples you can use as inspiration.
Sales Page Examples
Litmus keeps it simple with a clear statement of purpose, and a subhead that underlines its advantage. The page includes two CTAs;

Sterling and Stone uses three boxes to segment its users, so they'll end up with the right information for their needs. That sets the subsequent landing pages up for higher conversions:

Udemy keeps the headline and subhead short, and shows its key benefits in a band in a contrasting color further down the page: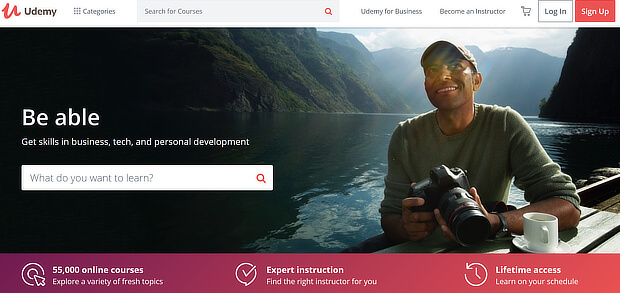 The Productize about page uses storytelling, but also builds trust with a photo and logos of people the writer has worked with: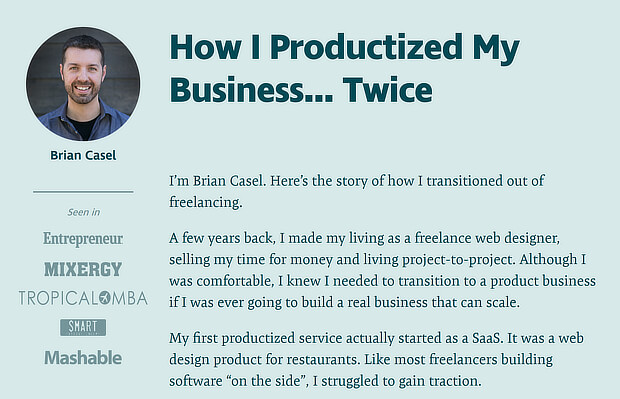 CloudApp's sales page highlights key features, reinforced with attractive images: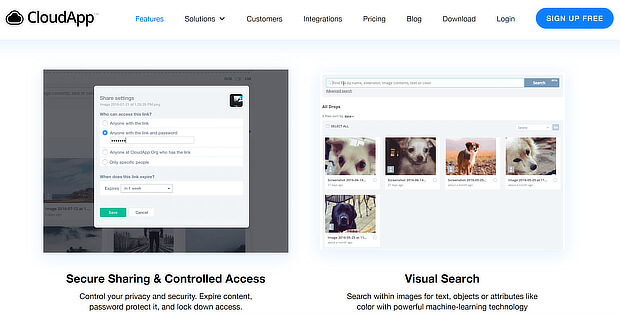 That's it! With these resources, you can stop wondering how to write a sales page that converts and just do it.
Next, check out our article on boosting eCommerce conversions and improving eCommerce email marketing.
And don't forget to follow us on Twitter and Facebook for more useful tips and in-depth guides.