Are you looking for the best email call-to-action examples and practices to grow your email list?
An email call-to-action can make or break your email campaign's effectiveness. Yes, those few words have a surprisingly strong impact, and they need to be spot-on.
No matter how good your content is, a poorly crafted call-to-action can lower an email campaign's success, whereas a well-crafted one can significantly enhance it.
In this article, we'll go over the importance of an email call-to-action, mention proven practices and features of a high-performing CTA, and share some of the best call-to-action examples to skyrocket your conversion rate.
What's a CTA in Email Marketing?
An email call to action (CTA) is a button or a piece of text that encourages the reader to take a particular action, such as:
Making a purchase
Reading a case study, blog, or testimonial
Filling out a form
Downloading a resource
Saving on a subscription
And more!
Typically, email CTAs are designed to be eye-catching, appealing, and hard to miss. They are often positioned at a noticeable spot to convert the reader into a customer, subscriber, or engaged user.
Here's an excellent example from our President and Co-founder, Thomas: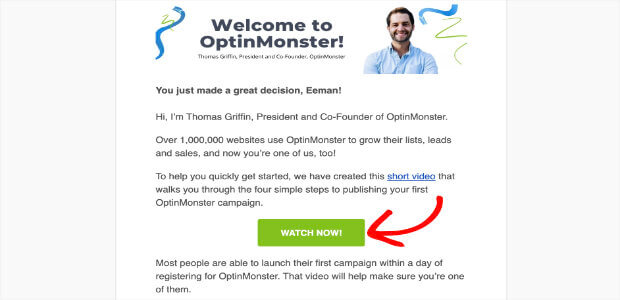 Why Is an Email CTA Important?
A well-designed email call to action is crucial in any email marketing campaign. Just like a magic button, it can turn good emails into great ones.
Most importantly, a compelling CTA can make your email interactive and encourage your readers to take action, ultimately leading to conversions and increased engagement. It can turn passive readers into active subscribers, customers, or engaged users.
No matter what kind of email it's, whether it is:
a newsletter,
a thank-you message,
or a reminder,
it must include a powerful CTA.
Without a clear and compelling CTA, your email may go unnoticed. As a result, you may miss out on valuable opportunities to connect with your audience and achieve your marketing goals.
Features of a High-Performing Email CTA (and Best Practices!)
Here are some features that can make an email CTA stand out and best practices you can use to encourage your readers to take particular actions:
1. Placement Matters
Make sure your CTA button is the star of the show in your email.
It's essential to place it close to the top, where it's easily visible to your subscribers. This way, they can quickly find it and take action without having to search for it.
2. Keep It Clear and Concise
A high-performing email CTA has clear and concise language that is easy to understand and straightforward.
For that, you should:
Avoid using industry jargon or overly complicated terms that might confuse your audience.
Use short and simple phrases that are easy to understand. For instance, instead of telling your subscribers to "Visit the Blog," try "Get Our Top 10 Tips on Boosting Your Productivity for Free."
3. Use Action-Oriented Language
As the name suggests, a call to action must include what action your reader should take without leaving any room for confusion or ambiguity.
For example:
Use action-oriented words like "Download," "Sign up," "Register," "Subscribe," or "Shop now" that encourage your audience to take action and also make it clear what you want your audience to do.
Here's a helpful list of over 700 power words to get you started.
4. Make the CTA Stand Out
Alongside optimizing your CTA's text, considering your CTA button's design is also essential. It should be eye-catching, easy to read, and prominently displayed.
For instance, you can:
Use contrasting colors to make the button stand out from the rest of the email
Choose an appropriate button size
Use white space to your advantage
Optimize the CTA button for mobile
Check out Which Is the Best Call to Action Button Color? Here's What Research Shows.
5. Be Relatable
By making sure that your email CTAs are relevant to the content and interests of your recipients, you can increase the chances that they will click through and take action. This can ultimately lead to higher conversion rates and better overall results for your email marketing campaigns.
For instance, explain to the recipient what they stand to gain by clicking on the CTA button, such as access to exclusive content, a discount, or a limited-time offer.
This way, your email CTA will clearly highlight the value of taking action.
Here's one example from an email campaign that did particularly well:

6. A/B Test Your CTA
Sometimes, simply moving your CTA to a more visible spot on the page or changing its color can boost your click-through rates more than you might expect. That's why it's so important to test different versions of your CTA to see which one works best.
The best way to find the perfect CTA that resonates with your audience is to do split testing.
Start by choosing a design and create an A/B split test in your OptinMonster dashboard: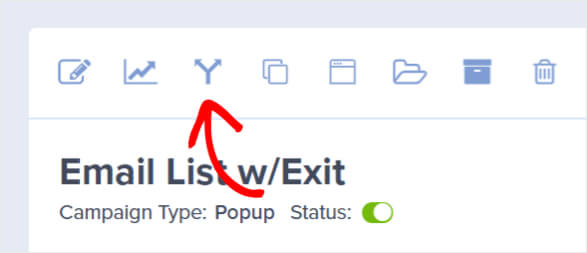 Experiment with different button colors, sizes, and text, as well as form, page design, and CTA placement.
But here's the trick: change only one element at a time. This will help you determine which parts resonate with your audience and which aren't.
Once you have the results, choose the CTA with the highest conversion rate. Then, rinse and repeat the process by changing one other element to see if you can improve your results even further.
By doing so, you'll be well on your way to creating a high-converting CTA that will soar your conversion rates.
Read our case study on How Escola EDTI Increased Conversions by 500% Using Split Testing.
133 Email CTA Examples That Convert Like Crazy 🚀
Below are 133 irresistible email CTA examples you can use in your email campaigns to drive conversions and engage your audience like never before.
Whether you use them as is or personalize them for your customers, these templates will help you create engaging and effective calls to action.
Sales CTAs:
Buy Now
Get Yours Today
Add to Cart
Shop Our Sale
Claim Your Discounted Item
Take Advantage of Our Sale
Get Your Hands on It Now
Buy One, Get One Free
Claim Your Deal
Stock Up and Save
Buy More, Save More
Get the Best Value
Upgrade Your Purchase
Don't Miss This Offer
Invest in Your Future
Save on Your Next Purchase
Don't Wait; Buy Now
Buy Today and Save Big
Get the Best Price
Shop Our Best Sellers
Seasonal CTAs:
Shop Our Summer Collection
Get Ready for Fall
Celebrate the Holidays
Spring Into Action
Summer Savings Are Here
Get Cozy This Winter
Prepare for the New Year
Love Is in the Air
Make Your Holidays Brighter
Ring in the New Year with Us
Newsletter CTAs:
Subscribe Now
Join the Community
Sign Up for Exclusive Content
Get Your Free Newsletter
Be the First to Know
Get the Latest News
Subscribe to Our Blog
Stay Informed
Get Updates Straight to Your Inbox
Never Miss a Thing
SaaS CTAs:
Start Your Free Trial
Try It Now
Sign Up for a Demo
Get Started Today
See It in Action
Book Your Consultation
Claim Your Exclusive Offer
Explore Our Features
Upgrade Your Account
Get More Done in Less Time
Abandoned Cart CTAs:
Complete Your Purchase Now
Don't Miss Out
Finish Your Order
Claim Your Discount
Get Your Free Gift
Take Advantage of This Offer
Finalize Your Purchase
Claim Your Special Offer
Don't Let Your Cart Expire
Complete Your Order and Get Free Shipping
Event CTAs:
Register Now
Get Your Free Ticket
Join Us at the Event
Don't Miss This Opportunity
Save Your Spot
Reserve Your Seat
Sign Up for Our Webinar
Attend Our Workshop
Join Our Conference
Get Your Pass Now
New Product Launch CTAs:
Shop Now
Be the First to Get It
Get Your Exclusive Discount
Order Your Today
Check It Out
Discover Our New Collection
Shop Our Latest Products
Get Your Hands on the Newest Tech
See What's New
Claim Your Early Access
Limited-Time Offer CTAs:
Claim Your Discount Now
Don't Wait; Act Now
Get It Before It's Gone
Limited Time Offer
Grab It While You Can
Don't Miss This Limited-Time Deal
Act Fast to Save
Your Exclusive Offer Expires Soon
Claim Your Special Deal
Save Big Before It's Too Late
Referral CTAs:
Refer a Friend and Get Rewarded
Invite Your Friends to Join
Share Your Love for Our Products
Get a Reward for Every Referral
Refer Your Friends and Save
Spread the Word and Save
Earn Rewards for Sharing
Get a Discount for Every Referral
Invite Your Friends and Family
Tell Your Friends and Get a Bonus
Upsell CTAs:
Upgrade Your Account Now
Upgrade to Premium
Get More for Less
Unlock Exclusive Features
Upgrade to Our Pro Plan
Get More Value with Our Upgrade
Take Your Account to the Next Level
Get More Features with Our Upgrade
Level Up Your Account
Upgrade for More Benefits
Lead Magnet CTAs:
Get Your Free E-book Now
Download Your Free Guide
Claim Your Free Whitepaper
Get Your Free Checklist
Download Your Free Resource
Get Your Free Cheat Sheet
Access Your Free Toolkit
Claim Your Free Training
Get Your Free Template
Claim Your Free Consultation
Social Media CTAs:
Follow us on [social media platform]
Like our page on [social media platform]
Share this post on [social media platform]
Tag us in your [social media platform] posts
Connect with us on [social media platform]
Join our [social media platform] group
Subscribe to our [social media platform] channel
Sign up for our newsletter
Download our app and stay connected
Visit our website for more social media content
Share your thoughts with us on [social media platform]
Spread the word and share our [social media platform] profile with your friends
Get exclusive content and offers by following us on [social media platform]
CTAs to Collect Customer Feedback:
Give Us Your Feedback
Tell Us Your Thoughts
Share Your Opinion
Rate Your Experience
Complete Our Survey
We Want to Hear From You
Let Us Know How We're Doing
Help Us Improve
Take Our Quick Survey
Share Your Experience
CTAs to Encourage Clicks for Content CTAs:
Read More
Learn More
Discover More
See More
Explore Our Blog
Click Here to Read
Check Out Our Latest Post
Read Our Story
Find Out More
Unlock More Content
Dive Deeper
Click to Learn
Get the Full Story
See What's New
Keep Reading
Increase Conversions by Improving Email CTAs
And there you have it!
In this article, we've covered:
What's a CTA in email marketing?
Why is it important?
Features of a high-performing email CTA (and best practices!)
133 email CTA examples that convert like crazy
In the world of email marketing, having a solid and compelling call-to-action (CTA) is crucial for driving conversions and ultimately growing your business.
By following best practices such as:
creating clear and concise copy,
using attention-grabbing design,
and strategically placing your CTA,
you can create a compelling and actionable CTA that resonates with your audience and drives results.
Take the time to experiment, test, and optimize your CTA to see the best results for your business!
Don't forget to read our article on How to Create the Perfect Call to Action.
Are you ready to start creating high-converting email campaigns that drive results?
Sign up for OptinMonster now and put all these call-to-action examples and tips into practice!