According to the Huffington Post, the average internet user is served 11,250 ads per month. That's a lot of advertisements. With all the noise and competition, finding new and creative ways to capture both your audience's attention and information can be extraordinarily challenging.
To tackle this challenge, we'll explore several different digital marketing hacks which will give you a leg up over the competition and help increase your leads exponentially.
1. Use Various Growth Marketing Tactics to Get Leads
No matter how many visitors your website generates, if you aren't compelling them to give you their information, those raw numbers can't be leveraged in the same way as when a prospect gives you their name, email, phone number, etc.
Several marketing hacks to capture leads in an efficient manner include:
Creative Popup Placement
With the use of OptinMonster, it's now easier than ever to ensure your traffic isn't leaving without multiple chances to input their data. Having an exit-intent popup is a simple yet effective way to make sure that you are giving your visitors a chance to convert before leaving.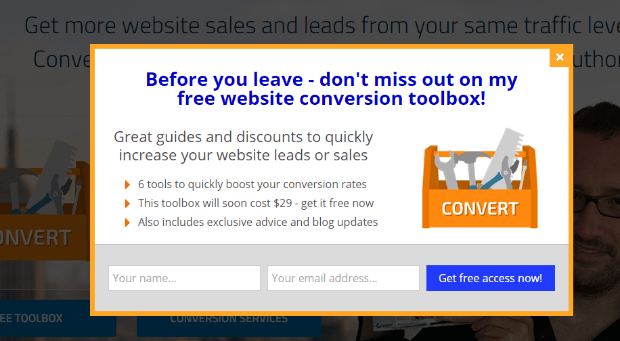 In the example above, Rich Page increased his overall conversions by 225% using exit-intent optins.
Run a Contest or Giveaway
Giving away an item that your audience will want or running a competition is another excellent growth hack to encourage visitors to give you their information.
In the example below, urgency is used well since the viewer knows they only have 15 days left to enter this Amazon Echo contest. This will likely compel the viewer to enter right then and there instead of risking potentially not coming back to the website before the contest ends.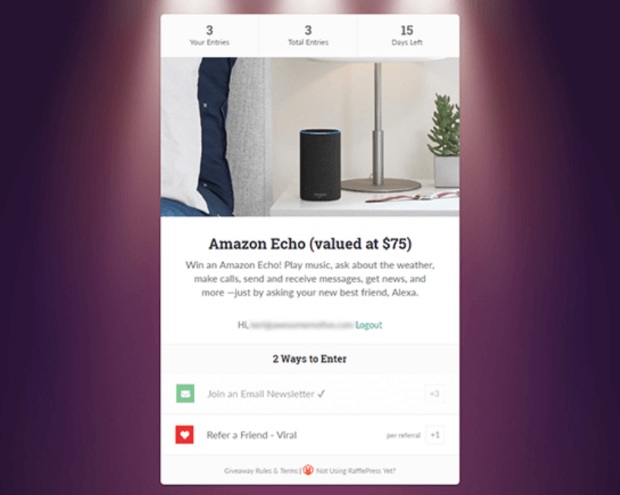 You can easily create a giveaway like this with RafflePress. RafflePress is the best giveaway plugin for WordPress. It has a drag and drop giveaway builder and viral giveaway templates to get you started quickly.
Plus, it has bonus entry actions you can use to increase your leads. For example, participants can get extra giveaway entries for completing certain tasks like signing up for your email list, referring a friend, following you on social media, and more.
Gated Content
When you create a long-form piece of informational content, such as an ebook, white paper, infographic, download, etc., if the content is compelling enough, you can put it behind a lead capture form and require visitors to give you their contact information in exchange for the download.
HubSpot offers persona templates as gated content in their resource library. Marketers who download the templates can then start to organize and develop organized personas better than before since HubSpot is a well-known authority and it's likely that their information will be useful and actionable.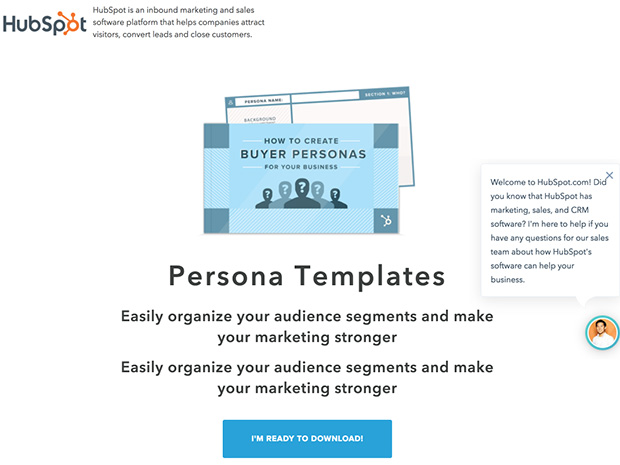 To create a great lead generation offer like HubSpot demonstrated, it's vital that you know your audience and where they are in the buyer's journey.
For more ideas like these, see our guide to proven growth hacking strategies. Or, check out this post on how to create a paywall to reserve premium content for paying subscribers.
2. Leverage Video Marketing
Video is one of the most digested forms of media across the board. As you scroll through your facebook feed, have you noticed it's primarily video posts?
Video marketing is an ongoing trend that isn't going away. Many people will opt to watch a video going through product features, versus reading about a product. In fact, 4X as many customers would rather watch a video about a product than reading about it.
In this example of an effective content marketing hack, Marketo offers a 4-minute video demo but requires visitors to input their information first. This is great not only for lead generation but also will make the follow-up and closing the sale more efficient as well.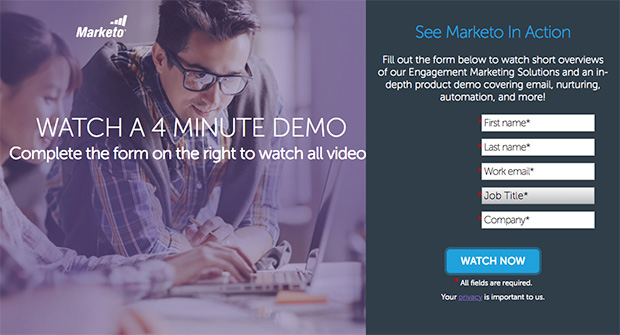 What makes some videos more successful than others? The key differentiator is a story.
Animoto provides the following tips that can help you tell your business' story more effectively:
Focus on an easy-to-understand message with a call-to-action that's simple to grasp.
Include a character or two: even talking directly to the viewer with your script makes him or her the character in your story.
Outline your script with a beginning — the setup; a middle — where you introduce the problem or conflict; and an end — where you resolve the issue (with your business' solution, of course).
Finally, give the viewer a clear call-to-action.
This short video ad from Barbie uses storytelling to enforce that the viewer "Can Be Anything."
3. Spread the Word With Influencer Marketing
According to Nielsen's Global Trust in Advertising report, more than eight-in-10 global respondents (83%) say they completely or somewhat trust the recommendations of friends and family.
Influencer marketing is a clever marketing hack to gain the trust of your audience by using a face and/or name that they'll recognize to endorse your business or product.
It is absolutely crucial that you identify the right influencer for your audience. For example, if you're running a makeup business, a celebrity such as Emma Stone could be a convincing influencer to your audience.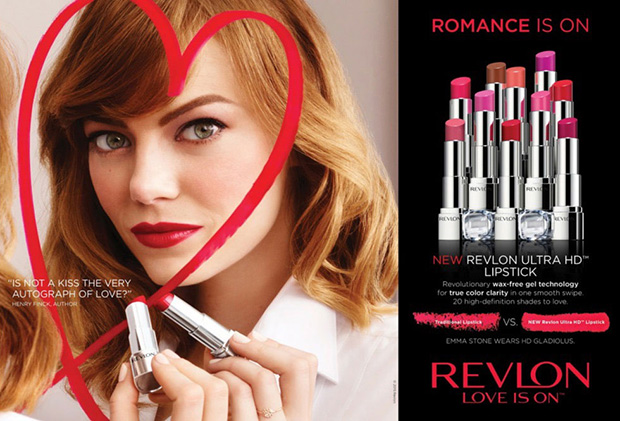 On the other hand, it may not make sense to use the same influencer for your enterprise-focused software business.
To help you identify the ideal influencers for your campaign/target audience, you can leverage growth hacking tools such as Brandwatch, Followerwonk, Klout and Kred.
4. Use Landing Pages to Personalize Your Ad Post-Click
Once someone has clicked your ad, where you send them next can either make or break your campaign. A landing page is often one of the first impressions your prospect will have of your company. Optimizing your messaging, call-to-action, and other elements of this first-impression page are very important for optimizing your ad ROI.
Consistency and message match are essential characteristics of an optimized search ad because they create personalized advertising experiences for the search user.
Message match refers to the process of matching the content of an ad to the content of a landing page so that the message is reinforced in the mind of the prospect, and that they know it's relevant.
To help you understand this concept further, Instapage has developed this robust CRO guide with all the ins and outs of an optimized landing page to optimizing the post-click experience.
Related Content10 Steps to Creating the Perfect Digital Marketing Strategy
5. Stay Informed on the Latest Growth Marketing Tactics
Another critical digital marketing hack is staying up to date with all relevant marketing trends in your industry. Have you heard about Facebook's new dynamic creative ads? How about the latest with Amazon advertising?
The above is growth hacking examples that are trending now and it's helpful to stay on top of them if you don't want to miss out on something that may help you land your next huge client or business deal.
While there are a lot of resources sharing the latest and greatest in marketing, here are seven growth-related blogs to get you started that regularly share valuable information and insights as it breaks:
To uncover the latest digital marketing trends, challenges, and opportunities, read Mind-Blowing Digital Marketing Statistics to Learn From.
6. Focus on the Data
For digital marketers to remain competitive, being data-driven is an absolute necessity. Everyone knows about Google Analytics but other online tools such as Heap Analytics and Mixpanel can also help with understanding your current and historical data, ascribing attribution, and making sure you're earning the highest possible ROI from your marketing campaigns.
Other tools such as Instapage have advertising attribution and built-in heat maps so you can have more significant insights into visitor behavior for greater lead generation.
This is beneficial and convenient when you consider a report from Aberdeen in which best-in-class marketers are 58% more likely to incorporate analytics tools into their stack. Regardless of which tools you are using, now is not the time to be throwing darts at a board and hoping they stick.
7. Never, Ever Stop Testing
Congratulations! You've set up your website, ads, pop-ups, and landing pages. Now your work is complete, and you can watch the leads roll in right? Wrong.
Your digital marketing efforts will always be a work in progress and will consistently need to be tested and optimized.
A/B testing allows you to compare multiple versions of a page to determine which one converts better. You must test only one element at a time (e.g., long vs. short copy, images vs. no images, red vs. blue button, etc.) and run the test until you reach statistical significance.
A/B tests don't only apply to your website, ads, and landing pages, but also to split testing your pop-ups too.
The importance of A/B testing is indisputable. Sometimes changing something as small as the placement of your popup or the copy of your headline will result in a considerable increase in leads. The important thing is to be testing and learning continuously.
In conclusion, digital marketing is a marathon, not a sprint. Keep that in mind what also being calculated, data-driven, and setting yourself up for success with the above digital marketing hacks. And, for more info on digital marketing check out how to create a fail-proof digital marketing plan or our digital marketing best practices.
Recommended ResourceSee our Ultimate Guide to Growth Hacking to find out the shortcuts Groupon, Airbnb, and Dropbox used to skyrocket their success.