So you're ready to grow your business, and you want to do it fast. Do you know the growth hacking tools that'll help you to reach your goals? There are a lot of business growth tools and apps out there, and sometimes it's hard to know which are the most useful.
That's why we've done the hard work for you, collecting the essential tools to help you execute your business growth strategy at every stage of the growth hacking funnel.
What's the growth hacking funnel? It's a way to visualize the different stages of interaction with your customers. The growth-hacking funnel consists of:
Acquisition
Activation
Retention
Revenue
Referral
These are also called "pirate metrics" because of their initials (AARRR).
To keep things simple, we've segmented our list of growth tools according to the stages of the funnel. Use the table of contents below to jump to the section where you're looking for some help and inspiration. By the end, you'll be able to add some cool growth hacking tools to your must-try list.
Growth Hacking Tools for Customer Acquisition
Some of the best growth hack techniques focus on innovative ways to get new customers. That makes sense because you need new customers or users if you're going to grow. Here are the business growth tools we recommend for this stage of the growth hacking funnel.
1. OptinMonster Exit-Intent®
We're confident in putting OptinMonster first on the list because it's got so many features that make it a great all-around tool for growth hacking marketing.
One of the most important ones for customer acquisition is our proprietary Exit-Intent® Technology. Exit-Intent® detects when visitors are about to leave, so you can grab their attention with a targeted offer, message, or lead magnet.
Travel site Anywhere.com used exit-intent popups to recover 56% of abandoning visitors and turn them into subscribers and customers.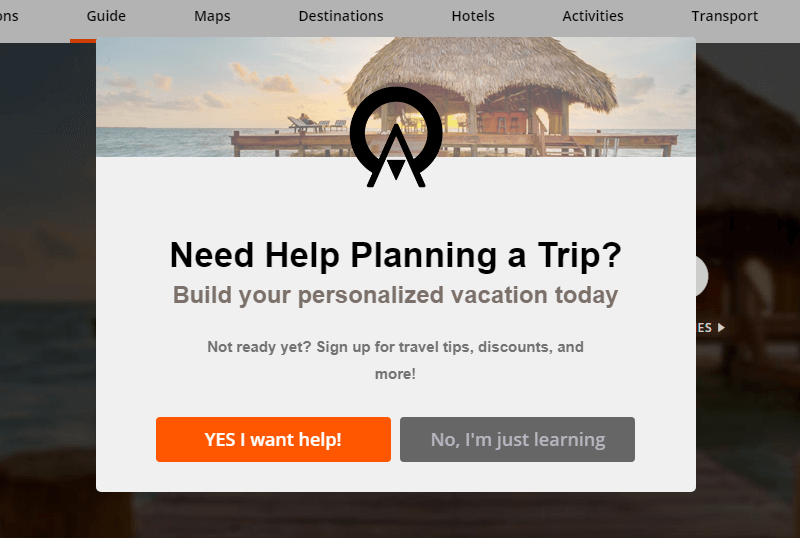 You can combine Exit-Intent® with page-level targeting to create highly targeted campaigns that are personalized to your website visitors' interests. For example, you can create specific offers based on the content the reader is interested in, or display a special message only to visitors from Facebook.
These highly targeted campaigns are incredibly effective. Check out how Kennedy Blue used exit-intent popups to lift sales by 50%.
Add to that our integrations with the leading email service providers, CRM software and eCommerce platforms, and you can see why OptinMonster's one of the best growth hacking tools around.
2. Constant Contact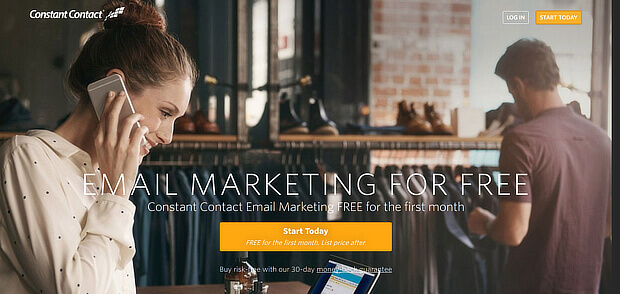 Just tripped over the 2000 subscriber mark – or starting out with a large audience? Another great growth hacking tool for email is Constant Contact, which is at the top of WPBeginner's list of the best email marketing services.
Constant Contact is great for people new to email marketing, with extensive online training, a huge resource library, and even local webinars. Their support is second to none and includes email, live chat and an active community of users.
3. Mailchimp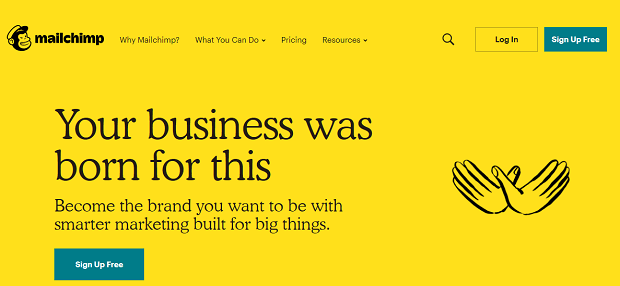 Email marketing is a core growth hacking strategy, and at a $40 return for every dollar you spend, you can't beat the ROI. If you're a budget-conscious business – and what business isn't? – then Mailchimp has got to be included in any list of growth hacking tools.
Why? For a start, it's free for up to 2,000 subscribers or 12,000 emails a month, which is more than enough when you're starting out. Mailchimp also has a great email creation wizard, lots of templates, and even email workflows to help you get started. Plus, there's a wealth of information in their knowledgebase.
4. ManyChat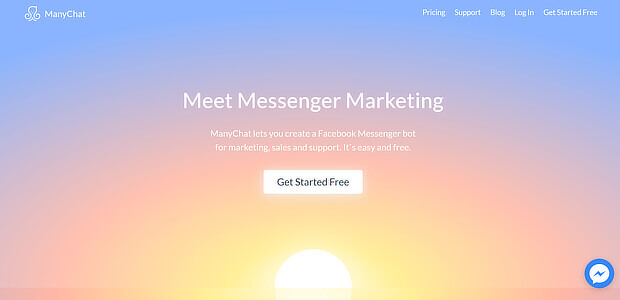 Facebook messenger bots are all the rage, and for good reason. Marketers have seen incredible conversion rates from Facebook messenger marketing.
But monitoring your Facebook messages for your business can be time-consuming. If you want to see results like that, without spending all your time chatting, try creating your own bot to deliver customer service and support and win business even when you're not online.
ManyChat integrates with Facebook Messenger. It lets you create your first bot for free, with a drag and drop interface which means you don't need to know complicated code. Once that's done, your bot can keep your business in touch with potential customers 24 hours a day.
Growth Hacking Tools for Customer Activation
Next, let's move on to customer activation. The growth hacking tools in this section aim to get customers to use your product. Of course, the email marketing tools listed above can also achieve this with the right marketing campaign, but here are some more tools to try.
5. UserLane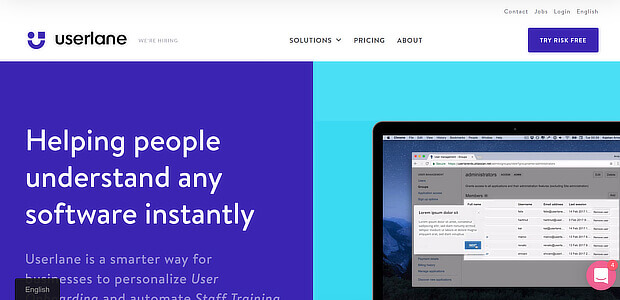 UserLane calls itself a "navigation system for your software". In other words, shows users the basics so they can start getting results fast. With this software, you can create an interactive onboarding guide, that rewards users with a checkmark every time they successfully complete a step. When users are able to enjoy success from the start, they're sure to want to stick around.
Gamification is a proven growth hack, so this one's worth checking out. They've also got a special plan for startups.
6. Consumer Barometer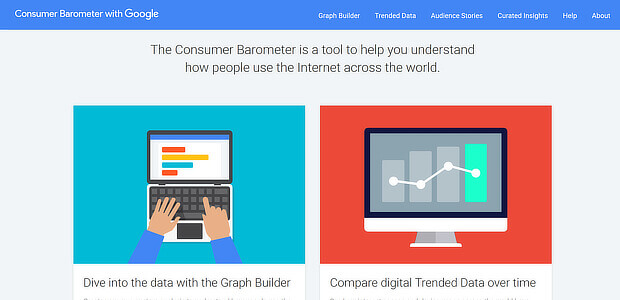 Understanding your customers helps with every stage of the growth hacking funnel, and that includes activation. Luckily, Google has partnered with other organizations to provide Consumer Barometer, a free tool which delivers insights on global consumers.
You can find out about how consumers research and purchase products and services in different countries and what devices they are using. This information can help you target your marketing throughout the customer relationship.
7. Google Analytics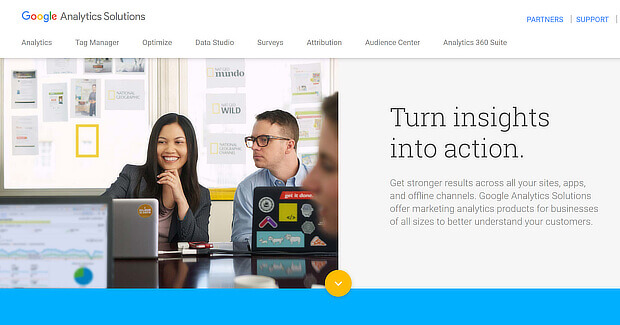 If you want to activate your new customers, knowing what's working for your existing ones is a smart strategy. That's where analytics tools come in, and Google Analytics is one of the most widely used. That's not just because it's free; it's also because you can get in-depth data on your visitors, their behavior, and conversions to drive more growth.
Google Analytics can help you to understand user flow, and identify and eliminate the bottlenecks that are preventing visitors from getting the most from your product or service. And if you're looking for an easy way to access your analytics data from the WordPress dashboard, try MonsterInsights.
8. YouTube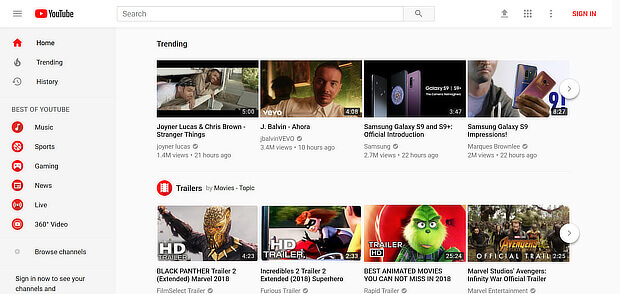 If you want your customers to use your product, show them how it's done. As mentioned above, gamifying onboarding is one way to do this, but another is to use video. That's why YouTube is on our list of growth hacking tools.
According to our roundup of video marketing stats, not only does video drive leads and sales, but YouTube inspires trust. Plus nearly 80% of consumers would rather watch a video than read about a product. Since YouTube is free, there's no excuse for avoiding it, so try including some onboarding videos to help with customer activation.
Related Content12 Steps to Get Your First 100 YouTube Subscribers
Once your videos are created, you can also use them in blog posts and share them on social media to raise awareness of your product and bring even more customers in. That makes YouTube one of the best social media growth tools, too!
Growth Hacking Tools for Retaining Customers
Customer churn is a fact of life for many companies, but you want to keep that rate down and retain as many customers as possible. This next set of growth hacking tools will help you to do that.
9. CoSchedule Headline Analyzer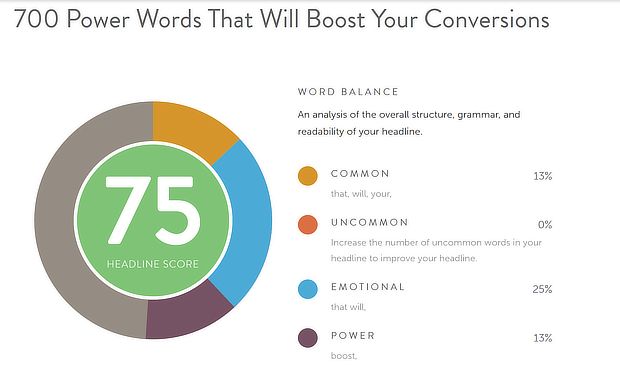 One of the easiest and best growth hacks to attract and retain customers is to use content marketing. And the success of most content marketing relies on having an appealing headline.
That's why CoSchedule's headline analyzer is a growth tool. Plug in your headline, and you'll get a score from 0 to 100 that measures its appeal. The free analyzer looks at your use of power words, emotional words, and uncommon words, and assesses length and readability.
Write better headlines and you'll get more customers reading your content, giving them more reasons to stick around. And when they share your content, you'll attract even more leads.
You may also be interested in trying out OptinMonster's new headline analyzer tool. This free analyzer will make sure you're writing the most clickable and SEO-friendly headlines that bring in more traffic.
10. Five Second Test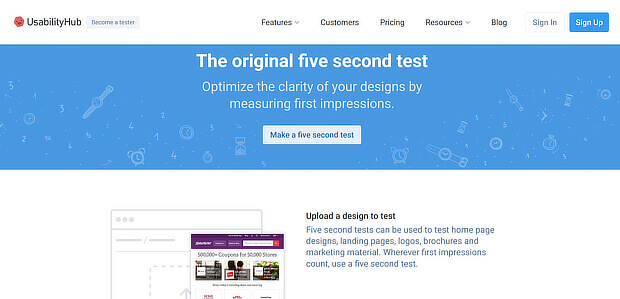 Want to know if your site design is giving customers the information they need? You can test this for free with Five Second Test. After you sign up, you can upload a page design. The testers will see it for 5 seconds and will be asked about what they remember. This feedback can help you target your page design to improve information retention – and customer retention with it.
11. HubSpot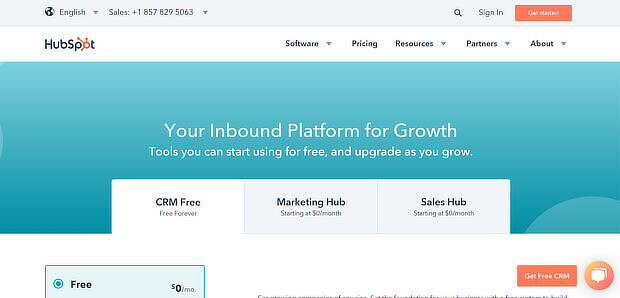 One way to retain customers is to build better relationships with them. HubSpot allows you to do that with a suite of free tools that help businesses grow, and expand with them. These include:
CRM software that integrates with your email provider for better contact management
Lead management software, including lead analytics
Sales management software, including email tracking and scheduling, meetings and reporting
12. OptinMonster A/B Testing
If you want to know which marketing messages work best, you can use OptinMonster's built-in A/B testing to measure the success of your campaigns. Eczema Company used this feature to boost conversions by 158%.
You can duplicate a campaign in a single click, and it takes only a minute or two to get your A/B test up and running. OptinMonster automatically collects conversion analytics for all campaigns, so you'll soon be able to see which one's best for getting leads and sales and make that the main campaign.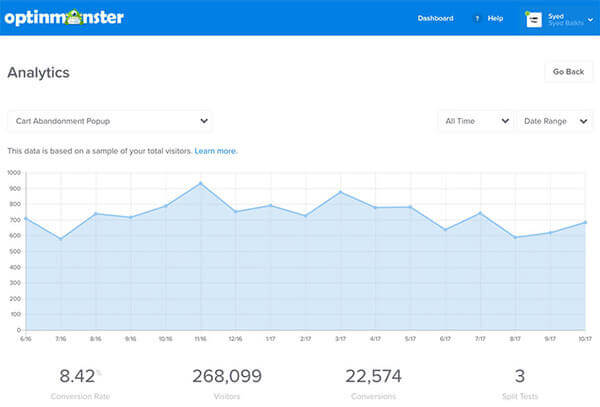 13. Facebook Messenger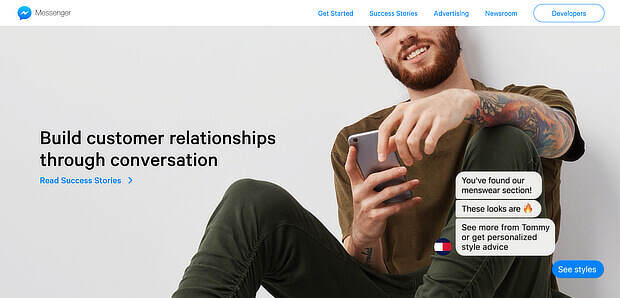 One secret to retaining customers is to connect with them where they are. That's why Facebook, with a global audience of more than 2 billion, is a great place to start.
One of the easiest ways to reach customers is with Facebook Messenger, the social site's messaging platform. That's because you can connect with customers on the smartphones that go everywhere with them, and answer their questions almost immediately.
As we saw earlier, bots are a great way to maintain a continuous connection with customers. In addition to ManyChat, mentioned earlier, you can build bots with ChatFuel, Botisfy, and many others.
14. Reddit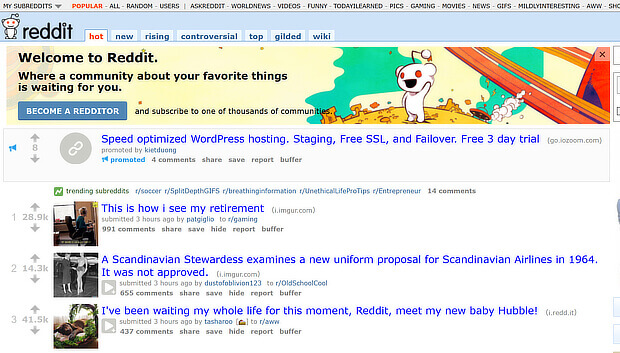 Reddit, which calls itself the front page of the internet, has communities (called subreddits) for everything. That's not an exaggeration: there are hundreds of thousands of them. That makes Reddit an excellent place to find and talk to your target customers for free. Slidebean shared its blog content in relevant communities, getting in front of thousands of prospective customers, and considers the site one of its top growth tools.
15. Quora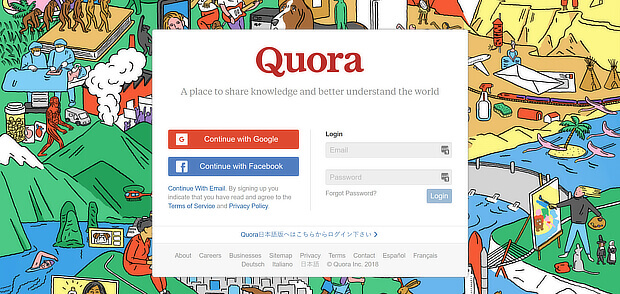 Quora is another place to learn what your customers are asking so you can provide the answers they need.
Subscribe to topics related to your business, so you'll know when new questions are asked. Then you can jump in with a well-thought-out answer which will make Quora users want to follow your profile links back to your site.
Best of all, when you know the questions that are asked on Quora, you can use them to flesh out your content marketing strategy with blog posts and other resources.
16. Mention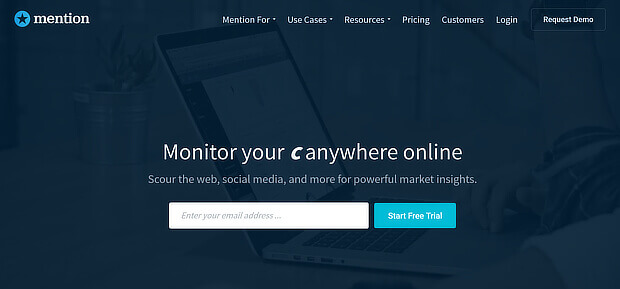 Customers expect you to be available and responsive. That means keeping track of what they're saying at all times. Mention is a great tool to track mentions of your brand or product across social media sites, to help you deliver excellent service and manage your online reputation.
Growth Hacking Tools for Boosting Revenue
Revenue is what it's all about if your company is going to succeed. Some of the tools listed above, like email marketing and the HubSpot suite of tools, will also help you boost income, but here are a few more to add to the list.
17. Masskom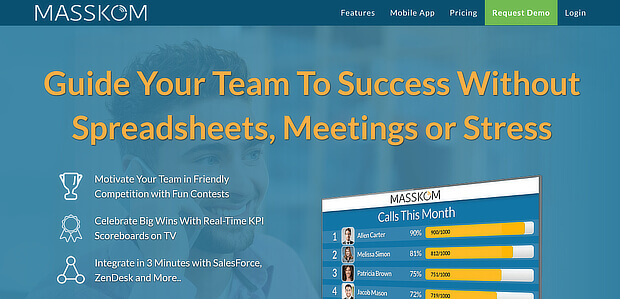 Want to make more sales? Then make selling an enjoyable experience for your sales staff. Masskom does the same thing for your staff that UserLane does for your customers. It gamifies the selling experience, using contests and scoreboards to build team spirit and celebrate success.
Best of all, you can get started for free. Masskom has helped sales teams boost productivity and get more leads, and with the right leads, you'll get more sales.
18. Zoom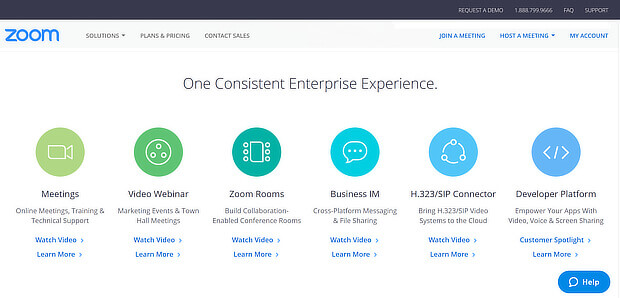 Did you know that between 2% and 5% of webinar attendees will make a purchase? That's why it makes sense to run webinars for both new and existing customers. While there are lots of webinar marketing apps you could use, we're recommending Zoom. It's free for up to 40 minutes and up to 100 participants, and you can use it for meetings too. Plus you can record your webinar to use as a lead generation tool later on.
19. SEMrush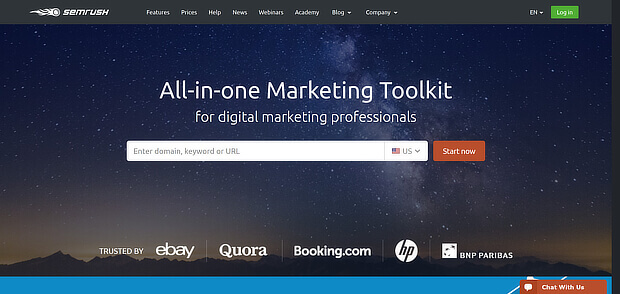 SEMrush is a marketing toolkit with a suite of tools to help you optimize your website, grow, and succeed. We're highlighting two ways to use it to improve the revenue-earning potential of your site, but it's worth exploring the rest of the tools in this powerful suite.
First, use its Site Audit tool to get a quick snapshot of the health of your website, and see if there are issues that might drive customers away.
Second, use the Organic Research tool to see the keywords your competitors are ranking for. Use that information to optimize your own content to drive more traffic, and get more leads and sales. Learn more in our guide to SEO ranking factors.
20. OptinMonster Onsite Retargeting®
Onsite Retargeting® can help you easily show new information or promotions to returning visitors. Whether they follow a link from your email newsletter or simply return to the site to use your product, you'll be able to keep the momentum going by making new offers they can't or don't want to refuse.
Use Onsite Retargeting® with OptinMonster features to boost urgency, like our countdown timer. Kennedy Blue boosted sales by 50% with this feature.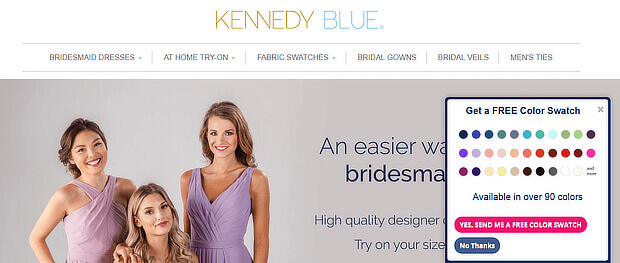 21. Colibri.io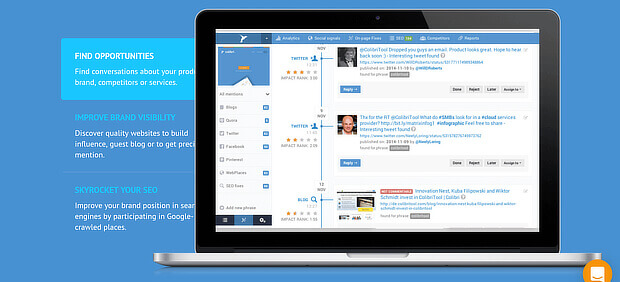 While Colibri allows you to track social mentions and conversations, so you can take part in them, it's got another winning feature. With Colibri, you can find people who are looking for your services but may not yet know your brand. Then you can provide help and information that can guide these prospects to buy from you rather than your competitor.
Growth Hacking Tools for Getting Customer Referrals
Our comparison of email marketing vs. social media shows how important social media is for sharing information. That's also what makes it a great referral tool.
For example, Facebook drove around 20% of referral traffic in 2017, a decline from previous years. So this batch of growth hacking tools includes tools to capitalize on this social activity.
22. Buzzsumo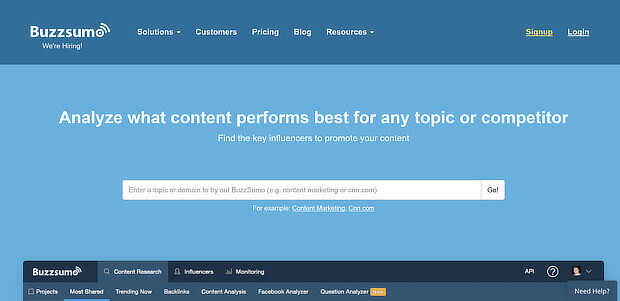 Buzzsumo is an excellent tool for tracking social shares, but it also works well for finding influencers who've shared your content. Click on View Sharers next to the title of any piece of content, and you'll get more detail on their page and domain authority and Twitter engagement. Use this information to collect a list of contacts for an influencer marketing campaign – another proven way to drive growth.
23. Toofr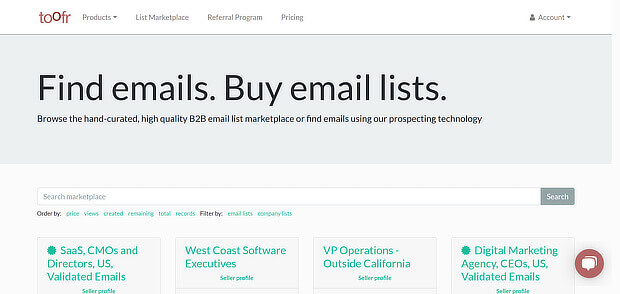 Want to get in touch with the people who can refer new customers to you, or to partner with CEOs in your niche? If you don't already know them, you can get their contact details with Toofr, which offers hand-curated contact lists in the B2B sector.
In addition, its email finder tool helps you get emails, even if you don't know the domain name. Then you can use those for your outreach programs. You can try it out for free with 30 free credits, equivalent to 30 search requests.
24. Hunter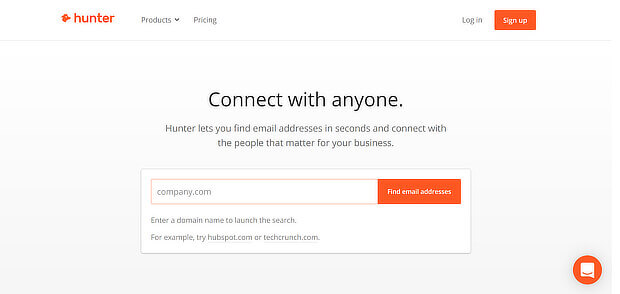 Hunter offers a similar service to Toofr, and it's a great way to do a quick email search without signing up. Sign up, though, and you get 100 monthly searches for free to fuel your outreach efforts. Using this tool couldn't be simpler. Type in the domain, and it finds emails, and it'll even tell you how confident it is that they're right.
25. OutreachPlus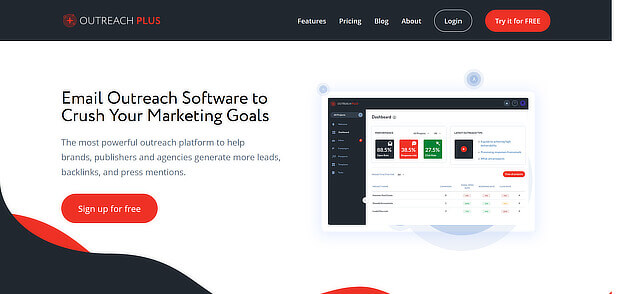 OutreachPlus is another tool with a variety of functions. It can help you connect with influencers, boost sales, build authority, get traffic to your site, and run PR campaigns. This platform combines personalization, automation, and data to help you understand who your best and most responsive prospects are, and how to connect with them better in the future.
26. Pay with a Tweet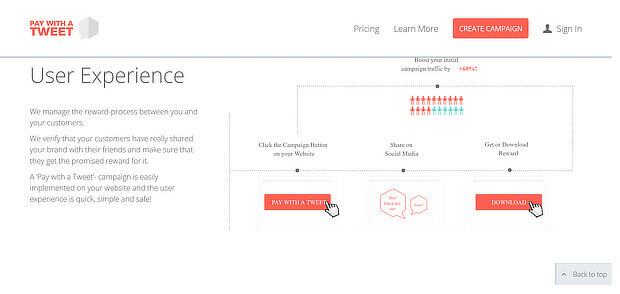 Want to get more people sharing to drive more social traffic? Use Pay with a Tweet to get visitors to tweet your offer before they can get it. You can use the basic version for free, though you'll have to upgrade to lose the ads and gain the stats. This is an excellent way to spread the word about your product or service and bring more people to your site to check it out. After that, you can use some of the other growth hacking tools in this roundup to encourage your visitors to stick around.
Other Growth Hacking Tools
Finally, here are three tools that every growth hacker will want to use.
27. Fiverr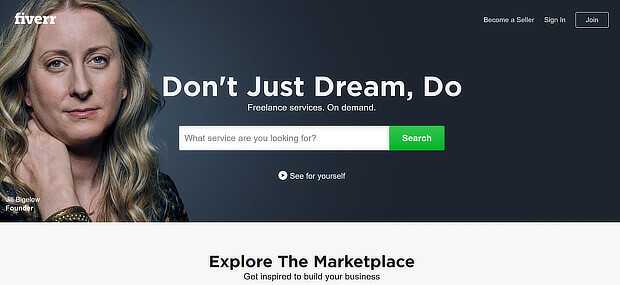 Fiverr is not a tool, but a marketplace – a place where you can get all kinds of services for a very affordable price. As the name suggests, services start at $5, but you'll likely pay a bit more to work with the top-rated sellers and get the customizations you want.
For businesses starting out, this can be a great way to get video and podcast intros, ebook covers and accomplish other design and copywriting tasks.
28. Zapier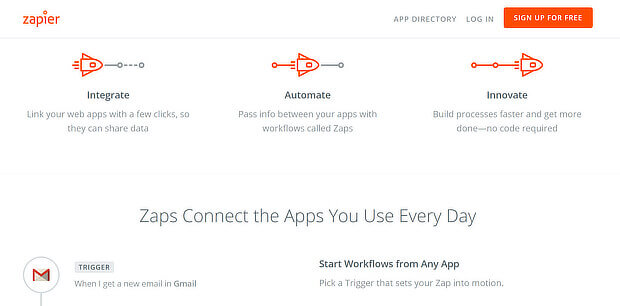 Zapier lets you connect multiple apps to each other so they work together seamlessly. It has hundreds of integrations, many of them focused on business and marketing services. It has a limited free plan, which is more than enough to get you started. Zapier allows you to automate common tasks so you don't have to spend time thinking about them.
That's it! With these growth hacking tools, your business is poised for growth at every stage of its development. Next, learn how to convert free trial users to paid customers, and check out our list of the top WordPress plugins to grow your business.
And follow us on Twitter and Facebook for more tips, guides, and tutorials.