Are you looking for creative Black Friday marketing ideas to grow your business?
Black Friday is arguably the most important day of the year for many entrepreneurs. There's a lot of competition, but also a lot of shoppers ready to buy.
In this article, we'll share our favorite proven marketing ideas for Black Friday to help you make the most of this important marketing opportunity.
What is Black Friday?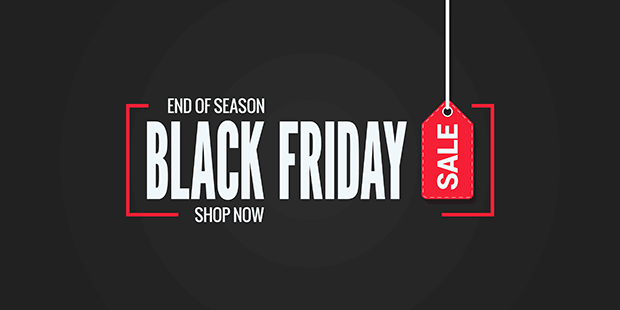 Black Friday is the Friday immediately after Thanksgiving in the United States. The Black Friday 2022 date is November 25.
Black Friday is the traditional start of the holiday shopping season. It's called "Black" Friday because the high volume of sales can push businesses "into the black" for the whole year.
Many retailers offer significant discounts and other special sales on Black Friday to encourage customers to purchase.
Beyond Black Friday: Small Business Saturday, Cyber Monday, and More
As the retail landscape evolved, other shopping holidays emerged.
Cyber Monday was developed to extend the shopping season to online stores. Cyber Monday falls on the Monday after Thanksgiving, which is November 28, 2022. Now that many businesses offer online sales, you'll often see combined or coordinating Black Friday Cyber Monday sales.
Small Business Saturday was started as a way to support local small businesses and reduce the customer's carbon footprint by buying from stores in their surrounding community. It is typically observed on the Saturday following Thanksgiving, which is the day after Black Friday. This year, Small Business Saturday falls on November 26, 2022.
Finally, let's not forget about the many deserving nonprofits. Giving Tuesday is the Tuesday after Thanksgiving and an opportunity to fundraise while donors feel the holiday spirit of generosity. In 2022 Giving Tuesday is on Tuesday, November 29.
There has been something of an arms race among retailers competing to be "first" to announce their Black Friday deals. Select stores now open on Thanksgiving day or offer early Black Friday deals even earlier in the month. Some shoppers don't like being prodded to shop on a holiday that's supposed to be about gratitude. Others may start to tune out promotional messages that start too early, so use moderation and past sales data when planning your Black Friday marketing strategy.
25 Black Friday Marketing Ideas to Try in 2022
We've rounded up a list of the best Black Friday ideas for:
Feel free to jump to the section that most interests you, or read through them all to see what inspires you. Let's get started!
Black Friday Sale Ideas
Buyers expect bargains on Black Friday, so here are some unique Black Friday offers besides the same old discount.
1. Hourly or Daily Deals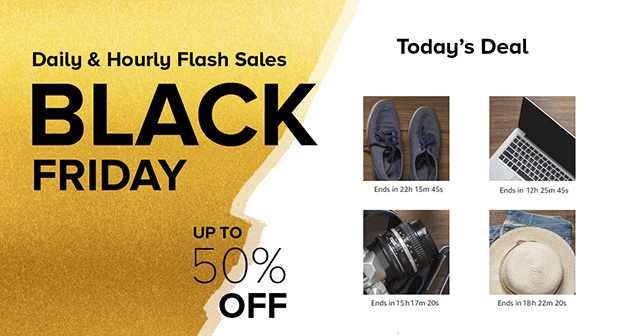 There's no better way to build a sense of urgency than to limit availability. Hourly or daily deals are only applicable for a certain time period, so customers are motivated to make a decision quickly. When you offer a variety of time-sensitive deals throughout the day or weekend, you also encourage shoppers to keep coming back to check your website for the latest bargain.
Consider offering free shipping on combined order value above a certain threshold to keep shipping costs from being an objection. You can use OptinMonster to add a countdown timer to any page to drive urgency.
2. Bump Sale
A bump sale is when you start the price of a product or service low and increase the price after every purchase. Most often, the starting price is quite below the suggested retail price. This can encourage more people to buy the product than would otherwise. Depending on the starting price and bump increments, you can earn significantly more based on the additional sales volume alone.
For example, perhaps you have a product that normally retails for $100 and you normally expect to sell 20 of them, earning $2,000 in revenue. But imagine you run a bump sale and start the price at $5 with a bump of $1 for every purchase. Suddenly, you have 60 customers rushing to buy the product, for a total revenue of $2,070. You'd earn more money and have 3 times as many customers who can bring in additional lifetime value. Plus, they'd all feel like they got a great bargain!
Bump sales are a great idea for testing market demand for new products or offers, or as a once a year promotion for existing customers.
3. Mystery Savings Discount Wheel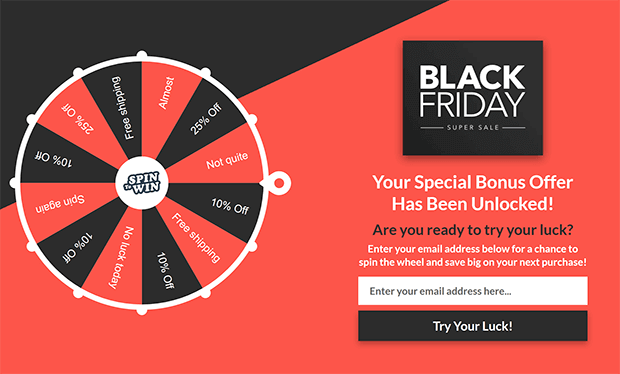 A coupon spin wheel can add an element of chance to your Black Friday sale. Customers spin the wheel to see what kind of discount code or free gift with purchase they can get. They'll also be motivated to use their discount right away, just in case they don't land on it again the next time they spin.
4. Gift Card Promotions
As the traditional start of the holiday season, Black Friday is a great way to highlight your products or services as gifts. Gift cards are the perfect way for shoppers to give experiences like a massage, or let their loved ones choose the products they want the most. You can also use gift cards to even out seasonal fluctuations in sales, like Nashville Pedal Tavern did. For Black Friday, you could discount a $100 gift card to just $75, while maintaining the usable value. You get the revenue immediately and can deliver the service or products later.
4. Free Shipping Based on Order Value

Unexpected shipping costs are one of the most common reasons for abandoned carts. But it may not be financially possible for you to offer free shipping on every order. The solution is conditional free shipping. This means that orders above a certain value can ship for free. This protects your profit margins and helps prevent cart abandonment. Use an OptinMonster floating bar to advertise this deal prominently to put shoppers at ease.
5. Conditional Discounts
Like free shipping based on order value, conditional or tiered discounts add up based on how much is in the order. This rewards customers for spending more and can increase average order value.
For example, you could offer 10% off orders below $50, 25% off orders from $50-$100, and 40% off orders above $100. Many shoppers perceive a higher discount amount as being more valuable than actually spending less money, so they'll add more to their order to get the higher discount tier.
6. Build Your Own Sale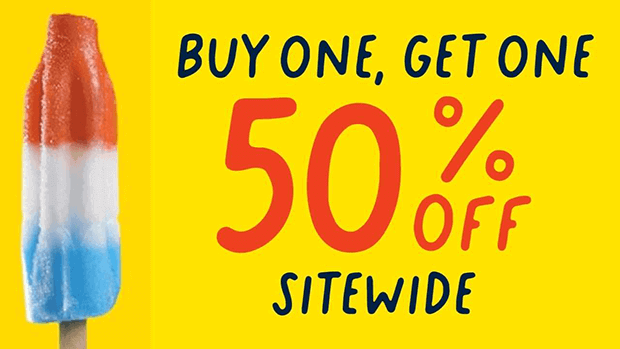 Most buy one get one (BOGO) sales involve buying multiples of the same product or same product category. Some customers may not want that many of one item, but Black Friday is a chance to let shoppers build their own sale. You can do this by offering a sitewide discount, or a BOGO deal across many products and categories. You can also combine this strategy with conditional discounts and free shipping.
7. Surprise Checkout Discount
Even determined shoppers can fall prey to sticker shock at the last minute when they reach the checkout page and realize they're about to spend more than they intended. A surprise discount can help them push through that final hesitation. With OptinMonster, you can easily set a discount popup or spin wheel to appear on the checkout page only. If you're using Shopify or WooCommerce, you can even set it to appear only when carts are above a certain value or contain specific items.
8. Upsell and Cross-sell Deals
You can increase your average order value by offering special deals on upsells or cross-sells. Upselling is encouraging customers to buy a higher-priced version of what they're already planning to purchase. Cross-selling is recommending products related to the original item. For Black Friday, you can offer free or discounted upgrades as an upsell, or a special bundle promo on related cross-sell items.
Black Friday Promotion Ideas
Whatever Black Friday sales you're offering, you need to get the word out. Because of how competitive the marketplace is on Black Friday, you'll need to let customers know what at least some of your offers will be ahead of time. That's how brick and mortar stores get customers lined up outside the doors at 3am. Those customers know that something they want will be on sale, and they're willing to do anything to get it.
Here are some Black Friday promotion ideas to build excitement and spread the word:
9. Gift Guides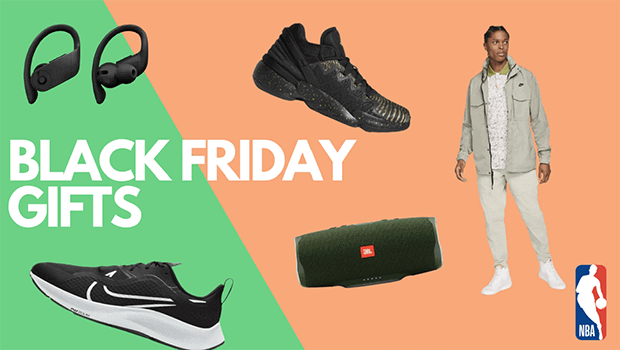 Gift guides are curated collections of giftable products or services. You can create guides for specific identities, like spouses, parents, or friends, or make recommendations for specific events like work parties and family reunions. These are a great way to show off your products and provide a helpful resource for customers. You can publish these gift guides on your website, as a downloadable lead magnet, or in email newsletters throughout the season.
10. Sneak Peeks
If you want to build excitement, sometimes less can be more. Put together a tantalizing teaser of what will be on sale and how it will benefit the customer. This gives you at least 2 opportunities to reach out: first, you share the preview, and then the full unveiling. You can share sneak peeks through email, social media marketing, website popups, and more.
11. Product Launches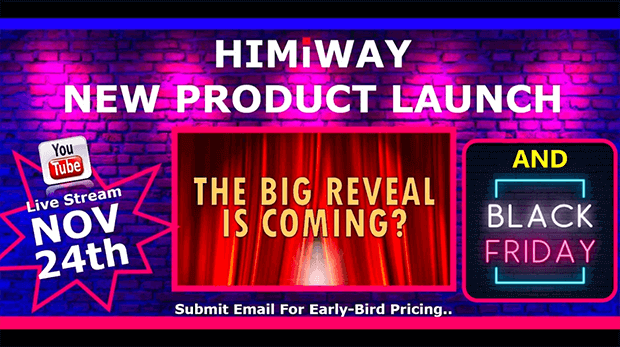 A new product or collection is another newsworthy reason to reach out to customers on Black Friday. You can launch a special holiday collection that's only available for a limited time, with or without an early bird discount. If you have a SaaS business, consider launching a new feature or upgrade on Black Friday with a discount for early adopters.
12. Referrals
Don't forget to take care of your best existing customers during Black Friday. You can use Black Friday Cyber Monday (BFCM) as an opportunity to get more referral customers, who tend to cost less to acquire and spend more than non-referral shoppers. Put together a special Black Friday referral program that offers your loyal customers extra incentives for telling their friends about your brand.
13. Countdown Timers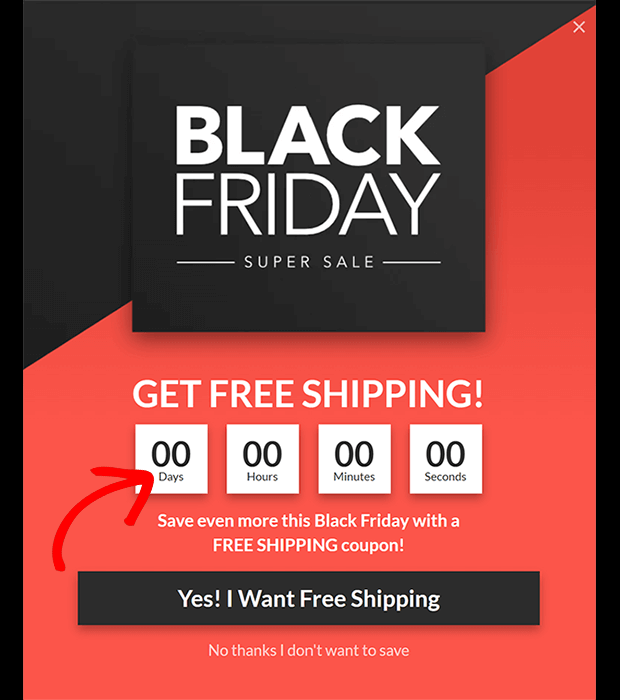 Countdown timers are a simple way to keep your promotion on the minds of your customers. You can set the timer to count down until your sale starts or ends, or both! Some email service providers offer built-in countdown timers, or you can use a separate tool to generate the timer and insert the code into your emails. On your website, it's easy to use OptinMonster to add countdown timers to popups, floating bars, and slide-ins.
14. Affiliate Programs
If you have an affiliate program already running, use Black Friday as an opportunity to generate extra traffic and strengthen the relationship with your affiliates. You can offer special bonus incentives for affiliate sales made between Black Friday and Cyber Monday, or longer.
15. Exclusive Email Offers
Building your email list will pay off long after Black Friday is over. You can tempt potential customers to join your list with exclusive offers sent only through email. Such Black Friday emails might include:
Early access to sales
Subscriber-only discounts
Exclusive or early access to limited edition products
Loyalty and rewards programs
There will be tons of email marketing campaigns filling your customers' inboxes, so make sure to pick email subject lines that stand out and include a clear call to action.
16. Evergreen Black Friday Landing Page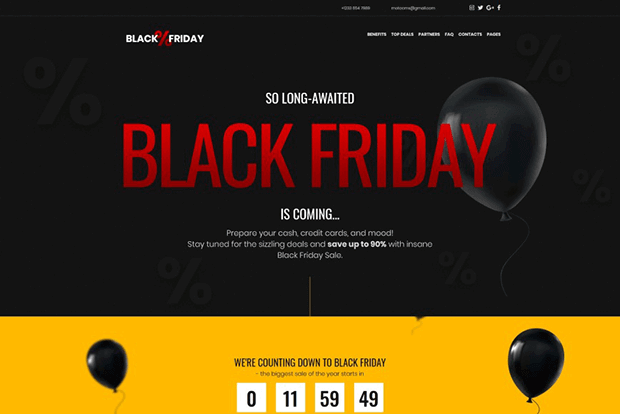 Just like you're planning Black Friday marketing ahead of time, many customers start thinking about their Black Friday shopping strategies weeks or even months in advance. Set up a Black Friday landing page that is available year-round. You can use it to build your email list and tease your upcoming Black Friday deals during the off-season. Then, you can collect all your live Black Friday promotions on one page for easier browsing.
17. Contest
Everyone loves to feel like a winner, so you can use a contest to promote your Black Friday deals. A raffle-style contest can encourage customers to sign up for your email list and follow you on social media ahead of Black Friday. You can also run a giveaway during Black Friday, where you randomly select customers to win prizes. Hashtag contests are a great way to build brand awareness and a bank of user-generated content that you can leverage as social proof.
As always, you can and should set conditions on the giveaway. For example, you can give one contest entry for every $10 spent. That gives everyone a chance to win, but customers placing larger orders increase their odds.
Black Friday Ideas for Small Businesses
If you're a service-based business or other small business with lower margins, you may need to approach Black Friday differently than eCommerce stores or product-based businesses. Here are some ways to promote on Black Friday for small businesses:
18. Double Loyalty or Rewards Points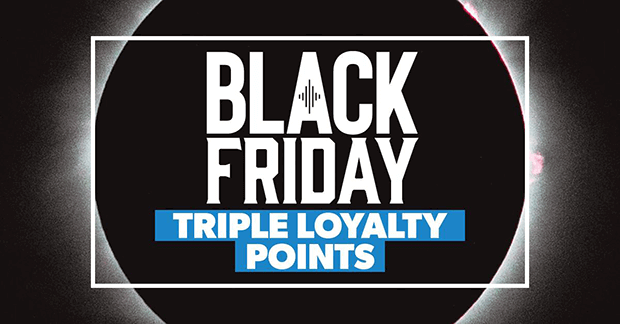 Repeat customers are the lifeblood of small businesses. So take good care of them during Black Friday Cyber Monday! Customers who are part of a loyalty or rewards program may be less motivated by discounts than new customers because they've already experienced your product or service and love it enough to join a loyalty program. But they would probably love extra rewards points on holiday purchases they were planning to make anyway. That way they can treat themselves after the holiday rush is over.
19. Personal Shopping & Gifting Services
Adding an extra touch of customer care can go a long way toward delivering value without discounting your products or service packages. To stand out during Black Friday, your small business can offer personal shopper services, complimentary gift wrap, or local delivery services to help busy customers get their gifting done.
20. Special Experiences
Rather than, or in addition to, running holiday sales, you can offer unique experiences to bring customers in-store or onto your website. Bookstores can offer signed books exclusively for the holidays. Wellness and beauty businesses can host a special event with mini makeovers or other services. Clothing or jewelry retailers can run a live flash sale on TikTok or other social media platforms.
Black Friday Advertising Tips
Advertising during Black Friday Cyber Monday can be challenging, but it can also pay off big. Here are some ways to make the most of your Black Friday ads:
21. Audience Preparation
If you wait until BFCM week to start running paid ads, it'll be too late and very expensive to reach your customers. Start building your reengagement and retargeting audiences well before BFCM. Re-engagement audiences are the people who have interacted with a video or ad but haven't visited your website yet. Retargeting audiences are people who have already visited your website at least once after interacting with an ad, social media post, or search result for your business.
22. Smart Targeting
Ads cost more during the Black Friday shopping period because there's more competition for all those clicks. You don't want to throw money away advertising to cold audiences. So target your ads toward those on your email list, users who have added items to their carts, and people who have engaged with your posts, videos, and other content.
23. Memorable Content
There will be tons of ads competing for attention during BFCM. So don't waste your money or users' time on excess copy or bland visuals. Get to the point quickly and make your ads crystal clear on what you're selling, how customers will benefit, and what deals you're offering.
24. Diverse Ad Formats
Black Friday is generally a time to stick with tried-and-true messaging, but there's room to experiment with the format of your ads. Try creating and testing a video ad, carousel ad on Facebook, or dynamic ads showing the items viewed or left in cart by a particular user.
25. Strategic Spending
With so much competition, the cost per click goes up during the holiday shopping season. Set budgets ahead of time for different segments of your audience. You can ramp up your ad spending immediately before BFCM, then scale it back once that initial wave of shoppers passes. You'll need to save some of your marketing budget for holiday promotions later in the month, so don't use it all at once.
Black Friday Marketing Strategy: How to Run a Successful Black Friday Sale
Regardless of the specific Black Friday marketing ideas you use, here are some general best practices for maximizing your Black Friday promotion:
Create Unique Black Friday Deals
Customers have to expect big deals on Black Friday, so make sure yours are buzzworthy. But you're not limited to offering discounts. They can be experiences, upgrades, or or even just limited quantities or availability. To be most effective, make these deals truly unique to Black Friday. If you claim that these are the best prices of the year but turn around and run a clearance in a few weeks after the holidays, customers will feel tricked and have a harder time trusting your brand.
Start Marketing for Black Friday Early
Black Friday may be one day a year, but you have to build up to that day all year long. Building your visibility, audience, and brand awareness are constant processes in your business, not something you do once and forget about.
Search engine optimization, or SEO, is a long, ongoing process. The same goes for building a social media presence and email list. There's no time like the present to get started!
You'll also want to build anticipation leading up to BFCM with countdowns and previews across all your marketing channels.
Optimize Your Online Shopping Experience
All of the best Black Friday marketing ideas and strategies in the world will fall flat if your website crashes on the big day. Just like you start building your audience and anticipation well before Black Friday, you also need to make sure your website is ready to go.
Work on optimizing factors such as:
Website speed
Checkout or booking page
Produce and service pages
Frequently asked questions
Special holiday shipping and return policies
Prepare to Deliver Your Black Friday Promotions
Make sure your business can handle the extra sales volume from Black Friday. If you're ordering extra inventory, make sure those quantities are accurately reflected on your eCommerce platform. Think through your fulfillment plan and customer service availability to ensure that you can deliver what you promise.
Which Black Friday Ideas Will You Choose?
We hope you found some ideas to try for your Black Friday marketing campaigns. You'll need to find the balance of risk and reward that works best for your business.
Whatever you choose, we're here to help! Here are some of our best resources for marketing on Black Friday and all year round:
OptinMonster is another great tool for building your email list, targeting promotions to the right customers, and improving your conversion rate. If you want to try some of the ideas on this list, get started with OptinMonster today!
If you like this article, please follow us on Facebook and Twitter for more free articles.