Are you struggling to increase free trial signups? You're not alone. Figuring out how to increase free trials is one of the big issues in SaaS marketing.
Of course, if you have a SaaS product, you'll eventually want to up your free trial conversion rates to get paying customers, but the process of getting a sustainable user base starts by getting more people to take free trials and check out demos.
If you don't, your business won't last very long, because you won't make the revenue you need to keep it going.
Do free trials increase sales? They certainly do.
Totango's 2016 SaaS Metrics report shows that:
62% of companies get 10% or more of their business from free trials
16% of companies get more than half of their new business from free trials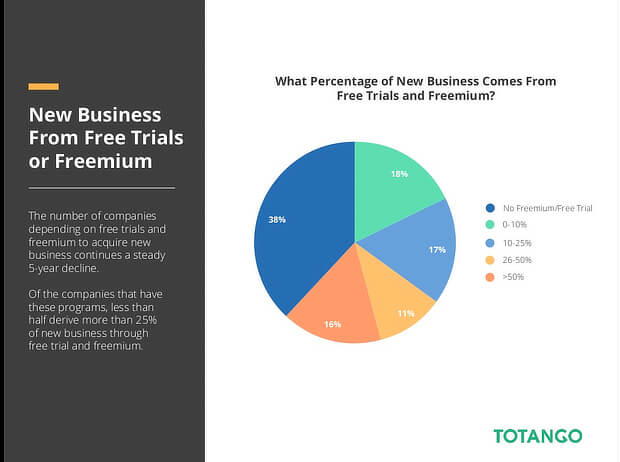 Since SaaS companies also lose business each year because of churn, it's essential to keep attracting those free trial signups to maintain a healthy business.
In this article, we're going to look at how to increase free trial signups with some proven free trial marketing strategies. These'll help you to grow your customer base so you can increase revenue from your SaaS business.
(After you've increased your free trial signups, you'll want to make sure your free-to-paid conversion strategy is on point.)
Here's a table of contents for quick navigation:
Let's get started …
1. Know Your Customers
If you're going to increase free trial signups, you have to design and launch marketing campaigns that wow your visitors and make them want to sign up.
But to do that, you need to know who your customers are and understand their motivations. That means having buyer personas that represent your ideal customer.
Also known as customer avatars, these can be pretty detailed, including:
Why they would use your product or service
Their main goals and pain points
Age, gender, education level, marital status and other demographic information
What their main information sources are, online and offline
What their role is in the purchase process, if any
When you have a complete picture of your customer, you'll be able to use this information to tailor your marketing campaigns so they address your customers where they are. That'll help to increase free trial signups.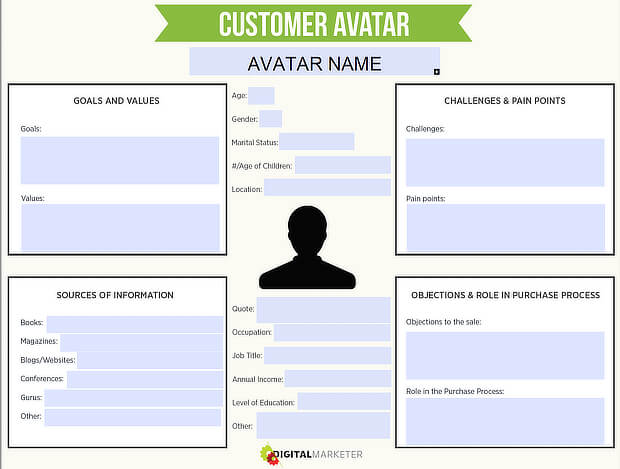 You can create buyer personas by:
Surveying or chatting with your current customers to find out about their history, personal life, web behavior, goals and challenges, and insights about your product.
Picking social media followers or subscribers, and finding information about their preferences and interests from what they share.
For example, if you learn that many customers bought your product because they're worried about not being able to keep track of customer workflows, you can adapt your marketing messages for prospective customers to focus on this area.
Check out our in-depth guide to creating a concrete buyer persona for customer avatar templates and more help with this step.
2. Focus on "True Evaluators"
While your first goal is to increase free trial signups, it's even better if you know those free trial users will eventually become paid subscribers. Totango subdivides typical free trial signups into three categories: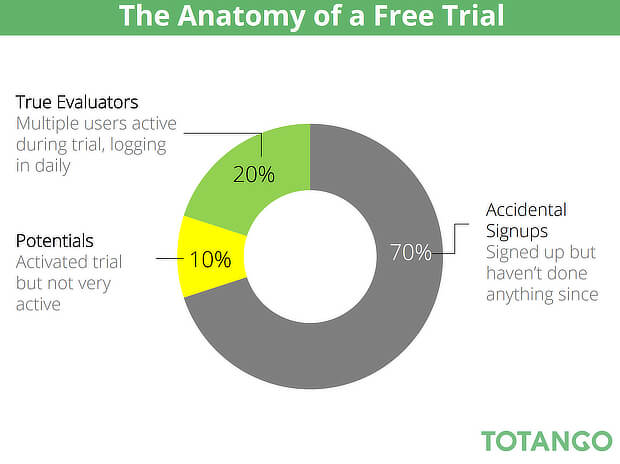 The largest group are the "accidental signups" (70%), who take no further action after signing up, and clearly weren't that interested anyway.
"Potentials", who represent 10% of the total, sign up for your free trial, but don't do much.
"True evaluators", around 20% of the total, are active, and log in and use your service every day.
This last group is where your revenue will come from and will be the focus of your free-to-paid conversion strategy. For this reason, it's also the group to focus on when you're looking to increase free trial signups.
Some key tools for identifying and tracking true evaluators are:
Both Mixpanel and Amplitude have free packages.
You can also find active users in Google Analytics by going to Audience » Active Users.
Click on the box to add a new segment, then add Multi-Session Users.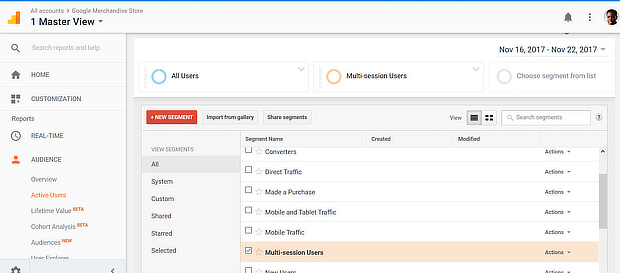 Apply the setting. When the graph refreshes, you'll be able to see how many of your active users use your product multiple times a day.
You can also cross-reference active users against mobile traffic, tablet traffic, returning users and more. Use information about their activity on site to work out where you can offer more help and insight, and what messages to send when you're ready to nudge them to become paying customers.
3. Engage with Content
Target your ideal audience with content that's designed to get them to take action. You want to make it a no-brainer for visitors to your site to sign up for that free trial.
Some of the other strategies in this guide will help with that, but creating great, targeted content is a foundational strategy you can't ignore.
To do that, you'll likely focus on two main areas: a landing page, which we'll look at in the next tip, and your blog. Either way, great content is your bedrock.
To create great content that delivers content marketing ROI, you'll need to:
Do all this, and you'll get more traffic to your content, and more free trial signups as a result.
4. Make Signup Simple
The fewer barriers you put in the way, the more likely it is that people will sign up for a free trial of your SaaS product.
Kissmetrics recommends thinking hard about how much information you really need to collect when people sign up for your free trial or demo.
For example, if you're trying to qualify your leads so you can market appropriately, then you'll likely need more information than if you're just seeking signups. Hubspot collects information on company size and role with all their lead magnets and uses this information to tailor their marketing for improved lead generation.
But if you just want to get people to signup, you may need less information from them. For example, Mailchimp just asks for an email address, username, and password: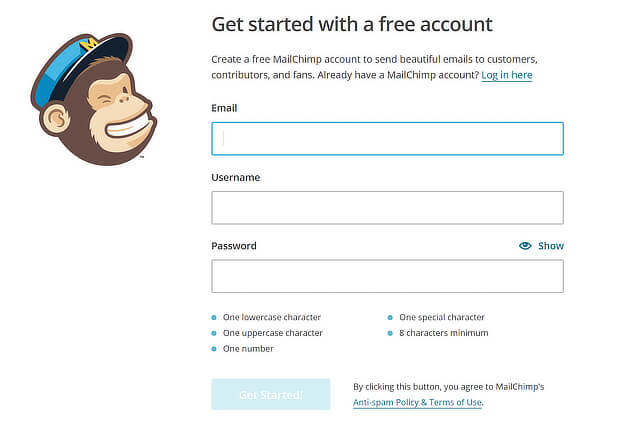 Tips for making it easy to get people to exchange their email for your free trial include:
Keep signup forms short, asking for the minimum information required. Since you're running a web app, this'll likely be an email address and a password.
Don't ask for a separate username. Since all email addresses are unique, use that instead.
Consider using social logins for account creation, to make it even easier for people to get started with their free trials. That'll help you stop annoying people who don't want the hassle of account creation, and will also make sure you get the right contact information (no typos!)
Avoid asking for payment details at this stage; let free trial users fall in love with your product first.
This last point requires some explanation. We all know companies that ask for credit card details when you sign up. According to Chargebee, they usually get better lead quality but may have higher churn.
In contrast, when you don't ask for credit card details, people are more likely to trust you, and sign up. And Totango's research shows that you get a higher overall conversion rate when you don't ask for people's credit card number. Of course, this is worth testing since every audience is different.
5. Create a Trustworthy Landing Page
When you know who your customers are and what kind of content they need to persuade them to become free trial users, it's time to create a landing page.
By doing that, you have a page focused on gaining free trial signups that you use as a destination in all your marketing. According to Nifty Marketing, 76% of businesses use their homepages as a landing page.
Landing pages are a great lead capture tool and, if you optimize them properly, they can also rank in search engine results pages. That helps you attract new prospects every time someone searches for your keywords.
To create a landing page aimed at increasing free trial signups, check out our guide to creating the perfect landing page, some tools for landing page creation, and some expert landing page copywriting tips.
Make your landing page even more irresistible by including a bullet point list of free trial benefits, trust seals, guarantees, testimonials and other social proof to reassure visitors that they are making the right decision by signing up.
Here are a couple of examples. Buffer includes the names of some of its clients as social proof: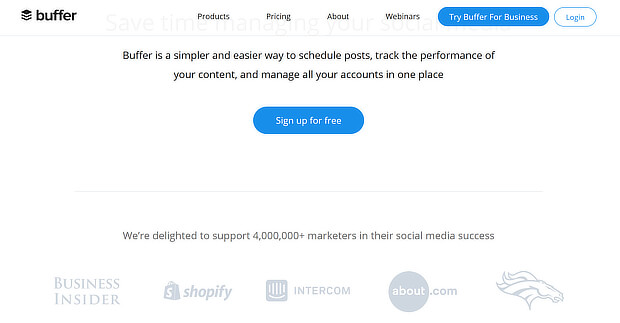 And Freshbooks includes messaging that gives visitors security about payments: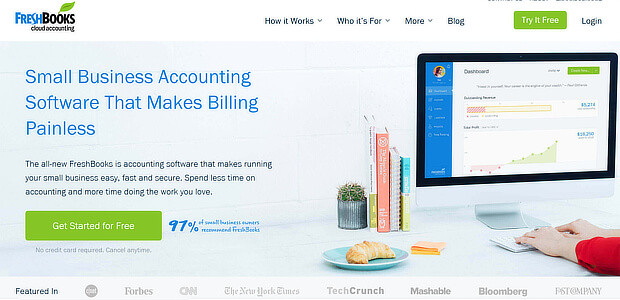 Of course, if you don't want to invest in expensive landing page software, you can also mimic the effect of a landing page by creating a campaign in OptinMonster, then sharing it via a Shareable MonsterLink™.
This will let you promote your free trial marketing campaign on any site, including social media sites, as well as in your email marketing and other content marketing campaigns.
6. Showcase Value
Customers buy benefits. And even if they're starting a free trial signup, they're still interested in what your product can do for them.
That's why it's important to be able to articulate your value proposition, on your homepage, on the landing page, and in all your marketing.
Beyond that, think about what your product will do for your customer. Here are some examples:
These value propositions get to the heart of what your customers want to do, and how the products can help them. To create a good value proposition:
Consider the main benefit of your product. That'll be the headline on your landing page and in your marketing.
Expand on that benefit to create the sub-headline, explaining who the product is for, and why they need it.
List up to three key additional benefits, which will appear as bullet points.
Add some evidence in terms of numbers, social proof or other.
Support this with a strong image, plus a call to action, which we'll look at in a later tip.
Once you're done, any visitor should be able to tell what you offer, who needs it, what they'll gain, and why they should choose you to get it.
7. Make Pricing Clear
Having said that, nobody likes surprises, especially when we're talking about price. Even people who are sold on your value want to know what it will cost them in the future.
Highrise discovered that changing their page wording from "Sign up for free trial" to "See plans and pricing" resulted in a 200% increase in free trial signups.
People don't like to be blindsided. So make it clear:
What they are signing up for
How long the free trial is
What it will cost after the trial
Here's how Basecamp handles it. They make it clear exactly what the price is and what's included after the free trial: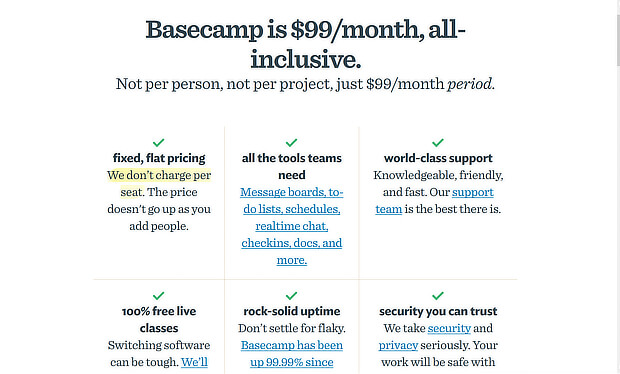 8. Tweak the CTA
Marketing stands or falls by the effectiveness of the CTA – the part of your marketing that actually gets your visitors to take action. That's why it's so important for SaaS marketers to get it right.
We've got a guide to writing the perfect call to action to help you. It helps you use the right language to:
Make visitors curious about your product
Reduce the risk of signing up
Create urgency
And much more
Make your CTA visible from the home page so even casual visitors will see it.
One useful point when marketing a SaaS product is that even though you're offering a free trial, you don't necessarily have to use that wording to increase free trial signups.
You can ask people to try out your product, sign up for a demo, or other wording that might work better for your potential customers.
For example, ActiveCampaign uses Get Started: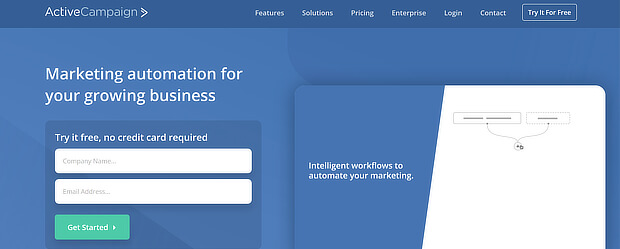 Calendly's CTA asks you to Sign Up: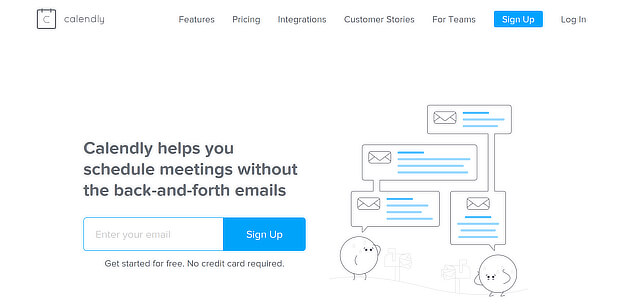 And Insightly has two CTAs. One says Try for Free, and the other says Request a Demo: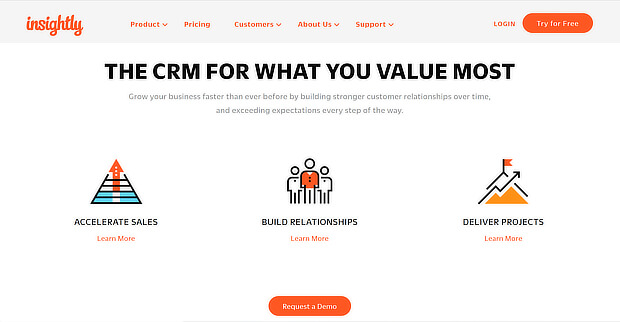 As you'll see later, once you've come up with a couple of options, it's best to test to see what's most effective.
9. Offer Live Chat Support
Live chat is an excellent way to find out what your customers think of your offer and to encourage them to sign up for your free trial. It helps make sales, too; 38% of customers made purchases just because they were able to ask questions at the right time.
Using live chat will help you figure out what information people need to complete the signup. When you know that, you can tweak your marketing copy accordingly.
It can also help you convert some of those "Potentials" to "True Evaluators" (see tip #2).
To get started with using live chat to increase free trial signups, check out this list of the best live chat plugins and software, including many cross-platform options, so you're not limited to using them on WordPress sites.
Related ContentLive Chat Best Practices: How to Streamline Customer Service
10. Attract Signups with Email Marketing
Email marketing is still one of the best ways to promote anything, so it's an excellent tool to help you increase free trial signups.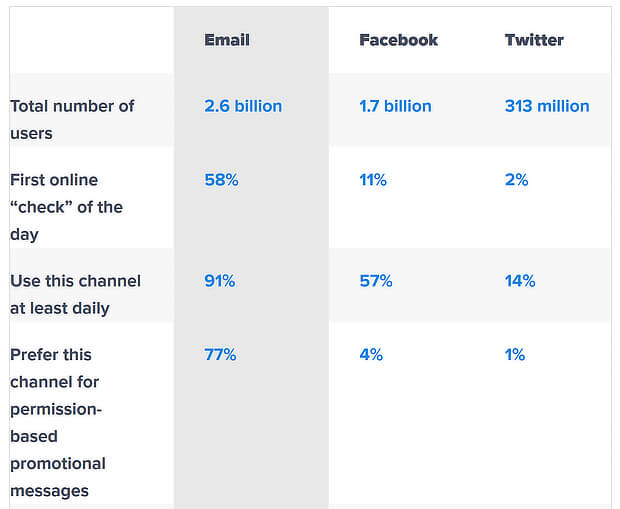 Since 91% of people use email, it gives you access to the widest possible audience. That's why it's important to build your email list, so you can convert some of your email subscribers into free trial users. There are three steps to doing this:
Design a lead magnet
Use the lead magnet to build your list with a marketing campaign
Nurture your new subscribers with email marketing messages to show the advantages of becoming free trial users
Let's look at these in more detail.
First, design a lead magnet as an incentive for people to subscribe to your list. A lead magnet can be an ebook, a cheat sheet, a worksheet or an in-depth resource that offers value to your subscriber.
Next, create a marketing campaign to promote your lead magnet and encourage people to sign up. You can use OptinMonster to deliver your lead magnet and grow your email list.
OptinMonster includes:
Dozens of attractive templates that sync with your branding and other marketing
Integrations with all the top email marketing platforms
Advanced targeting rules like Exit-Intent® technology, onsite retargeting and page-level targeting, to make sure you're always showing your campaigns to the right people at the right time so they can take action.
To integrate OptinMonster with your email marketing service provider, follow our instructions for creating your first campaign.
Finally, use email marketing to nurture your new subscribers and show them the benefits of signing up for your free trial.
To nail your email marketing campaigns, you'll need to:
Later on, you can also send additional promotions when you're ready to convert free users to paid ones.
11. Time Your Marketing Campaigns
If you're using a popup, you want to avoid annoying your visitors, otherwise, they'll leave your site and never sign up.
One way to do that is to make sure only interested people see your free trial marketing campaign. There are several ways OptinMonster can help:
Delay your campaign till you're sure visitors are interested
Display campaigns only to repeat visitors who've shown their interest by coming back
Show a campaign to people who are about to leave and grab their attention
Lifter LMS used a combination of those techniques to get 7,000 additional leads and boost revenue by $23,500.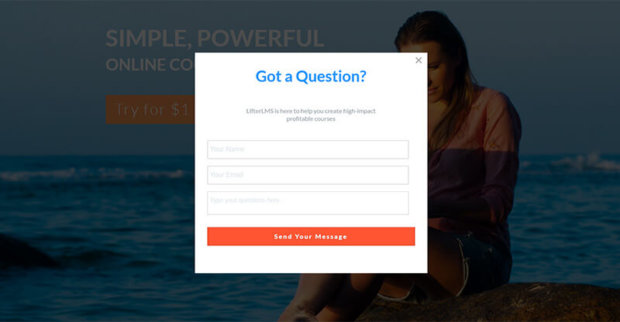 Here's how you can implement this on your own site.
How to Show Your Campaign to Interested Visitors
To show your campaign to interested visitors, go to Display Rules. Enable pages viewed and set the value to is at least 2. Visitors who view multiple pages are more interested in what you have to offer.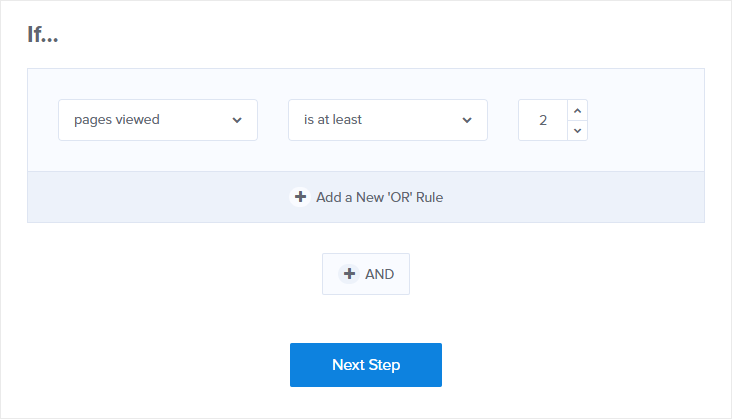 How to Show Your Campaign to Repeat Visitors
To show your campaign to repeat visitors, go to Display Rules. Select either visitor is new or visitor is returning. Again, visitors who come back have shown their interest by doing so.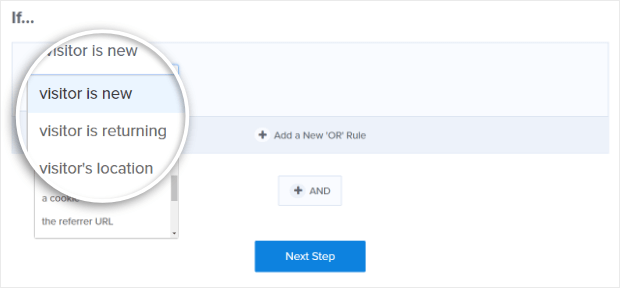 How to Grab Visitors' Attention Before They Leave
To grab the attention of people who are about to leave, set your display rules to exit detected and select the Exit Intent Sensitivity. You can also get the same effect for mobile devices by enabling InactivitySensor™.

12. Psych Visitors into Opting In
There's a cool piece of psychological research that can help you get more free trial signups. It's called the Zeigarnik Effect, and it means people who start an action are more likely to complete it.
OptinMonster's MonsterLinks™ works on this principle. You can use it to create a link which people click to launch your campaign (that's step 1). Then to complete the action, all they have to do is enter their email (step 2). These campaigns work really well.
AtHoc used this technique with free demo messaging to increase leads by 141%.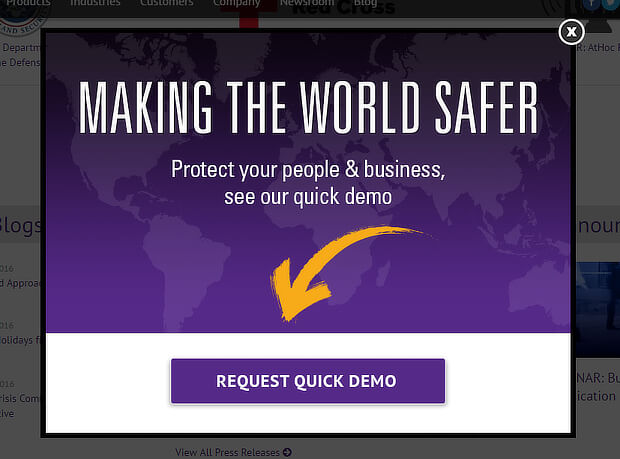 And InternetSuccesGids engineered a whopping 1500 per month increase in subscribers.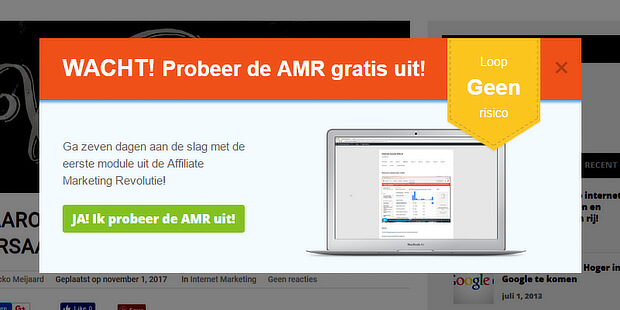 Here's a guide to enabling Monsterlinks™ on your site.
13. Track Conversions
If you're thinking about how to increase free trial signups, it's important to figure out what's working with your signup process. That means tracking conversions to see how many people complete your signup form or opt in to your marketing campaign.
There are several ways to do this. You can track conversions:
If you're using OptinMonster, one of the simplest ways to get conversion information is to log in to your OptinMonster dashboard and click the wiggly arrow next to your campaign.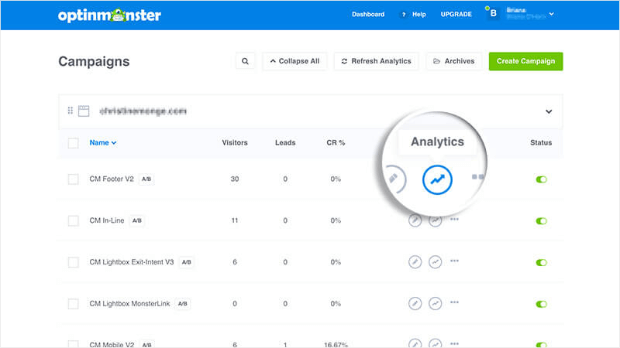 You'll see conversions from the last period and can adjust parameters to see all time conversions. That'll tell you if your campaigns are working.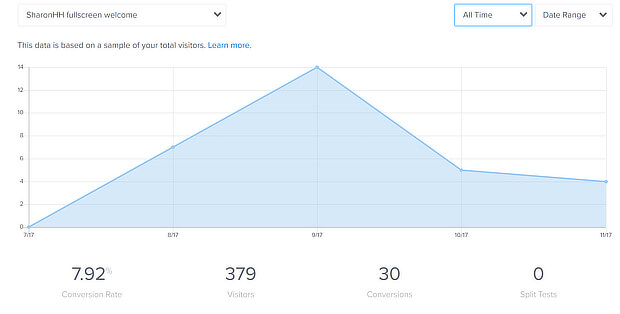 14. Collect Immediate Feedback
The best way to find out what's working to increase free trial signups is to ask your visitors.
Collecting feedback will help you tweak your marketing strategy and messaging to increased effectiveness.
Options for collecting visitor feedback include using a customer survey and interacting with visitors via live chat, as in this example from Missinglettr.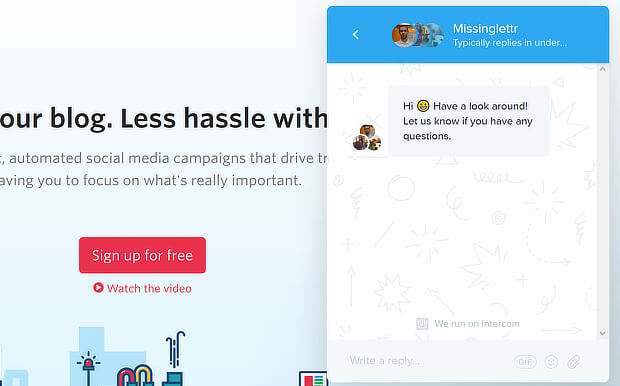 Popping up a survey just before people leave can help you find out why some people are ignoring your free trial. Then you'll be able to adjust your marketing to get their interest next time around.
Or you could email free trial signups immediately after they've signed up to ask what they're hoping to get from the free trial. Again, that's valuable information for future marketing.
See our guide on collecting customer feedback on your site to learn how to collect feedback with OptinMonster.
15. Use A/B Testing
When it comes to marketing, data beats guesswork every time. We've already talked about one kind of data – analytics – but now let's talk about another: A/B testing, also known as split testing.
You can use A/B testing to:
Refine your offers
Test landing page layout
Figure out what's working to increase free trial signups – and what's not.
You can also use A/B testing to gauge the success of your OptinMonster marketing campaigns. For example, Logic Inbound used split testing to increase conversions by 1500%.
Since split testing is so important, it's built right into OptinMonster, so you can easily compare the results of two slightly different marketing campaigns.
To create a split test in OptinMonster, login to your dashboard.
Navigate to the campaign you want to split test, and click the three-dot menu to the right.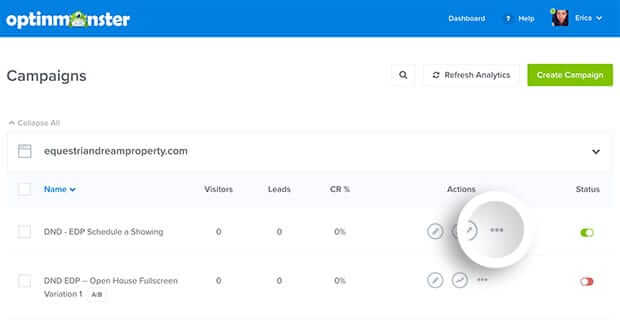 Select A/B split test.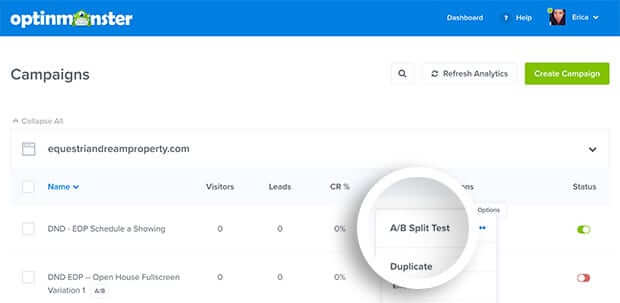 A box will pop up where you can give your split test a name, and write a brief description of what you're changing.
Press Create Split Test. Change one element of your campaign such as your headline, subhead, or call to action, so you can see what works.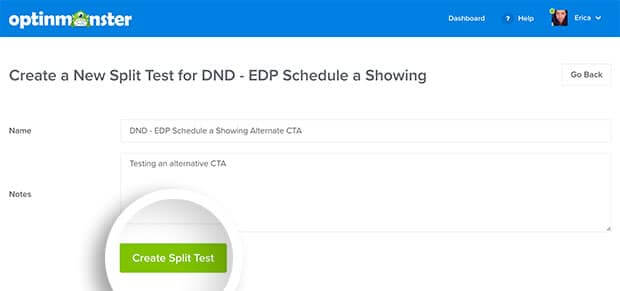 OptinMonster will automatically divide your traffic and collect conversion data for both versions of your marketing campaign.
When you have a winning version, go back to the three dot menu and choose Make Primary for the one you want to use.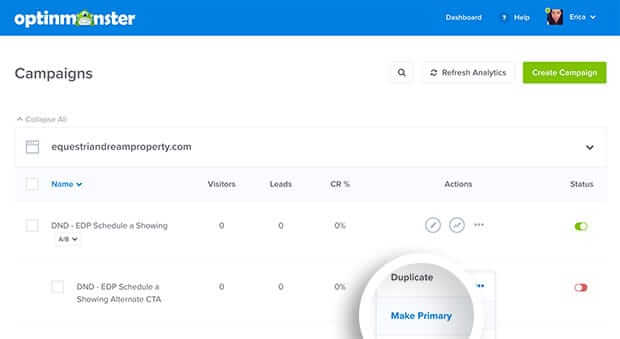 You can also experiment with different free trial periods. As 16Ventures explains:
Short free trials can stop people from signing up because they don't think they'll have enough time to test your product.
Longer free trials give people time to test the product but can extend the time taken to convert to being paid users.
Their advice is to use the free trial length that works best to attract free trial signups while working to convert them to paid users within the shortest possible time.
16. Quiz Visitors for Better Targeting
Here's a good tip from Kissmetrics. You can increase your free trial signups with a product wizard quiz.
Instead of presenting visitors with a bewildering array of product features, you can let their answers and preferences guide them to the solution or package that's best for them.
It's a different way of offering product recommendations and works well if you have a lot of options and features for visitors to choose from. We've seen this in use to sell beauty products and laptops.
In the case of the client, visitors were able to answer one question at a time to get a recommended demo at the end. This increased demo signups by more than 17% and demo conversions by around 19%.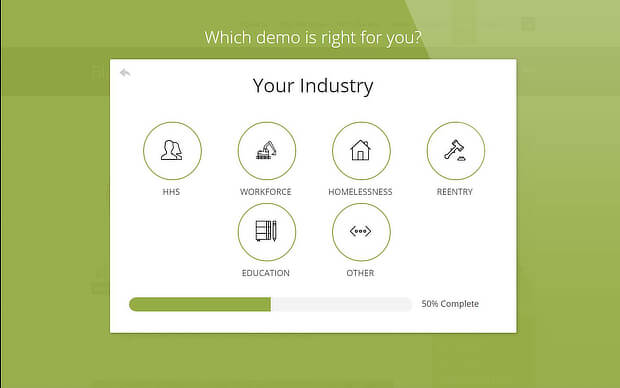 This is a great way to work out what features are most important to visitors. It can also help you figure out what visitors are willing to pay for and what their price pain point is so you can market more effectively to free trial users.
To implement this, follow these instructions for creating a survey in WPForms.
17. Ask for and Incentivize Referrals
Our last tip is to ask others for referrals and to compensate them for it. Offering an incentive for qualified referrals turns every current user into a promoter, and can rapidly increase your user numbers.
One place we've seen this used is on Missinglettr, where existing users can receive renewal discounts if they refer users who actually use the product.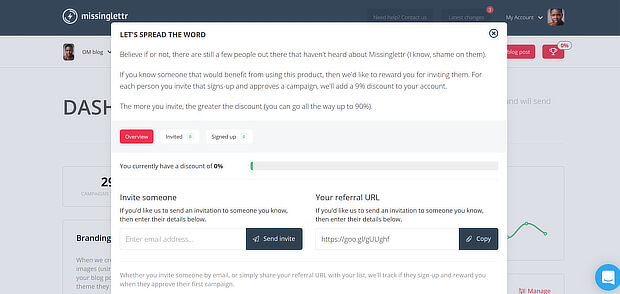 To do this in OptinMonster, create a campaign that targets users who have opted in to your free trial. Go to Display Rules » Visitor has interacted with a campaign and add the name of the campaign you used to sign up your free trial users. When they come back to your site, they'll see the new campaign offering the incentive.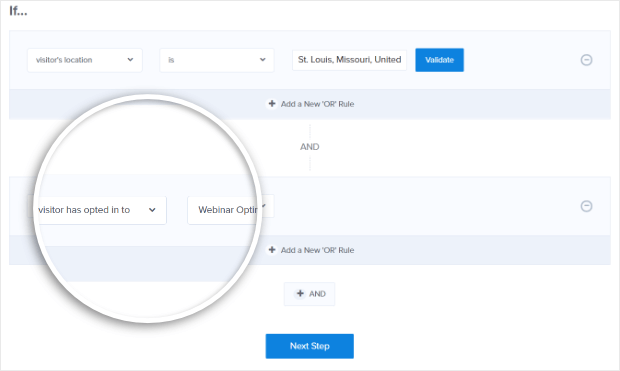 Free Trial Marketing Case Studies
Here are a few more inspirational examples of how companies were able to increase free trial signups.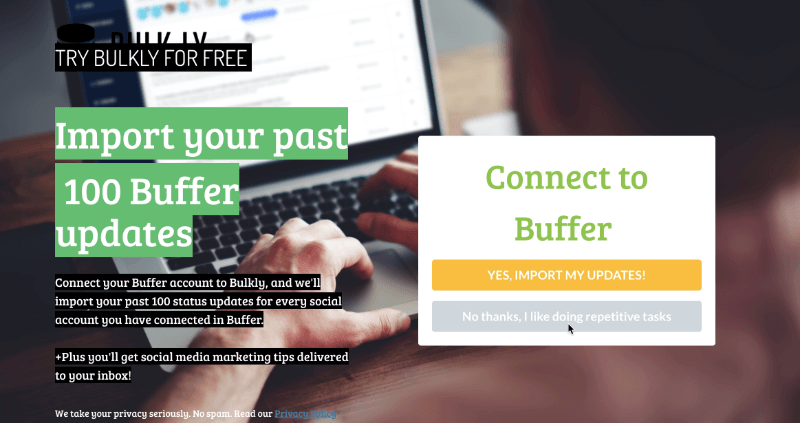 Bulkly was able to increase free trial signups 134% over their prior year in just 7 months by:
Targeting visitors using MonsterLinks to deliver lead magnets and generate leads
Using exit-intent to capture abandoning visitors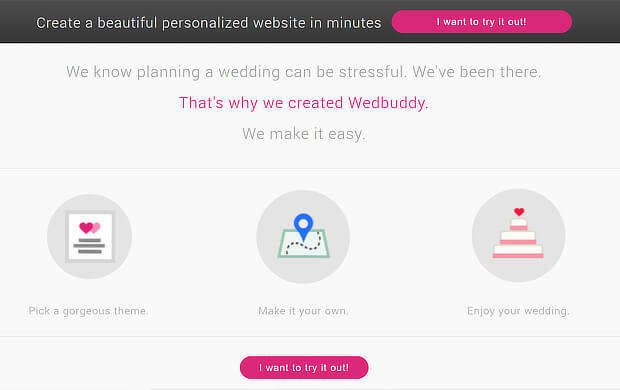 GrowthRock achieved a 73% increase in free trial signups for a wedding website creator by:
Changing the messaging to emphasize efficiency rather than price, getting rid of the word "free"
Reducing the size of the home page
Tailoring its messaging to the language used on a wedding forum
ActiveCampaign added 800 free trials a month by: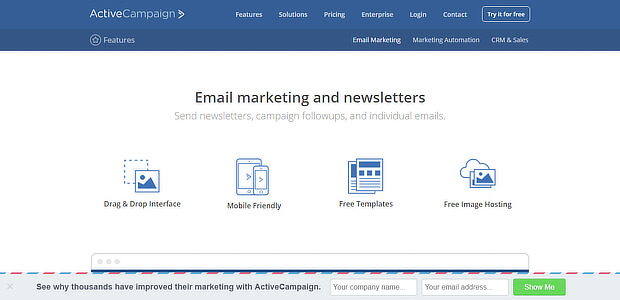 Using a floating footer that stands out from their site design to catch visitors' attention
Including social proof in the messaging as a trust factor
Launching the campaign on exit intent, to get people's attention before they leave the site
Groove engineered a 358% increase in free trial signups by: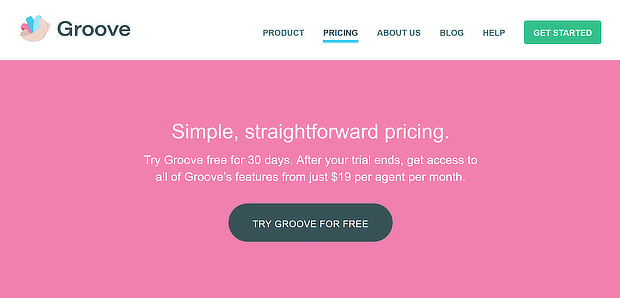 Changing from a variety of price options to one simple price
Altering campaign messaging to highlight simplicity and affordability
Cloudways got a 120% increase in free trials by: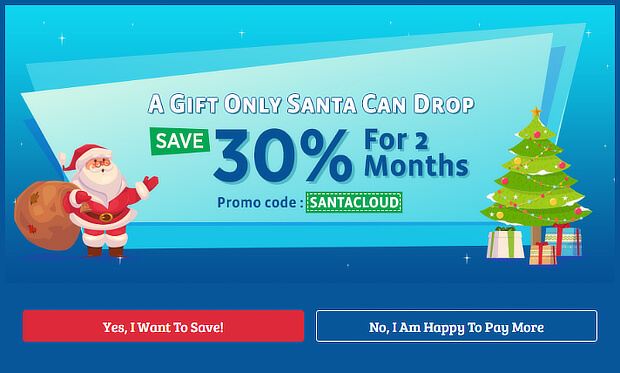 Using Exit Intent® technology to target visitors about to leave
Combining this with a scroll trigger to identify interested visitors
Using Yes/No campaigns to get more visitors to opt in
That's it! Now you know how to increase free trial signups with strategies that have helped other businesses achieve triple-digit growth.
Next, you'll want to see our guide on converting free users to paying customers. You can also improve free trial messaging with our huge list of copywriting templates.
If you're not using OptinMonster already, what are you waiting for? Sign up today!