Urgency is one of the best ways to boost your conversion rate.
When our purchasing decisions are based on urgency ("either take action and get a win now or lose out later"), we automatically lean towards the "take action" route because who doesn't like winning?
This phenomenon is one of the reasons why throngs of people clog up stores every Black Friday. Everybody knows that the insane deals are on a clock — so if somebody wants to get a 90% off TV, they have to act now.
Urgency has the same results online is used over and over by marketers to increase conversions.
When Marcus Taylor added a countdown timer on his product page, he saw his conversion rate increase from 3.5% to ~10% – that's a 3x growth.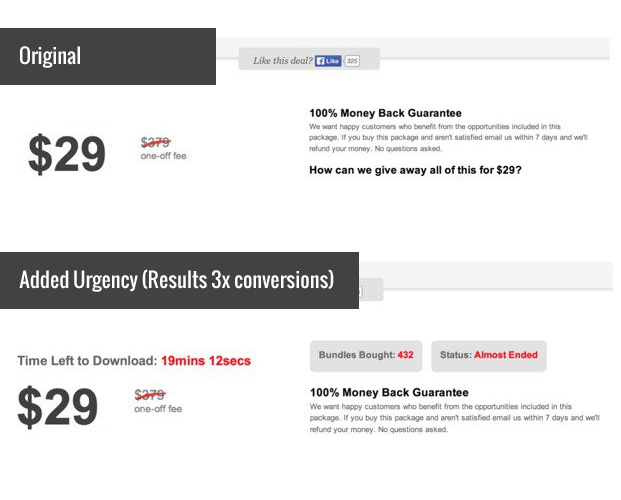 When one of our users used our coupon theme on their eCommerce site with an expiration deadline, they saw an immediate 13% increase in conversions.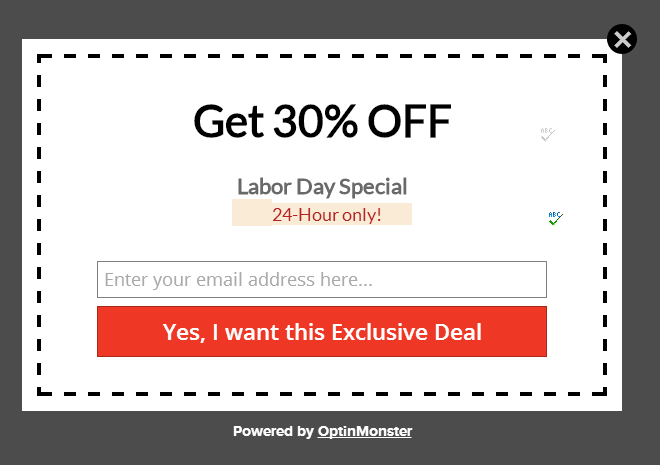 Once you start implementing urgency on your website, you'll no doubt see similarly boosts in your conversions.
How Does Urgency Work?
A study done by University of Kentucky reveals how the human brain stops thinking and starts acting when faced with an urgent situation.
Basically when you put a deadline on a specific action, you become more likely to complete that action.
The principle of urgency has been used to boost conversion rates for a long time. You've been constantly exposed to urgency in marketing campaigns for years.
Just take a look at how Amazon uses urgency to encourage on the spot purchases.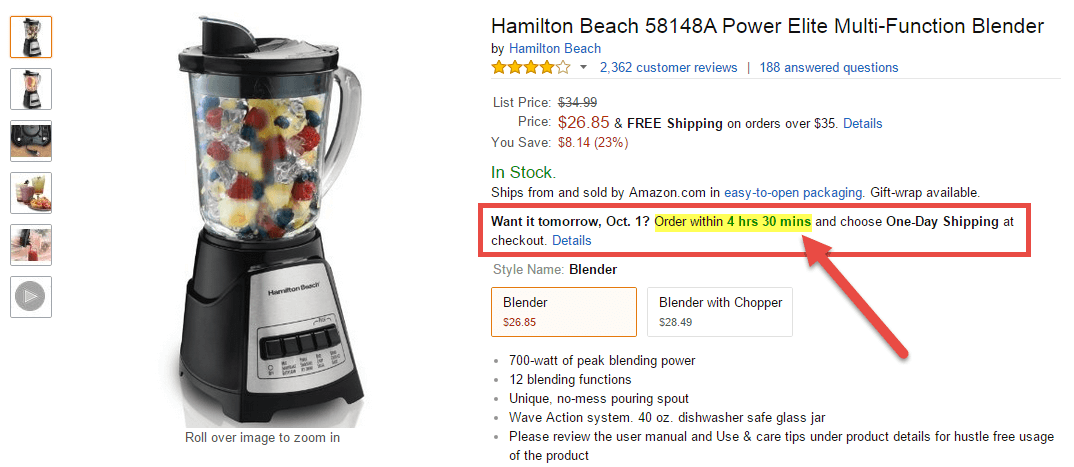 In this case, Amazon put a timeline on my purchase and told me how I could get the product delivered to my doorstep tomorrow if I ordered it within the next four and a half hours.
You can employ similar tactics to boost conversion rate on your site.
Let's take a look at different urgency techniques you can use to grow your conversions.
Time-Based Urgency vs. Scarcity-Based Urgency
There are two basic forms of urgency, as implied in the heading above: time-based urgency and scarcity-based urgency.
Time-based urgency is rather self-explanatory. It's when you put a timer on when someone can purchase a product or avail a specific benefit (just like the urgency Amazon creates with its one-day shipping feature).
Scarcity-based urgency is when there's only a limited number of products available. You'll see it often in eCommerce stores where you're advised to "Hurry! Only X left in stock!".
In fact, this sort of scarcity-based urgency is in part responsible for the fact that the 2015 Porsche Cayman GT4 was sold out in the UK (and in several other countries) even before production models were hitting the streets.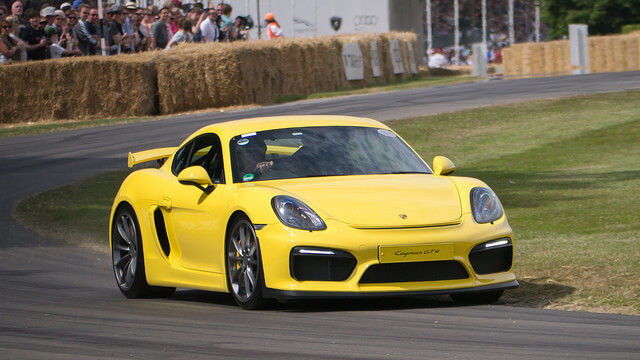 Enthusiasts knew that not very many Caymans would be available to the public, so they decided to pre-order theirs beforehand to make extra-sure they would be able to get their hands on one.
Tesla does this with all of their new car models.
How to Create Time-Based Urgency
There are several different ways you can create time-based urgency. The most obvious one would be simply to insert a countdown timer on a product page until you take the product offline.
Groupon does this quite often with the deals and coupons they post on their website.
What's more, if you don't want to retire your product on a specific date, then you don't even have to use a countdown to convey the time-based urgency. You can just imply it using a few special words and phrases.
Groupon also uses this tactic for some of their other deals, as you can see below.
Instead of displaying a timer, the product page screams out that there's "limited time remaining".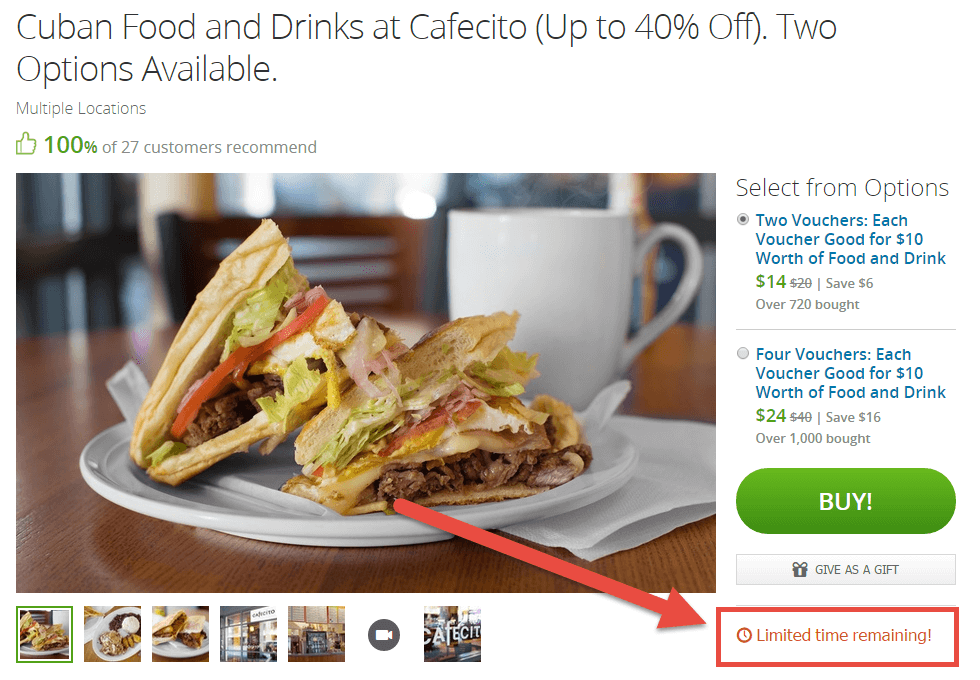 There are a ton of other words you can use to imply urgency. I've listed 10 of the best urgency words and phrases below:
limited time
hurry
rush
deadline
last chance
offer expires
one day only (or X days only, use as needed)
don't delay
act now
final
You can do it either way, but in both cases make sure that the timer/trigger phrase is quite prominent and clearly visible. After all, there's not much point in including the urgency if 50% of the traffic that visits the page never even notices it.
One of the ways you can make the trigger phrase more prominent is by changing the color scheme to highlight it.
Changing Minds did a case study on the meaning of colors and found out that red, orange, and royal blue are the best colors to create urgency. Royal blue and orange in particular help to encourage impulse buying (which is exactly what you need to get your conversion rate up).
How to Create Scarcity-Based Urgency
The difficulty with implementing scarcity-based urgency is that there actually needs to be scarcity to make it work.
For instance: if you say that you've only got 5 of a product left in stock (but in reality you have 50 left), then all of your hard-earned credibility will disappear when customers notice that the stock is never getting used up.
So if you say that you've only got 5 left, then you actually have to have only 5 left. But if your business isn't selling so well (which is exactly what we're trying to improve), then you might have a significant surplus of stock.
The solution, once again, is to imply the scarcity. You don't need to come right out and say the exact quantity, but you can instead make a visitor perceive scarcity using some well-placed and correctly worded triggers.
One way to do this is by displaying how many people have been looking at purchasing the product.
Hotels.com employs this technique quite effectively.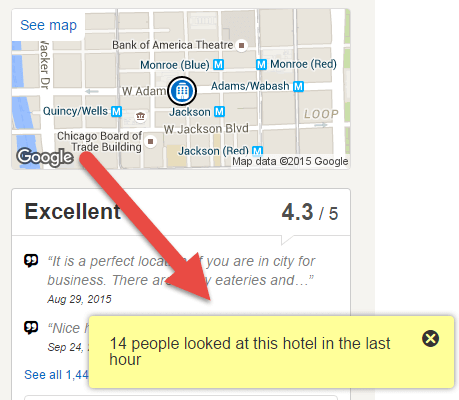 This little blurb helps to imply scarcity by conveying the idea "because 14 people have looked at it, this place is popular. I better reserve my room now so the hotel doesn't get booked up". Not only that, it also communicates the product is very desirable (because demand is high).
eBay also uses a similar technique to heighten demand on sellers' auctions. However, since there really is only one of the product available, the scarcity is real — not implied.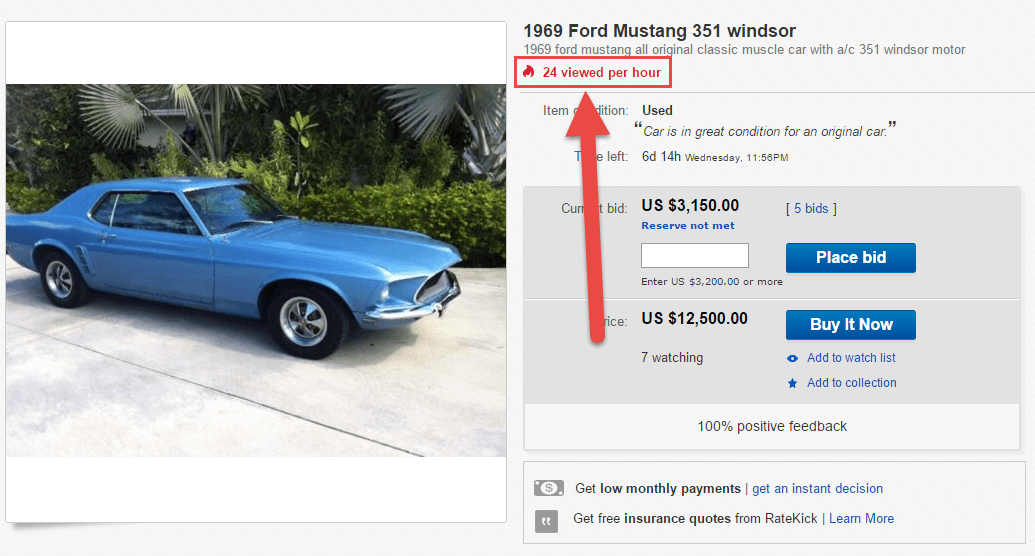 Which Urgency Techniques Will Work for You?
As we've seen above, urgency is a powerful conversion rate booster, while being relatively simple to implement. So now is your chance to implement urgency in your online business to see how it can help you to improve your bottom line.
Remember to test the effects of both types of urgency: time-based and scarcity-based.
You can even try out a combination of the two to see which one works best to convert your audience.
Have you experimented with urgency in your conversion rate optimization campaigns? Got any extra tips on how to implement it on a website? Please share your thoughts in the comments below!
If you enjoyed this article, then you may want to check out these 16 ridiculously simple ways to get more email subscribers in less than 5 minutes.
Also please consider following us on Twitter (@optinmonster) as we share tons of other awesome conversion optimization tips there.