Looking to boost the effectiveness of your PPC campaigns? You don't want the traffic you paid for to go to waste.
Using targeted optins is one of the most effective yet underutilized methods to boost signup rates and revenue. In this post, we'll show you how to boost the ROI of PPC campaigns by using targeted optins on your site.
Before jumping in to different tactics to boost your ROI, let's take a look at the difference between OptinMonster popups and popups that PPC networks do not allow.
Are Popups Allowed by PPC Networks?
If you've ever promoted your online store with PPC ads, probably you're wondering whether major PPC networks like Google, Bing and Facebook allow optin popups on PPC landing pages.
With OptinMonster, you don't have to worry about popup policies of various PPC networks.
According to Google AdWords and other major PPC networks, an acceptable popup is a type of graphic that appears within the landing page instead of opening it in a new browser window.
OptinMonster popups are actually overlays that appear in the same browser window. To boost conversions of your PPC campaign, you can make use of multiple optin types on your PPC landing page, including fullscreen welcome gates, lightbox popups, slide-ins, and more, all of which are allowed by PPC networks.
How to Target Optins for Your PPC Campaigns
OptinMonster's page-level targeting allows you to display targeted optins only to your PPC visitors.
You can target optins to display only to your PPC visitors with a specific URL parameter (e.g. ?utm_campaign=my-campaign) in your URL. This bit of extra information in your link is called a "UTM code."
By adding a UTM code with campaign parameters to your URLs, you can identify the campaigns that send traffic to your site, so you can show relevant optins only to those visitors.
Here's how it's done.
Creating a UTM Code for Your Campaign
The first step to target your optins is to build a special link that you'll use in your PPC campaign. To add the URL parameter to your link, you may use the Google's campaign URL builder, or MonsterInsights URL Builder if you have a WordPress site.
In the URL builder, you can enter the website URL and campaign information such as campaign source, campaign medium, campaign name, etc.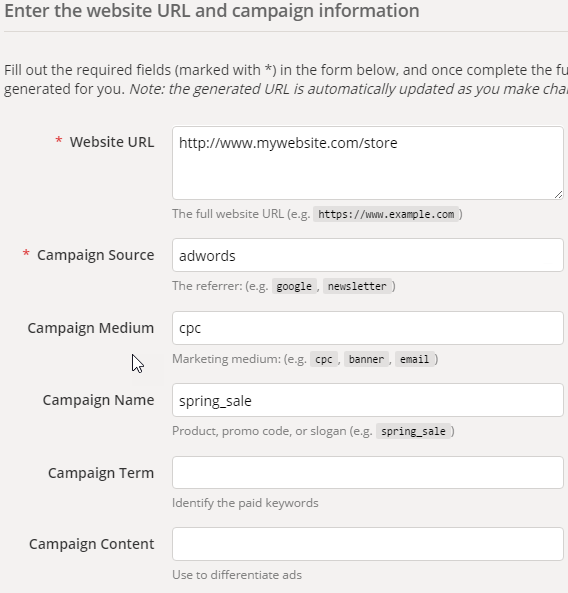 Campaign Source (utm_source): This required parameter identifies the source of your traffic such as search engine, newsletter, etc.
Campaign Medium (utm_medium): This required parameter identifies the medium the link was used upon such as email, CPC, etc.
Campaign Name (utm_campaign): This required parameter identifies a specific product promotion.
Campaign Term (utm_term): This optional parameter identifies the keywords of your ads if you're using a paid search campaign.
Campaign Content (utm_content): This optional parameter is used to differentiate ads that point to the same URL. It is suggested if you're A/B testing the performance of your campaign.
Once completed, the full campaign URL will be generated for you just below the campaign URL form. You can also use this URL for tracking the campaign in Google Analytics.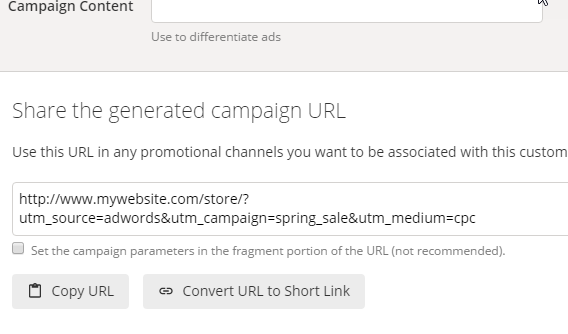 Now when you set up your PPC campaign, you'll want to be sure to use this link.
Targeting Campaign URLs In OptinMonster
Now let's take a look at the URL parameter we just built.
http://www.mywebsite.com/store/?utm_source=adwords&utm_campaign=spring_sale&utm_medium=cpc
In this case, the URL has three query argument keys, and three matching query argument values:
Key: utm_source Value: adwords
Key: utm_medium Value: cpc
Key: utm_campaign Value: spring_sale
You can target any of these query argument keys and query argument values in your optin. By doing so, that optin will only be displayed to visitors who click your specially-crafted link with the UTM code.
To create a targeted optin, log in to your OptinMonster account, select the form and go to Display Rules » Visitors with a specific URL parameter.
As we're looking to create targeted optins for PPC campaigns, let's target the query argument key "utm_source" and the query argument value "adwords."
If you want to target more query argument and query argument value, you can easily add them by selecting Add a Condition. Then, you can enter more query arguments and values.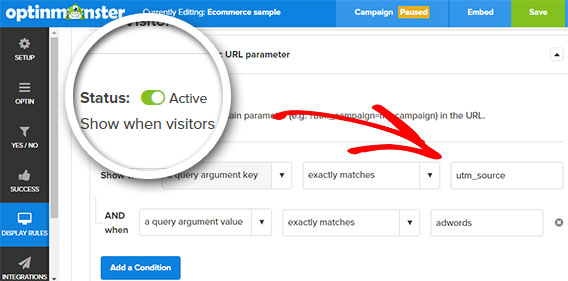 Now that we've created targeted optins for your PPC campaigns, let's take a look at how it can boost the ROI of your campaign.
Offer a special coupon code
People who land on your site after clicking an ad might be hesitant to buy until they see a coupon code. To encourage them to checkout, you can offer them a special coupon code through two different ways.
Show the coupon code in a popup
Collect your customers email address and send it via email.
1. Show the coupon code in a popup
The advantage to this method is there is no additional work needed on the shoppers' part to get the coupon. If they were already thinking about buying, all they need to do is to copy and paste the coupon code and checkout.
For example, Baby Age encourages visitors to make a purchase by creating a limited time coupon code in their popup. The best thing is it creates a sense of urgency, so either you get the offer or you miss out.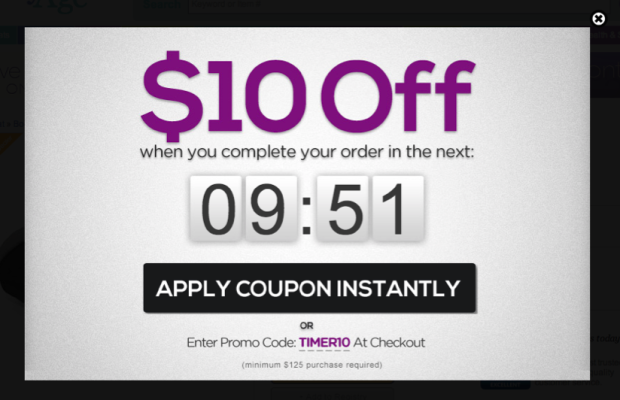 2. Send the coupon code via email
The main drawback of showing the coupon right away in a popup is that if the customer is not ready to make a purchase, you will have missed out on collecting their email address.
In fact, 95% of first-time visitors are not ready to purchase from your website right away.
Instead of showing a coupon code right away, it is always better to collect emails from your first-time visitors and send the coupon code via email.
Here's a perfect example of a lightbox popup that encourages newsletter sign ups to get an exclusive discount.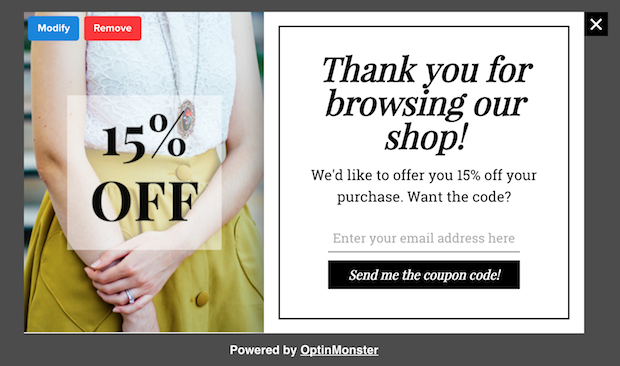 Use Exit Intent to Reduce Abandonment
When it comes to ecommerce business, shopping cart abandonment rate is one of the most important KPIs (Key Performance Indicator) to focus on. In fact, it is the single largest obstacle for ecommerce retailers to overcome.
According to a study by Baymard, the average documented online shopping cart abandonment rate is almost 70%. In other words, on average, 7 out of 10 customers abandon their cart at the last stage of their sales funnel before completing the checkout process.
If you're looking to reduce the shopping cart abandonment rate, you can use an exit popup on your site.
Exit-intent technology allows you to make one last-ditch effort to convert visitors as they are about to abandon the cart. With OptinMonster, when someone is about to navigate away, you can show a final message to your potential customer in a lightbox overlay right at that pivotal moment.
Let's take a look at our own example of how we use exit pop to convert abandoning users to customers.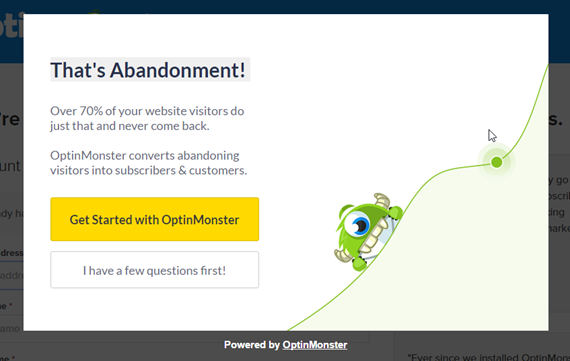 We persuade our customers to complete the checkout by displaying a big yellow call-to-action button when they are about to leave the site. We also give a choice to our customers to ask any presale question by clicking on I have a few questions first button.
To reduce the abandonment rate of your ecommerce store, you can use the same strategy. The best thing is that aside from reducing the abandonment rate, this strategy helps you to learn why your customers are leaving your site without completing the checkout.
Boost the ROI of Your PPC Ads Today
We've discussed a few ways to boost the ROI of your PPC campaigns with targeted optins. OptinMonster gives you tons of opportunities to create targeted optins to boost your ROI.
Get started with OptinMonster today and convert more website visitors into email subscribers and customers!