Looking to boost the effectiveness of your PPC campaigns? You don't want the traffic you paid for to go to waste.
Using targeted optins is one of the most effective methods to boost signup rates and revenue. And yet, it's often underused.
In this post, we'll show you how to boost the ROI of PPC campaigns by using targeted optins on your site.
But before jumping into different ways to boost your ROI, let's get clear on the PPC network's policies for landing page popups, and how you can use OptinMonster to specifically display popups on your PPC ads.
Are Popups Allowed by PPC Networks?
If you've ever promoted your online store with PPC ads, you're probably wondering whether major PPC networks like Google, Bing, and Facebook allow optin popups on PPC landing pages.
With OptinMonster, you don't have to worry about popup policies of various PPC networks.
According to Google AdWords and other major PPC networks, an acceptable popup is a type of graphic that appears within the landing page instead of opening in a new browser window.
In other words, so long as your popup doesn't open up in a new window, you're totally fine.
OptinMonster popups are overlays that appear in the same browser window. This means you can add OptinMonster popups to your landing pages without breaking any of the PPC networks' rules.
And to boost conversions of your PPC campaign, you can make use of multiple optin types on your PPC landing page, including fullscreen welcome gates, lightbox popups, slide-ins, and more. All of these are allowed by PPC networks because, again, they don't open a new browser window.
But now comes the big question: how can popups help you optimize your ROI for PPC ads?
We're going to look at 2 methods for this using OptinMonster:
Let's get started.
Optimize ROI for PPC Ads With OptinMonster
For this article, we'll be using OptinMonster, the world's #1 lead generation software: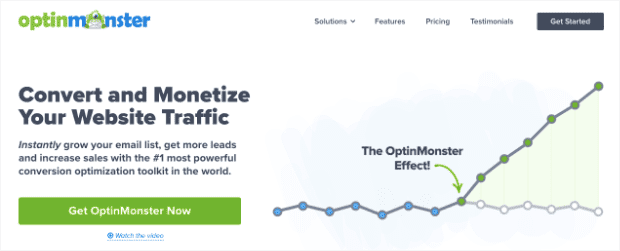 OptinMonster is hands down the best software for getting people to take action on your website.
Whether you want more sitewide traffic and higher pageviews, to grow your email list, or to generate more sales, OptinMonster gives you the tools to expand your business.
We help you create targeted optin campaigns. These are small messages containing a call to action (CTA) in the form of a popup, floating bar, fullscreen welcome mat, and many others.
For more information on how OptinMonster empowers business owners to grow, check out this post: How Does OptinMonster Work: 8 Benefits + 12 Case Studies.
Otherwise, go sign up for your risk-free OptinMonster account today!
Target Optins Specifically for Your PPC Ads
One of the biggest ways to get the highest conversions from any part of your sales or marketing funnel is by making each step as personalized as possible.
With OptinMonster, we made sure that you could show your campaigns exactly where, when, and to whom you want. And we believe that personalizing your optin campaigns specifically for PPC ads is the best way to maximize your ROI.
That's one of the reasons why OptinMonster's page-level targeting allows you to display targeted optins only to your PPC visitors.
You can target optins to display only to your PPC visitors with a specific URL parameter (e.g. ?utm_campaign=my-campaign) in your URL. This bit of extra information in your link is called a "UTM code."
By adding a UTM code with campaign parameters to your URLs, you can identify the campaigns that send traffic to your site so you can show relevant popups only to those visitors.
Let's take a quick look at how you'd go about setting that up.
Step 1: Create a UTM Code for Your Campaign
The first step to target your optins is to build a special link that you'll use in your PPC campaign. To add the URL parameter to your link, you may use the Google's campaign URL builder or MonsterInsights URL Builder if you have a WordPress site.
In the URL builder, you can enter the website URL and campaign information such as campaign source, campaign medium, campaign name, and so on.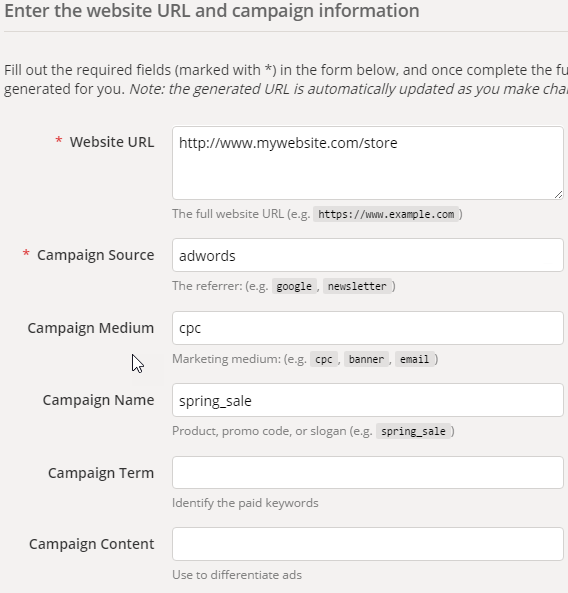 Here's a breakdown of the various parameters you can set for your PPC landing page's URL:
Campaign Source (utm_source): This required parameter identifies the source of your traffic, such as search engine, newsletter, etc.
Campaign Medium (utm_medium): This required parameter identifies the medium the link was used upon, such as email, CPC, etc.
Campaign Name (utm_campaign): This required parameter identifies a specific product promotion.
Campaign Term (utm_term): This optional parameter identifies the keywords of your ads if you're using a paid search campaign.
Campaign Content (utm_content): This optional parameter is used to differentiate ads that point to the same URL. It is suggested if you're A/B testing the performance of your campaign.
Once completed, the full campaign URL will be generated for you just below the campaign URL form. You can also use this URL for tracking the campaign in Google Analytics.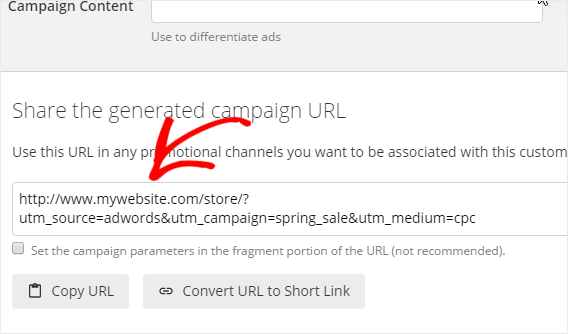 Then you can use this link to target OptinMonster campaigns for that specific PPC ad.
Step 2: Identify Query Argument Key and Value
Let's take a look at the URL parameter we just built.
http://www.mywebsite.com/store/?utm_source=adwords&utm_campaign=spring_sale&utm_medium=cpc
From this URL, you're going to need 2 pieces of information:
Query Argument Key
Query Argument Value
And if all of this sounds like a bunch of "tech-talk" to you, don't worry. It's really not all that complicated to find either piece of information.
As you inspect your new URL parameter, you'll notice everything is part of a formula. Anything in the URL starting with "utm_" is your query argument key.
Anything that comes after the "=" is your query argument value.
And anything coming after "&" separates each query argument.
So, in this case, the URL we built has 3 query argument keys and 3 matching query argument values:
Key: utm_source Value: adwords
Key: utm_campaign Value: spring_sale
Key: utm_medium Value: cpc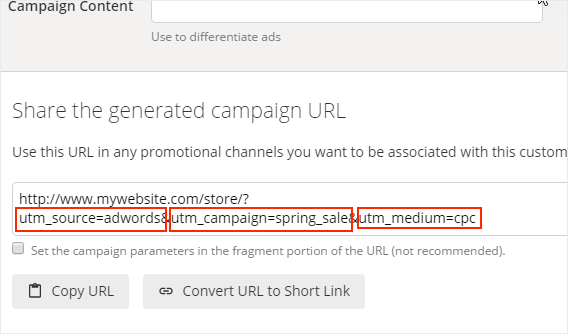 And here's the best part: you don't need to know anything about what query argument keys or values are to target your PPC ads. You just need to know where to find them. 😉
Because once you identify your query argument key and value in your OptinMonster display rules, your popup will only appear to visitors who click the unique URL with that specific UTM code.
Put more simply, only people who click your PPC ad will see your popup campaign. Now you just need to put this information into your OptinMonster campaign's display rules.
Step 3: Target Campaign URLs in OptinMonster
To create a targeted optin, log in to your OptinMonster account and locate the popup campaign you want to target.
We won't get into detail on how to create or design an OptinMonster campaign in this post. If you need help with that, no worries. Just check out this article on how to create your first OptinMonster campaign.
Once you're in your OptinMonster editor for the popup campaign you want to use, click on Display Rules at the top:

Click on the first display rule (time on page by default) to pull up your menu of possible rules. Then, in the search bar, type in the word Query and select Query Targeting: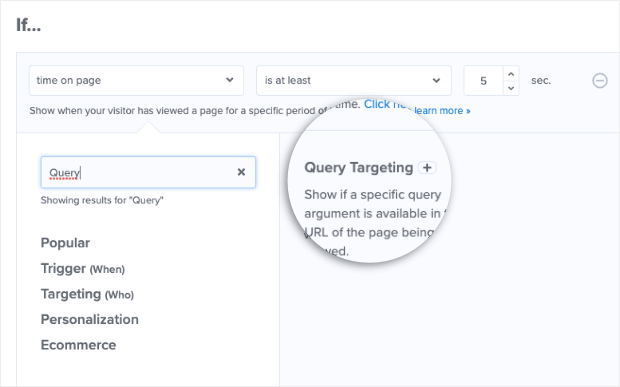 Since we want to create targeted optins for PPC campaigns, let's target the query argument key "utm_source" and the query argument value "adwords."
Doing so is super simple.
By default, you'll see that both the query argument key and value are set to is anything:

Change each of these to exactly matches from the drop-down menu: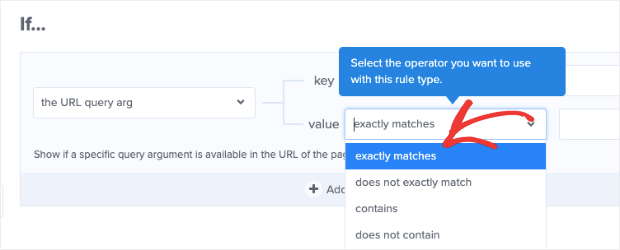 Then insert the URL query argument key and value for your unique URL parameter:

If you want to target more query arguments and query argument values, you can easily add them by clicking + And:

Then, you can enter more query arguments and values.
But now you're probably wondering, how can showing a popup to your PPC visitors translate into higher conversions and a better ROI? Here are 3 practical ways targeting your optin campaigns can boost ROI:
a) Show a coupon code in a popup: When a visitor clicks on your PPC ad, it means they've shown some interest in your product or services. When they look at your landing page, they may only need an extra push to make a purchase.
Displaying a coupon specifically for your PPC visitors can lead to more overall sales. This is especially true if you want to increase your discount for visitors with a higher interest in your product than for your general site traffic.
b) Grow your email list with warmer leads: Again, one of the benefits of targeting your optin campaign to PPC ad landing pages is that you know the visitors have a heightened interest in your niche. You can create a specific contact list with your email service provider and collect email addresses from your PPC visitors.
Then you can tag these new leads to send more personalized campaigns than you would with people who signed up from other (more general) pages on your site.
This personalization will allow you to increase conversions, make more sales, and boost your ROI.
Want to learn more about how to step up your email marketing game? Check out the following posts:
These resources will have everything you need to grow and monetize your email list. And since you're targeting PPC ad landing pages with OptinMonster popups, generating more warm leads will be a breeze.
c) Use Exit Intent to Reduce Abandonment: When it comes to eCommerce, shopping cart abandonment is one of the most important factors to consider. In fact, it is the single largest obstacle for eCommerce retailers to overcome.
If your PPC ad is sending users to a product or sales page, you don't want those users to leave your site. If they do, chances are that they'll never be back.
Exit-intent technology allows you to make one last-ditch effort to convert visitors as they are about to abandon their cart. With OptinMonster, when someone is about to navigate away from their browser page, you can show a final message to your potential customer in a lightbox overlay right at that pivotal moment.
In fact, an exit intent popup is how Crossrope was able to recover abandoning visitors and grow their email list by over 900%.
You can create targeted popup campaigns specifically for your PPC ad's landing page. This lets you customize your offer, make it more enticing, and increase the odds that your PPC visitors will stay engaged with your brand.
Now that we've seen a few ways targeting campaigns can boost the ROI of your PPC ads, let's kick things up a notch.
We're going to teach you how to use pixels to help PPC networks build you a smarter audience and retarget your customers.
2) Adding Pixels to Your Optin Campaigns
All major PPC networks have something called "pixels" to help you better track audience behavior on your website. Pixels are simply a small snippet of code that you insert on your site to track a particular event.
So, for example, you could put a Google Ads pixel on the "Thank You" page of your checkout process. When users complete checkout and go to that page, the event (in this case, a purchase) will be triggered, and the information will be tracked.
And while all of this is awesome for business owners, some marketers run into a problem: they'll send users to a landing page from a PPC ad, then they'll use a popup to boost conversions.
But since the popup isn't connected to the code on their website, these conversions aren't accurately tracked.
This limits a PPC network's ability to make lookalike audiences for your PPC ads (which we'll discuss soon), and near impossible for you to correctly retarget your optin campaigns.
The good news is that you can insert pixels directly in your OptinMonster popups. Then, when a user converts from your popup, it will trigger and track an event with your PPC network.
In other words, OptinMonster can work with your website to improve the performance of your PPC ads.
Plus, you can insert your PPC network pixel in just a few steps.
Step 1) Create a Global Tag and an Event Tag
Regardless of which PPC network you're using (Facebook, Google Ads, Twitter, and so on), you'll need to set up 2 things:
Not every PPC network will use the same terminology for these types of tags, either. Facebook, for instance, refers to global tags as "base code" and event tags as "standard events."
But they all work the same way.
Your global tag is a piece of code that you'll need to place on every page of your website. Your event tag is a piece of code that will help you track a specific conversion.
Since there are so many different PPC networks to choose from, we simply can't get into too much detail on how to set up your PPC global and event tags.
You'll need to check with your PPC network to figure out how to set this up with your website. That said, here are a few helpful resources with the biggest PPC networks available:
These articles should be more than enough to get you started with the PPC network you'll use most for your advertising.
For the rest of this post, we'll specifically use Facebook pixels to track events in our popup.
Step 2) Add Facebook Pixel via Success Scripts
Once you've entered your global tag on your site (or Facebook's "base code"), you'll need your standard event code.
That would look something like this:
Now you can use Success Scripts in your OptinMonster campaign to track your Facebook conversions. To do so, click on the button you want to track in your editor, scroll down to Action, and enter your standard event tag under success scripts: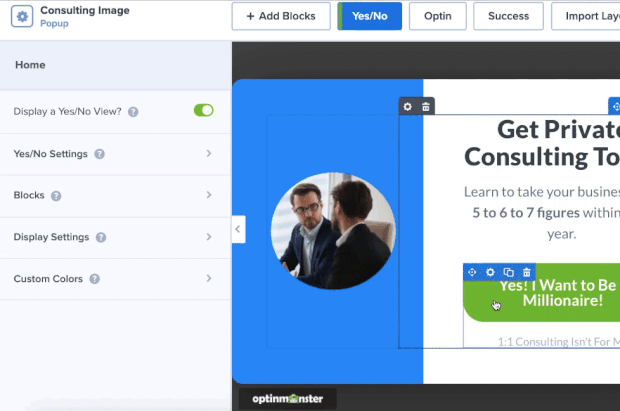 And make sure you activate the toggle switch next to Conversion Tracking: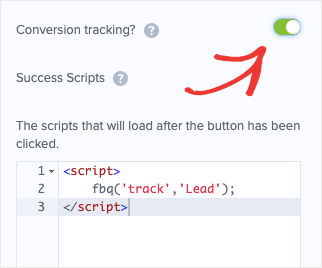 Note that you need to have a Growth Subscription plan or higher to use success scripts. If you don't have a Growth Subscription or you want to track something other than conversions with your OptinMonster campaign, you can use OptinMonster's HTML blocks.
To learn how to do that, check out this helpful article on using Facebook pixels with OptinMonster.
Again, the exact steps that you take while using tracking pixels with your OptinMonster campaign will vary.
That's because you may use other platforms (like Google Adwords, LinkedIn, Twitter, and so on), or you may be tracking other actions on your site.
Regardless of what you want to accomplish, it's important to know that you can use pixels from your PPC platform to track the success of your campaigns. This allows you to use popups for your landing pages while still collecting accurate data on your conversions.
But why would you take the extra 5 minutes to set this up? In other words, how will tracking your popup conversions help you boost the ROI from your PPC campaigns?
Why You Should Track Popups for PPC Campaigns
One of the most significant benefits of using PPC networks to create ads is the amount of data it has on a large user base.
Facebook, for instance, has demographic and behavioral information on millions of people. That means they can look at how people are interacting with your website and optimize your campaign's audience.
They do that by creating a "lookalike" audience. This means that they'll look at the type of person who converted from your ad and start showing the ad to other users with a similar profile.
All major PPC networks offer a similar feature.
Over time, your PPC network can get a good idea of who your buyer persona is, put your ads in front of that audience, and boost your conversions.
And when you know how someone behaves with your website, it doesn't just give you information that you can use for other people.
It also lets you know about what this individual is interested in so you can personalize their customer journey.
You do this by combining Success Tracking and Retargeting Scripts with a MonsterChain and Dynamic Text Replacement.
MonsterChains allow you to create a drip campaign that will progressively show or hide popups to users based on how they've interacted with previous campaigns.
And our Dynamic Text Replacement feature allows you to personalize your campaigns to an individual with their name or location.
So as Facebook retargets your audience and sends them back to your site with future campaigns, you can further customize your messaging to the individual consumer.
In the end, you get higher conversions from your PPC ads and more sales for your company.
And that's it! You now have some concrete ways to boost the ROI from your PPC ads.
We hope you enjoyed this article. If you enjoyed this post, we recommend checking out the following resources:
These posts have everything you need to learn more about PPC campaigns and how to generate more leads for your business.
Ready to get started boosting conversions and seeing a bigger ROI from your PPC ads? Get started with your risk-free OptinMonster account today!