Online marketing is a major investment for any brand, big or small, but that doesn't mean it has to entail a massive financial investment. Thanks to a variety of free tools, you can piece together a stable marketing strategy without a huge marketing budget.
Here are 45 best free online marketing tools that you can use to get started.
Social Media Tools…
1. Social Mention

Monitoring your social media presence can be a challenge if you don't have a way to automate and streamline the process. This is where Social Mention comes in. With this program, you can monitor four major metrics: strength, sentiment, passion, and reach.
2. Addict-o-matic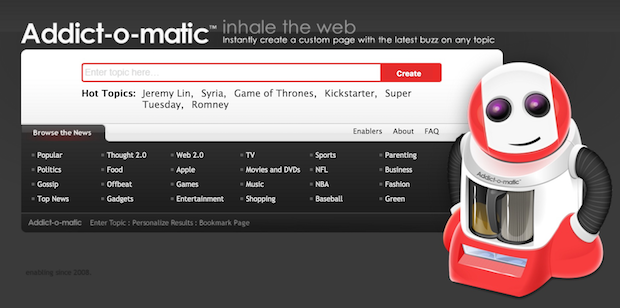 Creating a buzz around your brand is vital. Addict-o-matic helps you monitor your influence (and that of your competitors) based on searches of such sites as Flickr, YouTube, Twitter, Bing, and Google. It's totally customizable and sortable.
3. IceRocket

Want to monitor specific keywords on social media? IceRocket is one of the best tools for tracking mentions and generating keyword-specific reports.
4. IFTTT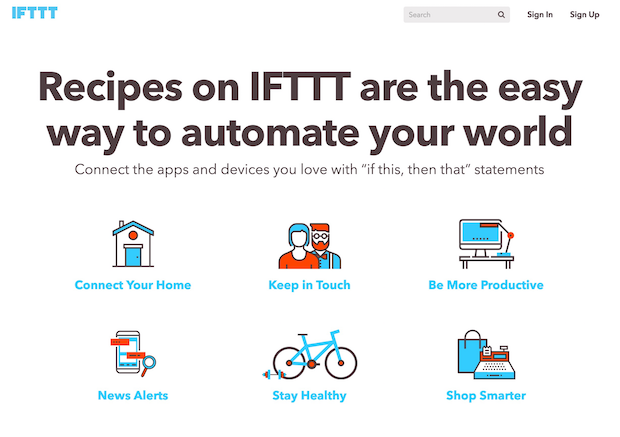 If you've never used IFTTT, then you're missing out. IFTTT is a tool that lets you instigate targeted actions based on an "if this then that" format. It can be integrated with hundreds of different tools and social media networks, which makes it super powerful.
5. Google Alerts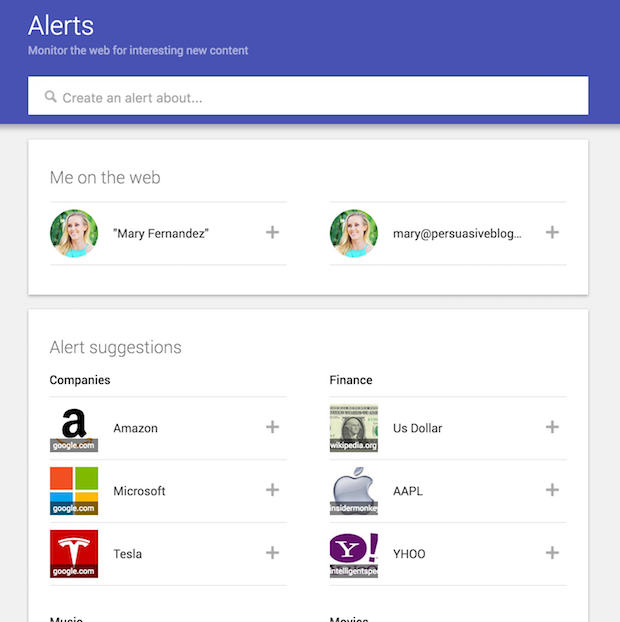 Google Alerts allows you to discover the social media platforms that are driving traffic to your site. Every time your brand or keywords are mentioned, you'll get a notification. It's a powerful tool, and it's free to use.
6. TweetDeck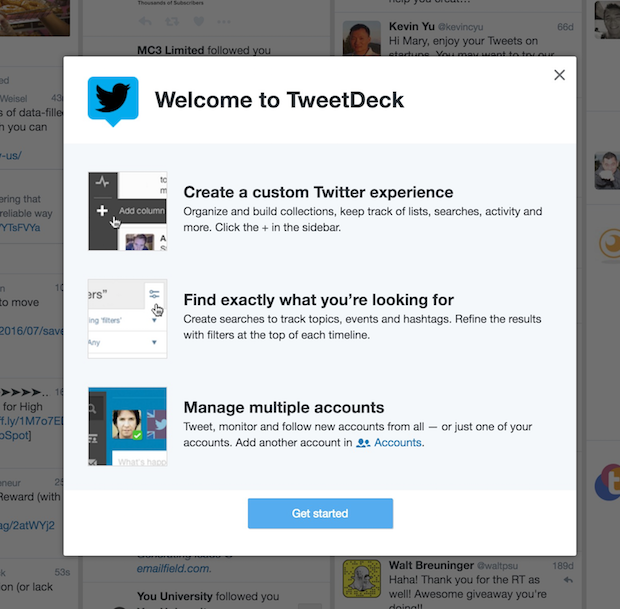 One of the more famous tools on this list, TweetDeck is widely regarded as the best free Twitter tool available. It has a variety of features and is incredibly simple to use.
7. Facebook Page Insights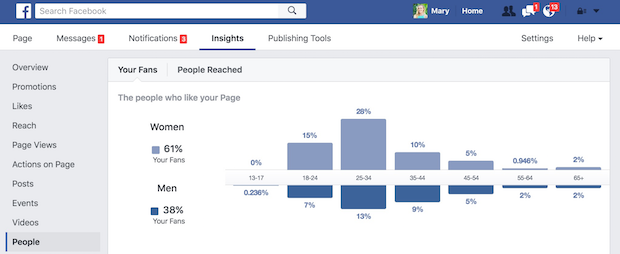 Anyone who does Facebook marketing and advertising needs to use Facebook Page Insights. It lets you peak behind the curtains and understand the behavior of your customers (which is valuable outside of Facebook, too).
8. Rapportive

Rapportive is one of the neatest social media tools you'll encounter. It lets you view social media profiles and activity – namely LinkedIn – directly in your Gmail inbox. You can use this information to enhance and leverage your network.
9. Qzzr

Need to create shareable content on social media that consistently drives traffic to landing pages and websites? Qzzr is a quiz creation tool that empowers you to develop tools on a variety of topics for easy social media dissemination.
10. Facebook Audience Insights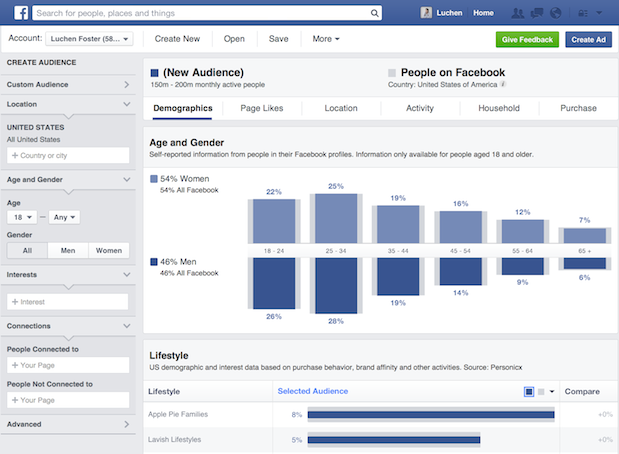 Similar to Facebook Page Insights, Facebook Audience Insights gives you inside information on your prospects. However, rather than focusing on your own audience, you can get insights into the audience of your competitors.
SEO Tools…
11. Google PageSpeed Insights

Page loading time is one of the most critical factors in conversion and bounce rates. Use Google PageSpeed Insights to get a real-time analysis of your website speed.
12. Keywordtool.io

Keywords are one of the cornerstones of every SEO or marketing campaign. Use Keywordtool.io to see a list of useful and relevant long-tail keywords that may be useful in helping to target customers.
Recommended Resource: What's next? How do you use your keywords without keyword stuffing? See our guide on SEO Made Simple: Where & How To Use Keywords in Your Content to use your keywords the RIGHT way.
13. Google Analytics by MonsterInsights

If you aren't already using Google Analytics, now's the time. This powerful analytics platform is among the best on the Internet. It comes packed with thousands of metrics and can be used to track highly specific and relevant conversion goals. Connect it to your WordPress site and get the stats that matter with the Google Analytics by MonsterInsights plugin.
14. Open Site Explorer

The free version of Open Site Explorer is incredibly resourceful. Use it to analyze links and quickly identify which inbound links are leading to your site. Not only does this show you where your most valuable pages are, but it helps you make future insight-based decisions.
15. Google Trends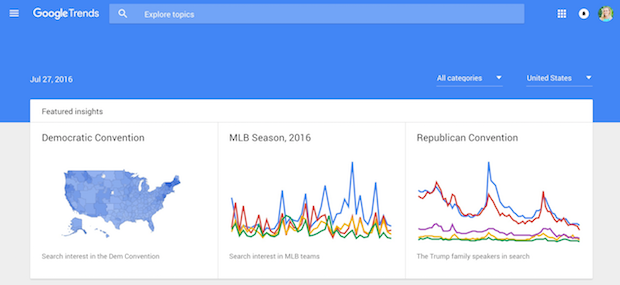 Google Trends is another neat Google product. This free tool enables you to search for keywords based on volume and identify the potential of different short and long-tail search terms.
16. SimilarWeb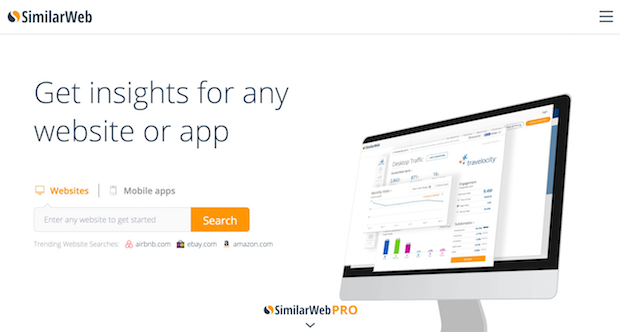 From an SEO and marketing perspective, something that doesn't get discussed enough is studying the competition. With SimilarWeb, you can compare traffic between two different websites (yours versus a competitor's) and see what's happening.
17. Browseo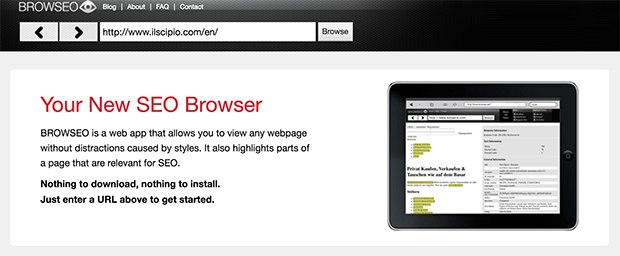 It can be helpful to see your website through the lens of a search engine. Simply enter your website URL into Browseo and the tool will show you a hierarchy of particular elements. You'll learn something new every time you use this.
18. Copyscape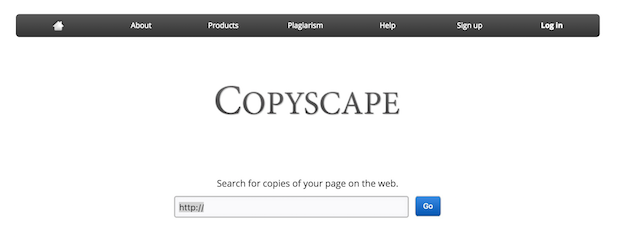 Duplicate content can be a major SEO killer. Unfortunately, you don't always know you have it. With Copyscape, just enter a URL for a blog post or website and you'll get immediate results.
Content Marketing Tools…
19. Evernote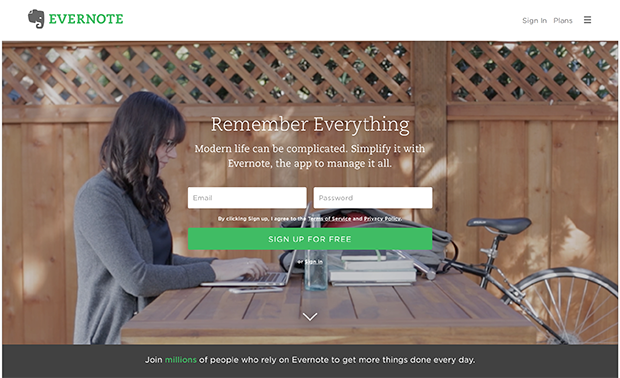 Arguably, there's no more versatile tool for online marketers than Evernote. Whether it's research notes, resources, or to-do lists, Evernote makes the research and outline process of content writing a breeze.
20. Grammarly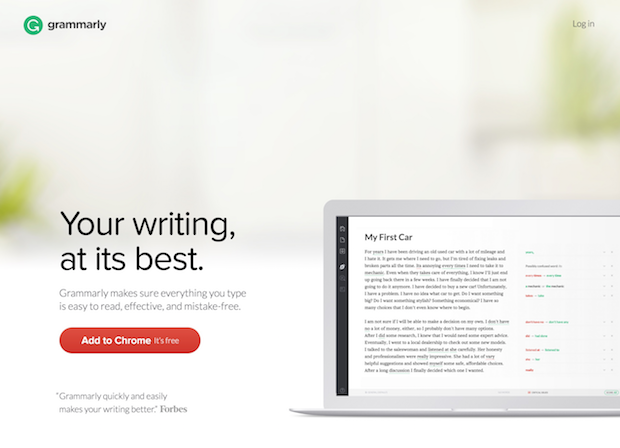 Human editors are great. Built-in spellcheckers are nice. However, neither is perfect. It's good to add another layer of editing to your writing and Grammarly is the answer. This powerful tool automatically checks anything you write or publish in an Internet browser.
21. Hemingway App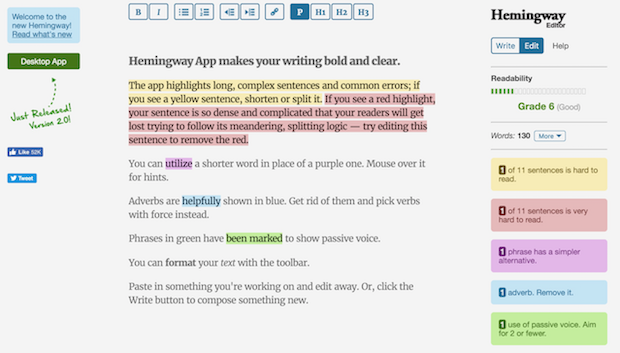 The Hemingway App encourages succinct writing by identifying superfluous words, hard-to-read sentences, and passive voice. It may not make you write like Ernest Hemingway, but it can be extremely useful for making your blog posts more readable.
22. Headline Analyzer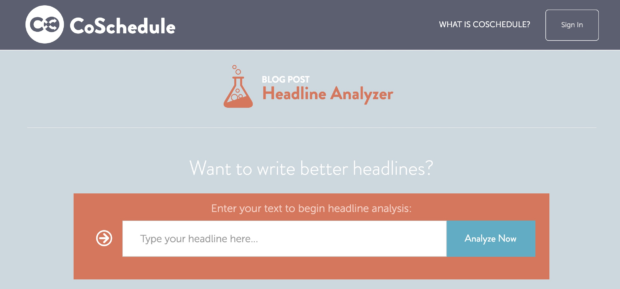 As everybody knows, headlines are one of the most vital elements of content writing. Whether you're talking about a blog post, news article, or YouTube video, the title directly affects clicks. Use Headline Analyzer to determine the effectiveness of your titles.
23. Visage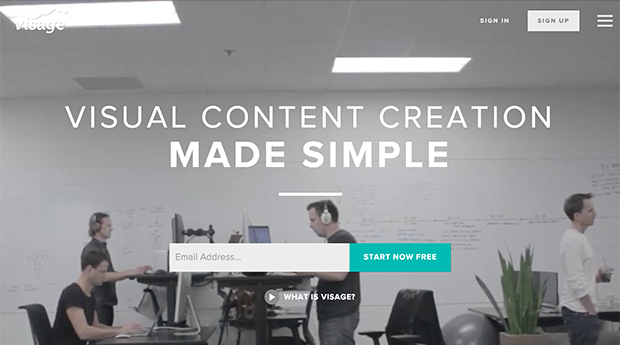 As the demand for visual content increases, you'll need to use tools that empower you to express your creativity and develop gorgeous visuals that resonate with your audience. Visage is the perfect tool to get started.
24. PlaceIt

PlaceIt is designed for one very specific purpose: placing images of your website, app, or product into real-world environments such as tablet screens, mobile phones, computers, and more.
25. Piktochart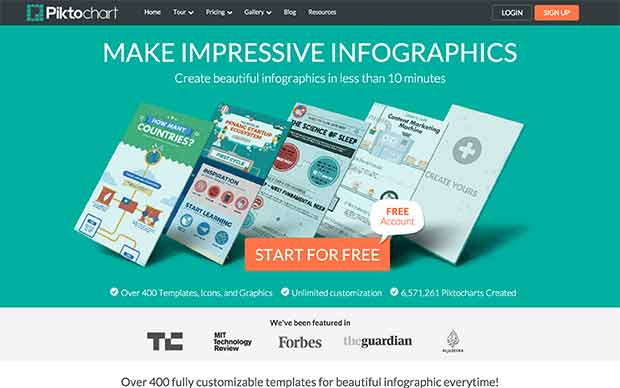 Infographics can generate high returns… if they're done properly. Piktochart can have you developing beautiful and engaging infographics, even if you have no prior experience. Given a library of more than 1,000 images, you'll be up and running in no time.
26. Wideo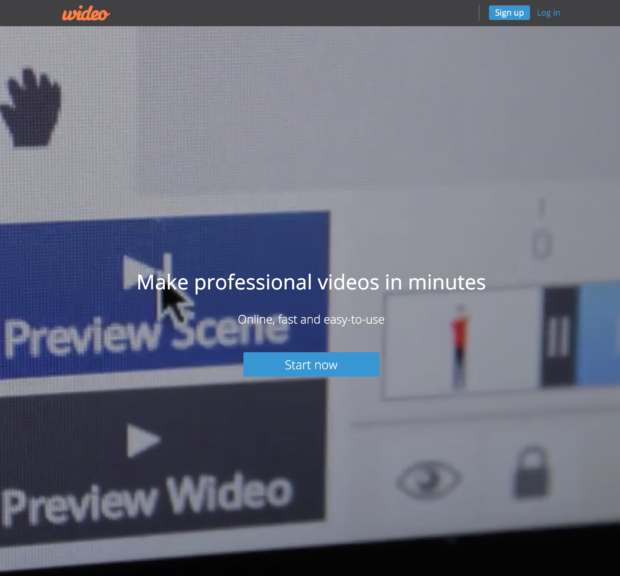 Wideo is an online video creation tool that will enable you to create, edit, and share compelling videos at no cost. Videos are animated and made with images, objects, movement, shapes, text, and audio. It's great for creating simple and short video clips.
27. Feedly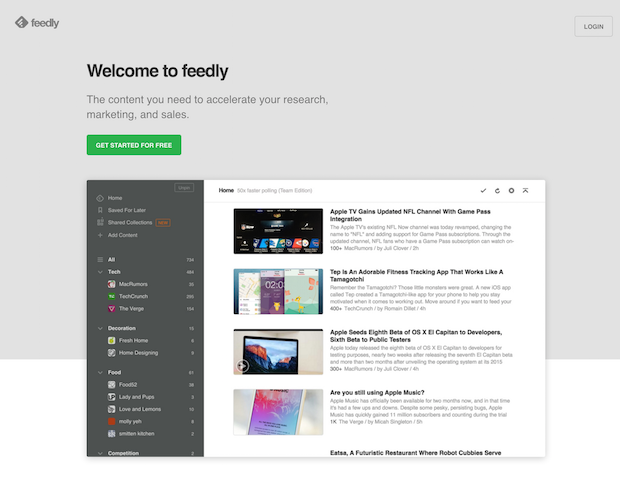 Feedly is a must-have tool for any content marketer, and it's free! This tool allows you to manage all the content you want to follow and keep tabs on, all in one place. You can even organize content by categories, so the most important posts are right where you need them.
28. Spredfast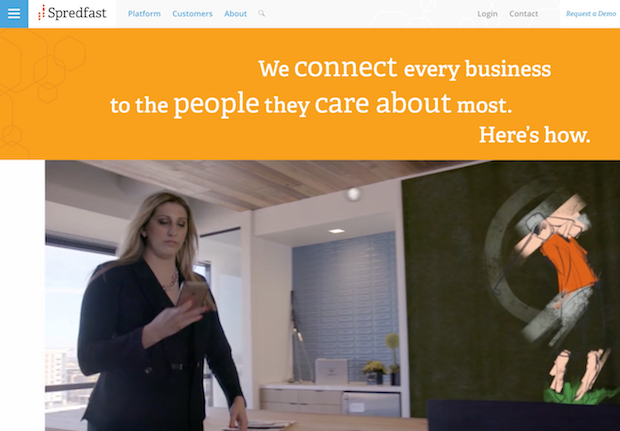 Spredfast is a content marketing analytics tool that will enable you to gauge your campaign's effectiveness based on such factors as output, impressions, and actions. It also has a pretty cool benchmarking feature that can compare multiple campaigns against one another. Request a demo to get the free version.
Email Marketing Tools…
29. MailChimp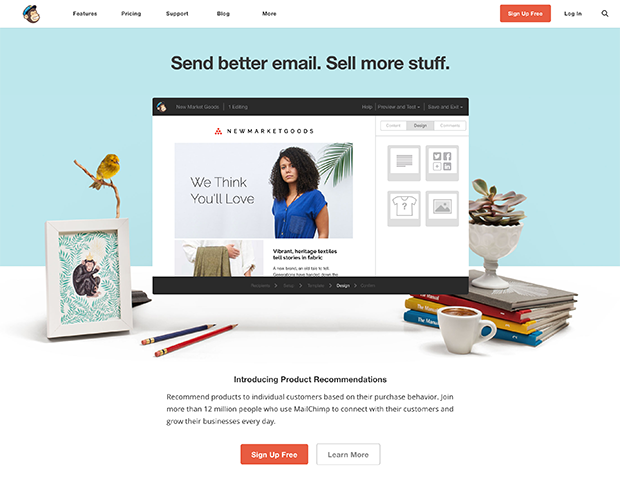 You've probably heard of MailChimp's paid services, but did you know there are some pretty useful features in the free version? One of the most popular is the Subject Line Researcher feature.
30. PutsMail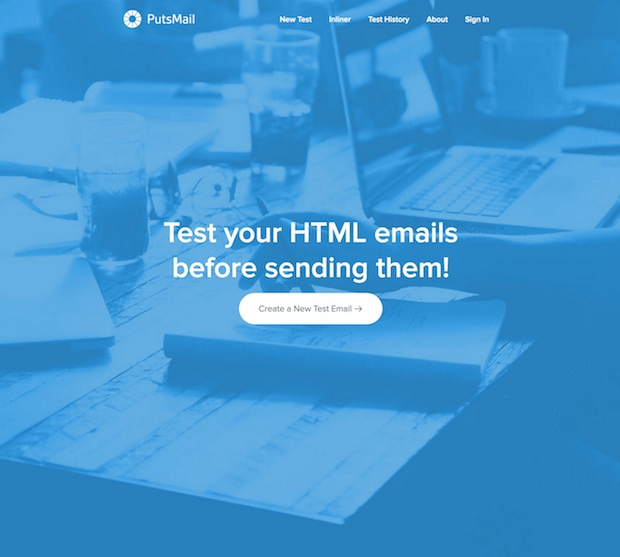 Need to know what an email will look like once it's received in the inbox? Instead of sending yourself countless email copies, use PutsMail to see an immediate, functional preview of your next campaign.
31. RyanSolutions Social Sharing Link Builder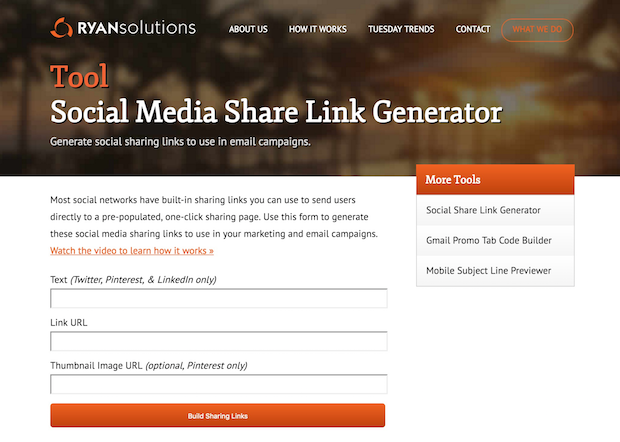 Looking to combine your social and email marketing efforts? With this social sharing link builder from RyanSolutions, you can encourage sharing directly from your emails. It's a simple tool that has lots of value packed inside.
32. FreshMail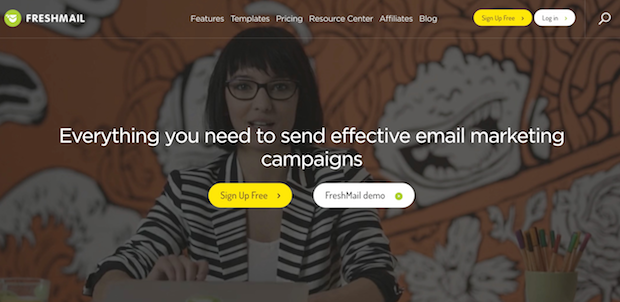 Looking for streamlined email templates that look unique and creative? FreshMail is one of the best options. Choose from hundreds of typefaces, buttons, media blocks, content sections, images, and more.
33. WPForms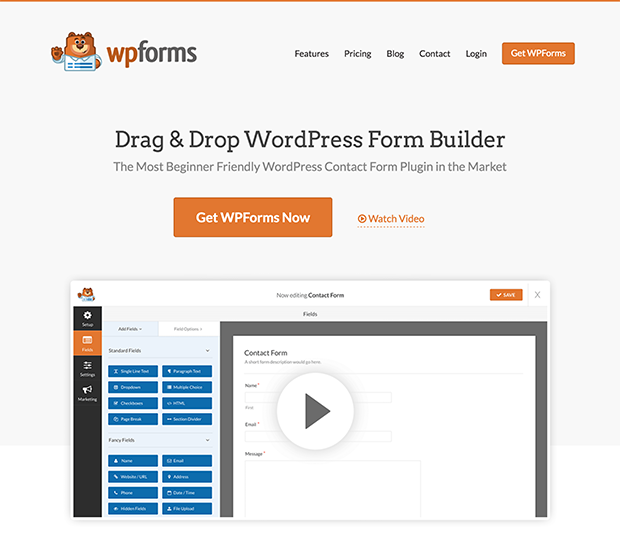 WPForms is the best form building tool for WordPress. Use it to get in touch with your prospects, and collect any information you need up front. The drag-and-drop interface makes it super easy to fully customize your forms.
Measurement Tools
34. Mixpanel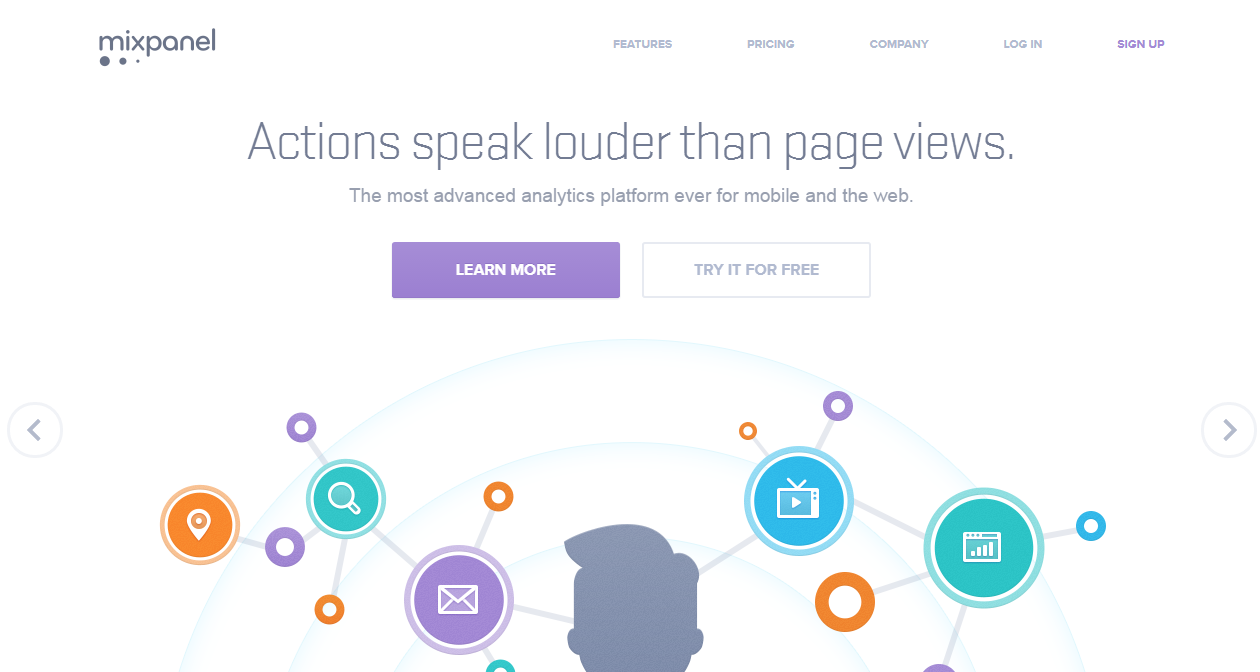 Widely regarded as the most advanced analytics platform in the world, Mixpanel lets you measure and analyze mobile and web functions. The biggest difference between Mixpanel and other similar platforms is that it monitors customers based on actions, not page views.
35. Webtrends

Want to understand exactly how customers interact with your brand across different channels and platforms? With Webtrends, you can combine digital analytics into a single dashboard that features a simple and aesthetically pleasing interface.
36. Localytics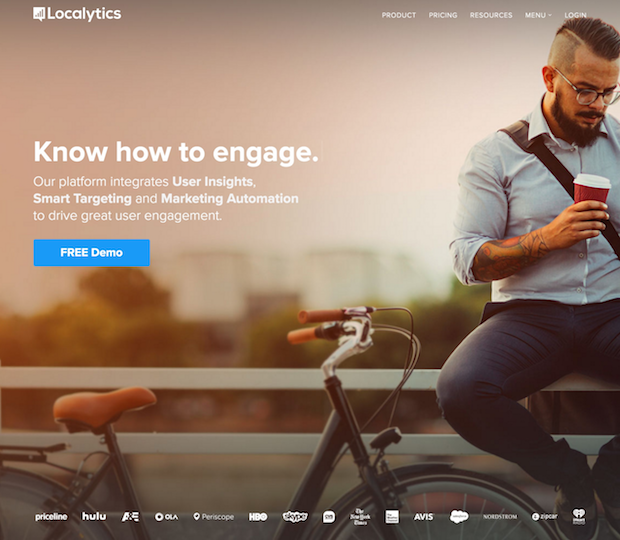 Localytics is a unique tool that integrates elements such as user insights marketing automation, and smart targeting, into a single platform to drive user engagement. It's used by some of the biggest companies in the world and certainly lives up to the hype.
37. Countly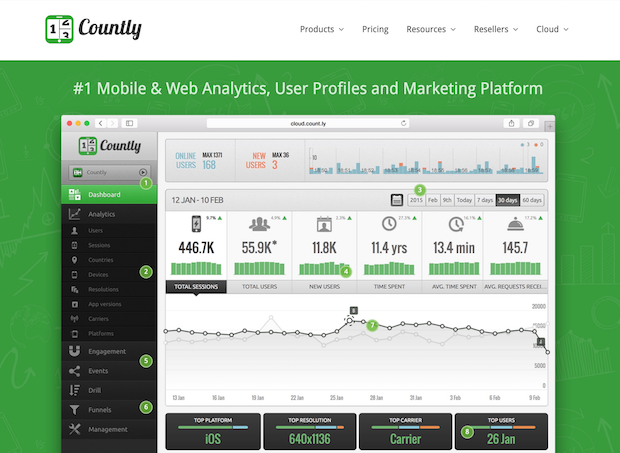 For ecommerce companies, knowing exactly when customers make a purchase can help with to tweak minor elements and instigate change. Countly provides streamlined, real-time dashboards that report purchases the second they're made.
38. Scoop.it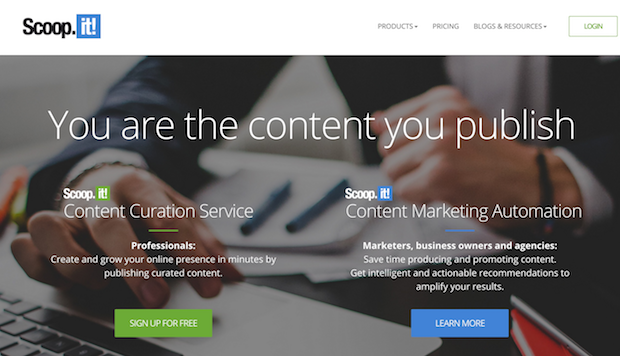 Scoop.it is a powerful content curation and analytics tool that more than a million people and businesses rely on to move their marketing efforts forward. The tool lets users measure views, comments, shares, visitors, and more. It also integrates with Google Analytics for additional value.
39. Cyfe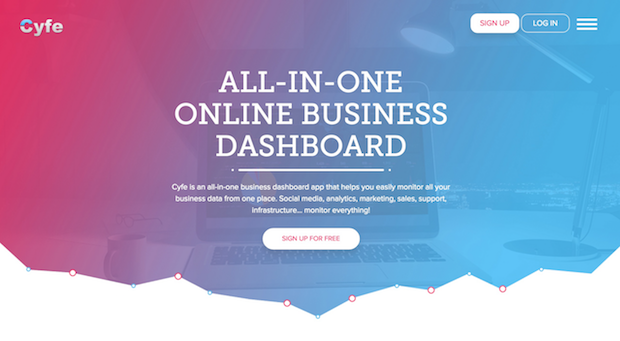 Do you operate a number of different websites? Cyfe gives you the ability to manage multiple sites on various platforms by integrating them. It makes organizing, sorting, and focusing on various elements more possible than ever before.
Research Tools…
40. SpyFu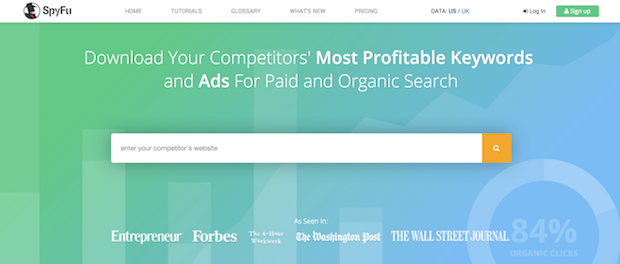 SpyFu is a competitor research tool that helps you to find your competitors' most profitable keywords. That way, you can increase your own traffic and outrank your competitors.
41. FollowerWonk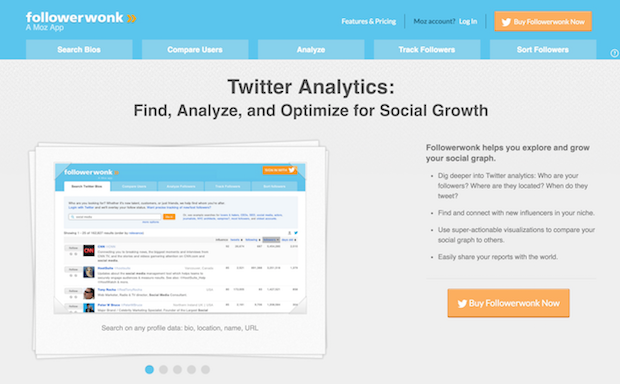 As you may know, influencer marketing is a worthwhile part of growing your brand's reputation in the marketplace. With FollowerWonk, you can find relevant Twitter users n your niche, search bios, compare users, track followers, sort followers, and more.
42. PeerReach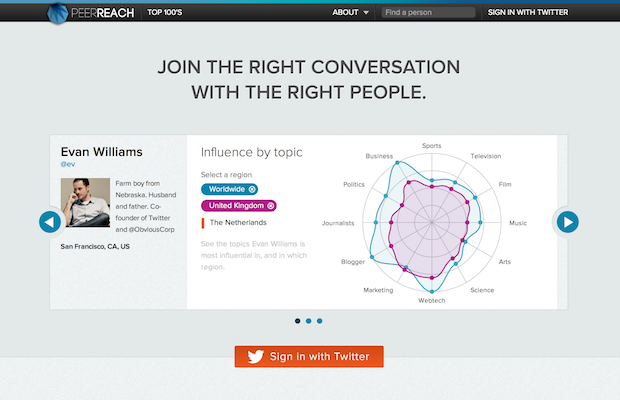 In order to reach the influencers in your industry, you need to be up to date on the conversations that matter. With PeerReach, you can ensure you're always talking about what matters the most with the people who matter the most.
43. QuickSprout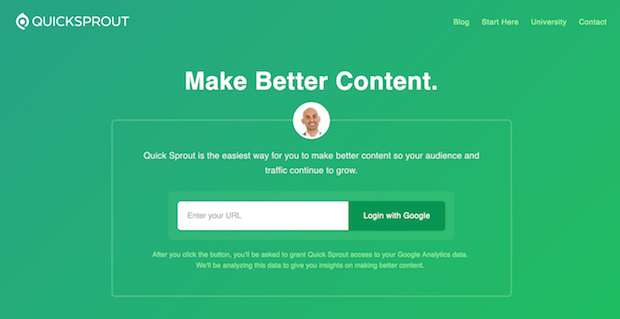 QuickSprout helps you to learn about sites similar to yours so that you can figure out how to out-do them in search rankings. Just enter the URL of your competitor and click on the "Login with Google" button to get started for free.
44. Alexa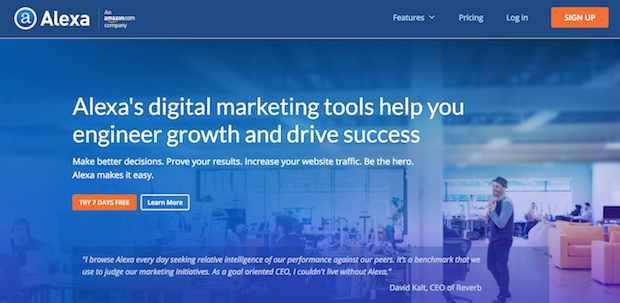 Alexa has been around since 1996, and it still provides deep analytical insights to compare yourself to your competitors and optimize your website. If you want to to see the benchmarks of how your website compares to others, this is the tool for you. (Unfortunately, it's no longer free forever, but they do have a 7-day free trial.)
45. Google Analytics URL Builder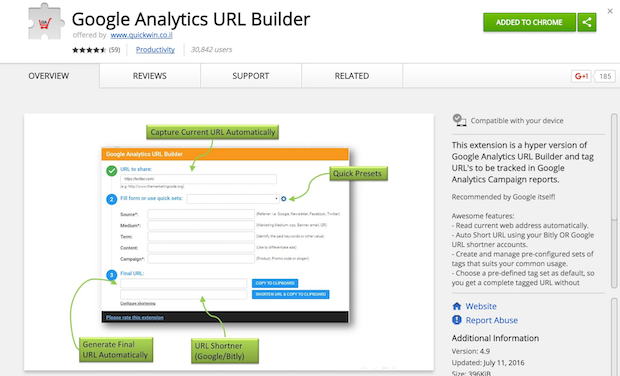 With Google Analytics URL Builder, you can create unique links for individual influencers. This gives you a simple way of tracking social media efforts and tying them to revenue. It's an easy-to-use tool with lots of value beneath the surface. There is also a Chrome extension here.
That's it! We hope this post has helped you to find 45 awesome and free online marketing tools. If you enjoyed this post, you may also want to check out 31 Best Email Marketing Automation Tools, or our giant roundup of the best content marketing tools.