You've started a blog, and traffic is picking up. Congrats! But wouldn't you like to monetize all that hard work and earn even more passive income?
And no, we're not talking about overloading your site with ads.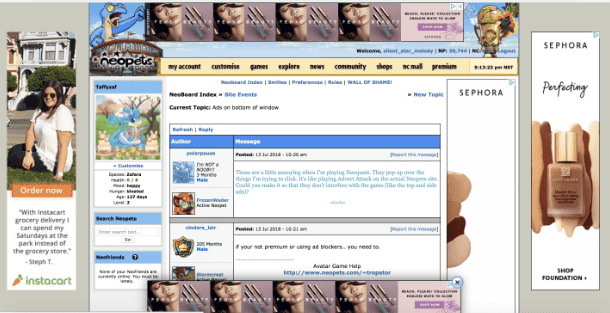 We're talking about how to increase affiliate sales. More specifically, we want to teach you how you can use exit-intent popups to boost affiliate sales in under 10 minutes.
But first, let's take a quick refresher course on affiliate marketing for those who are new to it.
What Is Affiliate Marketing? A Quick Crash Course
Affiliate marketing is when you make suggestions about another company's product and earn a small commission when consumers purchase that product based on your recommendation.
So let's say you start a blog or website dedicated to classic video games. And one of your posts is about getting the younger generation interested in playing Pac-Man: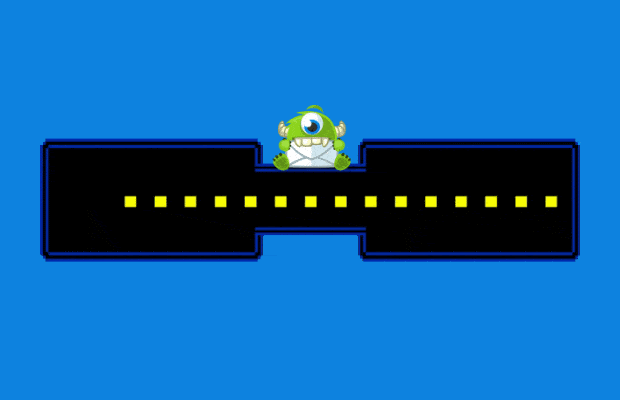 At the end of that blog, you provide a link to where people can buy an old-school arcade version of Pac-Man for $250: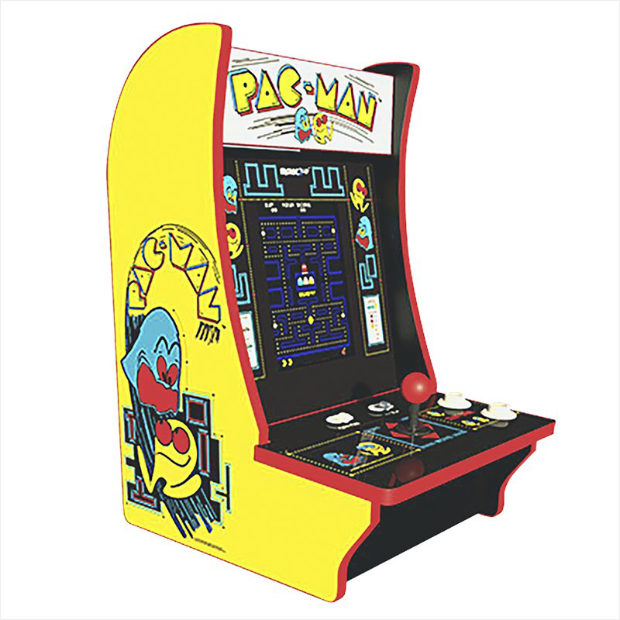 But the link you're using is no ordinary link. It's an affiliate link, which means it tracks which users came directly from your site. Then every time someone purchases the $250 arcade system from the affiliate link in your blog, the company selling the Pac-Man game gives you $15.
Now, $15 may not sound like a lot of passive income. But imagine you have 10,000 page views per month, and 0.5% of your readers typically buy the arcade game from your site.
That's $750 per month of passive income for a single product.
Now imagine that you have multiple affiliate links on your blog or website, and you can quickly see how much earning potential there is through affiliate marketing.
Sounds good, right? But here's the #1 question we get about this topic: "Is affiliate marketing easy?"
The honest answer is no, affiliate marketing isn't easy at first. That said, it's always super simple.
Yes, you can totally build a system that lets you earn thousands of dollars (or more) in passive income. And yes, that means you can literally earn money while you sleep.
But getting the system up and running not only takes some work, but it also takes the right strategy.
So let's turn our attention to a few best practices to create a successful affiliate marketing campaign.
How to Succeed at Affiliate Marketing
Whether you're selling a product online or simply running a high-traffic blog, affiliate marketing is an excellent way to earn more income on the side.
In fact, some people make it their full-time job. Why?
Because there's lots of money to be made. Just check out some of these statistics on affiliate marketing: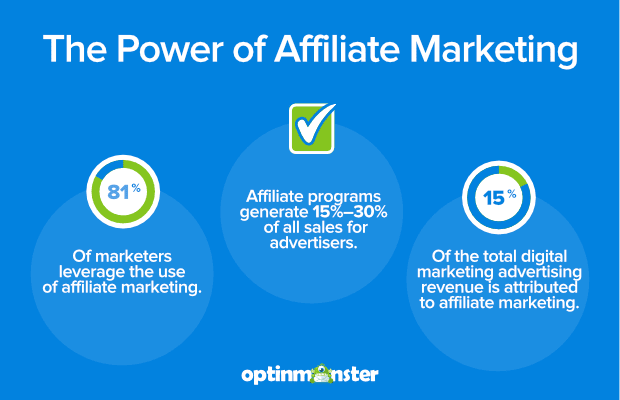 15% of the total digital media advertising revenue is attributed to affiliate marketing
81% of marketers and 84% of publishers leverage the power of affiliate marketing
Affiliate marketers prefer to promote 1–10 products
Affiliate programs generate 15%–30% of all sales for advertisers
One popular affiliate marketer, Jason Stone, made $7 million in affiliate marketing revenue in a single year
Now, we know what you're thinking: it kinda sounds like affiliate marketing is free money!
And it can be. If you do it right.
But before you get too excited, consider this last statistic to put things into perspective:
Almost half of affiliate marketers make less than $20,000 a year.
Scary right?
So you're probably wondering, "how can I succeed in affiliate marketing to be part of those who earn more than $20,000 a year."
The good news is that success in affiliate marketing isn't complicated, even if you have nothing to sell.
Just follow a few of these affiliate marketing best practices to learn how to increase affiliate sales:
Choose Your Affiliate Links Wisely
If you're running a website or blog, that means you've likely found your niche. And your audience comes to your content because they like your approach to whatever niche you're in.
Make sure your affiliate links align with your content. Otherwise, your product suggestions come off as a sneaky "money grab."
Use Multiple Affiliate Links
Remember, most affiliate marketers promote 1-10 links. Like we saw in the example above (with Pac-Man), relying on one affiliate link for your entire affiliate marketing strategy won't get you the best results.
Instead, you can diversify your product suggestion so if one item has a bad month or year, your other affiliate links will make up for it.
It's like they say, "Don't put all your affiliate eggs in one money-making basket." ?
Add Affiliate Links to Different Channels
The most popular channel for promoting affiliate links is blogs. However, it shouldn't be the only one.
You can add affiliate links to your social media strategy, targeted landing pages on your site, or even launch an affiliate email marketing campaign. In other words, your affiliate links aren't limited to blog posts. You can add them to any type of content that engages your audience to increase affiliate sales.
Target Your Affiliate Links to the Right Audience
Just because you have an affiliate product to promote doesn't mean you should shout about it blindly from the rooftops. Instead, you should be segmenting your audience to promote certain products to specific people.
How? By tracking audience behavior, creating segmentation lists, and applying your affiliate links only to the parts of the list that make sense to do so.
Don't Sacrifice Content and Value for Affiliates
This is the #1 rule for affiliate marketing. You should never be creating content for the sole purpose of promoting an affiliate link.
Your content should have other added value to your audience. Even when writing review posts (a popular affiliate marketing strategy), your goal should be to teach, not to sell.
Your audience can usually tell when you start prioritizing product promotion over your content quality.
All of these best practices are sure to put you on the right track to build a successful affiliate marketing strategy.
Ok, but what next? Once you've got your system in place, does that mean it's finished?
No. A good affiliate marketing plan can always be improved! And, today, we're going to look at one trick to boost your affiliate revenue.
In fact, this tip has been proven to increase affiliate sales by 30%.
Let's see how it works.
How to Increase Affiliate Sales with Exit-Intent Popups
When it comes to promoting a product on a website, many companies take one of two approaches.
They're either too pushy and salesy.
Or they're super laid back with a "click if you want, otherwise no worries" attitude: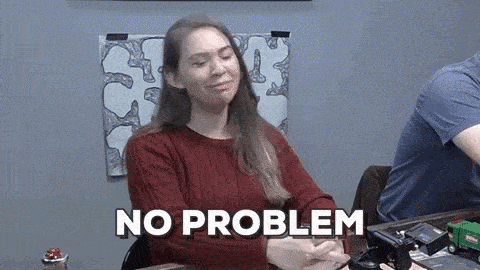 The problem is that neither of these approaches works very well. The goal is to strike the right balance between the two. And adding exit-intent popups is the perfect way to nail that balancing act.
But first, what is an exit-intent popup?
An exit-intent popup is a special kind of optin campaign that only appears as a customer begins leaving your website.
Once their mouse begins moving away from the main screen and into the browsers header bar (where you would click back or exit the window altogether), the popup appears.
Creating a targeted exit-intent campaign works because the reader has already shown interest in your page's content simply by visiting. When they go to leave the page, they get one last recommendation related to the content they were viewing.
One company, Top 6 Digital, used OptinMonster to build an exit-intent popup for an affiliate link. They had a webpage on car seats to help parents choose the right one for their child. When the reader was leaving this page, the following campaign would appear on their screen: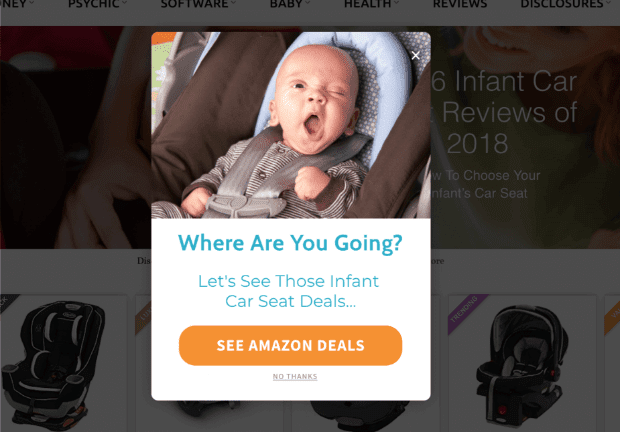 Top 6 Digital used an affiliate link for the button See Amazon Deals. When readers clicked through to Amazon's website and made a purchase, Top 6 Digital got a commission on the sale.
And 17.31% of their readers clicked through to the affiliate link from the exit-intent popup alone.
Even though they already had great content with affiliate links that were actively creating passive income for them, they increased affiliate sales by 30% with this one strategy.
And now, we want to show you how to do it as well. For this tutorial, we'll be creating a fictional affiliate link for a travel blog.
The first step is to match up the right affiliate link with the right webpage. For the best results, you'll need to customize your affiliate link's exit-intent popup for each related page you want it to appear on.
Emphasis on the words "related page."
Remember, your affiliate link suggestions shouldn't appear randomly to your users. It should match their intent for being on your site.
So let's take a blog post on how to prepare for a world trip with your family: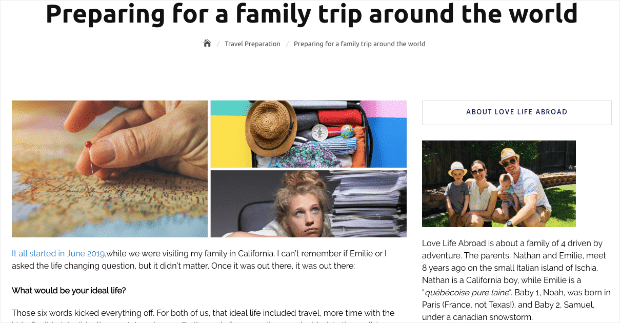 Now we need to build the exit-intent popup. Head over to your OptinMonster account and log in: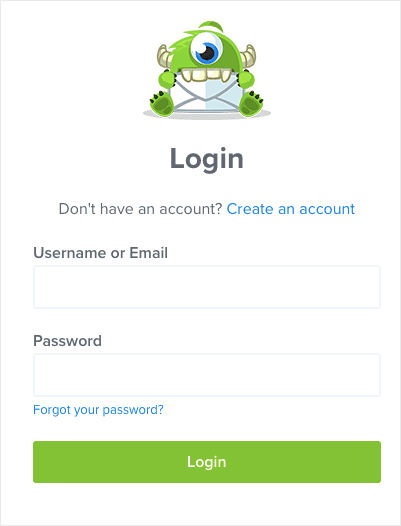 Then click Create New Campaign in the upper right-hand corner of your dashboard:

Select the campaign type Popup:

And choose your template: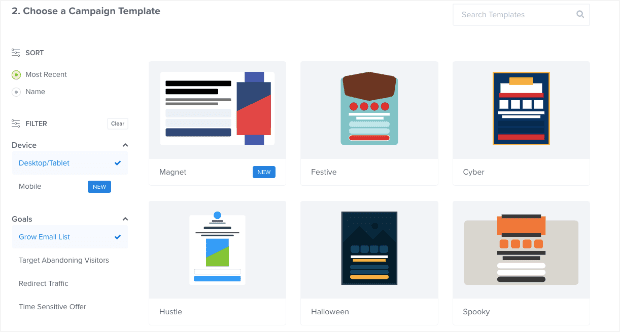 In this tutorial, we'll use Modern: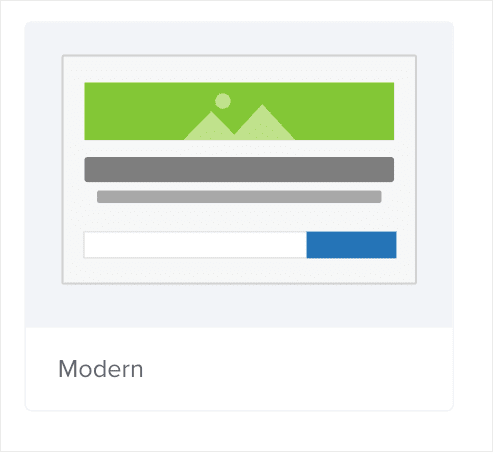 Name your campaign, assign it a website, and click Start Building: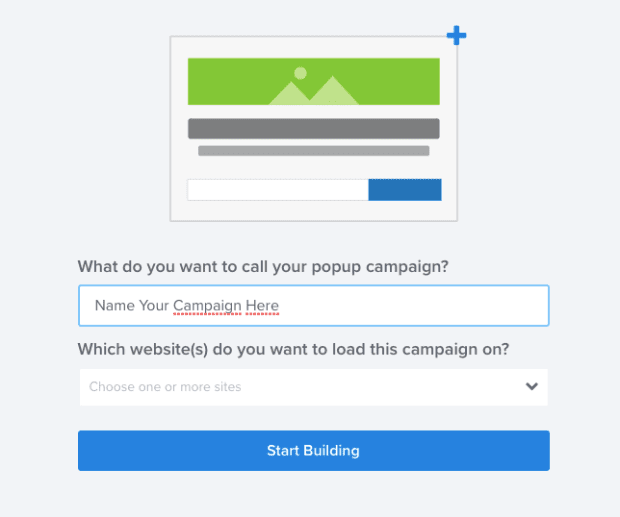 Now your template is in the editor, and we're ready to customize. First, let's change the image. To do that, simply click on the image in the editor: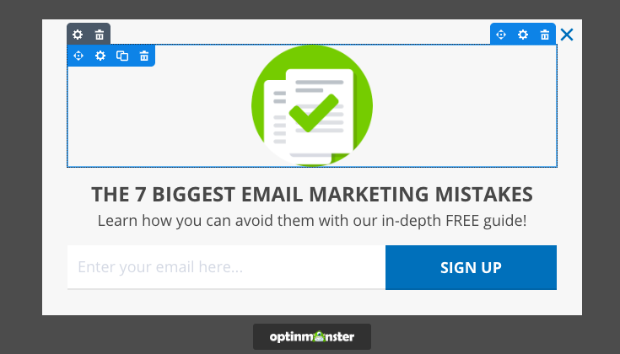 Then you'll see the option to change the image in the left-hand side menu:

Select or upload the image you would like to use from your media library: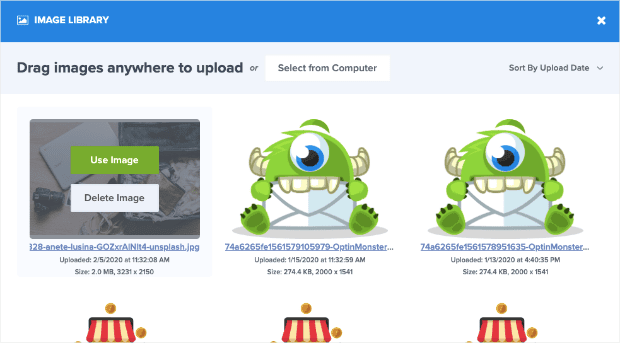 For the tutorial, we chose a stock photo from Unsplash, but yours should be more customized to connect with your audience.
Now it's time to edit the text. Click on the main heading text block and edit the text in the left-hand side of the editor: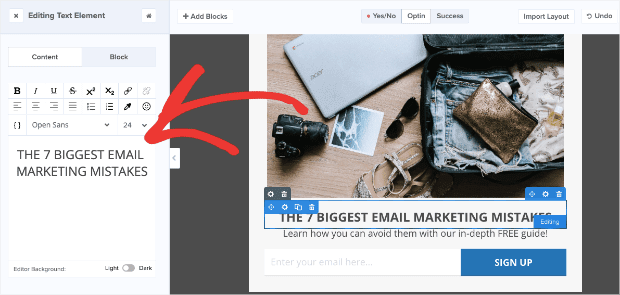 Write a strong headline to quickly grab your readers' attention.
Next, click the subheading text to edit your copy in the same way you did for the header: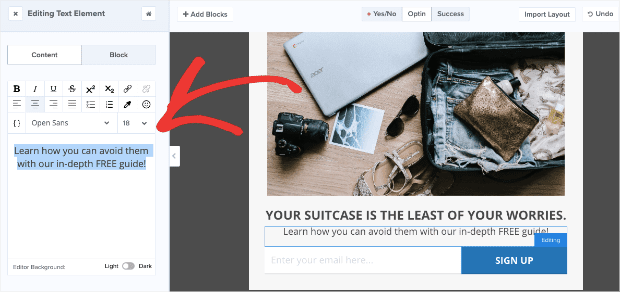 Your subheading should add more detail about what value your affiliate link provides your audience.
Now you need to add your affiliate link. But first, delete the Optin Field block:

You're deleting the Sign-Up form because this isn't a campaign designed to grow your email list. Instead, you'll need a regular Button to redirect visitors to your affiliate link.
To add a Button, go to the left-hand side menu and click Blocks: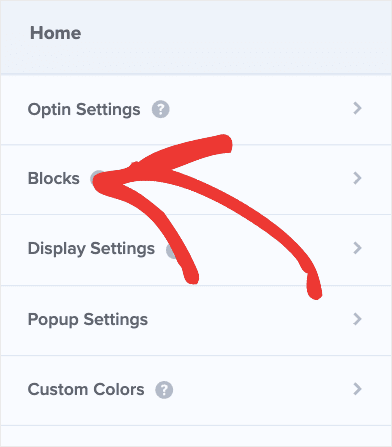 Scroll down until you find the Button block: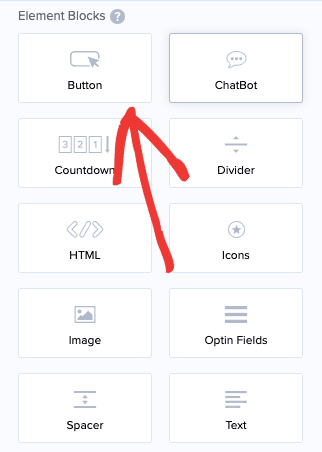 Drag and drop the Button block to your campaign: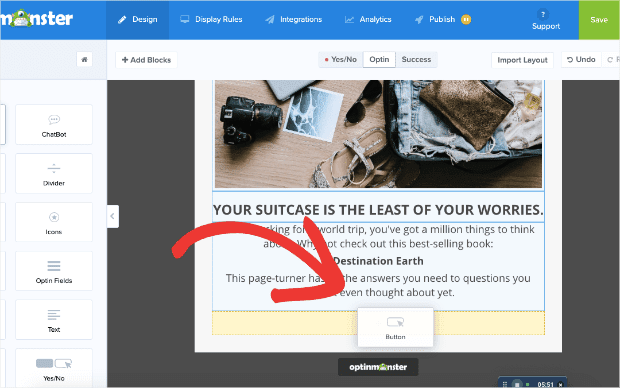 Now you can edit the text in the button in the left-hand side menu: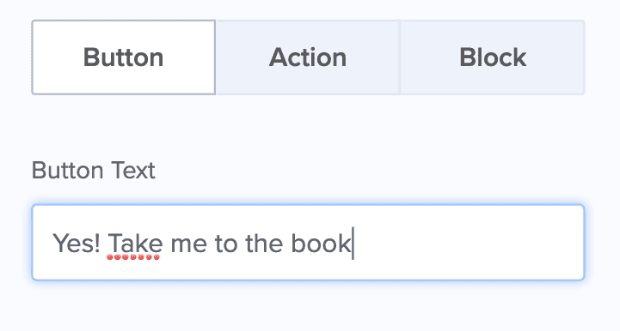 Or you can align the button left, center, or right. We'll center it here:

Next, we need to use this button to redirect your visitors to the affiliate link. Go to the top of the left-hand menu and click Action: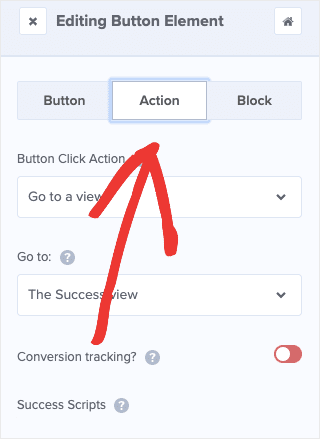 Select the field Button Click Action and choose the option Redirect to a URL and enter your affiliate link in the field below called Redirect URL: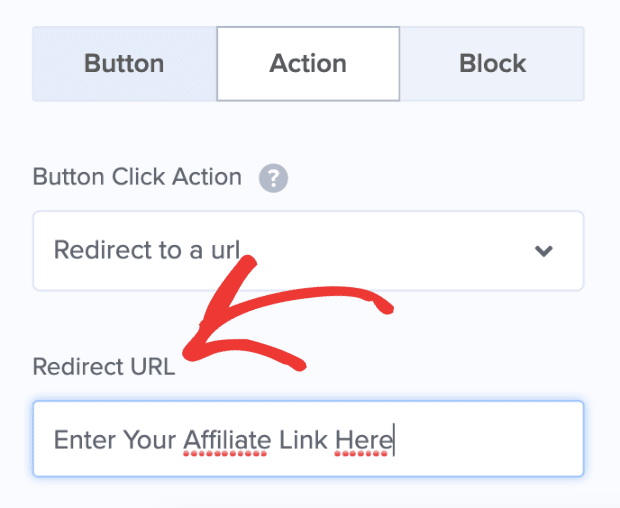 This next step is optional but good to know for people who are meticulous in their campaign strategy. In the left-hand menu of your editor, click Display Settings: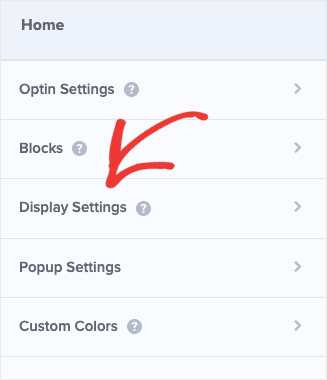 Display Settings help you handle situations where people visit your webpage more than once. In most cases, you don't want to continuously show the same popup to the same individual every time they visit your site.
Instead, you can create a display setting for people who have seen the popup but haven't converted.
By default, if your visitors have closed a popup but haven't converted to your offer, they won't see it again for another 30 days: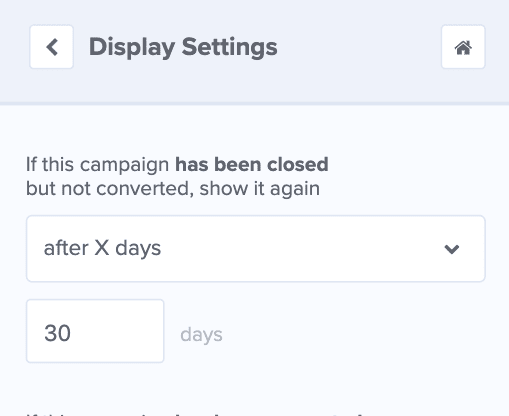 NoteYou can also set a rule for people who have converted, but that isn't relevant here. That feature is better used when your popup campaign is designed to capture emails.
You can change these display settings to your liking, but the default option is usually enough for most business owners.
Now your popup is nearly ready to go! All that's left is setting your exit-intent display rule.
At the top of your browser, you should choose Display Rules:

In the first field (directly under the heading If…), select the condition Exit Detected: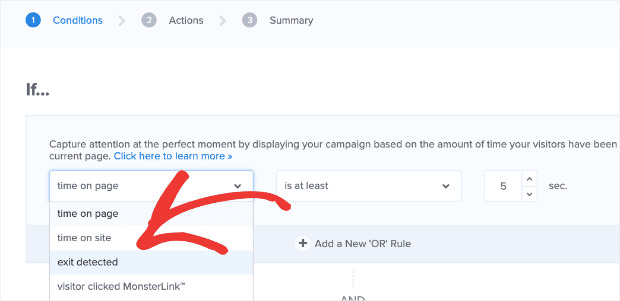 And choose the amount of sensitivity you want:

For most users, Medium sensitivity works best. However, some business owners prefer to be a little more or less aggressive with their exit-intent display rules.
Scroll down for the next condition in your display rules. Leave the first field as it's default setting, Current URL Path: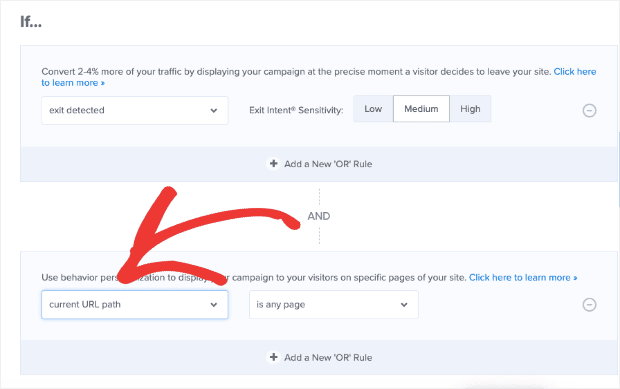 But change the next field box to Exactly Matches:

Remember that your affiliate links should be targeted to specific content on your site. By choosing Exactly Matches, you'll be able to insert the URL for the exact page where you want your exit-intent popup to appear:

Now comes the most important step, hit Save: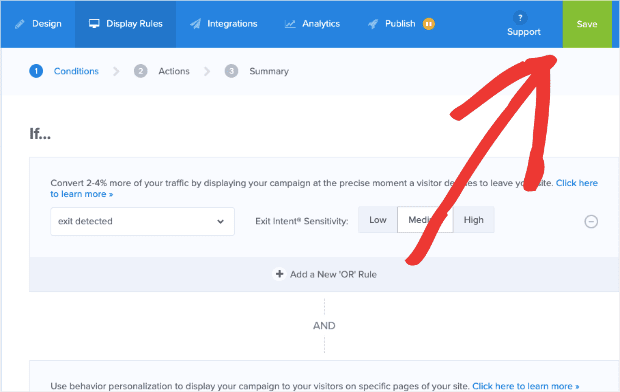 Head over and click Publish from the menu at the top of your browser:

Before changing the status from Paused to Live, be sure to preview your campaign on your site: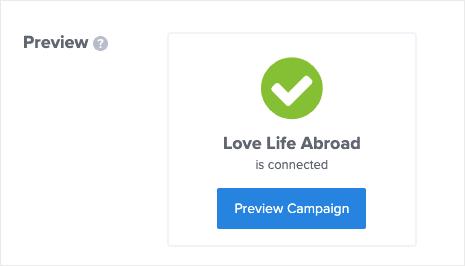 And you're all done!
You now have a fully functional campaign to increase affiliate sales with popups. As we said before, this has been proven to boost affiliate sales by 30% and only takes a few minutes to set up.
There's just one last important thing to point out: exit-intent popups are only one strategy for increasing affiliate sales.
There are many others.
If you're using OptinMonster to create your exit-intent popup campaign, why not take full advantage of all the tools?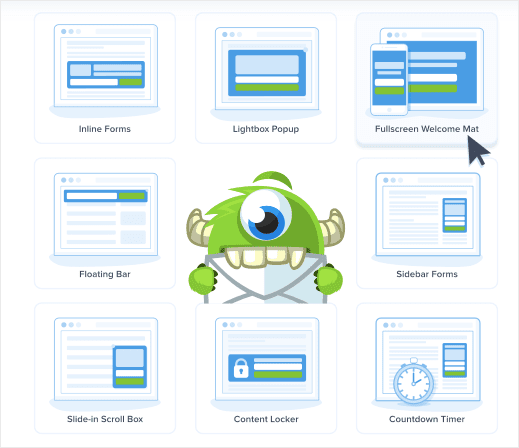 Just as you should diversify your affiliate links to earn more passive income, you should also diversify your marketing strategy to show those affiliate links to your readers.
You can create landing pages, sidebar optins, or embed 2-step optins for your affiliate links directly in your content.
And what should you do when you start waking up to more money in your bank account from your affiliate sales?
Tell us about your success!
Reach out to us on Facebook or Twitter to let us know how these exit-intent popups helped you improve your affiliate marketing strategy. Or for more awesome tutorials, check out our YouTube channel.
And have you read this entire post but still aren't a part of our OptinMonster family?
That makes us sad. ?
Please, don't make us sad. Join OptinMonster today!