You probably hear marketers talk about boosting conversions all the time, but that misses the bigger question: What is a good conversion rate?
It makes sense that you'd want to know whether your website, ads, or marketing campaigns are performing as well as they could be.
That's why we've written this guide to help you understand what conversion rate is, how yours compares to the average, and how to improve your conversion rate, no matter what niche you're in.
Let's get started!
What Is Conversion Rate?
A conversion rate is a measure of how successful a marketing campaign or website is in converting visitors into customers. In other words, how many people are taking the desired action compared to how many people could take the desired action?
Conversion Rate Formulas
You can calculate the conversion rate by dividing the number of conversions by the number of visitors. Conversion rate is typically expressed as a percentage. Here are some specific formulas:
Website conversion rate: number of conversions / number of website visitors
Subscriber conversion rate: number of email subscribers / number of website visitors
Lead generation conversion rate: number of leads / number of visitors to a page
Lead conversion rate: number of sales / number of leads or prospects
Sales conversion rate: number of sales / number of visitors
Email conversion rate: number of clickthroughs or purchases / number of email recipients
Ad conversion rate: number of clicks or purchases / number of ad views
How to Find Conversion Rate
Depending on the type of conversion rate you're looking for, there are several places you can find your conversion rate. It's important to have a benchmark of your conversion rates before you try to boost conversions.
If you use Google Analytics on your website, you can find the conversion rate by navigating to the "Conversions" section of the analytics dashboard. You can also calculate your website conversion rate manually.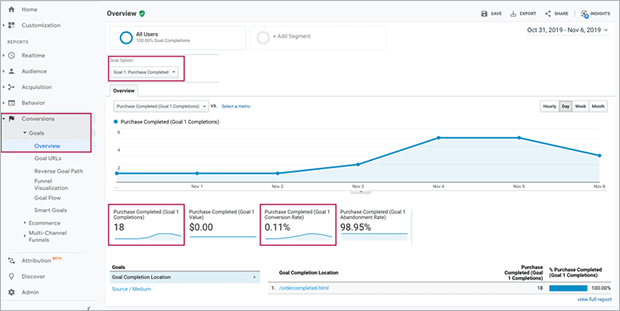 Your email marketing platform should also have metrics such as open and click rates. Some email service providers can track more advanced conversion rate data, especially if you integrate it with your eCommerce platform or CRM.

OptinMonster users can access advanced analytics, including conversion rates and revenue attribution, from the OptinMonster dashboard. That way you can see how well each of your campaigns are performing at any time.

On Shopify, you can find your store's conversion rate by navigating to the "Analytics" section of your Shopify admin dashboard. There you can find reports for sales attributed to marketing, conversion by first or last interaction, and other important marketing metrics. There are also plenty of Shopify apps that can track conversion rate data for you.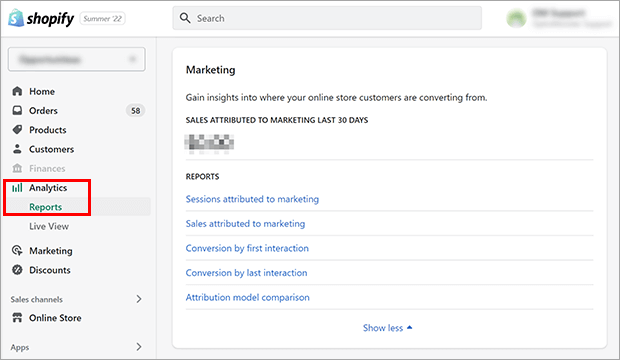 What Is a Good Conversion Rate?
When it comes to deciding what is considered a good conversion rate, the answer depends on a lot of factors, such as:
different industries
the type of product or service being offered
target audience
Generally speaking, though, a good conversion rate is one that is higher than the industry average.
Another way to think about it is that a good conversion rate is one that helps your business meet its goals. These goals might include total revenue, subscriber growth, or return on investment of marketing budgets.
You also need to remember that conversion rate should be taken in context. If you have 10 visitors and 5 of them convert because they're your friends and family, that's a 50% conversion rate. That sounds awesome, right? But in that situation, your sales volume and revenue are probably still quite low. The high conversion rate alone doesn't actually tell the whole story of your business.
Average eCommerce Conversion Rates (Updated 2023)
For eCommerce websites, a good conversion rate is typically considered to be around 2-3%. When comparing December 2022 to December 2021, the average conversion rate for eCommerce decreased by nearly 10% from 2.36% to 2.13%
When we look at eCommerce conversion rates by industry, we can see that some sectors are growing, such as:
Pet Care
Baby & Child
Arts & Crafts
Kitchen & Home Appliances
Other eCommerce stores have seen lower conversion rates:
Sports & Recreation
Home Accessories & Giftware
Fashion Clothing & Accessories
Keep in mind that a single data point is not a reason to panic. Conversion rates vary widely depending on factors such as device, market, traffic source and many more. You want to look at overall trends and changes over the long-term.
Average Website Conversion Rates
The average website conversion rate can vary greatly depending on the industry, the type of website, and the specific goals of the website. Conversion rate data can also be difficult to come by, as business owners want to protect themselves from competitors. Different sites may also use different definitions of conversions.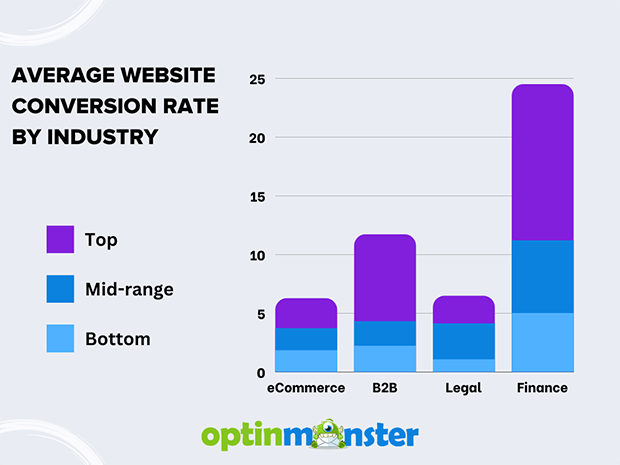 Even within the same industry, you can see that there's a wide range. For example, the highest-converting legal websites barely pass the lowest conversion rates on finance websites.
In eCommerce, the average conversion rate in 2023 falls between 1-3% according to data from IRP. There can also be significant seasonal variation. In this graph, you can see a sharp increase in November. This is when Black Friday and other year-end sales take place in countries such as the UK and the US. There's also a dip in late summer that tends to coincide with vacations or the start of school when consumers aren't thinking as much about online shopping. While we don't have more data for 2023 yet, past years indicate this trend is likely to be the same.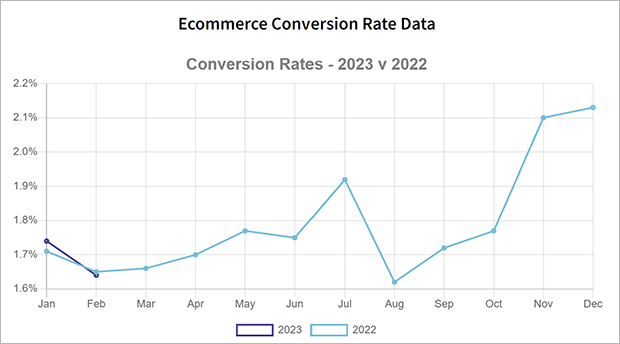 For lead generation websites that specifically exist to convert visitors into qualified leads, a good conversion rate is usually around 10-15% but could also be much higher.
On the other hand, content websites that bring in enormous amounts of traffic may seem to have low conversion rates, perhaps only 1%. But if the blog or publication runs ads or affiliate links, they may still generate a healthy amount of revenue.
Here are some suggestions for how to increase website conversion rate.
Average Email Marketing Conversion Rates
As with all averages, the average email marketing conversion rate varies across industries and email types. According to a study by Barilliance, the average eCommerce email marketing conversion rate is around 8.17%. But there are lots of other ways to count conversions besides sales. Furthermore, some emails like abandoned cart emails convert at a much higher rate. And some industries like retail tend to convert more often than other industries like travel.
Average Conversion Rate of Facebook Ads and Google Ads
Wordstream found that the average conversion rate for Facebook ads across industries is around 9.21%. This includes a wide range from 14.29% for the fitness industry down to 2.31% for technology. When you think about why people use social media, this makes sense. Most people are using Facebook to socialize and maybe improve their lives. They're not necessarily looking for technology solutions.
Google Ads conversion rates fall into a similarly large range. Animals & Pets and Physicians & Surgeons see higher conversion rates above 15%, while Fashion & Jewelry, Furniture, and Real Estate are hovering below 4%.
As you can see, when it comes to the question, "What is a good conversion rate?" the answer is almost always, "It depends." Now let's look at what can actually improve your conversion rates.
What Affects Conversion Rates and How to Increase Conversions
Many articles about conversion rate optimization (CRO) will offer a variety of random tips without helping you understand the reasoning behind the strategy. We don't do that here! Let's take a look at what can change your conversion rate and how to nudge those factors in your favor.
User Experience
The design, layout, and navigation of a website or landing page can greatly impact conversion rates. A user-friendly website with clear calls-to-action and easy-to-find information is more likely to convert visitors into customers.
Action Steps:
Make sure your navigation is simple. Every webpage on your site should be reachable from the homepage within 3 clicks.
Add a call-to-action to every page. It doesn't have to be a big conversion like a sale. Even microconversions like clicking to read more of a blog post count!
Use high-contrast, clear fonts and colors. A pretty design or beautifully written copy is useless if customers can't read your website!
Messaging and Content
The messaging and content on a website or landing page should clearly communicate the value of the product or service being offered. The content itself and the brand voice you use should align with the target audience's needs and interests.
Action Steps:
Write blog posts that answer questions potential customers may have about your brand or offer.
Whenever you discuss the features of your product or service, make sure you also communicate the benefits and how their life will be different because of it.
Use A/B testing to see what messaging resonates most with your customers.
Trust and Credibility
Trust and credibility are important factors in convincing visitors to convert. Websites and campaigns that provide social proof, such as reviews, customer testimonials, case studies, or trust badges, can help to increase conversion rates.
Action Steps:
Collect social proof from your past customers.
Talk to potential customers about what doubts or questions they have at the beginning of their customer journey. Look for ways to overcome those objections.
Make sure your website or online store has SSL enabled and that your checkout page has security badges displayed.
Urgency
Creating a sense of urgency can encourage visitors to convert more quickly. This can be done by offering limited-time discounts or by highlighting limited stock availability.
Action Steps:
Try adding a countdown timer popup or floating bar with OptinMonster.
Set an registration deadline or limit quantities for your webinars or service packages
Pricing and Packaging
The pricing and packaging of a product or service can also affect conversion rates. If your target market is more price-conscious, a pared-down budget option or discount could boost conversions. On the other hand, customers who value prestige and service might be more interested in a high-ticket, high-touch offer. Providing a variety of pricing options or packaging deals can increase conversions by appealing to a broader range of customers.
Action Steps:
Experiment with in-cart and post-sale upselling and cross-selling.
Try reframing your prices, such as breaking down the overall cost over months or even days. For example, you could say, "Pay less than $1/day" for something that costs $360/year. This is another good split test to run on your website or campaign.
Marketing Channel
Different marketing channels can drive different conversion rates. For example, social media tends to have lower conversion rates compared to email marketing. Even the same channel on different devices may convert differently.
Action Steps:
Collect conversion rate data on your different marketing channels on a regular basis so you can spot trends.
Align your marketing channels with different stages of your sales funnel. For instance, if most customers start off by following you on social media before joining your email list, tailor your messaging accordingly.
Technical Issues
Slow site loading time, broken links, and other technical issues can lower conversion rates by making the website difficult to navigate or use. They can also erode customer trust in your brand. For example, if customers receive an error after trying to place an order, they may worry that your business isn't legitimate and refuse to try again.
Action Steps:
Test your website, especially your checkout process, on multiple devices and browsers at scheduled intervals and any time you make any changes to your site.
Use a mobile-friendly site design and compress your images to make sure your website works on mobile devices.
High-Converting Campaign Examples
Before we wrap up, we'd like to show you some examples of marketing campaigns that helped boost conversion rates significantly. These campaigns are all from real OptinMonster customers. Some of them have even inspired new templates that anyone can use in OptinMonster!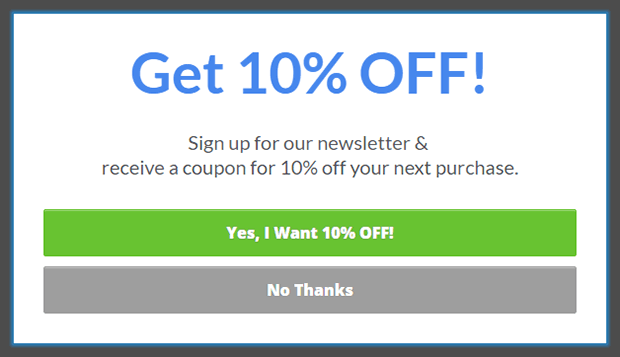 With one simple tweak, The Eczema Company nearly doubled conversions on this optin from 6.35% to 13.76% of mobile users. The 2-step optin that lets users pick whether to get the 10% discount drives more conversions because of the Zeigarnik effect. Once a visitor clicks, "Yes, I want 10% off!" they're far more likely to finish the optin process on the next screen.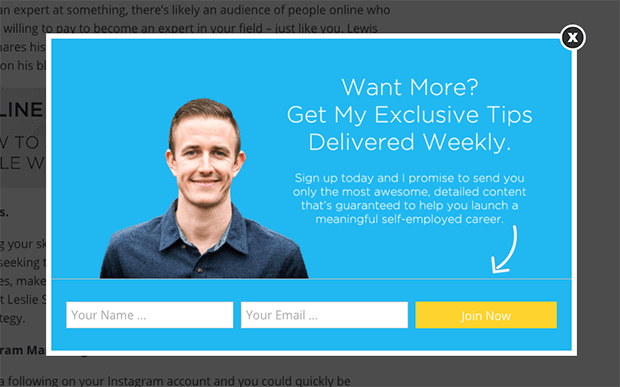 Inspired by Syed Balkhi's successful campaign, business blogger Ryan Robinson added a simple exit-intent campaign offering exclusive tips for launching a business. Immediately, this optin converted 6% of visitors. That's a 600% increase in conversions with an optin that took 10 minutes to build!
Plus, Syed's inspirational campaign is now available as an OptinMonster playbook that you can use for your own website.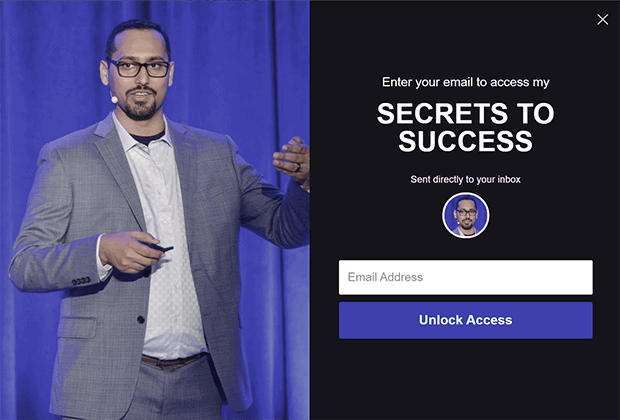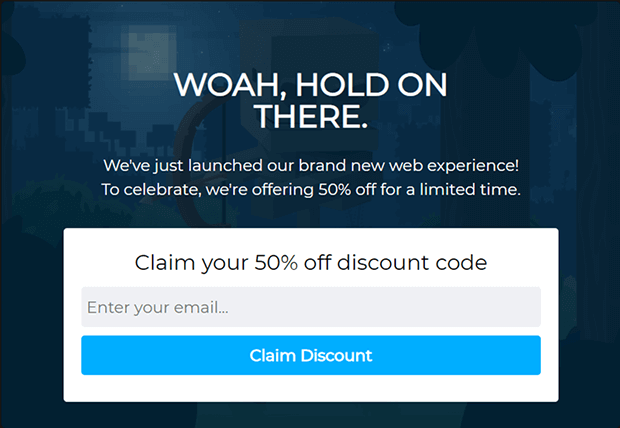 Game server host Shockbyte wanted to increase sales, reduce cart abandonment, retain more users, grow their email list, and promote their YouTube channel and other content. Sounds like a lot for one campaign builder to do, right? Believe it or not, they were able to convert 13.72% of visitors with a simple campaign. They were able to collect new leads and convert many of those to customers with the discount.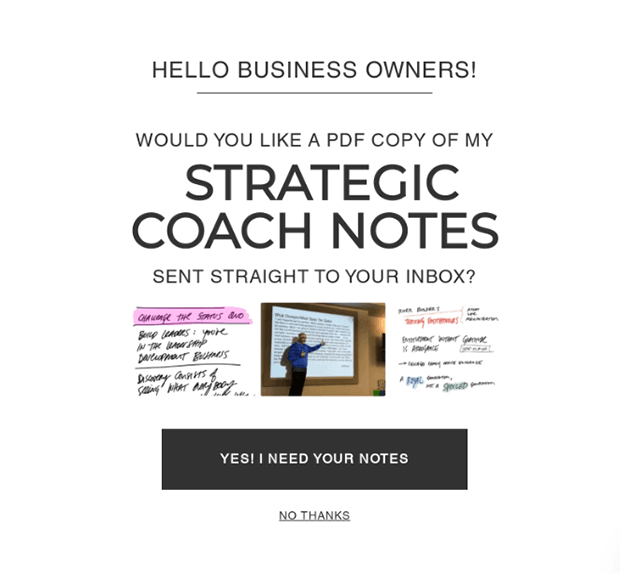 Entrepreneur Nick Gray was barely converting any of his hundreds of weekly visitors to email subscribers. Imagine all the traffic wasted! To combat this problem, Nick created a simple Yes/No popup targeted to readers of a specific blog post about business tips. This popup converts at 6.33%, a huge increase from his previous conversion rate of below 1%. Other similar campaigns converted at rates from 7-10%, which grew his monthly subscribers by 600%.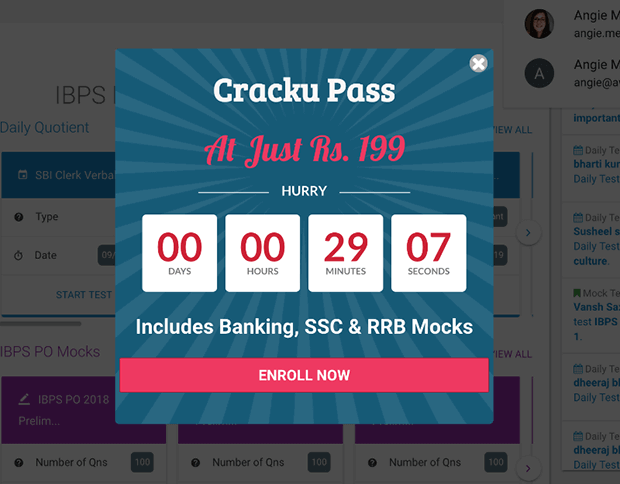 Education platform Cracku wanted to increase enrollments to their courses. Other popup softwares actually led to an increase in bounce rates. That's no good! With OptinMonster, they were able to create targeted campaigns with countdown timers to build urgency. This popup, promoting their popular banking, SSC, and RRB courses, converted 4.29% of all visitors. Along with other countdown timer campaigns, this one increased Cracku's conversions by 300%.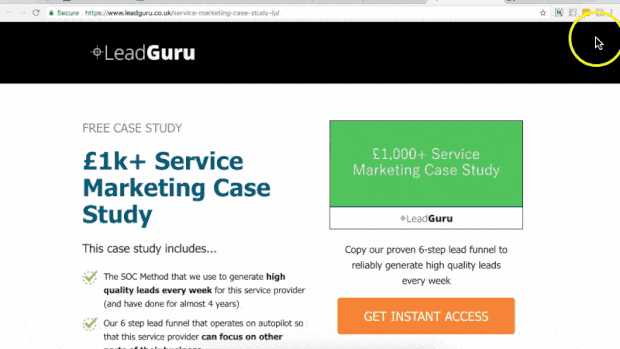 If your lead magnet had a conversion rate of 55%, you'd probably be pretty happy, right? Digital marketing agency Lead Guru was pleased with their existing campaign, but they wanted to do even better. Lead Guru used OptinMonster used a MonsterLink to turn their previous lead magnet campaign into a 2-step optin. This sent conversions up 26% to a whopping 81.8%.
All of these high-converting marketing campaigns were created using OptinMonster.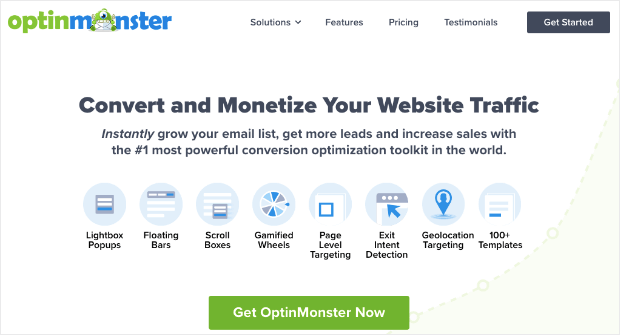 OptinMonster is a powerful lead generation tool that helps businesses increase their website conversions by creating highly targeted and effective opt-in forms.
Here's how OptinMonster increases conversion rates: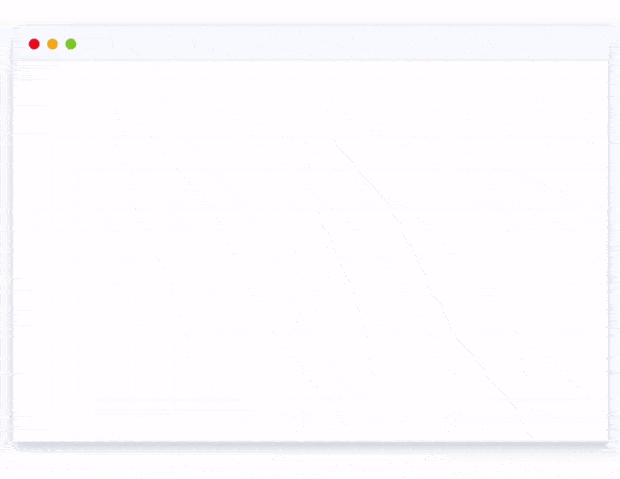 Exit-Intent Technology: One of the most powerful features of OptinMonster is its exit-intent technology, which detects when a visitor is about to leave your website and displays a targeted opt-in form to try and capture their information. This has been shown to increase conversion rates by up to 600%.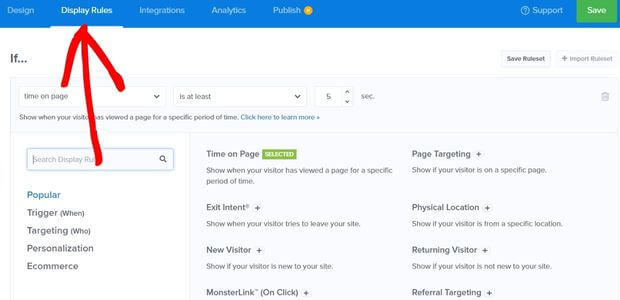 Targeted Campaigns: OptinMonster allows you to create targeted campaigns based on a variety of different criteria. You can target visitors based on location, the page they are on, or the amount of time they have spent on your site. This ensures that your opt-in forms are being shown to the most relevant visitors, increasing the chances of them converting.

A/B Testing: OptinMonster makes it easy to test different versions of your opt-in forms to see which ones perform the best. This allows you to optimize your forms for maximum conversions over time.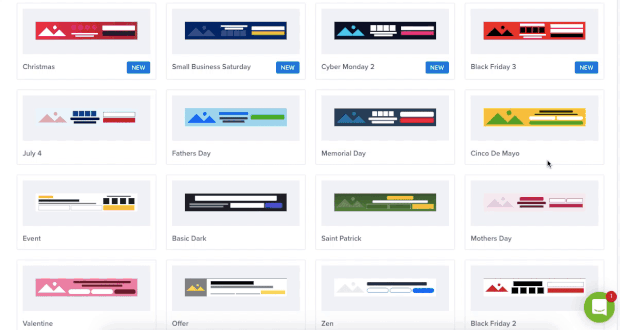 Customizable Forms: OptinMonster offers a wide variety of customizable opt-in form templates that can be easily tailored to match your brand and style. You can also create your own custom forms from scratch, allowing for complete flexibility and control over your lead generation efforts. The drag and drop builder makes it easy to create campaigns without any coding or design knowledge.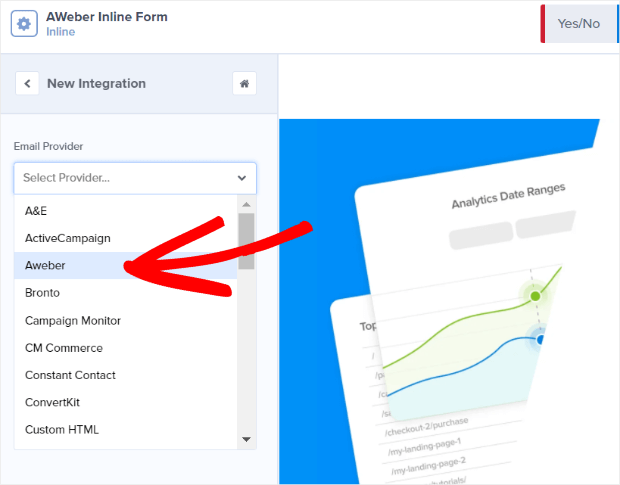 Integrations: OptinMonster integrates with a variety of different email marketing services, including Mailchimp, AWeber, and ConvertKit, making it easy to import your leads directly into your email list.

Analytics: OptinMonster provides detailed analytics and reporting on your opt-in forms. This allows you to see how well they are performing and make data-driven decisions about your lead generation strategy.
Overall, OptinMonster is an incredibly powerful and versatile lead generation tool that can help businesses of all sizes increase their website conversions and grow their email lists. Whether you're a small business owner just starting out or a large enterprise looking to scale your lead generation efforts, OptinMonster has the features and functionality you need to succeed.
Get Started With OptinMonster Today!
BONUS: Done-For-You Campaign Setup ($297 value)
Our conversion experts will design 1 free campaign for you to get maximum results – absolutely FREE!
Click here to get started →
Summary: What Is a Good Conversion Rate For Your Website?
Ultimately, the most important data point is how your conversion rate changes over time. What's normal for your website may be high or low for a different website.
It's important to understand your industry average, but what matters most is whether your conversion rate is increasing.
To improve conversion rates, focus on optimizing the user experience and experimenting with different elements of a website or campaign. If you'd like specific tutorials for increasing your conversion rates, check out these posts:
To start raising your conversion rate the easy way, give OptinMonster a try risk-free today!