You may have just as many hours in a day as Beyoncé, but building an email list from scratch is hard work, especially when you're already busy building your online store, creating content, and providing customer support. But, it's possible to build a free email list without letting everything else go.
Building your own list is one of the best things you can do for your business. And, we don't mean that in an "it builds character, you'll thank us later" kind of way.
When you build your own list, you're going to end up with a higher quality list. Period. Plus, there's so much you can do to build an email list for free, you don't even need to think about buying one.
Is it quick? Sure. But, you're also going to end up with a low-quality list. Not convinced? Here are 8 reasons why you should never buy an email list.
In this post, we're going to cover some awesome ways you can use social media and your existing website to grow your email list for free. With these tips and your killer content, your list will be thriving in no time.
How to Generate an Email List for Free With Social Media
Social media is an excellent way to stay engaged with your customers and generate new leads. Here are some ways to leverage social media to build your email list without opening up your wallet.
1. Add a CTA to Your Bio
Instead of using your bio to talk about how much you love the beach, why not use it for a call to action that's going to build your email list?
Here are a couple of examples from Instagram, but you can do this with any social media platform. And, don't worry, people will figure out that you love the beach by how much you post about it.


Both accounts have a fun sprinkling of emojis that are breaking up their keywords. Also, notice that both use the word "free" in their call to action.
2. Pin a Tweet with a CTA
Twitter lets users pin an important tweet to the top of their feed which presents an excellent opportunity for a call to action. Pinned tweets are the first tweets that appear whenever someone visits your profile page, so make sure you're using the space to your advantage to build your email list.
Here's an example of what a pinned tweet could look like: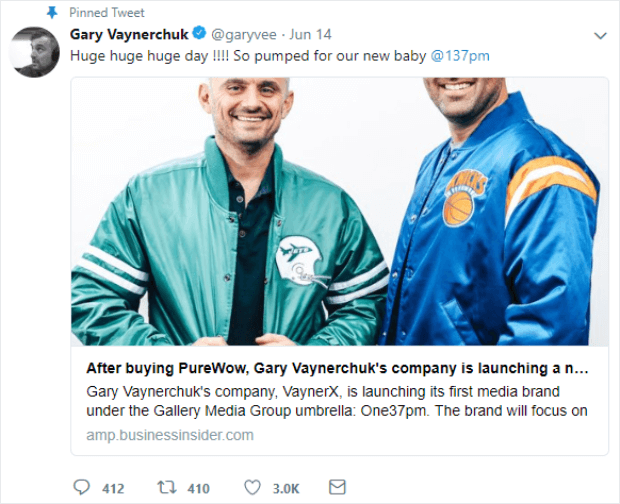 To pin a tweet to your profile you just click the gray arrow to the right of the tweet and select Pin to your profile page: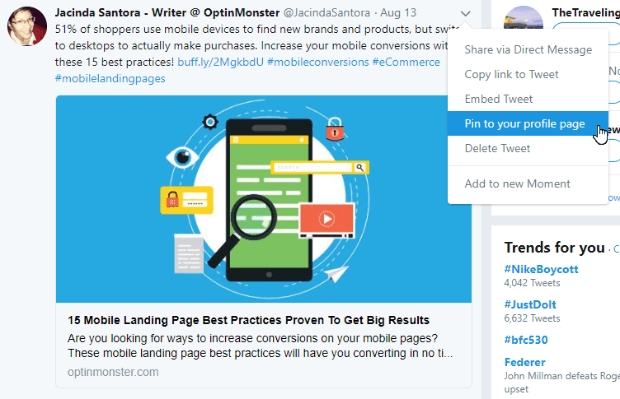 3. Create a CTA Post on Instagram
Yes, you can run Instagram ads the same way you can Facebook ads, but we're talking "free" here, folks. So far, the best way to create a call to action post for Instagram is to create a nice image with text on it indicating "Link in bio," or something like that.
These are a great option if you create a lot of lead magnets or content upgrades. Daniel DiPiazza was able to grow his email list with this simple post: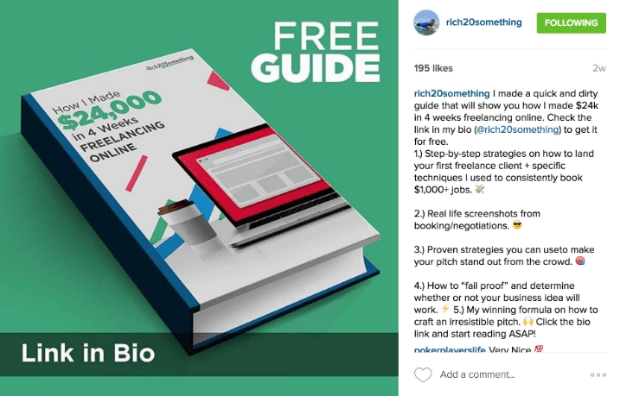 4. Set a CTA on Your Facebook Page
You can include a call to action on your Facebook page to encourage visitors to sign up for your mailing list like Dollar Shave Club:

You can add a signup button to your Facebook page easily:
5. Create a Subscribers-Only Facebook Group
Exclusivity is a great way to grow your list. By starting a Facebook group only for verified subscribers you not only encourage signups, but you encourage signups from people who are genuinely interested in what you're offering.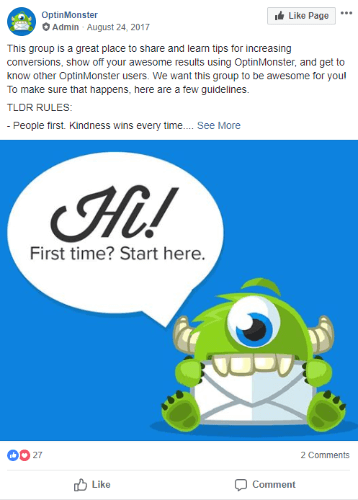 In our Facebook group, we post tips to help people get even better results from OptinMonster and get to know other OptinMonster users. There are also fun contests and support is available to offer guidance.
Facebook groups are great at building community and giving you another way to offer additional value to your subscribers and customers.
6. Pin Your CTA to Pinterest
Pinterest is an incredibly powerful visual search engine that is great for marketing. You can use a free tool like Canva to create beautiful, pin-worthy images to go along with your calls to action and pin away.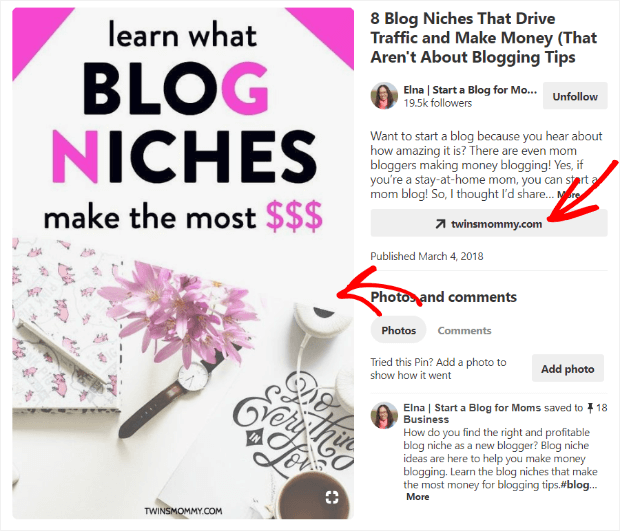 If you want to know more about using Pinterest for marketing, check out our post.
7. Use Instagram Stories
Instagram Stories are great for engagement. If you have a business account with 10,000 or more followers you can include links in your stories that visitors can get to by swiping up on the image or video.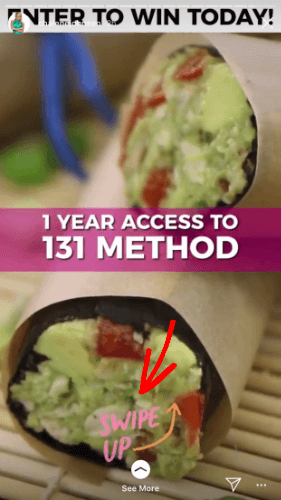 For the rest of us, we can use Instagram Stories to highlight our call to action link in our bio.
Struggling to create just the right CTA? Get inspired by our massive list of more than 700 power words or, if you need more guidance, check out our post about writing the perfect call to action.
How to Build an Email List for Free Using Your Existing Site
Do you remember when everyone thought that websites were on their way out? And businesses began shuttering their sites in favor of Facebook Pages?
Do you notice how 11 years later websites are still around and still considered vital to a comprehensive online presence?
A website can be a powerful tool for growing your email list for free. Here are some ways to keep your website relevant and engaging.
8. Create Original Content
Whatever industry you're in, creating original, quality content will get people interested in your brand. Plus, content throughout your site can be search engine optimized to make sure that your site is showing up in search engine results.
Have a look at our ultimate SEO guide for actionable steps you can take to drive traffic, boost authority, and generate leads and sales using your site.
Need help getting started with content? Check out our 8-step guide to create a successful content marketing strategy. Or, take a look at these clever content marketing examples for inspiration.
9. Offer Lead Magnets and Content Upgrades
Lead magnets and content upgrades are very effective for generating leads because they offer something of value in exchange for contact information. You don't have to use popups or optins to deliver these lead magnets or upgrades; you can include a simple link or graphic and your system of delivery.
OptinMonster uses a combination of our own optins to deliver lead magnets, but finds quite a bit of success with exit-intent: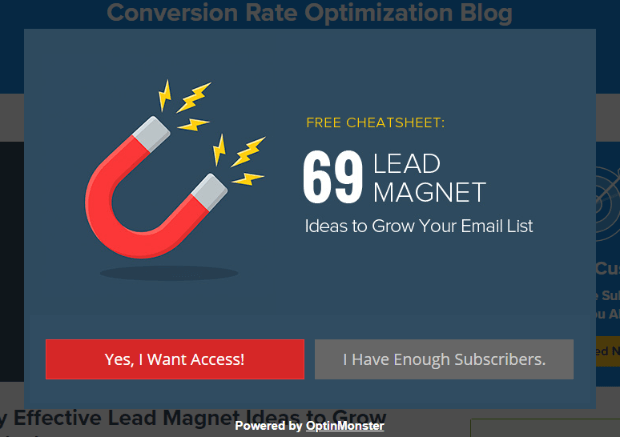 As well as MonsterLinks™: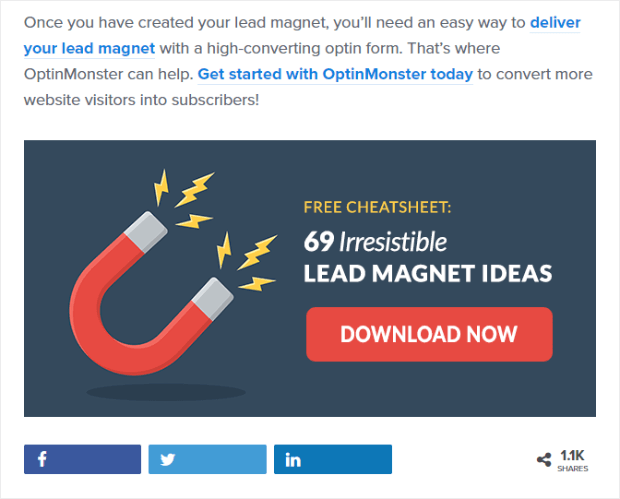 10. Upsell Upcoming Products
Typically when you see the word "upsell" it's related to increasing sales not signups, right? That's what makes this one of the coolest lead generation techniques we've seen in a while and we think more people should use it.
How do you do it?
FiftyThree would show related products that weren't yet released and use a call to action of "Notify me."

Once shoppers click the "Notify me" button they're presented with an optin: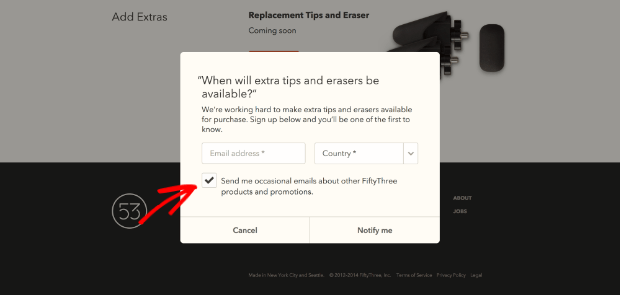 11. Optimize Your About Us Page
If a visitor is looking at your About Us page, it's pretty safe to assume that they're interested in learning more about your brand. Just adding a simple blurb about the benefits of doing business with you and including an optin form is enough to generate new subscribers.
Beardbrand includes their signup form at the very bottom of a long page about their company: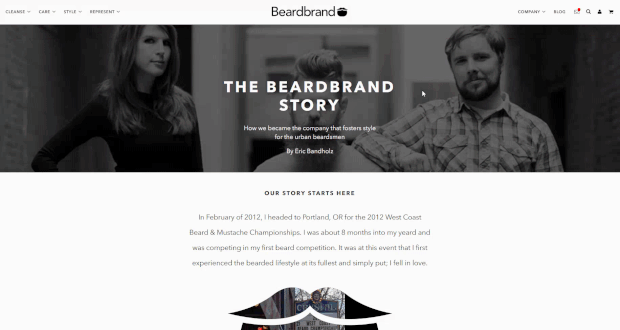 BONUS TIP: Do More With Your Popups and Exit-Intent Offers
Okay, okay, this isn't technically free. But, if you're interested in investing a little bit of money, OptinMonster is a wise move.
We can't stress enough how effective our optin campaigns are for lead generation. And they're super easy to create and use.
In addition to the standard popups, did you know that you can add inline optins to your site? You could easily add an inline optin at the end of each blog post to increase signups. These optins are unobtrusive: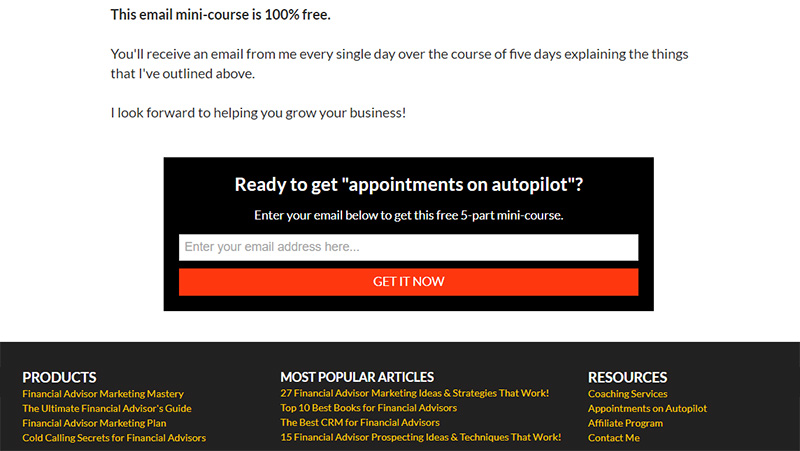 Exit-intent offers can be used as people are exiting your site to encourage them to signup for updates or a special offer.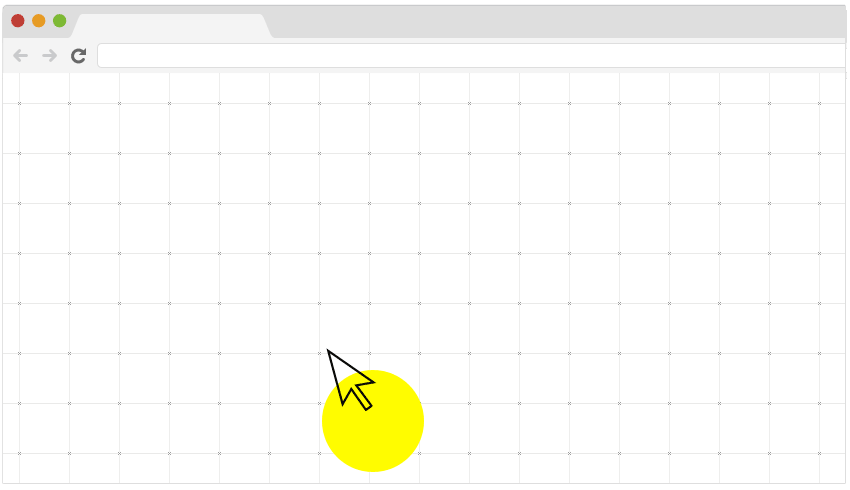 There you have it!  A dozen super easy ways to use social media and your own existing website to build your email list for free. If you want more, check out our giant list of ideas for how to get an email list. Or, learn how to greet all of your new subscribers by writing the perfect welcome email complete with some of the best email subject lines.
Interested in seeing how OptinMonster can make your lead generation dreams come true? Join today!