Are you in search of affiliate marketing statistics to boost your earnings?
Learning about the latest affiliate marketing statistics will help you optimize your strategies and stay ahead of the curve.
Whether you're a seasoned marketer or new to affiliate marketing, these statistics offer valuable guidance for maximizing your success and achieving your financial goals.
In this article, we'll share 20 recent and relevant affiliate marketing statistics you need to find profitable opportunities and boost your conversion rates.
Let's get started.
1. The Market Value of Affiliate Marketing Exceeds $17 Billion
Affiliate marketing has become a successful business worth more than $17 billion (as of 2023). This is a big increase from $13 billion in 2016.
The future also looks bright for affiliate marketing. Experts predict that by 2030, the value of the affiliate marketing industry could reach $40 billion.
This shows that affiliate marketing is an exciting field growing more rapidly than expected.
2. More Than 80% of Brands Use Affiliate Marketing Programs
A study by Rakuten/Forrester Research found that 8 out of every 10 brands (which is 80%) use affiliate marketing programs.
Also, over 80% of advertisers set aside around 10% of their marketing budget for affiliate marketing projects.
That's because it helps businesses reach more people, drive leads, and boost sales, all without spending much money on hiring a marketing company.
3. Searches For "Affiliate Marketing" on Google Have Doubled Since 2016
According to Google Trends data, there has been a consistent increase in people searching worldwide for the term "affiliate marketing" since 2016. This search interest peaked even more from 2020 onwards. This was likely because many businesses, even those with physical stores, were selling online due to the COVID-19 pandemic.
The graph from Google Trends below shows how much people are interested in the term "affiliate marketing" on a scale from 0 to 100. By the end of July 2023, the interest in this term reached a high of 100, which is the highest it has ever been.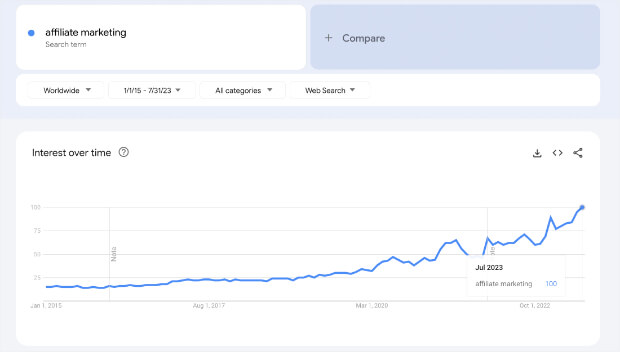 4. Amazon Associates Holds 47.3% of the Affiliate Market Share
The largest global affiliate program is Amazon Associates, holding a significant 43.7% market share. Following that:
C.J. Affiliate takes the second position with a market share of 7.67%
Rakuten claims the third spot with a 7.24% market share
ShareASale holds a 6.97% market share and ranks fourth
AWIN ranks fifth with a 5.47% market share
Note: ShareASale was recently acquired by AWIN.
5. Affiliate Marketing Contributes to 16% of eCommerce Sales in the US and Canada
Affiliate marketing is a big deal in online marketing, contributing to around 15% of all revenue generated. Additionally, affiliate marketing drives 16% of eCommerce sales in Canada and the US.
As nearly everyone promotes products and services online, it's clear that businesses must use affiliate marketing smartly to sustain their growth.
6. SEO Is the Top Traffic Source for More Than 69% of Affiliate Marketers
More than 69% of affiliate marketers rely on search engine optimization (SEO) to get the most visitors to their websites.
Next up is social media, with 67% of marketers using it to connect with possible customers. Blogging secures the third spot, with 65% of marketers doing it. And Pay-per-click (PPC) ads are fourth on the list, bringing website visitors for around 34% of marketers.
7. Top Affiliate Marketing Niches Are the Fashion and Wellness Industries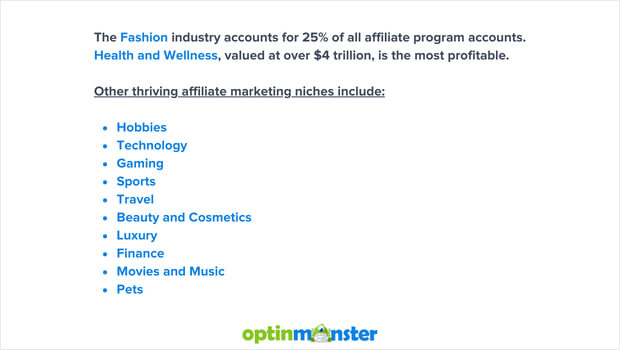 The fashion industry accounts for around 25% of all affiliate programs. Sub-niches include clothes, shoes, accessories, and more.
However, the most profitable niche is health and wellness, worth over $5.5 trillion. It covers fitness, diets, medicine, organic food, and more.
8. Influencers Have Inspired 88% of Consumers to Make Purchases
Today, people are looking more for real suggestions from sources they trust. When brands partner with influencers, it creates a unique bond between them and the buyers as they go through the buying process.
According to Nielsen Trust In Advertising Sell Sheet, 88% of customers have made buying choices because an influencer recommended something.
9. 9 in 10 Consumers Make Buying Decisions Based on Reviews
Customer reviews are super important when people decide to buy something, with 9 out of 10 shoppers trusting them. That's why businesses need to keep an eye on their online reputation to stay ahead in the market.
10. Cost Per Action (CPA) Is the Most Commonly Used Payment Model Among Affiliate Marketers
You can earn money in different ways as an affiliate marketer. However, 99% of programs use the CPA (cost per action) payment model. With this, you get a commission whenever someone buys something through your affiliate link.
But there are other payment models, too. For example, you might get paid depending on how many people click your link (CPC or cost-per-click), even if they don't buy anything.
11. Annual Growth Rate of Affiliate Marketing Revenue Reaches 10%
Affiliate marketing has been growing a lot, making 10% more revenue every year since 2015. And that's still happening in 2023.
It's an excellent way to make money, and more experts and agencies might start doing it in the upcoming years.
12. SaaS-Based Products Offer Affiliates Commissions From 20 to 70%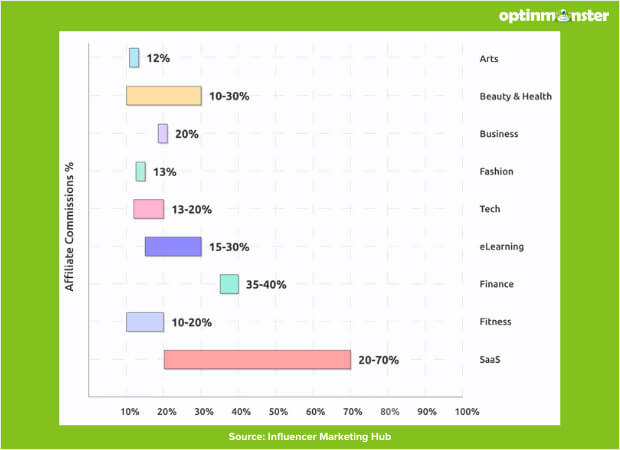 A study found that SaaS products can be a great way for affiliate marketers to make money. They can get up to 70% commissions, which is the market's highest.
But remember, the amount of money you can get varies a lot. Some SaaS products might only give you as little as 20% commissions.
13. 50% of All Affiliate Traffic Comes From Mobile Devices
More than 50% of the people who visit affiliate sites use phones or tablets.
That's why affiliate marketers need to make sure their websites work well on mobile devices. This makes the site easy to use and brings in more visitors.
14. Top Coupon Affiliate Websites Generate More Than $1 Billion in Revenue
Groupon is a famous company that uses affiliate commissions to run its business. According to Statista, affiliate marketing makes a huge $1.4 billion every year and has more than 50 million people using it.
This shows how powerful affiliate marketing platforms like Groupon can be.
15. Bluehost Paid Over $5M in Commissions
Selling web hosting is now one of the most profitable and popular ways for affiliate marketers to make a lot of money.
Since more people are creating blogs and businesses, they need websites. To make websites work well, they need good hosting services. This is where affiliate marketers can help.
Bluehost, a web hosting company, paid a huge amount of $5 million to affiliates in just one year. People promoting Bluehost's hosting and other products can earn about $65 to $130 for each sale.
16. Affiliate Marketers Can Earn an Average of Nearly $55,000 Annually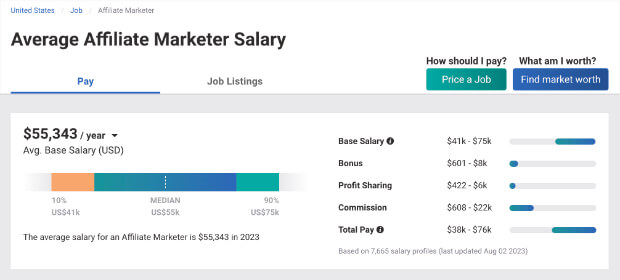 According to PayScale, the average base salary for an affiliate marketer in the US is $55,000. This is based on the salaries reported by those working in the field and those who have self-reported their pay. It also takes into account factors such as experience and education level.
17. Individuals Between the Age of 35 to 44 Make up 32% of the Total Affiliate Marketing Industry
Recent studies show that about 32% of affiliate marketers are between 35 and 44 years old.
This age group makes up the highest percentage of affiliate marketers, and they tend to have the highest success rate.
Next up, 25 to 34-year-olds make up 24% of affiliate marketers. The smallest group comprises people aged 45 to 54, who only make up 10% of the total.
18. 83% of Affiliate Recruiters Discover New Affiliates Through Affiliate Network Dashboards
83% of brands and publishers recruit new affiliates via network dashboards.
Network dashboards help brands and publishers find potential affiliates easily. This saves time and resources in recruiting. Additionally, these dashboards let affiliates access all the necessary information about the brands they want to work with.
Boost Your Earnings With These Affiliate Marketing Statistics
These factual affiliate marketing statistics show the vast possibilities of this marketing strategy. 
You can use these numbers to customize your methods, improve your campaigns, and create meaningful partnerships. This way, you can position yourself to make the most out of your earnings.
Want to step into the affiliate marketing world? Read our comprehensive guide about What Is Affiliate Marketing? How To Get Started in 2023.
Next, read 15 Affiliate Marketing Tips to Increase Your Income.
And don't forget to check out the Best Affiliate Marketing Tools: Top 15 Tools Every Affiliate Needs.
Want to start building your affiliate marketing email list? Try OptinMonster risk-free today!