Are you looking for the best WordPress landing page plugins to boost sales and conversions on your website?
A landing page narrows down your visitors' focus on the important elements of your page, such as a call-to-action button for growing your email list, selling a product, promoting your webinar, and more. For the best results, you might want to create a landing page for product launches, running a sale, and so on.
WordPress landing pages are a great way to drive sales and conversions from ads and search engines. Instead of directing people to your homepage, you lead them directly to the product or service they are interested in.in
But how do you create a highly functional and eye-catching landing page that stands out and boosts both sales and conversions?
WordPress landing page plugins.
Sure, you can create a landing page from scratch if you want. But that involves a lot of technical know-how and time that many of us simply don't have.
That means we'll need to have landing page plugins to get the job done. That's why we'll share our picks for the best landing page plugins specifically designed for sales and conversions.
And at the end of the post, we'll also share the top qualities you need to look for in every plugin.
So, are you ready to get started?
Let's dive straight into our list.
Best Landing Page Plugins
So you can quickly find what you need, here's a handy table of contents. We've broken down our picks by function:
That way, you can find what you're looking for and get right to building your own landing pages.
One quick note- we'll be including plugins that are mainly built for the WordPress platform. Though, some do work on other site platforms.
Let's start with the best tools for building your landing pages.
Best Landing Page Builders
The plugins in this section of our list will help you build eye-catching, SEO-friendly landing pages.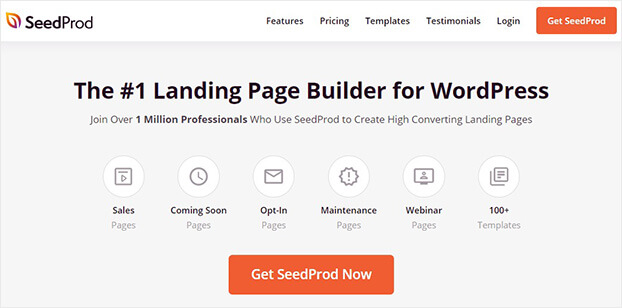 SeedProd is the best landing page builder plugin on the market. With SeedPod, you can create beautiful landing pages using a drag and drop builder (and no coding) in only a few minutes.
With a beginner-friendly interface, you can create several different landing pages for your site. So whether it's for sales, coming soon announcements, maintenance, webinars, or optin campaigns, SeedProd has your back.
But, with 150+ landing page templates, you don't even need to worry about designing responsive and mobile-ready pages. SeedProd's taken care of all the hard stuff already.
And if you want to customize the templates, SeedProd makes that just as easy.
Besides, with access to over 40 blocks that bring additional functions to SeedProd, you can easily create a knock-out landing page.
Key Features:
Edit content in real-time and preview your website exactly as your visitors would with a live preview
Put your website into coming soon, 404, or maintenance mode and go live with one click
Compatible with any WordPress theme
Pricing: SeedProd's yearly pricing starts at $39.50.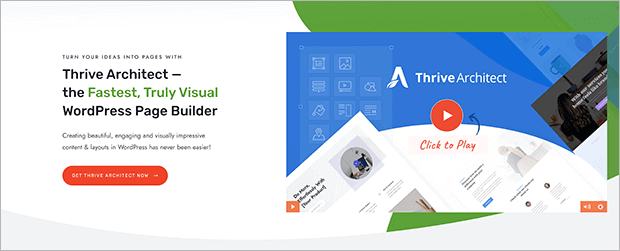 Thrive Architect is the ultimate page builder for WordPress. It's an intuitive and user-friendly platform that makes it easy for businesses and individuals to create stunning, professional-looking websites.
With its powerful drag-and-drop functionality and pre-designed templates, you can easily create custom pages that are tailored to your specific needs.
Key Features:
Choose from a variety of pre-designed templates or create your own custom pages from scratch.
Intuitive drag-and-drop interface
Fast and responsive design that look great on any device.
Pricing: Thrive Architect is available as a standalone plugin for $99/year. You can also get it bundled with other plugins starting at $199/year.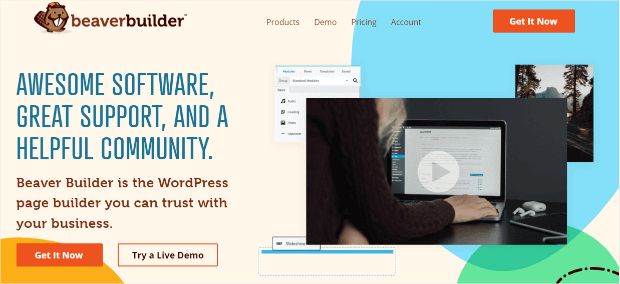 Beaver Builder is another popular WordPress landing page plugin.
However, this is one landing page builder plugin that's better suited for intermediate users.
While there are some beautifully designed templates in Beaver Builder, we must caution that the builder is a little bit difficult to use for the beginner.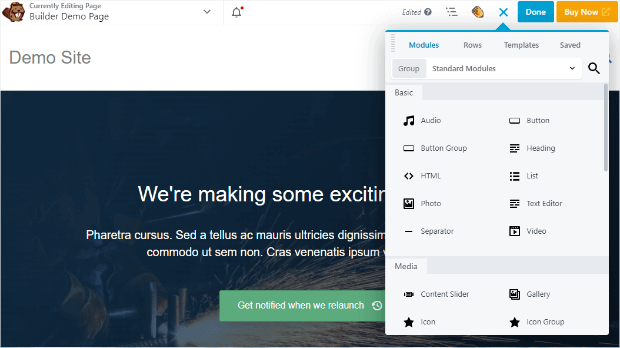 Now, one great advantage to Beaver Builder is that it works with almost any WordPress theme. And if for some reason it doesn't, the Beaver Builder team says they'll work with you to ensure that it does.
Attention designers: if you build landing pages for multiple websites, then Beaver Builder is a solid choice. With just 1 license, you can use Beaver Builder on unlimited websites.
Like all of the other pics for our best landing page builders, this is also SEO-friendly and responsive.
Key Features:
Real-time editor with live preview
Multiple landing page templates by business type and need
Compatible with numerous translation apps for those with customers across different countries
Pricing: Beaver Builder licenses start at $99 for the first year. Additional years renew at 40% off.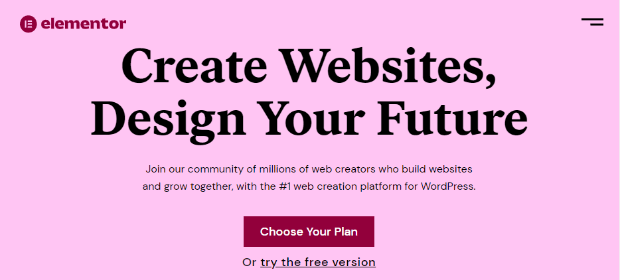 Elementor Pro is an excellent choice if you are looking for an all-inclusive WordPress page and theme builder with landing page functionality.
It's not hard to see why Elementor Pro is such a well-loved and wildly popular page builder.
And no, it's not because there is a robust free version.
It's because Elementor was built with the sole purpose of designing stunning websites. While some other builders focus on conversions at the expense of design, Elementor puts design and the user experience at the forefront.
Instead, you can expand the page's capabilities by using third-party plugins, which we will go over later.
Elementor is perfect for businesses just starting their website and aren't comfortable building from scratch.
Key Features:
Save page blocks so you can use them in future landing pages, speeding up the design process
Drag and drop live editor
Dozens of landing page templates
Pricing: Elementor Pro starts at $49/year. Prices vary based on whether you already have a host and how many sites you'll install Elementor Pro.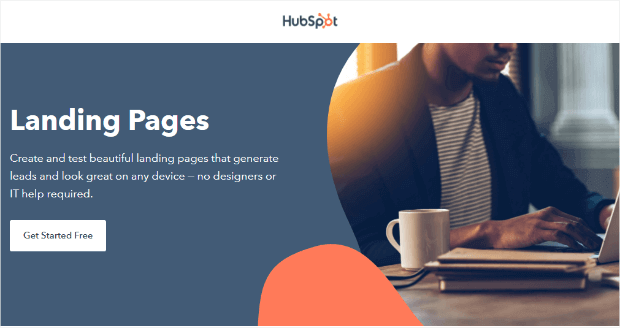 HubSpot is more than just a marketing platform or email service provider. It can also help you create free landing pages when you use the WordPress plugin.
Personalize your landing pages, the calls to action, and other content to really drive some sales. HubSpot can tailor this content (and more) based on the person's location, source, device, or any other contact detail.
You can also A/B test every element to squeeze every last potential sale and conversion from your traffic.
If you are not on WordPress, don't worry. The free landing page builder does come with every account.
Key Features:
Drag and drop builder
Highly customizable forms
A/B testing and analytics
Pricing: HubSpot Landing Pages is free with the HubSpot WordPress plugin.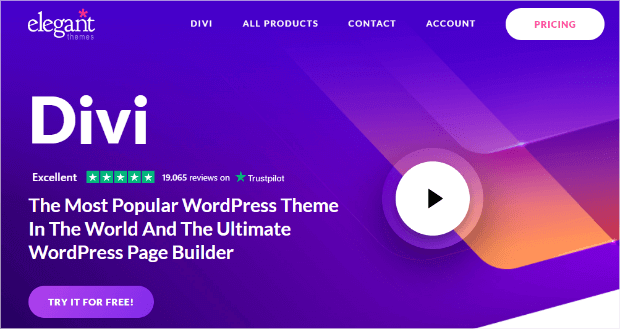 Divi may be the last landing page builder on our list, but it certainly isn't the least by any means.
Not only can you create strikingly beautiful landing pages, but Divi will also help you design the rest of your site.
This powerful and sleek WordPress page builder has over 20 templates and 45 modules dedicated to making your landing pages look and perform exactly how you want.
Divi strikes a delicate balance between being simplistic enough for the novice user yet robust enough that advanced users will not be limited.
Plus, you can save and manage existing designs, to help speed up and streamline future landing page design projects.
Key Features:
Global elements and styles to have a cohesive look across your entire site
Included royalty-free photos and other images
Advanced code editing
Pricing: Divi is $89/year.
Best Landing Page Conversion and Sales Plugins
Now that you've hopefully found a landing page builder that works for your business and site let's look at plugins that will help you drive more conversions and sales.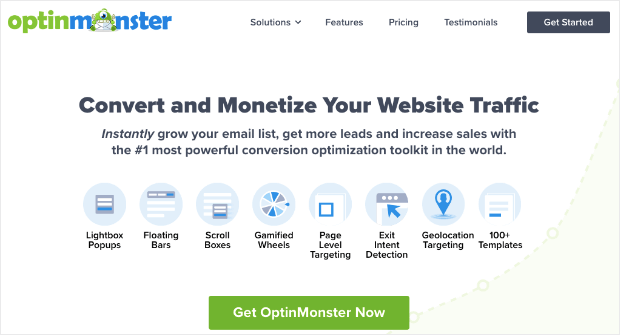 OptinMonster is regarded as the best plugin for lead generation and boosting conversions on your landing pages. You can create eye-catching conversion generators on your landing pages like popups, slide-in windows, and gamified spin-to-win wheels.
If you want to gather leads and target specific audiences, OptinMonster is a must-have plugin for you. For example, you can personalize the text you display on your landing pages.
With an expansive library of tools and designs, OptinMonster comes with the right solution for building campaigns to collect quality leads for your unique needs.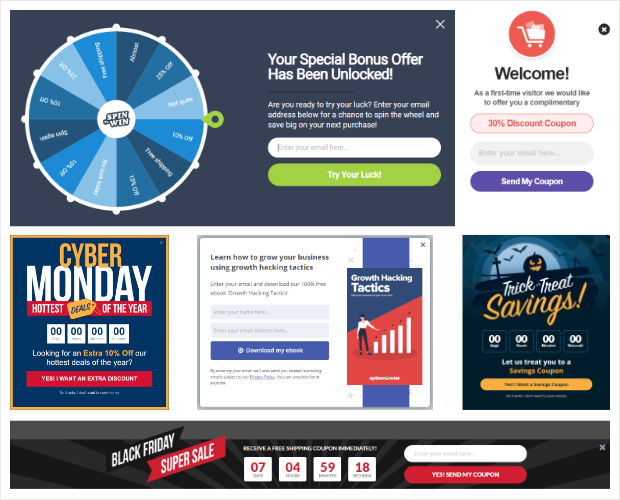 Even better? It can all be done beginner-friendly and easy-to-use visual builder.
Target your audience as they start to leave your landing page with Exit-Intent® technology. Want to show a new campaign if someone returns to your page? Then, check out OptinMonster's Onsite Retargeting®.
In fact, OptinMonster and landing pages are how The Advisor Coach converted a whopping 53.47% of readers.
Key Features:
Show targeted promotions: Show free shipping bars, share discount codes, promote flash sales, and more based on referral source, geo-location, previous on-site behavior, user's device, etc.
Targeted offers: Use what you already know about your visitors to run OnSite Retargeting® campaigns and improve conversions.
Grow your email list: Integrate with your favorite email marketing, content management, and CRM platforms to automate your business.
Pricing: OptinMonster pricing starts at $9/month for our Basic plan, $19/month for Plus, $29/month for Pro (our most popular plan), and $49/month for Growth.
Get Started With OptinMonster Today!
BONUS: Done-For-You Campaign Setup ($297 value)
Our conversion experts will design 1 free campaign for you to get maximum results – absolutely FREE!
Click here to get started →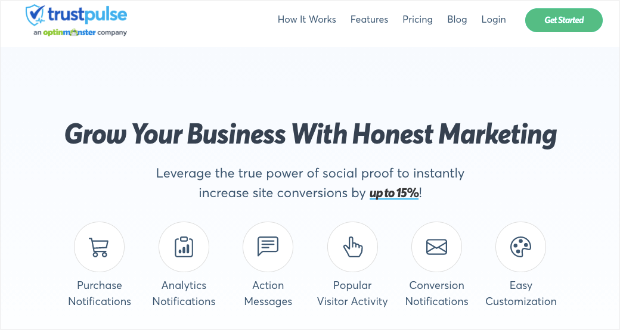 TrustPulse is the market's best social proof notification plugin.
Yes, social proof is a genius way to convert people into paying customers. That's because that social proof builds trust. And without trust, you'll never convert customers.
In fact, adding social proof notifications is one of the most effective conversion-building marketing tactics that require the least amount of effort.

TrustPulse builds both trust and instills a fear of missing out by showing notifications of activities taken by real people on your site. These are actions like viewing or buying products, signing up for newsletters, and more.
And yes, you can add social proof popups to your landing pages, even if your business is new. These popups will help your landing pages convert even more customers. If you take advantage of TrustPulse's smart targeting features, then you can fine-tune the exact messages and the timing on your landing page social proof popups.
Which means more conversions and more sales.
When visitors see others buying from you, they will feel compelled to do the same. Why? Because when they see other people trusting you, they are more comfortable doing the same.
Key Features:
Real-time event tracking
Smart targeting to boost conversions using advanced targeting rules and timing control
Actionable analytics to get the stats you need to boost conversions
Pricing: The pricing plans start at $5/month for up to 2,500 sessions!
WPForms is an easy-to-use form builder that adds simple lead generation forms to your website.
With 300+ pre-built templates, you can get the proper form on your site in just a few clicks.
While forms are limited in targeting rules as opposed to tools like OptinMonster's popups, they are still an excellent and reliable way to boost conversions.
Sometimes, you need a distraction-free form page, like Google Forms on your WordPress site. After all, one of the biggest reasons someone will leave your site is that they got distracted by something else.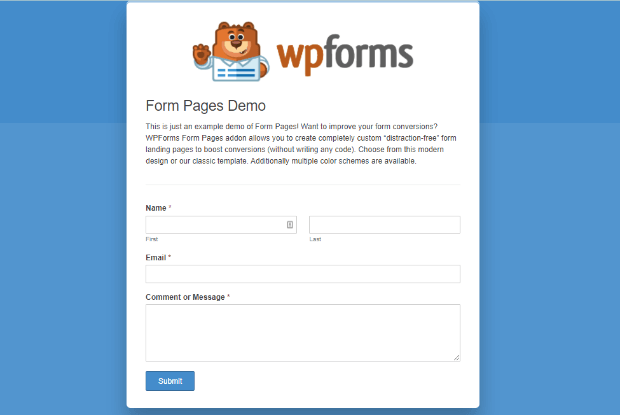 As you can see, a form landing page gets right to the point. And sometimes, that's really all you need.
So why invest time and money in a page builder if your specific audience will best respond to a simplistic form-based landing page.
And yes, you can customize your distraction-free landing page. After all, we want it to match the rest of your site and brand.
Key Features:
Drag and drop builder to make customization easy
Mobile-friendly forms let you collect leads from any type of visitor
Instant notifications allow you quickly respond to leads
Smart conditional logic guides you through creating high-performing forms
Pricing: WPForm's yearly pricing starts at $39.50 for their Basic package, $99.50 for their Plus package, $199.50 for their Pro package, and $299.50 for their Elite package.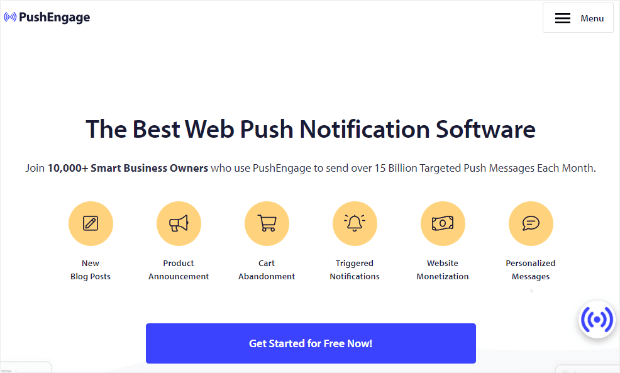 PushEngage is the best plugin for web push notifications. You can send targeted messages and announcements to your customers using browser push notification technology.
Push notifications are an underappreciated way to convert visitors into paying customers. After all, since they can opt in directly from your website without sharing personal information, you're more likely to get even more leads.
Basically, PushEngage lets you talk to your potential customers through their browser, even after they've left your website.
Then, you can use these push notifications to promote and drive traffic to your landing pages.
And if your leads aren't online when you send it? It'll be waiting for them when they log back in.
With these push notifications, you can keep users engaged, drive traffic back to your site, and help ultimately drive more sales.
Of course, PushEngage comes with all of the features you've come to expect out of plugins that drive conversations: A/B testing, targeting rules, analytics, and audience segmentation.
So, how can you use it for your landing page? For instance, let's say you are running a landing page announcing an upcoming new product. You could then ask visitors to opt in for push notifications for when the product drops.
The same goes for an upcoming sale or webinar.
PushEngage works seamlessly on all website builder platforms, including WordPress, Shopify, Bigcommerce, and more.
Key Features:
Fully customizable display triggers
Automation triggers help move customers through a customer journey
Audience segmentation to target subscribers based on device, location, and page source
Pricing: PushEngage's free plan includes 200 subscribers and 30 campaigns. Paid plans begin at $9/month and include 100K subscribers and unlimited campaigns.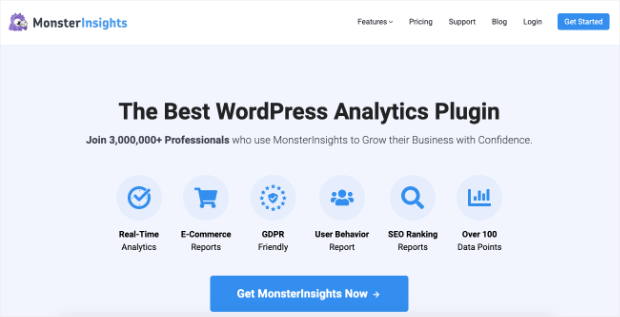 MonsterInsights is a powerful yet simplistic plugin that gives you the power of Google Analytics without all of the confusion.
In order to boost conversions and sales, you need to monitor how your landing pages are performing. The perfect plugin for that is MonsterInsights.
Once it's set up, MonsterInsights tracks your site's performance and explains it all in reports that everyone can easily understand.
Plus, there are specialized landing page reports that help you pinpoint the top-performing landing pages.
Key Features:
Makes Google Analytics compliant with global privacy regulations like GDPR, CCPA, PECR, and PIPEDA
Specialized landing page tracking and reporting
Integrates with all WordPress form plugins
Pricing: MonsterInsights plans start at $99.50/year
What to Look for in a Landing Page Plugin
As you can see, there's a long list of plugins to help you create solid and powerful landing pages that convert. So, how do you decide?
Here's are the qualities you should look for in any plugin:
Easy To Use: The plugin should match the skills and knowledge of the people using it. Otherwise, it'll just waste time and cause a lot of unneeded stress.
Money-Smart: Most small businesses need to be really smart with how they spend their money. So, you'll want to find plugins that meet your needs and can scale with your business.
Support: Check out the support available with the purchase of any plugin. Is support included? Some plugins require a premium package if you want live support.
Fits Your Goals: Before investing in any plugins, make sure that they'll help you reach your goals. Take the time to understand what the plugin offers.
And that's all for today! These have been the best landing page plugins on the market.
If you enjoyed this post, you'd find these articles helpful:
These articles will help you further optimize your landing pages, design and use effective lead magnets, and increase sales through your social media accounts.