Are you looking for the best SEO plugin for your website?
You might've already heard about the All in One SEO plugin and might be wondering if it's the right plugin for your website.
The right SEO plugin helps you optimize your site for search engines without having to hire a developer.
However, finding such a plugin for your website can be challenging since there are so many out there.
In this detailed All in One SEO review, we put their claim to the test and figure out if it's the best SEO plugin that meets your needs.
Let's get started.
What Is All in One SEO Plugin?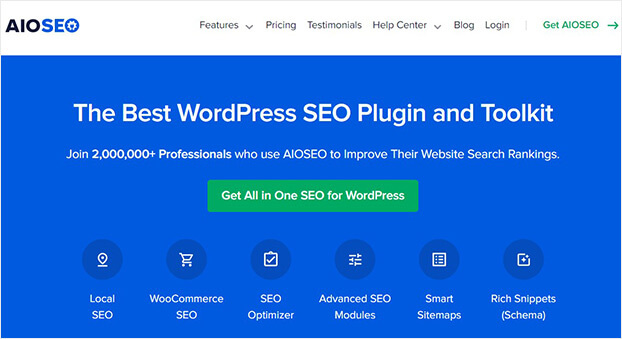 All in One SEO is the original WordPress SEO plugin trusted by over 3 million website owners.
The plugin is easy to configure and provides robust SEO settings for making your website search engine friendly.
Aside from onsite optimization options, AIOSEO even offers advanced SEO suggestions to boost your rankings and traffic, which makes the plugin stand out from the crowd.
It even lets you easily integrate with various social media platforms and popular plugins like WooCommerce, MemberPress, and more.
Let's get started with the configuration part.
Getting Started With All in One SEO
All in One SEO is a freemium plugin. You can start by installing and activating the plugin from the plugins repository.
However, if you want to have a winning edge over your competitors, we recommend going with the Pro version.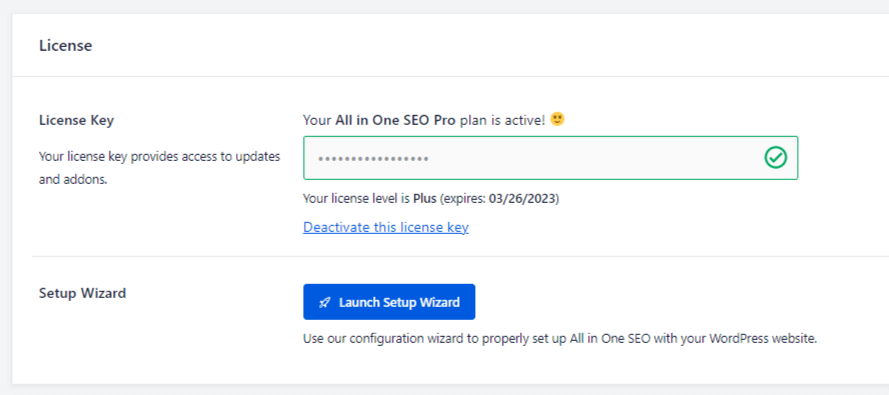 After activating the plugin license, you'll see a setup wizard.
Click on the Let's Get Started button.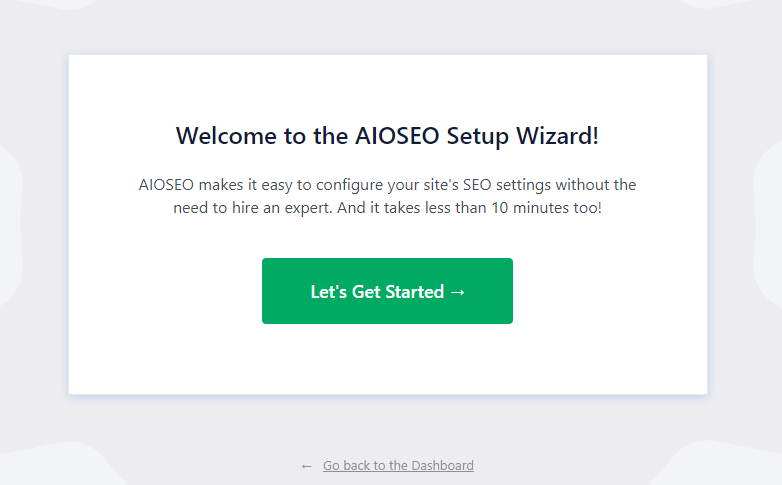 The onboarding wizard comes with 6 easy steps.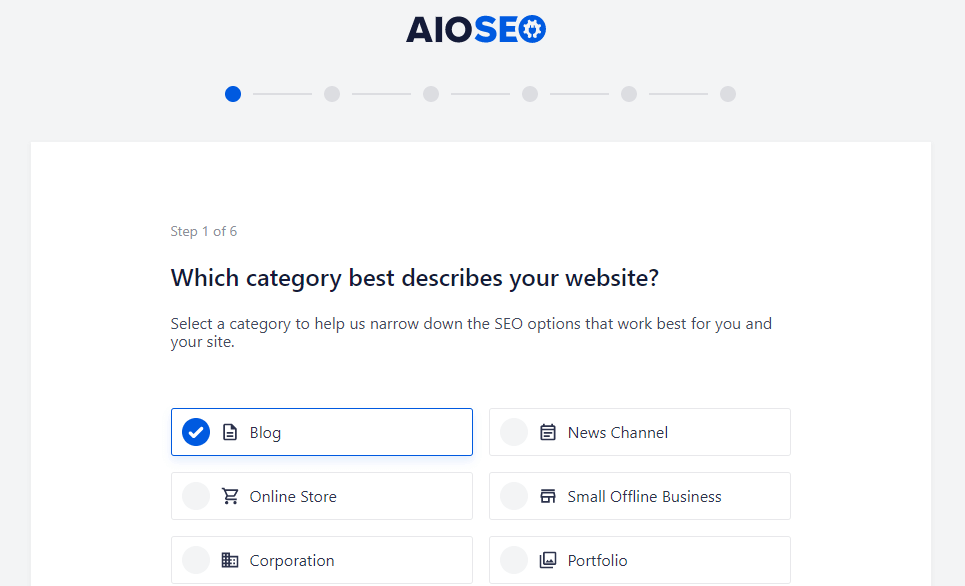 We recommend taking a couple of minutes to answer all the fields to get optimal results.
If you're switching from other SEO plugins, you can simply import the data from the old plugin.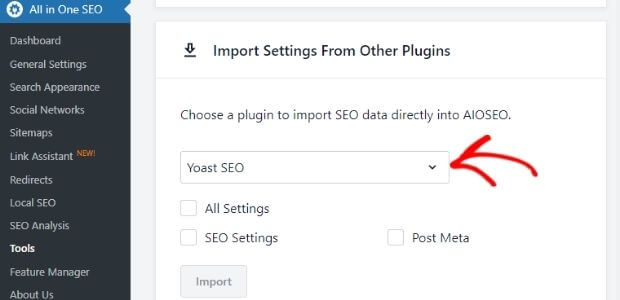 Since every plugin handles SEO differently, some settings may not be copied. However, AIOSEO makes it easy to fetch your entire SEO setup to ensure everything's working fine.
Why Should You Use All in One SEO Plugin?
Search engine optimization is an ongoing process.
With continuous updates from the search engines like Google, ranking websites is not an easy task. As a business owner, you cannot afford to dedicate your entire time worrying about SEO algorithms.
With AIOSEO, you can rest assured that you're following the recommended practices for optimizing your websites for search engines.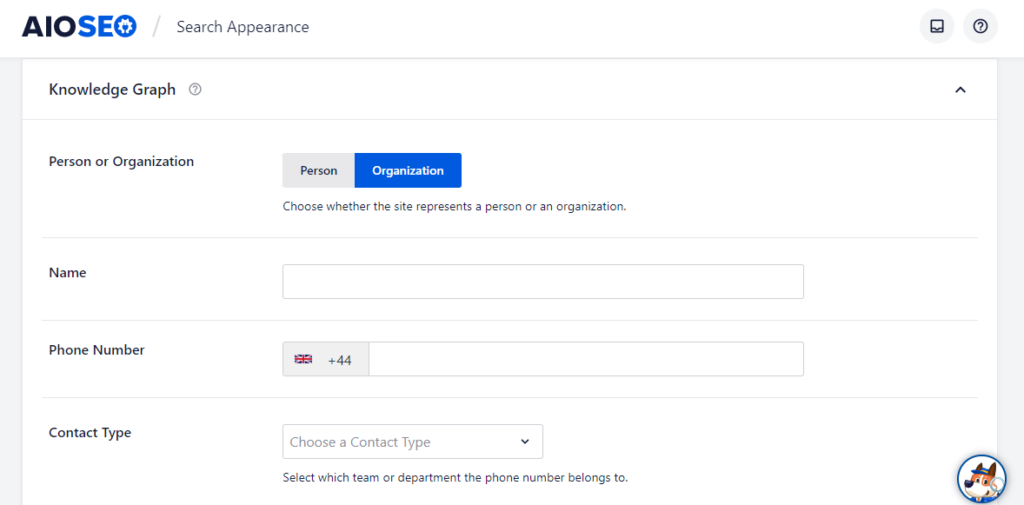 AIOSEO plugin offers plenty of features for:
On-page analysis
Schema snippets
Local SEO
XML sitemaps
Robots.txt
WooCommerce SEO
Video SEO
With that said, let's have a detailed look into some of the plugin features.
All in One SEO Features
All in One SEO or AIOSEO (formerly known as All in One SEO Pack) is an easy-to-use plugin for bloggers, website owners, designers, and everyone using WordPress.
The plugin is beginner friendly, comes with a setup wizard, and you don't need to know much about SEO in order to start using it.
It covers many website optimization areas and guides you about every setting before activating them.
Although there are many features that we'd like to cover, we'll focus on the ones that are extremely important for every website.
Let's get started with the necessary ones.
1. On-Page SEO Optimization Tools
One of the best features about AIOSEO is TruSEO – a hassle-free on-page optimization feature.
With TruSEO, you can eliminate all the guesswork when it comes to optimizing your posts, pages, and products. It gives you an actionable checklist for improving your SEO.
After installing the plugin, head over to any blog posts, and you'll find a simple checklist of SEO suggestions to unlock the potential organic traffic growth for your posts.
Title tag
Focus keyphrase
Meta description
Canonical URL
Social media metadata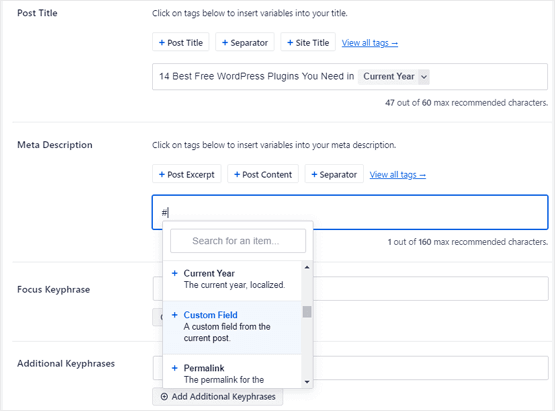 TruSEO also provides smart tags that you can use to dynamically add information to post titles and meta descriptions.
Finally, you can check the page analysis for further optimizing your content.
The Title tab provides suggestions for optimizing the post's title.

For example, it checks the presence of the focus key phrase in the title, and you get suggestions for optimizing the post's title length.
All in One SEO understands the importance of headlines and provides a dedicated headline analyzer tool to check your post title.
The Readability tab analyzes your writing style and checks the text tone for content readers.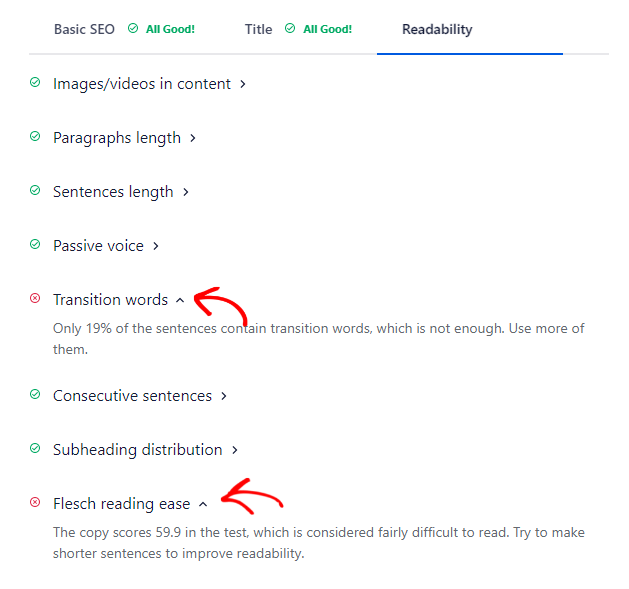 If the content is hard to read, you can change your sentences and make them short.
And that's it!
You have completed on-page SEO for your blog posts.
2. Search Appearance
The search Appearance section is the most essential area for SEO settings.
You can set global settings for the titles, meta descriptions, and metadata information that will appear on the business knowledge graph in the search engines.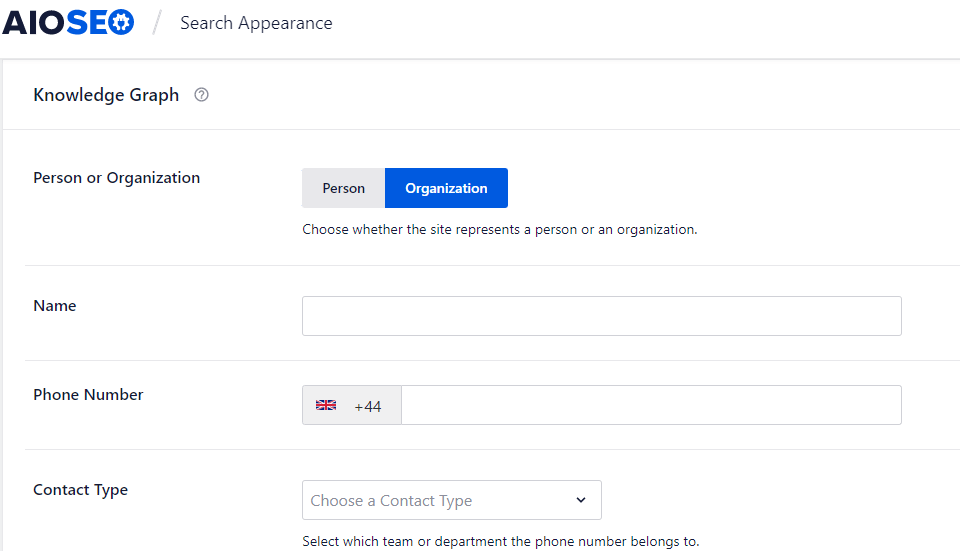 You can set the following settings for your business:
Business name
Phone number
Logo
Address
Other local SEO information
You can also set the default schema markup settings for posts, pages, products, and popups from the Content Types tab.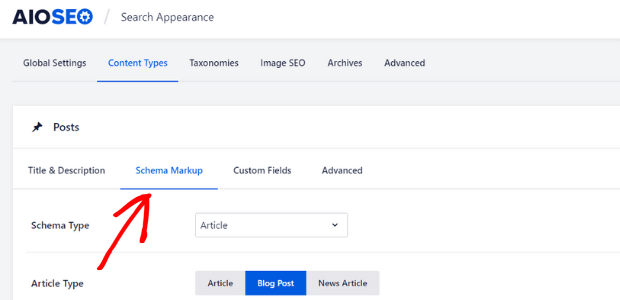 All in One SEO provides dynamic tags for metadata, so you don't have to type each post title manually. You can simply use the available tags to show year, title separator, and website title.
In addition to these settings, you can also optimize:
Images: set redirection URLs and alt tags for images.
Taxonomies: set visibility options for categories and tags all from a single tab
Archives: optimize author archives and date archives. This helps you control the way archive pages look in the search engines.
3. SEO Audit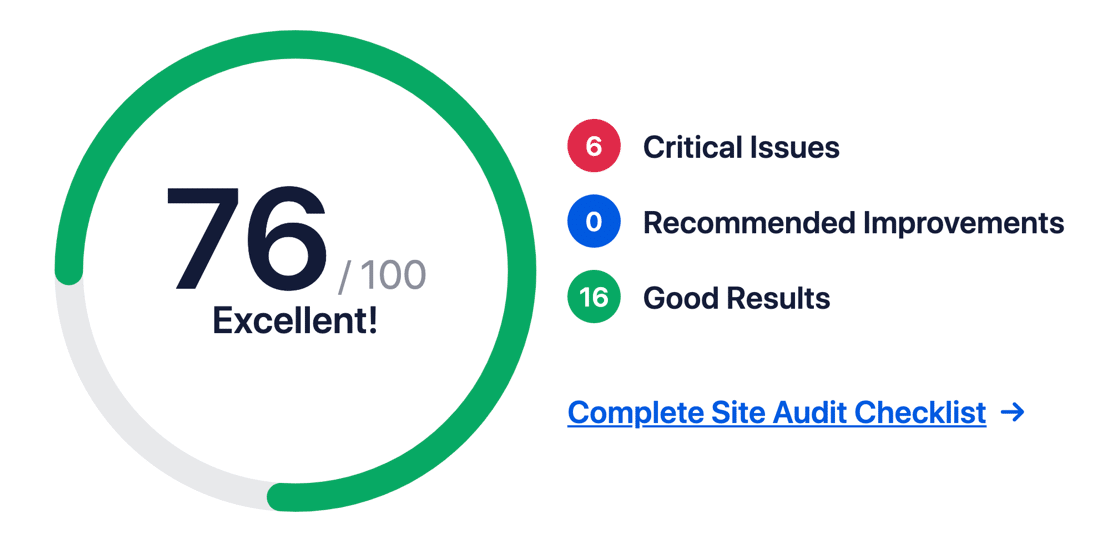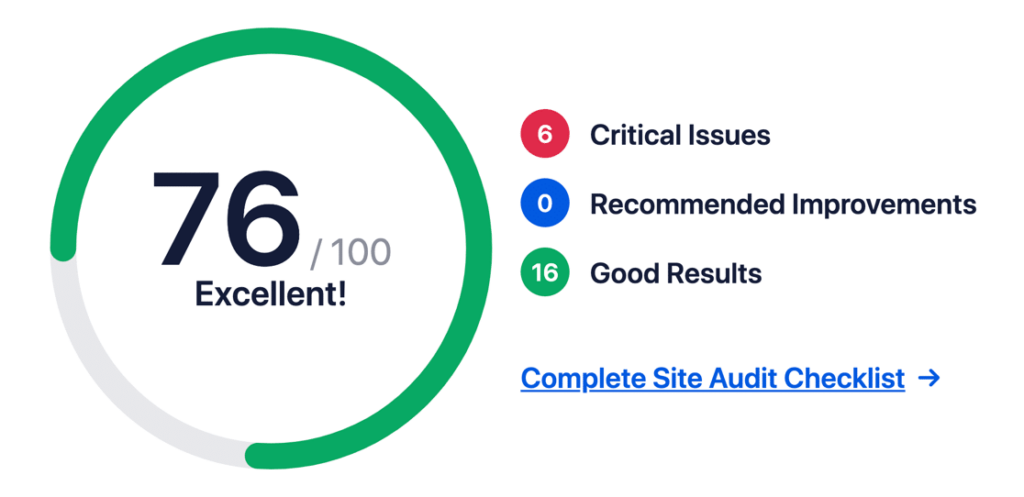 SEO Audit analyzes your entire website and detects any possible issues that might be harming your website SEO.
You'll get a detailed list of issues and the exact instructions to fix them by clicking on the arrow next to the problem.
All in One SEO audit also tracks your website speed and suggests possible ways to improve it. For best results, you're advised to aim for a 70+ score for ranking higher in the search engines.
4. WooCommerce SEO
If you're running a WooCommerce store, you need to make sure your storefront is well optimized, so Google bots can easily index and rank your products for relevant queries.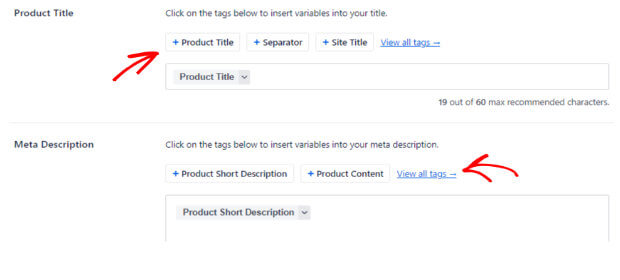 All in One SEO provides settings for optimizing the product title, product meta description, and dynamic tags.
For example, in the above image product title, site title, product description are example of dynamic tags. You can set sitewide default tags or optimize each product individually to maximize rankings.
Your product images can make or break your eCommerce business. That's why AIOSEO provides you with product image optimization settings. You can easily set alt tags, attach redirect URLs, and use smart tags in your product image meta.
5. Local SEO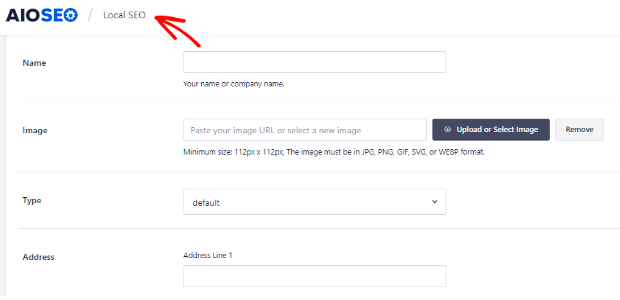 The Local SEO feature enables you to add your business information like name, logo, address, and contact details.
This feature helps rank your business as a knowledge graph in the local search results and on Google maps. This comes in handy to capture local business
You can also add the business hours and payment methods to improve the customer experience.
6. Link Assistant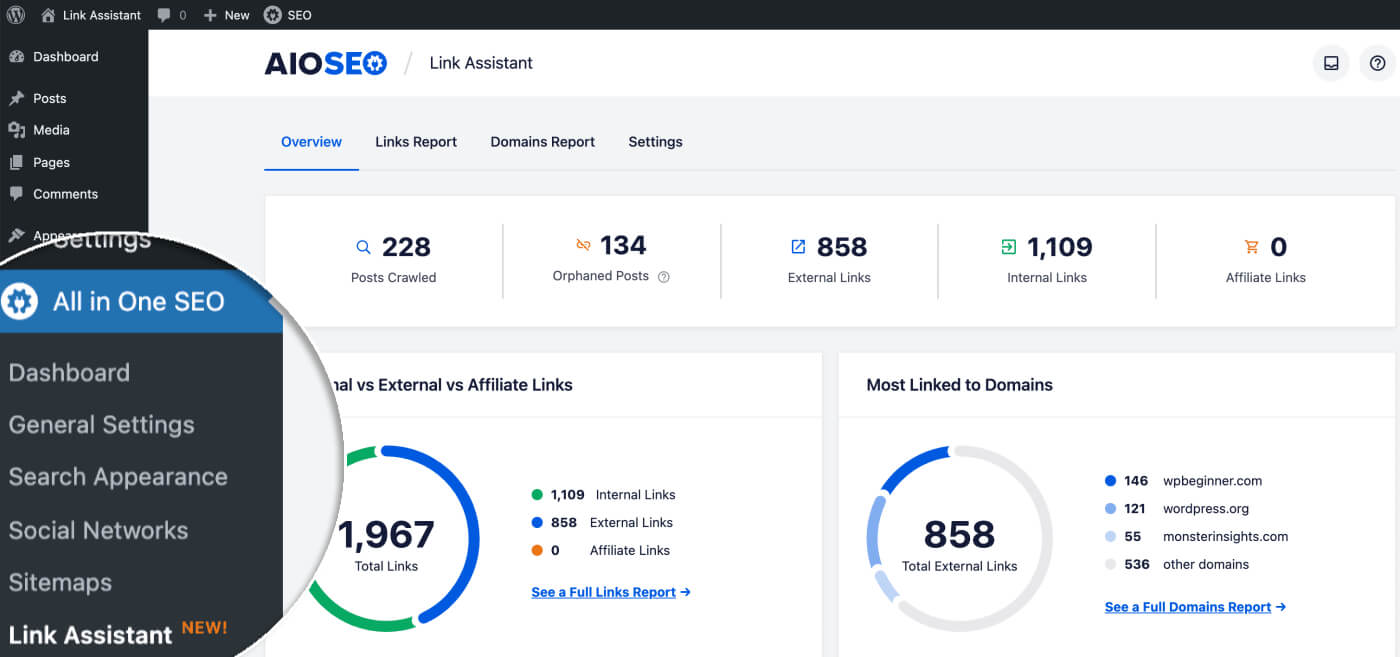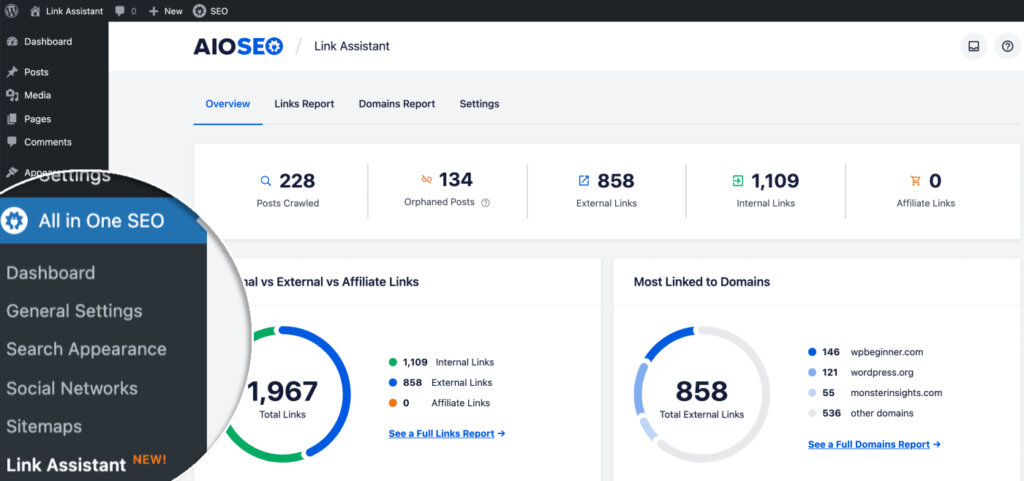 Links are a critical part of search engine optimization because they are one of the most crucial ranking factors.
AIOSEO offers an excellent Link Assistant tool that shows you the number of internal and external links used on your posts at a glance. It gives you insights into how your links are performing. You can boost link-building strategy by looking over content's popularity using this information.
The best part is that you can do internal linking from the Link Assistant dashboard without going into individual posts.
7. Social Networks
The Social Networks tab is where you add all the popular social media URLs linked to your business.
By enabling the Open Graph Markup, you can see how your posts will look on platforms like Facebook, Twitter, Pinterest, etc.
Consider watching this video for more details.
All in One SEO Review: Final Thoughts
Looking at the ease of use and features available in the All in One SEO plugin, there's no doubt why 3 million users are actively using it on their websites.
We tried covering the significant features in this All in One SEO review. Apart from these, there are additional valuable settings like:
Sitemaps
Social Media images
Robots.txt
Redirects
Video SEO Sitemaps
RSS Content
Headline analyser
But we highly recommend you explore the features to better understand your website SEO.
You may notice that there are many SEO plugins available in the market.
However, most of them are limited to adding a keyword in posts and doing a readability check.
All in One SEO plugin covers every area of SEO, like:
On-Page SEO
WooCommerce SEO
Local SEO
Social Media optimization
Schema Markup
Sitemaps
The settings are easy to use and come with a tooltip feature, so you understand everything while implementing.
Moreover, you'll be pleased with the easy-to-understand documentation available on the official website.
Looking at the plethora of features, we can confidently say that All in One SEO is the best SEO plugin for WordPress.
Wait no more!