Do you want to get better at search engine optimization (SEO) but don't know where to start? This on-page SEO checklist is here to help you do better on search engine results pages (SERPs)!
We're sharing the WordPress SEO checklist we use to optimize our posts. We even have some peeks behind the curtain about how we wrote this exact page!
Exclusive Bonus: Download the On-Page SEO Checklist to fully optimize your posts and get more website traffic!
What Is On-Page SEO?
On-page SEO tells Google what your post is about and how people use the page.
This is different from off-page SEO because the latter is what you do outside of your site. This includes things like backlinks and social media shares.
Let's dive into this on-page SEO checklist to help optimize your WordPress site from start to finish.
Get Started: WP Optimization Checklist Part 1
You need to do many things before starting on-page optimization. These should be one-and-done, though you may need to check for updates.
Every website should have Google Analytics.
Google Analytics collects data about who visits, how they found you, and what they do. It further lets you check bounce rates and changes over time.
Recommended Reading: How to Install Google Analytics for Beginners
Google Search Console shows how search engines see your site. Analytics reports how visitors use it. Both matter to on-page optimization.
These reports let you watch AMPs, check how well your site works on mobile, and more.
Mastering Google Search Console: Everything You Need to Know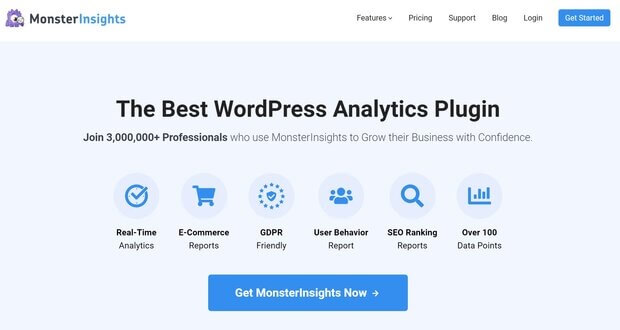 MonsterInsights provides real-time stats inside the WordPress dashboard.
Those stats show who's on your site, what they're visiting, how they discovered you, and more. It connects with Google Analytics to give a complete picture.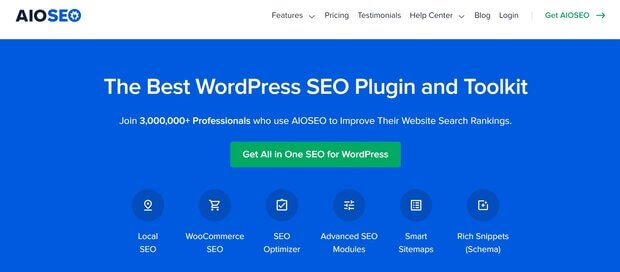 All in One SEO (AIOSEO) is a WordPress plugin to help tick items off this on-page SEO checklist.
Set a focus keyword or set of keywords for a page or post. Then, AIOSEO tells you about your page's optimization quality. It also provides actionable improvements to make.
Here's an example of an imaginary page. This is what AIOSEO may show if your on-page SEO isn't doing too well:
Here's how it can change if you follow some suggestions for improving your WordPress SEO: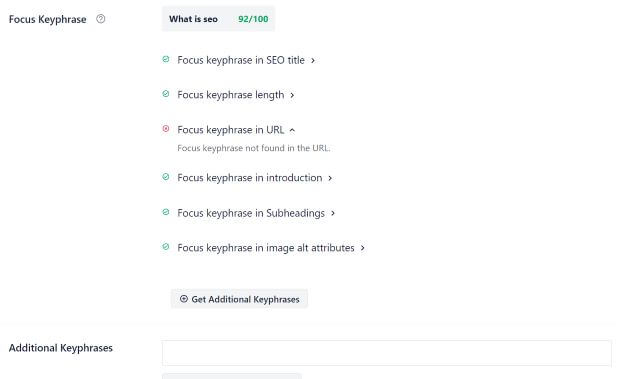 Recommended Reading: How to Install and Set Up All in One SEO
5. Create an XML Sitemap and Submit it to Google
An XML sitemap is a list of all user-accessible pages on your site. It tells Google what pages to index.
This sitemap also lets search engines see which parts of your site matter most and how often you update.
Recommended Reading: How to Create a Sitemap in WordPress
Robots.txt tells search engines which pages to index. Additionally, this is where search engines look for your XML sitemap.
Recommended Reading: How to Optimize Your WordPress Robots.txt for SEO
All In One Schema.org Rich Snippets tells search engines what your SERP results should look like. Rich snippets can make your listing noticeable and up your click-through rate (CTR).
Here's an example of a rich snippet with a thumbnail image and a star rating:

Recommended Reading: Beginner's Guide: How to Use Rich Snippets in WordPress
Content: On-Page SEO Checklist Part 2
It's time to start marking off content items on your WordPress SEO checklist.
Google Keyword Planner helps find keywords. You can see how many searches a keyword has, how tough the competition is, and which keywords may be best. It also shows how much to bid for paid keywords.
First, we chose "search engine optimization" as our keyword. It has 10k to 100k searches each month, medium competition, and bids of $5.59 to $25.30.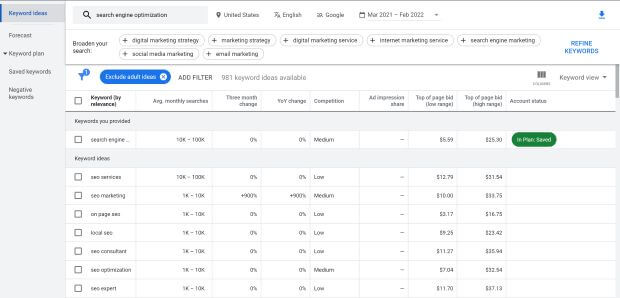 Then, if we choose "on-page SEO." It has 1k to 10k searches, low competition, and lower prices.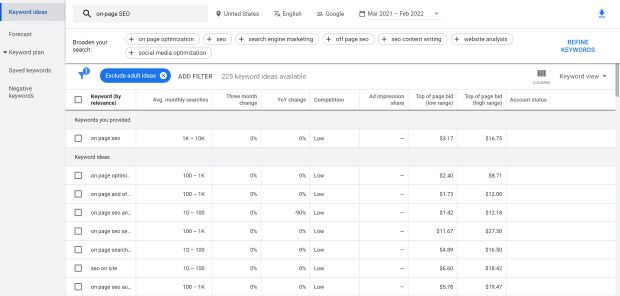 Which one we choose boils down to our goals.
You need a free Google Ads account to use the Google Keyword Planner tool.
9. Use an SEO-Friendly URL
Most people and search engines prefer URLs containing your target keyword. Match the URL to the post's title if possible, but make sure URLs aren't too long.
SEO Made Simple: Where & How To Use Keywords in Your Content
10. Include Keywords in Headers
Your post's first header (H1), usually the title, should include your keyword. Keywords should also show up in subheadings, but only when necessary. Don't stuff!
Want a peek behind the curtain?
Our main long-tail keyword for this post is "on-page SEO checklist." So, our H1 is "On-Page SEO Checklist: How to Fully Optimize Your Posts."
After the H1, include keywords in headers (H2, H3, and so forth) when it makes sense.
You're reading an H3 under the H2 "Content: On-Page SEO Checklist Part 2." It makes sense to have a keyword in that H2 but not this H3.
Another peek behind the curtain?
We're also focusing on "WordPress SEO Checklist." This is why you see that in some H2s and throughout the text.
(We probably gave you blue car syndrome. You won't stop noticing these phrases now!)
11. Put Keywords in the First Paragraph
Think of each header as a question, even if it's not. Answer immediately, using the keyword or phrase.
With our title, the implied question is, "how do I get better at search engine optimization?" So, we answer it!
Our first paragraph is, "Do you want to get better at search engine optimization (SEO) but don't know where to start? This on-page SEO checklist is here to help you do better on search engine results pages (SERPs)!"
Our answer restated the question and included the focus keywords.
12. Include Keyword Several Times Within the Body
Use keywords several times throughout your post in a natural way. Throwing in keywords without value is "stuffing," and search engines and readers don't like that.
In fact, Google can refuse to put you in SERPs at all if they suspect stuffing!
13. Use Latent Semantic Indexing (LSI) Keywords
Latent Semantic Indexing (LSI) keywords relate to your keyword. They give an idea of what relevant things people search for, and the functionality keeps improving!
They're at the bottom of Google search results. For example, if we search "SEO tools," we see this: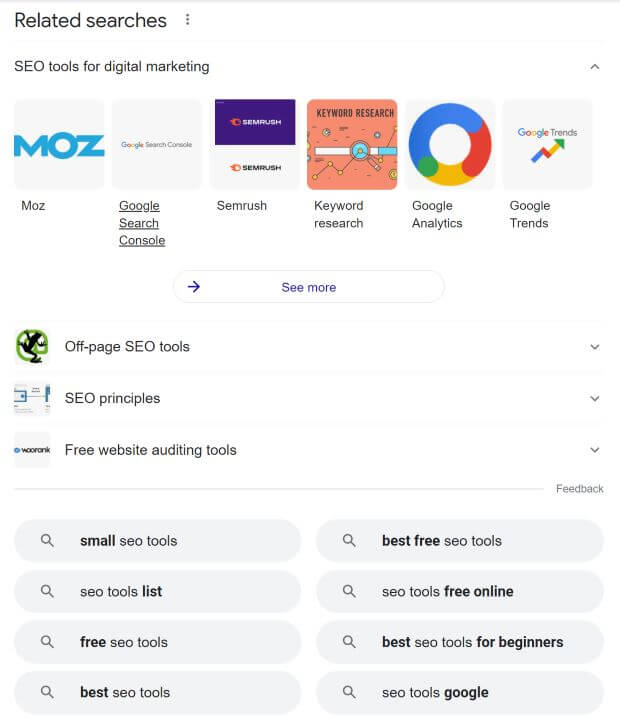 Use these as ideas for alternate ways to phrase keywords within the copy.
Recommended Reading: LSI Keywords
Keep Guests On-Site: WP SEO Checklist Part 3
14. Include Internal Links
Internal links are links to other pages on your site. If you take nothing else away from this step, remember:
Include several (but not too many!) internal links early on.
Sprinkle them throughout the rest.
This can decrease the bounce rate.
Bounce rate is how many visitors leave after only one page, and it's an SEO ranking factor. Including internal links early can reduce bounce rate, as people go to a page on your site to learn more.
Internal links also tell Google which pages on your site relate and how to create a hierarchy. The more internal links a page has, the higher up it is in the hierarchy.
Google won't crawl more than 100 internal links, and having too many can send up red flags. Plus, users could consider your site "spammy."
Recommended Reading: Internal Linking
15. Link to External Relevant and Authoritative Sites
Back up claims, even if that means sending users somewhere else. Anyone can make up statistics or "facts." Show users you aren't doing that.
Sometimes, this means revising ideas or rewriting old pages based on new information. That's okay and worth the time.
For instance, a peer-reviewed journal is usually a better source than an individual's blog.
16. Make Sure Content is High Quality
In addition to using internal and external links, high-quality content means excellent readability.
Proper spelling and grammar are necessary for readability. Search engines care about it too. They even penalize websites for spelling, grammar, and other writing errors.
Microsoft Word and Google Docs have built-in spelling and grammar checks.
There are dozens of options to dig into spelling and grammar, too. Grammarly is one and has free through business pricing options. But, nothing beats an editor–or at least a second set of eyes.
Readability means the piece flows well and is at a reasonable reading level. Grades 6 through 8 tend to be the sweet spot.
Writing at this age level doesn't mean your audience can't read at higher levels. It means you know they may want to be able to skim and not have to look up every other word.
A site like Hemingway can help show how readable pages are.
17. Have a "Goldilocks" Content Length
"Longer content equals higher rankings" was once the rule. Now, it's "make sure your content is the length it needs to be."
Ideal blog post lengths vary. According to Wix, as of 2021, the average or ideal word lengths for different types of posts are:
Journalism: 600-800 words
What is…: 1,300-1,700 words
How to…: 1,700-2,100 words
Standard blog (including listicles): 2,300-2,500
Pillar pages and guides: 4,000+ words
18. Link to Important Pages from Your Homepage
Your homepage has the most "SEO juice," so use it. Your most important pages should be one click away from your homepage. Those pages will then get more authority from Google.
Here, you can see two essential links from our homepage: "Get OptinMonster Now" and "contact us."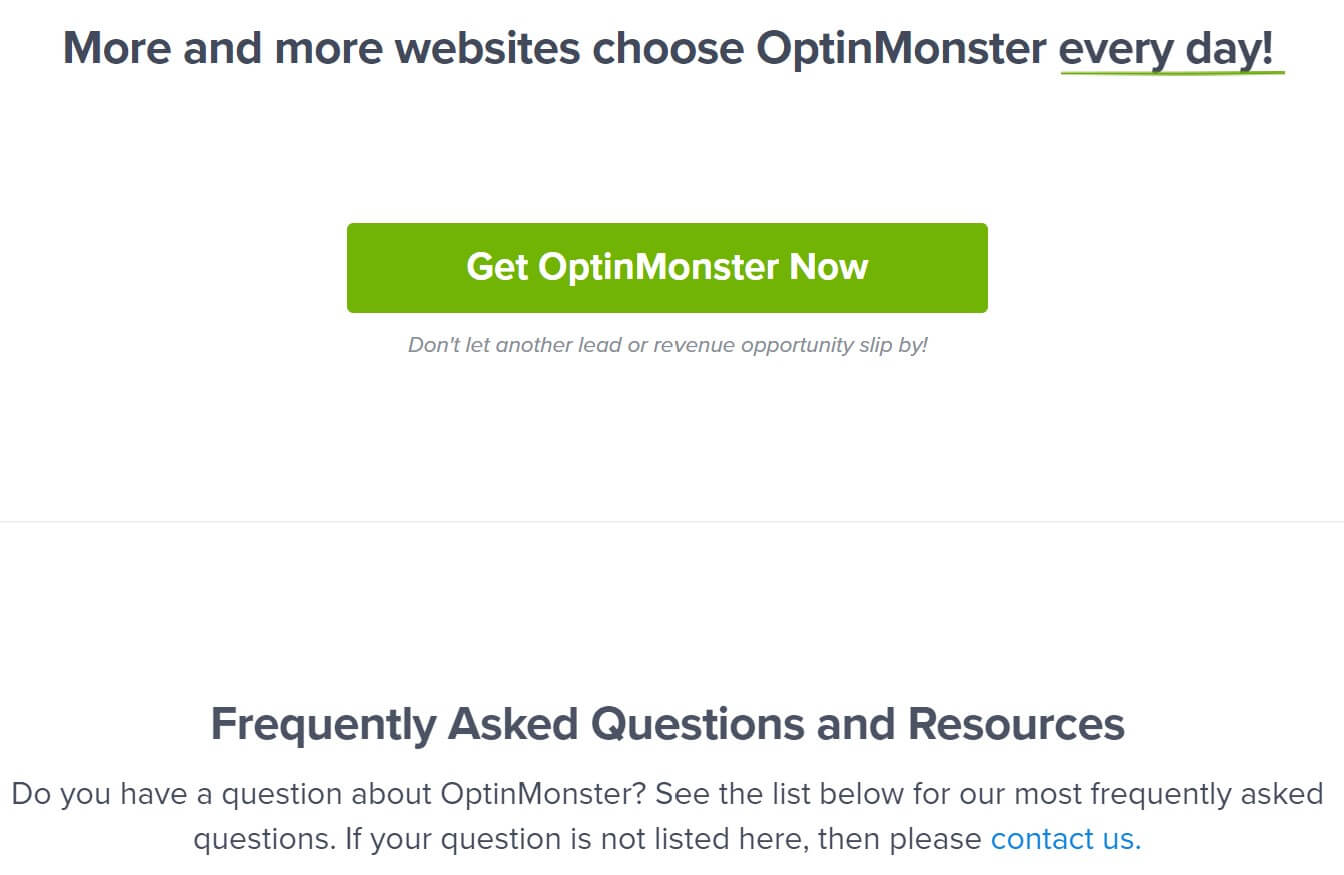 19. Make Your Site Mobile Responsive
Many people use devices other than computers to browse the internet. So, your website needs to be mobile responsive.
If you aren't sure if your theme is mobile responsive, use Google's Mobile-Friendly Test.
20. Test Your Site on Many Browsers
Your site should also work well across different browsers.
BrowserStack does a thorough job of checking on this.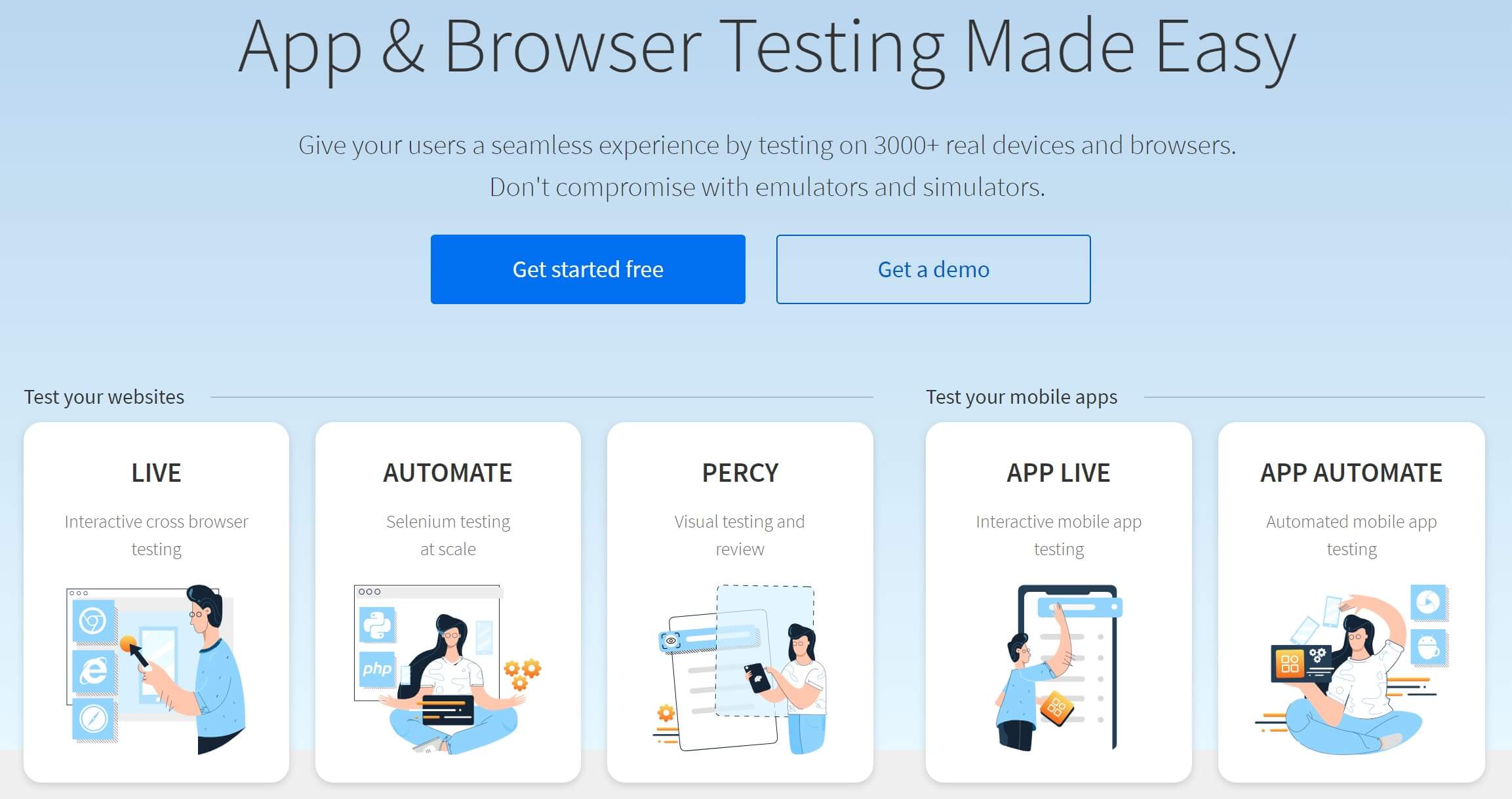 Using Visuals: On-Page SEO Checklist Part 4
We read picture books when we were kids because the images helped us understand the text.
Want to know a secret?
Adults also love images that help with understanding and break up large chunks of text!
21. Use Multimedia
Search engines watch how many visitors interact with content. That's why it's a good idea to use multimedia. People like having more than blocks of text to look at.
For example, you could embed an Instagram feed using a plugin like Smash Balloon.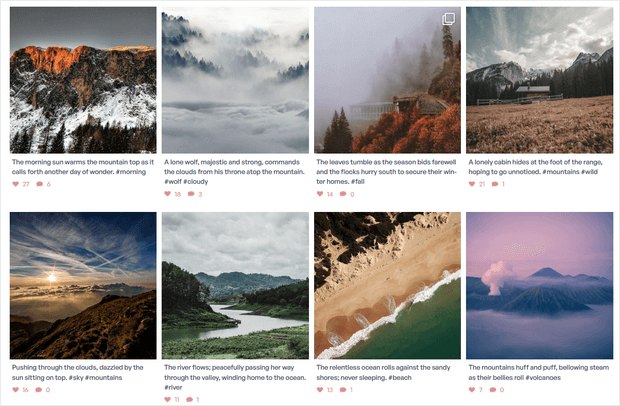 Some other ways to incorporate multimedia include audio, video, and quizzes.
22. Include Comments and Reviews
Once you've drawn in your audience with high-quality content, give them a chance to engage with it. Let them leave comments and reviews. If leaving reviews doesn't make sense, share reviews from other places.

Also, respond to comments!
Be aware of questions and criticisms. Respond to them. This provides clarity, and your reaction tells visitors about your company's character.
23. Optimize Image File Sizes and Names
Any images on your WordPress page should be the correct size and have a readable file name.
Page load speed is a significant factor in SEO. WordPress recommends following instructions for image size on your theme. Shrink images if they're bigger than the theme's restrictions.
Resolution is also vital. Images need to be clear but also not take long to load. High-resolution images usually mean slower loading speeds.
Many image optimization plugins and sites help with size and quality.
File names should also be readable and include the keyword. Many images download as something like "Screenshot2392." If your keyword is "SEO," and you screenshot a relevant graph from OptinMonster, change the name from that default. Something like "OptinMonster-SEO-graph" would work.
Recommended Reading: How to Resize WordPress Images Automatically
24. Use Effective Alt Text
Alt text helps people with low vision or blindness understand images. It also matters for SEO, but readers come first.
Use descriptive alt tags in images to describe what's in them and include keywords when it makes sense.
WebAIM is one of the best resources for site accessibility. Accessibility is more than alt text alone, and you should strive to have an accessible site.
Recommended Reading: Alternative Text
25. Use Title Text
Title text appears when you hover over an image. Include keywords when it makes sense.
You can add alt and title text in WordPress when adding an image from the Media Library.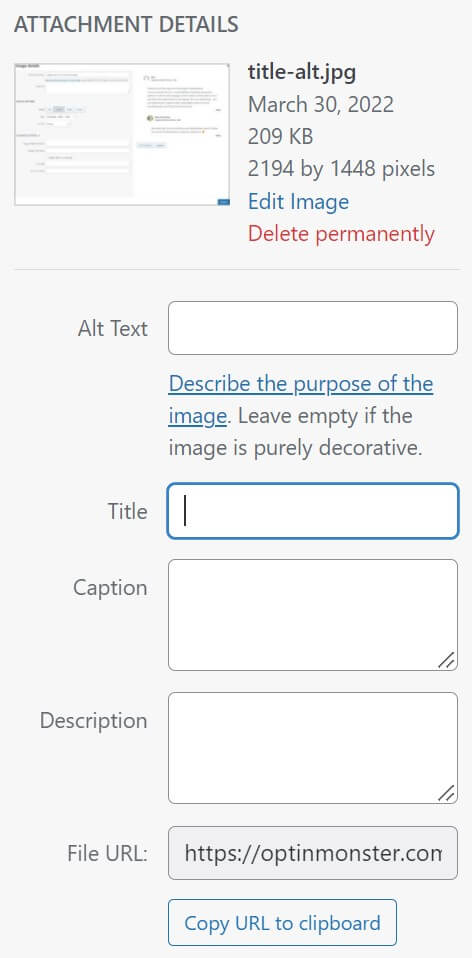 26. Use Social Sharing Buttons
Google takes social shares seriously when determining how high a post should rank. Although shares don't happen on your site, encourage them with social sharing buttons.

There are a lot of great free options for WordPress plugins for this.
7 Best Social Media Plugins to Boost Your Followers
Be Inviting: WordPress SEO Checklist Part 5
Optimize what searchers see on Google and what they read in your post. Here's how to draw in readers using Google.
27. Keep Title Tags Short but Engaging
Title tags are article titles on Google searches. Google recommends making them the same as often as possible. If it's not possible, make them similar.
H1s can be longer than title tags, around 70 characters, including spaces. Title tags should be no longer than 55-60 characters, including spaces.
Title tags should include keywords. If you need to deviate from your H1, try to put your keyword at the front of the tag.
Since you've installed AIOSEO, you can do this inside the Post Title field:

Modifiers can also be a great way to draw in readers. These are words like "best," "offers," "buy," "cheap," or "reviews." They also help match users' intent. People are more likely to look for "cheap vacuums" than vague terms like "vacuums."
Additionally, numbers draw people in.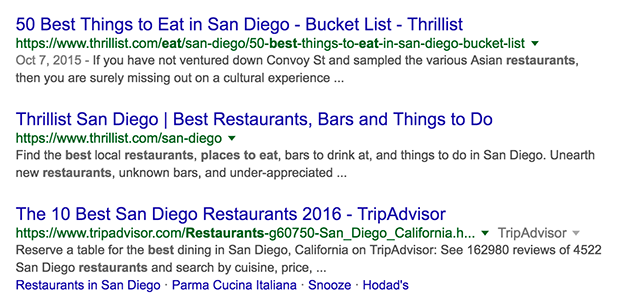 21 Headlines That Went Viral and How You Can Copy Their Success
28. Create a Great Meta Description
Meta descriptions are what readers see after titles. Think of finding an intriguing book title. The next thing you're likely to read is the book jacket description. The meta description is similar but shorter.
Keep your meta description under 160 characters, including spaces. Anything longer gets cut off. Plus, include your keyword at least once in the meta description.
You can add it using the meta description field with All in One SEO:

Use power words to increase click-through rates in both the title and meta. Power words act as psychological triggers to take action.
Some examples include "eye-opening," "easy," and "effective." But, don't make promises you can't keep! For instance, if something isn't easy, don't say it is.
700+ Power Words That Will Boost Your Conversions
Troubleshooting SEO Issues: On-Site SEO Checklist Part 6
Even if you check every box on this on-site SEO checklist, problems could arise. Here's how to fix common issues.
Page load speed is essential to SEO. Use Google Pagespeed Insights to ensure quick loads on mobile devices and computers.
Here's what it looks like for mobile results: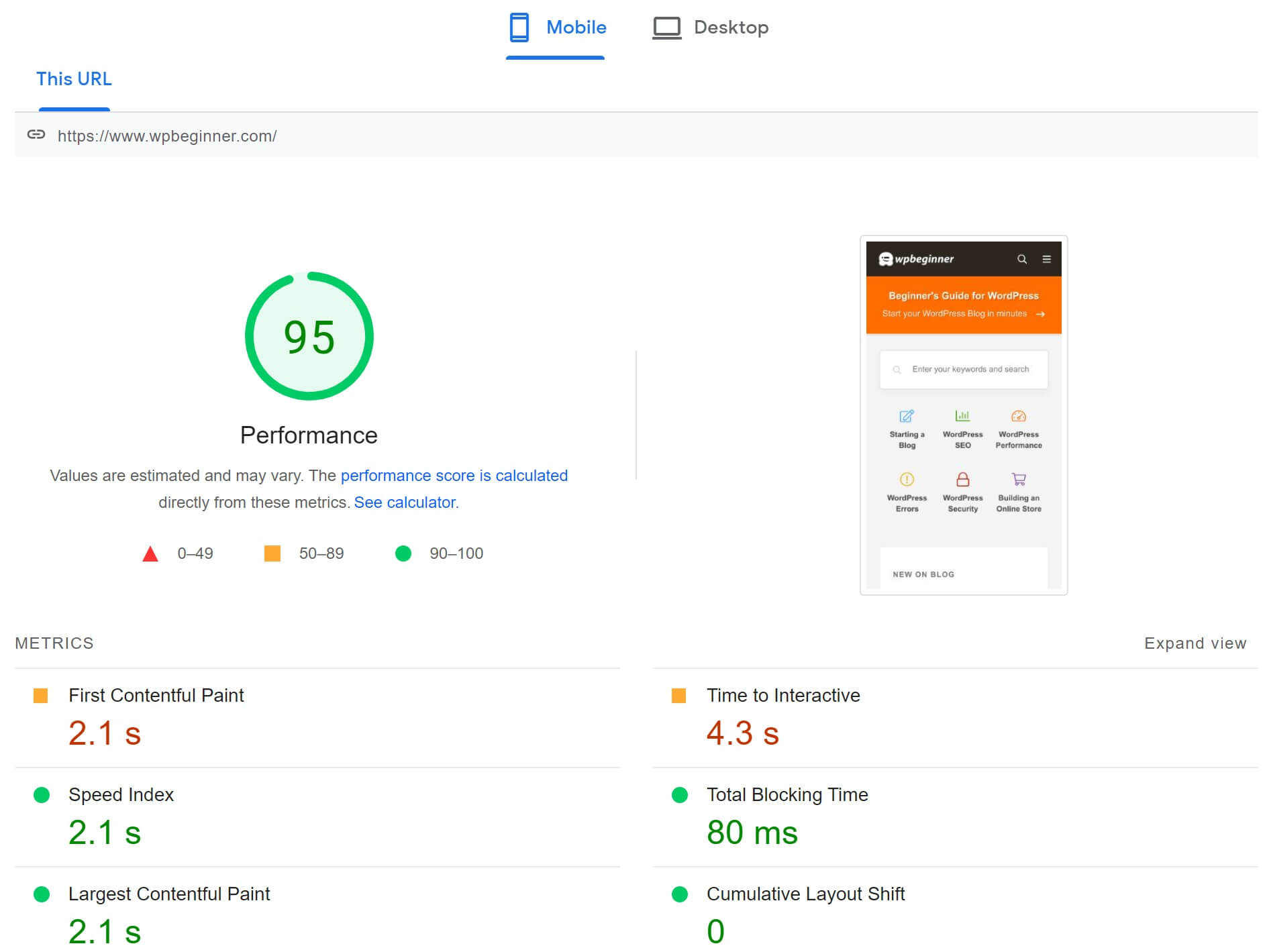 And here's how it looks for desktop results: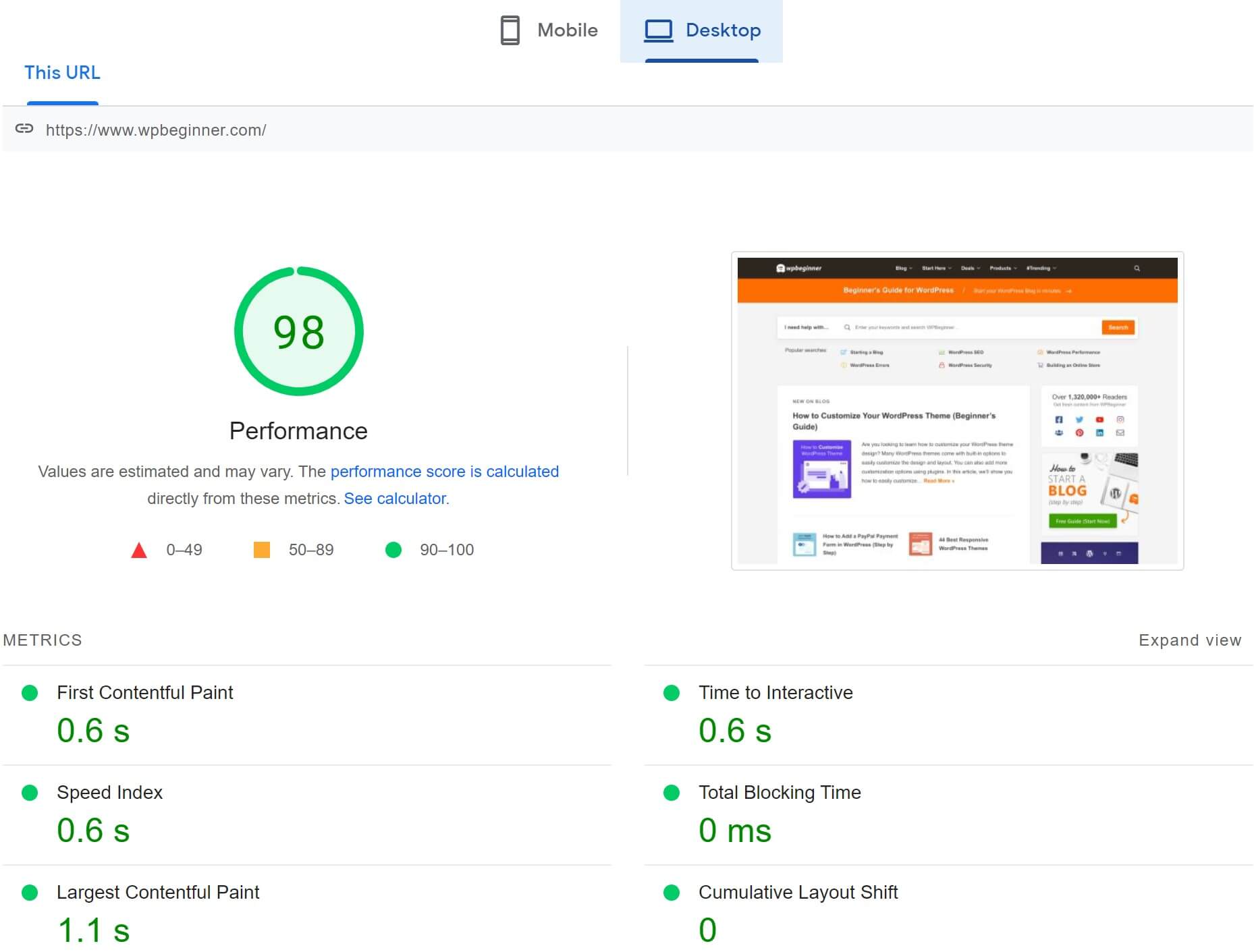 One of the quickest ways to keep your website speedy is using a Content Delivery Network (CDN).
5 Best CDN Providers to Speed Up Your Website (In-Depth Comparison)
You've already installed Google Search Console, so let's put it to good use! Check for 404/500 errors, duplicate content, missing titles, and other technical errors.
31. Use AIOSEO to Find Even More Technical Errors
AIOSEO does more than traditional keyword and SEO checking. With their Pro and Elite plans, it monitors for 301 redirects, 404 errors, and other dead-ends. It lets you know if things go wrong and can even send users to the correct URLs when they click old links.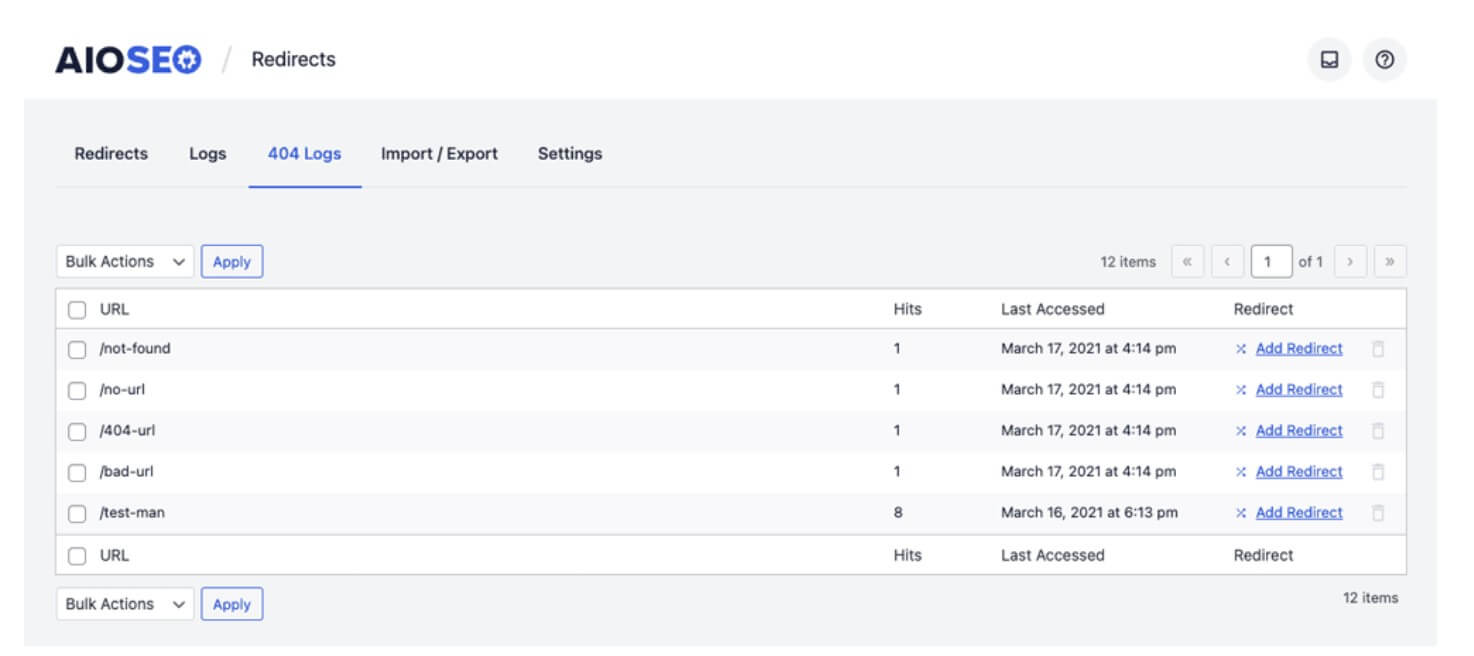 Fixing 404s and other dead links quickly can make it easier for users to find what they need and maintain trust in your company's attention to detail. Search engines also dislike dead links, and having them can harm your visibility.
Screaming Frog SEO Spider finds broken links, redirects, duplicate content, and other problems.
On-Page Optimization Is About People
Always write blog posts for people first. As great as search engines are, they aren't customers. Plus, search engines update algorithms to behave like human brains.
You should have fully optimized posts if you completed the WordPress SEO checklist. Search engines will know what search terms posts should come up for and easily index your site.
Readers are also more likely to stay on-site. Optimized sites are readable, trustworthy, and valuable.
Search engines care about readership. Keeping posts focused on readers before computers is the ultimate best practice.
Exclusive Bonus: Download the On-Page SEO Checklist to fully optimize your posts.