Are you writing email marketing copy that's just not getting the conversions you need? Getting your email marketing strategy right is both an art and a science. Part of both is understanding how to create high-converting copy. The good news is that by the time you've finished reading this guide, you'll know the secrets of improving conversions from email marketing so that you can get more leads and sales.
Recommended Resources: Need to jumpstart your content marketing results? Get more traffic and conversions with our Ultimate Guide to Content Marketing in 2020. Or, check out this post on the most current email marketing statistics.
1. Write a Killer Subject Line
If you're wondering how to do email marketing right, the best place to start is with the email subject line. Perfecting the subject line can be the difference between recipients opening your email, deleting it or, even worse, reporting it as spam.
People open your emails if they feel they will benefit, if they're worried about missing out, or if you present compelling evidence about why they should. We'll talk more about that in tip #8.
Sure, it's a lot to ask from a single email subject line, but you can do it. Check out our list of the best email subject lines for inspiration.
2. Nail the Preview Text
With modern email clients, it's not just the subject line that sells people on opening your email. It's also the preview text. That's the piece of text that tells subscribers more about the content of your email.
Often, this shows part of the first line of the email. That's fine, as most email copywriters craft this carefully.

But if your preview text shows instructions on how to read the email online or unclickable links to your social media profiles, then you're wasting an opportunity. With email preview text ranging from 35 to 140 characters, depending on the client, this is an aspect of your email you can't afford to neglect.
3. Write for the Web
Writing email marketing copy is similar to writing web copy. That means it's important to:
Follow a logical structure.
Keep paragraphs short.
Include one main idea per paragraph.
Feel free to use bullets and subheadings to break up blocks of text and make your emails scannable.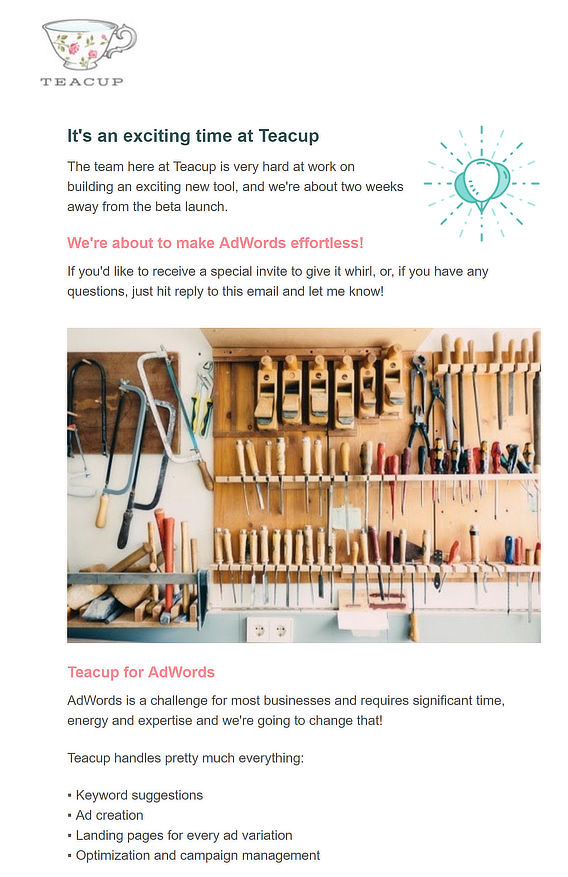 4. Don't Shout; It's Spammy
Avoid all caps and multiple exclamation marks in both the subject line and body of the email. Not only are all caps the equivalent of shouting online, but overusing them screams spammy email marketing. That'll hurt your email open rate. And if enough subscribers report you, it could also hurt your email deliverability or even get you blacklisted by your email newsletter service.
5. Know Your Audience
Getting to know your audience so you can write email marketing copy that meets their needs is a great way to boost conversions.
Use what you know from web and social analytics and interactions with customers to build your buyer personas or customer avatars. When you know your customers, it's easy to write email marketing copy that makes them want to click.
6. Write Email Marketing Copy for Readers
If you really want readers to click, then you have to sound like a real person. Avoid marketing speak and be conversational, as if you're talking to someone who's sitting across the table from you. The email below from Carbon Based Podcast is a good example.
Don't be boring – there's no rule that says that emails from a business have to be dry. Use your emails to stir readers' imagination by sharing an insider's view of your company, customer stories or even a personal anecdote. When your subscribers can imagine themselves in your shoes, you'll start to build a relationship with them.
7. Choose the Right Words
When you look at the best email copy examples, one thing stands out. Word choice is crucial to make reading your email a great experience, and since most emails are short, every word counts.
If you want to stir readers' imagination, appeal to their emotions and get them to take action, you've got to:
Use analogies and other literary techniques.
Seed your email marketing copy with sensory words to help them see and feel the picture you're painting with your words. In an ideal world, you'll evoke touch and taste, too.
Stir up your readers and convey action by using power words in your subject line, copy and call to action (CTA).
What you don't say is also important for building trust. Avoid making false promises and other sleazy marketing tactics, or you risk losing subscribers forever.
8. Use Psychology in Email Marketing Strategy
As human beings, our brains are wired to react in predictable ways to certain types of input. That's why using psychology can help you create more successful, high-converting email marketing campaigns.
Some of the factors that make readers read and click include:
Fear of missing out (FOMO), because we never want to lose anything. That's why time-limited discounts work so well. Use scarcity and urgency in your email and more people will click. That applies to curiosity, too.
Color choice, since different colors elicit different reactions. You can use this effectively in CTA buttons, for example.
Pictures of faces can elicit the emotions shown on those faces or direct the gaze towards a CTA.
Social proof tells readers that people like them think you're great, which makes them more inclined to read your emails.
There's also personalization, which we'll look at in tip #11.
Check out our guide to using psychology in email marketing for more help with this.
9. Be Relevant
Avoid generic marketing in favor of targeted marketing. Customer avatars give you broad segments you can focus on in copywriting, but within those, there are also smaller segments. After all, you're not going to send the same email to a new subscriber as to a repeat customer, are you?
Sending relevant email improves open and clickthrough rates, so segmentation is essential. Read our pro tips on email list segmentation to help with this.
10. Know Your Goal
Still on the subject of targeting, it's best practice to have a single goal – the one thing you want to achieve – for each email. This will help you focus your marketing copy, which we'll talk about more in the next tip. Remember, if you have multiple goals you don't really have a goal, so when planning your emails focus on the key action you want readers to take and build your email copy around that.
Not every email needs to have the goal of selling something. Pro copywriter Barry Feldman says: "Where a web page is the terrain, the copywriter's the tour guide, instructor, concierge, maître d', and of course, sales clerk. If the copy can't seal the deal, it must offer something compelling to start some sort of relationship."
11. Get Personal with Your Email Marketing Campaign
Read any advice on writing email marketing copy that works, and it'll include a tip about personalization. It's true that using people's names in subject lines and email marketing copy gets their attention, but there's more to personalization than that.
We talked earlier about segmentation. Well, that affects personalization, too, because each segment is looking for something different from your emails. You can send different emails depending on the age, gender, and location of your audience, whether they are looking for a personal or business purchase, etc.
12. Let Readers Get to Know You
Another aspect of personalization is letting subscribers know who you are. Most people like getting emails where they can see a picture of the sender and where there's a personal rather than generic sender, as in the emails shown below.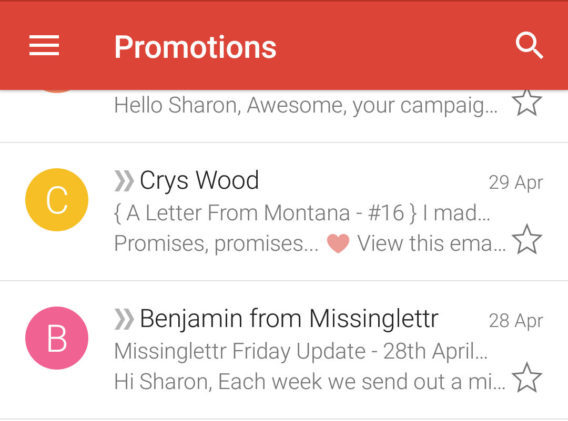 When you take this approach, it'll help subscribers form a connection with you, which is the first step in winning conversions.
By the way, you can also personalize your optin forms with OptinMonster's Smart Tags feature. Learn more about it in our page-level targeting guide.
13. Align Everything
With the best email marketing copy, everything's aligned. Your copy delivers on the promise of the subject line, and your email delivers on the promise of the optin form and the landing page where subscribers signed up.
For example, if you're delivering a lead magnet ebook, you'll probably have a picture of the book on both the optin form and the landing page. When you send the confirmation email, you'll likely include the title of the ebook and the same image again. And the copy will match, too. This reassures readers that they're getting what they signed up for, which starts to build a trusting relationship.
You may also want to check out this post on how to make an ebook popup to get even more leads from your ebook.
14. Reward Your Readers
Any email marketing best practices guide will advise you to reward readers for opening your email. That process starts when they open the email and see what they expect after seeing your optin form, landing page or subject line.
But to cement this, you'll need the copy to show both the benefits they get and proof of those benefits. Often emails will include some stats or will link to a case study that lets readers know they were right to subscribe, and gives them another reason to stay on your list. Or it could be as simple as providing an extra free gift to thank them for subscribing.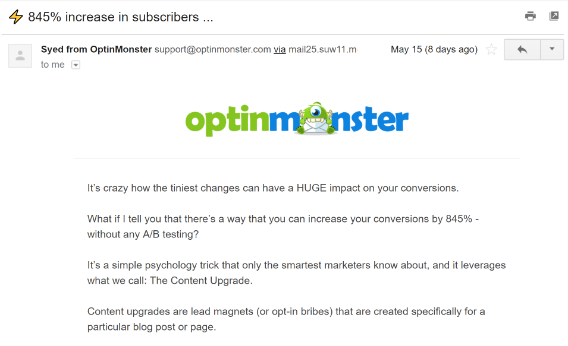 15. Promote Action
Aside from the subject line, the CTA is the most important part of your email marketing campaign, because that's what'll get subscribers to convert, by taking the action you'd like them to take. All the tips we've listed above can also help you create the perfect call to action that subscribers find it almost impossible to resist.
16. Test and Split Test Email Marketing Campaigns
If you really want to boost conversions when writing email marketing copy, you're going to need data. Before you send emails, check subject lines for effectiveness with the CoSchedule Headline Analyzer.
Next, collect data on email marketing performance from your email marketing service provider so you can figure out how you can improve performance.
Finally, it's time to test. Start by split testing your optin forms, which is easy to do with OptinMonster, then test headlines, copy, CTAs and more till you come up with your best-performing email. Read our guide to split testing for help with improving email conversions.
There's one last tip that'll help you write emails that convert. Here it is:
17. Steal Great Ideas
Don't worry; this kind of stealing is perfectly legal.
You can get inspiration for high converting emails by subscribing to your competitors' email marketing newsletters – or any other newsletters that interest you – to see if they're doing something that really gets attention. Add these to your own personal swipe file so you can adapt them to suit your own email marketing strategy.
Other places to find good ideas are sites like Quora, Reddit or Answer the Public, where you can check out the topics people are talking about or searching for. Use these as inspiration to craft emails that address key issues for your target audience.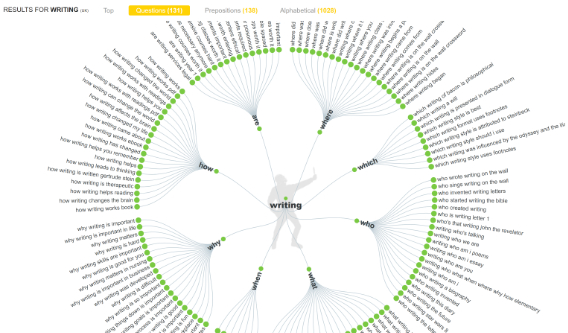 Buzzsumo is another good research source because it highlights the most shared social content. And if people are sharing, then people are reading.
You can also use headline generators to come up with titles as a starting point for winning subject lines. Tools to try include:
Now you know how the secrets of writing email marketing copy that converts, why not check out our email marketing guide for tips on creating your overall email marketing strategy. We also have a list of email marketing best practices for list building and email subject line best practices that you'll find helpful.
And, if you're looking for a new email marketing service, check out our top picks for Mailchimp alternatives. Also, don't forget to follow us on Facebook and Twitter for more helpful guides.