Is your email marketing strategy bringing in the leads and sales you need to make your business successful? If you're not using email split testing, you could be leaving money on the table.
That's not hype.
For former US President Barack Obama's email marketing campaigns, there was a $2.2 million difference in donations received between the best and worst-performing email subject lines.
No one wants to miss out on those kinds of numbers, right?
Here's the good news. Even if you're not working with a seven-figure budget yet, split testing will help you run more effective email marketing campaigns.
But to get the results that really make a difference to your business, you have to set up your split tests the right way.
Otherwise, you're just wasting your time.
In this guide, we're going to walk you through the email campaign testing process so you can really nail your email marketing strategy.
By the end, you'll know how to create better-performing campaigns so you can generate more leads and sales.
What Is Email Split Testing?
Before we get into how to split test email campaigns, let's understand what email split testing is.
Email split testing means testing the original version of your email (the control) against another version (the variation, or variant) where you have changed a single element, like an email subject line, a call to action (CTA) button, or a part of the design.
As we said, split testing means changing just one element. If you want to change more than one element on your email, then that's multivariate email testing.
Split testing, which is also known as A/B testing, is a conversion optimization technique used to test web pages and marketing copy of all kinds.
Why Do You Need to Split Test Email Campaigns?
When you split test email campaigns, it can help you:
Base decisions about your email marketing campaigns on data rather than gut instinct or guesswork
Know when email marketing campaigns are working and when they are not, based on customers' actual response to actual campaigns
Create more effective email marketing campaigns based on the insights you gain, resulting in more engagement, leads, and sales
Get more people to open your emails, click your links, and ultimately convert
Minimize the risk of running new campaigns by testing them before making permanent changes
For all these reasons, email split testing has to be an essential part of your marketing strategy.
Getting Started with Email Split Testing
Before you get started, you'll need to do the groundwork you'd do for any type of marketing campaign.
Know Your Audience
For instance, you'll need to understand who you're marketing to. That means you'll have buyer personas that help you decide on marketing content – and email marketing content – based on your customers' age, gender, location, education, sources of information, and key challenges. Hubspot offers a free tool to help you create buyer personas.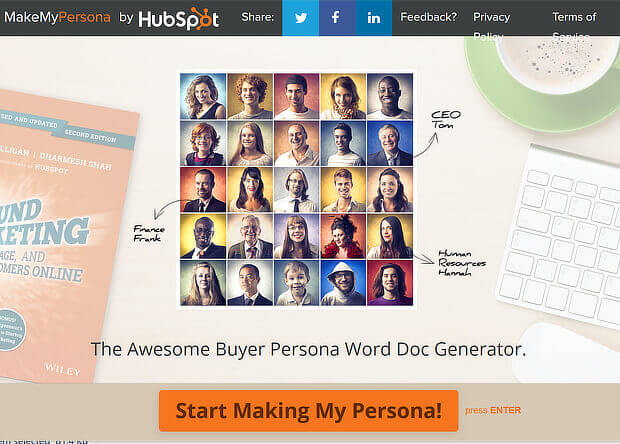 Use Email List Segmentation
It's worth noting that your subscribers aren't a single homogeneous group. They'll likely have different interests and will be at different stages of their interaction with you. That's why it makes sense to segment your email list so you send the right messages to the right people at the right time. As MailChimp's data shows, that results in a higher open and click rate.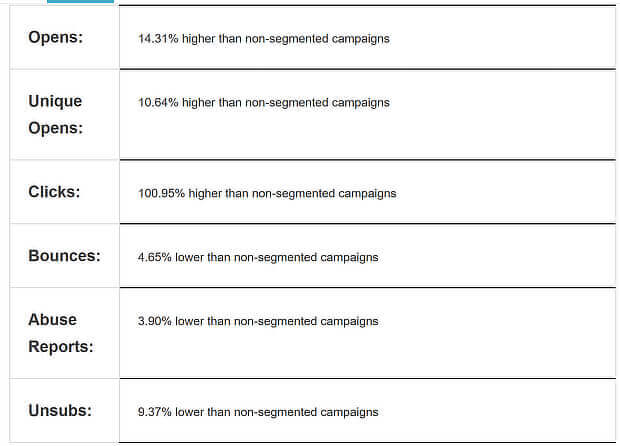 Segmentation will also come in handy when you get around to creating an email split test, so here are some smart ways to segment your email list.
Create an Email Marketing Campaign
You'll also need to have an email campaign that you can split test. That means you will: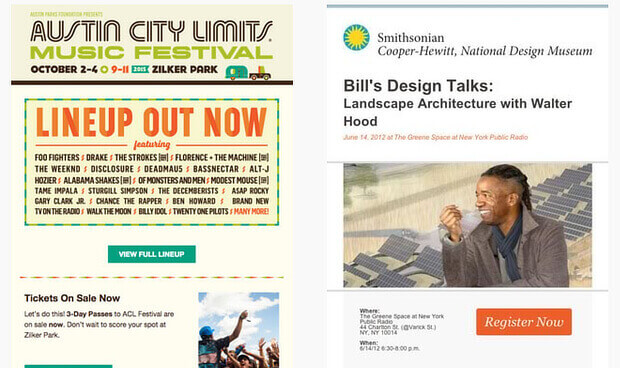 Track Your Metrics
You'll need to know your current metrics as a baseline for measuring the success of your email split tests.
That means tracking key email marketing metrics such as:
Leads and sales resulting from email marketing
Luckily, your email marketing service will automatically track data on bounces, opens, and clicks. Meanwhile, you'll be able to track conversions on your site with Google Analytics. You can also compare your results with stats from different providers on email open and click rates for different industries.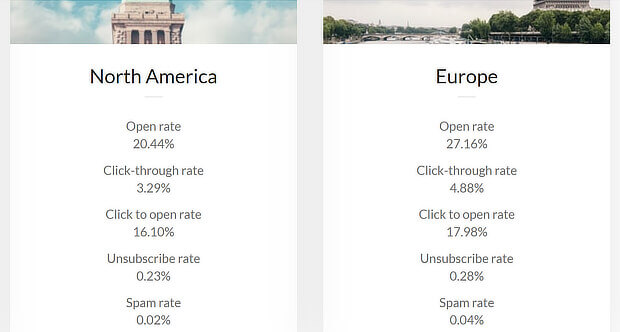 Once you have this data, you'll be able to get started with email A/B testing ideas. The starting point for this is a split testing hypothesis.
How to Create an Email Split Testing Hypothesis
Creating an email split testing hypothesis is a crucial part of email conversion optimization. A split testing hypothesis includes:
Observing what's happening currently
Speculating about possible reasons
Suggesting how you're going to improve or fix the situation
Measuring how you'll know it has worked
Here's how this could work:
Observation: We noticed that our email click-through rate has declined over the last 3 emails we've sent.
Possible reason: We believe it's because we've been using the same anchor text and subscribers don't notice it anymore.
Suggested fix: We're going to try a variation of the email with different anchor text for the main call to action.
Measurement: We'll know it has worked when our open rate goes back to previous levels for the next 3 emails.
For best results, create a hypothesis for every element you plan to test.
Email Split Testing: What to Test
So, what elements of your email can you split test? Practically everything, but remember, on a true split test, you change one element at a time.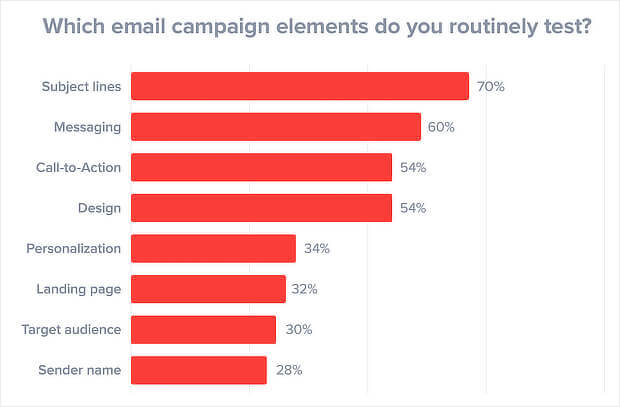 Email Subject Lines
When you split test email campaigns, A/B testing email subject lines is always a good place to start. You can experiment with the length and content of your subject lines. You can also try varying the sender name, and experimenting with email personalization.
Email Copy
For the body of the email, you can alter the wording of different parts of the content, and try changing the font, placement, length and more. Two techniques it's worth trying are using urgency and the fear of missing out (FOMO) to make subscribers more interested in clicking.
Think about how you're addressing your subscribers. The stats show that personalization boosts sales. But there are all kinds of ways you can personalize, from using subscribers' names to personalizing your emails according to their interests. Learn more in our article on eCommerce personalization.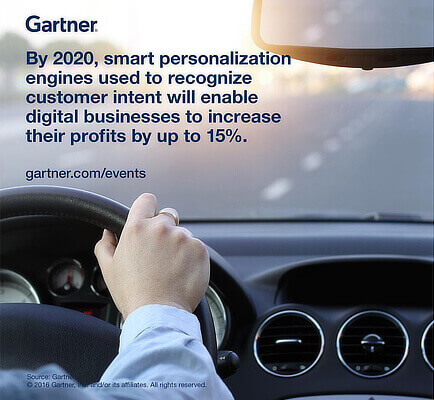 Design and Layout
When you split test email campaigns, you can also change the layout, style, and template of the email, to make sure it displays well on all devices. And you can experiment with the use and placement of images.
Call to Action
Once subscribers have opened your email, it's essential to have an effective call to action (CTA) so they take the next step. You can experiment with how you formulate promotional offers, and even with pricing.
Try varying the size, color, and placement of calls to action and CTA buttons, as well as the text used to encourage action. And you can change the size and placement of social media sharing buttons, too.
How to Split Test Your Email Campaigns with MailChimp
Most email marketing software lets you run split tests. Here's how this works in MailChimp. You create your A/B test when you create an email.
First, create your campaign.

Next, start to create your email.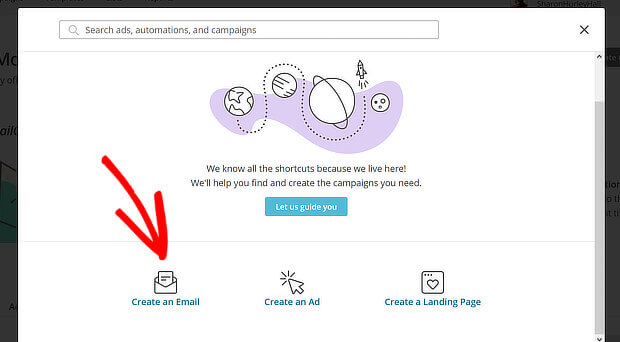 Click on A/B Test. Give your campaign a name, then press Begin.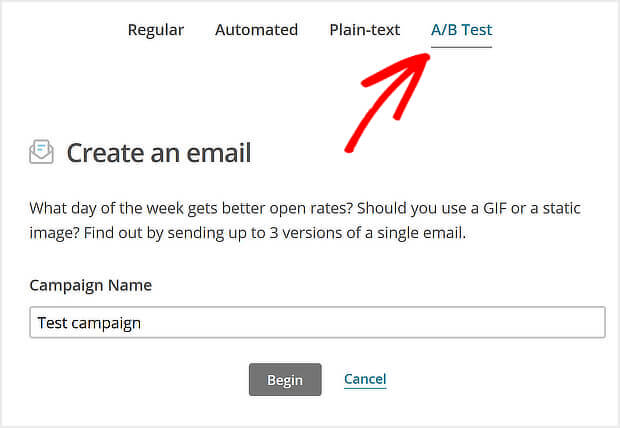 Choose your list.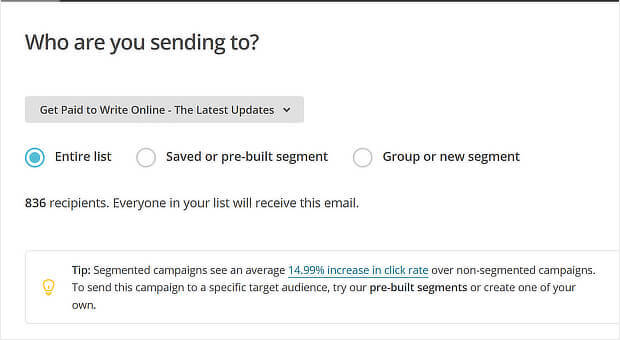 Next, choose whether you are sending to your whole list, or to a segment. MailChimp also includes some pre-built segments for convenience. For example, you can split test an email for inactive users.

Choose the variables you want to test. Your choices are the subject line, sender name, content, and send time. Click on the plus button to add one of the variables and create a new variation.

Choose the percentage of recipients that will receive your variant. If you're using two variants, MailChimp automatically splits your recipients in half, but you can also change the split by using the onscreen slider.

You can also decide how you'll determine the winning combination.
Then start creating your email. If you are trying different subject lines, you'll see some boxes where you can include your variants.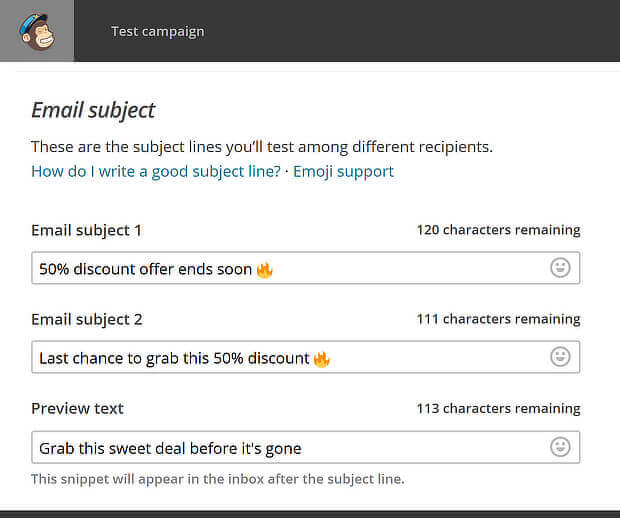 Design, test and schedule your campaign as normal. MailChimp will let you know which variation gets the best response.
Not using MailChimp? Here's how you split test an email subject line in Constant Contact and how you test signup forms in Aweber.
6 Best Practices for Email Split Testing
Here are some A/B testing email best practices to help you split test email campaigns successfully.
First, make sure you have a valid hypothesis (as described earlier) when split testing your email marketing campaigns.
Ensure that you only change one element for any split test. Remember, if you change more than one element, it's not actually a split test. What if you want to speed up email split testing? You can try a few variations of a single element, but best practice is no more than four at a time.
Make sure your email split test is statistically significant. That means making sure the numbers you're testing with are big enough for you to be able to rely on the results.
It's hard to compare split testing results if the conditions aren't the same. So don't compare open rates for an email sent on Monday at 9am with one sent on Friday at 5pm.
It's also a split-testing best practice to let your test run for long enough to get verifiable results. With email marketing, some of your subscribers will open emails immediately, but others won't. If you know when opens usually tail off, that's how long you have to give each variant before deciding the results are in.
Finally, don't ignore the data. The whole point of split testing email campaigns is to let you have numbers rather than instincts as a basis for your email marketing strategy.
Read our guide for more A/B testing best practices, and learn the A/B testing mistakes to avoid.
How to Split Test Email Signup Forms
Now that you've got a handle on email split testing, there's one more thing you can do to make your campaigns work even better: improve your email signup forms by using split testing on them, too.
That's something OptinMonster can help with. Our marketing campaign software integrates with the top email marketing services and has built-in split testing to help you create an even more successful email marketing strategy.
To use it, click here to get started with OptinMonster.
Then check out our video guide to split testing.
There are also written instructions in our documentation.
That's it! Now you know the right way to split test email campaigns so they can be more effective and win you more opens, clicks, leads, and sales.
Now try running these AB tests on your email popups to make them even more successful. You can also check out some more ways to improve your eCommerce conversion rate. And follow us on Facebook and Twitter for more tips and guides.