There's a reason why cinemas and the theatre turn the lights out before a show. It's the same reason that lightbox popups show up the way they do, on top of the page that you're viewing and with a darkened background.
Care to take a guess why that is?
If you answered, "to grab the viewer's attention," you're spot on.
Lightbox popups (also called modal popups) are one of the most effective ways to convert your website visitors into email subscribers and customers.
In this post, we'll share 6 reasons why lightbox popups are the best at building your email list, delivering a targeted ad message, and converting subscribers into paying customers.
Let's start with a closer look at OptinMonster's lightbox popups.
Create a Lightbox Popup: Want to learn how to create a lightbox popup, step by step? Click here to jump to the tutorial!
What is a Lightbox Popup?
A lightbox popup is a web form that appears on top of the webpage that you are viewing. When it appears, the webpage is darkened in the background, so that the form stands out.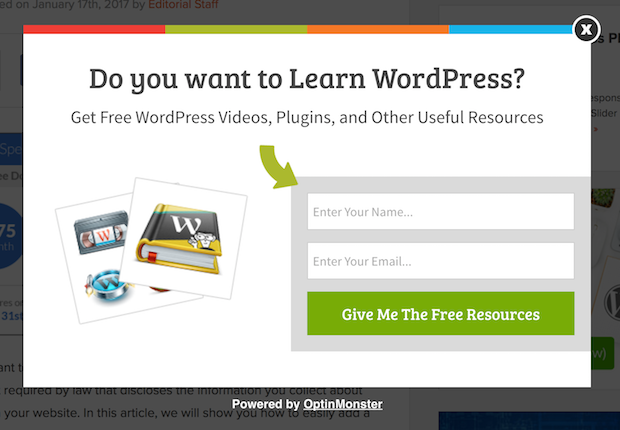 Lightbox popups are most commonly used for capturing email addresses. However, they can be used to display any call to action (such as, "Like us on Facebook" or "Use this coupon code at checkout").
You may be wondering "what is lightbox and where does the term come from?" It's a pretty neat analog-meets-digital story.
Lightboxes are signs that are lit up from behind, like this: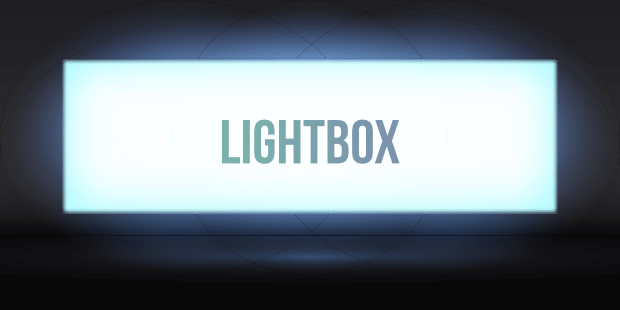 Lightbox is also a JavaScript library that shows images and videos by filling the screen with them, then dimming whatever the images and videos don't cover.
Exactly like a lightbox popup.
6 Reasons Why Lightbox Popups Capture More Emails
There are several reasons why lightbox popups capture more emails than a traditional email optin form, like the ones you'll see in the sidebar of a blog.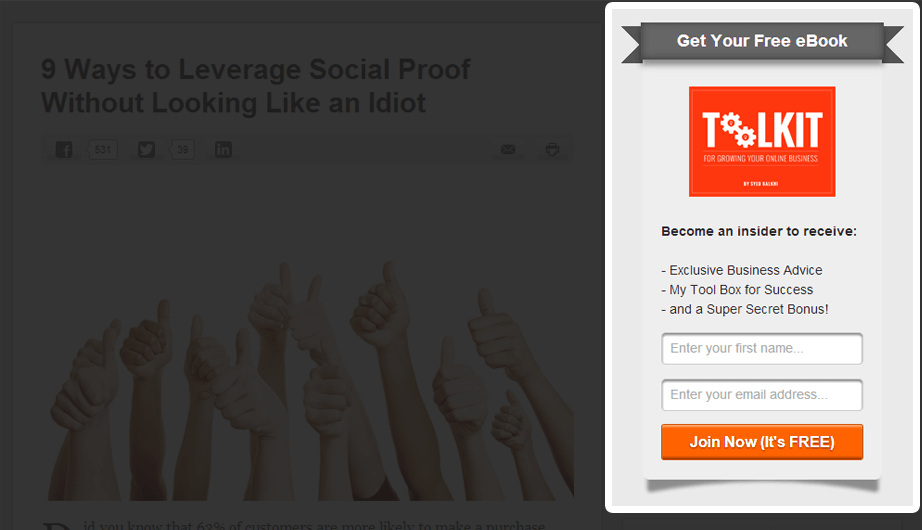 For the record, we do recommend having a sidebar optin form like the one above because that's where your biggest fans will look for it.
Related Content: How to Create a Sidebar Widget in WordPress to Get More Subscribers
However, if you don't also have an email subscription popup installed on your site, then you're potentially missing out on thousands of email subscribers. That is not so cool.
So, without further ado, here are the top 6 reasons why a lightbox popup is your best bet at capturing more emails.
1. Lightbox Popups Feature One, Clear Call to Action
Lightbox popups remove all other distractions, so there is only one, clear call to action in view on the page.
With a lightbox popup, the rest of the screen becomes darker and the user's eye naturally goes to your message and the email signup form. This makes it perfectly clear what the user should do next.
Removing other distractions is important because having more choices is proven to have a negative effect on your conversions.
It sounds counterintuitive, but more choices aren't better for your users. In fact, the more choices you give people, the less likely they are to take action. It's called indecision paralysis.
And here's the thing: even if they do ultimately make a decision, they'll be less happy with that decision than if you had only given them one choice.
There's a famous study with jars of jam that illustrates how the psychology of choice works. If you want to learn more about it, you can read about it here.
2. Lightbox Popups Are Eye-Catching
When your lightbox popup appears on the page (particularly if it uses an animation), your visitors won't be able to help but take notice. In fact, they're impossible to ignore.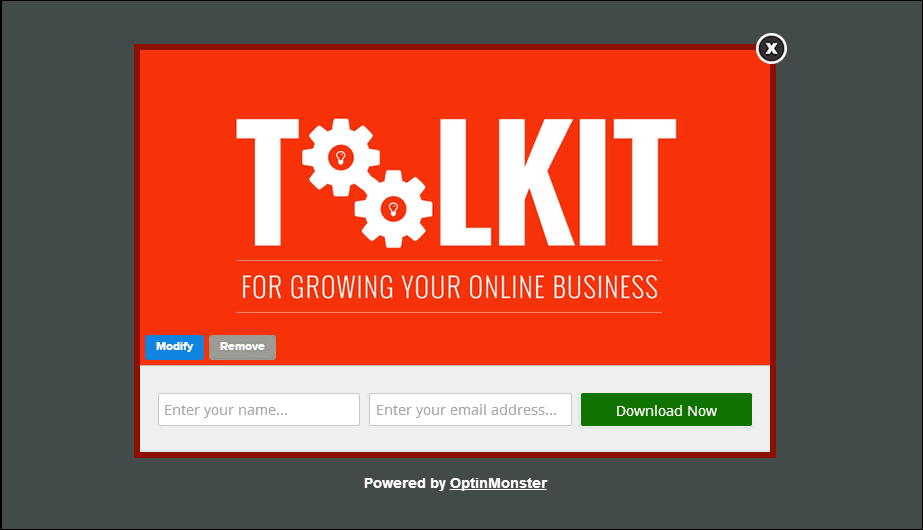 That's exactly why they work so well.
Visitors are compelled to focus on your call to action for at least the brief moment that it takes to either optin to your email list or close the lightbox popup.
Whenever people complain about popups, this is the reason they usually cite. But, this is also the reason that popups work so well to increase your email subscribers, and why the top brands all use popups on their sites.
That being said, there are ways to make your popups less intrusive. In fact, they don't need to disturb your visitors at all because you can use them to make the user experience better.
The key is to personalize your popups and trigger them at the right moment, to the right visitors, with the right offer (see #3, #4 and #5 below).
3. Lightbox Popups Trigger at Just the Right Moment
If you use OptinMonster, you can control exactly when your lightbox popup will appear, to make sure that it triggers at just the right moment.
For example, you could set your popup to appear on the second page your visitor views. That way, you won't disturb visitors who just landed on your site and are trying to get the one piece of information they were looking for.
On the other hand, if you're an eCommerce store, you may want to trigger your popup after 5 seconds on the first page viewed, and offer visitors a discount on their order. This works because most people who visit your site are already there with the intent to buy, and they're really happy to get a discount.
Here's an example of a lightbox popup on page load that offers an exclusive discount to visitors who optin with their email address.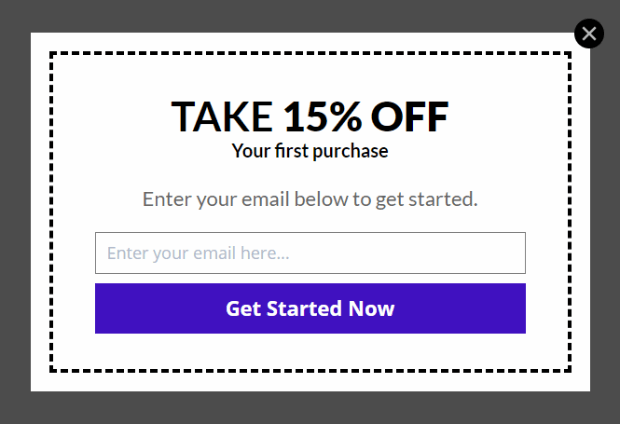 The key to deciding when to trigger your lightbox popup is to think about your user and their intent at the moment they're browsing your site.
On their first page view, are they looking to purchase, or do they simply want to read your blog? Are they ready to optin to your email list by the 2nd, 3rd, or 4th pageview?
Visitors who have viewed 4 or more pages on your site are very interested in your content and offerings, so maybe you'd like to reward those engaged visitors by displaying a special offer just for them.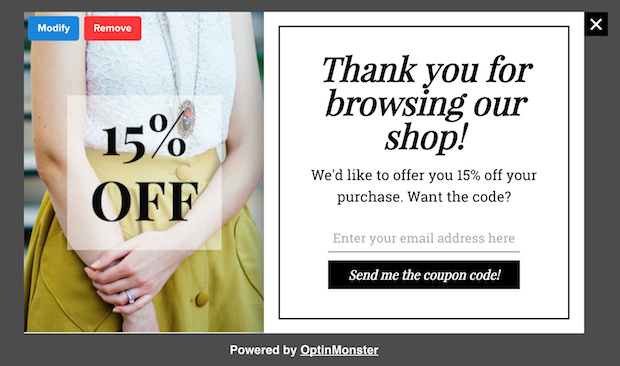 No matter who your audience is or what type of website you have, you absolutely can't go wrong by using a 2-step optin form with a lightbox popup.
Case Study: How Cosmetic Packaging Now Grew Their Email List by 754% with 2-Step Optins
These popups are only displayed to visitors who specifically request them by pressing a button first.
Here's an example of a lightbox popup on click.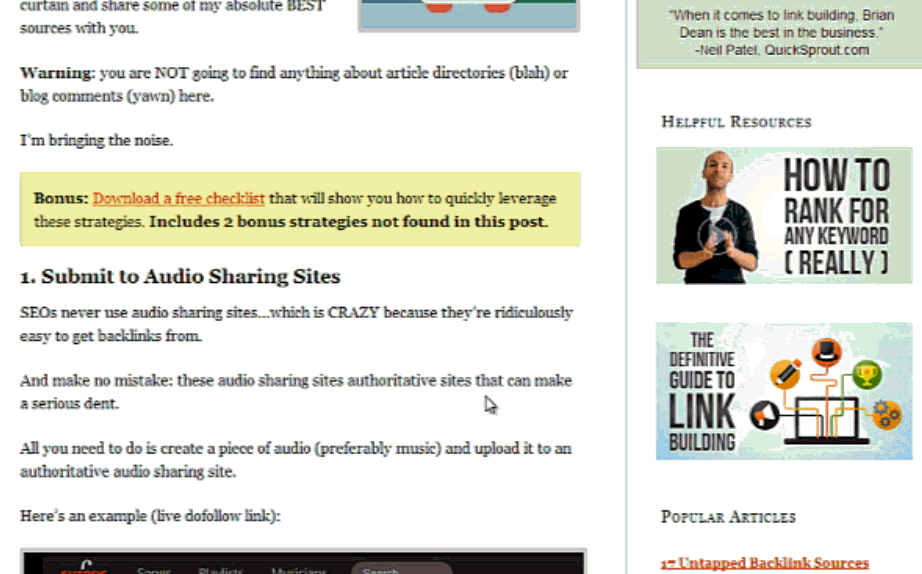 These are one of the highest converting types of optins, particularly when you use them in combination with content upgrades.
4. Lightbox Popups Display an Interest-Based Offer
The other opportunity you have with OptinMonster is to increase your conversions by displaying a lightbox popup based on interest.
What would be the best offer for any user browsing your site?
If they're browsing recipes, you could show them a cooking-related offer.
If, on the other hand, they're browsing home improvement posts, you'd do better to show them an offer related to home decor.
Here's an example from CountryLiving's website. This popup appears to visitors who've viewed home improvement posts: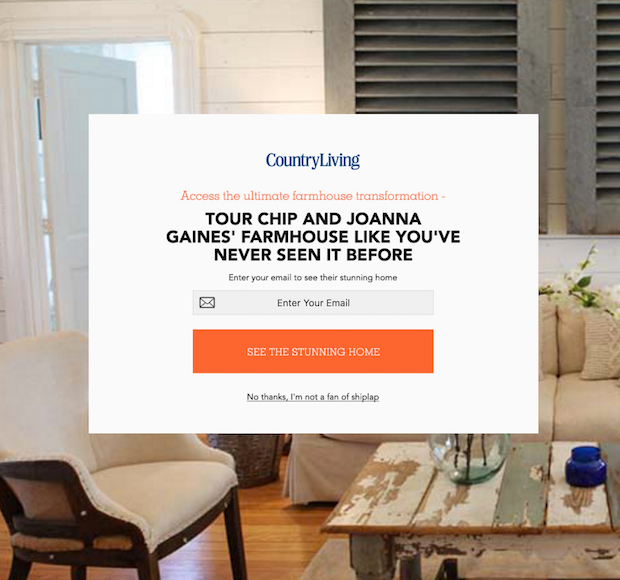 But if the visitor has viewed recipe posts, they'll see this popup instead: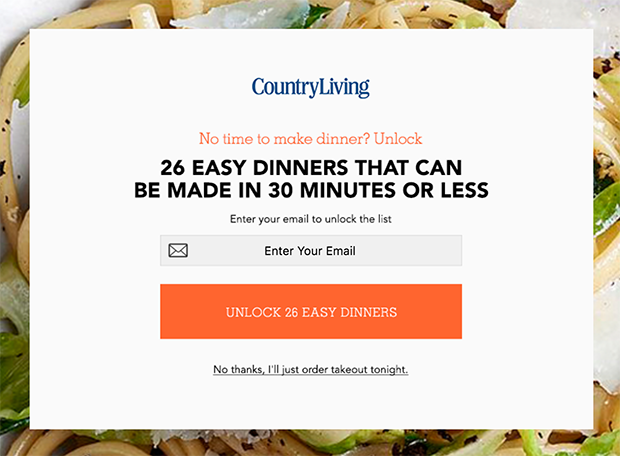 With OptinMonster, lightbox popups can be set to be displayed on specific pages, posts, or even entire categories of posts on your site. Make the most of this opportunity by personalizing your offers based on what you know your visitors are interested in.
5. Lightbox Popups Are Personalized for Specific Visitors
OptinMonster also allows you to display lightbox popups only to specific visitors. This way, you can personalize your offers even further.
For instance, you could show your popup to visitors coming from a specific ad campaign. You know a lot about the people you target your ads to, so use that information when writing your popup copy.
Or, you could display popups to people visiting from a specific referrer, such as a popular publication you've just been featured in. This way, you can address those visitors by name (e.g. "Welcome, HuffPo Readers!") and further increase your conversions.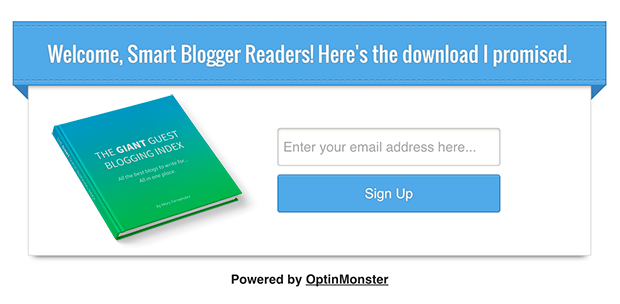 6. Lightbox Popups Capture Abandoning Visitors
Did you know that 70% of visitors who abandon your site will never come back again?
In most cases, this means that 95%-98% of your marketing efforts are going to waste, and you're losing money in customer acquisition costs.
However, lightbox popups triggered on exit-intent give those abandoning visitors one last chance to optin which can mean an additional 2-4% of your visitors converting into email subscribers (and customers soon after).
OptinMonster's exit-intent® technology works by tracking the mouse movement of your visitor. When they gesture towards the top of the page, getting ready to close the window, the smart lightbox popup appears.
Here's an example of a lightbox popup on exit intent.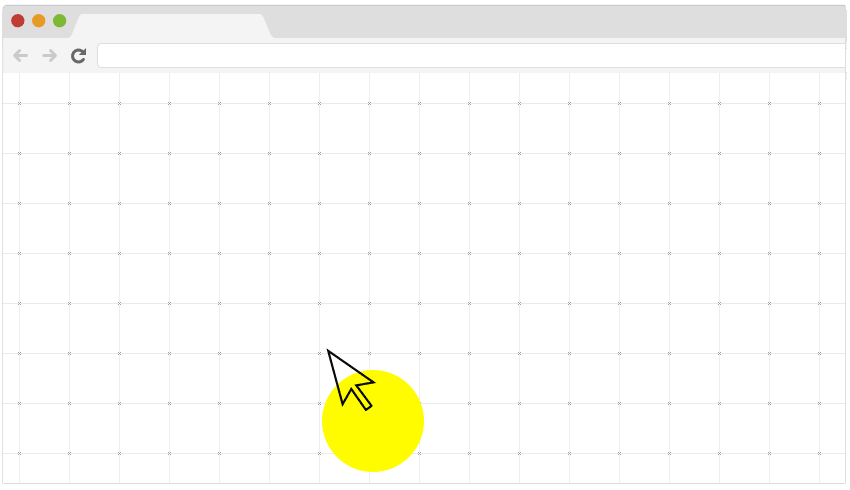 Note: The popup doesn't prevent the user from leaving your website. They can close the window without interacting with the popup, which limits any annoyance factor.
Lightbox popups with exit-intent provide you one last interaction before a visitor leaves your site. In fact, it acts a lot like an additional page view. It's important to remember you're not bothering a user by offering something they may be interested in. You're providing them the opportunity to receive emails from you and regularly receive content they enjoy.
In fact, Medstar Media saw their conversations increase by 500% when they implemented exit-intent lightbox popups.
To learn more about exit-intent lightboxes, check out 40 Exit Popup Hacks That Will Grow Your Subscribers and Revenue.
Lightbox Popup Case Studies
If you're still skeptical of popups, you'll probably be interested in proof that smart lightbox popups really work. Lucky for you we have tons of case studies.
Social Media Examiner Added 250,000 Email Subscribers
Social Media Examiner chose OptinMonster because it met all of the criteria they were looking for:
They started by adding an exit-intent® popup and immediately saw a huge boost in conversions.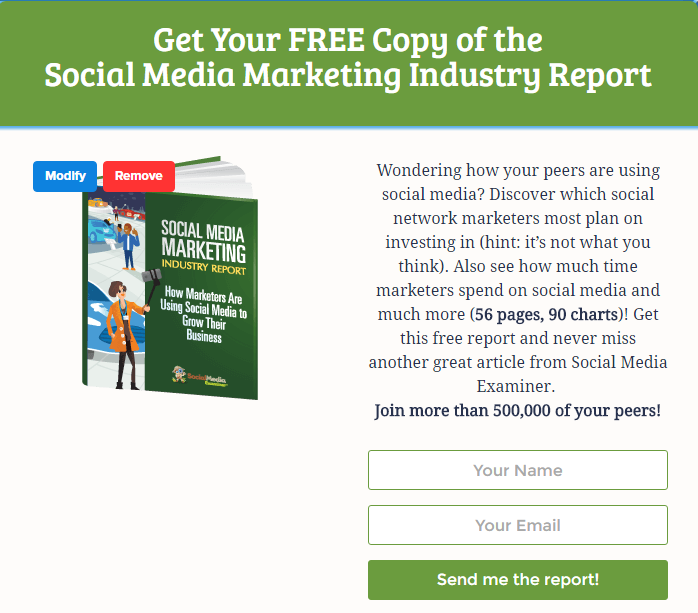 When the case study was written, Social Media Examiner used 4 OptinMonster optins:
A lightbox optin which displays shortly after visiting the site.
An exit-intent® optin which displays when a user motions to exit the site.
A slide-in optin which appears after the user has viewed a page more than five seconds, and scrolled 60% of the page.
A mobile-specific optin that appears soon after visiting the site on a mobile device.
Before using OptinMonster, Social Media Examiner gained about 600 subscribers per day. Since switching to OptinMonster, they're gaining about 1000 subscribers a day. That's a 66% increase!
In the first year Social Media Examiner used OptinMonster, they added 62,000 subscribers to their list.
WebMechanix Recovered 1,281 Abandoning Visitors in One Month
WebMechanix, a web design agency, installed a lightbox popup on their client's site using exit-intent®. They also used a 2-step optin, so that users need to click on the call to action button before the optin form appears.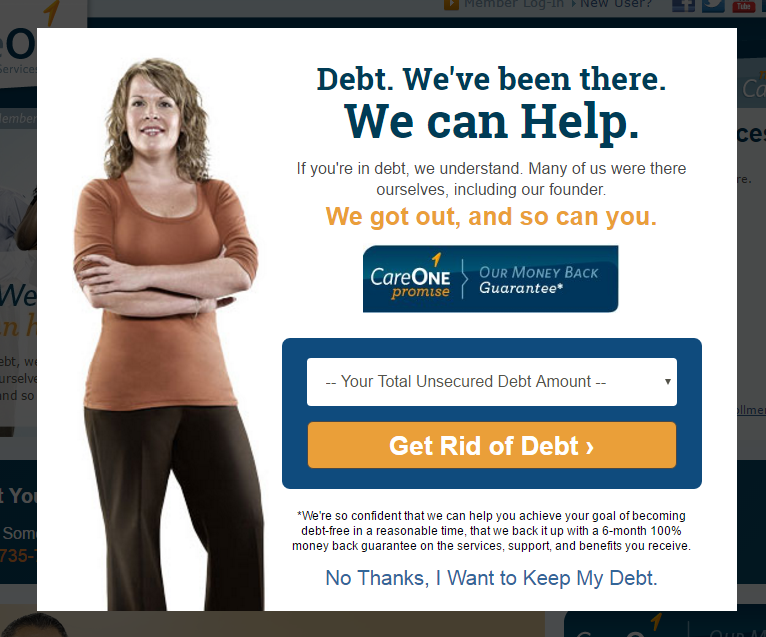 As a result, they saw a 13.076% increase in conversions in just the first month!
Do you like seeing what others have accomplished with OptinMonster? Check out our ever-growing collection of case studies to read more about the amazing results possible when using smart lightbox optin forms.
How to Create a Lightbox Popup
We understand that not everyone learns in the same way. That's why we made this helpful video tutorial for our visual learners:
But you should continue to read our in-depth tutorial for the most comprehensive guide on how to build a lightbox popup.
Start by signing up for OptinMonster and logging into your OptinMonster account.
1. Create a Campaign
Login to your OptinMonster account and press the green Create Campaign button.

We'll be using the  Lightbox Popup campaign type.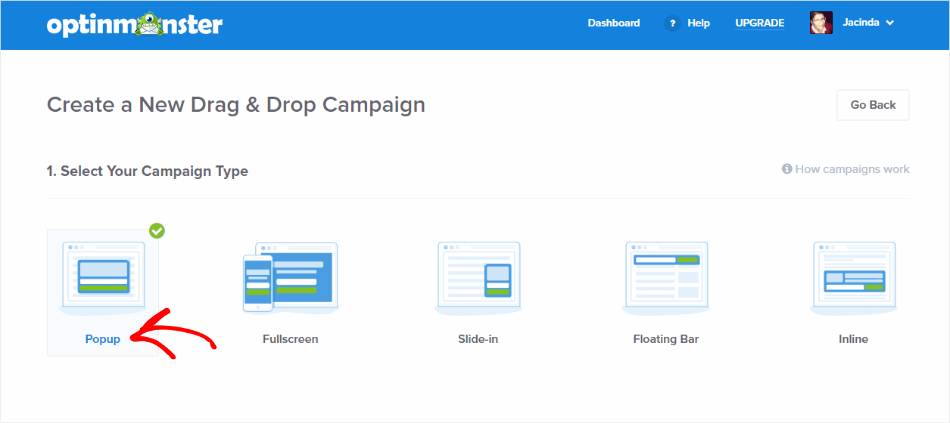 Choose a campaign template. For this tutorial, we're using Simple.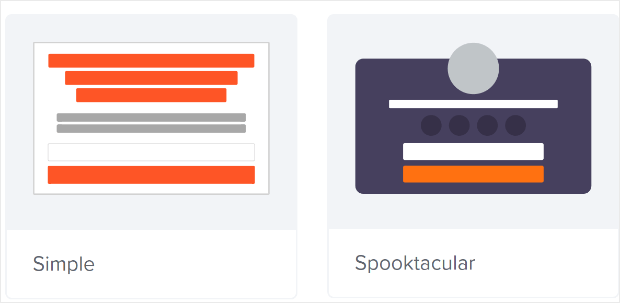 Now, give your campaign a name. The name is for your use, so make it something that will be meaningful and memorable for you.
You can also add the website where you plan to use the campaign.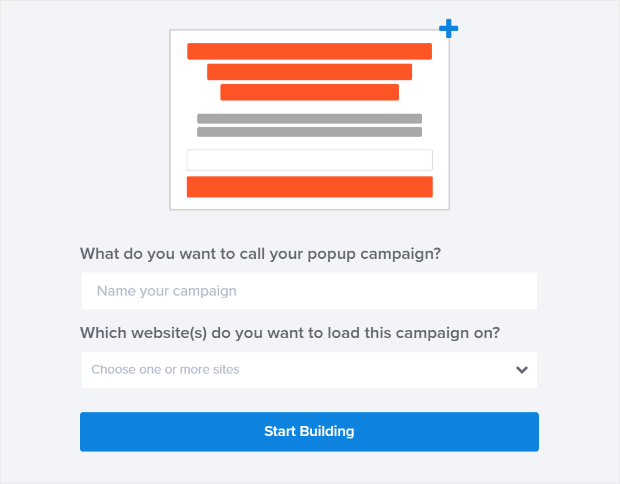 Press Start Building when you're ready to create the campaign and go to the OptinMonster campaign builder. You'll see a live preview of the default Simple campaign on the right-hand side of the builder.
2. Edit Your Campaign
To change the headline or body text anywhere in your campaign, just click on any element to open the editing tools. They open to the left of the campaign preview.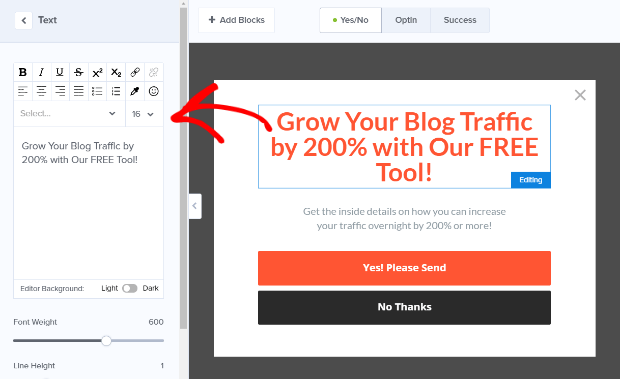 You can edit the appearance of any buttons by clicking on the button.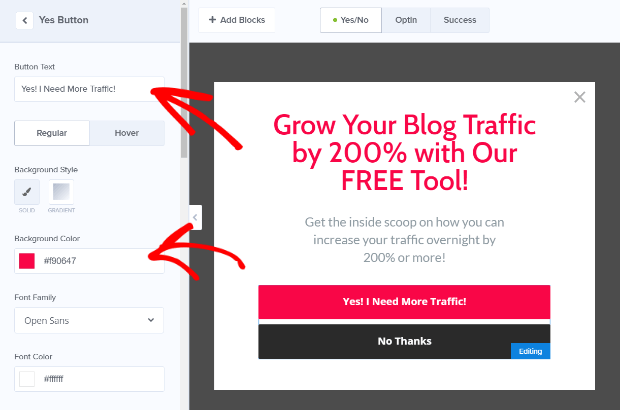 Once your campaign looks the way you want, you're ready to set your display rules.
3. Set Display Rules
Display rules control when your campaign shows up on your site and who sees it. By default, the campaign is set to appear to all site visitors after 5 seconds.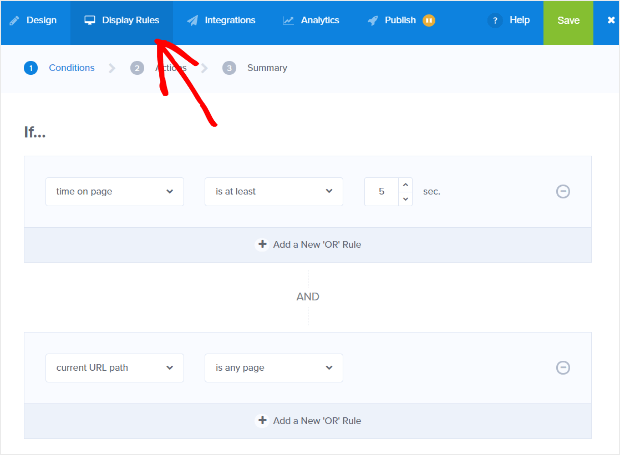 Many of our customers have great success with exit-intent popups, so let's change this to appear if exit detected.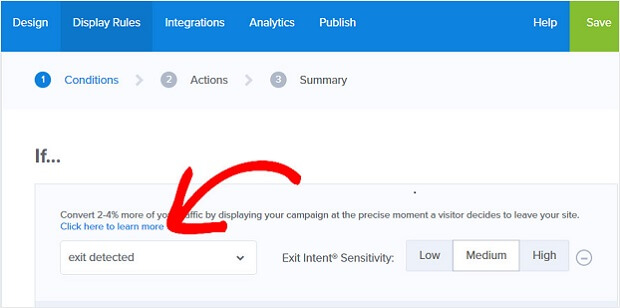 Click Next Step to choose the Action. We'll set the action to Show the campaign view that you want to appear (ours is the Optin view). At this point, click the green Save button in the upper right corner.
4. Setup Your Email Integration
When you click Add New Integration from the Integrations tab, you can select from our list of native integrations to connect with. Just choose your email service provider from the Email Provider dropdown.
We recommend Constant Contact because the platform offers a lightweight, user-friendly interface, but you're welcome to check out our list of the best SMTP services or Mailchimp alternatives for more options.
5. Publish Your Lightbox Popup
When you create a new campaign, it's Paused by default. Go to the Publish tab from the top menu to see the Publish Options.
Use the toggle to change the status to Live, then save your campaign by clicking the Save button in the top right of the builder.
Scroll down the Publish page to find OptinMonster's broad range of publishing options. If you need more information, take a look at the documentation for embedding OptinMonster on your site.
Now you know exactly how to create a lightbox popup using OptinMonster!
Got WordPress?
OptinMonster works on any website, but our WordPress plugin makes it ridiculously easy to publish a WordPress lightbox popup. Once you're ready to publish your lightbox popup on your WordPress site, go to your WordPress dashboard and click on the OptinMonster icon.
You should see a list of all your campaigns. If you don't see the campaign you've just created, click Refresh Campaigns, and it'll appear.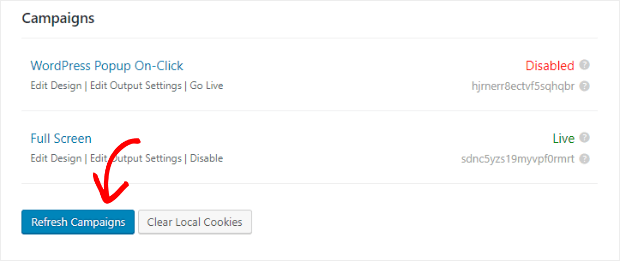 Click the Go Live button next to the campaign name to make the campaign live on your site.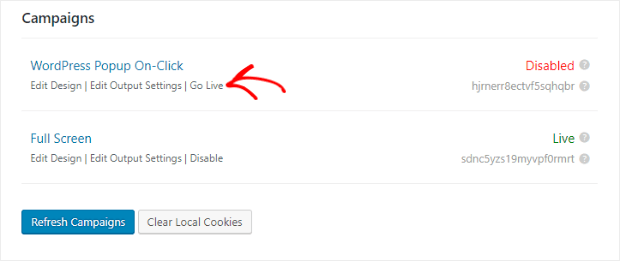 That's it! Your WordPress lightbox popup is live!
Capture More Emails Today With Lightbox Popups
No need to lose customers because of outdated practices. Lightbox popups are proven to work, especially with the use of smart triggers and visitor personalization.
If you enjoyed this article, you may also want to read this post, How to Use Popup Animation Effects for Eye-Catching Promotions. Or for even more popups, check out these 37 types of popups you can create to increase conversions!
Or, you may want to check out this post on eCommerce popup examples that actually work.
Get started with OptinMonster today and convert more website visitors into email subscribers and customers!