You've probably heard of an email marketing funnel, but are you wondering how to build one and what all the fuss is about?
Email marketing funnels are a super effective way to turn casual website visitors into loyal customers.
Sounds like magic, right? It's not magic, but with our ultimate guide, email funnels can be simple.
This article will go over:
Let's get started!
What is an Email Marketing Funnel?
An email marketing funnel is the process by which a prospect turns into a customer. This conversion takes place through educational and persuasive emails sent directly to each individual subscriber.
Why is it called an email funnel? A funnel is wider at the top and narrower on the bottom. The funnel shape reflects how many prospects are in each stage. There are more leads at the top and fewer at the bottom. This is because not every lead will progress to the next stage of the funnel.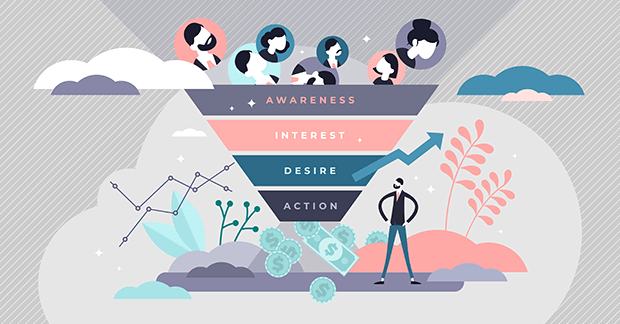 The stages of an email marketing or sales funnel are:
Awareness Stage: the buyer knows about your brand, product, or service
Interest Stage: the buyer likes the benefits of your product or service
Desire Stage: the buyer wants your solution and is thinking about buying; together with the interest stage is sometimes called the consideration stage
Action Stage: the buyer decides to take an action; sometimes called the decision stage
Sometimes there is a final stage called Retention, where the buyer stays engaged with your brand after their initial purchase and is more likely to buy again.
Why Should I Create an Email Marketing Funnel?
Email marketing is one of the most effective digital marketing channels. Your email list is an asset that you have complete ownership over, unlike social media or PPC ads. Furthermore, email is a direct line to your customers. Using a funnel as part of your email marketing strategy has several benefits:
Personalization: An email funnel lets each lead take their own individual customer journey. This gives you a chance to build relationships before making a sale. Imagine meeting someone for the first time and they immediately ask you for money. Not very friendly or trustworthy, right? But an email marketing funnel can introduce new subscribers to your brand gradually and foster trust over time.
Automation: Marketing funnels are also easy to automate. This can supercharge your marketing efforts. Rather than personally guiding every lead through the sales process, you can just generate leads through content or other marketing strategies and let your email funnel take care of the rest.
Data-Driven: It's very easy to measure the success of automated email funnels. You never have to guess whether your email newsletter funnel is working or not. There are clear metrics for every step of your email funnel, such as:
Open rate
Click-through rate
Conversion rate
Unsubscribe rate
Bounce rate
Now that you know what an email marketing funnel is and why they matter, let's see what you need to make one.
4 Things You Need to Create an Email Funnel
To set up your email marketing funnel, you only need 4 parts, some of which you can create using the same software or platform.
Optin Form
Landing Page
Lead Magnet
Email Service Provider (ESP)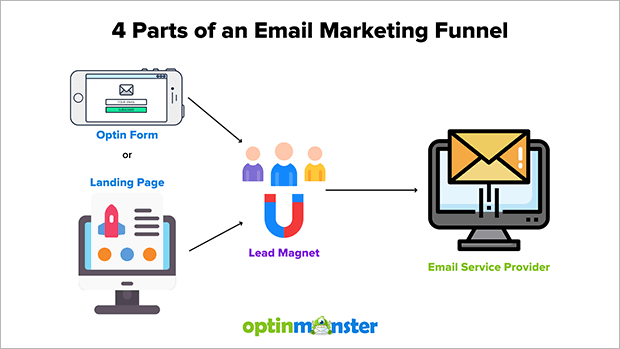 Opt-in Form
Opt-in forms are how you collect email addresses from your website and blog posts. These forms can be embedded in your content or appear over the content as popups, slide-ins, floating bars, and more.
OptinMonster is the perfect lead generation solution for your email marketing funnel. With just a few clicks of the drag and drop builder, you can create optin forms like this one and place them throughout your website.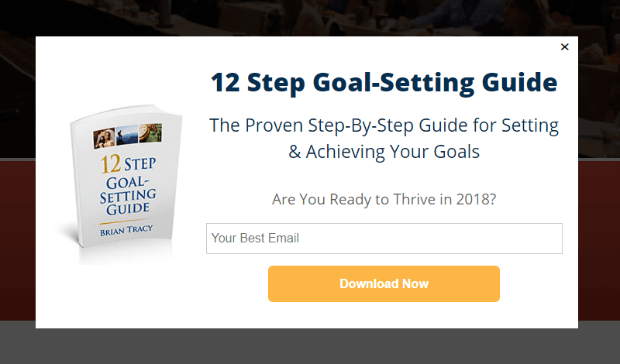 There are hundreds of professionally designed templates available, so you don't need any design or coding experience to create eye-catching email signup forms for your business.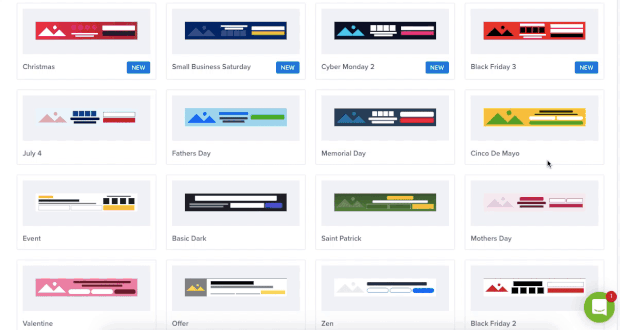 OptinMonster also has powerful targeting and display rules that control when your signup forms appear. This ensures that buyers see the right message at the right time during the buyer journey.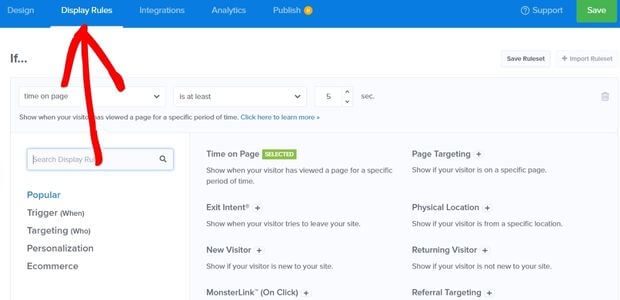 But don't take our word for it. Check out how LeadFuze used OptinMonster at different stages of their sales funnel and quadrupled their conversions.
Get Started With OptinMonster Today!
BONUS: Done-For-You Campaign Setup ($297 value)
Our conversion experts will design 1 free campaign for you to get maximum results – absolutely FREE!
Click here to get started →
Landing Page
Another way to collect email addresses is to build a landing page. A landing page is a standalone page where visitors can sign up for your email list. You can drive traffic to your landing pages from your social media accounts or paid ads, since you can't place optin forms directly on those channels. Here's an example of a webinar landing page.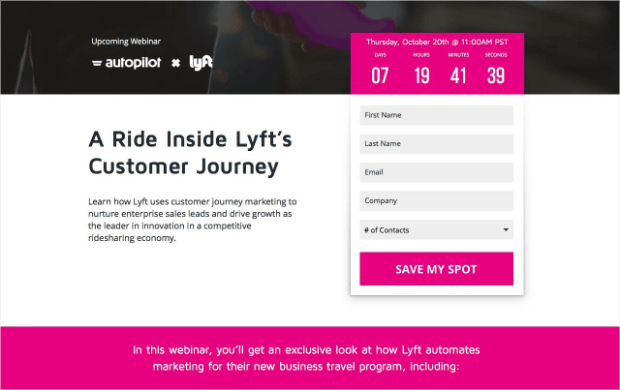 You can use OptinMonster's fullscreen welcome mats as temporary landing pages on any website. If you're a WordPress user, SeedProd is the best landing page builder plugin available.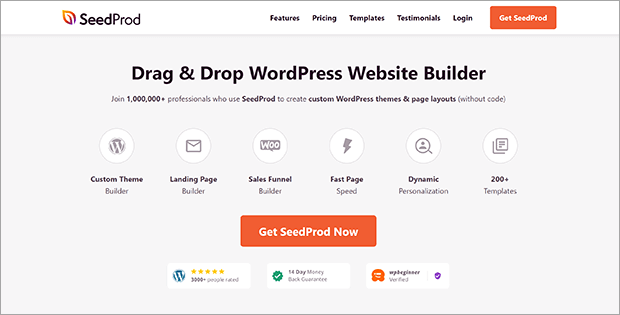 SeedProd also has a drag and drop builder and plenty of templates so you can have your landing page ready in minutes, not hours. There's a built-in Optin Form block to collect email addresses, or you can embed an inline form from OptinMonster.
To learn more, here's how to create an optimized lead generation landing page with SeedProd.
Lead Magnets
Whether you use an optin form, landing page, or both for list-building, you'll need a lead magnet to attract subscribers. A lead magnet is an incentive for your customers to subscribe to your email newsletter. Some lead magnet ideas include:
Discount codes
Content upgrades like eBooks, checklists, or cheatsheets
Free trial
Web app like a calculator, generator, or grader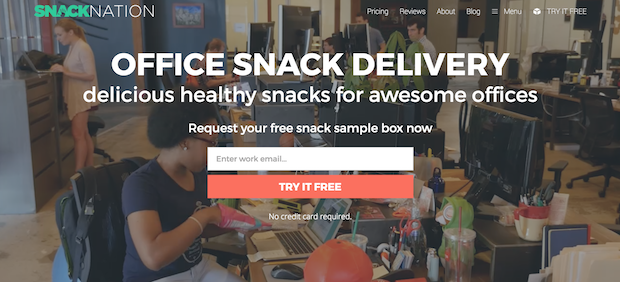 Your lead magnet is at the very top of your email marketing funnel. So you want to create one that builds awareness of your brand or the problem your brand solves, and interest in your solution. Learn more about how to create a lead magnet with our step-by-step guide and examples.
Email Service Provider (ESP)
Finally, you need an email service provider. An ESP is a web-based platform that collects your list and sends out emails. Nearly all ESPs will let you set up the automated series of emails that makes up your email funnel.
Many ESPs come with their own optin forms and landing pages, though the design options may be more limited than you'd get with a dedicated marketing tool like OptinMonster or SeedProd. Either way, your optin form and landing pages will send new email subscribers to your ESP.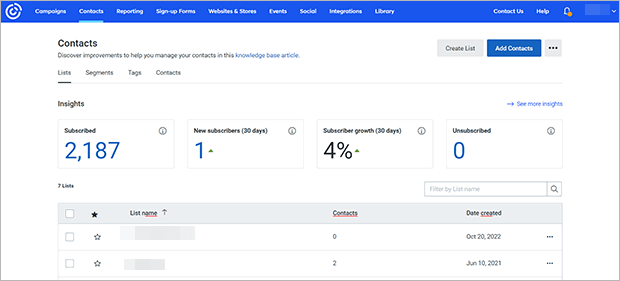 From here, let's go through the process of creating an email funnel step by step.
How To Create an Email Marketing Funnel in 4 Simple Steps
Regardless of what you're selling, this simple email funnel structure will work. You can add on more parts as your business grows, or repeat this process as you add other products and services. Let's get started!
Step 1. Generate Leads (Top of Funnel)
The first step is to bring potential customers into the top of the funnel. This is often referred to as list-building or lead generation.
You can use optin forms or landing pages to collect leads as we described above. Optin forms are great to use with blog posts and other onsite content marketing, while landing pages work well for generating leads from your social media and other offsite channels.
Pro Tip: Deliver your lead magnet by email to nudge new subscribers to check their inbox. Even if you redirect them to the lead magnet immediately after subscribing, you can also send it via email. In this example, we sent out a case study PDF along with a preview of what the new subscriber can expect.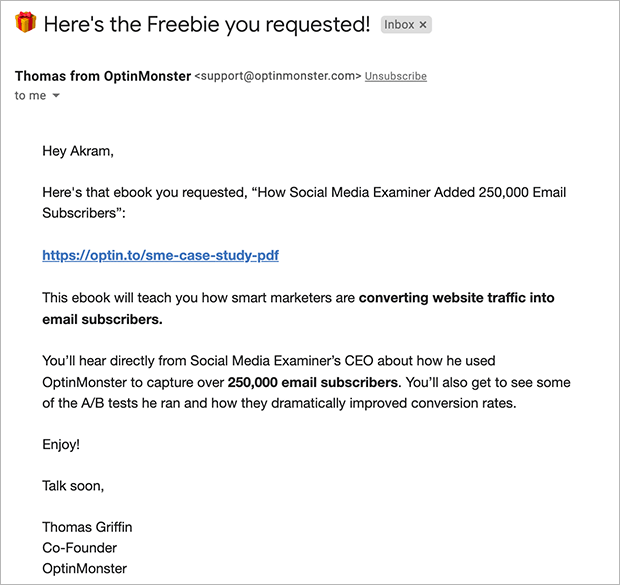 Pro Tip: Send a welcome email sequence after delivering the lead magnet. New leads are most likely to open your emails right after they subscribe, so send them something quickly while they still remember who you are and what they signed up for.
This example from Domestika has more than one call to action, which gives new users options for how they want to engage.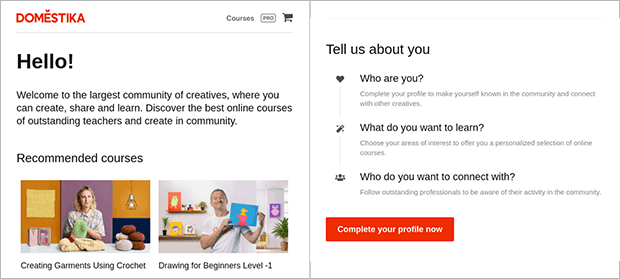 Your first email marketing campaigns to new subscribers should include:
What to expect in frequency and content of communication
Your mission, vision, and values
Informative, educational content
Step 2. Nurture New Leads (Middle of Funnel)
Congratulations, your leads are in the funnel! But don't start with a sales pitch right away. (Remember our example of the annoying new friend who asks for money immediately?) Your next job is to deliver value through high quality content.
One easy way to do that is by creating an email course. This is a great opportunity to teach something valuable and show off your expertise. As an added bonus, it gets subscribers used to opening your emails.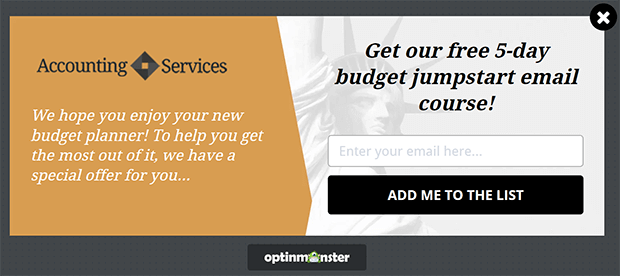 Another simple way to nurture leads is with a challenge funnel. You can email participants a series of small tasks to do and then choose a winner to receive a prize. Online challenges deliver a quick win, which builds trust in your brand and may fuel their interest in and desire for your solution.
You can also send out evergreen blog posts, regular updates, and other valuable content.
Pro Tip: Send emails regularly, not just when you want to sell something. This helps subscribers feel like you actually care about them, plus it keeps your email list healthy.
Pro Tip: Segment your audience based on interests and behavior. Then, use this information to send targeted content, which converts better. This example from MailNinja could be sent to all of their subscribers, but it would be much more effective if targeted only toward subscribers who are also Shopify users because they will find the content most helpful.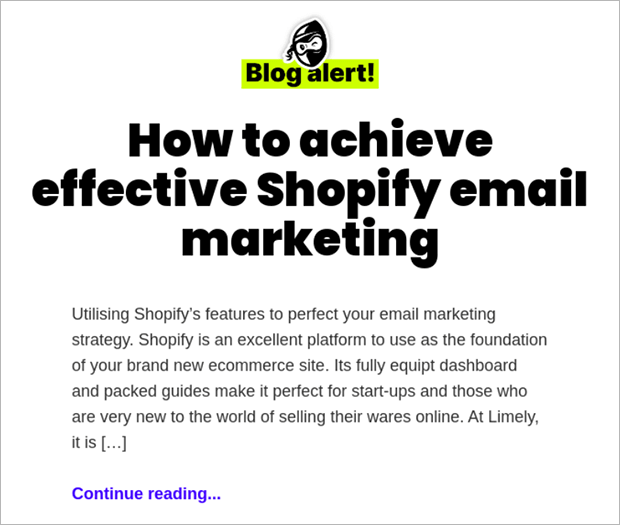 Step 3. Convert Leads to Customers (Bottom of Funnel)
Once you're at the conversion stage, it's time for the call to action (CTA). This doesn't mean sending 13 emails that all say "Buy Now!" in huge letters. Instead, send content that acknowledges the pain points your customers feel and explain how your product or service will solve their problem. Address objections or hesitation with social proof like case studies and testimonials.
Remember that your funnel gives you several opportunities to convert leads to paying customers. You don't have to cram all your sales information into one email. In fact, doing that may be confusing at best and pushy at worst. Try to stick to one main CTA per email in the conversion stage.
Pro Tip: Target your warmest leads with conversion emails. These are the customers who are most interested in buying, so it may not be difficult to help them across the finish line.
For example, abandoned cart emails like this one can convert the warmest eCommerce leads. Notice how they remind the reader not just about the product but the benefits of buying.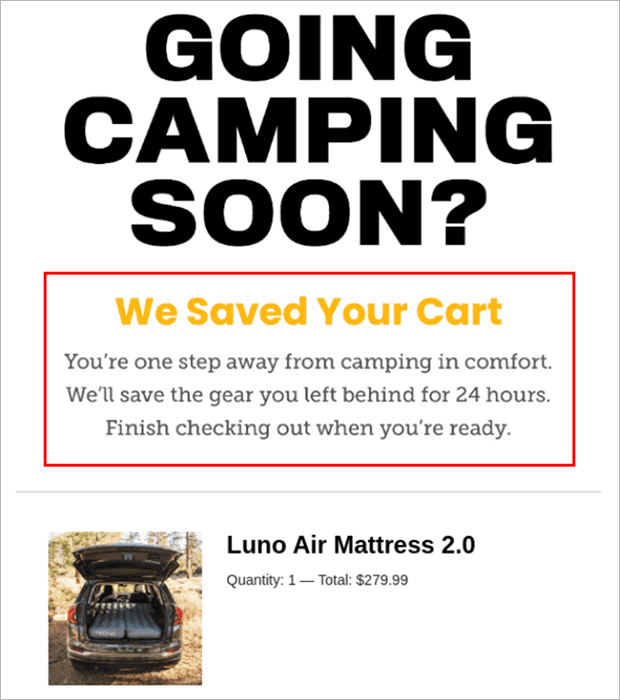 If your lead magnet is a free trial, send out emails before and after the trial ends to convert some of those leads while your product is fresh in their mind.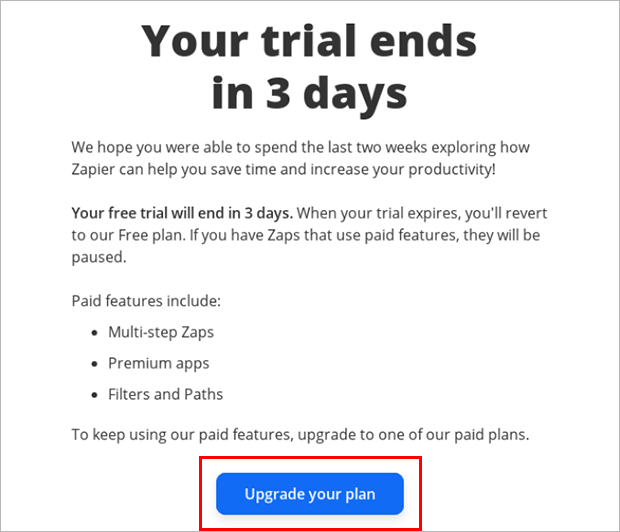 Step 4. Retain New Customers (Repeat Funnel)
Don't abandon your customers after they buy something. In fact, it's much easier to convince existing customers to purchase again than it is to convert a brand new customer. So make sure your funnel has steps for customer retention.
Right after the sale, follow up to make sure they have a good experience. You can send usage instructions, styling tips, or product onboarding steps.
Once you've taken care of your customer's first purchase, then you can try to upsell or cross-sell additional items. In this example, it wouldn't make sense to say, "Upgrade to a subscription!" if the customer isn't enjoying what they've already bought.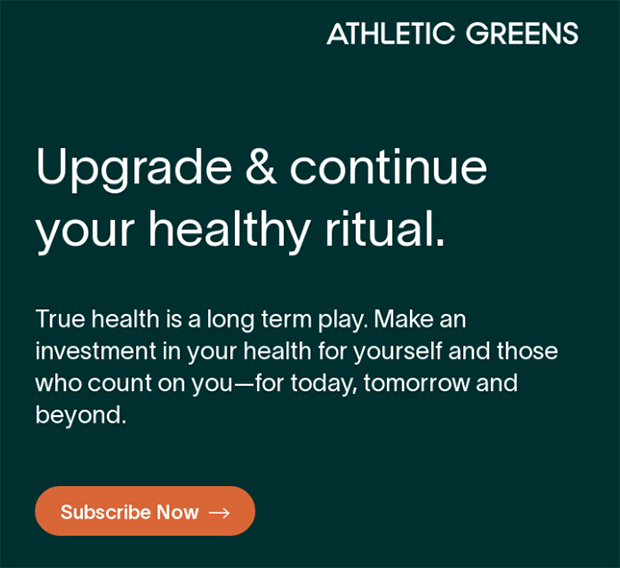 Pro Tip: Ask for reviews and feedback to show that you really care about their experience. This is also a good way to get convincing social proof.
Pro Tip: Encourage brand advocacy among your loyal customers and they can help generate sales for you. Use your sales and email marketing data to find repeat customers and active subscribers to invite to your loyalty or referral programs. These programs also give you a reason to email customers regularly, like Taco Bell did with their loyalty points update email.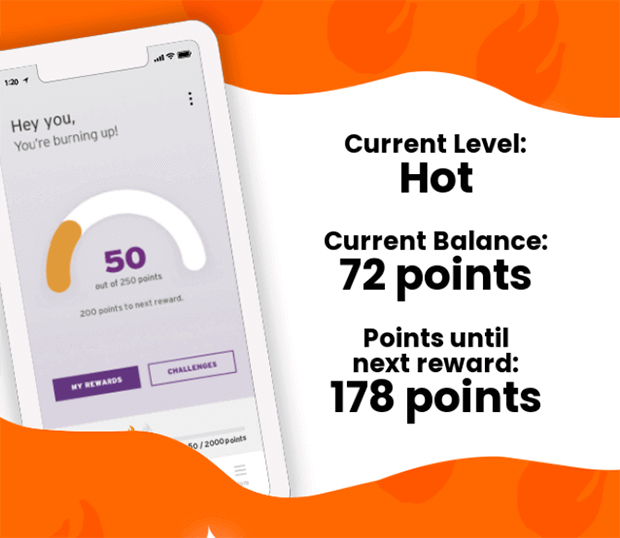 Summary: Building Email Marketing Funnels
Email funnel marketing is a great way to build your business practically on autopilot. To recap, here's how to build an email marketing funnel the simple way:
Generate leads and grow your email list with optin forms, landing pages, and irresistible lead magnets.
Nurture your new leads with valuable email content like special offers, resources, and social proof.
Convert leads to customers by targeting your warmest leads after you've built a relationship.
Retain new customers and turn them into repeat buyers and loyal brand advocates.
For an easy way to grow your email marketing list, get started with OptinMonster today!