Are you looking to try out some new email subject lines? Without proof, it can be hard to determine which will have the highest open rate. That's why we've made a list of the email subject lines that get the highest open rates along with statistics to prove it.
Before we get into the highest-performing subject lines, let's take a look at the importance of subject lines to your email marketing strategy.
Why Email Subject Lines Are Important for Open Rates
Your email subject line is the most important sentence of the entire email. In fact, 33% of email recipients open emails because of catchy subject lines.
A boring subject line could lead your email to get buried under hundreds of other emails. Or even worse, be marked as spam! That's a little offensive for any marketer. But, unfortunately, 69% of people will report an email as spam based on the subject line alone.
That means all your hard work in creating the perfect email was for nothing.
Not only that, but email providers like Gmail, Outlook, and Apple Mail are getting smarter about which emails to send directly to spam. And if subscribers don't open your emails regularly, you'll be put into the spam category.
That's why paying close attention to your email subject line is so important. And typically, they often get put to the side and left to the last minute. Perhaps that's why the average open rate for emails is only 17.92%.
The average open rate seems low, doesn't it? Well, as you might guess, the average click-through rate is even lower at 2.69%.
To help you get more traffic and conversions, you'll need to decide which type of subject lines you want to use. Luckily, there is proof that certain subject lines work better than others.
Now that we're on the same page about how important email subject lines are, let's look at the ones that get the highest open rates.
Subject Lines With Emojis
Studies have shown that emotional content can increase the effectiveness of marketing as much at 70%! Emojis are there to show a facial expression that relates to the emotion the message is suggesting.
When used in email subject headlines, emojis help separate your email from the sea of other emails in your subscriber's account.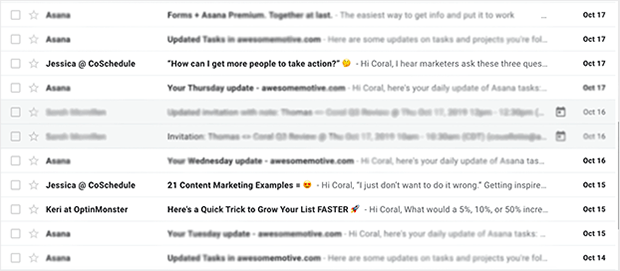 Since adding emojis into headlines started becoming popular in 2015, we've seen a huge rise in open rates. Between 2015 and 2016 alone, open rates for emails with emojis in the subject line surged as much as 775%!
It's still a great way to get higher open rates today. Companies who use emojis in their email subject lines have a higher open rate of as much as 56% over companies who don't.
There was even a study done where researchers analyzed 9,400 mobile marketing campaigns. They found that adding emojis to subject lines grew open rates by 1,071% on Android and 662% on IOS within the last year.
And just in recent months, email subject lines containing emojis have jumped more than 7,000%.

Although adding emojis seems like a simple solution to higher open rates, if you add them too often, it can make your emails look like spam. Make sure to use them sparingly.
Subject Lines That Stir Curiosity
Another effective way to get higher email open rates is to spark up curiosity with your subject line.
This email from WPForms creates curiosity by saying "did this happen to you too?" An email subject line like this makes people wonder about what they're referring to.

And once you open the email, the body doesn't disappoint, either.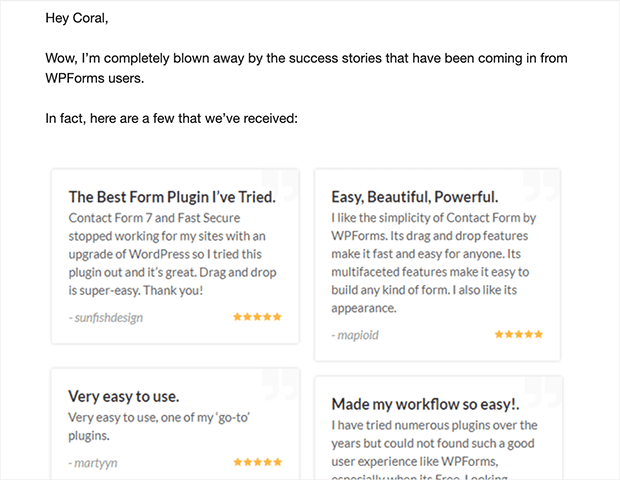 Using email subject lines that create curiosity can provoke your audience to engage with your brand.
Brands that use interactive content in their email subject lines get 70% higher conversion rates as opposed to 36% of those who use static content. That's 2x the number of conversions!
Subject Lines With News
People love news. To be more specific, they love breaking news.

Breaking news can be anything from a company event, a change in leadership, a natural disaster that's happening, a global event that's relevant to your company, or even a new product that's on the way.
Using such announcements in your email subject lines is a great way to spark interest with your users. But, you need to use certain words to get clicks. For example, email subject lines using the word "alert" are opened 61.8% more. And, subject lines with the word "tomorrow" are opened 10% more.
Personalized Subject Lines
Personalizing subject lines makes the subscriber feel like you've created the email with them specifically in mind. And that's always a nice feeling on the subscribers' part. It helps to establish trust and build relationships.
On top of that, personalizing email subject lines can lead to higher open rates—as high as 50%!
Studies also show that personalized promotional emails result in 29% higher open rates. And, multichannel retailers see a 37% increase in unique open rates for emails with personalized subject lines when compared to emails with non-personalized ones.
Okay, you get it. Personalized subject lines are amazing. But what can you do to add that personalized touch?
Well, the most commonly used piece of customer data in email subject lines is recipient names, leading to a 21.2% open rate.
Some other ways to personalize your email subject lines are:
Include their birthday
Mention their interests
Show their transaction history
Bring up their browsing history
Use their relationship status
Here's an example of an email from American Eagle, acknowledging the subscriber's birthday.

American Eagle has an automated email set up to be sent out at the beginning of every subscriber's birthday month so they can redeem their birthday discounts.
Subject Lines That Create Fear of Missing Out
As humans, we naturally want to be a part of what's going on. Missing out on an event, an outing, a meal, or a sale can be a scary thought. Especially if it may never happen again.
That's the concept of FOMO. It stands for fear of missing out, and 56% of people experience it.
So, it only makes sense to use FOMO in your email subject lines.
By including words like "last chance" or giving a time limit like "last hour," you can significantly boost your email open rates. Email subject lines that use FOMO with a sense of urgency have a higher open rate of 22% over those who don't.
Not only can using FOMO help with your open rates, but it can also help with conversions. 68% of people have made a reactionary purchase because of FOMO by witnessing someone else's experience.
To make an email subject line that outlines one of your customer's experience, you can say something like "John increased his conversion rate by 25% in one day! Here's how he did it…" This example hints at John's experience and creates curiosity with your users.
If you can't find a success story from a customer, you can use your own. Syed from WPForms used his personal example of how he grew his email list.

When your customers see that either you or one of your customers have been so successful using your product, it will trigger FOMO and can cause reactionary purchases.
Related Content: 25+ Powerful FOMO Statistics to Skyrocket Sales
Subject Lines That Offer Something of Value
Do you like free stuff? Do you like discounts on quality products? We're betting you do, and so do your customers.
Offering things of value to your customers free or at a discounted rate doesn't have to cost you much. Anything like free samples, special promotions, or an included e-book can do the trick.
Did you know that including the word "free" in your email subject line means your email is 10% more likely to be opened?
Many marketers worry about email subject lines containing the word "free" going to spam. But the truth is since subject lines including this word consistently get opened, they stay afloat in your customer's inbox.
As a matter of fact, using the word "free" in all capital letters has an even better open rate than without using capitals.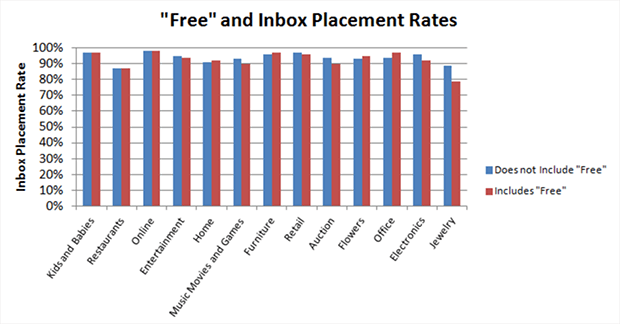 Retargeting Subject Lines
Here's a not-so-fun fact: An entire 98% of people who visit your store will leave without completing an action or a step in your sales funnel.
With that percentage of abandonment, retargeting almost-to-be customers is crucial. Email subject lines can act as an excellent reminder for users to go back to their cart and finish their purchase. And it's effective. 48% of retargeting emails are opened. That means you can catch half the people who've left your site empty-handed!
Helpful Content: How to Create an Abandoned Cart Email Strategy That Skyrockets Sales
Take a look at this email subject headline from a mattress company.

Once the email is opened, the company reminds you of the item sitting in your cart and gives you an option to return to checkout.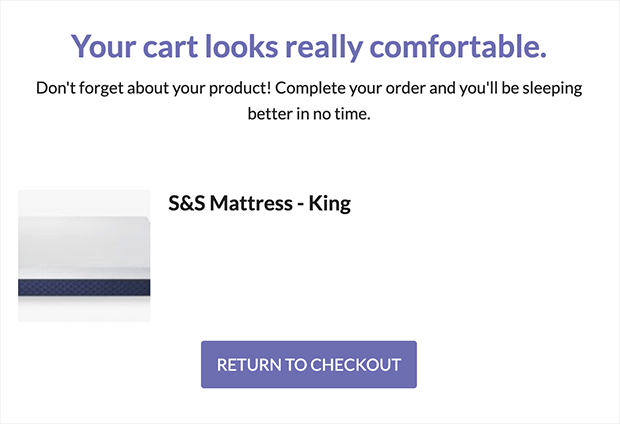 If your customer has been busy or has been browsing other products, sending this email with a clear call to action is an extremely effective way to get your customers to finish their purchase.
Worst Performing Subject Lines
On another note, if subject lines aren't carefully paid attention to, it can cause some issues like a decrease in open rates, a decrease in conversions, and possibly getting marked as spam.
To avoid this, you should be aware of words that perform terribly in subject lines.
The word "newsletter" alone can cause an 18% decrease in open rates, and subject lines with the word "you" can cause a 5% decrease in email open rates. Here are a few other words that you should avoid:
Journal
Whitepaper
Forecast
Training
It's not only specific words that should be avoided but also subject lines with almost no information. Let's take a look at some examples of subject lines that could do better.
1. The Plain Subject Line

This subject line is plain and doesn't give the reader an incentive to open it. To spice up this subject line, you could instead say "42 reasons you need to move to Vancouver today!" Adding those extra words would get the reader excited about what's in the email.
2. The Subject Line With Dates Only 

The purpose of this subject line is to inform the subscriber that something is happening on these specific dates. But what? The best way to fix this email subject line would be to say something like: "Coral, will I be seeing you between March 19-25?"
Asking a question instead of merely stating the dates will create more curiosity about what's going on during those days. Also, adding the name at the beginning will make the user feel personally invited.
3. The Subject Lines That Look Like Spam

Lastly, a subject line that clearly shows the sender doesn't know the recipient's name can quickly come off as spam.
Make sure always to use the person's first name. This subject line would be better off saying, "Dear Coral, win a free tester by completing this survey!" This gives the reader an incentive to open the email, and again, it feels more personal.
That's it! If you use the email subject lines above, we're sure you'll reach higher open rates. Some might work better than others depending on your audience. So get out there and start testing! Here are some more email subject line best practices to guide you.
Have tons of great subject line ideas, but nobody to send them to?
OptinMonster is an excellent tool to help you grow your email list. You can collect emails with fully customizable popup campaigns to match your design and include any text you want.
You can also track campaigns with analytics and do A/B testing to see which campaigns are converting the highest.