Are you struggling to find newsletter ideas to keep subscribers engaged? Email marketing is a great way to share your brand's message, connect with your customers, and turn leads into subscribers. But, it can be hard to keep coming up with fresh, interesting newsletter content each day, week, or month.
Plus, after working hard to grow your email list, it can be disappointing and frustrating when your subscribers aren't interacting with the emails you are sending.
Don't worry though, we're here to help.
In this article, we'll share 27 newsletter ideas to keep subscribers engaged. With these email marketing content ideas, you can keep your newsletter content strategy exciting and your subscribers will love seeing your new messages in their inboxes.
Let's go!
Helpful Newsletter Content
The best way to keep your subscribers around is by sending them newsletters that help them solve a problem.
Let's take a look at some newsletter ideas that will help you bring value to your subscribers and let you promote your helpful content at the same time.
1. How-To Guides
Offer your subscribers step-by-step instructions on how to use your product or how to get something done by creating newsletters with how-to guides.
For example, Design Files sent this step-by-step video tutorial to their subscribers.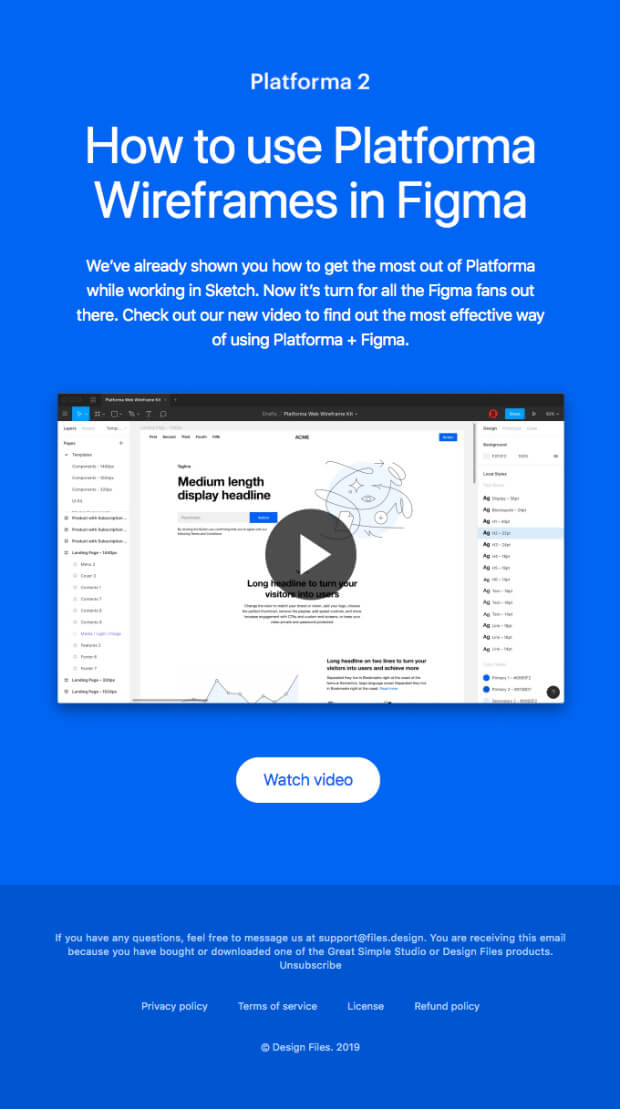 Creating a detailed video tutorial isn't necessary for all businesses though.
For instance, if you make handmade scarves you can show your subscribers 10 different ways to wear them with photos. Or, if you're a writing coach, you can simply create a text-based list that includes tips that will help your subscribers improve their writing skills.
With how-to guides and tutorials, you can solve the biggest pain points of your target audience and easily demonstrate the value of your product/service.
2. Share Blog Posts
Want to get a lot of eyes on your latest blog post?
Instead of waiting for your audience to go check out your newest post, you can get them excited about it and drive traffic to your site by sharing it with them in an email—like the blog Easy Cheesy Vegetarian does below.

Remember to encourage your subscribers to share the post on social media themselves and make it easy for them by including share buttons in your newsletter.
3. Create Blog Post Roundups
Aside from sharing your latest blog posts one at a time, you can also create blog post roundups.
A blog post roundup offers your readers a number of your company's best blog posts to read. For example, you can create a blog post roundup of your most popular blog posts of all time or pull together a best-of-the-best roundup of blogs on a particular topic.
This is the perfect way to introduce your new subscribers to some of your older blog posts.
4. Share Your YouTube Videos
Do you have a YouTube channel for your business? If you do, start sharing your YouTube videos in your newsletter.
Videos are super engaging. In fact, including video in an email can lead to open rate increases of 6%!
It's important to remember though, your YouTube video will not necessarily play right inside an email. Email clients like Gmail, Outlook, and others don't have the technical requirements to make that happen.
So, it's best to add a static image of your YouTube video with a "play button" over top and link the image to your video hosted on YouTube. That way, when subscribers click on the play button on the image, it will open up the video on YouTube.
Here's how Patagonia does it: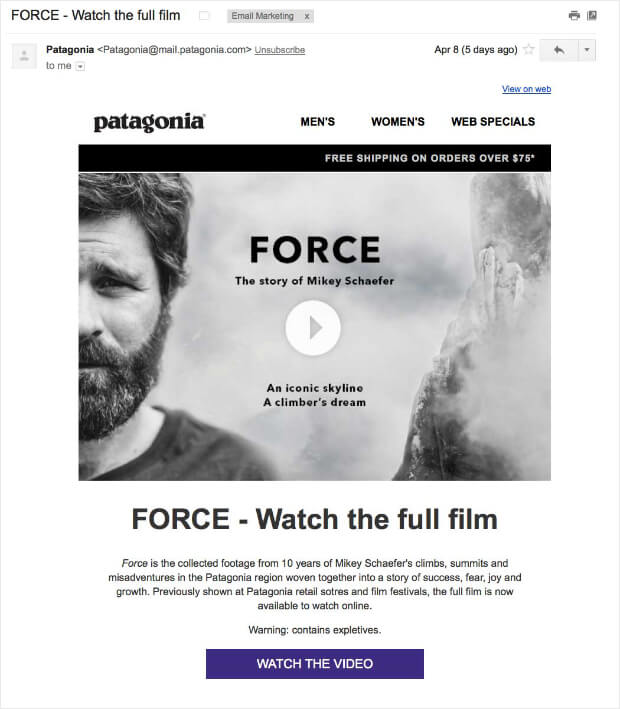 An obvious added bonus of sharing your videos with your newsletter subscribers is that it will help you get more YouTube subscribers and more views!
Promotional Newsletter Ideas
According to MarketingSherpa, about 60% of consumers subscribe to a brand's list to get promotional messages. So, there's nothing wrong with sending promotional emails to your subscribers once and awhile.
Let's dive into some promotional newsletter ideas that will generate sales.
5. New Product Announcements
Before releasing a new product, you need to get your audience excited about it. One way to do that is by sending them a new product announcement newsletter.
In the newsletter, you can let your audience know all about your new product and what day it's being released.
A newsletter announcing your new product will create a buzz and your subscribers will line up on launch day to purchase it.
6. Coupons and Promotions
Everyone loves a good deal so your subscribers are sure to enjoy getting emails from you that contain awesome coupons and promotions.
To increase conversions, create urgency with limited-time offers. For example, take a look at this eye-catching 8-hour sale email from Virgin Airlines: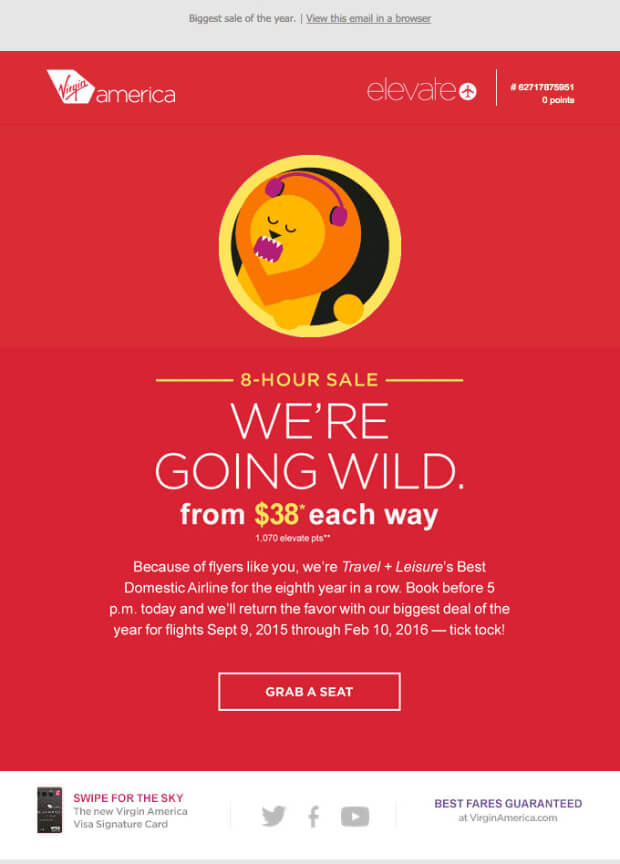 A limited-time offer like this will create a sense of urgency and have your customers rushing to the checkout.
You can increase urgency even more by adding a countdown timer to your newsletter to show the minutes ticking by.
Pair that with an OptinMonster sales countdown timer popup on your website and your sales will skyrocket.

7. Gift Guides
For eCommerce businesses, gift guide newsletters are a great way to promote the products you sell and generate more sales around the holidays.
Plus, they help your customers get their holiday shopping done quickly and easily.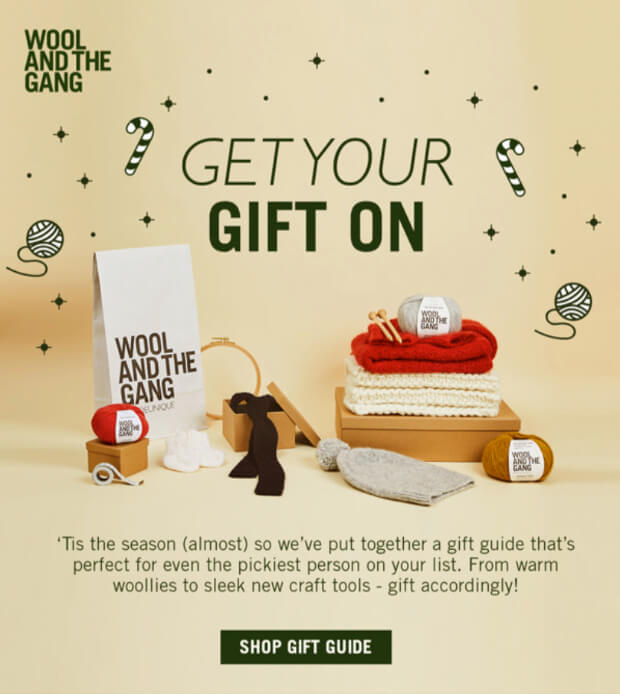 Don't worry, you don't have to wait until Christmas to create a gift guide.
You can create gift guides for any occasion; Valentine's Day, Mother's Day, Back-to-School, and so on.
8. Refer-a-Friend Program
Create a refer-a-friend newsletter asking your loyal subscribers to recommend your business to their family and friends.
You can have your subscribers forward the email to their contacts. Then, if someone signs up for your email list, you can reward the original subscriber with a special discount.
This is a great way to grow your email list and introduce your business to new, potential customers.
9. Case Studies and Testimonials
Case studies and testimonials act as social proof for your business. When a subscriber reads about a success story from one of your happy customers, it encourages them to become a customer too.
In fact, social proof statistics show that 92% of people will trust a recommendation from a peer and 70% of people will trust a recommendation from someone they don't even know.
So, craft newsletters to show off your business' case studies, testimonials, and reviews like Eight Sleep does below.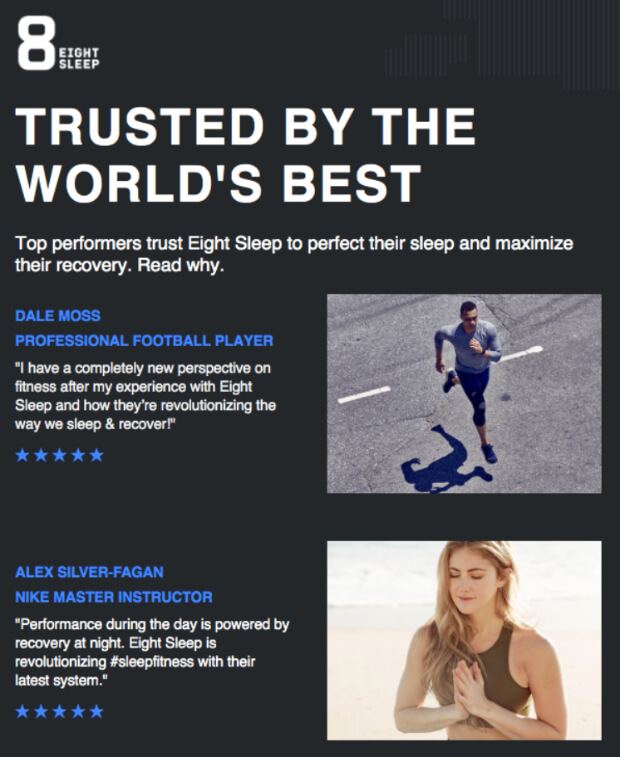 10. Show Off User-Generated Content
Another effective form of social proof is user-generated content. User-generated content is any content, like images or videos, that's created by users and shared on online platforms like social media.
Businesses typically repost user-generated content on their social media feeds, but you can also create a newsletter about it.
Here's how Glossier did it: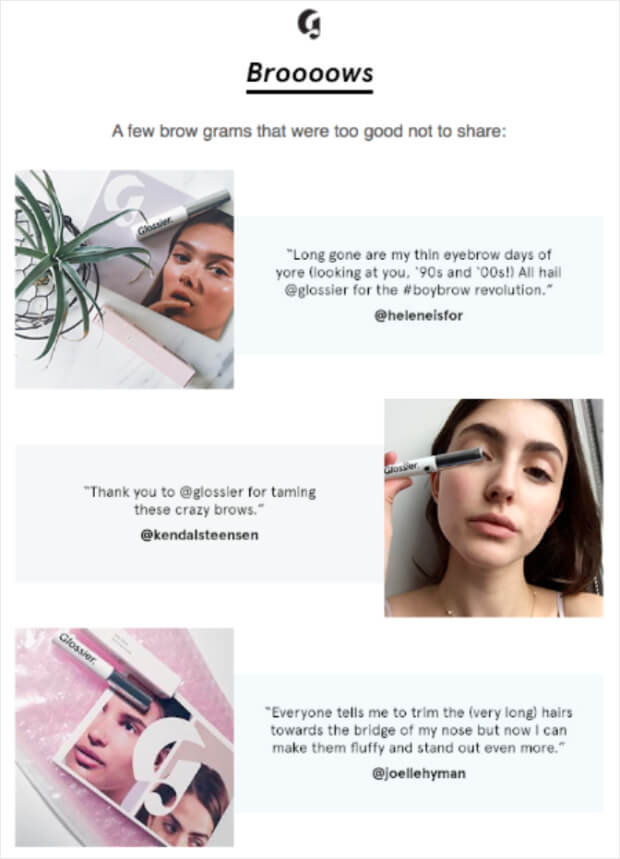 Creating a newsletter to showcase user-generated content will show your subscribers how many loyal fans your business has and it will help you boost sales too.
Newsletters For Events
Do you have an upcoming event you want to promote? Send a newsletter!
Take a look at these awesome newsletter ideas for events.
11. Event Invitations
Everyone loves getting a personal invitation to an exciting event.
So, if your business is holding an event for your customers and subscribers, be sure to send them an email invite.
Check out this gorgeous email invitation for a Loeffler Randall X Jenni Kayne pop-up shop.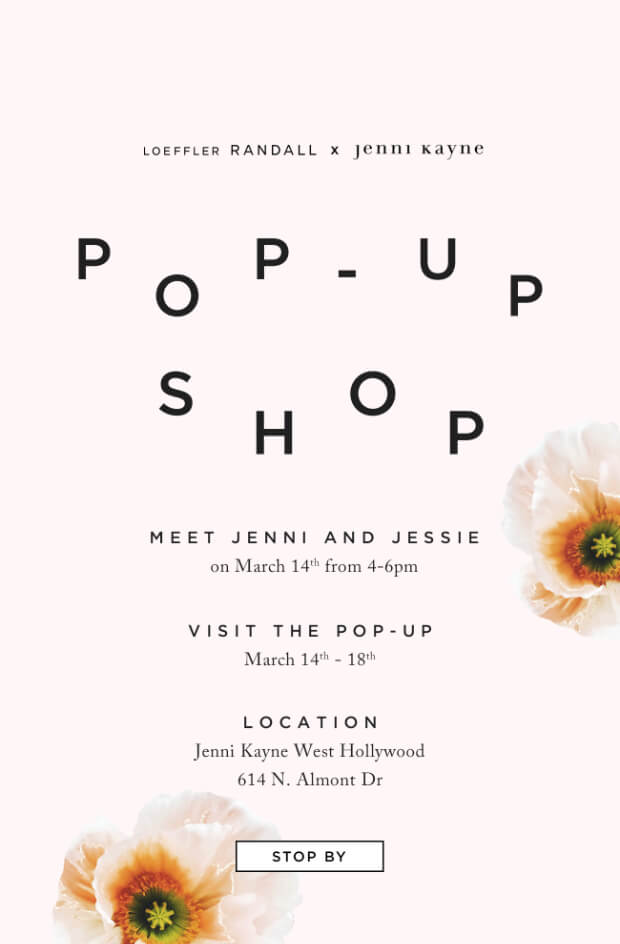 Sending an email invite is a great way to remind subscribers about upcoming events and get a lot of attendees.
12. Event Recaps
You can also create event recap newsletters. Event recap newsletters let subscribers who weren't able to attend the event find out what happened: what was talked about, who attended, how much money was raised—even what was on the menu.
This helps everyone feel included even though they weren't able to be there in person.
But, event recaps can also help inspire FOMO (the fear of missing out) in your subscribers. When your newsletter subscribers see what they missed out on, they'll be sure to RSVP for the next event.
13. Webinars
Webinar marketing is an effective lead generation strategy. With a webinar, you can provide free, valuable information to your target audience and turn them into email subscribers and eventually customers.
To promote your upcoming webinar, send an email about it to your newsletter subscribers.
Like in this webinar email from Mintel, be sure to provide the date and time of your webinar, details about what attendees can learn, and a link where they can register.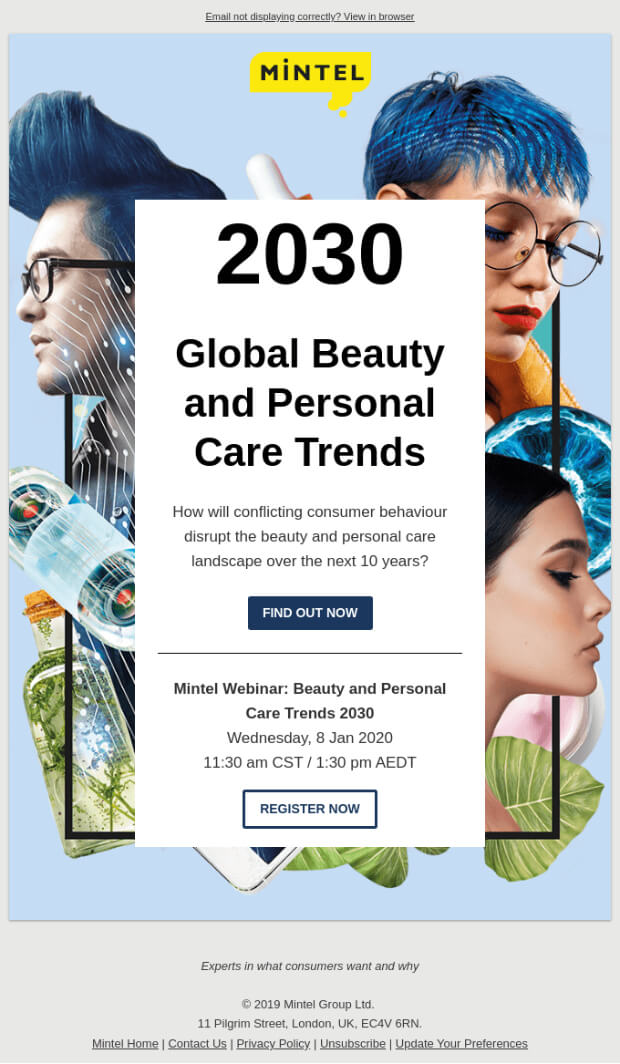 Newsletters with Business Information
Use your newsletters to keep your audience up-to-date with what's going on in your business.
Check out these business information newsletters you can send to subscribers to educate them about your business and your brand.
14. Share Your Company Story
To connect with your audience and let them get to know the person behind the brand—share your company story.
In this email newsletter example from CharityWater.org, they tell the story of how their non-profit organization got started with just a little idea among friends and how it grew into what it is today.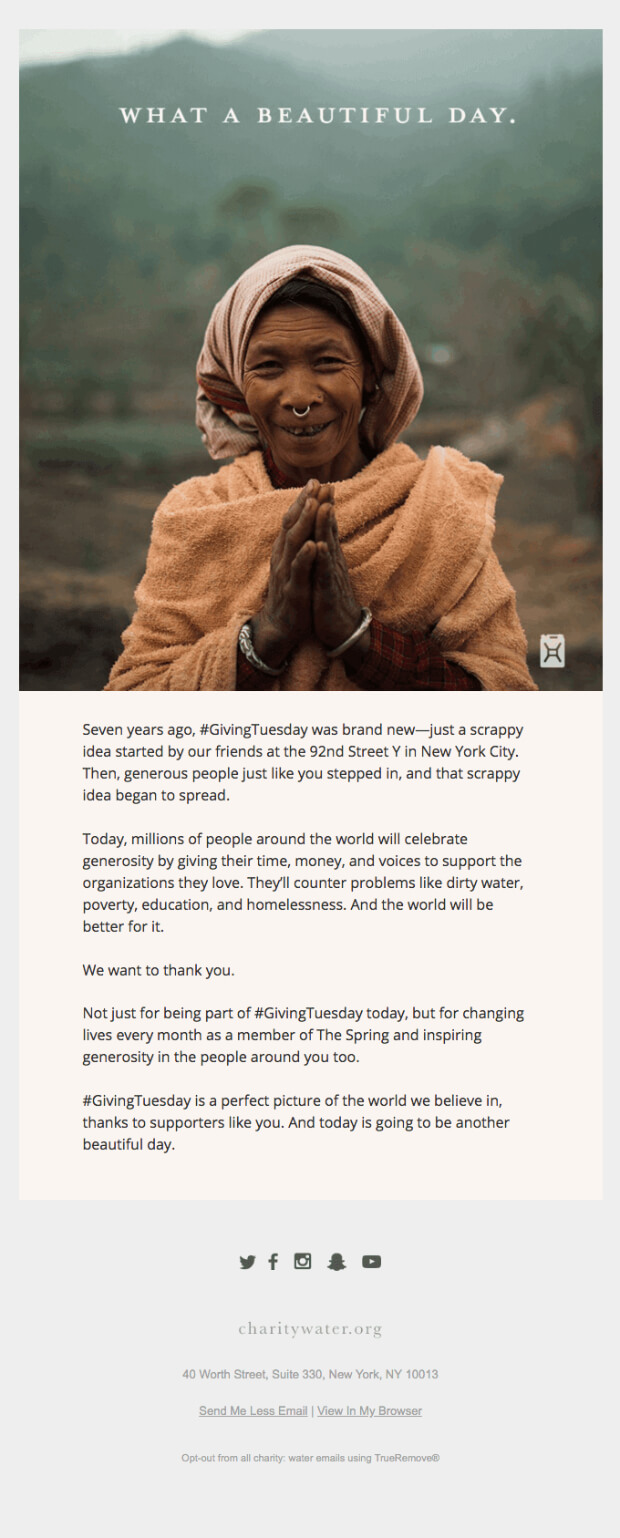 A personal, relatable story like this helps readers connect to the organization in a more meaningful way.
This idea doesn't only work for non-profits though. You can share the story of how your business started and why you do what you do to connect with your subscribers as well.
When your subscribers get to know the person behind the brand, they'll be more invested in the emails you send them.
15. Behind-The-Scenes Tour
Make your newsletters subscribers and your customers feel like VIPs by giving them a glimpse behind-the-scenes of your company.
Lush is famous for taking their audience behind-the-scenes of their company. In their behind-the-scenes videos, people are able to see exactly how their bath bombs, soaps, and body washes are made.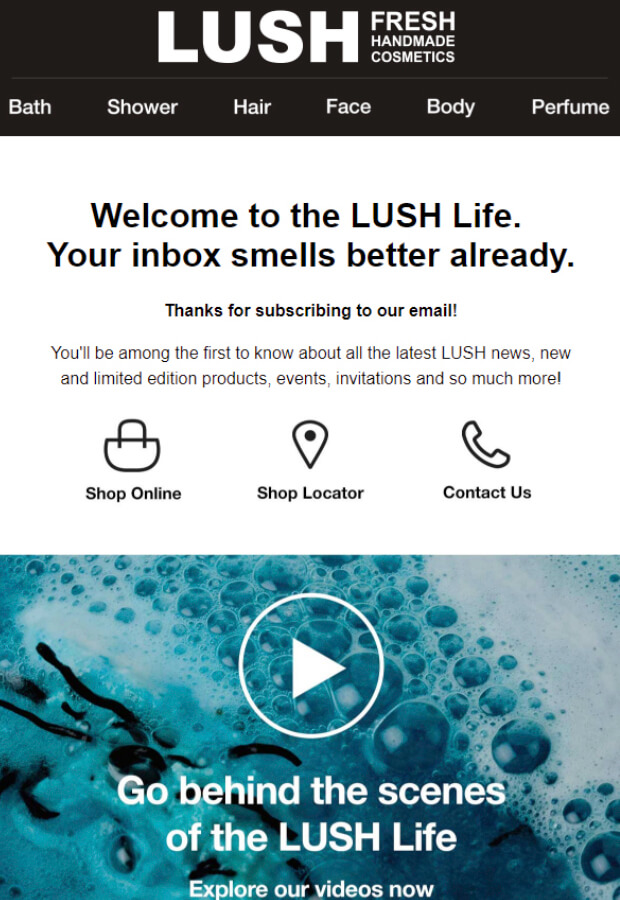 If you don't create a product, your business can give your subscribers a tour of your office space or take them behind-the-scenes of a photo shoot.
16. Employee of the Month
Let your newsletter subscribers get to know the awesome people that work at your company by sending out an "Employee of the Month" email.
With your employee of the month, you can include a photo of the employee, their name, job title, and a brief description about them, what they do, and what makes them so great.
When your subscribers feel connected to your and your employees, it increases brand loyalty.
17. Job Postings
Is your business hiring? Let your newsletter subscribers know!
Here's how the Pemberton & District Public Library lets their audience know they're hiring: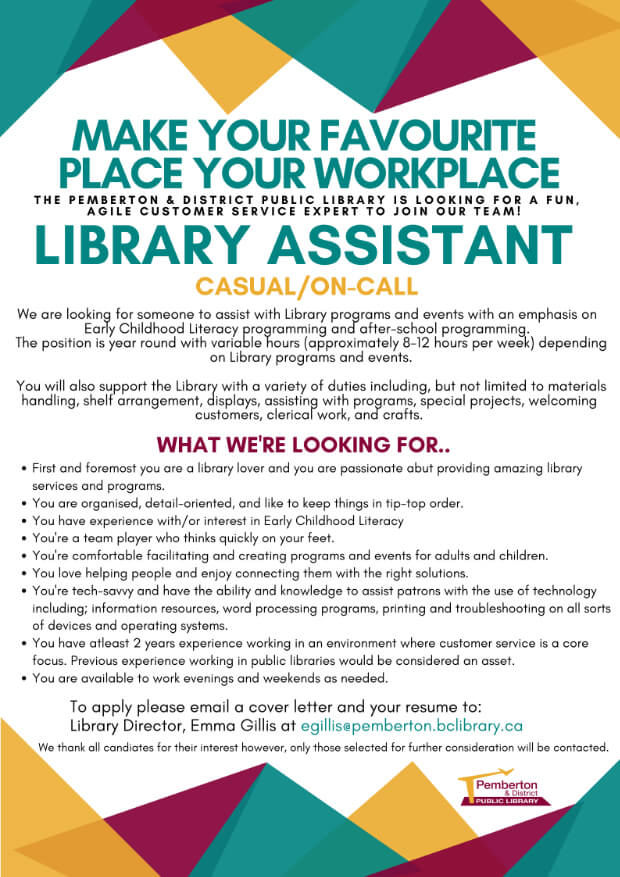 You never know if one of your loyal subscribers could become your newest employee. Or, they could pass the opportunity along to one of their talented family members or friends.
18. Frequently Asked Questions
You can also use your newsletter to answer frequently asked questions (FAQs). This is an easy way to help your subscribers learn more about your business.
Not sure what FAQs to answer?
Ask your customer support team or your sales team which questions they receive the most. That way, you can make sure the FAQs in your newsletter are relevant to your readers.
19. Industry News
Instead of only sharing news about your company in your newsletter, consider sharing news about your industry in general.
This won't work for every business. For instance, if you own a pizza restaurant, your customers likely won't be interested in hearing the news about the restaurant industry as a whole.
But, if your company is a B2B (business-to-business) digital marketing agency, your subscribers will obviously be interested in digital marketing news. So, you can share the latest industry trends or news with them to keep them informed and up-to-date.
20. Interview an Expert
Another way to create an interesting newsletter for your subscribers is by interviewing an expert.
You can interview an important figure in the industry or interview someone on your company's team.
You can also interview people that your subscribers will relate to, like their peers. For example, Interface Lover, a magazine for creative professionals, regularly interviews designers that their readers can be inspired by.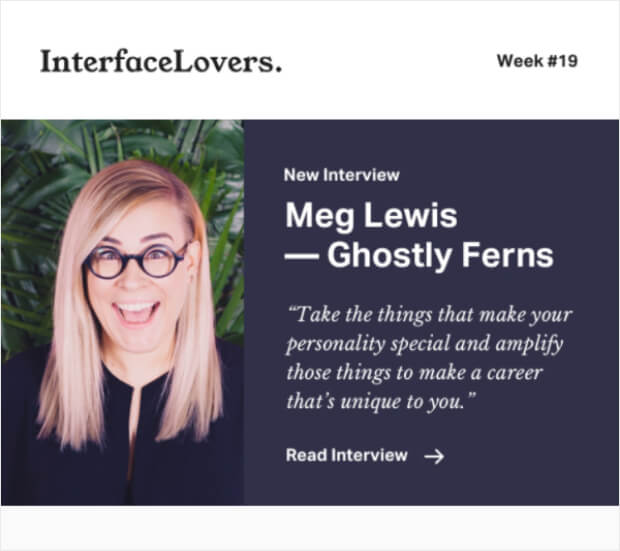 To get the most engagement, provide a video of the interview in your newsletter along with a link to a blog post with the full transcript.
Interactive Newsletter Content
Have you ever heard of interactive content? Interactive content refers to content that lets the audience actively participate. So, instead of passively reading or watching, users can click around and perform actions.
Here are some interactive newsletter content ideas you can use.
21. Ask for Feedback
People love sharing their thoughts and opinions. And interactive content like a poll or a survey does wonders for boosting engagement.
So, if you want to keep subscribers engaged, ask them for their feedback with a survey!
Here's how Lyft does it: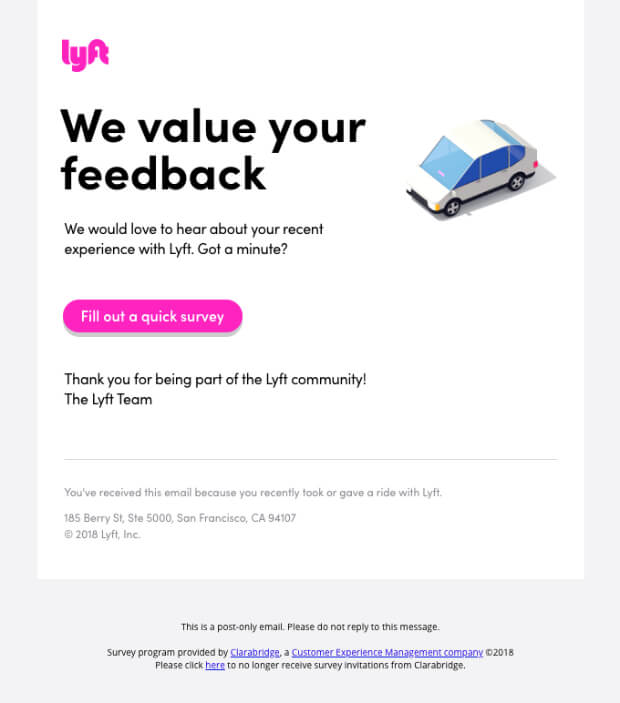 This is a triggered email that asks customers to provide Lyft with feedback about the ride they've just taken.
Sending a triggered email survey right after a customer's experience with your company is an effective way to gather feedback because the experience is fresh in the customer's mind, making them more likely to take a few minutes to answer some questions.
Aside from triggered email surveys, you can also send out a survey periodically to get your customers' opinions on your product or service in general.
You can easily create a survey using a tool like WPForms.
With WPForm's drag and drop form builder, you can create a survey that fits your exact needs in minutes and embed it to a page, inside a post, or to any part of your WordPress website.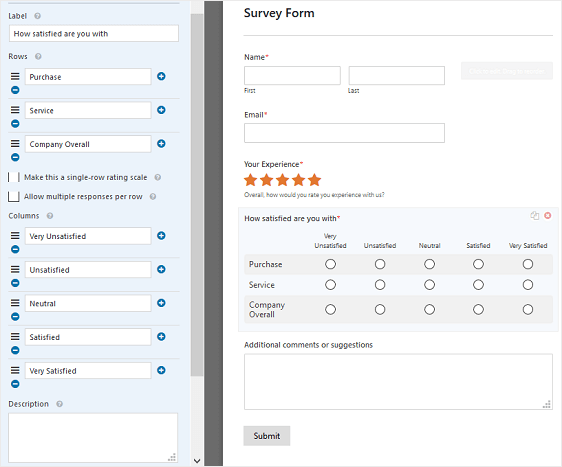 Then, simply send an email to your subscribers asking them for their feedback and include a link to the survey.
Asking your subscribers for feedback is not only a great way to keep them engaged, but you can gather valuable insights that will help you grow your business and keep your customers happy.
22. Run a Giveaway
Running a giveaway is another awesome way to keep subscribers engaged. Giveaways also help you drive more traffic to your site, grow your social media following, increase brand awareness, and more.
Giveaways work so well because let's face it…who doesn't love winning an awesome prize?
At OptinMonster, we recently ran a giveaway for a Macbook Pro that received over 60,000 entries!
Here's the giveaway email we sent out: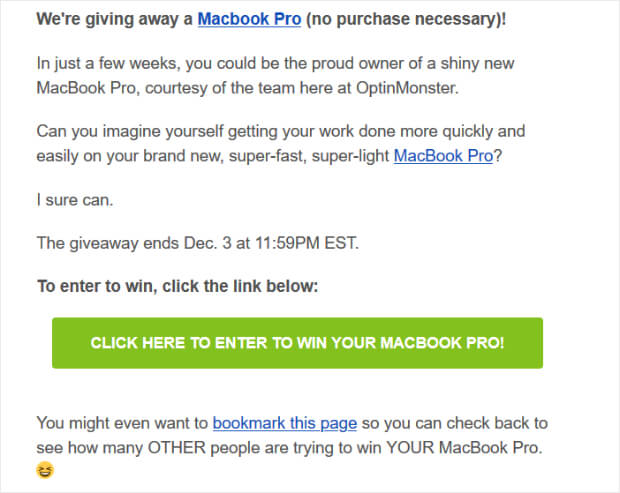 When readers clicked on the green call-to-action in the email, they were sent to a distraction-free giveaway landing page we were able to easily create with the best WordPress giveaway and contest plugin, RafflePress.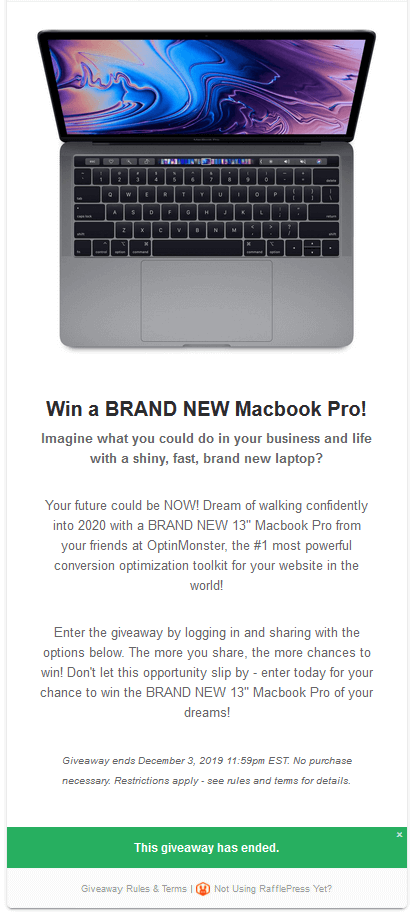 Plus, using RafflePress you can offer extra entries to users for completing bonus actions.
To enter your contest, you can ask your subscribers to follow you on Twitter or Pinterest, watch a YouTube video, share one of your Facebook posts, or visit a particular page on your website—all of which will help you keep your subscribers engaged.
23. Quizzes
Quizzes are super fun and people love them. Just take a look at the success of the website Buzzfeed—their silly quizzes—like "Build a sandwich and we'll tell you how old you are"—get a ton of engagement online.
You can get a similar amount of engagement by adding a quiz to your newsletter.
But for the best results, instead of creating a silly Buzzfeed-esque quiz, create a quiz for your subscribers that's relevant to them and your business.
Fun Newsletter Content Ideas
Lastly, it's important to have a little fun with your email newsletters. So, let's have a look at some newsletter ideas that are "just for fun."
24. Holiday Greetings
Bring your newsletter subscribers joy by sending them holiday greetings. A simple holiday greeting from your business will let your subscribers know that you're thinking of them on the special day.
For example, check out this email from Nordstrom, wishing their subscribers a Happy Thanksgiving.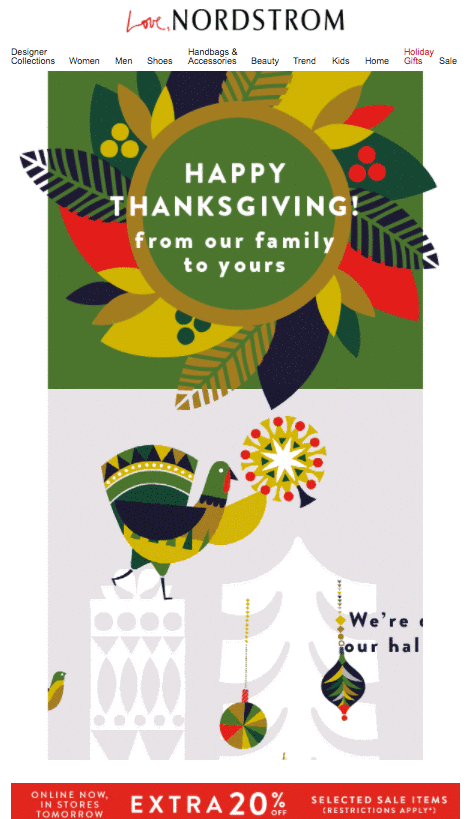 Also, notice how they use a fun animation to let subscribers know that they'll be decorating their website for the holiday—which helps Nordstrom drive more traffic to their website.
And remember, you don't have to wait until a major holiday like Thanksgiving or Christmas rolls around to send a cheerful greeting.
There are a ton of other fun marketing holidays you can whoop it up with your subscribers over, like:
Science Fiction Day (January 2nd)
National Pizza Day (February 9th)
International Women's Day (March 8th)
National Best Friends Day (June 8th)
And Many More
25. Share Your Recommendations
If you've listened to a great podcast recently, read a good book, or watched an awesome movie, share it with your subscribers!
Your subscribers will love learning what you're interested in and they'll get some awesome new recommendations they can check out for themselves.
Aside from fun stuff like movies and TV shows, you can also recommend useful resources or tools to your audience. For instance, if you have a blog that helps other people grow their blogs, you can recommend a cool WordPress plugin or content calendar tool you've been using.
26. Inspirational Quotes
When you come across an inspirational quote that's really meaningful to you, share it in your newsletter.
Inspirational quotes will add more interest to your newsletters, give your subscribers something to think about, give them something to relate to, and they can even help motivate them to reach their goals.
27. Pet Pictures
Everyone loves a cute pet picture, so why not share photos of your pets or your employees' pets in your email newsletter?
Here's how Carhartt does it: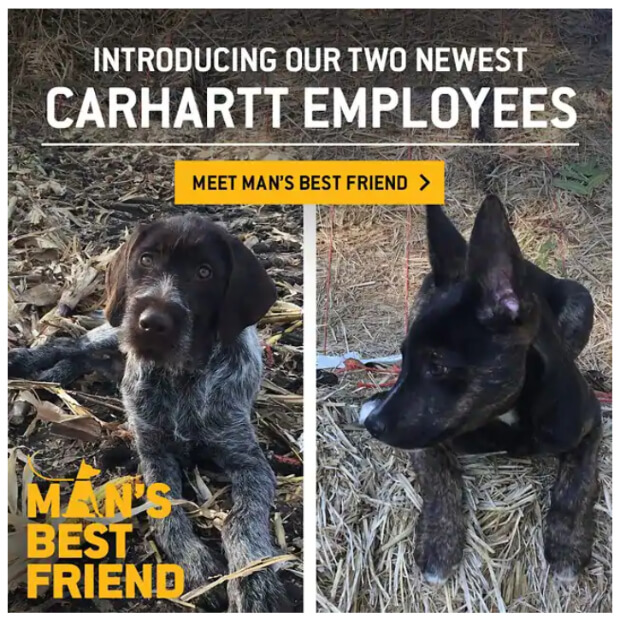 Sharing photos of adorable animals is a great way to skyrocket engagement, which is proven by the fact that animal photos are super popular on social media sites like Instagram and Facebook.
That's a wrap!
With these 27 newsletter ideas to keep subscribers engaged, your newsletter content strategy won't bore your subscribers. Instead, they'll always be interested in your messages and eagerly awaiting your next email!
Interested in learning more? Check out our definitive guide to email marketing.
Need more subscribers to send all of your engaging content to? OptinMonster is hands down the best tool you can use to create beautiful lead capture forms and grow your email list. Get started with OptinMonster today.