Do you want to recover abandoned carts on your eCommerce site?
Shopping cart abandonment is a common, painful reality for eCommerce store owners.
Fortunately, most abandoned carts are not lost forever.
The web's most profitable online stores already know this, and they use proven strategies to recover abandon carts. These tactics are incredibly affordable and easy to implement.
And they're all guaranteed to boost your sales.
In this post, you'll learn 12 ways you can start to recover abandoned carts right away.
Why Recover Abandoned Carts
If you're selling online, chances are you know the frustration that comes with shopping cart abandonment.
According to Statista, the global shopping cart abandonment rate is 69%.
Now, consider this:
Online shopping statistics show the global shopping market will hit 4 trillion.
The story behind these numbers is that there's a massive opportunity for online store owners like you.
But, if you want to make the most of it, you need to have a strategy to recover abandon carts. That starts with tracking shopping cart abandonment to see when shoppers are leaving your site.
Based on that data, you need to think about why people abandon carts in the first place.
The most common reasons for cart abandonment include:
Unexpected costs
No guest checkout option
Concerns about the site's security
Shopper's online browsing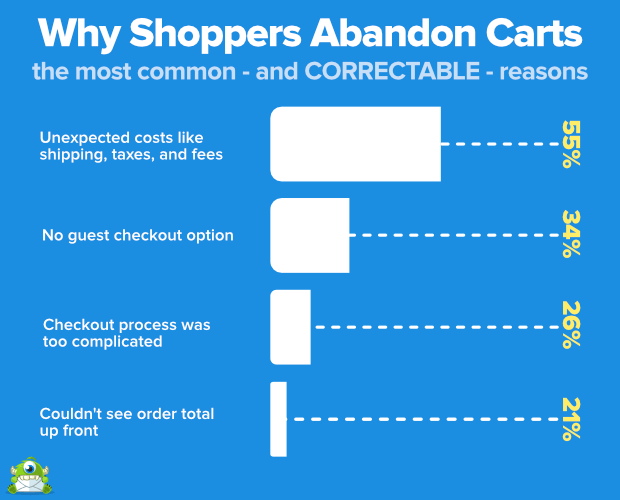 The best thing is each of the reasons above has easy fixes.
We're talking about changes you can make to your site today.
12 Ways to Recover Abandoned Carts
So, how do you recover an abandoned cart?
Here are the fastest, most effective ways you can recover abandoned carts starting today.
1. Offer Discounts With Exit Popups
Exit popups are a proven way to recover abandoned carts and boost online sales.
Here's how it works.
Exit-intent technology tracks your visitor's behavior. On desktop, it will monitor your shopper's mouse movements. Exit intent for mobile is triggered when your site visitor hits the back button or scrolls up.
As your site visitor is about to leave, you'll show them an exit popup with a targeted message like:
Invitation to chat with an agent
Special discount
Offer to download lead magnet and join email list
One of the best tools for exit popups in OptinMonster. OptinMonster lets you quickly and easily create exit popups without any coding skills.

Using OptinMonster's drag and drop builder and eCommerce templates, you can quickly create stunning, targeted popups.
It's incredibly easy to use. As a result, you can build popups that convert your site visitors into subscribers in less than 20 minutes.
SnackNation used this exit popup to convert 31.85% of abandoning visitors.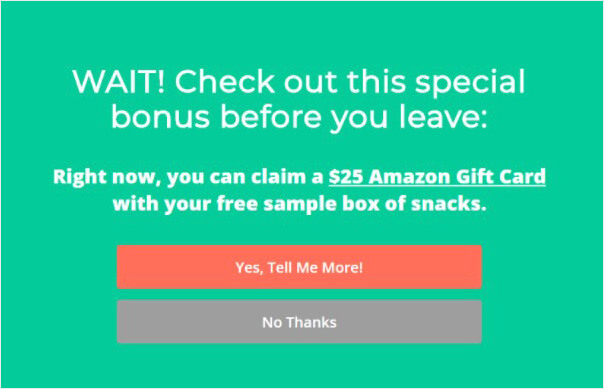 Check out this article for more ways exit popups can grow your business: 40 Exit Popup Hacks That Will Grow Your Subscribers and Revenue
Get Started With a Cart Recovery Popup Today!
2. Use Social Proof to Discourage Cart Abandonment
Successful store owners have a secret strategy to recover abandon carts.
They rely on fundamental psychology principles like social proof.
Social proof is the fact that people are influenced by others. When we see other people buying a product, we're more likely to try it too.
Using a tool like TrustPulse, you can display recent purchases on your site easily.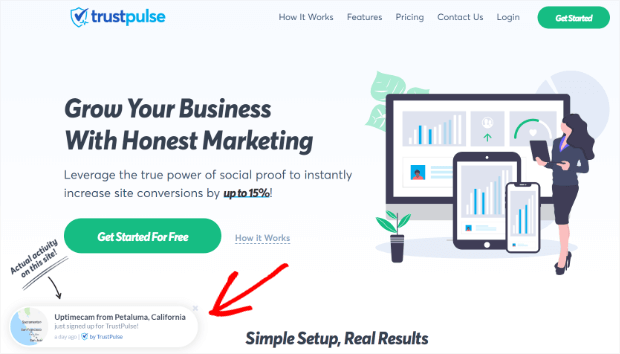 Adding TrustPulse has been shown to increase conversions by as much as 15%.
3. Create Urgency
Want to quickly reduce cart abandonment and increase conversions?
Then you need to use urgency.
Like social proof, urgency is another tactic that's rooted in basic human behavior.
When we know a deal is coming to an end, we're more likely to do something about it.
In other words, urgency motivates us to take action.
There are a few ways you can create urgency on your eCommerce site.
Consider adding countdown timers to special offers.
Cracku used this countdown timer to increase conversions.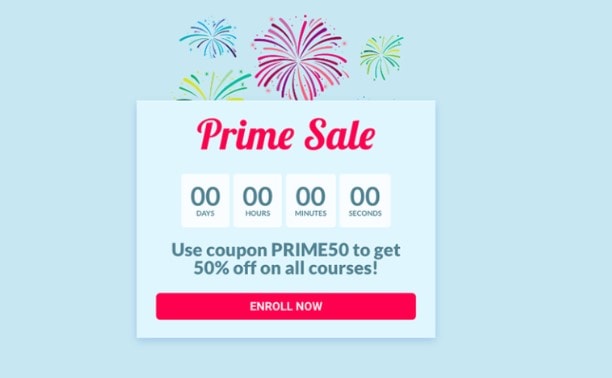 Try adding FOMO notifications. FOMO, the fear of missing out, is the idea that we don't want to lose out on a great deal.
If we think an opportunity is slipping through our fingers, we are more likely to make a purchasing decision.
4. Offer Free Shipping
One of the best ways to recover carts is to free shipping.
Of course, you'd need to evaluate whether this option makes sense for your online store.
If you're able to offer free shipping, you should display is across your site prominently.
Free shipping only works if your customer knows about it.
This means your shopper is aware of the deal as soon as they land on your site. Now, if they're doing comparison shopping, a free shipping offer might push them to choose your store.
Here's an example of a free shipping notification you can show:

5. Display Shipping Costs
If you're unable to offer free shipping, make sure your shoppers know the costs involved.
Here's where a shipping calculator comes in.
Shipping calculators let your customers easily add up their estimated costs.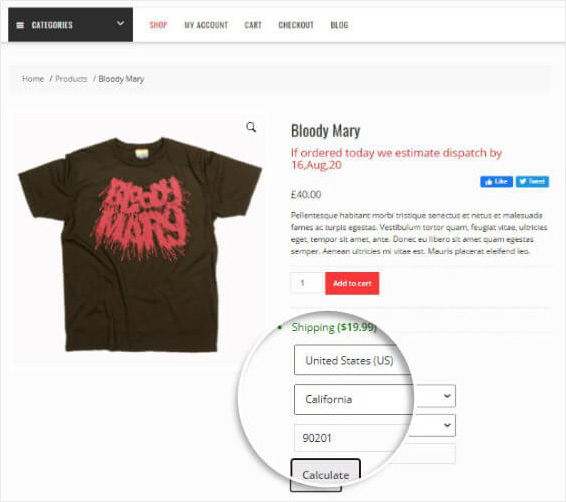 So, there are no surprises at checkout.
6. Make Saving Carts Easy
Allowing your shopper to save their cart makes it easy for them to come back later to finish their purchase.
There are several ways to make that possible:
Cart Saver: this Shopify app lets your customers easily save carts before checkout
Free Persistent Cart App: with this Shopify tool your customers can save their carts and access it across devices
WooCommerce Abandoned Cart Saver: automatically saves carts
For more, check out this article: 12 Cart Saver Tools You Can Use for a Big Boost to Your Bottom Line
7. Enable Guest Checkout
The benefit of online shopping is that everything is just so easy.
You don't need to deal with traffic or checkout lines.
And that's exactly how your shoppers like it.
If they encounter any complications when they're filling out your forms, they will abandon your site forever.
In sum, long, complicated checkout processes hurt your sales.
The answer?
Giving your visitors the option to use guest checkout is one solution.
If you're using WooCommerce or Shopify, you can easily enable guest checkout.
8. Abandoned Cart Emails
Picture this scenario:
Your shopper has added your products to their carts and is ready to finish the purchase.
At that moment, something happens.
Their cellphone rings with an urgent work request. Or perhaps, they lost internet connectivity. Whatever the cause, their purchase was interrupted.
It's not as uncommon as you might think. Most shoppers who abandon their carts intend to finish their order later. And, these shoppers only need a gentle nudge to finish their purchases.
Here's where abandoned cart emails help.
Abandon cart emails are messages you send to your customers to remind them about their orders.
It's a simple strategy to re-engage potential customers.
So, do abandoned cart emails work?
One research project found 60% of shoppers returned to make a purchase 24 hours after receiving a personalized email.
Here are lessons from the best abandoned cart email templates:
Grab attention with catchy subject lines
Create urgency with terms like "hurry"
Include links to the cart
Encourage purchases with incentives, like discounts
Several tools let you easily create and send automated abandoned cart emails:
Abandoned Cart Lite
WooCommerce Recover Abandoned Cart
Constant Contact
Yith Woocommerce Recover Abandoned Cart
9. Show Security Seals
Are you sure your customers trust you?
According to research on cart abandonment, 29% of people mention security as the key reason they leave a site before submitting a form.
It's up to you to show people their data is safe and protected.
Add well-known security seals like Norton and McAfee to your checkout page to signal to your customer that your site is secure.

Blue Fountain Media increased conversions by 42%, just by adding a Verisign trust seal.
That's a massive boost in sales for such a small change.
10. Offer Multiple Payment Options
Do you offer your customers multiple payment options?
Think about it like this:
The world of commerce is changing fast. In the real world, you no longer need to carry cash. Some stores will even let you pay for your purchase using only your smartphone.
So, it makes sense that your customers expect you to accommodate their preferred payment method.
Using a plugin like WPForms, you can accept credit card payments, Stripe, PayPal, and more.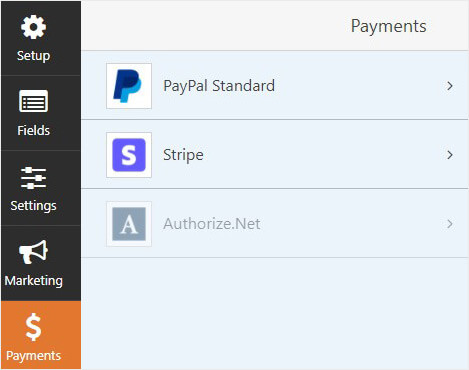 11. Track Cart Abandonment
The only thing worse than shopping cart abandonment is not knowing why you lost the sale in the first place.
Understanding your customer behavior helps to remove that uncertainty.
Dig into your eCommerce site's analytics to uncover your abandonment cart rate and other insights.
Install a plugin like MonsterInsights to track shopping cart abandonment.
These insights help to reveal where your customers abandoned their carts. Once you understand the intent, you're able to address the customer's concern.
12. Answer Questions
Shoppers who can't find the answers they're looking for will abandon their cart.
Adding live chat to your site means your customers can quickly get the answers they need.
LiveChat is a popular live chat software that connects with shopping cart platforms, like WooCommerce and Shopify.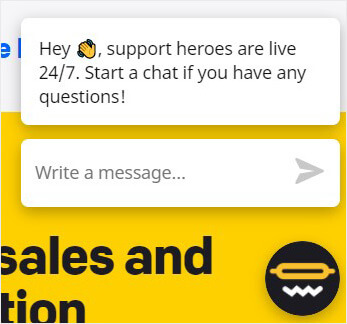 Check out this article for the best live chat plugins.
There you go. We've covered the best ways to recover abandoned carts.
Get Started With a Cart Recovery Popup Today!
If you're looking for more resources to grow your online store, check out these articles:
Want to turn your site visitors into paying customers? Get OptinMonster today.