Are you looking for the best Black Friday marketing tools that you can use to increase engagement and sales?
Black Friday isn't just another shopping holiday. It's become a full-blown money-making event. And while it used to be something only celebrated in the United States, Black Friday is now a global trend that attracts consumers from all over the world.
So if you're selling a product on your site, you don't want to miss out on all the potential sales you could make.
That's why, in this post, we've gathered 9 of the best Black Friday marketing tools out there to make this your most profitable year to date.
But before we dive into our list, let's check out a few Black Friday statistics to see why you need to take this holiday so seriously.
Why Does Black Friday Matter to Online Merchants?
It's no secret that Black Friday has become one of the busiest shopping days of the year. This is true for shopping online and in physical stores.
And yet, many online merchants aren't adequately prepared to handle the earning potential this holiday has to offer. Just check out some of these surprising Black Friday statistics from last year:
Black Friday had more than 93.2 million online shoppers
Online shopping hit an all-time high of $7.4 billion
$2.9 billion of Black Friday purchases were done with mobile devices
30% of all retail sales occur from Black Friday to Christmas
That last statistic is particularly important if you sell a product on your site. It indicates that Black Friday isn't just a one-day event full of consumer sales and merchant profits.
Instead, Black Friday is an event that kicks off an entire shopping season.
As people prepare for the holidays, they'll likely start spending money on Black Friday. But that doesn't mean they'll stop there. For the weeks that follow Black Friday, online shoppers will spend billions of dollars on decorations, seasonal clothing, and gifts for loved ones.
This is the perfect opportunity for you to target your audience on Black Friday, grow your email list, and make sure you get lots of sales for the entire holiday season!
Now that you know why Black Friday is so important to your online store, let's get into our list of the 9 best Black Friday marketing tools around.
9 Best Black Friday Marketing Tools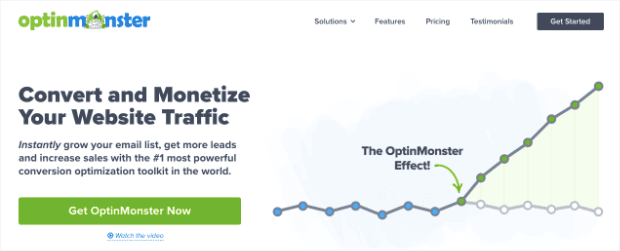 OptinMonster is hands down the best Black Friday marketing tool at your disposal. It lets you skyrocket leads and conversions by creating campaigns specifically for your Black Friday sales.
With OptinMonster's Black Friday templates, you can quickly and easily create stunning promotional campaigns such as:
Lead generation campaigns to grow your email list
Product recommendation campaigns to boost your sales
Shopping cart abandonment campaigns to retain potential customers
And many more.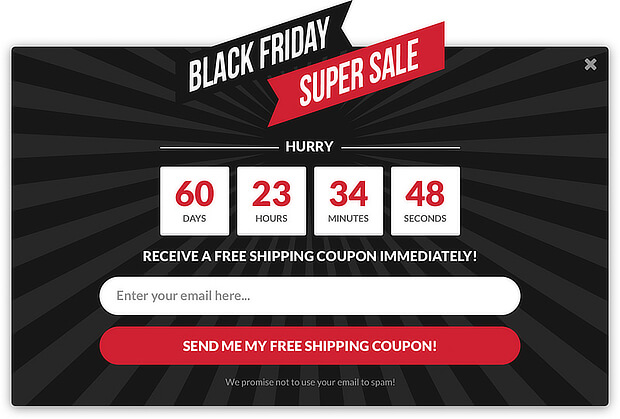 Plus, there's zero coding skills involved. That means you can create high-converting Black Friday campaigns in a matter of minutes, even if you don't consider yourself "tech-savvy."
OptinMonster also lets you segment and target your audience, so you can personalize your messaging. Not only does personalization improve user experience (UX) across your site, but it also increases your conversions and boosts your overall sales.
To learn more about how OptinMonster works, check out this resource: Is OptinMonster Worth It? An Extensive Review.
Create High-Converting Campaigns Now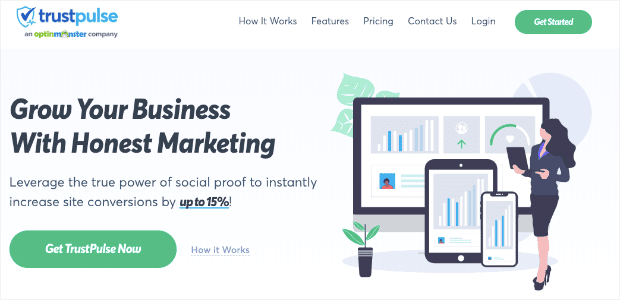 TrustPulse is another perfect Black Friday marketing tool to try out this year. It's a social proof software that can instantly boost sales by 15%.
But how does it work?
TrustPulse lets you build and embed social proof notifications on your website. These notifications let other visitors know when someone is positively interacting with your brand. This could be an interaction like:
Signing up for a newsletter
Registering for a webinar
Making a purchase
And much more.
Here's an example of what these social proof notifications can look like:

When your site's visitors see these notifications, they get hit with FOMO ("fear of missing out"). As a result, your site's visitors instantly feel compelled to take the same action they see in your social proof notifications.
That means TrustPulse lets you build credibility insanely fast while simultaneously boosting sales.
Get started with TrustPulse risk-free today!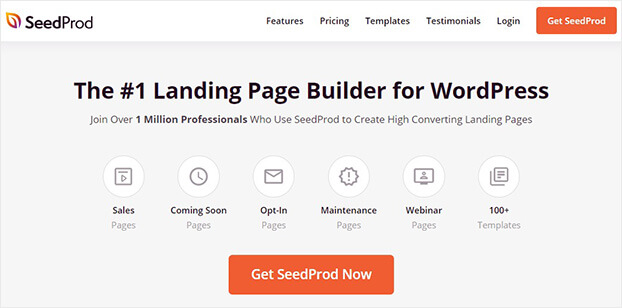 SeedProd is easily one of the best page builders for WordPress. But you probably already knew that. What you don't know, however, is why a page builder for WordPress is on our list of Black Friday marketing tools.
Two words: landing pages.
Whenever you're promoting a product, deal, or promotional offer online, you should be sending customers to a well-written landing page. That's because landing pages can be structured and written in a way that's more persuasive to a particular product or deal than a generic website page.
For your Black Friday promotions, you should have a few designated landing pages set up where you drive traffic from various channels. You could send all your social media followers to one page, for instance, and all your paid ads to another.
By taking the time to set up specific landing pages for various products on your site, you can be more effective in selling it. So, where does SeedProd come in?
SeedProd allows you to create stunning and high-converting landing pages in a matter of minutes. With its drag and drop builder, you don't need to know any code or have any technical experience.
Instead, you can quickly design a landing page that gets you more Black Friday sales with this intuitive and easy-to-use page builder.
Create your landing pages with SeedProd today!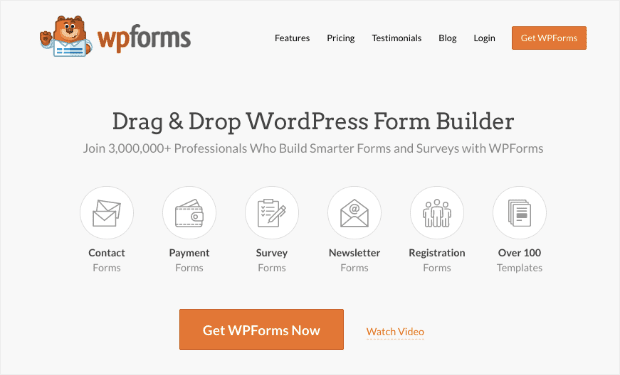 If you're running your website with WordPress, then WPForms is an invaluable tool for your next Black Friday event. This software lets you quickly create all of your website's forms in a matter of minutes. With WPForms, you can make:
Survey forms to improve your products or website before Black Friday
Order forms for customers to pick out their favorite times (and for you to collect payments)
Event registration forms
Newsletter sign up forms
And much more.
Plus, with its drag and drop form builder, creating the perfect form for your online store is easy. They've also got loads of templates to save you time and energy.
That way, you can focus your resources on other parts of your Black Friday marketing strategy.
WPForms integrates with Stripe and PayPal, so you can easily collect payments for all of your Black Friday orders. Again, if you run an eCommerce store on WordPress, then WPForms is an absolute must-have plugin.
Get started with WPForms today!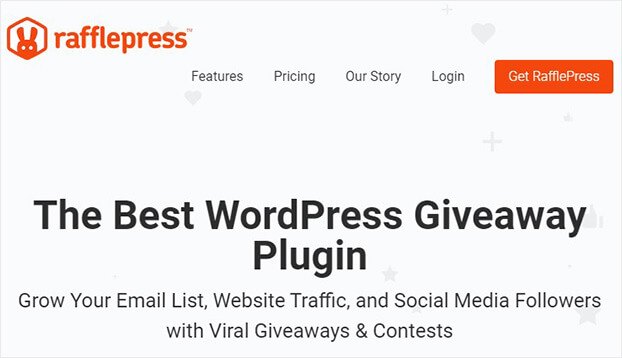 RafflePress is the best WordPress giveaway and rewards software to use for this Black Friday. This plugin lets you create online contests to boost engagement with your brand, grow your email list, and increase profits.
RafflePress has tons of features that can help with your Black Friday event, including:
Drag and drop builder for your giveaway form
Viral giveaway templates
1 click entry (plus fraud protection)
Refer-a-friend for viral sharing
Social media integrations
And much more.
All of these features allow you to create a contest to promote your Black Friday sales. As more contestants enter your contest, you can grow your email list and increase sales with clever email marketing.
Or you can grow your social media presence by adding entry points to users who follow you on your company's favorite social media platform.
There are so many ways to add RafflePress to your Black Friday marketing strategy. But no matter how you use the plugin, the result will be the same: more sales and profits for your eCommerce store this holiday season.
For more information, check out this helpful review of RafflePress.
Get started with RafflePress risk-free today!

MonsterInsights is the best Google Analytics plugin for WordPress. So you may be wondering, why is a Google Analytics plugin on the list for the best Black Friday marketing tools?
That's simple: unless you track your customers' journey and how well your promotions perform, your online store will always leave money on the table.
This plugin allows you to:
Learn which content attracts your target audience
Understand crucial demographic information about who shops with you
Analyze your store's metrics and KPIs in one place
And much more.
MonsterInsights lets you quickly and easily get all the data you need on your website, customers, and product sales directly in your WordPress dashboard. You can even create custom reports to keep up with your Black Friday promotions.
Plus, the plugin is easy to set up and requires zero coding.
The best part is that once your Black Friday event is finished, you can review the data and learn how to improve sales for next year.
Because when it comes to eCommerce, knowledge isn't power. Knowledge is profit.
And MonsterInsights gives you access to all the knowledge you need to run a successful Black Friday event.
Get started with your risk-free MonsterInsights account today!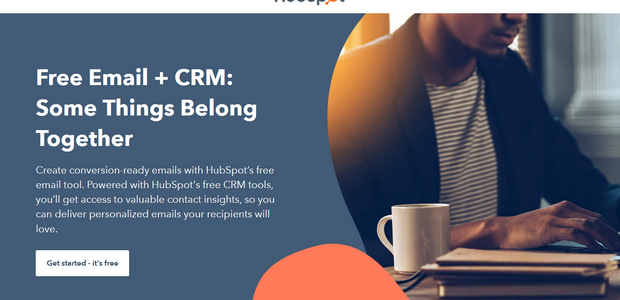 Hubspot is an excellent resource for any Black Friday event and beyond. Not only is it one of the best email service providers on the market, but it's also loaded with powerful marketing automationtools.
With Hubspot, you can personalize communication with your audience. It also lets you create an entire eCommerce storefront or even a website if you're just getting started.
It'll help you promote your Black Friday sales through social media, content optimized for search engines like Google, and, of course, via email.
As you grow your contact list from your store's Black Friday promotions, you can create drip campaigns to get more repeat business throughout the holiday season.
Sign up for Hubspot today to improve your email marketing strategy.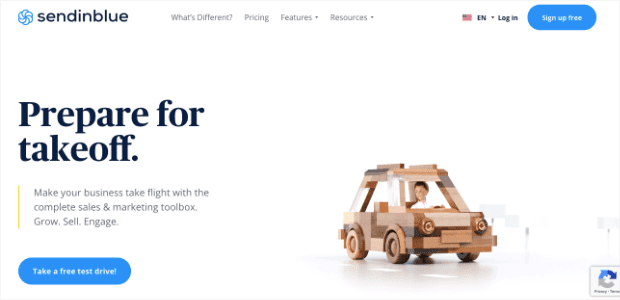 Sendinblue is another great Black Friday marketing tool to check out. Not only is it a popular email service provider for many eCommerce businesses, but it's a totally comprehensive marketing resource, too.
Sendinblue has just about everything you need to promote your Black Friday sales, communicate efficiently with your customers, and keep track of your store's performance.
You can use Sendinblue for email marketing, SMS marketing, and live chat. This level of communication helps you ensure your customer journey is as frictionless as possible.
It also allows you to have multiple channels for notifying customers about new sales, items that are getting lower on stock, and much more.
Finally, you can segment your audience to make sure that your Black Friday deals are personalized to specific parts of your audience. That leads to higher conversions across your site and, of course, more sales for your business.
Sign up for a free Sendinblue account today!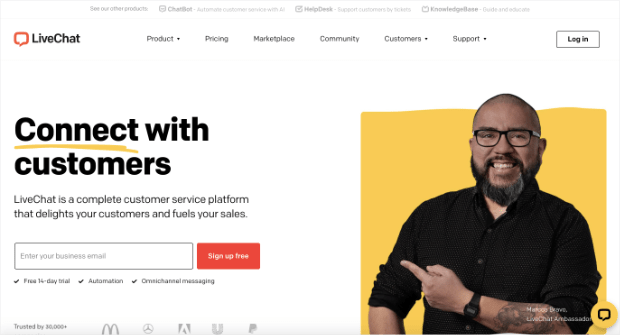 LiveChat is the perfect tool for adding a live chat feature to your website for Black Friday.
This software lets you streamline communication with your audience. But how does that help you boost sales for Black Friday?
You can use LiveChat to:
Answer customer questions to help them make crucial buying decisions
Redirect users to helpful articles that convert well across your site
Make product recommendations to customers looking for the perfect gifts
And much more.
The idea behind any live chat feature for eCommerce is to open up the lines of communication. That way, you can meet your site's visitors wherever they are in their customer journey. Then you can guide these visitors down your sales funnel until they complete their purchase.
For more information, check out this post on live chat best practices. That post will have everything you need to speak more effectively with customers across your site and increase profits for your Black Friday deals.
Get started with LiveChat today!
And that's it! We hope this article helped you find the best Black Friday marketing tools for your eCommerce store.
If you did enjoy this post, we highly recommend reading the following:
These articles will have everything you need to optimize your store for Black Friday and the holiday season that comes quickly thereafter.
Ready to start using the best Black Friday marketing tool at your disposal? Get started with OptinMonster today!