Flash sales are a really effective way to make a lot of sales quickly. In this flash sale guide, we'll go over what flash sales are, and how you can create an email sequence to help boost your bottom line. You'll also get examples of flash sale emails from companies that use these tactics.
Flash sales can boost your sales in a matter of days, if not hours. That's why they're so popular with eCommerce stores.
Let's dive into this flash sale guide by finding out what a flash sale is and how your business can benefit from them.
What Is A Flash Sale And How Do They Work?
A flash sale is a short-term discount or promotion that usually lasts anywhere between 24 to 72 hours.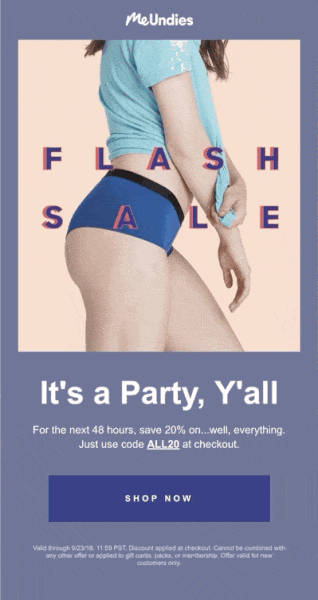 Ultimately, the goal of a flash sale is to entice online shoppers to impulse buy, netting a large influx of sales in a short period of time.
It's the urgency factor, the sale ending after only a short period of time, that gets people to take action and make a purchase.
There are a few main reasons why you might want to do a flash sale for your eCommerce business.
Get Rid of Excess Inventory
You can make an educated guess about how much of a certain product shoppers will buy, but sometimes you're going to end up with inventory that just won't move.
Flash sales are an extremely effective method of quickly selling off excess inventory, turning a negative situation into a positive one within a number of hours.
Sell Off "Out of Season" Products
Flash sales are also a great way to get rid of items that are out of season.
If you're selling to a market that goes through all four seasons, having a flash sale can help you get rid of that last bit of winter inventory to make room for fast selling spring/summer items.
This helps your lower operating and inventory costs on the back end.
Increase Brand Awareness
Hosting a flash sale presents a great opportunity to grow your brand awareness. Flash sales can put your store on the radar of other sites like deal sites and blogs.
These sales can vastly expand your visibility and even lead visitors to check out other non-sale products in your store.
Make Money Quickly
Finally, a flash sale can lead to a quick increase in cash and help your store's financial situation. And, you can always use the extra cash from the flash sale to order extra items in your inventory that you think will be popular with your market.
Next up in our flash sale guide, we'll show you how to put together a flash sale email sequence that will get attention, generate buzz, and drive traffic to your sale.
How to Run A Flash Sale Email Sequence
The success of your flash sale is determined by how large an audience you already have to promote it to. Ideally, this audience will live in your email list. Social media and website traffic can also convert as well, but the channel with the highest engagement and reach is email.
Therefore, the majority of the work that goes into a flash sale is not the sale itself, but in building up your email list before you run the sale.
If you're not doing so already, use OptinMonster to start collecting email addresses and grow your email list.
OptinMonster lets you create fully customizable forms and popups to capture emails. Plus, there are tons of other amazing features that engage and convert your traffic to paying customers.
If you already have an audience you can promote your sale to, the next step is building out your flash sale email sequence.
A Typical Flash Sale Email Sequence
Announcement
Launch
Last call
Last day (optional)
Here, we'll take a closer look at each of the flash sale emails in the typical email sequence. You'll also get a look at flash sale email examples from companies using this highly-effective marketing tactic.
Flash Sale Email #1: Announcement
The purpose of the first email is to announce your upcoming flash sale to your email list. Ideally, you want to include the words "flash sale" in your subject line.
Using "flash sale" right in your subject line makes it more likely for subscribers to open the email, as it would be a shame to miss out on a great sale.
Some other things to include in the flash sale announcement email are the amount of the discount, which items are going on sale and the dates of the flash sale.
Mr. Lube did a great job at including everything in their flash sale announcement email.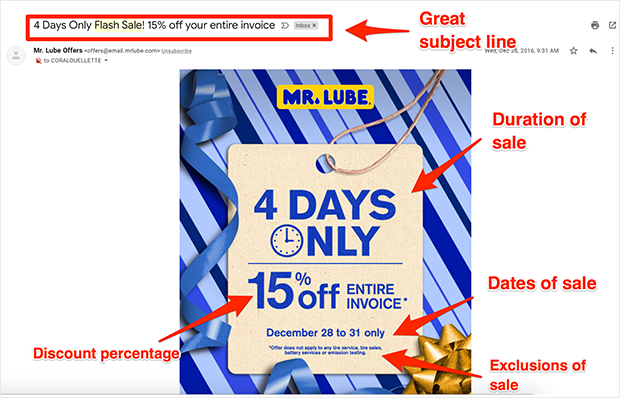 Mr. Lube also decided to include exclusions to the sale. This is especially important if you're offering a flash sale like this, where customers get a discount on their overall bill.
It's very common for corporate companies to create posters like the one above from Mr. Lube for their first flash sale email. If you're interested in doing this but hiring a professional designer isn't an option, you can always use visual content creation tools like Canva or Stencil.
Timing Your Flash Sale Announcement Email
People live busy lives, and some people don't even check their emails on a daily basis. Deciding on the right timing can involve trial and error.
Since a flash sale should have an air of urgency about it, you want to be careful not to send your announcement too soon. Announcing it weeks in advance could leave your announcement buried under hundreds of emails and your sale forgotten.
We recommend sending your announcement email 48 hours before the sale begins.
Flash Sale Email #2: Launch
This is the email that your customers have been waiting for. It's the email letting people know that the sale has started.
This email should be short and sweet. You can add a little bit of info about your offer, but the main focus should be getting people to click the link to your site.
It can be as simple as this: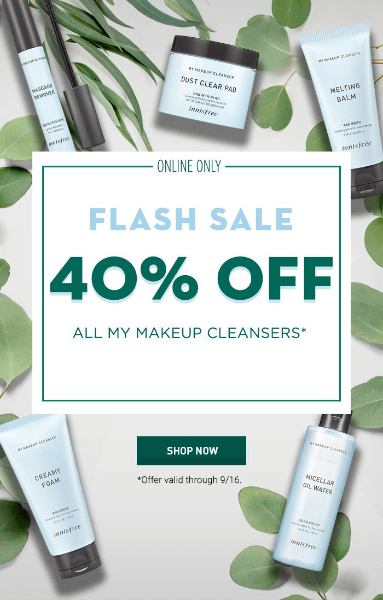 If you're offering a store-wide sale, you can also include links to all of your categories to make navigation easier: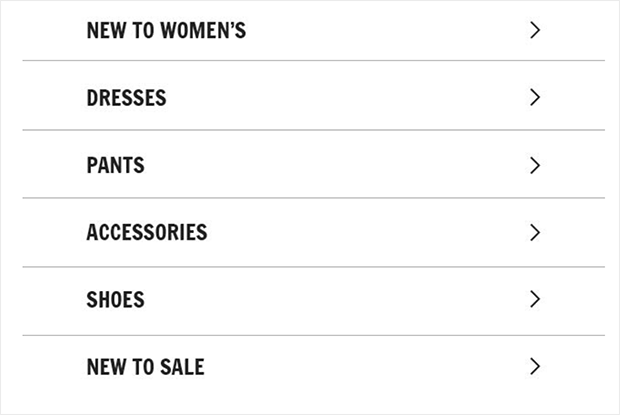 Flash Sale Email #3: Last Call
This is the final email telling people that the sale is ending soon. The last call email is when you're going to make the majority of your sales.
It should be sent 4-6 hours before the flash sale ends. People tend to leave things to the last minute, so doing this will push the last few to take advantage of the sale.
Scarcity/based campaigns are successful for one reason: people need to be pushed into action. As a result, the final email letting them know that your sale is going to end soon is when you'll make the bulk of your sales.
Urban Outfitters included the words "final hours" in their subject line, letting people know it's ending soon.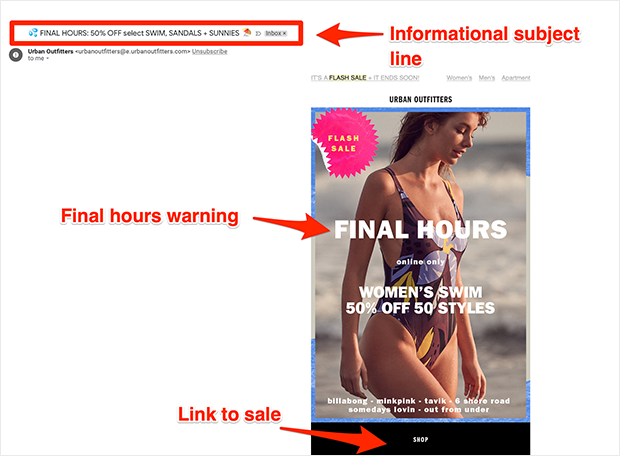 They also included a link to the sale, making it easily visible and clickable for mobile users.
Flash Sale Email #4 (Optional): Last Day
If you're running a multiple-day flash sale, on top of the "final hours" email, you can send a "last day" email.
People will be putting it off, especially if they know they have a couple of days to get to it. Sending one of these emails is just a great way to remind them that their time is running low, but they still have a day.
Then, if they still haven't had the chance to visit your sale, they'll be hit with the "final hours" email.
When Westjet was hosting a 3-day summer flash sale, they sent an email on the first day, letting shoppers know it had started. Then, they sent another email letting shoppers know they had one day left to take advantage of the sale.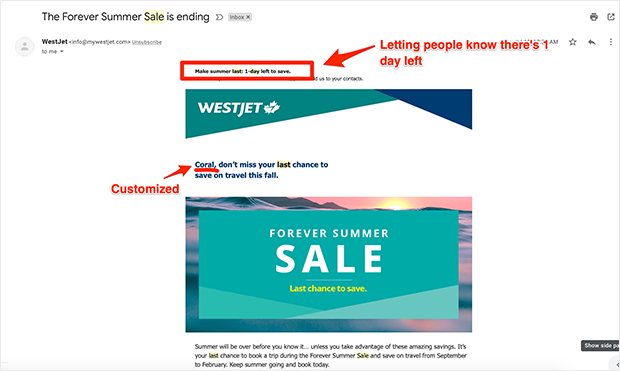 You'll notice they also included personalization by using the shopper's name, which was a nice touch.
In the next section of this flash sale guide, we'll share ways to make your flash sale emails stand out to potential shoppers.
Email Marketing Tips for a Successful Flash Sale
Here, we share a couple of tips to improve your flash sale emails.
The Importance of Your Subject Line
Did you know that 47% of email recipients open an email based on the subject line alone?
That's why you always want to make your subject line as catchy as possible and be able to deliver a BIG punch with only a few words.
You may also want to include the duration of your flash sale, discount percentage, or eye-grabbing emojis/icons to make it stand out.
Here's another example from Westjet. In this flash sale email, they included an emoji as well as the duration of their flash sale.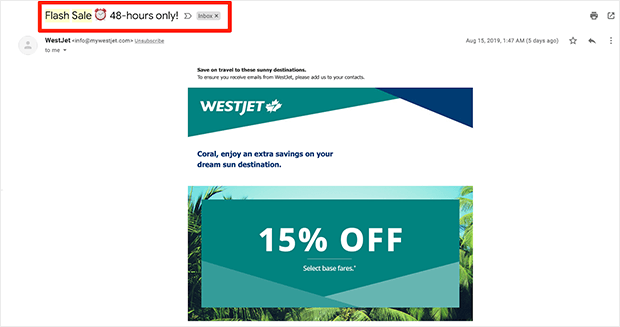 Adding emojis to your subject line draws the reader's eyes to your email and makes them more likely to click.
Text Emails vs. Image Emails
Do all of your promotional emails need to be a poster?
Not at all!
It's recommended that you use posters if you are selling physical products, as visuals can play a role in the buyer's decision.
But there have been many studies and case studies like this one that found using text emails actually converted better.
In the end, it all comes down to split testing with your own audience. It also depends on what you're selling, how many products you offer, and what industry you're in.
On-Page Flash Sale Notices
Don't have an email list yet? You can let people know about your sale even if they aren't on your email list by using OptinMonster to create fullscreen welcome mats and popup forms.
To add a sense of urgency to your popups, use the countdown timer tool that lets you create "evergreen" countdown timers customized for each visitor.
Instead of selecting an end date, you choose the length of the timer in days, hours, minutes, and seconds.
Here's an example: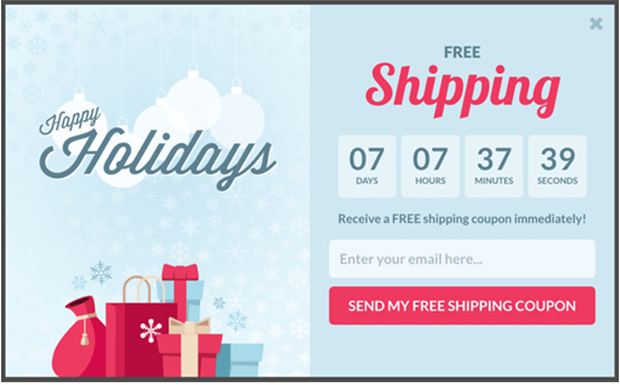 Did You Know: You can collect and store leads right in your OptinMonster dashboard—even if you don't have an email marketing service—with Monster Leads. It's never too early to start building your list. Get started with OptinMonster today!
Should You Run A Flash Sale?
Flash sales are a great way to make a lot of sales in a short period of time. Some companies will run them to clean up their inventory, but the major benefit is that you can boost your bottom line in a flash.
As we mentioned, flash sales are mainly done through email. The larger your email list, the larger your flash sales can become. Make sure you're collecting emails on your site to grow your email list if you aren't already.
When you're ready, running a flash sale is very simple. Just follow the email sequence shared in this flash sale guide. ?
And remember, urgency is what makes flash sales successful, so using tools that illustrate urgency (like countdown timers) on your site is going to help your sales in the end.