Are you looking for a way to drastically boost sales in a short amount of time?
Then flash sales might just be the solution you're looking for.
In this flash sales guide, we'll go over what flash sales are, and how you can create an email sequence to help boost your bottom line. You'll also get some flash sale email best practices to enhance this money-making tactic.
Let's get started by finding out what a flash sale is and how your business can benefit from them.
What Is a Flash Sale and How Do They Work?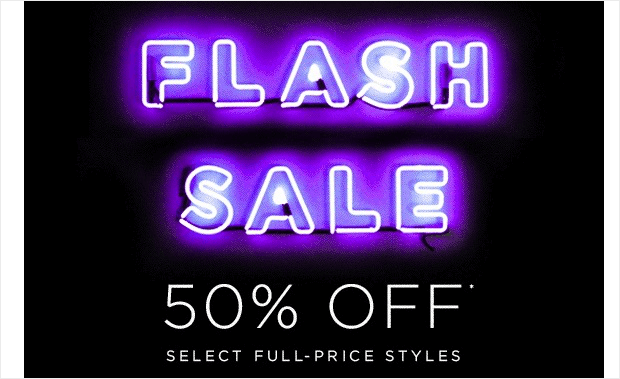 A flash sale is a short-term discount or promotion that usually lasts anywhere between 24 to 72 hours. And they're great for bringing in some quick revenue.
Flash sales can boost your sales in a matter of days, if not hours. That's why they're so popular with eCommerce stores.
Ultimately, the goal of a flash sale is to entice online shoppers into impulse buying, netting a large influx of sales in a short period of time. And it's effective because it leverages the power behind the fear of missing out (FOMO).
FOMO is a psychological phenomenon that occurs when people think they may miss an opportunity. Typically it's associated with someone comparing their lives to others on social media.
But clever marketers know that FOMO extends to sales.
By creating a sense of urgency around your product or promotion, people are more likely to take action and make a purchase.
There are a few main reasons why you might want to make a flash sale for your online store.
Get Rid of Excess Inventory
If you sell physical products, you know how hard it is to predict how much inventory you need. Sometimes, you may undershoot your goals and get stuck with excess inventory.
That's where a flash sale can save the day.
Flash sales are an extremely effective method of quickly selling off excess inventory, turning a negative situation into a positive one within a few hours.
Sell Off "Out of Season" Products
Flash sales are also a great way to get rid of items that are out of season.
If you're selling to a market that goes through all four seasons, having a flash sale can help you get rid of that last bit of winter inventory to make room for fast selling spring/summer items.
This helps you lower operating and inventory costs on the back end.
Increase Brand Awareness
Hosting a flash sale presents an excellent opportunity to grow brand awareness. Flash sales are great for posting on whichever social media platform you use for your business.
Even though someone in your network may not be interested in your product, chances are that they'll share your deal with friends and family.
As your brand makes its way through social media posts, you'll be getting more free exposure that can have a long term impact on your business.
Plus, flash sales can lead to visitors making other purchases on your website.
Make Money Quickly
Finally, a flash sale can lead to a quick lift in transaction rates. That means more money, fast.
Even though flash sales reduce the profit margin of each item you sell, the overall impact of your promotion can more than compensate for that.
It's the same mentality behind Black Friday sales: make less profit on each individual product, but more profits globally.
Then you can always use the extra cash to invest in your company by buying other products, purchasing marketing tools, or hiring new talent.
At any rate, flash sales create quick revenue that goes far and beyond anything your products would have gained while collecting dust on the shelf.
Now that we know what a flash sale is and why you'd want to use one, let's look at how to put a flash sale email sequence together to accomplish 3 things:
Attract attention
Create a buzz around your brand
Drive traffic to your sale
Let's get started.
How to Run a Flash Sale Email Sequence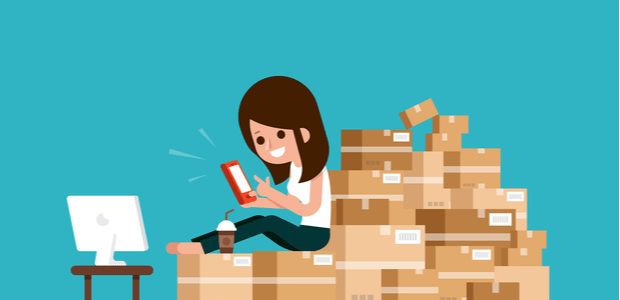 The success of your flash sale is determined by how large an audience you already have for the promotion.
Ideally, that audience will come from your email list.
Now, if you don't have a robust email list to work with, don't worry. Social media and website traffic can also convert, as well.
But the channel with the highest engagement and reach for a flash sale is definitely email.
That means that the hard work has little to do with the flash sale itself. Instead, the difficult part will be building up your email list before running the sale.
Fortunately, OptinMonster makes that "difficult" process a whole lot easier.
With OptinMonster, you can create all kinds of campaigns that convert your casual web traffic into subscribers. We do that in many ways by providing you with:
Targeted optin campaigns
Yes/No campaigns
Triggers to respond to user behavior
Over 50 templates that work for desktop, tablets, and mobile
Email service provider integrations
And so much more.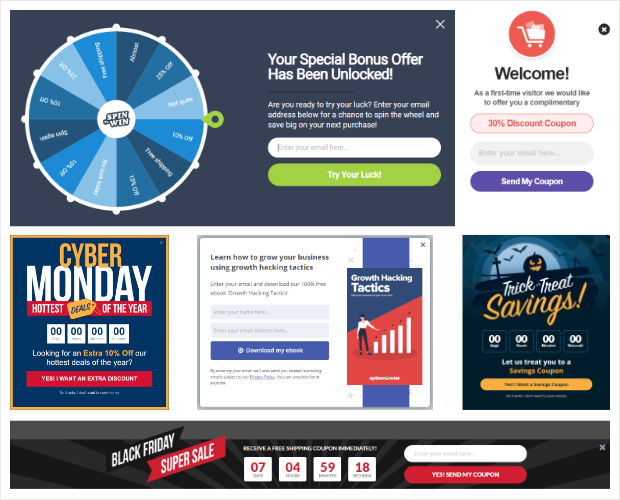 Seriously, trying to grow your email list without OptinMonster is like trying to get across the country on a horse: you can do it, and it's been done before…but it's a whole lot slower than taking a car.
When you use a conversion optimization kit, though, you can grow your audience quickly.
It's how blogger Adam Enfroy grew his email list to over 11,00 subscribers in one year. Or how AutoAnything was able to more than double its daily subscribers and increase its revenue by 20%.
And you can do the same.
Then, once you have a robust email list, promoting your flash sale is simply a matter of writing great email copy that persuades your subscribers to take action.
But if you already have a broad audience for your email series, congrats! You're one step ahead of the game. So the next step is building out your flash sale email sequence.
Here's what that looks like:
A Typical Flash Sale Email Sequence
There are 4 parts to any flash sale email sequence:
Announcement
Launch
Last day
Last call
Let's take a closer look at each of these steps. Then we'll look at a few flash sale email best practices.
Flash Sale Email #1: Announcement
The purpose of the first email is to announce your upcoming flash sale to your email list. Ideally, you want to include the words "flash sale" in your subject line:

Using "flash sale" right in your subject line makes it more likely for subscribers to open the email. Again, some more of that FOMO at work.
Some other things to include in the flash sale announcement email are the amount of the discount, which items are going on sale, and the specific dates of the promotion.
JR Cigars accomplished all three in their flash sale announcement: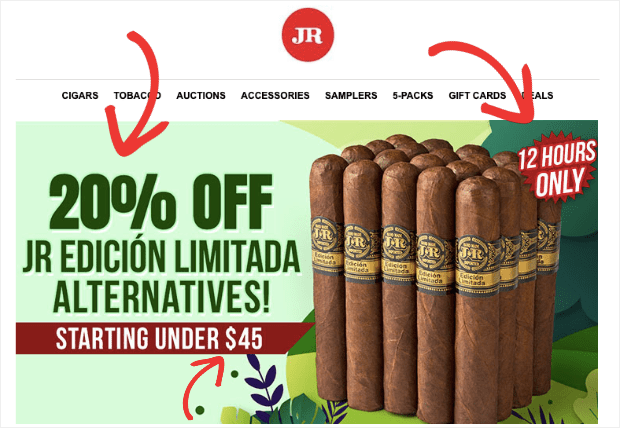 It's common for corporate companies to create posters like the one above from JR Cigars for their first flash sale email.
If you're interested in doing this but hiring a professional designer isn't an option, you can always use visual content creation tools like Canva or Stencil.
Also, notice the strict 12 hours only timeframe. That brings up an excellent question about when to send the first email in your flash sale series.
Because what happens if your customers don't even open the email until it's too late?
Luckily, you can use OptinMonster's dynamic countdown timers to work around customers missing out on your deal. A dynamic countdown timer will start when someone opens the email for the first time.
So rather than having a fixed end date, the 12 hours would begin once a subscriber sees the message.
You can build these dynamic with OptinMonster and share them with a MonsterLink® in your email campaigns.
But that still leaves the big question: when is the best time to send email #1 in your flash sale series?
The answer is simple: it depends.
People live busy lives, and some people don't even check their emails every day. Deciding on the right timing can involve trial and error.
This is true even if you're using a dynamic countdown timer for your flash sale.
Since a flash sale should have an air of urgency about it, you want to be careful not to send your announcement too soon. Announcing it weeks in advance could leave your announcement buried under hundreds of emails and your sale forgotten.
A good rule of thumb is to launch your announcement email roughly 48 hours before the sale begins. That gives you enough time to take pre-orders and prepare your inventory.
It also leaves enough urgency to create FOMO, but not so much that your customers feel rushed into a purchase.
Ok, now that you have your announcement email ready, it's time for the next step: the launch.
Flash Sale Email #2: Launch
This is the email that your customers have been waiting for. It lets people know that the sale has started.
This email should be short and sweet. You can add a little bit of information about your offer, but the main focus should be getting people to click the link to your site.
It can be as simple as this: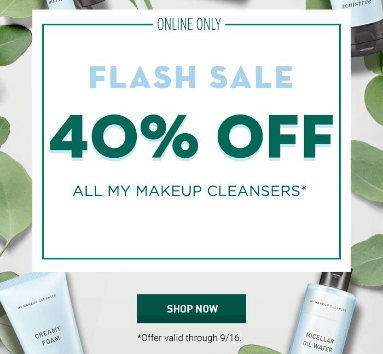 Notice the bold header announcing the flash sale, the amount of the discount, and the items on sale. They all lead customers to a single call to action, Shop Now.
If you're offering a store-wide sale, you can also include links to all of your categories to make navigation easier: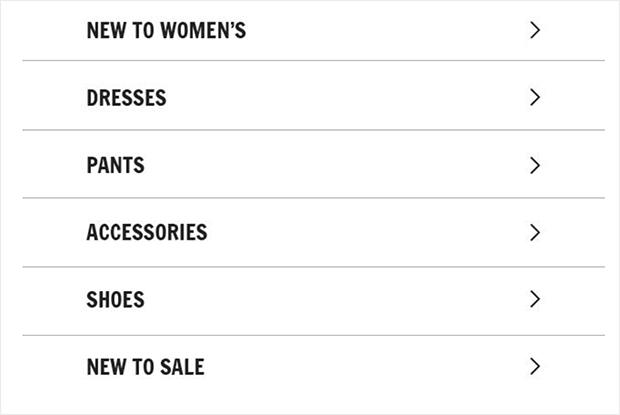 This will not only help visitors make purchases faster, but it will also improve user experience (UX).
And if you want to create returning customers, you need to make sure that you're creating a frictionless online experience.
You may also want to consider other things to improve UX, too.
This could include little perks like allowing guest checkout or providing free shipping on certain orders. Anything you can do to make the customer feel valued will go a long way toward building lifelong relationships.
Once you've launched your flash sale, you're almost done. You need to send a last day email to remind customers your flash sale is still going on.
Flash Sale Email #3: Last Day
If you're running a multiple-day flash sale, you can send a "last day" email.
People will always look for reasons to put off a purchase, especially if they know they have a couple of days to get to it. Sending one of these emails is an excellent way to remind them that time is running low, but they still have a day to redeem the offer.
Gap, Banana Republic, and Old Navy went in on a flash sale. After their first few emails, they sent out a last day email 24 hours in advance: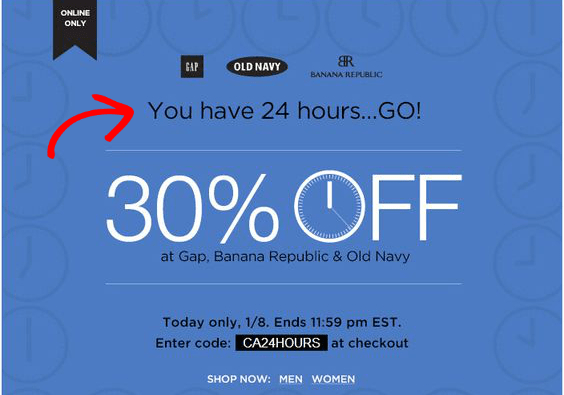 They also mentioned how much the sale was for, when it specifically ended, and gave the coupon code right there in the email.
The link at the bottom under Men and Women make it easier for companies to redirect customers to a more targeted landing page or product pages.
Once you've gone through your last day email, you're ready to push a little harder with a last call email to create more urgency.
Flash Sale Email #4: Last Call
Scarcity based campaigns are successful for one reason: people need to be pushed into action. As a result, the final email letting them know that your sale is going to end soon is when you'll make the bulk of your sales.
Your last call should be sent 4-6 hours before the flash sale ends. People tend to leave things to the last minute, so doing this will push the last few to take advantage of the deal.
Amy Porterfield does 2 things to create more urgency with her last call email:
Puts "Final Hours" in the subject line
Begins the email informing users there are only 3 hours left to get the deal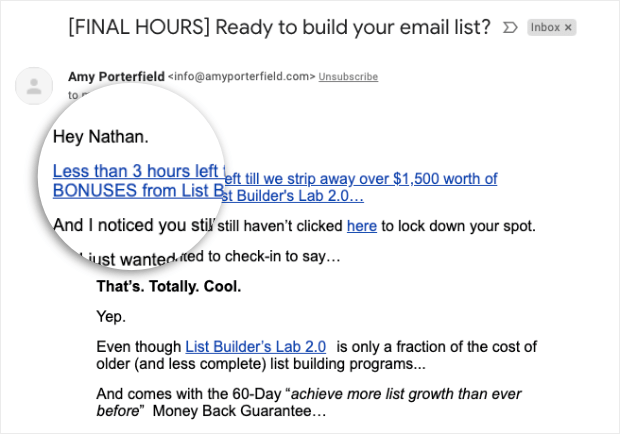 She also includes the same link for her product in 3 separate locations (in the blue text, above). That makes it easy for people to transition from this last call email to the sales page.
You may have noticed that throughout your flash sale series, you've slowly been increasing the sense of urgency. You've gone from:
Sale announcement
Launch
Last Day
Last Call
By this time, your clients will be itching with FOMO and ready to buy.
Now, let's look at a few flash sale email best practices to make your promotion stand out to potential shoppers.
Email Marketing Tips for a Successful Flash Sale
Here, we'll share a couple of tips to improve your flash sale emails.
The Importance of Your Subject Line
You always want to make your subject line as catchy as possible. Something that builds curiosity or overwhelms the reader with an exciting offer.
That's because 47% of email recipients open an email based on the subject line alone. That's right, nearly half of your email list will make the decision to open your email based on how much they like the subject line.
It may also be a good idea to include the duration of your flash sale, discount percentage, or eye-grabbing emojis/icons to make it stand out.
Here's an example we saw earlier in this post that uses emojis around the word Flash:

Adding emojis to your subject line draws the reader's eyes to your email and makes them more likely to click.
Text Emails vs. Image Emails
Do all of your promotional emails need to be a poster?
Not at all!
It's recommended that you use posters if you're selling physical products because visuals can play a significant role in a buyer's decision.
But some marketers make the claim that regular text-based emails are the way to go. One common argument is that using a text-based email can keep you from getting in the spam or promotions folder.
Because your email looks more like it's coming from a friend or family member, the theory is that text-based emails can boost your open rates.
In the end, it all comes down to split testing with your own audience. It also depends on what you're selling, how many products you offer, and what industry you're in.
On-Page Flash Sale Notices
Don't have an email list yet? You can let people know about your sale even if they aren't on your email list by using OptinMonster to create fullscreen welcome mats and popups.
To add a sense of urgency to your popups, use the countdown timer tool that lets you create "evergreen" countdown timers customized for each visitor.
Remember, you can choose either static or dynamic countdown timers, depending on the nature of your sale.
Here's an example: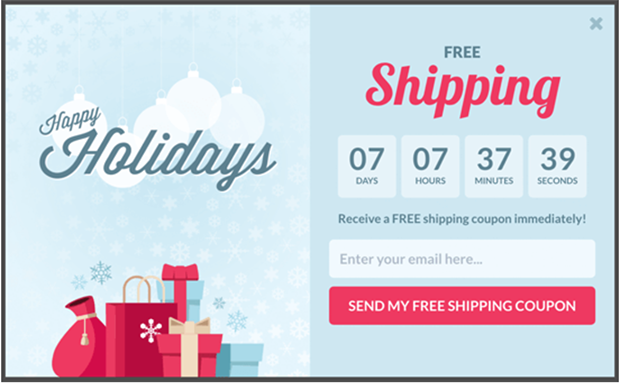 Did You Know: You can collect and store leads right in your OptinMonster dashboard with Monster Leads even if you don't have an email marketing service. It's never too early to start building your list. Get started with OptinMonster today!
By creating flash sale optin campaigns, you can accomplish 2 things:
Increase your revenue
Grow your email list
Since your flash sale's deep discount makes a great value proposition, it's the perfect tool for growing your list of subscribers.
Then, you can rely on email marketing best practices for future flash sales, product launches, company updates, and more.
Should You Run A Flash Sale?
Flash sales are a great way to make a lot of sales in a short period of time. Some companies will run them to clean up their inventory, but the primary benefit is that you can quickly boost your bottom line.
So should you run one?
If you have a large number of products sitting on your shelves, then you should absolutely run a flash sale.
A successful flash sale can create exposure, grow your email list, and make money. What's not to love about that?
Just make sure that you space your flash sales throughout the year to avoid flash sale fatigue.
If you run too many back-to-back promotions like this, you may train your customers to ignore the deals or kill the sense of urgency you're trying to create.
That's why some sites that run "daily deals" start strong, but lose customers over time. The urgency diminishes as the amount of your promotions increase.
But if you're strategic, running a flash sale can be one of the best business decisions you can make!
Do you have any flash sale advice or stories you'd like to share? If so, reach out to us on Facebook, Twitter, or in the comment section below.
We love hearing from our readers.
You can also head over to our YouTube channel for more marketing tips and tricks. These videos will help you drastically increase your email list.
And, as we mentioned, flash sales are most effective when done through email campaigns.
So make sure you're collecting email addresses on your site to grow your email list if you aren't already.
And for that, there's no better tool than OptinMonster.
Why not find out for yourself? Sign up for OptinMonster today, risk-free with our 14-day money-back guarantee check out this extensive review to see if OptinMonster is right for you!