Do you want to use your visitors' browser data to make more targeted offers and increase conversions?
Cookie retargeting is a term that you've likely heard in the past, but you may not be 100% clear on what it is or how it works.
That's why, today, we're going to teach you about cookie retargeting and how you can use it to boost conversions across your site.
By the end of this article, you'll have 11 actionable ideas for using cookie retargeting to get better, higher quality leads and drive more sales.
But first, let's clarify what cookie retargeting is and why it should matter to you.
What Is Cookie Retargeting?
Cookie retargeting is a strategy used by marketers and advertisers to show ads or optin campaigns to customers who have already interacted with their site in some way.
The ultimate goal is to use a customer's browsing data to personalize offers and boost overall conversions.
But what exactly is a "cookie."
Simply put, a cookie is a small piece of code that hides in the background of your site. When a customer visits your website, the cookie (also known as a pixel) is dropped discretely into the customer's server and loaded into their web browser.
The customer, however, never sees this cookie. Only the website owner (presumably you) can use it.
The goal is to build a profile of your customers based on the cookies they've collected.
Then, paid ad platforms can use personal data to show targeted advertising to people on 3rd-party sites. And you've probably seen this before.
When was the last time you went to a website, browsed a specific product but didn't make a purchase? Over the next few weeks, you probably saw ads for that exact product while browsing on other websites.
That's no coincidence.
It's cookie retargeting trying to re-engage you as you go through the customer journey toward that product.
It's easy to see how valuable this kind of retargeting can be. Rather than showing random campaigns or ads to all your site's traffic, you can create highly targeted and personalized offers to motivate customers to take action.
Now, let's turn to 11 ways cookie retargeting can help you boost conversions on your website.
11 Ways Cookies Boost Conversions
So far, we've spoken mainly about how cookies can be used for retargeting with paid advertisements.
But another way cookie retargeting can increase conversions is with your optin campaigns (like popups, floating bars, fullscreen welcome mats, and more).
When people visit your site, you can show targeted campaigns to users based on their stored cookies, even if you have minimal tech skills.
How? By using OptinMonster: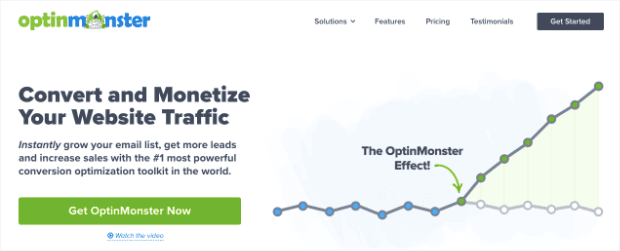 OptinMonster is hands down the easiest way to use cookie retargeting to boost conversions and sales across your site.
With OptinMonster, you'll build an optin campaign (again, like a popup or floating bar) as you normally would. Plus, our drag and drop editor allows you to build these stunning campaigns in a matter of minutes.
From there, you'll add a display rule that configures the key and/or value for the cookie you want to trigger your campaigns: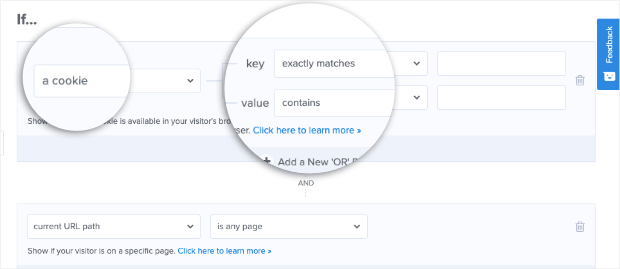 When a user's browser has a cookie that matches the key and value you've set, the campaign will appear with a targeted message or offer to that person.
In the end, you get much higher conversions, and your customers get higher quality service for the products they love.
Want to try it for yourself? Head over and sign up risk-free for OptinMonster's Pro or Growth plan to use cookie retargeting today:
Boost Conversions With Cookie Retargeting
In a moment, we'll take a look at 11 ways cookie retargeting can increase sales for your online store.
But first, we should make it clear that using cookie retargeting will require some knowledge for creating and setting cookies for your site's traffic.
That's because cookies may "live" on the client-side, but they are created on the server-side. In other words, you'll need to make specific cookies for your site to gather the data you want.
While we won't get into how to create cookies in this tutorial, we highly recommend reading this article by WPBeginner: How to Set, Get, and Delete WordPress Cookies.
Once you master that skill, the sky will be the limit for your retargeting options. Because anything on your site that you can increment measure, you can retarget with cookies.
Now, let's dive into our list!
1. Target Users by Age, Gender, or Location
If you have an online retail store, chances are you've got a variety of products. As such, you likely find that certain age groups, genders, or customers from specific locations tend to purchase some items over others.
You can use that information to make more targeted offers to your site's visitors.
An easy way to do this is to ask for specific information when people sign up for your store's account, such as the user's age group, gender, or location.
Then you'd create and set cookies for when the user is logged in.
From there, you can configure the key and value in OptinMonster for the cookie that tracks the piece of information you want to use. In this example, that would be the cookie you made for your visitor's age, gender, or location.
When those are properly defined in your campaign's display rules, your OptinMonster campaign will appear whenever the cookie's file is read from your visitors' browser.
Here's an example from a retail store targeting holiday gifts for grandchildren: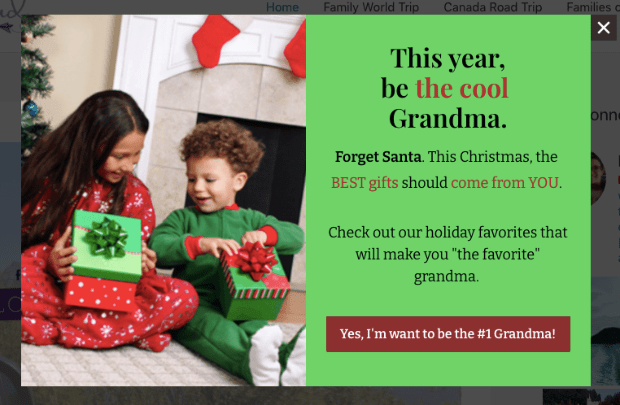 The campaign itself would only be effective if it were seen by people in an older age group.
This level of personalization allows you to make thoughtful product or content recommendations.
That means higher conversions across your site.
2. Upsell Based on Purchase History
Another surefire way to increase conversions on your site with cookie retargeting is to use the customer's purchase history.
You can create cookies for specific products and set them when your user loads the confirmation page.
Then you can create campaigns for related products to appear when users come back to your site: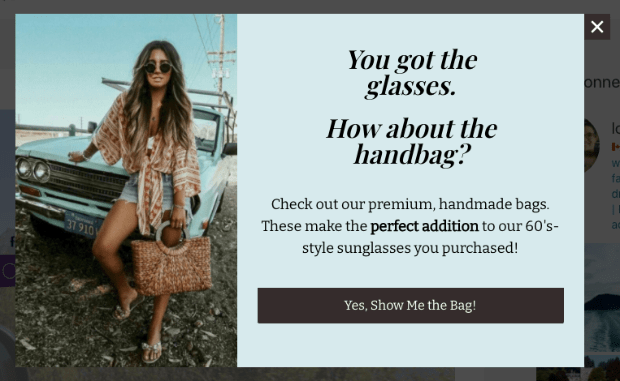 Since you're showing a campaign with a product related to one the customer has already purchased, you can expect a massive sales boost from these product recommendations.
3. Cross-sell With Items in Their Cart
Like in physical locations, online shoppers tend to browse, place items in their cart, and continue shopping.
But unlike in brick and mortar shops, customers can't always see all the products they might want to have.
That's what makes cookie retargeting so great for cross-selling your products.
You can create and set a cookie for when people put certain times (or a certain number of items) in their cart.
Then, when they continue browsing your online store, you can display a popup with a product recommendation. That would look something like this: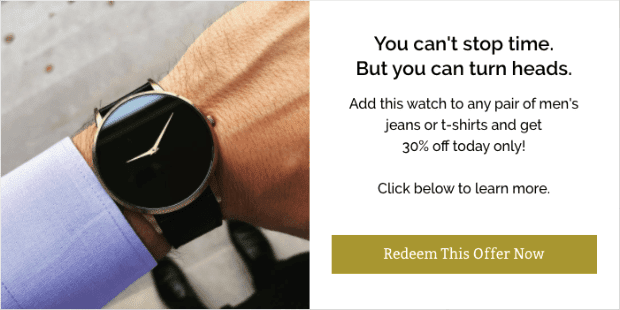 Notice the popup from the image above adds a coupon to make the cross-sell offer even more tempting.
You should also know that OptinMonster allows you to natively create these in-cart suggestions for WooCommerce, Shopify, and BigCommerce.
In other words, you don't need cookie retargeting to accomplish this on those specific platforms.
For all others, though, cookie retargeting will open up a whole new channel of sales for your site!
4. Add the User's Name to Boost UX
When it comes to cookie retargeting, you're already going above and beyond to personalize the user experience (UX).
But you can take things a step further by using OptinMonster's Smart Tags to add your user's name to the campaign.
This is an incredibly powerful strategy.
Imagine you run a SaaS company, and you've had a customer cancel their subscription. But you'd created and set a cookie for that product that is still resting in your customer's browser.
When they visit your site, you can hit them with a highly targeted offer to bring them back. And with Smart Tags, you can increase the effectiveness of the campaign by adding the user's name: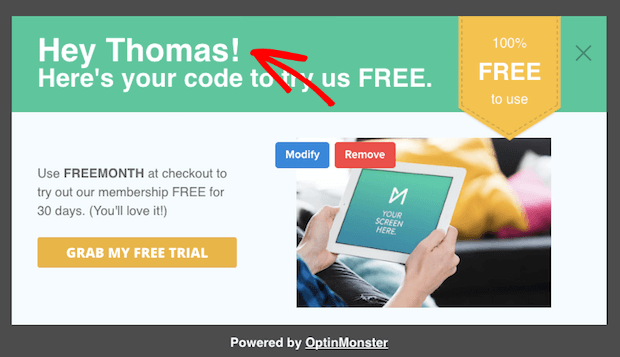 Combining the power of cookie retargeting with the personalization of Smart Tags is a guaranteed way of getting more customers to take the actions you want them to.
5. Reduce Cart Abandonment
A common way cookie retargeting is used in the eCommerce world is tracking the number of items someone has in their shopping cart.
Then, when they come back, they get a small message that lets them know they still have items waiting for them: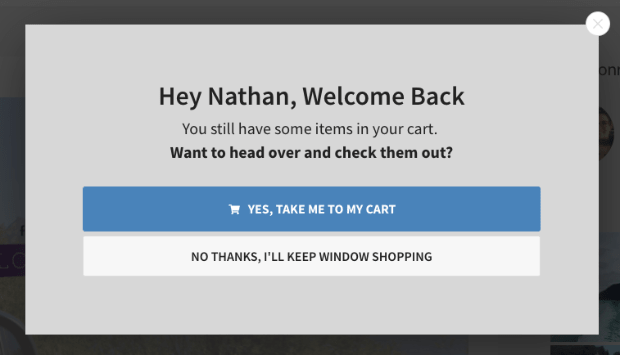 Sometimes a gentle nudge is all it takes to save an abandoned shopping cart.
6. Leverage Data from CRMs
Some customer relationship management (CRM) software such as Hubspot will display the cookies they set for visitors. Other email marketing service providers do, as well.
You can then use this data to target those cookies to returning users who have opted-in (or out) of offers.
The benefit here is that you don't need to create and set new cookies from your own site. You have open access to these platforms' cookies and, therefore, can track them for your OptinmMonster campaigns.
This lets you personalize your messaging to specific parts of your audience so you can reduce bounce rates and increase your conversions.
7. Transition Freemium Users to Paid Plans
For many SaaS companies, offering a freemium plan is a great way to build leads and gain more active users.
But over time, you'll want to convert those users into paying customers.
To do so, you create and set cookies for when users have reached the limit of their free plan's use.
This would then trigger a campaign that gets them to upgrade their plan. Here's an example of what this kind of campaign could look like: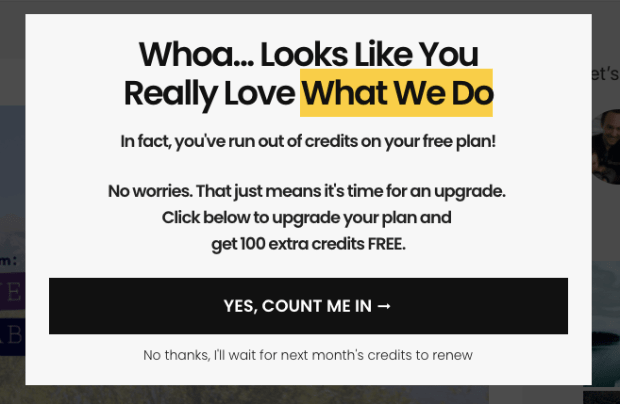 This can be an excellent strategy for transitioning free users into lifelong paying customers.
8. Combine Retargeting With Exit-Intent® Technology
Some marketers tend to focus on one strategy OR another to boost conversions. But the best marketers understand that when given a choice, the best answer is sometimes "both."
This is exactly the case when it comes to cookie retargeting and our Exit-Intent® Technology.
With an exit-intent popup, you can target abandoning visitors as they're about to leave your site: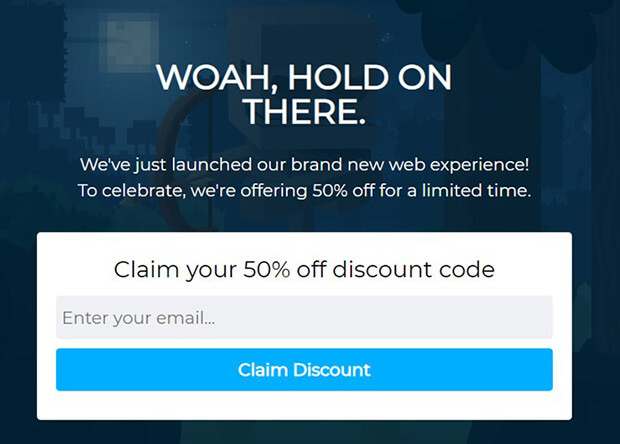 This is incredibly important because once a visitor is gone, you can never be sure when (or if) they'll return.
That means you want to show them a special offer at this crucial point in their customer journey, which is where cookie retargeting comes into play.
You can use any of the methods described here to make the perfect offer for returning users who are abandoning your site.
Then, once you have them engaged, you can nurture that moment to make a new sale.
9. Use OnSite Retargeting® to Prevent Popup Fatigue
You can also use OptinMonster's cookie retargeting rules along with our OnSite Retargeting® features to kick things up a notch.
OnSite Retargeting® helps you ensure that you don't show the same promotional deals to returning visitors who have already seen them.
This is important because if you're constantly showing the same campaigns to returning visitors, you'll train them to stop paying attention to your offers.
But by using OnSite Retargeting®, you'll constantly surprise your returning visitors with new content and promotions.
Then when you add cookie retargeting into the mix, you'll ensure that ALL of your campaigns are being seen by the right people and at just the right time in their customer journey.
10. Redirect Commentors to High-Converting Posts
If you don't have an online store, you may wonder if cookie retargeting is for you. After all, isn't the goal to boost sales? In that case, how can cookie retargeting help online publishers who profit from traffic and affiliate links?
The good news is that cookie retargeting can still be the perfect tool for online publishers or affiliate marketers.
That's because you can use the same tactics that we discussed in this article to create targeted campaigns that redirect users to high-converting pieces of content.
For online publishers, that could be posts that lead to the most monthly subscriptions.
And for affiliate marketers, you would redirect to posts that make you the most affiliate sales.
Here is an example from a travel website that does just that: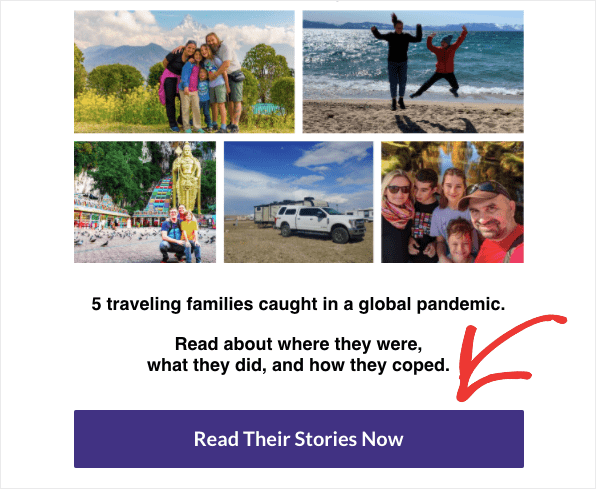 Notice the call to action isn't to a sales or landing page. Instead, it's to an article that their readers would likely enjoy.
But OptinMonster already has rules to show campaigns when people have visited certain pages of your site, so where does cookie retargeting come into play?
You can create and set cookies for your readers who've left a comment on your blog post. Then, you can redirect those users to high-converting posts on their next visit.
This means you'll be showing high-converting posts to people that you know have interacted with your content. In other words, you're targeting very, very warm leads here.
Plus, people who leave comments on your blog are more likely to return to your site in the future.
So while your campaign may not target hundreds of people per day, the few that are targeted will likely convert.
11. A/B Test All Retargeting Campaigns
Our last tip is more general but certainly worth mentioning: you should A/B test all of your campaigns, even those that use cookie retargeting.
Many marketers make the mistake of creating retargeting campaigns and letting them run on auto-pilot.
This is a good first step, but no campaign is ever truly finished. Instead, you should be optimizing your conversion rates by A/B testing various versions of your targeted optin campaigns.
OptinMonster makes this incredibly easy. You can click the Create Split Test icon from your account dashboard: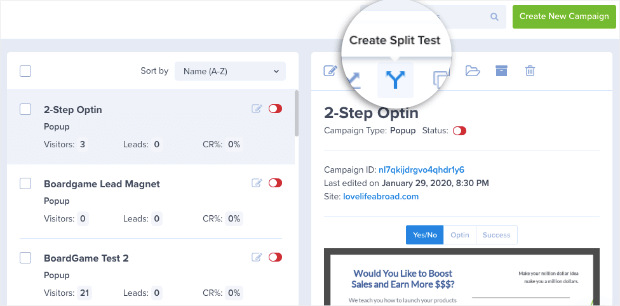 This will duplicate your campaign (and the cookie retargeting rules), so you can make changes to the new copy.
Then each version will randomly appear to your site's traffic to tell you which is performing better.
Over time, you can increase your conversion rates by combining cookie retargeting campaigns and simple A/B testing.
For more information on how to run a good A/B test, we recommend this article: 11 Simple A/B Testing Best Practices You Can Use Now.
Again, OptinMonster makes split testing incredibly easy. Ready to see for yourself? Click below to start your RISK-FREE OptinMonster account today:
Boost Conversions With Cookie Retargeting
And that's it! These are 11 ways to increase sales with cookie retargeting.
We hope you found this article helpful. If so, you may be interested in the following resources:
These articles will have everything you need to use retargeting to increase your leads, boost conversions, and maximize sales from your online store.