Are you losing revenue on your site because you're not making the right offers to your customers? If you're not offering popup coupons, you're definitely missing out…
As eMarketer shows, among American shoppers, coupons have the biggest influence on purchase decisions, way ahead of suggestions from friends and ads from brands. With 71% citing coupons as an influence, it's a no-brainer to add one to your site so you can get more sales.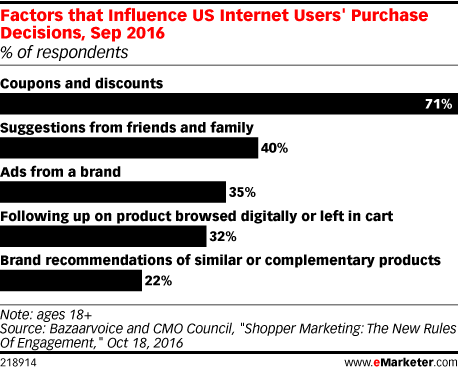 There are plenty of reasons why adding popup coupons makes sense. More than half of your customers won't even shop unless you offer a coupon. According to Kissmetrics, 86% of consumers say coupons influence their choice of brand.
The same research shows that people who use coupons spend 57% more, and coupons also improve customer satisfaction and loyalty.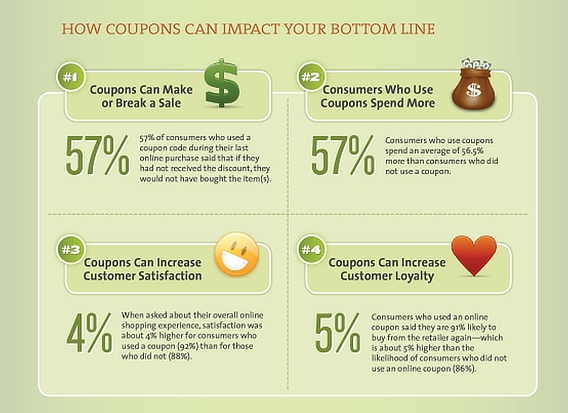 In this guide, we'll show you step by step how to add a popup coupon to your site to boost sales.
But first…
Which Popup Coupon App Should You Use?
There are a lot of tools out there for creating generic coupon popups, but not all of them will get you the results you're looking for.
Many of your website visitors will find intrusive popups annoying.
If you don't want to annoy and scare away potentional customers, it's important to offer discounts in the right way. A popup coupon at the right time can make those who get the coupon feel like insiders while ensuring they still think your product is valuable.
With OptinMonster, you can offer coupons in the right way, at the right time, to the right people, such as people who are actually likely to buy something. That's because OptinMonster has advanced targeting features, allowing you to show coupons on specific pages, to specific visitors, at specific times, and specific locations.
You can target coupons by device, and can show certain popups based on visitors' activity – or inactivity. Your popup coupons can also be used as powerful tools to reduce shopping cart abandonment when used with exit intent technology.
And you can combine our advanced targeting rules to be ultra-precise about who sees your popup coupon. For example, you could show your coupon only to shoppers in a specific location with geotargeting, or only to visitors who clicked on a specific ad.
Unlike a WordPress coupon plugin, OptinMonster works on any site, no matter what content management system you're using. That includes the industry-leading eCommerce solutions like WooCommerce, Shopify, Magento, BigCommerce, and others.
And our app does more than just create coupon buttons. OptinMonster's wide range of optin types and attractive themes give you a great starting point to create coupons customized for your business.
Ready to get started? Here's how it works…
Step 1: Create Your Campaign
In this tutorial, we're going to recreate a popup coupon similar to this one from BaubleBar. Use this as a starting point for creating your own – there are tons of ways to customize this coupon.
For more examples for your inspiration, check out all the coupon popups in our exit intent popup gallery.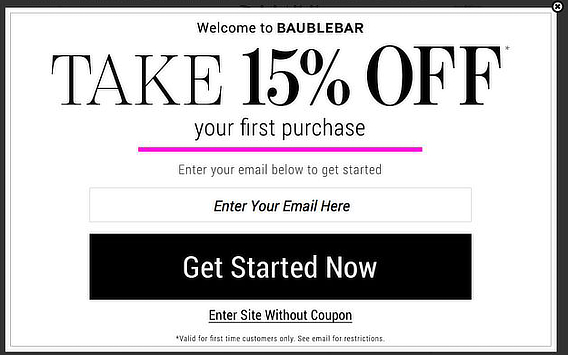 To get started, login to your OptinMonster dashboard and create a new campaign.
Choose a campaign type. For this tutorial, we're using the Lightbox Popup.

Choose a theme for your popup.  There are 22 to choose from, with different layouts and color schemes.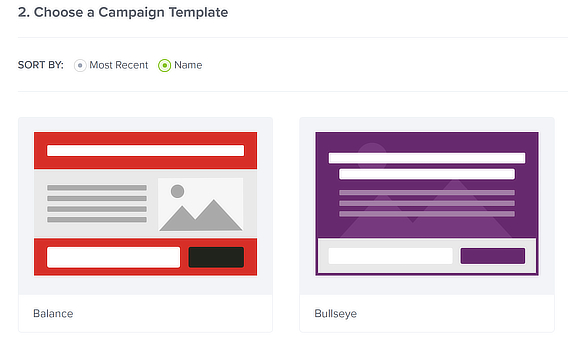 We're going to use the Coupon theme.  Find it by scrolling through the available themes, or type "coupon" in the search box to find it fast.

(If you prefer to design your own form in HTML, you can use OptinMonster's Canvas technology to implement it.)
Give your campaign a name, and press the Start Building button.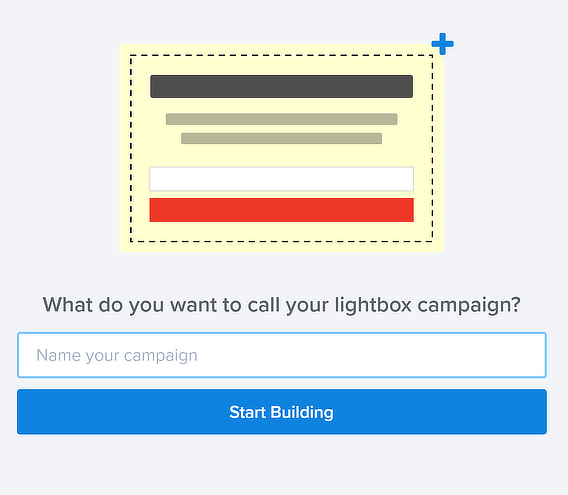 Step 2: Customize Your Popup Coupon
Whichever campaign type you've selected, the next step is to customize the design and the copy so it meets your needs.
After you press Start Building, you'll automatically be directed to the setup window. Select the website you're going to use the coupon on from the dropdown menu. If you're not sure, you'll get another chance to decide before you publish the campaign.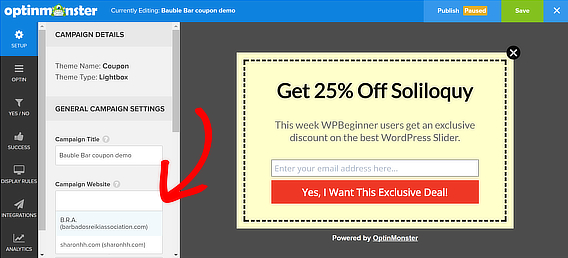 OptinMonster shows a template with text already filled in, but you'll need to edit this so it's right for your business. Our BaubleBar example has a different headline and body text, and is a different color. Here's how you achieve that.
Click on the headline, or select the text by clicking and dragging, then type your new text in the headline area. You can format the text with the dropdown editing menu.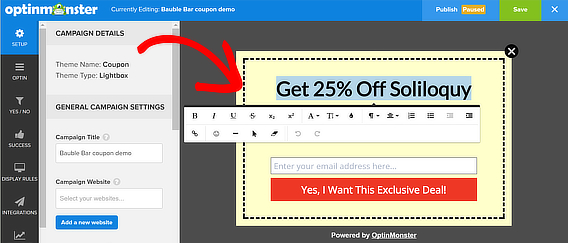 Your headline will be the one big thing you want people to know about your offer, like the "Take 15% Off" statement in the BaubleBar example.
Use the same method to edit the body copy. You can add more details of the offer, and what visitors have to do to get it, such as enter their email address.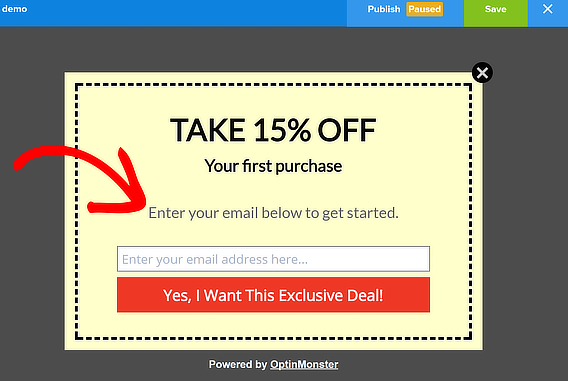 Some OptinMonster themes include an image area. If you're using one of those,  click on the image box, then upload and add an image relating to your offer.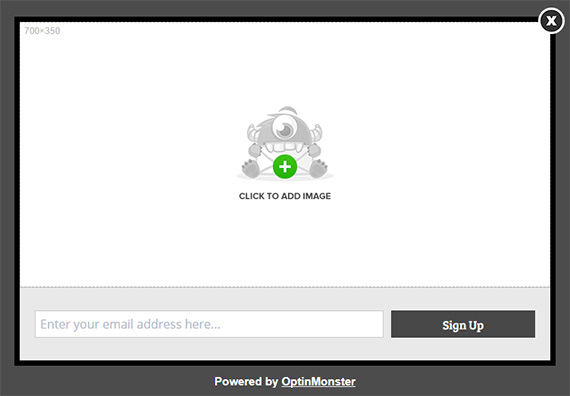 Images usually reflect your business, the offer you're making, or both. As you'll see in the examples at the end, some businesses photograph their products. But there are also plenty of places to get attractive images for free. Check out our guide to 39 Places to Find Images for Better Conversions.
Click on the colored area of your template to change the color scheme for your popup coupon. The Optin menu on the left will automatically go to the color selector. You can change background and header colors, as well as the text.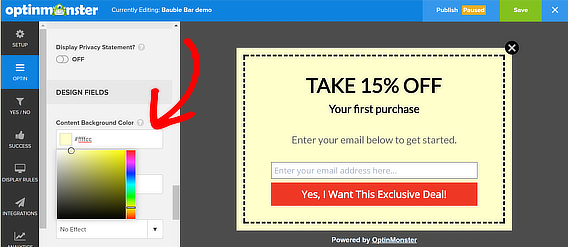 Choose your colors.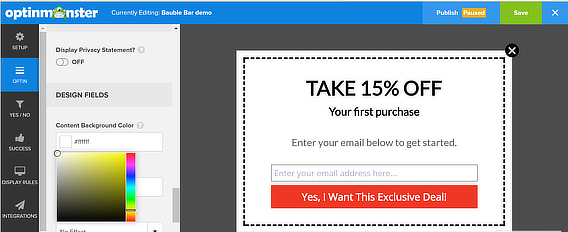 Click on the submit button to bring up the Design Fields menu on the left where you can edit the colors and change the button to the color you prefer.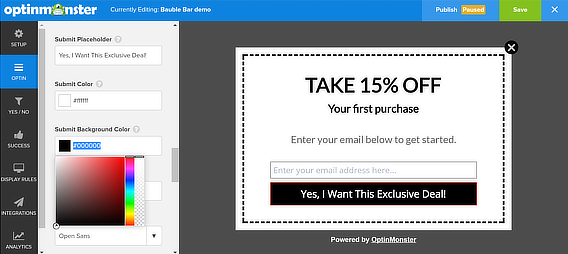 Change the text by typing in the Submit Placeholder box  – we're using "Get Started Now". This is the call to action, which is the one thing you want visitors to do to take the next step. Check out our guide to writing the perfect call to action for more inspiration.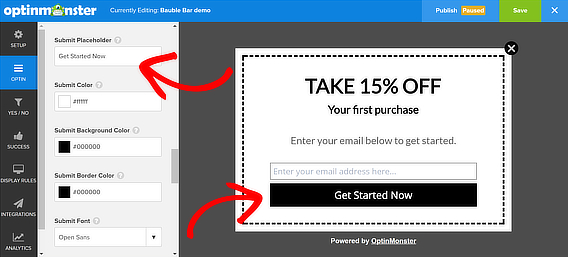 You can also change the Email Placeholder text, which tells visitors where to enter their email address, by clicking on the field to bring up the appropriate menu.

Another option is to scroll down and select a display effect to make your popup coupon stand out even more.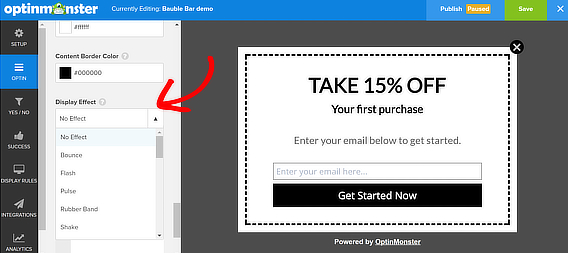 Step 3: Set Up Delivery of Your Coupon Code
Once you've finished the basic design, it's time to think about how your customers will get their coupon after they hit the submit button. There are several ways to do this.
At OptinMonster, we recommend that you deliver it immediately via our Success action and also send it by email. You'll need to enable your email service provider integration for this to happen automatically.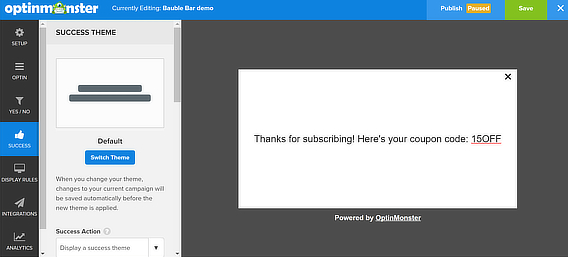 You can also use the Success section to:
Type in the coupon code on the success page as shown above. You can edit this in the same way as the other parts of your campaign.
Alternatively, redirect visitors to a new page where they can redeem the coupon.
To do this, go to the Success tab, and click on the dropdown menu. Select Redirect to a new page.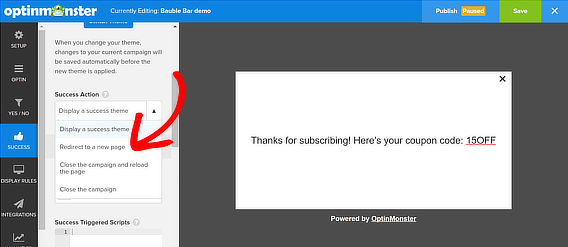 Enter the URL of the page where you want visitors to go to apply their coupon, like the checkout page. When they submit the form, they will get their coupon.
You can also use a coupon link as the redirect URL, which will apply the coupon automatically when visitors arrive at the target site. Here's how you create those via Shopify and WooCommerce coupon plugins. (See our list of the best WooCommerce plugins and tools for more.)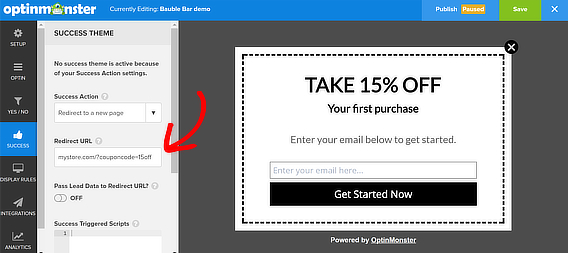 You can also use OptinMonster's Yes/No buttons to deliver your coupon.
Turn these on by clicking Yes/No in the left menu. Doing this will replace your existing submit button with two new buttons. Change the text on the Yes button.
Next, change the Yes Action to Redirect to a new page, then enter the URL of the page where the coupon will be applied.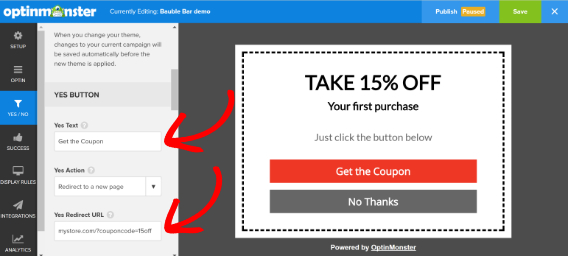 Disable the No button, so only one button shows, then edit the button colors to match your chosen color scheme.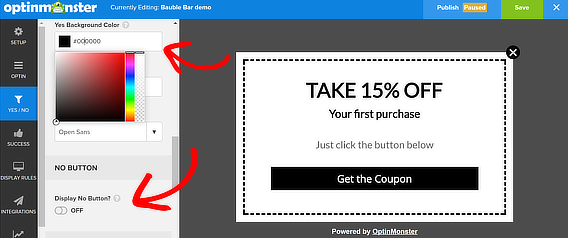 There's one more way you can implement a coupon popup. You can ask your developer to create Javascript to apply the coupon code when visitors click the submit button and go to your site. Share our Javascript API documentation with your developer as a starting point.
Step 4: Choose Display Rules
When you're happy with the look of your popup coupon, it's time to choose when and where visitors will see it.
To do this, go to the Display Rules tab. You have several options for displaying your popup coupon.
First, you can use the default After X Seconds rule, which ensures that visitors always see your campaign after they've been on your site a while.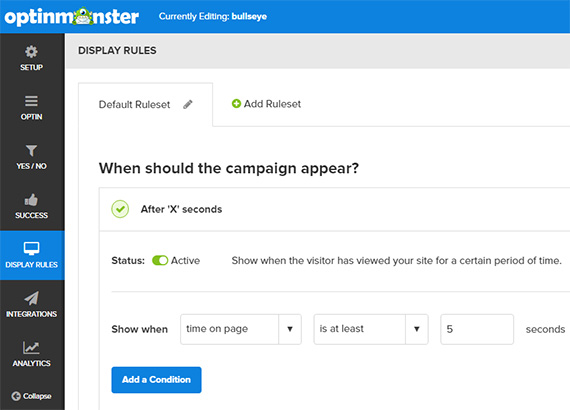 Alternatively, you can activate the Based on Visitor's Date and Time rule, and set the popup coupon to be displayed on or before a certain date. If your offer is time limited, this is a useful rule to apply, so your coupon only shows until the end date for your discount.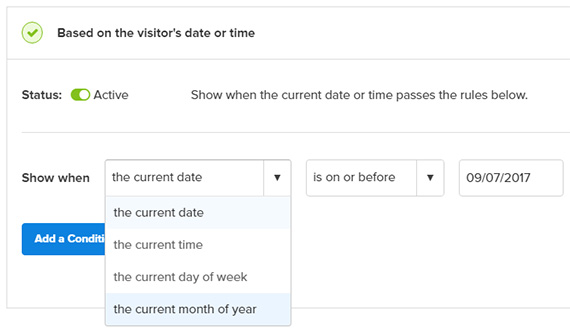 But our highest-converting option is the lightbox popup with exit intent. This ensures that your popup coupon appears when visitors are about to leave your site. That strategy is proven to reduce abandonment, which means more revenue for you.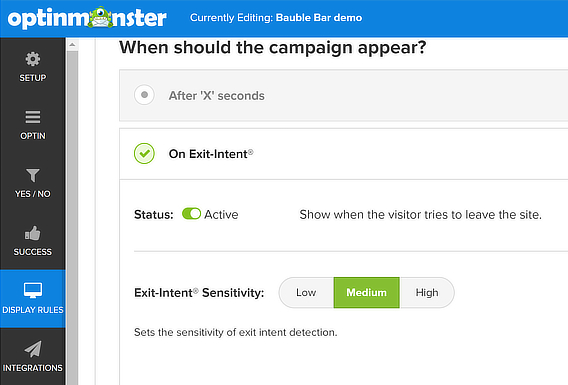 Feel free to also combine multiple display rules to target your coupon popup more precisely.
Step 5. Publish Your Popup Coupon
The final step is to save your changes, then publish your campaign.  To start the publishing process, click on the Publish button to see publishing options, then toggle the status button to make it live.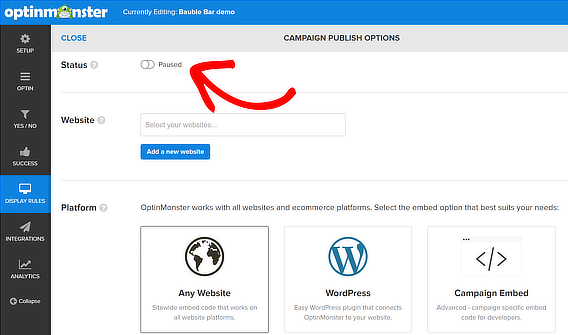 You'll need to install our WordPress plugin to get your popup coupon on WordPress. Once you've done that, go to the OptinMonster section of the WordPress dashboard, and click Refresh optins. You'll see the name of your new campaign, and you'll also be able to see if it's live.
You can also use sitewide embed code, which you can grab by clicking on a button. Give this to your web developer to make your OptinMonster integration live, or do it yourself by following this guide.
And you can use campaign-specific embed code to embed your popup coupon only. Here's what your final coupon will look like.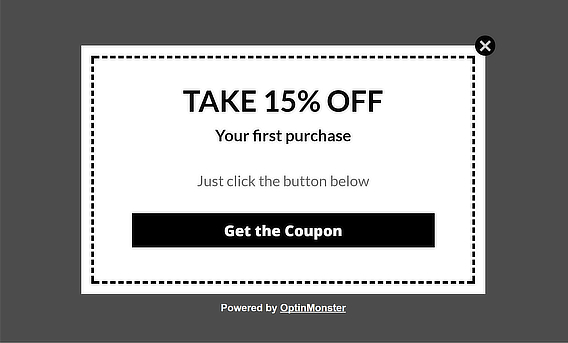 Popup Coupon Examples
Here are some examples of popup discount coupons.
Home Fabrics makes a one-time offer for new subscribers. Since it shows up for logged in users, they'll likely be using an integration like Mailchimp's Coupon Carrier to deliver it.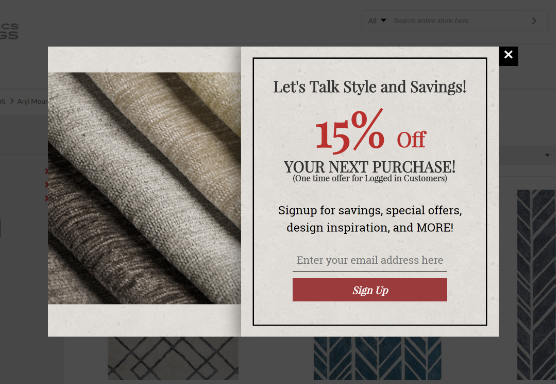 Avenue Hotel's Book Now button takes you to a page where the coupon is applied.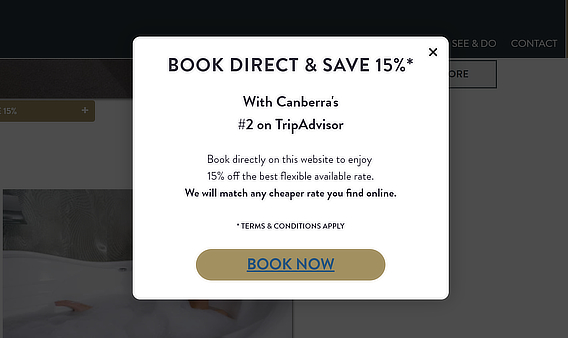 Cadeautje applies a discount when users subscribe: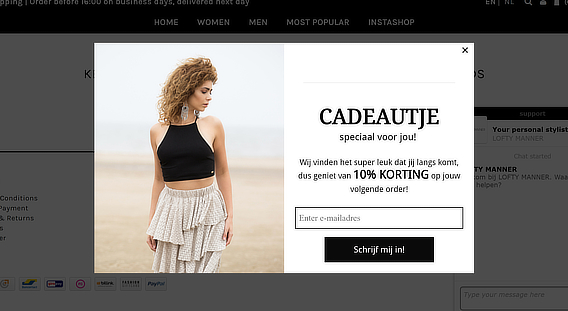 Now you know how to boost sales and recover lost revenue with a popup coupon.
If you enjoyed this tutorial, check out our guide on how to engage with AdBlock users to unlock lost ad revenue, and see our email marketing guide for more tips on using email to connect with your customers.
Not using OptinMonster yet? Get started today and start converting more visitors into subscribers and customers!