Do you want to market and grow your blog, just like the heavy hitters in your niche? With a little know-how, you can transform your blog from an "also-ran" into a champion. Here are 9 great steps to get you started.
1. Make Your Site Easy to Use
Make your layout easy to understand. You want your audience to quickly and easily understand what you offer. You should always ask yourself: "If I were my ideal reader, would I LOVE my website? Would I easily understand what it was about?" If the answer is no to either of those questions, then you need to re-do the look of your site.
Have clear navigation. Make sure that your navigation bar, the content you offer and the general aesthetic of the whole site are all relatable. They need to work together as a whole: if they don't, your reader will most likely close the window straight away.
Don't forget the search box. Put your search box somewhere clearly visible. It's the easiest way for your readers to find the content they want, so force it into their attention.
Your blog must be mobile-friendly. Over half of internet searches now take place on a mobile device, according to an announcement made by Google in May 2015. Google now judges mobile-friendliness as an SEO ranking factor for search engines: so it really is key that your blog is designed for handheld devices.
Further resources:
Related Content13 Best Blog Sites In 2019: Which Is Right For You?
2. Speed Up Your Site
No one likes a slow website: neither visitors nor search engines. In fact, Google has indicated that page speed is one of the signals in their search ranking algorithms. So it's super important to keep your site as speedy as possible.
There are tons of tips on how to do this, but here's a good article that will help you speed up your site.
Useful Tools: Use Pingdom & PageSpeed Insights (by Google) to evaluate your website's performance. They also generate suggestions to make your website faster. Here's a screenshot of my performance by Pingdom: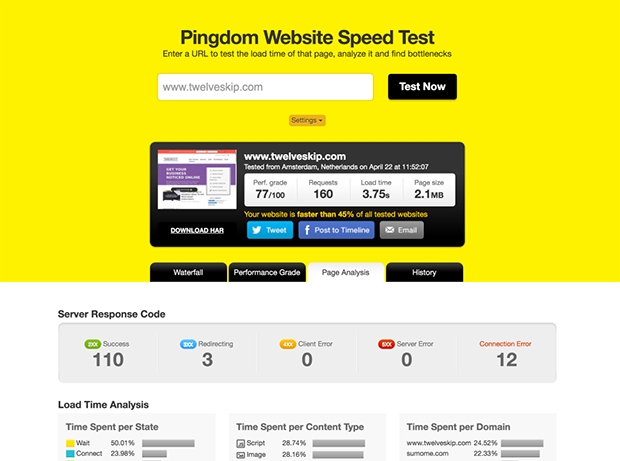 If you've made your way through all of these tips and still aren't seeing a change in your blog speed, then it could be an issue with your server. Ask your host to make sure that you have the right hosting plan. If you're unsure about their reliability, it could be time to try another host.
However, be sure to read as many reviews and tips as possible before switching to another host. Hosting Facts is a fantastic resource that pulls together a bunch of hosting reviews. WPBeginner also has an article on how to choose the best WordPress hosting.
3. Create Crave-Worthy Content
You need to keep your audience happy and engaged: that way, they're sure to not only stick around but keep coming back for more.
Creating quality content is about more than showcasing your talents, it's about helping your audience grow, generating new leaders, spreading brand awareness and building your brand perception.
You do that by keeping it fresh. Keeping it interesting. By constantly endeavoring to provide something new and dynamic that really gets your readers talking.
Here are a few ideas on ways to create something special:
Tell a story. Readers love a story or even just an interesting example of how your content really relates to you. Make it personal.
Use a conversational tone. Find the perfect balance between professional and personal and weave it into everything you write. Be sure to stay true to your voice.
Cut the fluff. All of it. Throw it all away!
Provide a range of content. Use short but useful tutorials, videos, case studies, reviews, list posts, interviews, how-to posts, podcasts, and more personal pieces. Try it all and determine what your visitors love the most.
Find out your user's interests. Check out your competitors and take a look at their most popular posts or use keyword tools (like SEMRush). Also, be sure to check your Google Analytics to see your top content and most searched keywords (unsure how? Take a look at these tutorials).
Use visuals and always avoid unedited ones. Visage is a great tool to spruce up your pictures. Try to incorporate eye-catching photos, infographics and videos wherever possible.
Always keep it original. Google rewards high-quality sites with their own material in their rankings, whereas those that duplicate their content will be penalized.
Focus on strong headlines. 80% of readers won't go any further than the title, so find a way to entice them in deeper. (useful resource: 100+ Catchy Blog Post Title Templates)
Try to get the conversation going. If your post sparks comments, search engines will see that your content is important updated regularly. The result? A higher ranking in search engines.
Provide actionable content. Your readers want to learn and become better at whatever it is they're passionate about. Always try to tie this into your content.
4. Build Engagement
For your content to be engaging, it needs to be easily scannable. Writing that is easy to digest in a clear, easy-to-read format that will keep your readers engaged regardless of the length.
The good news? This is super easy to do. Here are some tips:
Keep your paragraphs short. Don't scare off your readers with lengthy and uninterrupted text.
Use subheadings. Divide your information into sub-sections using subheadings. See how I use subheadings (bigger fonts) on every given tip here?
Use lists. See what I did here? They're much easier on eyes.
Use visual aids. Make your content a little more interesting with high-quality visuals.
Highlight important points. Use bolded or underlined font on important information.
Use readable fonts. Use commonly-used fonts such as Verdana, Arial, or Times Roman. Your font size must be at least 12px or larger (use 16px or above if you have an older audience).
Also, build engagement by…
Making your content easy to share on social media with a visible social sharing button.
Mentioning awesome brands in your posts and let them know about it. Most brands love this and will be likely to share.
Adding a call to action at the bottom of your posts. Examples: "I'd love to know what you thought of this post… Do you have any of your own tips? Let's get the conversation going!"
Using social proof. For example: "Join other 100K creative bloggers…" Take a look at how WPBeginner does it: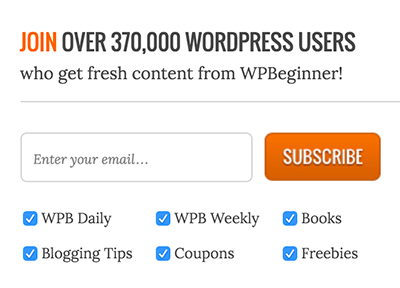 Incorporating your posts into e-newsletters and encourage personal responses.
5. Optimize Your Content For Search Engines
Optimizing your website and their content for search engines is what makes your site easily discoverable by users searching for terms relevant to you. And whilst it might sound complicated, you don't have to be tech-savvy to do it. Here are some tips to boost your search rankings:
Optimize your meta title & meta description. Add important keywords but don't overdo. Your page title should be between 60-70 characters while 155-160 characters for your meta description. You can use an SEO plugin to do this. If you're on WordPress, I recommend using All in One SEO plugin to optimize your pages. Here's a great guide on how you maximize your meta tags.
Use keywords in your post title and subheadings. Add your main keywords in your post title. You may also start your post titles with a commonly-searched word like review, how, what is…, where, how can, or does the…. For example, if you're writing about starting a blog, instead of writing your title "Blogging", you should write "How to Start a Blog in 20 Minutes" or "How To Start a Blog That Makes Money". Be as specific as possible.
Interlink your posts. Link your new posts to other relevant content or to "top searched" pages (if relevant). You can use Google Analytics to search see your top pages: Go to Acquisition » All Traffic » Channels » Organic Search » Landing Page.
Link out to other credible sites. Make sure to link to a specific URL that is relevant to your content. Not only will this send trackable traffic to the source (who might visit and even share your post), but search engines will likely reward this behavior.
Write descriptive ALT tags to your images. Most social channels and other social sharing tools use your images' ALT tags as the post title when sharing your post on social media. So always add captivating ALT tags to your images to pique other's curiosity. This tutorial will help you learn how to add ALT tag on your images with WordPress.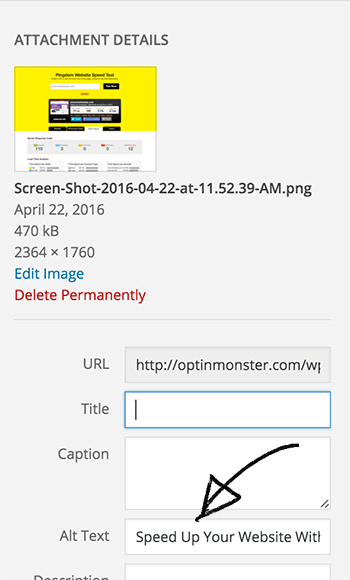 Keep your URL short and with keywords. For example, I'm writing about the best SEO practices. You would want your URL to be like this: http://www.twelveskip.com/SEO-practices. Not this: http://www.twelveskip.com/87374. Hint: If you're using WordPress, you should change your default permalink structure to a custom one. Once you do this, be sure to redirect your old URLs to new ones.
Integrate long-tail keywords on your content. Grow your search traffic by using multiple "long-tail keywords" as they are easier to target (because they are less competitive). Read this straightforward guide to learn how to work with long-tail keywords.
Ensure your body content is thick and unique. In general, Google favors longer, fresher content to shorter duplicates.
6. Build Your Subscribers
If you're serious about growing your blog, a strong email marketing list is absolutely paramount. You need to own it and use it to your full advantage. Through your list, you can build powerful connections and market your work in a trustworthy space.
To make the most of email marketing, you obviously need to gain those subscribers. Here are my top tips (how I generated 10K+ in just a few months):
Find a good email marketing tool. First thing first, you need a platform where you can store your subscribers and send emails. I recommend AWeber or MadMimi.
Put your opt-in form (sign up form) in multiple places. You want to make your opt-in impossible to ignore; so place it in as many positions as possible. OptinMonster offers various forms that you can easily integrate (including pop up opt-in, full screen, mobile-specific popups + more). Here's an example of a good popup opt-in: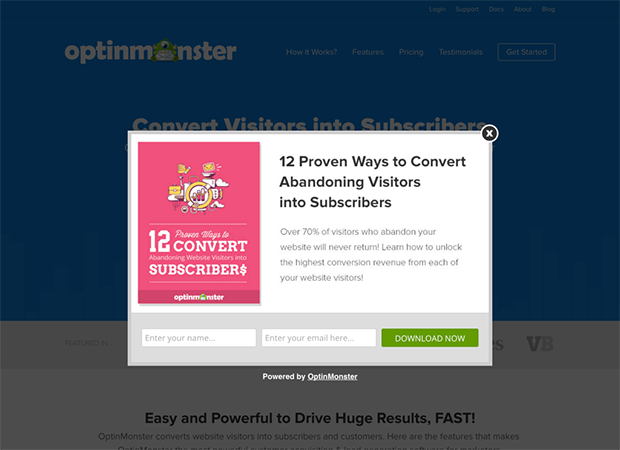 Offer something irresistible. Give something away that your audience would love in exchange for their emails. Here are some great offer ideas: discount, exclusive deals, eBook, worksheets, private group, courses + downloads.
Use a catchy (but short) headline on your opt-in form. Do not just use "Sign Up for My Newsletter." Let people know what they're exactly getting. You can also use social proof. For example, "Over 10,000 Bloggers Can't Be Wrong. Subscribe to Get Weekly Emails About Blogging Growth!" or "Learn How I Made XX,000 From One Blog Post. Sign Up to Download This Free EBook". Read this post for creative headline ideas.
Link your opt-in page to your social media channels. Put your opt-in link in your bio, schedule a post every few days or weeks, and pin a post with your opt-in link to the top (Google+, Twitter and Facebook allows you to pin a post so it's the first one people would see when they visit your page).
Use social media ads. If you can, collect more email subscribers through social media ads. Here's a useful tutorial on how to get started with Facebook ads.  Here's a good example: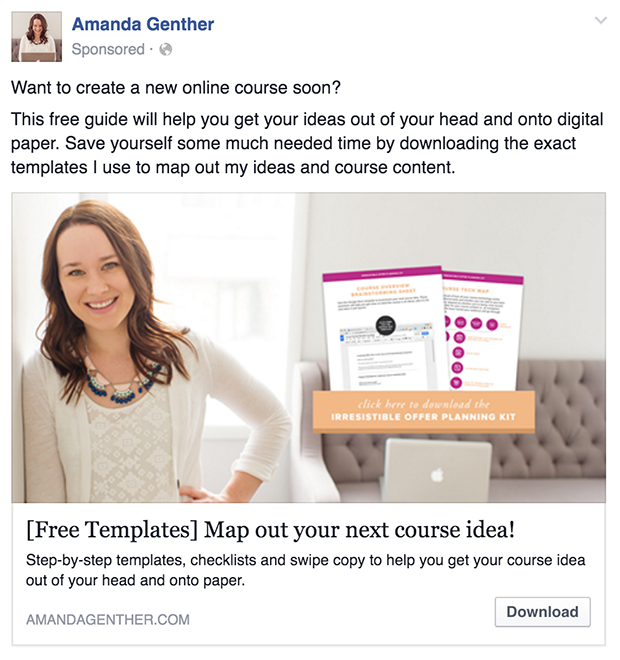 For more ideas on how to get more email subscribers, you need to read Kevin J. Duncan's post: 16 Ridiculously Simple Ways To Generate More Subscribers.
7. Get Social Media Savvy
Social media is your best friend when it comes to marketing your blog. Why? Because it's instant, it's effective and it's used by the masses. It's easily your most important marketing tool and a guaranteed way to reach the right people and FAST.
So what do you need to be doing to get the most out of social media?
Brand your social media pages. Be sure to add a link redirecting to your website.
Add social media follow buttons somewhere visible on your website.
Post on social media frequently. Be consistent with posting high quality and relevant content on your social channels. Use tools to schedule your posts such as Hootsuite, Buffer, and Tailwind. Be sure to focus on the channels where your ideal readers are.
Related ContentBest Time to Post on Social Media for the Highest Engagement
Use live video. Use Periscope and/or Facebook live to create personal connections with your audience. Facebook live notifies your fans and followers when you're live, so this is a great way to generate more leads to your blog (but of course, always offer something valuable.) See how Kim did it: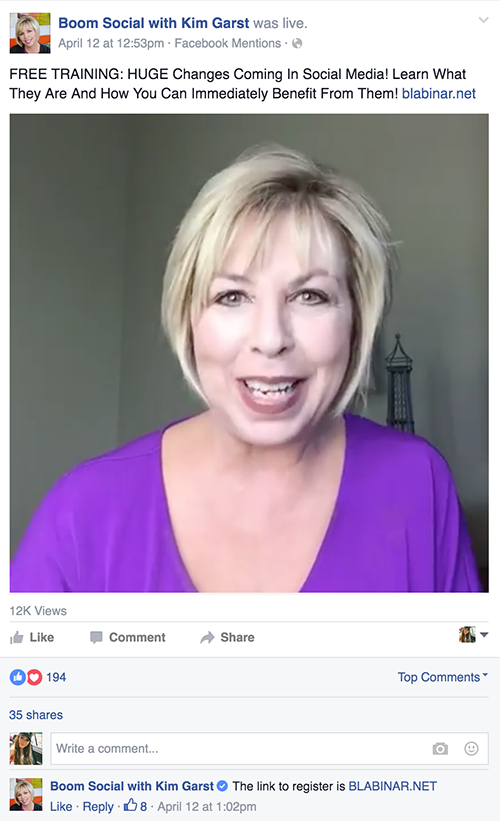 Always use attractive visuals and avoid using unedited stock photos.
Encourage your followers to interact by adding calls to action at the bottom of your posts (e.g., "Leave a comment below with _______!")
Promote relevant, popular trends.
Use #hashtags effectively. Here's a guide on how to use hashtags on social media.
Add a social media feed to your blog. By embedding a social media feed on your blog, you can boost your following and increase engagement. Plus, your blog will automatically be updated with fresh new content at all times.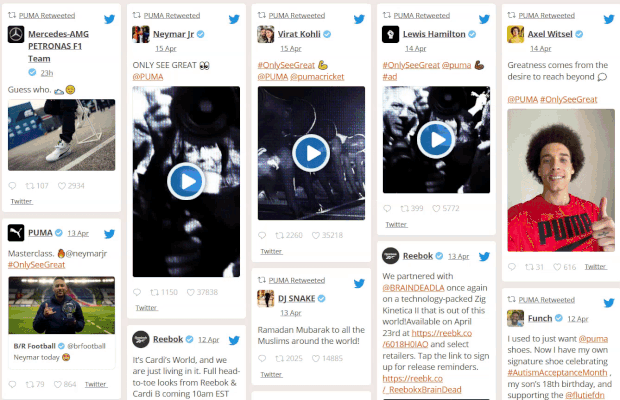 You can easily add an Instagram, Facebook, Twitter, or YouTube feed to your site using a plugin like Smash Balloon.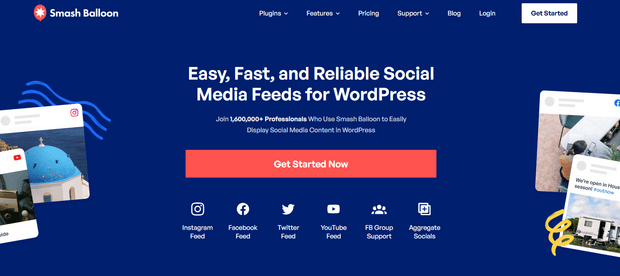 With Smash Balloon, you can decide exactly which content to show, customize the feed to match your brand, display social proof like comments and shares, and much more. The best part? Users can interact with your social media feeds right from your blog.
8. Get Networking
The reason for networking is simple: it's all about who you know. If you want to grow, it is crucial that you extend your circle. Be seen and be heard. If you can learn to leverage your network, you'll see your traffic grow instantly.
Example Benefits of Making Friends with Your Fellow Bloggers:
When your friends blog about something that's relevant to what you're offering, they could link or mention your blog. Result? A link back = more clicks = good for the search engines.
They would be happy to support your future projects. They can help you promote, provide feedback and more.
You could get invited to events or collaborate with them that can bring new people to your blog.
In short, you help each other grow. There are many ways you can do this, but here are some examples:
Communicate by leaving comments on their blog or social media posts. Not only will their followers then see your comments and be drawn back to your blog or account, but it shows support to the blogger and will encourage them to do the same for you.
Guest post. Immediately you are being presented to a whole new collection of readers who, if they like what they read, will be drawn to your own blog. It's also likely the post will be shared by the blogger on social media tagging you in it. (Just make sure you avoid these 6 guest blogging mistakes.)
Build your own Facebook group. Facebook groups are great for supporting other bloggers from your niche. That could be travel bloggers, beauty bloggers or even just bloggers from your local area. Promote it with a paid ad and watch as the group fills up. You can then encourage people to not only share their posts, but also any blogger events that might be of interest.
Collaborate with others. Take part in interviews, get featured on podcasts, get a mention in round-up posts, and try to think of any creative ways to build interesting partnerships with complimentary bloggers.
Partner up on events. Is there a way for you to become a sponsor of an event tailored to your audience? Or perhaps you could create your own event with another influential blogger?
Support them by spreading the word out about their new products and blog posts, or even mention them in your own blog post. A helping hand goes a long way.
Attend blogging conferences or networking events. Always be sure to have business cards on you.
9. Submit Your Work to Content Curation Sites
Although time-consuming, submitting your work to other content curation sites is key in growing your brand. Not only does it get your name out there to potential readers, but it also gives you more content to share across social media (proving yourself as an expert) and opens you up to further collaboration opportunities with other influencers.
Here are a few websites to get your work onto:
Wrapping it Up
That's it: nine great steps to help grow your blog and market it like an expert. Did you have a favorite? Let us know in a comment below!