Are you wondering how to get blog subscribers? A blog is an essential tool for marketing your business, especially if you're just starting out. But that's also the time when it's hardest to get attention. In fact, sometimes it seems like you're talking to yourself.
Stick with it, though. No matter what industry or niche you're in, your blog content can engage people so they later buy your products and services. In fact, blogging is one of the best ways to attract and retain an audience.
But before you can reap those blogging benefits, you're going to need some blog subscribers. How many subscribers do you need? A good goal is 1,000. That's a big enough number to market, and test your marketing, effectively.
Since email marketing is such a key technique for growing your audience, we'll focus on how to get email subscribers for your blog so you can reach that magic blog subscriber number.
Now let's look at how you can attract your first 1,000 blog subscribers.
Why You Need an Email List
Before we get into the tips, let's look at why you need an email list.
In spite of the spread of mobile messaging apps and social media, email is still the best way to reach people. As our email marketing statistics roundup revealed, the latest stats show that, in the US alone, more than 90% of adults use email.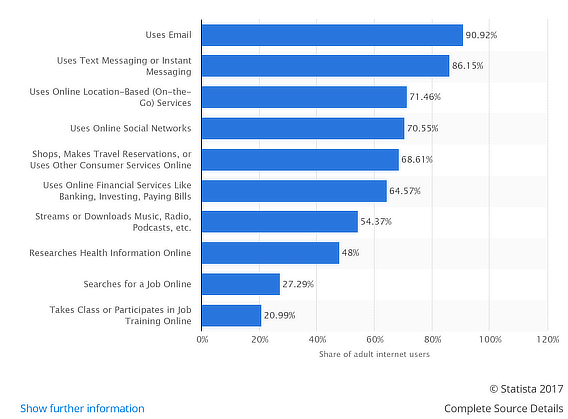 An email list will help you make a personal connection with readers and earn their trust. People respond to email, so you'll be able to learn more about what your readers want.
Down the road, having an email list will enable you to get more leads for your business, and to sell products and services – and it all starts with sending people your blog content.
You might think that getting blog subscribers via your RSS feed or a WordPress newsletter plugin like Jetpack Subscriptions would be a good way to build your blog audience. However, those tools don't give you complete control or access to your subscribers. If you want to send them anything, you have to publish a blog post.
With a real email list, you get direct access to your subscribers' inboxes. You can completely customize the emails they receive, send them special content and exclusive offers, and much more.
Getting started with email marketing isn't hard. For step-by-step instructions, see our beginner's guide to email marketing. Most email marketing services let you automatically email blog content to subscribers as it's published, so all you have to do is get people to sign up.
Now, let's take a look at how to get email subscribers for your blog.
1. Attract the Right Subscribers With Great Content
When you're trying to attract blog subscribers, you need content that really rocks! So spend some time researching the key issues for your customers, if you don't already know what they are. For example, you could:
Pay attention to analytics data so you know what people search for and how they navigate your site
Ask readers questions on social media
Ask questions at the end of your posts
Create reader surveys
Read other blogs in your niche to see what bloggers and readers are talking about
Next, integrate what you've learned into a content marketing strategy that helps you create and deliver definitive resources that meet all their needs. There's no better way to woo and win blog subscribers than writing stellar content.
If you publish content that solves problems for readers and helps them learn techniques they can apply in their own situation, they're going to subscribe to your blog. That's what we do at OptinMonster, so we know it works.
2. Create Optin Forms
Just adding a blog subscription widget to your sidebar won't get you very many subscribers. Most readers tend to ignore these static signup forms.
If you really want to increase subscribers to your newsletter, you'll need to grab their attention with something more engaging.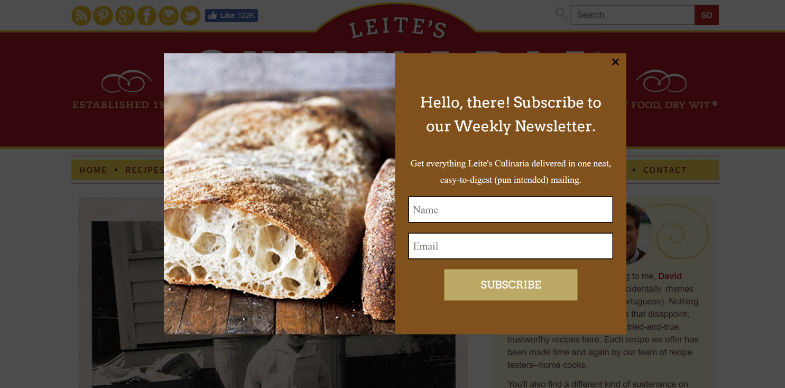 OptinMonster is the perfect way to create attractive optin campaigns that help you increase blog subscriber numbers. Here's a guide to all our optin types. Read our guide on creating your first campaign to get started.
To attract as many blog subscribers as possible, it's important to pay attention to optin design. For example, the optin form below includes an arrow to direct readers' eyes to the subscription form.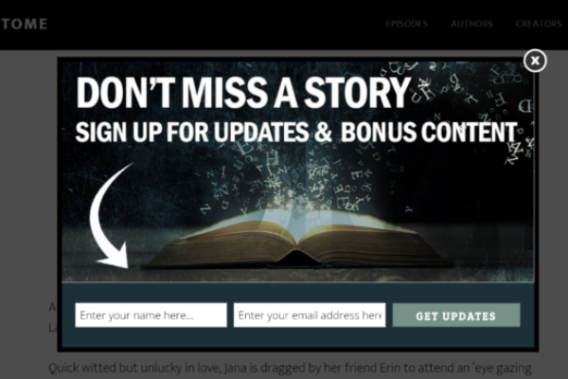 A good tip is to design your optin forms for conversion by minimizing the amount of information people need to input to subscribe. Start with a name and email address, and collect more on subsequent interactions. This is called progressive profiling and it's very effective.
3. Bribe Readers to Become Subscribers
Even if your content is great, sometimes potential subscribers need an additional incentive. That's why you need a lead magnet, or ethical bribe, to give subscribers something in exchange for their email.
Rewards work to build your blog subscriber list, so a checklist, cheat sheet, worksheet or content upgrade can provide a powerful subscription incentive.
Here's how you can deliver a lead magnet with OptinMonster. We recommend you deliver your lead magnet immediately, as well as sending it by email. You can do that with our SmartSuccess feature, which lets you add a link to the success page.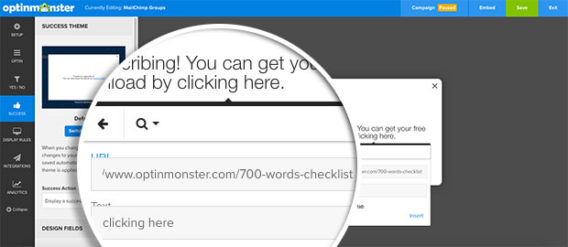 Pair your incentive with a compelling call to action (CTA) that makes it a no-brainer to sign up. The best calls to action are relevant to the page content, so if you're putting your CTA on a post about a product you offer, then your CTA can tease tips on using that product, for example.
Make sure your CTA stands out and covers both the action visitors need to take and the benefits they will get. So, for example, "get your free download" is a much more compelling call to action than simply "subscribe".
Another good lead magnet is an email course or series. Most people like getting free information, so a well-targeted email course can be a winner.
Creating an email course allows you to use posts you've already published to:
Provide information subscribers need
Build trust, and let them get to know you
Keep their attention on your business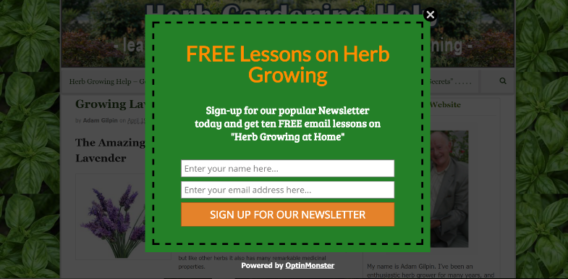 You can also create a lead magnet by repurposing your blog content to reach those who prefer other formats.
For this strategy, start by finding your popular posts, which you can do with Google Analytics. Google Analytics is easy to set up on your WordPress blog with MonsterInsights. Once you identify your popular content, you can repurpose it into images, infographics, audio, and video.
Another option is to collect multiple blog posts to create ebooks, which can attract subscribers via their own landing pages.
These ideas will also help you get more traffic, too, which is another way to boost blog subscriber numbers.
4. Build a Blog Subscriber Landing Page
One tactic to sell the value of subscribing to your blog is with a specific optin landing page. On this page, you'll show off the benefits of subscribing to readers, including:
The content your email blog subscribers will get
Email frequency
Subscriber bonuses
Your page can also include social proof, which we'll look at later.
Include this page in your navigation menu, or link to it in the sidebar or footer of your blog. You could also send people to the landing page by creating an OptinMonster floating bar campaign.
A blog subscriber landing page is a great destination for any external blog promotion you do. For example, you can link to it in your social media profiles and drive traffic to it with ads. It will also work well with Blog Tyrant's subscriber growth strategy of redirecting blog commenters to a thank you page.
Finally, a blog subscriber landing page can also help you to monetize your blog, if that interests you.
5. Target Your Optins
The more relevant your optin campaigns are, the more likely people are to subscribe to your blog. If people already like that content, they'll be willing to subscribe to get more.
You can easily use page-level targeting to deliver appropriate content to people at the right time.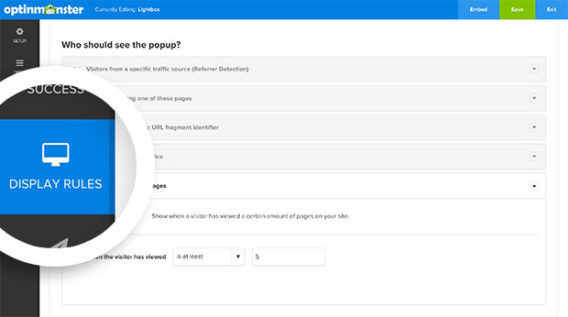 And exit-intent popups make sure visitors get an offer to subscribe just before they leave your site. A well timed popup is proven to convert well. And if you customize the popup with an offer that's relevant to the post your visitor is currently reading, it's sure to convert even more readers to blog subscribers.
While page level targeting works incredibly well, OptinMonster also allows you to use even more advanced rules to target your optins. You can create specific optins that appear only on mobile devices, or only to users in certain locations with geotargeting, or only visitors who were referred by a specific website or page.
6. Use Guest Appearances to Win Blog Subscribers
A great way to build up your blog subscriber numbers is to piggyback on other people's audiences. There are few ways you can do this:
Guest post. Many large blogs welcome guest posts to keep their content calendar full. Check out their guest posting guidelines, then write a high-quality article that showcases your expertise. Depending on their guidelines, you may be able to add a link to your own blog content within the articles.
Even if you can't, you'll have an author bio at the end of the post. This is a great place to include a link to your blog's home page, a piece of content or your blog subscription landing page. You can even include a call to action asking people to subscribe.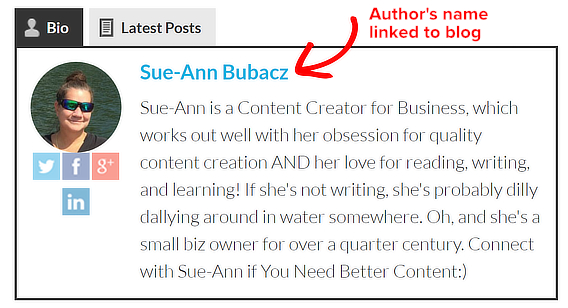 Guest blogging exposes your blog to a new audience and gives you free promotion. It has been a successful strategy for people like Jon Morrow of SmartBlogger and Danny Iny of Mirasee. They now have huge numbers of blog subscribers, so it's a good way to get you to your first 1,000.
Appear on podcasts and videos. Similarly to guest posting, being a guest on a video or podcast can get you in front of a new audience. You're usually free to talk about resources you offer that are relevant to the topic, and your chosen links will appear in the show notes.
Be part of roundups and interviews. Taking part in an expert roundup, like this one on landing pages, is a great way to get your name in front of new people. This is a popular type of post which can provide immense value for readers, and each expert gets a bio with a couple of links of their choice. Again, you can link to your blog landing page or a piece of great content.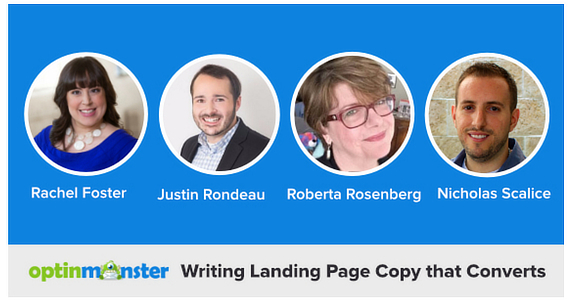 The better your contribution, the more likely it is that people will follow the links to check you out and subscribe to your blog. And since many expert roundups are widely shared and read for years, they can keep bringing in blog subscribers for a good, long time.
7. Use Social Proof
Here's our definition of social proof in relation to your blog: if people think other people like your content, they'll want to subscribe, too.
Even if your blog's brand new, you can still showcase social proof from other areas, such as testimonials and recommendations, social shares for posts and guest posts, numbers of comments and so on. Any genuine external validation that makes you look good will help increase blog subscriber numbers.
For example, the WPBeginner site features the number of blog subscribers at the top of the right sidebar, along with links to social media sites and an email subscription icon.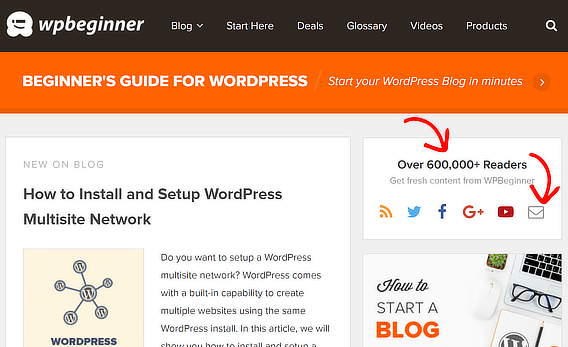 8. Use Your Email Signature
One place to promote your blog that some people overlook is your email signature. Edit your email signature to include text links to your website and your email signup form.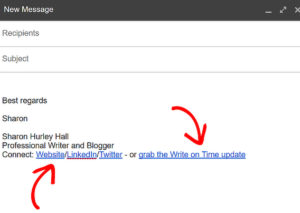 Promote your new blog in your email signature, and ask for blog subscribers anywhere it makes sense, without being overly pushy.
9. Make Your Emails Shareable
Every email you send has the potential to bring you more blog subscribers, because people may share the whole email or individual pieces of content with others. To make that happen, you'll first need to ensure people open your emails.
Your starting point is nailing the email subject line, which isn't always the same as your blog post title. Great titles will help, though.
Once they've opened your email, if the blog content you've included in your email is great, people will want to click the links or share the content. Make sharing easier by putting social sharing buttons in your email. We've also seen people include tweetable quotes for some of their promotions.
One of the best ways to get people to share anything is to ask them, so include a call to action encouraging existing subscribers to share your newsletter with someone new.
10. Test and Tweak
Finally, test, test, tweak and test again. Split testing isn't just for established companies; it's for everyone. So test to see what's working and what's not to make your content even more attractive to potential blog subscribers.
Start by testing your optin campaigns. You can use A/B testing features built into OptinMonster to experiment with headlines, subheadings, copy, calls to action, images, buttons and forms, till you achieve the perfect optin campaign to attract blog subscribers.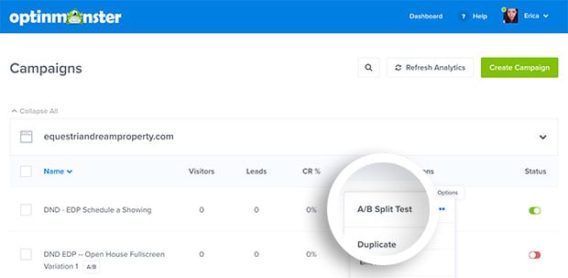 And on your blog itself, you'll want to look at:
Blog design. An attractive, well-designed blog can impress your audience and make them stay long enough to read your content, which is an essential step in getting them to subscribe. Check out these conversion-boosting design tips to help you design your blog the right way.
Mobile-friendliness. If your site takes too long to load, visitors won't stick around long enough to become blog subscribers. As our article on mobile optins showed, more people read content on mobile devices than desktop computers, being mobile-friendly is crucial to keep blog readers happy.
Email marketing stats. You'll want to know who's opening your blog emails, who's clicking the links and who's unsubscribing or forwarding emails. This data will help you tweak new content and new marketing emails so you make subscribers and potential subscribers even happier.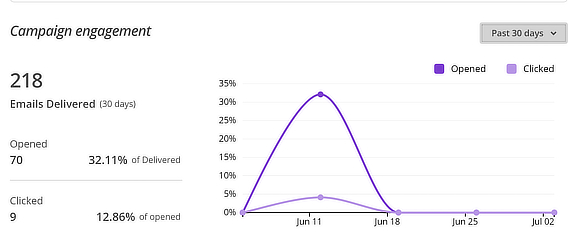 It may seem like a big number, but once you create an email subscription list, it won't take long to increase your blog subscribers till you reach that magic 1,000 goal.
Use OptinMonster as a key part of your strategy, and check out our beginner's guide to email marketing for additional tips for blog marketing success.
Finally, don't forget to follow us on Facebook and Twitter for more guides like this one.