Have you read countless articles on SEO best practices but still feel overwhelmed by all the work SEO requires? It turns out that there are over 200 variables to your website that can have an impact on your overall rankings.
That's a lot to keep track of. Especially if you're also trying to run a business. Fortunately, there's one way to make sure you're always a step ahead:
Separate your SEO list into daily and monthly tasks.
By focusing on your SEO strategy in smaller chunks every day, you'll be able to prioritize your SEO list more efficiently. Then you can sit back, watch the organic traffic roll in, and build that base of loyal customers you've always dreamed of having.
That's why, in this article, we're going to cover:
Why SEO best practices are as much about when you use them as they are about how you use them
How to use SEO best practices on a daily basis to keep things manageable
What to check for your SEO strategy on a monthly basis
Why having a good SEO strategy is only half the battle
By the end of this post, you'll learn how to plan out SEO tasks to grow your organic traffic. You'll also find out how to increase your conversion rates by over 50%.
Let's dive in!
Why SEO Best Practices Require Daily and Monthly Routines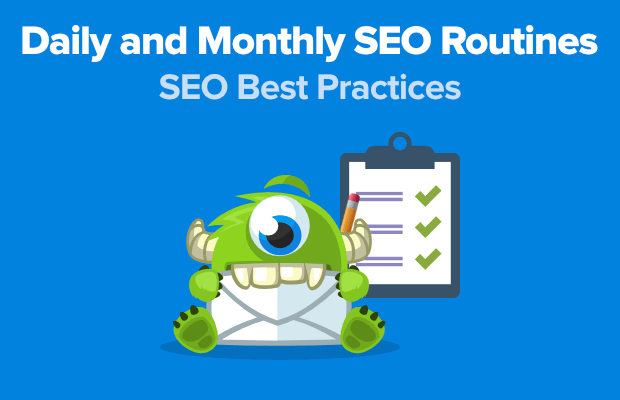 The term Search Engine Optimization (SEO) gets thrown around a lot in the world of marketing. And for good reason.
It's a crucial factor in any successful marketing strategy.
But if you've ever asked yourself, "How can I maximize my SEO," then you know there's a lot of work that comes with this little, three-letter acronym: keyword research, content optimization, XML sitemaps, technical site audits, and…
…well, you get point.
Honestly, all that effort can be overwhelming. It can be hard to know how to prioritize SEO tasks (even if you already know which SEO tasks are popular and which ones to avoid).
That's why the best SEO practices involve more than a simple list of what to do. It's also a matter of when to go through that list so you're always on top of your SEO game.
In other words, there are some SEO tips that you should add to a daily SEO routine while still leaving room for a monthly SEO task list.
By working on SEO in smaller chunks on a daily basis, your monthly efforts will be a breeze!
So let's turn out attention to the type of daily SEO routine you should develop.
What Are Daily SEO Best Practices?
Having a daily SEO routine doesn't have to be overly complicated. In fact, there are only four things that need to be a part of  your daily ongoing SEO tasks: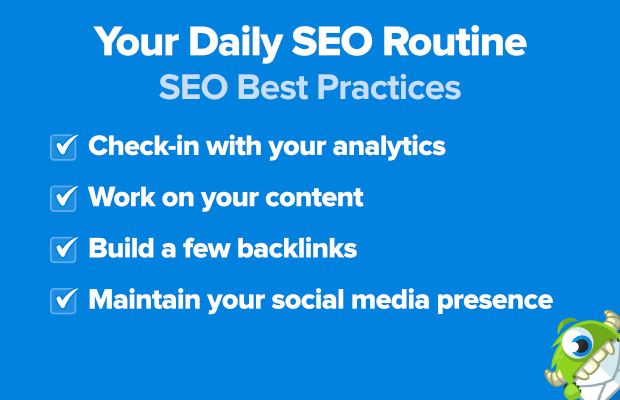 The amount of time you spend on this list each day will change depending on your business model and your marketing plan. That said, you should dedicate at least some amount of time to your daily SEO tasks list.
1. Check-In with Your Analytics
The first thing on your daily SEO routine should be checking in with some basic web metrics. Now, let's be clear: you don't have to do a deep dive into your site's traffic and performance every single day.
That would be overkill.
But you do need to start your SEO routine by checking both Google Analytics and Google Search Console (we'll also show you how you can streamline this process with MonsterInsights).
Google Analytics shows you details about your audience, traffic, and conversions while Google Search Console gives you insight into your site's overall performance with Google's search engine.
What to Check on Google Analytics
Now, before we start, these tips assume that you've configured Google Analytics. You also should have a few key performance indicators (KPIs) in mind.
There are three metrics you should check for your SEO daily tasks:
The overview
Unique pageviews
Conversions
Overview
When you log into Google Analytics, the overview will be the first thing you see: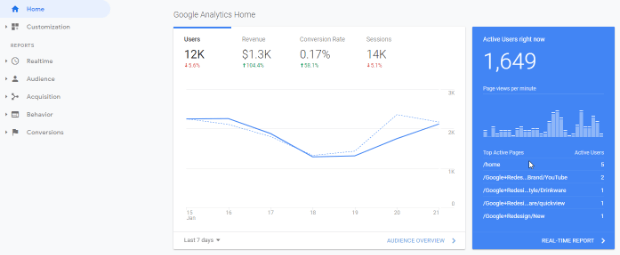 This gives you a global view of any changes in your site's traffic for that week. It also shows you how visitors interact with your site through bounce rates and session durations. Increases in any category are green and decreases are shown in red.
See a lot of red? You'll probably want to find out what's behind it. If there's a sharp decline that's not recovering, look into these Google penalties and how to recover from them. If the report shows a decline and rebound, you probably just had some site issues that worked themselves out.
If you see mostly green or have a decline and rebound, you can move on to the next metric.
Unique Pageviews
To find unique pageviews, go the left-hand side menu and click Behavior » Overview: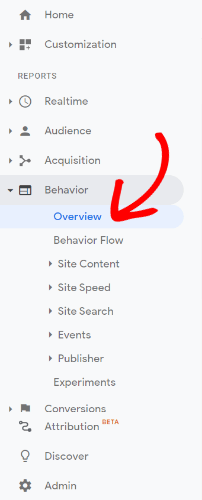 Then you should see a graph with the following data underneath: pageviews, unique pageviews, avg. time on page, bounce rate, and % exit: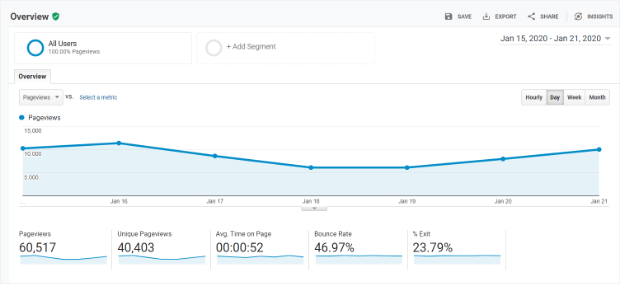 What you're looking for here is Unique Pageviews.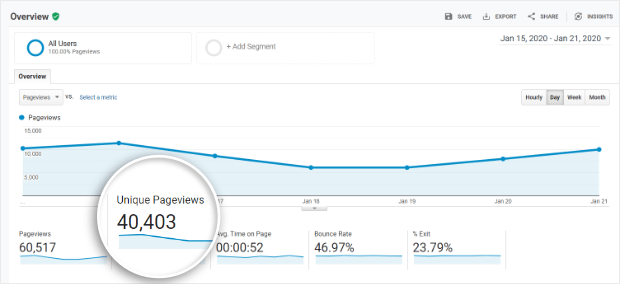 Unique pageviews are a good metric to check every day because it shows your visitor's pageviews by sessions rather than each page. That means you're getting a more accurate idea of how much traffic is coming through your site.
As unique pageviews start making their way into your daily routine, you'll get an idea for what your average weekly and monthly unique pageviews should be.
By default, you'll see the number of unique pageviews for that week. But you should also consider checking for whatever month you're in to make sure you're on track to hit your goals.
To change the date range for your data, head over to the top right-hand corner and click the dates in the calendar: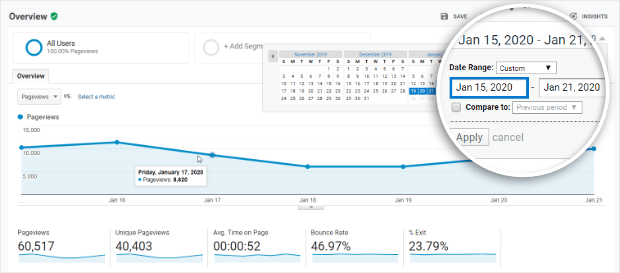 This will allow you to get a quick idea of how you're doing in relation to your monthly goals.
Conversions
This step assumes that you have already set up at least one conversion goal. If you haven't yet (or don't know how), then you definitely need to read our post on how to track your conversions.
That article will get you completely set up and show you how to create and track your goals.
Once your conversion goals are in place, you simply need to take a quick look at them to make sure they're around your monthly average. To do so, head over to the left-hand side menu and click Acquisitions » Overview: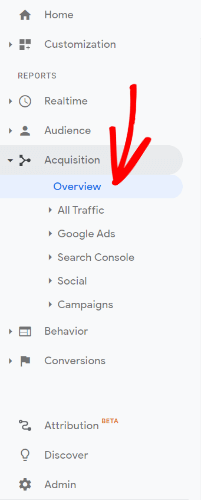 Then you'll see a breakdown of where your traffic is coming from, the number of users and, most importantly, your conversion rate:

On your daily check-up, don't worry too much about where your traffic is coming from. That can be looked at during your monthly SEO routine. Right now, you simply want to make sure your conversion rates are matching your goals.
If you scroll down, you'll be able to get a more specific metric for conversions than the graph shows:

Again, you don't need to spend too much time here. You just want to make sure that there are no major decreases that need to be investigated.
Minor fluctuations are totally normal and to be expected.
What to Check With Google Search Console
After looking at how your traffic and conversions are doing, it's time to see your site's overall performance. For that, we'll be relying on Google Search Console (GSC).
If you don't already have your site hooked up to GSC, then check out our post on mastering Google Search Console. That will get your site running on GSC in just a few minutes.
For your daily SEO best practices list, you only need to look at GSC's overview on the homepage. That will show you:
Performance (clicks coming from a web search)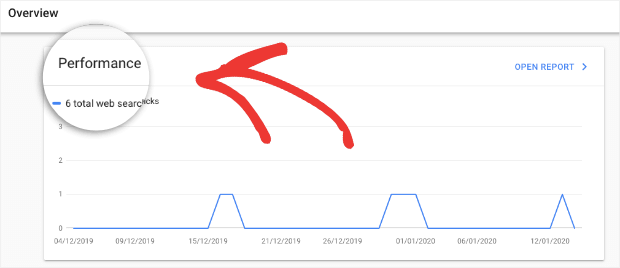 Coverage (meaning which URLs Google can and cannot index)

Enhancements (performance on mobile and speed)

You can go deeper into each of these categories and get a full report when you have the time. But on a day-to-day basis, it's unnecessary.
Simply checking in with Google Analytics and Google Search Console to make sure everything is running as it should be will guard you against any unwanted surprises. And if a problem does appear, you'll be ready to tackle it quickly.
Consolidating Your Analytics Reports
If you use WordPress, you can use MonsterInsights to make this entire process even easier.
With MonsterInsights, you can create custom reports for both Google Analytics and Google Search Console directly in your WordPress dashboard. That way, all you have to do is sign into WordPress and you have all your daily SEO information waiting for you.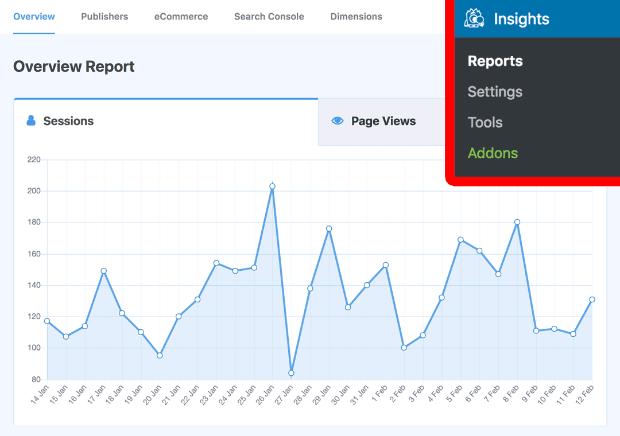 Check out this article on hooking up Google Search Console to Google Analytics to get started.
Then if you have a Plus license key or higher with MonsterInsights, you'll have your GSC and Google Analytic reports in one convenient place!
2. Work on Your Content
Content marketing is one of the best ways to drive traffic to your site. It also helps you establish yourself as an authority in your field.
Oh, and it's free.
But there's one drawback for busy business owners: creating content takes a lot of time.
That's why one SEO best practice is devoting at least a little part of your daily routine to making new content. This means spending a bit of time working on at least 1 of the 4 following areas:
Brainstorm
One of the hardest parts of relying on content marketing for driving organic traffic to your site is coming up with things to talk about. Spending a few minutes each day brainstorming ideas for your next blog post or marketing video is a great way to stay motivated.
Research
If you're writing a blog or social media posts, you need to know what you're talking about. For that, you should be setting time aside to thoroughly research a topic before pen hits paper (or fingers hit keys).
Nothing can hurt your credibility more than poorly researched content with inaccurate information.
Read first. Write later.
Update Old Content
One of the fun parts of content marketing is that no piece of content is ever truly finished. Even "evergreen" content will occasionally need updating.
As time moves forward and new technologies or statistics emerge, you should be updating outdated content.
Look through your archives and see if you have any older posts that you can modify to be more current.
Create New Content
You've brainstormed, researched, and now you're ready to write. But in the (slightly) modified words of Nathaniel Hawthorne, "Easy reading is hard writing."
This is pretty much true with anything: videos for YouTube, podcasts, infographics, and so on.
The fact is that creating quality content is time-consuming. And that's exactly why it should be part of your daily SEO activities!
By carving out little chunks of time each day, you'll be able to reliably and consistently publish content that will help your audience and rank your site on Google.
3. Work on Linkbuilding
One of the biggest factors in SEO is linkbuilding. It's not clear to what extent linkbuilding helps your SEO, but we know that it does.
And in a big way.
But like creating content, linkbuilding takes a ton of time. Plus, it's incredibly tedious. Consider one of the most classic linkbuilding strategies. You need to: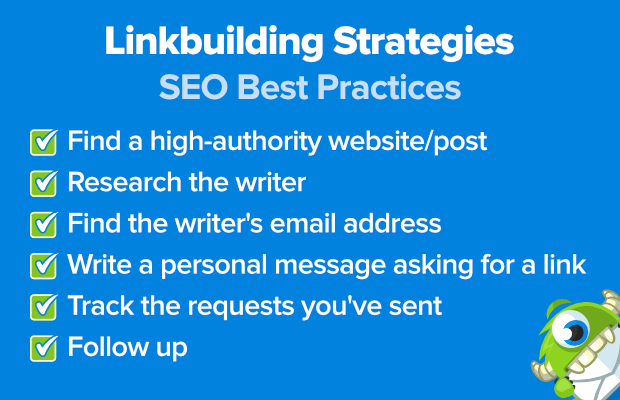 That's can start to feel like a lot. There are other linkbuilding strategies, but if you're looking for a magic button, you won't find it.
Linkbuilding is a lot of work. So much so that many small-sized businesses choose to ignore this important SEO best practice.
Rather than let the linkbuilding process overwhelm you, why not make it a small part of your daily SEO routine?
Give yourself a goal of reaching out to 3-5 high quality, reputable websites for links each day.
That small amount can add up fast. In fact, if you reached out to just 5 blogs or websites per day, that would be 1,200 emails throughout the year.
By splitting up your linkbuilding efforts into smaller, daily chunks, you're likely to stay motivated and build more links over time.
Think of linkbuilding as a marathon, not a sprint.
4. Maintain Your Social Media Presence
One great way to drive organic traffic to your website is consistent posting on social media. Adding social media to your daily SEO routine means you need to have a social media strategy that's right for your business.
Companies that engage in sales through social media are 40% more likely to hit revenue goals than non-social sellers. And, on the consumer side, over 30% of users prefer contacting brands via social media over a phone call.
Need a place to get started? Here are 9 ways to grow your email list with social media.
There are a few things to keep in mind when it comes to using social media on a daily basis: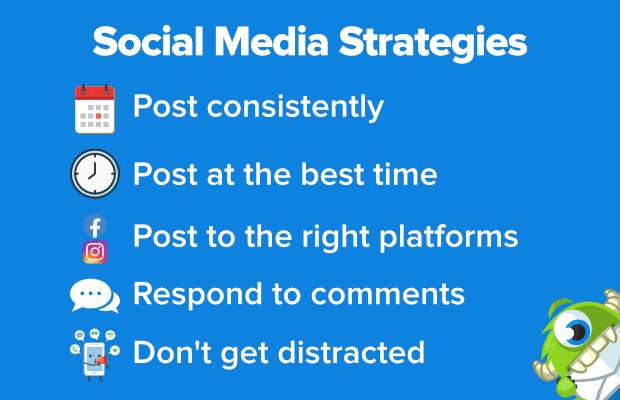 That last one can be the toughest part. Social media has found a way to mix business with pleasure. You go on Twitter to tweet a quote from your latest article and end up going down the rabbit hole of endless cat videos.
How can you avoid that? By taking advantage of some awesome technology.
Using tools like Buffer or Hootsuite lets you schedule posts without ever having to go on the social media platform itself. And you can even choose the best time to post on social media to automatically send the posts.
Check out our list of the best social media marketing tools that will not only give you an unfair advantage, but they'll also keep you focused and distraction-free.
And that's it!
These four things may not be new SEO tactics, but they include everything you need to manage your content marketing strategy.
Now, when it comes to your monthly SEO tasks, you won't be forced to spend hours on end sifting through data. Your fingers will already be on the pulse of your SEO strategy.
What to Do on Your Monthly SEO Check-Up
You've already gotten your day-to-day SEO checklist down. Now, you need to take some time at least once per month to accomplish two tasks:
1. In-Depth SEO site audit
This is where your SEO practices start getting into the nitty-gritty. You should spend a fair amount of time looking for any technical issues on your site that need to be addressed.
Luckily you have tons of tools to help you out.
One tool that we recommend is SEMrush and its site audit tool.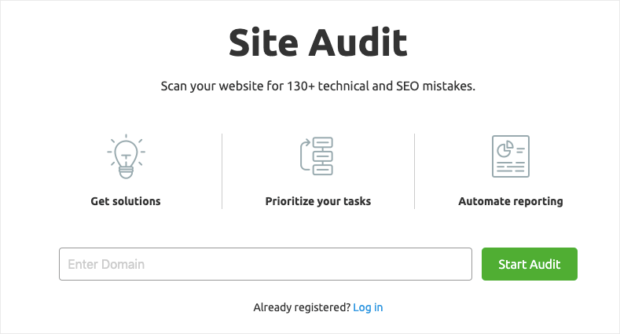 Using the site audit, you'll get a health score and get an in-depth look into any problems your site has: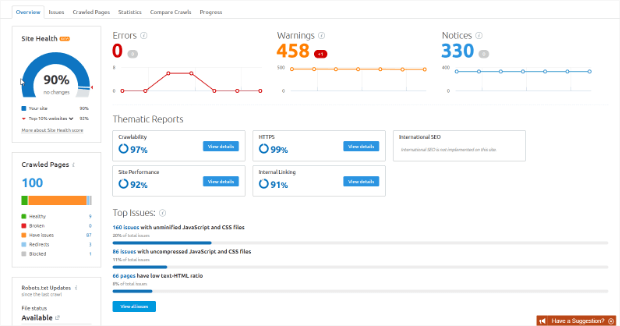 You'll also have a list of warnings that teach you why there's a problem and how to fix them:

When you click on "Why and how to fix it," you're given clear instructions on what to do: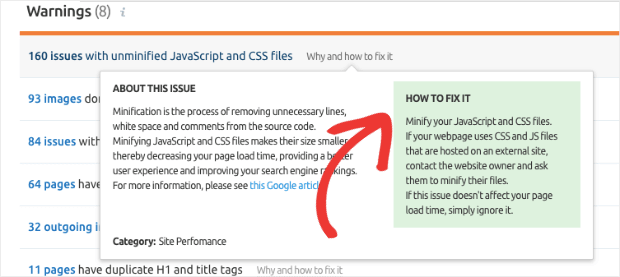 Another reason why we like SEMrush is it has all the tools you could possibly need in one place.
With its extensive features, you can look at all the technical aspects of your website's SEO and get detailed information to guide your social media strategy, your linkbuilding efforts, your pay-per-click ads (PPC), and much more.
Again, you should be setting aside a good amount of time each month to look at the technical aspect of your site's SEO. Since you've already laid most of the groundwork on a daily basis, though, your monthly check-ups shouldn't feel too overwhelming.
2. Content Review
Checking in with your content every month is more than simply reviewing what you've published and what older pieces need to be updated (though that is definitely a part of it).
You should look at how your content is performing so you can better plan next month's content.
As a part of your monthly SEO routine, you should ask yourself:
What types of content did my audience respond to most (blogs, videos, podcasts, and so on)?
Which subject matters got the most unique pageviews, the longest time on page, and the lowest bounce rates?
What pieces of content had the highest conversion rates?
Where did my audience come from (mobile, tablet, or desktop)?
What social media platforms did my audience engage with or come from the most?
The goal is to identify positive trends in your content creation and distribution so you can continue to fine-tune your content marketing strategy.
For example, if you wanted to see the types of content that worked best during the previous month, you could go into Google Analytics. In the left-hand menu, you would click Behavior » Site Overview » All Pages: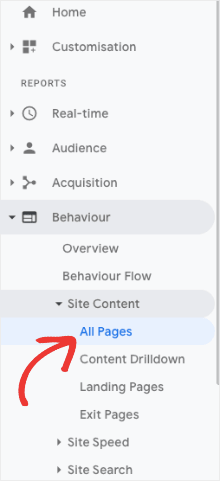 That would give you a break down of your site's top-performing pages (don't forget to change the date range as we discussed earlier):

You can use unique pageviews, time on page, and bounce rate as guiding metrics for which pieces of content your visitors tend to enjoy and consume the most.
That way when it comes time to brainstorm new content ideas, you can focus on how to replicate subjects that are popular and brainstorm ways to reduce bounce rate or increase time on page.
You should also check which social media sites are giving you the most traffic. Again, you would visit the left-hand menu and click Acquisition » Overview (just like you do in your daily SEO routine).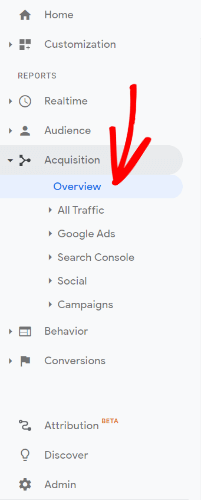 From there, you'll see a breakdown of what channels are driving traffic.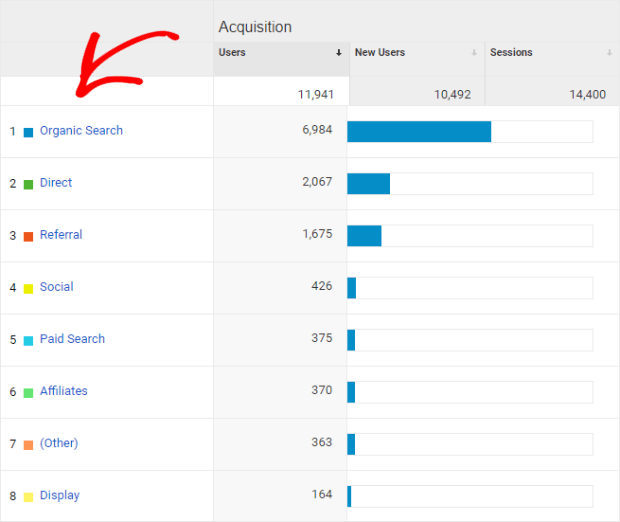 You can click on a specific channel to get even more detail about your traffic.
When you click Social, for example, you'll get a report on how much traffic is being sent by different social media platforms: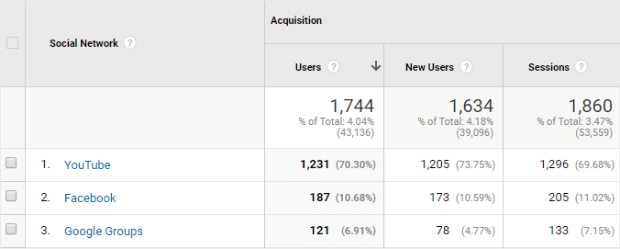 In the example above, it's clear that YouTube drives most of the traffic, so you'd want to continue there. However, this is also an indicator to review your social strategies for other platforms like Facebook and Twitter which should be driving more traffic as well.
The data that you need to check each month for your content's performance will change depending on your goals. Set aside some time for a monthly SEO review of all the content you're producing.
As you already know, one of the core SEO best practices is to produce the highest quality content. After all, what is the goal of SEO? Answering your user's search intent better than anyone else.
The only way to ensure you do this consistently is to track each piece of content's success. But, unfortunately, even the best-run SEO strategy isn't enough to run a successful business.
If you want to increase sales, you're still missing a key part of the equation.
Getting Lots of Organic Traffic Is Only Half the Battle
Yes, your daily SEO routine is going to produce way more organic traffic. There's just one problem: getting more traffic is only one side of the business coin.
Unless you have a solid strategy to convert traffic into paying customers, all of your SEO efforts will be lost.
Remember, the goal isn't getting high volume traffic. What you're really after is building a base of loyal paying customers who love your brand.
With OptinMonster, you can grow your email list, recover abandoning visitors, and increase conversions with professionally-designed, fully-customizable optins.
One of the most effective ways OptinMonster helps with this is with our Exit-Intent® technology. If a visitor comes to your site, looks around, and decides to leave without taking any action, they'll be greeted with a popup as they try to exit the page.
This strategy has been shown to recover over 50% of abandoning visitors!
But that's just the start. We also have an extensive list of exit popup hacks that are proven to grow your email list and increase your revenue.
So when your daily and monthly SEO routines start paying off and you watch organic traffic flood into your site, you can use OptinMonster to guarantee you have a surefire conversion system in place.
Sounds simple, right? That's because it is.
Don't put it off any longer. Join the OptinMonster family and get started today!