These days, everybody knows how important content marketing is in attracting your audience and winning leads and sales.
According to the Content Marketing Institute (CMI), content marketing is one of the most cost-effective promotional techniques. In fact, it delivers more leads at a lower cost than most other methods. (The only exception is email marketing.)
There's just one problem.
If you're a busy business owner or overwhelmed marketer, you want to be sure that the content you create will deliver real results.
Otherwise, you're just wasting your time.
Wouldn't it be great if you had an easy way to figure out the forms of content that would bring guaranteed business results?
That's why we've put together this list of the most engaging content formats to help you get better ROI from your content strategy.
We'll tell you why each of the content formats is on this list, and suggest ways to get started with creating them.
By the end, you'll be able to include some of the most engaging content types in your content strategy. That'll help you win your audience's attention, and boost leads and sales.
Let's get started…
Benefits of Content Marketing
Before we get into the content formats, let's look at why content marketing is such an essential marketing tool.
As we said, content is an essential part of email marketing which has a high ROI of around $40 for every dollar spent.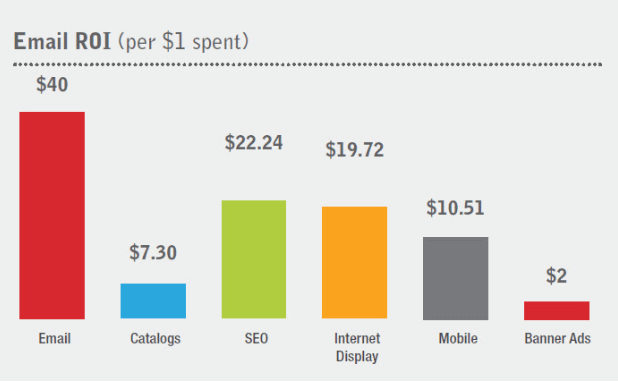 Content is also one of three main SEO search ranking factors. Get your content right, and people won't just find your site in search results. They may also visit, stick around and become customers.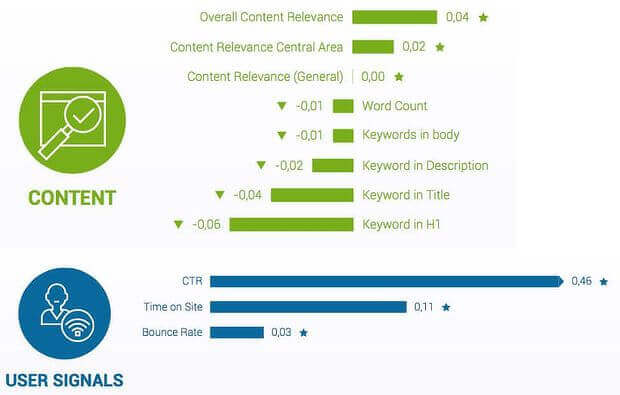 And content can help you build trust and authority. It does that by showing your expertise and giving visitors and customers helpful information.
But here's the thing: no single type of content will appeal to every visitor. That's why it makes sense to vary your content. The content formats listed below will help you get started. We've included a table of contents so you can jump to the one you want to try first.
1. Blog Posts
Let's start with blog posts. That's the content format most people think of as content marketing.
Blog posts are relatively easy to produce, especially if they're not too long and don't contain a lot of images.
And the potential benefits are worth it.
Done right, blog posts can help you:
Build up a set of authoritative content in your niche
Get more citations from other trusted sources, leading to better search ranking
Have content that you can change into other content formats
You can also use guest blogging to build up your inbound link profile.
Blogging covers many types of articles. These include how-tos, reviews, lists and more. Many of these are among the most shared content online.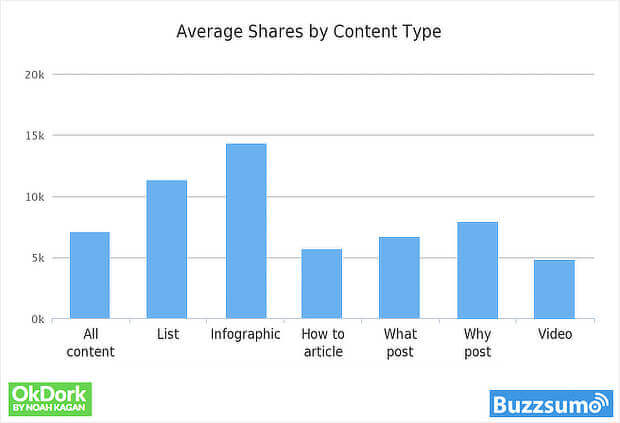 To get started with writing blog posts:
Related Content: Ultimate List of Blogging Statistics and Facts (Updated for 2020)
2. Long-Form Articles
Long-form articles are another form of content worth your time.
It's a type of blogging, but long-form content can also stand alone. One example is Moz's website migration guide, which is more than 17,000 words long.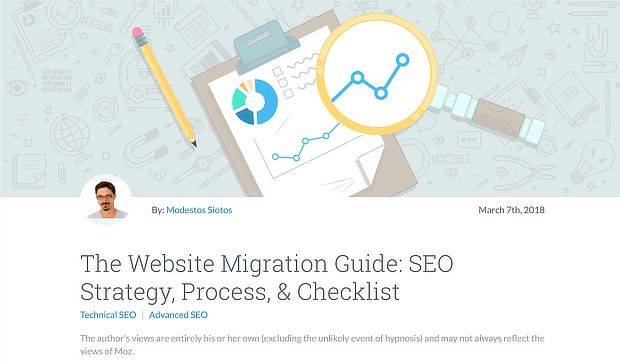 According to the data, people love to share long-form articles on social media. That results in more traffic to your website. You also get the indirect SEO benefits of social signals.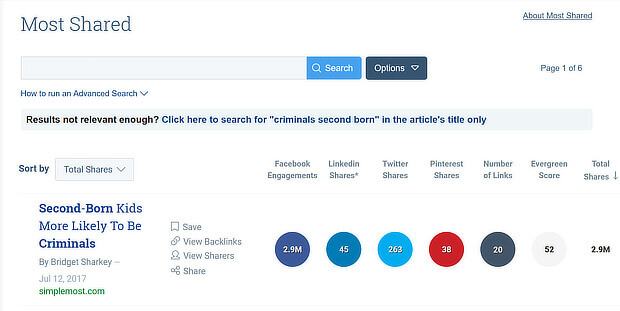 If you want to use the long-form content format, then you'll need to research and write content with real depth.
For example, some people publish "ultimate guides" to topics. These can have several chapters, each on its own URL. That means there are lots of chances for the guide to appear in search results.
One option is to use your own industry expertise to produce in-depth and well-researched long long-form content. Another is to check out the content that's already around, and try to produce something better, fresher, and with more resources.
3. Original Research
Original research is another of the popular content formats which get links and shares across many platforms. According to Buzzsumo, content related to research findings can attract millions of shares.
Original research is also a great way to get inbound links. This happens when people cite your work, and it's great for SEO. An example of original research is the CMI's annual report on B2B content marketing.
There's only one issue: producing in-depth research can be time-consuming and costly.
If you want to speed up the process, carry out a survey, using WPForms. Then use the built-in reporting dashboard to get charts to help you visualize the results.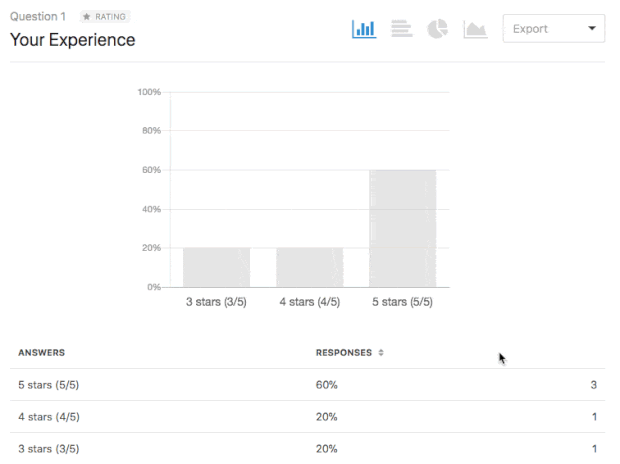 4. Video
As our article on video marketing statistics shows, video is a proven attention-getter online. Most age groups watch video. It's also one of the most popular content formats for mobile device users. And data from Google shows that video is a trusted source for 40% of millennials.
But video's also one of the content formats that contribute to business revenue.
Aberdeen Group shows that marketers who use video get 66% more leads a year than those who don't. Brand awareness improves too. And Wyzowl found that 81% of those using video marketing saw an increase in sales.
Tools to Use: 11 Best Instagram Video Editing Tools Compared (Free and Paid)
There are lots of ways you can use video in your business. Here are a few ideas:
Use an explainer video to introduce people to your business
Create a video showcasing features of your products or services
Shoot a tutorial to give visitors step by step instructions on using your product
You can also get video views by tapping into popular culture or questioning social norms. One example is the Like a Girl campaign from Always. This turns a phrase that can be negative into a positive affirmation.
So, how do you get started with creating video content? Here are a few suggestions:
YouTube makes it easy for anyone to have a video channel. You can even shoot video on your smartphone and upload it via the YouTube Studio app.
Use a video creation tool like the ones listed here.
Or go live, as live video is now more popular.
If you want to take this last option, Facebook suggests you:
Make sure you've got a great internet connection
Let people know you're planning to go live and encourage them to subscribe
Write a catchy description; that'll come in handy for people watching it later
See more of Facebook's tips on live video.
5. Infographics
Did you know that infographics are also among the most shared content online? And that 84% of those who use infographics to market their business find that content format effective?
These are just two reasons why infographics are a form of content you can't ignore.
It's important to get the graphic elements right and make your infographics attractive. But don't forget to make the information is interesting and reliable. That creates a linkable, shareable resource, like this example from Marketing Profs: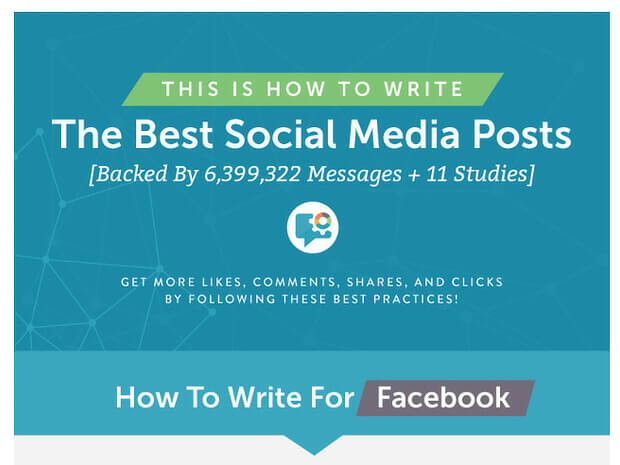 If you want to use this content format, here are a few tips to get you started:
Plan your infographic like any other piece of content so it tells a story. A blog post outline can be a good starting point
Give it a good headline and interesting subheadings
Use Canva, Piktochart, or another visual content marketing tool to create it.
6. Images
While we're on the topic of visuals, let's not forget about images. Every internet minute, 15,000 GIFs are sent on Messenger, and 46,200 Instagram posts are uploaded.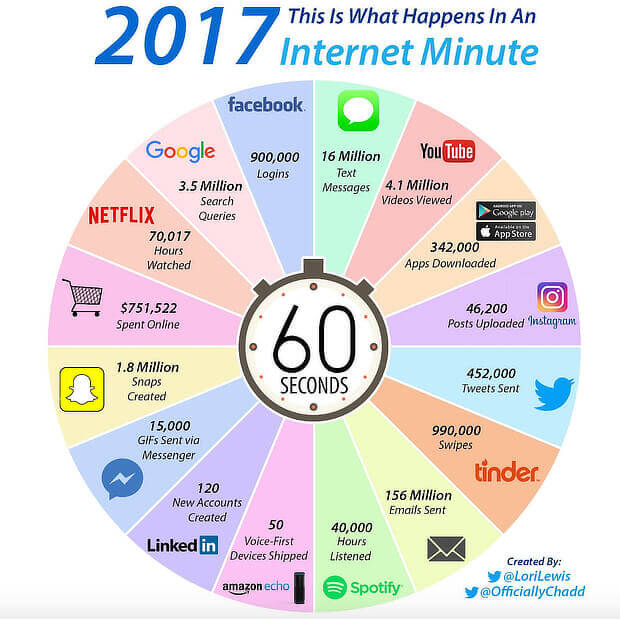 Images make people more likely to share written content on both Facebook and Twitter.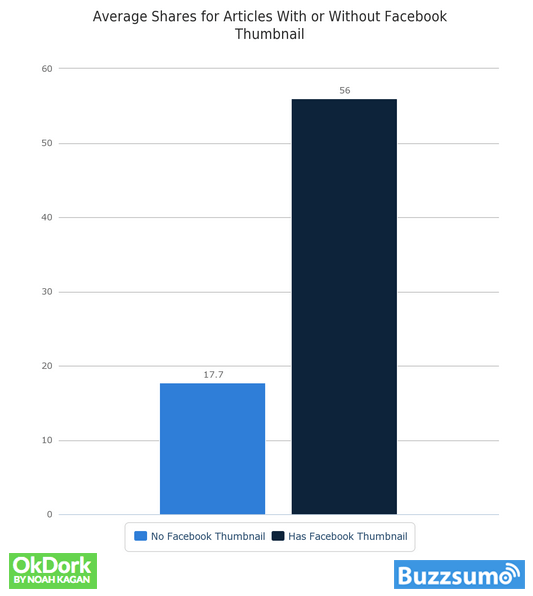 Here are some options for using images as a content format:
7. Case Studies
Case studies are one of the most effective content marketing formats for winning new business.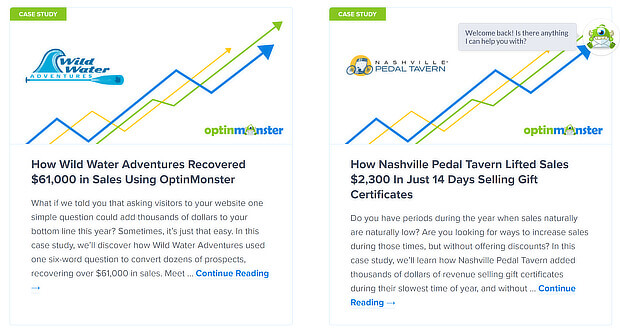 Case studies give you the chance to feature your customers and to:
Show off what you're doing right
Create niche-specific content
Build trust and authority
Highlight your competitive advantage
Learn how to create an effective case study with our case study guide.
8. White Papers/Reports
White papers and reports can help to engage your audience.
In fact, according to Forbes 79% of B2B buyers share white papers with their colleagues. That adds up to a huge opportunity for you to win more business.
The best white papers aren't a marketing pitch. Instead, they aim to help the target audience. Even without the hard sell, they're effective.
The best white papers:
Focus on one key issue. They are relatively short, at about 6 to 10 pages
Use in-depth research
Back up any claims with verifiable statistics
Include charts, graphs, and pull quotes
Have a call to action so readers know what to do next
Check out our guide to writing the perfect call to action for help with this last step.
9. Ebooks
Ebooks are another great way to create content quickly. Done right, an ebook can be an excellent lead magnet and can help solve your customers' problems.
Hubspot uses ebooks as lead magnets on many blog posts, helping them become a hugely successful company. Check out the share numbers for some of their most popular lead magnets below: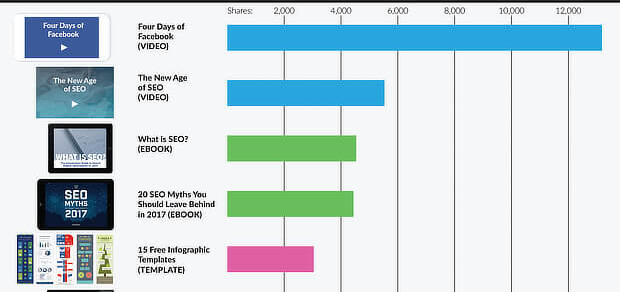 If you're planning to create an ebook, a good starting point is an in-depth blog post or piece of long form content.
Read our guide to learn some of the key mistakes to avoid when writing an ebook or how to create a popup for your ebook to get more leads.
10. Presentations
If you're already promoting your business with presentations, then this is a useful content format. Plus, it's pretty easy to put them online with a SlideShare account.
Traffic Generation Cafe found SlideShare an effective way to:
Generate traffic to the website
Increase the number of Facebook fans
Gain engagement on SlideShare itself
By uploading presentations to SlideShare, the site moved from 0 to 243,000 views within just 30 days.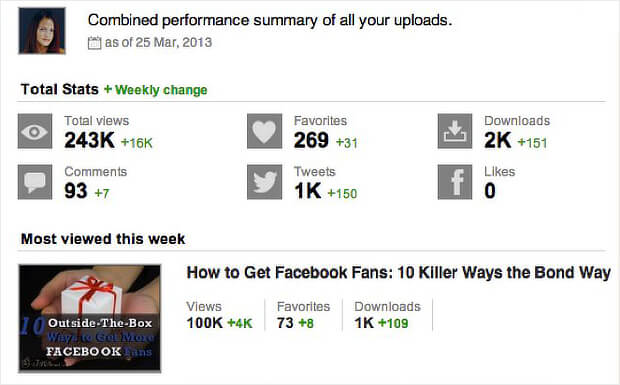 To get started with SlideShare, just create and upload a presentation that'll interest your target customers. Tag it with around three keywords to make it easy to find.
Add it to your LinkedIn profile (LinkedIn is SlideShare's parent company) to make it even more visible. Promote your presentation via the usual marketing channels.
11. Webinars
The stats show that webinars (which are online seminars) are an excellent business content marketing format. According to ReadyTalk, between 20% and 40% of those who attend webinars become qualified leads.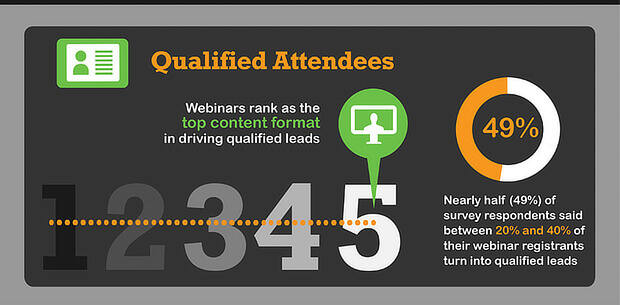 Meanwhile, the Branded Solopreneur found that between 2% and 5% of attendees actually make a purchase.
Those are pretty good numbers, aren't they?
Webinars usually consist of a presentation plus a brief Q&A session. They help you show off your expertise. You can also demonstrate products and services so that attendees actually want to use them.
To test the water with creating a webinar, try using Zoom which lets you host a 40-minute online meeting with up to 100 attendees for free.
Get more tips and tools to help with webinar marketing in our guide.
12. Quizzes and Polls
According to CMI, quizzes are one of the most engaging content formats. They will definitely get your audience's attention.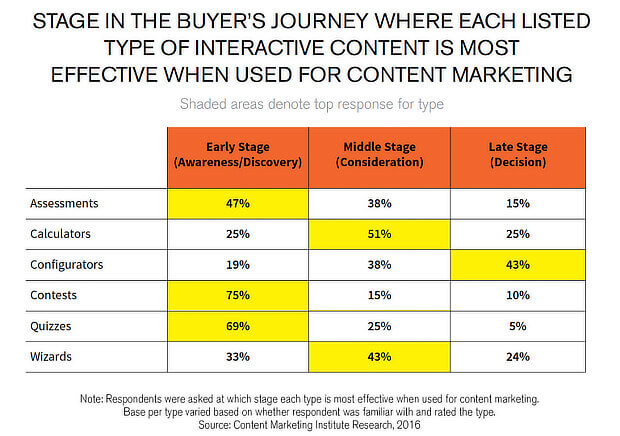 Similarly, polls can boost engagement by making participants curious about the results.
Shareable, fun content makes a good addition to any content strategy. And since they're usually easy to complete, that's an added bonus for your audience.
To create quizzes online, use a tool like Quizzr or Playbuzz. For polls, use the tools built into many social sites, or try WPForms.
13. Podcasts
According to Edison Research, the number of podcast listeners has grown in the last five years. Today, 15% of the US population listens to a podcast at least weekly.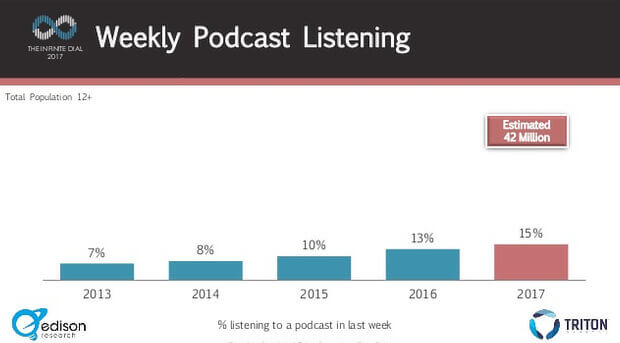 So it's clear that a podcast is a great content format to engage your audience. Podcasts let people access your content at their own convenience. They are also another great option for repurposing existing content.
For example, if you've created a video, the audio can easily become a podcast. And you can also read a blog post to make that into a podcast episode too.
If you're looking for an easy way to start your own podcast, follow this tutorial from WPBeginner.
Top Tools: Start your own podcast today with one of the best WordPress podcasting plugins from our list!
14. Checklists
One of the easiest content formats to create is a checklist. They're insanely popular, attracting hundreds of thousands of shares in some cases.

This type of content includes worksheets, tip sheets, and cheat sheets. They're easy to make by pulling out the key points from another type of content (like a blog post).
Next, you can layout your cheat sheet in a Google Doc or Word document and export it as a PDF. Alternatively, use software like Canva to make it into a graphic and do your PDF export from there.
15. Email Newsletters
You probably don't think of your email newsletter as a content format, but it totally is.
Sure, email newsletters are a great way to highlight the content you've created in other formats. However, they can also be something completely new.
As we saw earlier, email has great ROI. That's why you can't ignore this content marketing format. See our tips on how to create an email newsletter to get started.
Now you know some of the content formats you can use to improve your content marketing strategy. Next, check out some content marketing examples for inspiration, and learn about content curation.
There's just one more thing to help you get more from your content: promotion. OptinMonster's a great tool to help you with that. In fact, Social Media Examiner got 250,000 new subscribers by promoting its content with OptinMonster.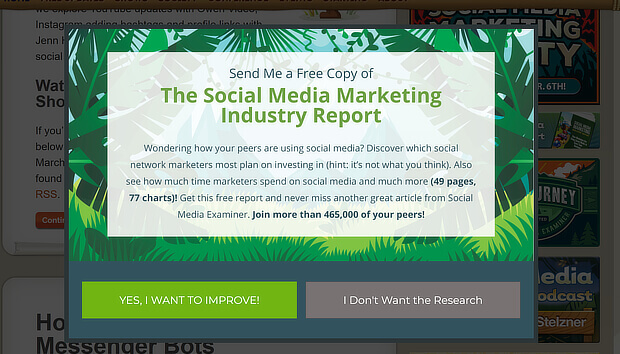 Want to get more subscribers, leads, and sales by promoting your content? Get started with OptinMonster today!