You've finally decided to make the leap and start a YouTube channel. After hours of filming, editing, and releasing your work you wait patiently only to find…
…you got nowhere.
In the first month, your video had 9 views, 7 of which were just your mother showing her friends.
You know the content is solid, so why isn't your video getting more clicks?
Probably because you haven't mastered YouTube SEO. Lucky for you, it's easy to learn!
Today we'll be looking at 8 tips for YouTube SEO to make sure your videos get ranked, get views, and get subscribers to your channel.
The strategies we'll cover are:
Identifying your keyword
Adding your keyword to the video title
Optimizing your video descriptions
Finding the right "tags" for your video
Categorizing your video
Using a custom thumbnail to improve your YouTube SEO
Adding subtitles
Including cards and end screens for viewership
**Plus we'll throw in a bonus tip on how to get more views on your videos**
But before we dive into specific tips on how to rank higher on YouTube, it's important to understand how the platform's algorithm "watches" your content and how to upload your videos in the first place.
YouTube SEO 101: Understanding the Algorithm Behind the Search
A lot of content-based marketers make the mistake of thinking that when video is involved, the way they use their text is less important.
After all, the reason video has become so popular is that it's more easily digestible (and typically more entertaining) than reading through long articles. Be that as it may, you need to remember something:
Video-based search engines like YouTube aren't able to see your video in the same way humans do.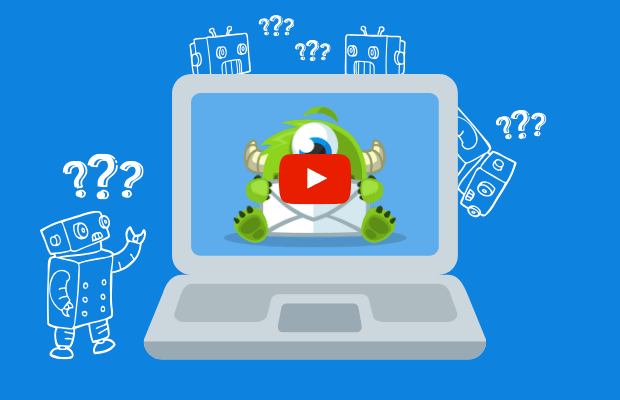 This is vital for really understanding how YouTube ranks their videos for search queries.
There's no person calling the shots here. It's an unknowable algorithm running the show. That's why knowing how to label the text-based components of your video is crucial for mastering your YouTube SEO strategy.
Fortunately, just like traditional search engine optimization, there are certain YouTube best practices you can follow which we will cover shortly.
But first things first, you need to upload your video.
On YouTube's homepage, look at the top right-hand corner for a few icons. Locate the one that looks like a camera with the "+" sign in the middle.

Hover over the icon and click "Upload Video":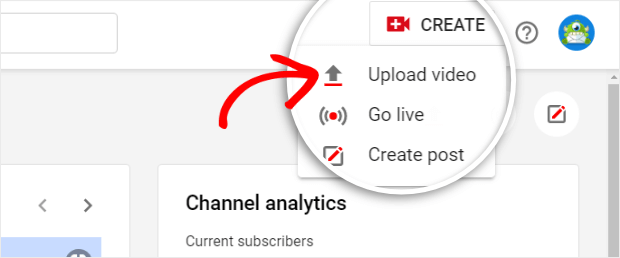 Now drag and drop your video file as indicated: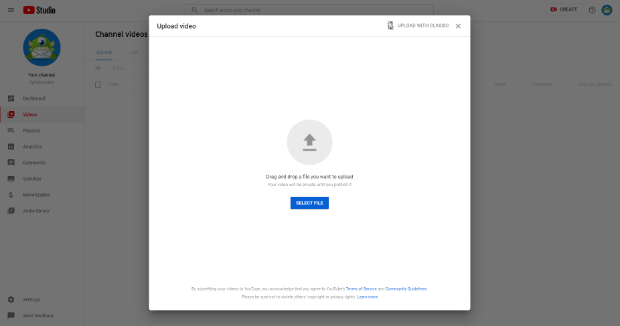 Now that your file has uploaded, we can move through our YouTube SEO best practices for providing information about your video.
1. Research and Find Your Keyword
Just like you would find a keyword for optimizing your blog posts for SEO, you need to have a clear keyword for your video content. This is literally the cornerstone of your strategy when it comes to how to do SEO for YouTube successfully.
Here are a few ways to find a keyword:
Use YouTube's autosuggest: Type in the basic subject of your content and see what comes up. These are suggestions that people are actively searching for on YouTube.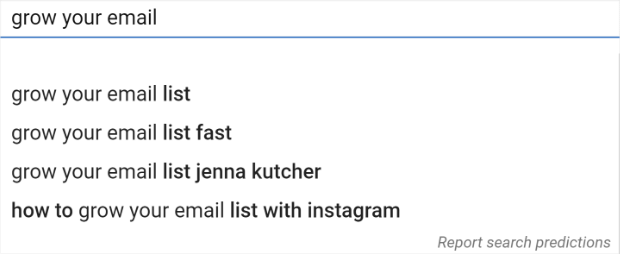 Use Google Trends' YouTube Search feature: Google Trends will show you which searches are popular and allow you to check on YouTube's platform.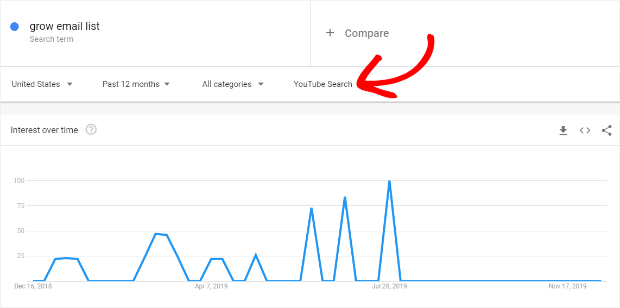 Research keyword volume with the YouTube SEO tool of your choosing: Though there are many tools for keyword research on the market, we highly recommend SEMrush. We've also had good luck with Ahrefs.
Whichever method you choose, make sure your keyword is related to your content and can be embedded naturally in your title, subtitles, and video description.
2. Add Your Keyword to Your Video Title
Once you have your keyword in place and your video is recorded, you're now ready to start optimizing with a few YouTube SEO best practices.
Let's begin with the title. Directly after your video downloads, you'll have the chance to give it a name.
Giving your video a catchy title is essential for getting more people to click on it (just like having a good subject for your emails will increase open rates).
Your title should have the keyword included in a way that sounds natural. If your keyword was "playing guitar," for example, and you were targeting people just learning to play the guitar, your title would be something like, "Playing Guitar for Beginners."
While titling your video with a keyword won't magically rank your video at #1, it certainly helps YouTube's algorithm get you a bit closer.
3. Optimize Your Video Descriptions
Directly under your title, you'll have the chance to give your video a description: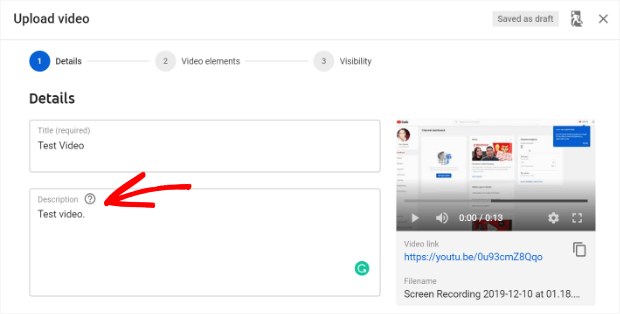 There are a few rules to keep in mind when doing this:
Create thorough descriptions in longer forms (150-250 words)
Include your keyword and related keywords (without keyword stuffing)
Add a call-to-action at the end
Include links to your brand or other content
So if we look at OptinMonster's description for the video "Explode Your Email List with Instagram and OptinMonster," you can see that all those parts are included.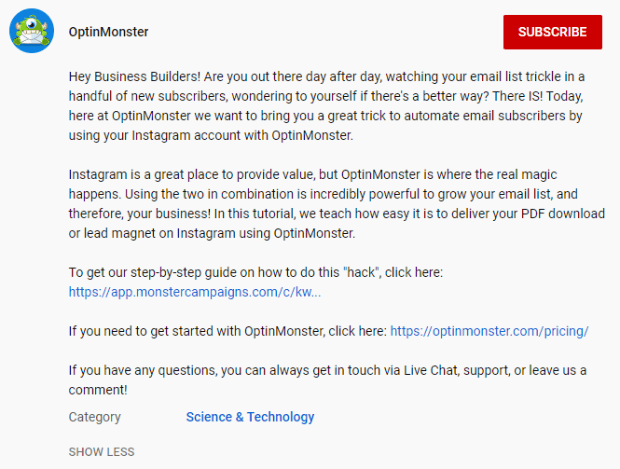 One important thing to keep in mind is that while your video description should be longer in form, your first few sentences should be catchy and engaging. This is crucial because when users land on your video, they will only see the first few lines of your description:

By giving your description a great introduction, you'll increase your chances of users clicking "Show More" to see your call-to-action.
4. Find the Right "Tags" for Your Video
After you've titled your video and keyword description, scroll down until you see "More Options."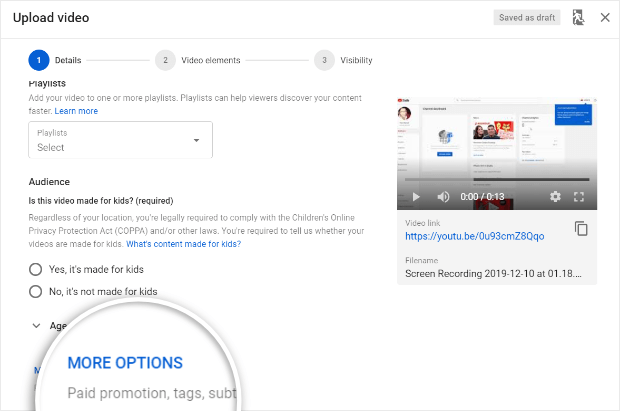 Click "More Options" and scroll down until you found the "Tags" field box: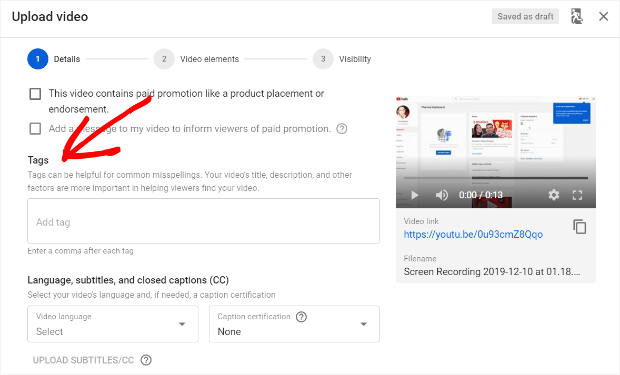 Though the text in the picture above indicates that other factors (like title and description) are more important for ranking, "tags" are still considered a YouTube SEO best practice.
Tags are a great piece of metadata that gives YouTube and Google a bit more information about what your video is about (remember, these search engines can't "watch" these videos like humans).
As a general rule, your first tag should be your keyword followed by other related terms. Just don't go overboard. Your best bet is to stick with 5-10 tags per video.
5. Categorize Your Video
At  this point, you'll want to put your video in a category to help users (and YouTube's algorithm) find your content more easily: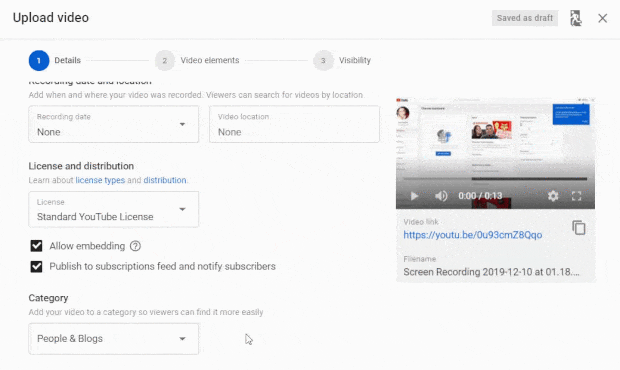 Think about your content and which category it would fit best in. There are only a total of 15 categories, so you may not find exactly what you are looking for.
In some cases, it can be difficult to decide between two similar categories (such as "Comedy" and "Entertainment") but most of the time matching your content to a category is more straightforward.
6. Add a Custom Thumbnail
This is one YouTube SEO strategy that many video uploaders choose to ignore. When you upload your video to YouTube, you'll be given different options for an auto-generated thumbnail (the photo of your video your users will see in the search results):

But your best bet when it comes to YouTube SEO is to upload a custom thumbnail that entices people to click through to your video:

More than just getting more views, these clicks will signal to YouTube's algorithm that your content is a popular result (which will, consequently, help you rank higher). Compare the difference between the following examples.
First, we have OptinMonster's custom thumbnail for the video discussed above ("Exploding Your Email List with Instagram and OptinMonster"):

You'll notice that in the thumbnail you have the name of the video, OptinMonster's icon, and Instagram's logo. All of this information serves to let the reader immediately know what the content is about and who made it. Now look at this example of a clearly auto-generated thumbnail:

This is clearly a slide from the presentation you will see in the video and if you were to only see the thumbnail, you wouldn't know what the content is about or who is behind it. Given its 30 minute length and lack of information around what the video is about, it's likely to receive fewer clicks in the search results.
7. Add Subtitles
Adding subtitles to your video accomplishes two things when it comes to boosting your rankings in YouTube's search results.
First, it allows you to have more emphasis on your keywords in a text-based format. Anytime you can convey your keyword in-text (without keyword stuffing), you're helping YouTube's algorithm better understand your content.
Second, it helps users who are either hard of hearing, non-native English speakers, or simply can't watch your video with the sound on (perhaps they're watching in public places or at work).
Either way, adding subtitles can be an added asset to your YouTube SEO strategy. Under "More Options," you can scroll down to "Language, subtitles, and closed captions (CC)":

Here you can choose the language of your video and add any Caption certifications if your content appeared on U.S. television on or after September 30, 2012. In most cases, you'll simply leave "None" as the default response for this field.
Finally, you'll want to click on "Upload Subtitles":

and choose "With Timing" or "Without Timing":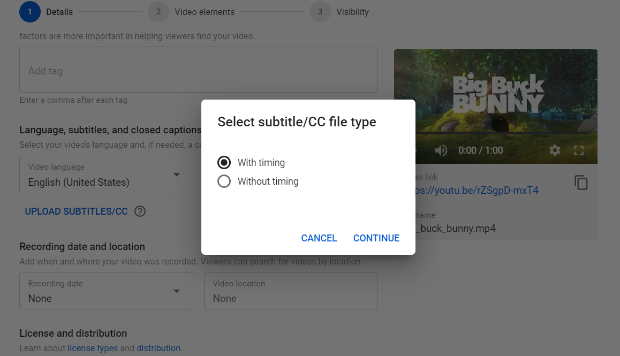 Then you will choose your text file (your subtitles) to upload with your video.
If your video is longer in length, it can be a pain to transcribe the subtitles by hand. We recommend using "automatic captioning" which can simplify the process. Whether you decide to automate your subtitles or type them out manually, make sure to watch your video with the subtitles turned on in order to look for any embarrassing spelling errors.
8. Include End Screens and Cards
Now you have the option to add end screens and cards to your video. Both of these are important parts of your YouTube SEO strategy.
First, you can add end screens which are a way to show your related content to users at the end of your video.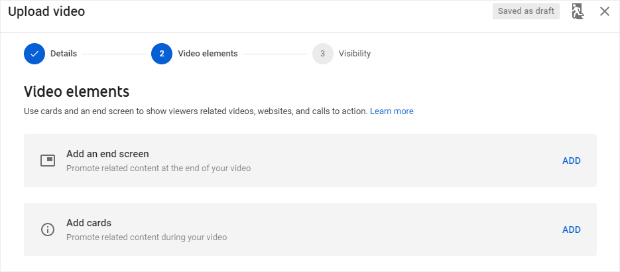 There are different elements you can add to the end screen, all of which are designed to get your viewers to click on another one of your videos, subscribe to your channel, or promote a related channel. These elements will be shown at the end of your video within the boundaries of the blue box as indicated below: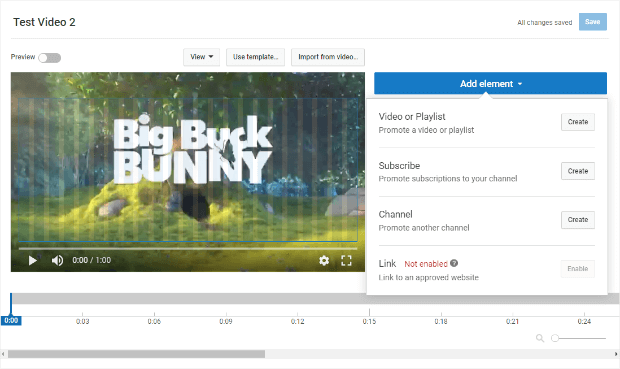 Then you have a feature called "cards" which are similar to end screens but may be used throughout the entire video.
Like end screens, you can advertise another one of your videos or promote a related channel. Unlike end screens, you can ask your viewers to participate in a poll which is a great way to increase user engagement.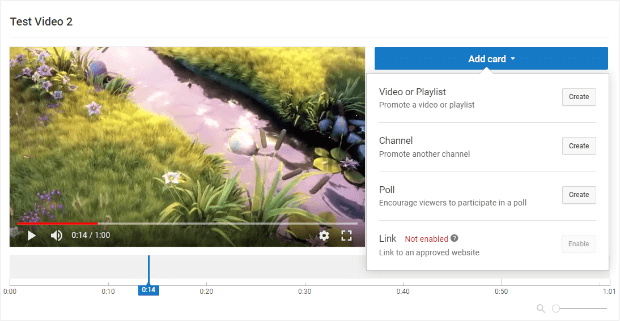 The goal of all of these cards is the same: to interact with your viewers and keep them with your content for as long as possible.
The more time they spend on your videos, the more positive signals get sent to YouTube's algorithm.
Quick NoteIn the photo above, you'll notice that "links" are not enabled yet. To add links to either cards or end screens, you need prior approval as of September 27, 2017.
How to Get More Leads From Your YouTube Videos
Using the 8 YouTube SEO tips listed above is essential to getting your videos ranked higher. However, getting eyes on your videos isn't where it ends. You want to get leads from your YouTube videos, right?
Getting More Leads Using Video Elements
Throughout your video, you'll create cards or an end screen with a lead magnet (this could be upgraded content, an eBook, an infographic, or even a raffle/giveaway contest) related to the subject of your video.
Then you create a basic call-to-action asking viewers to click a link to get access to your lead magnet.
Finally, you'll need to build an optin form on your website (2-step optins are an effective and simple option). Using any of OptinMonster's powerful tools, you can make an optin form to capture your customer's email.
Once you've done so, you'll be able to add the link to your optin form on your YouTube video! More specifically, you'll include this optin link:
In your video description
In your video's cards and end screens (but remember, you need prior approval to add links on your video)
In your YouTube channel's header
In the "About Tab" on your YouTube channel
In replies you give to comments on your video
The goal is to make this link impossible to ignore.
Getting More Leads by Showing a Popup After Your Video Ends
YouTube's video elements are great at getting viewers to optin, but did you know that you can show an official campaign after your video ends? It's simple using MonsterLinks and a little Javascript.
The first step is to add a MonsterLink to your page and to hide it using CSS. Here's what the code looks like for that:


<a id="manual-optin-trigger" href="https://app.monstercampaigns.com/c/h95qqg9sqx9atrsl/" target="_blank" style="display:none;" rel="noopener noreferrer"></a>


You'll need to replace the link in the code above with your own MonsterLink.
Now that you have your MonsterLink set up, you'll need to set up the campaign to trigger from your YouTube video.
Start by getting the YouTube embed IFrame. Once you have the code, you'll need to make these changes:
Add ?enablejsapi=1 to the end of the src url.
Add an id attribute to the IFrame, id="player".


<iframe id="player" width="560" height="315" src="https://www.youtube.com/embed/jbP9C9bQtv4?enablejsapi=1" frameborder="0" allow="accelerometer; autoplay; encrypted-media; gyroscope; picture-in-picture" allowfullscreen></iframe>


Next, add the YouTube IFrame Javascript to the footer of your site:


<script type="text/javascript">
	var tag = document.createElement('script');
	tag.src = "https://www.youtube.com/iframe_api";
	var firstScript = document.getElementsByTagName('script')[0];
	firstScript.parentNode.insertBefore(tag, firstScript);

	function onYouTubeIframeAPIReady() {
		new YT.Player('player', {
			events: {
				'onStateChange': function(evt) {
					if (evt.data === YT.PlayerState.ENDED) {
						document.getElementById('manual-optin-trigger').click();
					}
				}
			}
		});
	}
</script>


And that's it! Once you have a lead magnet and a link to your optin form, you're ready to start growing your email list and send out video-embedded email campaigns to an audience you know already enjoys your content. Now, be sure to check out our article showing you how to start and optimize your YouTube channel for business.
As your video's views increase, your rankings are much more likely to follow suit.
Did you enjoy this article? If so, you'd probably like our YouTube channel even more! You can check that out right here. Don't forget to subscribe, like our videos, and leave us some comments. We'd love to hear from you.