Remember taking tests in high school? You'd study all week, make flashcards, and have endless highlights in your textbook. Test day would arrive, and you'd get to class feeling prepared but still nervous.
And then you'd get the good news: "Today's test is open-book."
You could now take the test knowing all the answers were right there in front of you in case you got stumped.
Now meet Google Search Console, Google's open-book resource for all your SEO questions.
It's comprehensive, impressively accurate and, best of all, 100% free. If you're serious about creating killer content that ranks, Google Search Console isn't just a "nice-to-have," it's an absolute must.
By the end of this article, you'll know how to use Google Search Console like a pro to improve your rankings, fix any problems on your site, and ace all your real-life SEO tests. But first…
What is Google Search Console?
Google Search Console (GSC) is a free tool provided by Google that allows website owners to take their SEO to a whole new level. Using GSC, you can:
Track your site's performance
Get ranked on Google
Set up alerts to respond more quickly to site problems
Get a better idea of how Google bots are "reading" your website
With Google Search Console, you have direct access to key SEO metrics that show you how to improve your site's ranking on Google.
How to Set up GSC
Setting up Google Search Console can seem confusing if you're new to it, but it's actually quite simple.
First, you want to go to the Google Search Console homepage and click Start Now: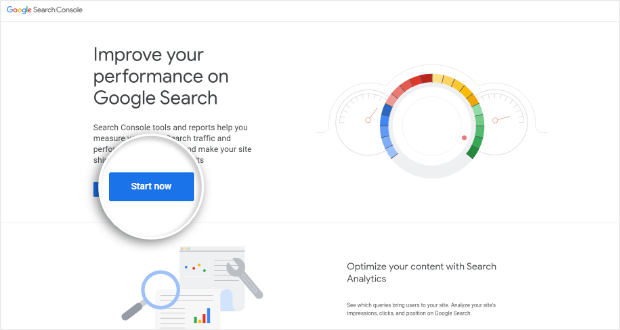 Then, you'll be asked to select a Property Type. This can be either a Domain or the URL prefix: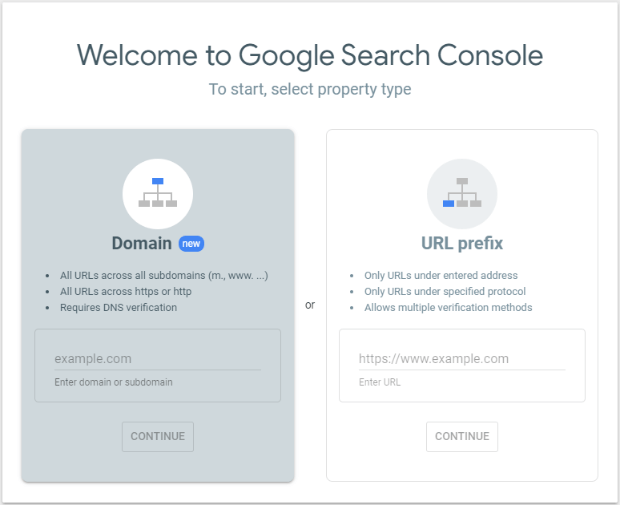 The difference is that a Domain property will track data about your entire site (including subdomains regardless of prefixes like "www," "http://," "https://," etc.).
Domain properties are more comprehensive and will lead to having site-wide metrics.
The URL prefix, on the other hand, is easier to verify but only gives you data about a specific URL, not the entire site. This can be good if you want to track specific pages separately from your domain but can be more tedious in setting up.
Note: Since most users will only need to set up one property in Google Search Console under an entire domain, that's what we'll be doing today.
Enter your domain name and click Continue.
Now comes the part that most webmasters find troublesome: verifying their ownership of a domain. At this point, you'll be shown the following screen: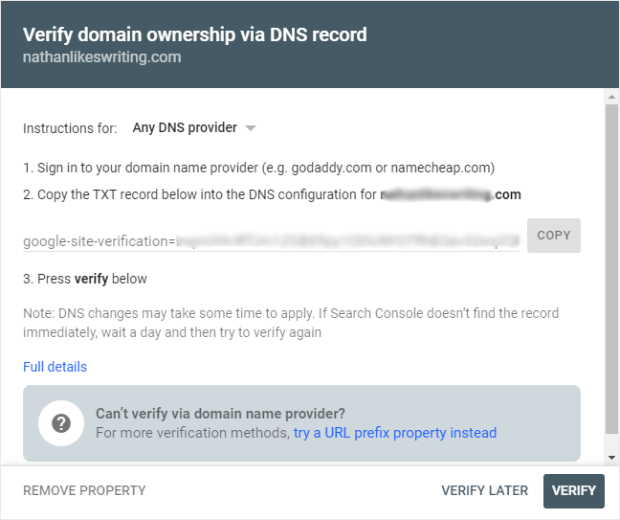 The problem isn't so much the verification process itself (which is straightforward), but the fact that there are so many domain name providers (like Bluehost, GoDaddy, NameCheap, etc.), each of which has unique steps in their verification process.
In today's tutorial, we'll be verifying our domain with Bluehost, but you can select other options if you have a different domain provider:
If you can't find your domain provider on that list, you can find instructions here for literally every provider on the market.
Again, today we'll be working with Bluehost because it's one of our favorite hosting providers.
First, you want to copy the TXT record in your Google Search Console verification window: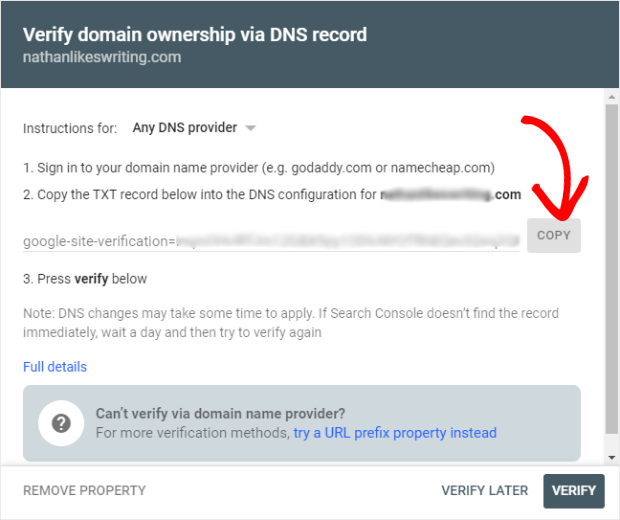 Then open a new window, go to your Bluehost account and sign in: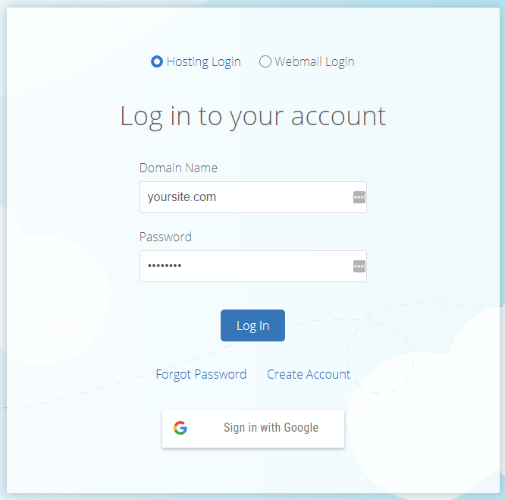 Now you need to add the TXT record to your domain's DNS records. To do this from your Bluehost dashboard, click Domains » Zone Editor then choose the domain you want from the dropdown: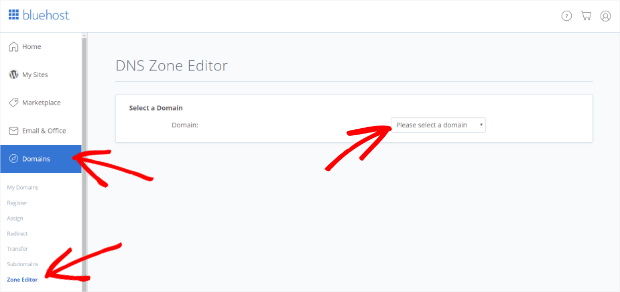 After you select the domain you want, you'll be able to add a new DNS record.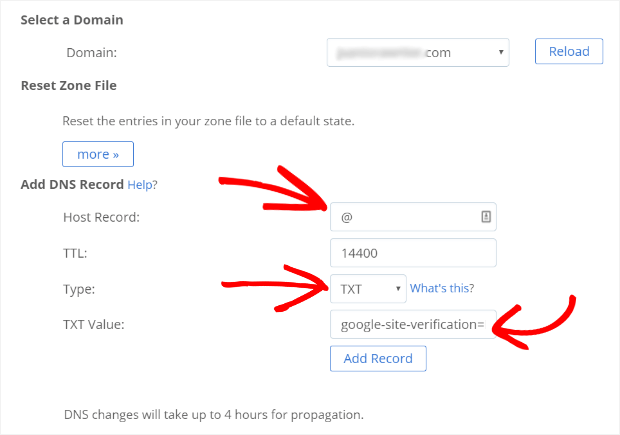 In the Host Record field, enter @. You'll leave the default TTL (14400) and change the Type to TXT. Then, past the Google site verification code you copied earlier into the TXT Value field.
Click Add Record.
It's important to understand that changes with your domain provider aren't going to update instantly. Sometimes the changes to your DNS take a few hours to work.
If this happens, don't worry. Just try again later that afternoon or the following day.
Once you're all verified, now comes the fun part: using Google Search Console to optimize your site, increase your rankings and, ultimately, drive more traffic!
How to Use Google Search Console
Now that you have GSC installed, you may be wondering, "Ok, but what does Google Search Console do?"
The answer? Pretty much everything when it comes to tracking your site's performance on Google.
When you've verified ownership of your site, you can visit your property.
Here, you'll see the left-hand side has a number of tools for you to check on your site's performance: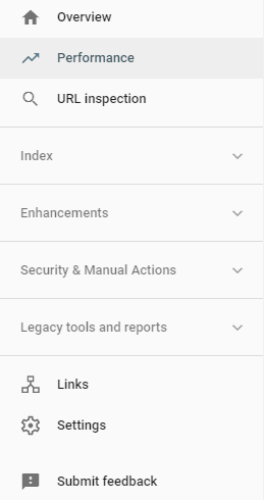 Let's take a look at each one individually to learn how to use GSC to improve your website.
1. Overview
The main display on the Google Search Console will be your Overview by default. This is where you'll see your site's overall performance, a coverage report (which we'll discuss shortly), and any errors that are currently on your site.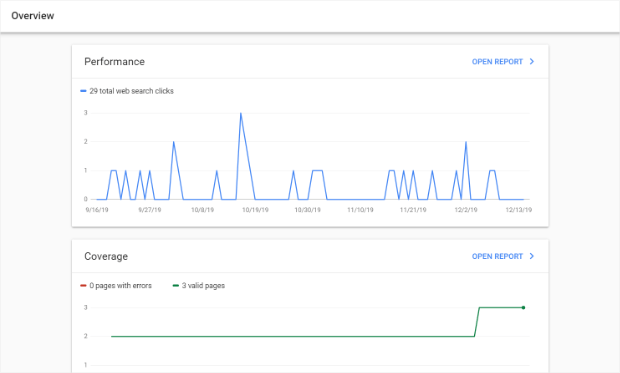 This is a great place for a daily check-in to make sure things are running smoothly.
2. Performance
As the name suggests, this feature of GSC will give you data about your site's overall performance on Google. In other words, it will let you know how well you're doing in terms of traffic and impressions.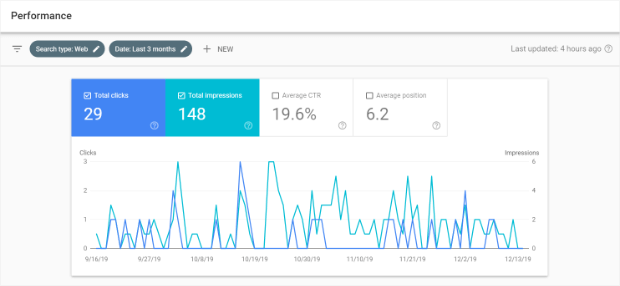 You'll be able to keep your eye on relevant search queries, see who is visiting from desktop or mobile, which country your visitors come from, and monitor click-through-rates from Google search results.

Just like your Overview, this is a good place to visit regularly to get a sense of how many people are visiting your site on a daily basis.
3. URL Inspection tool
This tool gets into the nitty-gritty of SEO by looking at specific pages of your site. This is a great resource for investigating indexing errors if you've seen changes or drops in a page's performance. Just type in a page's specific URL:

Then you'll get a succinct report on whether or not the URL appears on Google, if it's been crawled, and if it's mobile-friendly: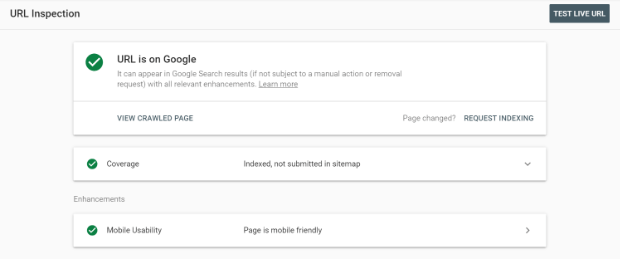 You'll likely use this feature less often than Overview and Performance, but it's perfect for looking at webpages you suspect are harming your SEO efforts.
4. Coverage
Under the Index Tab, you can find a Coverage Report. Here you'll be able to see any problems with pages of your website being indexed with recommendations on how to fix them.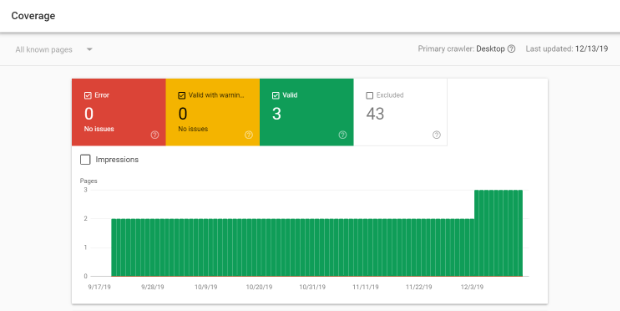 Pro Tip From Google: If your site has less than 500 pages, you likely don't need to worry about the coverage report.
5. Sitemap
This part of GSC is crucial: submitting your XML sitemap. While some people say that the XML sitemap won't help or harm your SEO strategy, it's a good idea to submit one. Your sitemap shows Google the layout of your website and helps it crawl in an intelligent way. Since Google bots have a "crawl limit," your sitemap can prioritize pages you want indexed and guide the crawlers more efficiently over your site's pages.
If you aren't sure what Sitemap is or how to create one, check out WPBeginner's comprehensive guide on sitemaps.
Fortunately, with Google Search Console, you can easily submit your sitemap for review: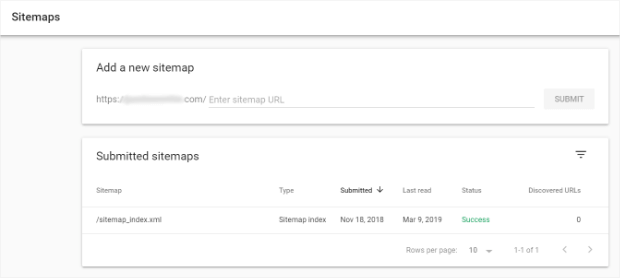 You can also update and resubmit sitemaps as needed.
6. Speed
Under Enhancements, you can check for Speed performances. Your page speed on both desktop and mobile is critical for your SEO strategy. This is particularly true on mobile where over half of your visitors are likely to leave if your page takes longer than 3 seconds to load.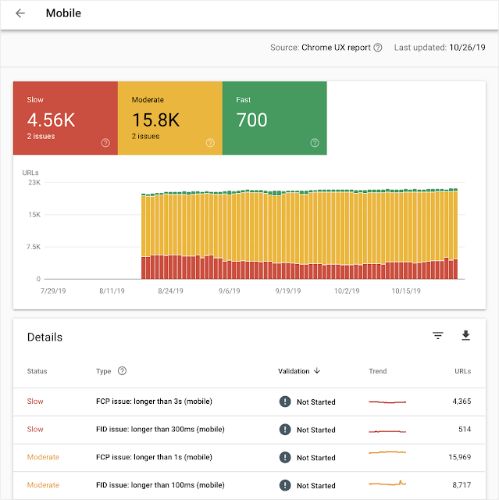 Image Source
An alternative to Google Search Console's speed report is Google's Page Speed Insights. You may want to use this at first when GSC hasn't gathered enough information about your domain to give an accurate speed report.
7. Mobile Usability
This feature will let you know which pages on your website are having an issue with their mobile version. This is an excellent tool for making sure your users are getting the best UX possible when viewing your content from their smartphones.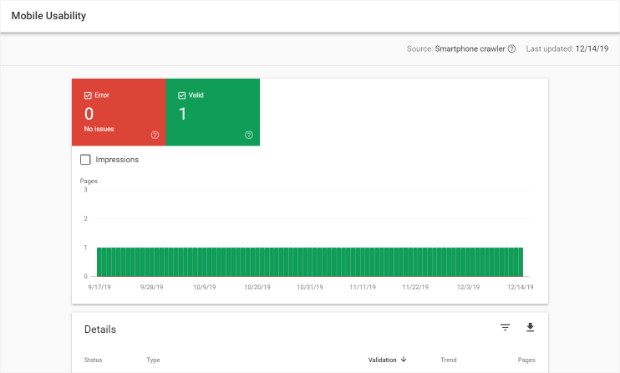 8. Manual Actions
This refers to when a human (not a Google crawler) has found some issue with your page and is usually the result of webmasters manipulating a search index.
In other words, manual actions are penalties you receive if you are engaged in black-hat SEO strategies such as keyword stuffing, having unnatural (or purchased) links to your site, overly thin content, hidden redirects, etc.
The list of black-hat strategies is comprehensive so if you'd like to learn more, you can read about what causes manual actions here. If you're sticking to white-hat SEO strategies, however, you should be all clear of incurring penalties!

9. Security Issues
Just as the name suggests, here you will have access to any problems with your site's security. These typically fall in the form of malware (viruses) and hacking. Much like manual actions, you want this report to stay empty!
10. Links
With Google Search Console, you can see what other websites are linking to yours and which specific pages they link to. Considering linkbuilding is one of the top SEO success factors, this is an incredibly handy little tool.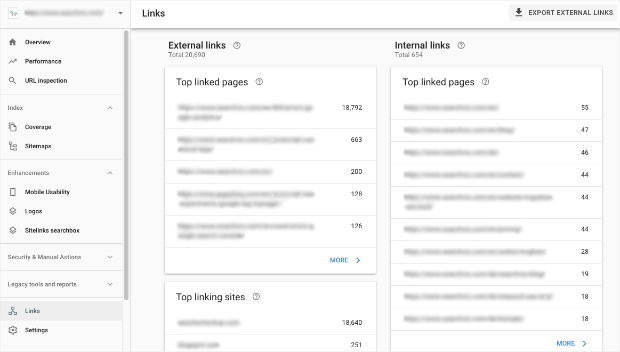 Image Source
Getting Visitors Is Only Half the Battle
Again, if you're serious about SEO and content marketing, you definitely need to get your site hooked up to Google Search Console. It will give you a huge advantage over competitors who are leaving their rankings up to chance.
With all of the tools covered in today's tutorial, you'll have all the metrics you need to make improvements to your site, rank higher, and drive more traffic.
But remember, getting visitors to your site is only half the battle. You also need a powerful system to convert casual browsers to loyal (paying) customers. For that, you need OptinMonster.
With our many lead generating features, you can use OptinMonster to grow your email list, get more leads, and increase sales.
If you want to learn more, you can check us out on Facebook or Twitter. We also have loads of videos on our YouTube channel. Finally, if you enjoyed this article, feel free to pass it along to others who may find it valuable as well.
Not signed up for OptinMonster yet? What are you waiting for? Join now!