Are you looking for the best WordPress podcast plugins?
Podcasts are simply episodic audio or video messages shared through a feed. So, basically an internet radio show.
It sounds all techy and complicated, but with the right platform, and the right tools, you can easily be podcasting today.
In this post, we're sharing the 12 best WordPress podcasting plugins you can use to get your show up and running in no time.
Hosting Your Podcast on WordPress
Can you host a podcast without a website? Yes. Should you host a podcast without a website? No way!
Why pass up all the benefits of having your own dedicated website to host your podcast and grow your email list?
Here are some of the benefits of hosting your podcast on your WordPress site:
Control how many episodes you want to leave up for your listeners and for how long.
Connect with listeners by sharing your backstory
Space where advertisers can learn more about your podcast and support you.
Limitless website design options to consider, including drag and drop page builders with podcast-specific WordPress themes.
Extend your site functionality using WordPress plugins. For example, you could use a membership site plugin to offer a paid subscription to access special episodes or an ad-free experience.
Convinced? Awesome! Let's talk tools.
Best WordPress Podcasting Plugins
There are lots of excellent podcasting plugins available that will make your journey into podcasting a fun one. Here are 12 of the best WordPress podcasting plugins we've found to get your voice heard.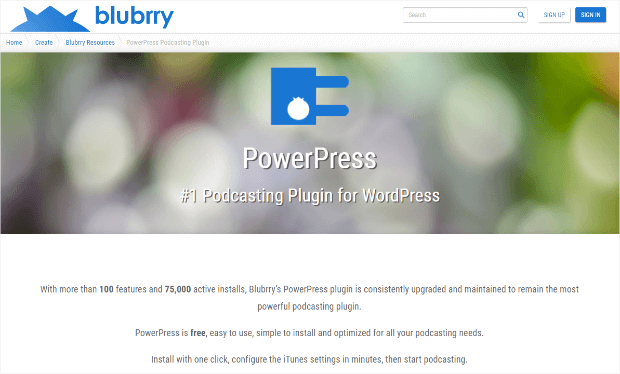 PowerPress was developed by podcasters for podcasters and you can tell. This WordPress podcasting plugin has everything you need to create and publish your podcast quickly and easily, without sacrificing quality.
If you're new to podcasting, PowerPress's Simple Mode will get you started without making you feel overwhelmed. Then, when you're ready, you can switch over to the Advanced Mode and use all of the settings and features PowerPress has to offer.
With PowerPress, you can create subscribe pages for your podcast by using a simple shortcode or add a responsive subscribe sidebar widget to any page of your site.
PowerPress also includes SEO tools that improve the discovery of your podcast on search engines, as well as in the Apple Podcasts directory.
In addition to Apple Podcasts, PowerPress also supports Google Podcasts, Stitcher, TuneIn, Blubrry Podcasting, and all other podcasting apps and clients.
And, if you use Blubrry Podcast Hosting you can submit your podcast to Spotify, too!
PowerPress also has multi-podcast support which means that you can create multiple podcasts. So, if you want to have different podcast channels, you can.
If you need multi-language support, PowerPress has you covered there, too.
Features:
Simple and advanced modes let you learn the plugin so you can take advantage of the awesome advanced features
SEO tools to boost discoverability and growth
Integrated HTML5 media player with support for YouTube and more so you can easily embed your video podcast into WordPress
Easy integration with MemberPress to set up a paid podcast offering extra episodes, an ad-free experience, or more
Pricing Details:
The plugin is free and doesn't have to be used with Blubrry hosting. If you want to use Blubrry hosting, though, hosting starts at $12/month for 100MB storage (count resets monthly). All plans include unlimited bandwidth.
Get started with PowerPress and Blubrry today!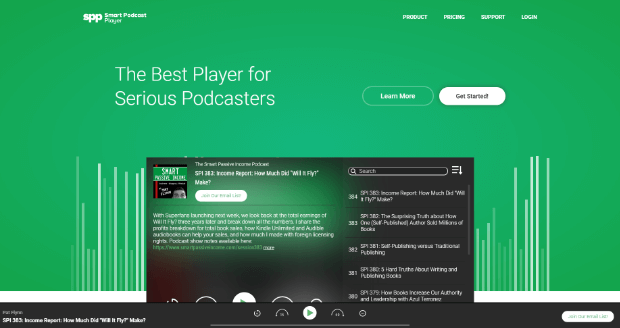 Smart Podcast Player is a simple yet powerful podcasting tool that also lets you capture listeners' email addresses. It features a beautifully designed, customizable web-based audio player with download, share, and subscribe buttons.
The Smart Track Player lets you highlight a specific podcast episode, song, sound clip, or your entire podcast archive. This makes binge-listening easy and keeps listeners on your site longer.
Smart Podcast Player also has a Sticky Player, like OptinMonster's floating bar optin, that's designed to stay visible at the top or bottom of your website. The Sticky Player stays visible, highlighting your most recent podcast episode, wherever your visitor scrolls on the page.
Features:
Built-in mobile player, so the Smart Track player will look great no matter what device your listener is using
Speed control feature lets you add multiple playback speeds
Compatible across current versions of Chrome, Safari, Firefox, Opera, and Internet Explorer
Users can download podcast tracks straight from the Smart Track player
Pricing Details:
Pricing starts at $8.09/month.
Get started with Smart Podcast Player today!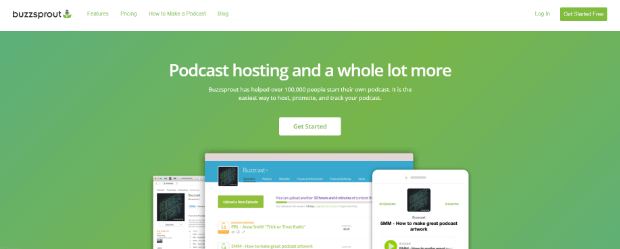 Buzzsprout podcasting plugin has a simple, easy-to-use interface. Once you've installed the plugin on your WordPress site, it pulls your podcast episodes from your Buzzsprout feed and lets you embed podcast episodes in a page or post.
With Buzzsprout, all you have to do is upload your audio file and Buzzsprout will optimize the episode automatically. You can either publish your podcast episode right away or schedule the day and time you want it to go live.
Buzzsprout also includes podcast statistics so you can get to know your listeners through stats like total plays over time, what apps listeners are using to listen to your podcast, and where your listeners are from.
You can list your podcast in all the best directories: Apple Podcasts, Spotify, Google Podcasts, Stitcher, iHeartRadio, TuneIn, Alexa, Overcast, PocketCasts, Castro, Castbox, and Podchaser.
Keep in mind this plugin hasn't been tested with the latest 3 major releases of WordPress. It may no longer be maintained or supported and may have compatibility issues when used with more recent versions of WordPress.
Features:
Publish your podcast to the most popular directories like Apple Podcasts, Spotify, Stitcher, and more
Automatically optimize podcast episodes as files are uploading
Simple, easy-to-use interface
Add anywhere on your WordPress site with shortcodes
Pricing Details:
Buzzsprout offers a free plan that includes 2 upload hours each month. Paid plans start at $12/month and include 3 upload hours each month with unlimited storage. All paid plans include 250GB bandwidth per month.
Get started with Buzzsprout today!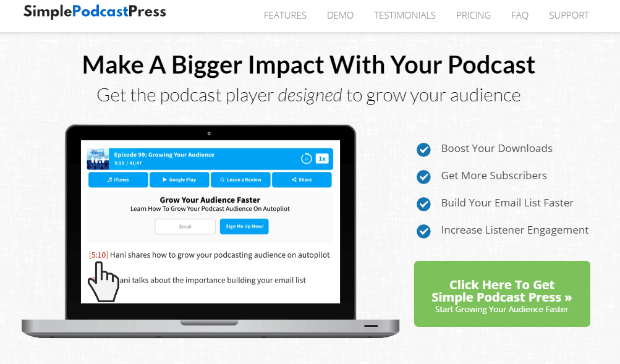 Simple Podcast Press is a very simple podcasting plugin for WordPress. It's designed to work seamlessly with the Blubrry PowerPress plugin to automatically replace your PowerPress player with the Simple Podcast Press player site-wide.
It's also compatible with all the other podcasting platforms like Libsyn, Spreaker, Buzzsprout, Apple Podcasts, and more. But no matter where you host your podcasts, the Simple Podcast Press podcasting plugin makes it easy to showcase your podcasts on your WordPress site.
Once you install Simple Podcast Press on your WordPress site and enter your Apple Podcast URL, the plugin gets to work creating a unique page for each of your podcast episodes, complete with a mobile-friendly player and the full episode description and images from your podcast feed.
From that point on, whenever you publish a new podcast episode, it automatically shows up on your site, either live or as a draft, depending on how you want it.
Features:
Show off your latest 4- or 5-star Apple Podcast reviews on any page or sidebar
Integrate with Clammr so listeners can share audio snippets on Facebook and Twitter with a single click
Use the included video player with email opt-in boxes and subscribe buttons to grow your subscriber list
Pricing Details:
Pricing for a single site license starts at $67.
Get started with Simple Podcast Press today!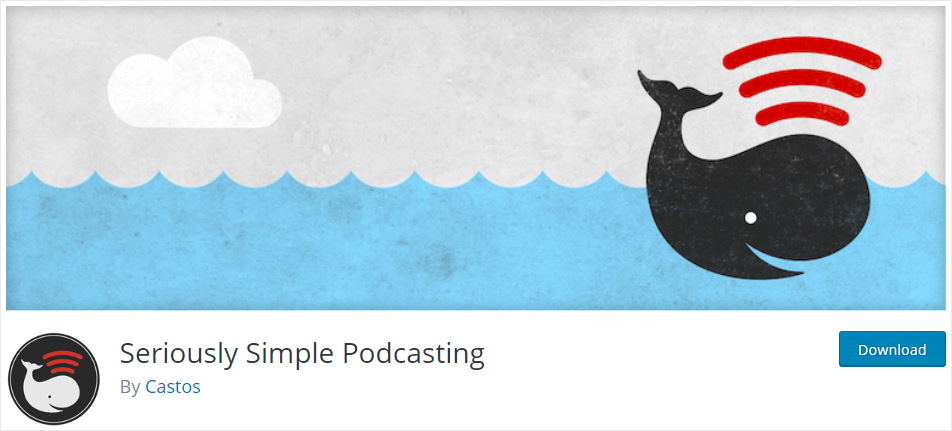 Seriously Simple Podcasting is just that: seriously simple. This plugin offers an easy-to-use podcasting solution for WordPress that uses the native WordPress interface.
This WordPress podcasting plugin comes with simple settings so you can get your podcast up and running with minimal time and effort. The simplicity of Seriously Simple Podcasting keeps you focused on what's really important: publishing your podcast.
Don't mistake simplicity for lack of function, however.
Seriously Simple Podcasting lets you run multiple podcasts from a single website, each with their own RSS feed. And it supports both audio and video podcasting.
There's an integrated podcast hosting platform, Castos, that lets you host your podcast files on a dedicated platform, without leaving your WordPress dashboard. Or you can host the files wherever you want.
With Seriously Simple Podcasting, it's also easy to display a podcast episode list, single episode, and entire podcast playlists anywhere on your WordPress site with a simple shortcode or widget.
The plugin is extendible with a growing library of addons that are, like the core plugin itself, 100% free. Want to see stats on your listeners? Install the free stats addon and there you go.
Features:
Manage multiple podcasts right from your WordPress dashboard
Supports audio and video podcasting
Customizable media player lets you show your podcast image and edit colors
Add episodes, playlists, and archives anywhere on your WordPress site with shortcodes and widgets
YouTube republishing lets you reach a broader audience by sharing your podcast on your YouTube channel or playlist
Pricing Details:
The plugin is free and is from the people at Castos, but you don't have to host your podcast with them. If you want to host your podcast with Castos, pricing starts at $190/year for unlimited storage. All plans come with unlimited bandwidth.
Download the Seriously Simple Podcasting plugin now.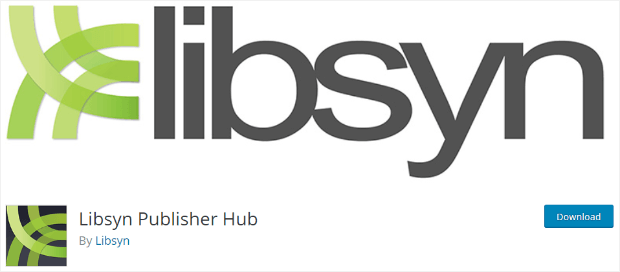 Libsyn makes it easy to connect your WordPress site to your podcast and start publishing right away with the Libsyn Publisher Hub podcasting plugin. The plugin lets you create podcast episodes and drafts, as well as schedule posts, from the comfort of your WordPress dashboard.
The media files are hosted with Libsyn, and your RSS feed is generated there; your hosting server is unaffected. Libsyn can also host and distribute video, PDF, and text posts, in addition to audio files.
Libsyn Publisher Hub lets you connect to your audience on all the favorite podcasting platforms: Apple Podcasts, Spotify, Pandora, and more. Plus, they offer smartphone apps that are customized for your show (iOS and Android).
Want to monetize your podcast? Libsyn Publisher Hub has monetization options like premium content subscriptions and opt-in advertising.
You can also get detailed audience stats for an in-depth understanding of your audience, which is vital if you plan on offering premium content or partnering with affiliates and advertisers.
Features:
Seamless integration between Libsyn and WordPress
Host and distribute audio, video, PDF, and text files
Publish podcast episodes immediately or schedule (you can even set episodes to expire)
Add custom episode artwork (thumbnail and widescreen)
Pricing Details:
Pricing starts at $5/month for 50MB monthly storage (count resets monthly). All paid plans include unlimited bandwidth.
Get started with Libsyn today!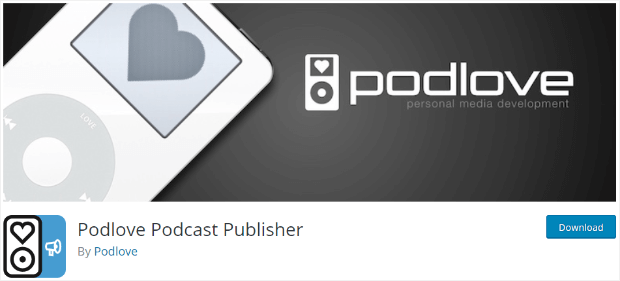 Podlove Podcast Publisher makes it easy to create, publish, and manage a podcast from your WordPress site. This WordPress podcasting plugin supports audio and video podcasts and comes with an enhanced HTML5 player to play your podcasts.
The plugin lets you add chapter information so you can create structured episodes and link directly to any part of the podcast on your site with instant playback.
If you're interested in analytics, you won't be disappointed with Podlove Podcast Publisher. You'll be able to find out things like how many people listened to one episode, used the web player instead of downloading, which podcasting clients are popular for your audience, and more.
The Podlove Podcast Publisher podcasting plugin also features custom templating so you can build podcast pages for your listeners exactly the way they want.
Features:
Audio and video publishing options
Chapter support so you can structure your podcast episodes easily
Listener analytics to give you an in-depth knowledge of what your audience wants
Includes an enhanced HTML5 player for podcast playback
Pricing Details:
This is a free plugin and doesn't include hosting.
Try out Podlove Podcast Publisher now!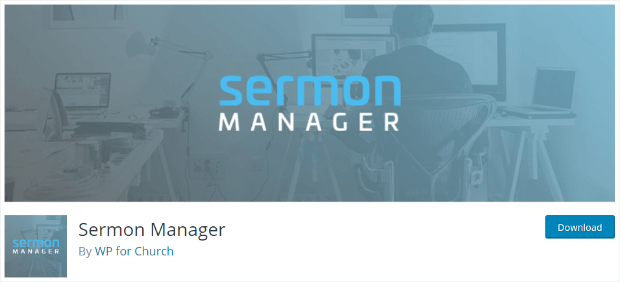 Sermon Manager is a free WordPress podcasting plugin built to help you distribute your church sermons online. You can add speakers, series, topics, books, and service types, along with including a podcast image.
This plugin may have a niche target market, but that doesn't mean it's lacking in features.
Sermon Manager fully supports Apple Podcasts, lets you create multiple podcasts, and you can embed video from providers like YouTube and Vimeo.
The plugin works with any theme and is customizable. It's also easy to publish to your site using shortcodes.
Plus, the pro version of the plugin is SEO and marketing ready.
Features:
Bible references integrated via Bib.ly for easy text viewing
Attach images to sermons, series, speakers, and topics
Import sermons from other WordPress plugins
Pricing Details:
This is a free plugin that doesn't include hosting.
Bonus Plugins
Getting your voice out into the world is only part of becoming a successful podcaster. These tools will help you boost your performance and grow your fan base without breaking a sweat.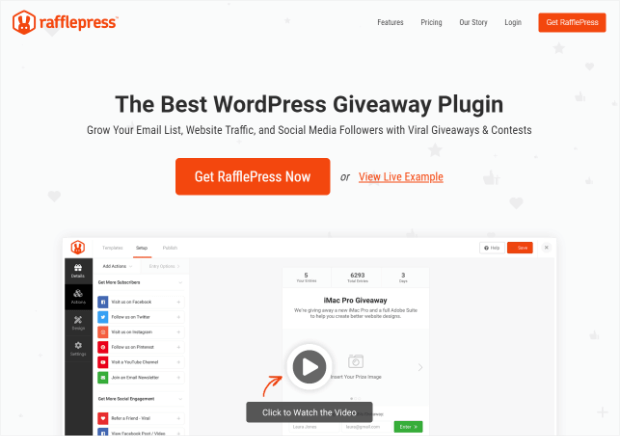 RafflePress is the best WordPress giveaway plugin available and makes it so very easy to grow your podcast audience with contests and giveaways right from your WordPress site.
With RafflePress, you can create gorgeous, fully responsive giveaways to build your podcast following and increase website traffic just by sending your podcast listeners to enter the contests on your site.
Plus, RafflePress integrates with your favorite email marketing service so you can easily grow your email list.
Features:
Create beautiful online giveaways in minutes with the drag and drop builder
Choose a pre-built viral giveaway template to get more podcast subscribers, improve engagement, and grow traffic
Automate word-of-mouth marketing with the viral sharing (refer-a-friend) feature to supercharge your podcast's growth
Pricing Details:
RafflePress is a free plugin with the option to upgrade for access to a more robust list of features starting at just $49 per year.
For more information, check out this helpful review of RafflePress.
Get started with RafflePress Pro today!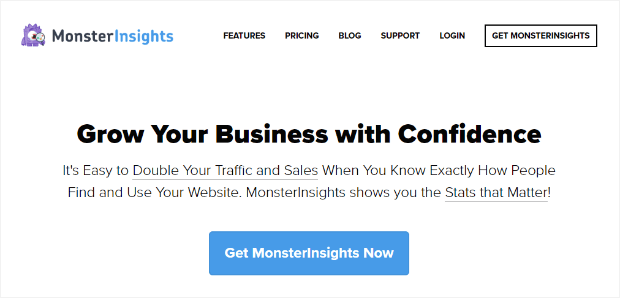 MonsterInsights is the plugin you absolutely must have if you want to know how people are finding your podcast homepage and what actions they're taking when they get there.
With MonsterInsights, you can get in-depth information about your podcast audience that will help you create better episodes and grow even faster.
Features:
View your podcast homepage performance right from your WordPress dashboard
Link tracking tools let you see which episodes are most popular
Ads tracking tools to help you identify the most effective ad placements for your site
Conduct A/B testing to experiment with your content and find out what works for your audience
Pricing Details:
Pricing for MonsterInsights starts at $199/year.
Get started with MonsterInsights today!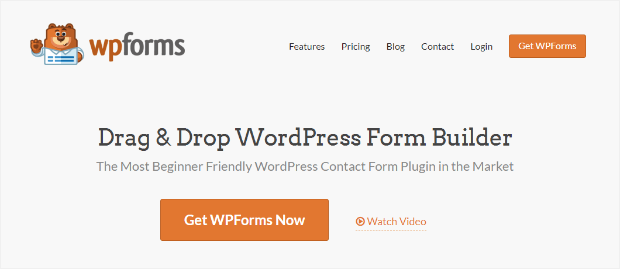 WPForms is the best form builder plugin for WordPress. Once you have your podcast up and running on your website, a contact form is a perfect way to build relationships and a sense of community.
The WPForms plugin makes it easy to keep your finger on the pulse of what's going on in with your podcast audience.
Features:
Use the Survey and Polls addon to find out what your listeners want to hear about
Capture email addresses and contact information of your website visitors with conversational forms
Monetize your podcast and collect payments via Stripe and PayPal with online order forms
Give listeners and advertisers an easy way to reach you with easy-to-create contact forms
Pricing Details:
WPForms Lite is a free plugin. Pricing for the full plugin starts at $79 per year.
Get started with WPForms today!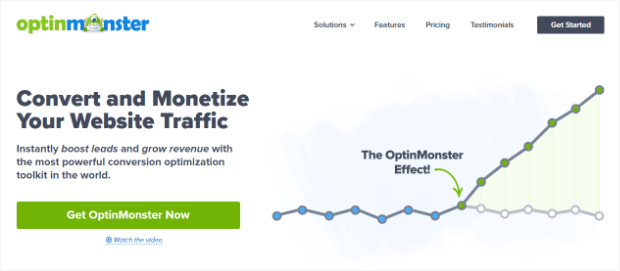 OptinMonster is the WordPress podcast popup plugin on the market. It allows you to create stunning popups to promote your podcast to your website visitors using a visual drag and drop builder.
You can use OptinMonster ready-to-use podcast popup templates to create eye-catching forms to turn your site visitors into podcast listeners.
Here are some of the promotional campaigns you can easily create to get more listeners:
Email marketing popup to grow your list
Announcement bar when you upload a new podcast
In-line podcast subscribe forms
Plus, OptinMonster's gorgeous popups and optin forms are precisely timed and targeted to visitor behavior. Plus, with OptinMonster's Exit-Intent® Technology, you can capture visitors just as they're leaving your site.
Exit-intent popups are one of the best ways to get your site visitors to focus on where they should be: your top-notch podcast.
OptinMonster can help you monetize your podcast audience by turning your website traffic into leads, subscribers, and customers with floating bars, exit-intent popups, fullscreen welcome mats, and more.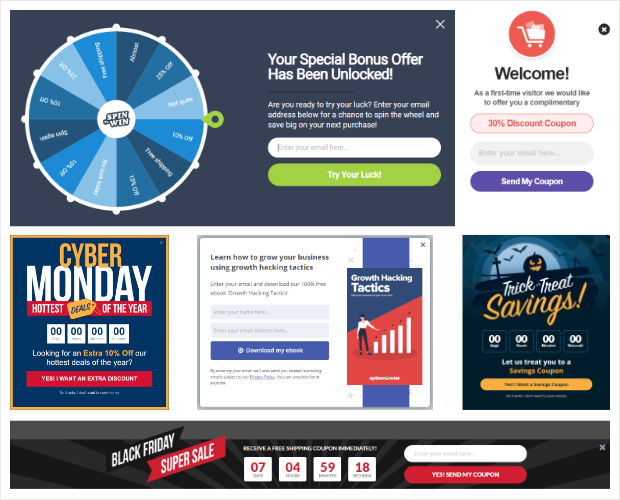 Features:
Mobile-specific popups let you easily target podcast listeners from the same devices they use to listen
Choose from our flexible, fully-customizable, professionally-designed templates or easily create your campaign from scratch using the Canvas template
Use onsite retargeting and follow up campaigns to reach visitors with targeted campaign messaging based on their behavior
Pricing Details:
OptinMonster pricing starts at $19/month.
Get Started With a Podcast Popup Today!
That's all of our picks for the best WordPress podcasting plugins. Which podcast plugin are you going to choose?
If you're just getting started on your path to podcasting glory, you might find these resources useful:
Now, it's your turn! Use these tools to start recording and sharing your podcast episodes.