OptinMonster offers seamless integration with AWeber email marketing service. Connecting OptinMonster to your AWeber email list is very easy.
In this article, you'll learn how to connect AWeber with OptinMonster.
Before You Start
Here are some things to know before you begin:
Connect AWeber
When you create a campaign in OptinMonster that you intend to collect leads with you'll want to integrate with one or more services to send those leads to.
To send leads to AWeber, follow these steps:
Navigate to the Integrations tab in the campaign builder.
Click Add New Integration.

Search for and select AWeber from the dropdown field.

Select the Register with Aweber button.

A popup window will open and ask you to securely log into your AWeber account. Enter your AWeber credentials and select the Allow Access button.

Copy the Authorization Code that AWeber provides.

Returning to the OptinMonster campaign builder, paste the Authorization Code into the corresponding field.
Don't forget to add a unique label for easy identification (internal use only).

Next, select the Connect to Aweber button.
Once connected, select the email list you want to add new subscribers to.

(Optional) Now you can configure additional lead options like Lead Tags and Ad Tracking Identifier.

When you're finished, click Save.
Troubleshooting
How do I configure single or double opt-in?
See our guide on single vs. double opt-in for Aweber.
Is it possible for me to add a Phone Field to my campaign?
Yes! You can add a phone field. Check out how to capture phone numbers with OptinMonster.
Within Aweber, you need to set up a custom field. You can log into AWeber and create a phone field labeled as phone.
What if I want to add additional fields to my form?
You can do this using our Custom HTML integration, rather than our native Aweber integration shown above. When creating your Aweber form to add to the Custom HTML integration, you'll want to be sure to switch the button type to HTML in Aweber.
Be sure to select the Raw HTML Version to add into OptinMonster's Custom HTML integration.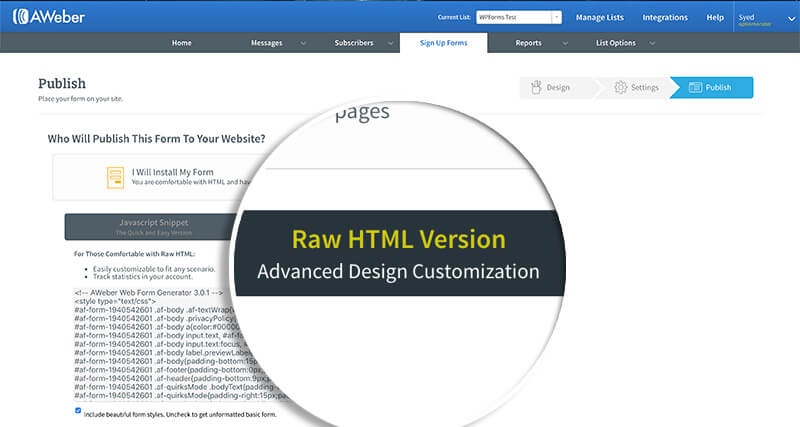 This will ensure your button contains all of the necessary HTML needed for your form to work as expected.