Do you want to convert more of your leads into customers, on autopilot? An email autoresponder is the single most effective way to nurture your leads and make more sales. The best part is, once you've created it, your work is done. In this post, we'll share 6 steps to creating an email autoresponder series that converts.
What's an Autoresponder and Do You Need One?
An autoresponder is a sequence of emails that are automatically sent to a specific segment of people on your email list, triggered by a specific event, such as joining your list, browsing behavior, shopping cart abandonment, downloading a PDF, or buying a product.
The autoresponder series helps you to successfully engage your email list, build relationships, and turn leads into customers and is arguably an online marketer's most powerful tool for making sales.
It also allows you to automate your email marketing and sales, so you can focus on the important aspects of your business.
The content of these email autoresponder series is created in advance and set up to send at the appropriate time with the help of your email marketing software.
"Do I need an autoresponder?" you might ask.
The answer is simple: every online business needs an email autoresponder series. Here's why.
1. Autoresponders Nurture Your Leads
With autoresponders, you have the opportunity to start building relationships with your leads from the moment that they join your list.
You can offer them value straight away by providing valuable information, insights and teaching them how to make better decisions via an automated onboarding process.
As opposed to a one-off email broadcast, which will only go out to the people who are currently on your email list, having an autoresponder ensures that everyone gets to see your best content, and everyone gets their own unique, personalized experience.
2. Autoresponders Turn Leads into Customers
Your ultimate goal, of course, is to turn your email subscribers into paying customers. And that's exactly what autoresponders do best.
Autoresponders allow you to build "know, like, and trust" before you ask for the sale. That way, you can convert more customers, and you can do it without being overly "salesy" or pushy.
An email autoresponder series is also an essential tool for increasing anticipation building up to a product launch and incorporating scarcity into your campaigns.
So how do you create a highly effective autoresponder series? Let's dive into the 6 steps…
Step 1: Choose a Goal for Your Autoresponder
There are many different goals you could have for your autoresponder, but here are the main four. Choose one (or a combination) of the below goals for your email autoresponder series before you create it.
A. Use it to send new subscribers a "welcome" sequence
This is the message that you send to people right after they subscribe to your email list.
It could contain a link to your lead magnet for an easy download, a thank you for subscribing, and maybe a call-to-action to check out your most popular blog posts.
Every email list needs a welcome series, so don't miss this chance to "woo" your new subscribers and turn them into loyal fans!
Here's an example. The moment you sign up for a free trial of Ahrefs, you start receiving a sequence of educational emails that teach you how to build links to your site. Here's what they send you:
2 days after sign up you receive the first email that teaches you how to get more backlinks
4 days after sign up you receive a second email with a video that teaches you how to steal SEO traffic from your competition
6 days after sign up you receive a 3rd email with a list of SEO tutorials
With their welcome sequence, Ahrefs educates its customers on how to use their tools and, as a result, their conversions to paid customers go up.
B. Use it as a lead magnet/free mini-course
You can also use an autoresponder as a lead magnet to attract new subscribers to your email list.
This is commonly done in the form of a free mini-course, or a free challenge, which promises to deliver a series of emails containing lessons, or other valuable information, over the course of several days or weeks.
There is high perceived value with a mini-course or a challenge like this, which makes it a very effective lead magnet.
Here's an example of a signup page for a free mini-course on Facebook ads. This course gets delivered via an autoresponder sequence consisting of 7 emails over the course of 18 days: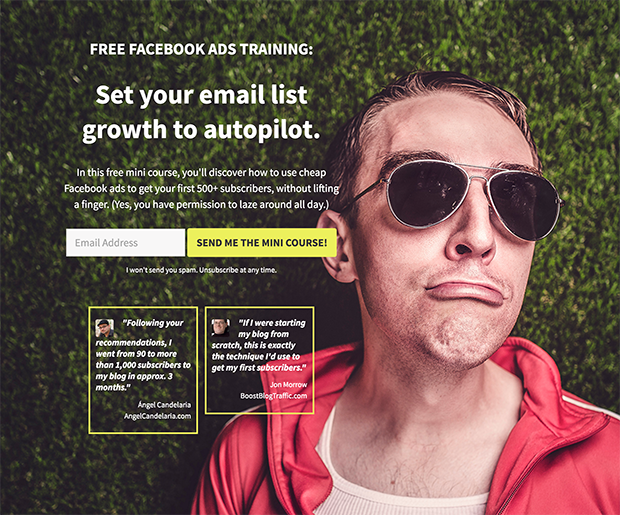 Simple Green Smoothies offers a free 30-day challenge where you receive weekly emails with recipes, shopping lists, and tips.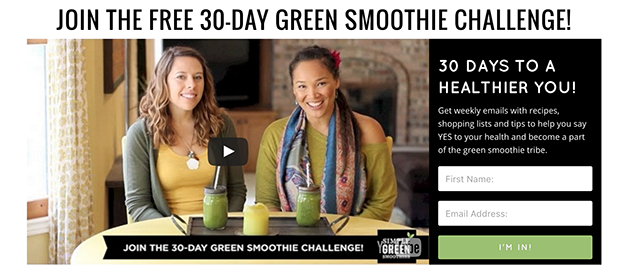 C. Use it to make sales on autopilot
Creating a sales funnel out of an email autoresponder sequence is a widely adopted strategy used by information marketers, but it can also be used by software companies, eCommerce businesses, and service providers.
Jeff Walker, the founder of the Product Launch Formula, uses an autoresponder sequence consisting of three educational videos, a sales video, and follow-ups to sell his information products.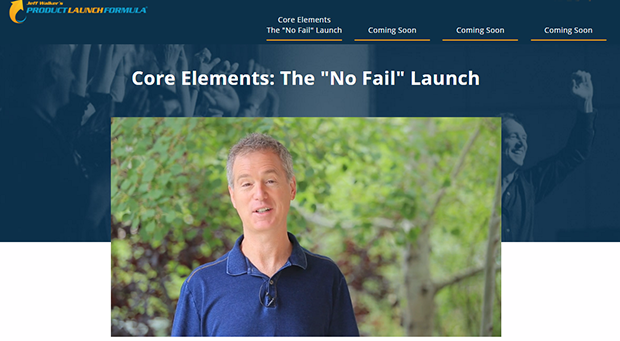 You could also create a sequence of free educational emails, and then invite subscribers to a live or recorded webinar where you make an offer.
For eCommerce businesses, your automated sequence could include promo offers for products your subscriber has just viewed on your website.
The possibilities for autoresponder sales funnels are endless.
D. Use it to promote up-sells/cross-sells
You can even set up an autoresponder sequence for someone after they purchase to get repeat customers.
Depending on the products you sell, you could offer an upsell, or cross-sell related products. For example, if someone buys a digital camera, you can offer to add a lens, a tripod, and other accessories to their order before it ships.
When you sell products that people buy frequently (like food or disposable items, like diapers), you can automatically send them offers for new items when you know they're about due for another order.
Step 2: Segment Your List
Email list segmentation is the process of breaking down your email list into smaller groups based on specific criteria, such as demographics, buyer personas, interests and other psychographics, stage in the sales cycle, etc.
By doing so, you can send more targeted, specific and relevant autoresponders to each segment that will get you better results.
According to a study by Mailchimp, sending a campaign to a segmented list gets you, on average:
14.40% higher open rates
62.83% higher click-through rates
8.54% lower unsubscribe rates
In other words, segmenting your email list will bring you a much higher ROI on your campaigns. If you want your autoresponders to be effective, you have to segment your list.
The easiest way to segment your list is to do it from the moment that someone subscribes to your email list.
With OptinMonster's display rules, you can present super targeted opt-in offers based on the content your visitors are currently viewing, how your visitors found your content, whether your visitor has already opted into another offer, and much more.
That way, you'll know exactly what segment to tag that subscriber with, and what autoresponders you'll want to send them, either now or in the future.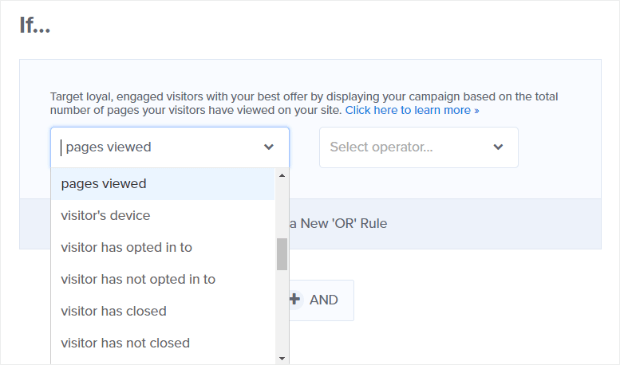 Using OptinMonster's integrations, you can even automatically add new subscribers to a specific email subscriber list.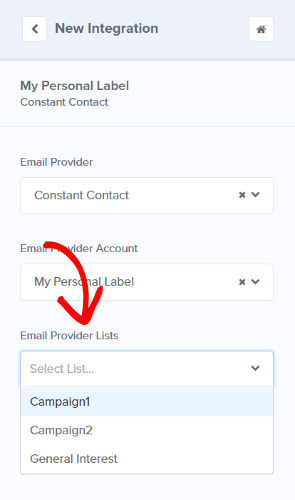 For more information on segmenting your list, check out our massive guide on 50 Smart Ways to Segment Your Email List.
Step 3: Choose the Right Email Marketing Software
In order to schedule and send your autoresponder sequence, you'll need an email marketing automation solution.
Here are some possible options along with the pros and cons of each, so you can make an informed decision that suits your needs. (If you already have an email marketing automation tool, go ahead and skip down to Step 4.)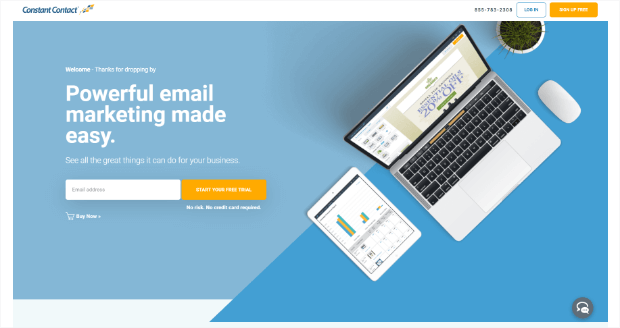 Constant Contact offers a lightweight, easy-to-use interface that meets the needs of both big business and "mom and pop" operations. And, with plans starting at just $20 per month, including world-class support, it's no wonder that Constant Contact ranked number one on a list of the most popular Mailchimp alternatives in 2018.
The platform offers cool features like a built-in heatmap so you know where folks are paying attention, in-depth reporting, fully customizable templates, and more.
Not to mention all of the email marketing automation tools that drew you to this post in the first place: welcome new subscribers, nurture leads, segment and engage, and build your list… automatically.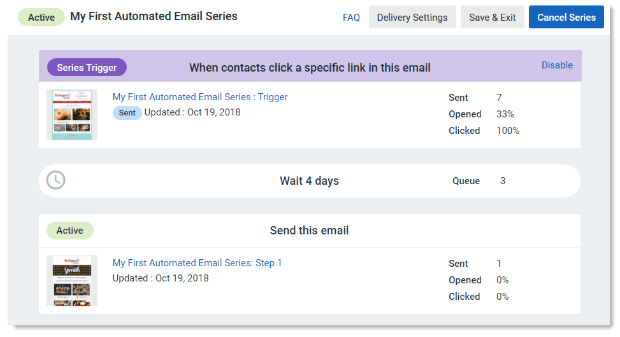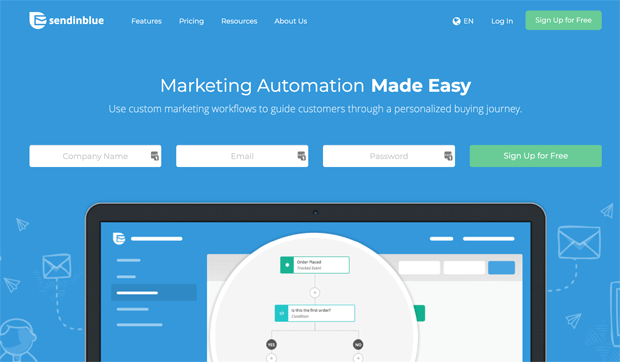 Sendinblue is a powerful email marketing tool with minimal startup costs. With Sendinblue you can have an unlimited number of contacts, even if you're a free user, setting them apart from most email service providers.
Free users can even send 300 emails per day, making the platform helpful for rolling out an initial email marketing campaign or growing your first email list. Plus, you can always scale it as your list grows. Premium packages start at $25 per month.
Sendinblue includes powerful segmentation tools, automation workflows, autoresponder campaigns, and send time optimization among its top features.
Mailchimp is one of the most popular email marketing tools out there. It is great for people who are just starting out, as it is easy to set up and it provides a clean and intuitive user interface.
With it, you can send autoresponders triggered by joining the email list, adding or buying a product, or simply visiting a specific page of your website.
Mailchimp has a free plan for up to 2,000 subscribers. However, if you want to use autoresponders, you will have to switch to a paid plan.
Paid plans start as low as $10/month, but the bigger your list size, the more you're going to pay. There's a calculator on the Mailchimp site to help you figure it out. You can get Mailchimp Pro for $199/month.
The downside to Mailchimp is the lack of customer support. The only way to contact the company is via a contact form.
Of course, with Mailchimp Pro, you receive priority support, but it comes at a steep price. It might be worth it, however, if you have a very big list.
Some users have asked about why they would need both Mailchimp and OptinMonster together. For more details, read this post on OptinMonster vs. Mailchimp and which is better for lead generation.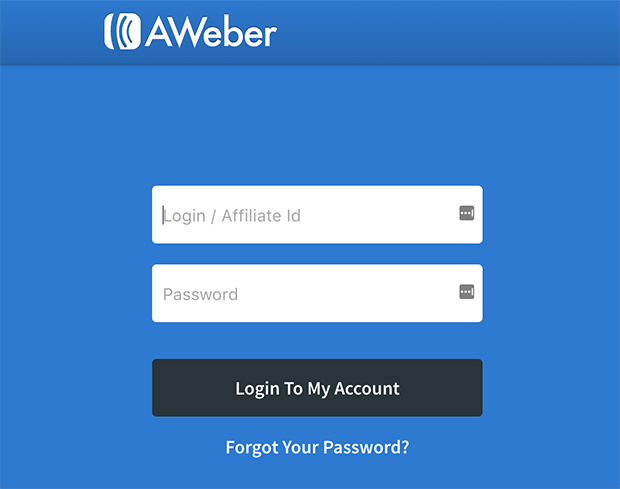 In general, AWeber has the same features and capabilities as Mailchimp, with a few differences.
AWeber makes it easier to create segments based on opens, clicks, purchases, visits on your website, or even the location of your subscribers.
They also provide better customer support than Mailchimp. You can reach them via telephone, email and web chat every day of the week.
However, they do not have a free plan, and pricing starts at $19/month for 500 subscribers. For 2,500 subscribers, expect to pay $49/month. All plans do, however, come with a 30-day free trial.
ActiveCampaign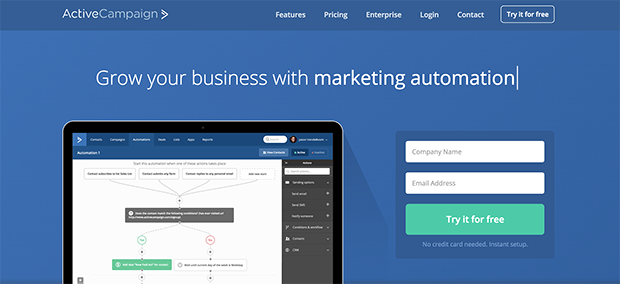 ActiveCampaign is an email marketing software oriented more towards marketing automation.
In other words, it provides many more advanced features for automation than Mailchimp or Aweber.
Based on the actions and behavior of your subscribers, you can add tags on their profiles that will reveal more about them.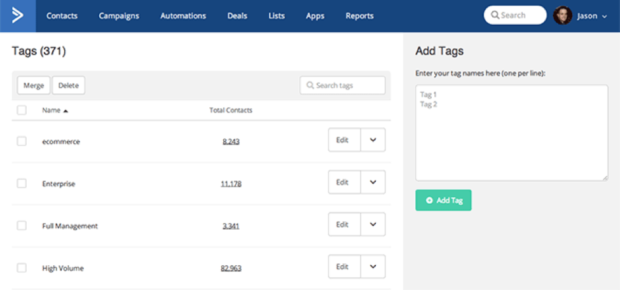 That way, with time, you're going to gather more data about your email subscribers and design more personalized campaigns that are likely to convert much better.
The cost, however, is much higher than Mailchimp or Aweber. For 2,500 contacts, you will pay $99/month for the Plus plan and $229/month for the Enterprise version.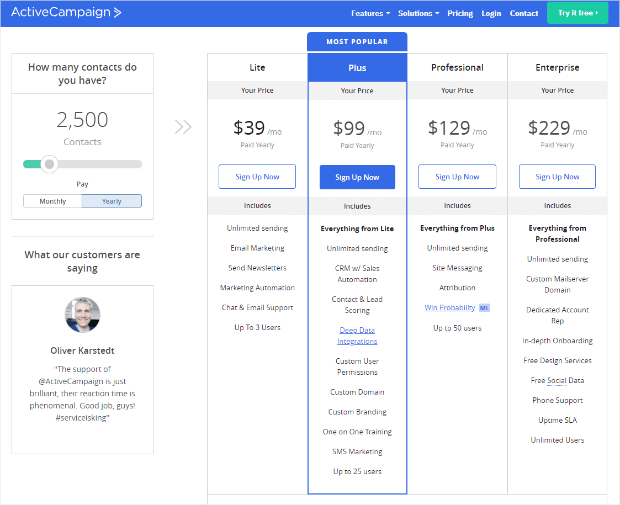 Step 4: Map Out Your Entire Sequence
In this step, you will draft an outline for your sequence, But first, you'll need to figure out how long you want your sequence to be. How many days? How many emails?
There is no universal rule when it comes to exactly how many emails you need to have in your email sequence. Your sequence should be long enough to help you accomplish your goals, no more, no less. So its length should be determined by its purpose, your segments, subscriber's preferences, etc.
You could have as little as three emails for a simple welcome sequence or ten or more emails for launching a product. There is no limit to how many emails you can have, and some companies have autoresponders that run for months after someone subscribes to their list.
Next, you'll need to figure out how far apart each email will get sent.
It's okay to send an email once every two days for educational emails, and three to four emails in a single day when you're closing your cart and your current offer is about to expire. It depends entirely on the goal for your sequence (which is why you chose that first in Step 1).
For educational emails, the time in between emails will depend on how much time subscribers need to implement and learn what you're teaching them. At the same time, if you email them only once per month, they may forget about you and it will be more difficult to move them along your sales funnel.
You also need to figure out how many "value" emails you are going to send before you send an "offer" (sales) email.
What matters more is the overall value you give away, not the exact number of emails you send. However, overall, you should always send more value emails than sales emails to prevent your list from getting burnt out.
To simplify things, you can use the 80/20 rule: 80% of your emails should give value, while only 20% of your emails are about making a sale.
Outline Your Sequence
Write an outline of your email autoresponder series from start to finish, describing what topic(s) each email will cover and the call-to-action for each email.
Your call-to-action could be to click on a link, share your blog post on social media, reply to your email, or buy your product.
Here's an example of a sequence for launching an information product:
Email 1: Introduction and saying thanks for subscribing.
Email 2: Explain why a specific topic/problem matters. This helps build the demand for your product.
Email 3: Explain what you need to do to solve the specific problem/accomplish a certain goal. This builds credibility, and you start helping people in advance.
Email 4: Explain how exactly to solve the problem in more detail. Transition to the sale and mention you're launching a new product/program in a few days.
Email 5: Launch your product. Tell your list that your product is live and can be purchased in the next few days. After that, you will close your cart and it won't be available.
Email 6: Remind your subscribers about the product. Share how many people bought it so far, what other people think about it and how many seats are left.
Email 7: Last day before closing – first email. Tell your subscribers that there are 24 hours left and your product won't be available after that. Remind them what they're going to learn in your program and what the benefits are.
Email 8: Last day before closing – second email. Transition more into scarcity and that there are only a few hours left. After that, your product won't be available.
Email 9: Two hours before closing. This is where you go full scarcity and focus on the change people want to make in their lives. How much do they really want to solve their problems/accomplish their goals?
Email 10: Cart closed. Send an email to explain to users the product is no longer available. Share figures about how many people got into your program. Thank everybody for their support.
Step 5: Write an Email Autoresponder Series that Converts
Writing the actual emails of your autoresponder series might be the hardest part of this job. You may even want to outsource it to a professional copywriter. However, if you still want to learn how to do it yourself, here's what you should keep in mind…
Focus on the reader. You should always write your emails to address the needs of your subscribers, not yours.
Offer ways to solve their problems, don't simply talk about your products and how great they are. This is a part that so many companies get wrong.
Ask yourself the following questions before each email you write:
What are the biggest pain points/struggles for my subscribers?
What are the current goals of my subscribers?
What are the interests of my subscribers?
Why did they subscribe to my list in the first place?
How can I solve their current problem in this email?
Why should they read this email? What is the big benefit to them?
Use personalization. Personalizing the content of your emails, depending on your segment from Step 2, will make it infinitely more relevant and valuable to them.
Personalization is so much more than inserting your subscriber's first name into the email. You need to tailor the actual content of the email to address their needs.
For instance, an online retailer will find it much more valuable to read an email with the subject line, "How to build backlinks to your eCommerce store" than just a generic subject line, "How to build backlinks."
Write great subject lines. David Ogilvy once said that 80 cents of your dollar should be spent on writing headlines.
"On the average, five times as many people read the headline as read the body copy. When you have written your headline, you have spent eighty cents out of your dollar." –David Ogilvy
With emails, the subject line is just as important. If it doesn't catch your attention, subscribers won't open it. So, spend the majority of your time writing and polishing your subject line.
A great email subject line entices curiosity about the content of the email. It's also personal, and highly relevant to the recipient.
To learn more about how to write amazing subject lines, we have an entire blog post on the topic. Check it out here: Best Email Subject Lines to Boost Your Open Rates
Also, for more great tips on improving your emails, check out our guide on 19 Quick and Dirty Tricks for Writing Better Emails.
Step 6: Monitor and Improve
Although it is mostly hands-off, an email autoresponder series is not something that you should create one day and then completely forget about the next.
To get the best results, you should be monitoring the performance of your emails to identify areas that need improvement. Then, A/B test some changes in order to make those improvements.
Here's what you should pay attention to when you analyze your autoresponder campaigns:
Open rates. If you don't get enough people to open your emails, your efforts will fail from the start. That's why this is the first thing you should look at. Plus, every time your subscribers decide not to open your message, there is a greater likelihood that they won't open the next one either.
The average open rate across all industries is 22.87%, just for a broad frame of reference. However, open rates can differ greatly depending on your particular industry.
If you have low open rates, test and check the following:
Is this autoresponder relevant to your list? Consider segmenting your email list even more.
Are your subject lines as good as they can be? Test some new ones.
Are you sending your emails at the best times? Test sending your emails at a different time of day, or at a different interval.
Click-through rates. Once your subscribers have opened your email, are they actually taking the action you need them to take?
The average click-through rate from email across industries is 3.26%. If you think that you have a low click-through rate, perhaps your body copy is not as effective as it needs to be.
Consider the following:
Is the copy of your email relevant to the subject line? Don't try to trick people into opening your email with false promises.
Did you offer real value to your subscribers in the email? How can you make the copy even more relevant to their current needs?
Is your call-to-action clear enough? What are the benefits of people clicking?
Is the link easy to find? Consider re-positioning your text link or call-to-action button.
Unsubscribe rate. Unsubscribes are always going to happen no matter what, and that's usually okay. Usually, those people who unsubscribed would never have bought from you anyway.
However, a high unsubscribe rate can indicate that you are losing potential customers.
The average unsubscribe rate across industries is 0.53%. If you have a large percentage, then consider checking the following:
Why did people subscribe to your list in the first place? Is it because they really wanted to learn more about a certain topic? If so, are you providing that in your emails?
Is the content of your autoresponder highly relevant to the segment it is getting sent to?
Are you sending too many sales emails before giving value emails first?
For more information, check out our blog post on 5 Reasons Why People Unsubscribe from Your Email List, and our tips to reduce your unsubscribe rate.
Conclusion
An email autoresponder series goes way beyond automating what you send to your subscribers.
They allow you to be proactive in engaging your leads, nurturing them, and turning them into paying customers.
With the ability to automate and highly personalize each of your email marketing campaigns, you can turn your business into a sales machine!
What autoresponder will you create first? Have you found one that converts well for you? Let us know in the comments below!