Not sure what an effective lead generation form looks like?
We've rounded up a list of the best lead generation forms that you can use for inspiration. We'll also go through some of the psychological marketing strategies and design tips that make these lead generation forms so successful.
This is a long article, so we've included a table of contents to help you find your way around.
What is a Lead Generation Form?
A lead generation form, also called a lead gen form for short, captures email addresses and other contact information from potential customers. These forms are an essential part of any lead generation strategy. The exact type of form varies by industry.
Small business lead generation often takes place through a contact form. Potential leads use the form to send a message to the business owner. Typical form fields include name and contact information, and some basic questions about their needs.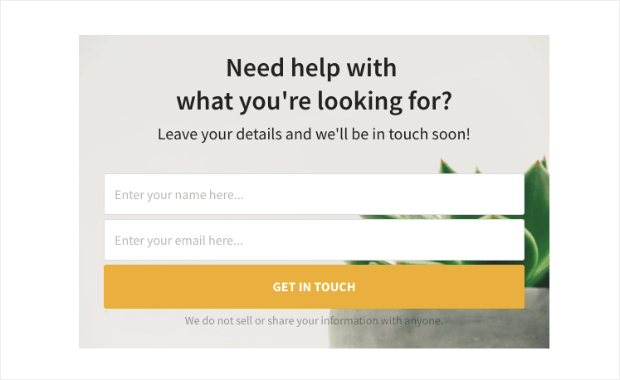 SaaS lead generation might use a registration form for a free trial or custom software demo. To ensure high quality leads, the form should request some basic qualifying information such as company size or budget. That way the sales team can tailor marketing materials for different leads.

Ecommerce lead generation typically involves an email signup form. Website visitors enter their email address in exchange for a coupon, exclusive access, or other perks. Then the business can send email marketing campaigns over time to nurture leads.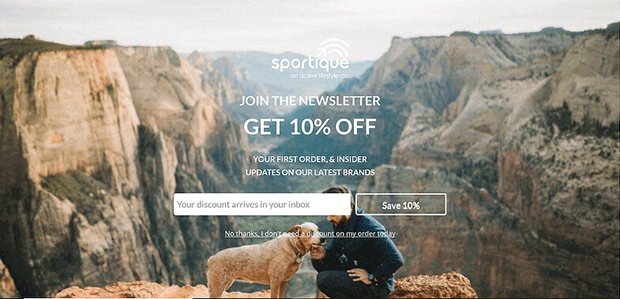 Learn how to create a lead capture form with our full tutorial.
Next, let's take a look at what makes an effective lead gen form.
What Do the Best Lead Capture Forms Have in Common?
There are many ways to build a lead capture form that brings in new leads. Here are 4 things you want to make sure to include in your lead generation form template:
1. Headline
The headline is what causes the reader to stop and pay attention. Most headlines use larger fonts than any other text on the form. We recommend writing headlines that focus on the benefits, such as:
"Unlock Exclusive Discounts and Offers by Joining Our Email List!"
"Get Expert Tips and Strategies to Boost Your Productivity Today!"
"Stay Up-to-Date with the Latest Trends in Your Industry with Our Newsletter!"
Notice how each of these headline examples starts with what the lead will receive, rather than what you're asking them to do. Check out our cheat sheet of headline ideas if you need some more inspiration.
2. Contact and Information Fields
You'll also need the actual form fields for your lead generation form. Name and email address are the most common, but we suggest customizing your form a little to get more useful information.
Some fields you might need include:
Company name
Contact person's role
Geographic location
Phone number
Event date
The best form template will depend on your industry and offer. Fortunately, it's super easy to create custom lead gen forms using OptinMonster's field mapping feature. And unlike with other form builders, you still get access to all of OptinMonster's conversion rate optimization tools.
Start Building Better Lead Gen Forms With OptinMonster Today!
BONUS: Done-For-You Campaign Setup ($297 value)
Our conversion experts will design 1 free campaign for you to get maximum results – absolutely FREE!
Click here to get started →
3. Call to Action (CTA)
Your CTA button has more to do with conversion rates than you might think. The default form submission button on most lead capture forms reads, "Submit." Not very original, we know.
A study from Hubspot found that landing page buttons labeled "Submit" performed worse than buttons with other text. This makes sense because "Submit" is generic and unclear. What is the customer submitting? What will happen to that information? Why should they submit the form?
We recommend using strong action verbs that inspire people to take action. Like your headline, the CTA button should emphasize the benefits they'll receive by clicking the button. For example:
"Get Instant Access Now"
"Unlock Your Free Trial"
"Claim Your Spot"
You don't have to make exaggerated promises that you can't keep. Be honest, clear, and specific and let your offer speak for itself.
4. Confirmation
Finally, don't forget the follow-up process after your new lead submits their form. The form submission confirmation message is a great place to let people know that you received their form. You can also provide information about when you'll respond and what comes next.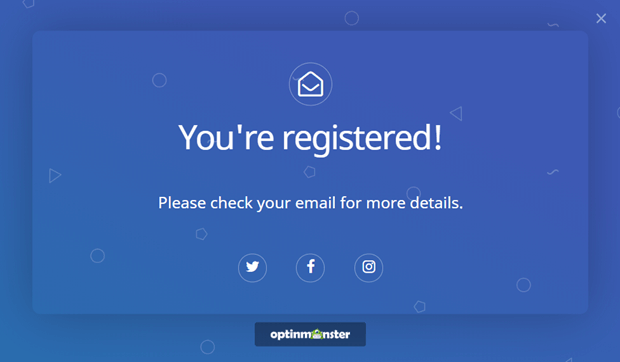 Many leads appreciate an email notification as well. You can set up confirmation automation with your email service provider.
Confirming their form submission and informing them of next steps helps your leads feel like you're going to take care of them.
Lead Generation Form Examples
Now that we know the elements of a lead generation form, let's see some real-world examples.
1. eCommerce Coupon Wheel Lead Generation Form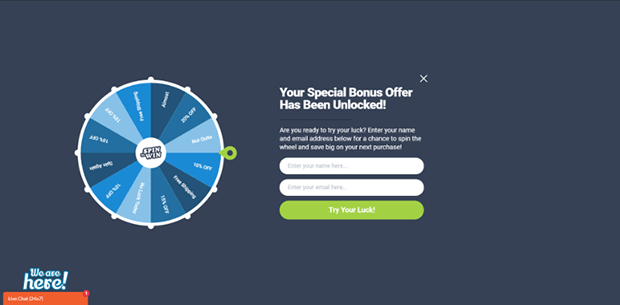 PortraitFlip uses a spin to win wheel to generate over 100 new leads every month. This was a big improvement from before, when they were getting almost signups at all.
Customers would enter their email address for a chance to spin the wheel. "Winners" get a discount code that encourages them to make a purchase. For leads who don't convert right away, PortraitFlip can send nurture emails to keep building the customer relationship.
Coupon wheels are an amazing eCommerce lead generation strategy. Everyone loves to feel like a winner, and the random element of chance makes the discount wheel more intriguing.
2. Multistep Lead Generation Form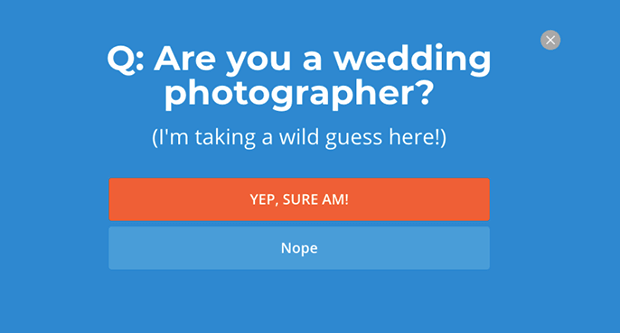 ShotKit is a photography blog that uses multistep forms to bring in 40+ new leads every day. The site also loads much faster compared to when they were using a self-hosted lead gen plugin.
Multistep forms, also known as Yes/No campaigns or 2-step optins, add an extra step to the signup process. By asking readers a simple yes or no question, the form actually primes the target audience to continue the process by filling in their email address. More interested and qualified leads are more likely to click, "Yes" and access the email optin form. This boost overall conversion rates.
Learn how to add multistep popups to your site with OptinMonster.
3. Realtor Lead Generation Form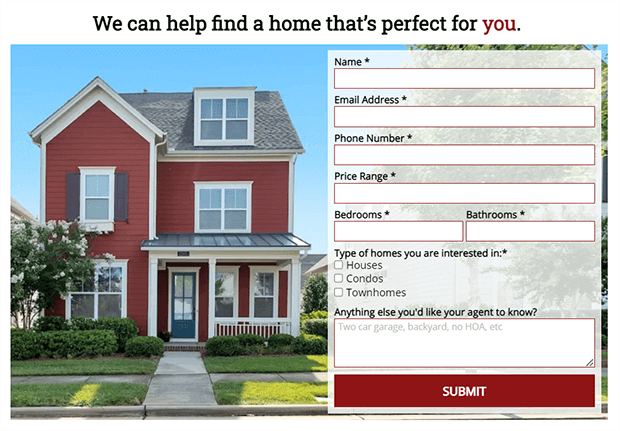 Real estate lead generation is a highly competitive industry. To stand out, you need to provide an amazing user experience. A long form like this example shows newcustomers that you're paying attention to their specific needs right from the start.
With OptinMonster's field mapping functionality, you can segment your leads according to their price range, type of home, or other factors. Then you can send personalized content to different types of leads.
4. Freelance Writer Lead Contact Form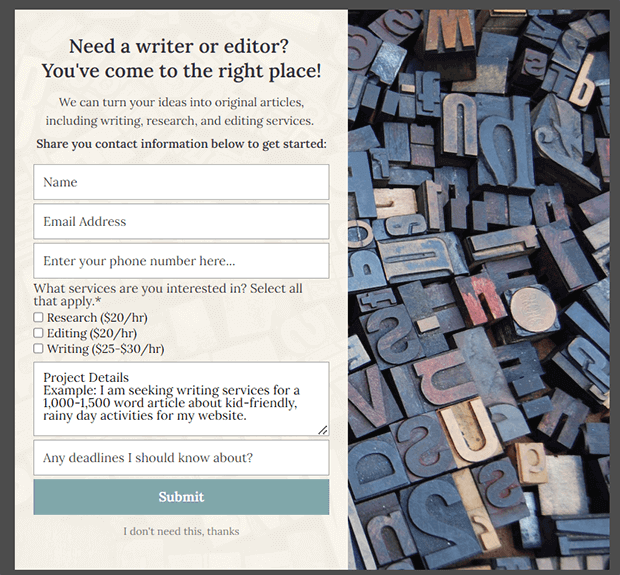 Freelance writers often spend a lot of time generating leads and pitching their services to potential clients. When new prospects view your portfolio, make sure they have a way to contact you if they like what they see.
This freelance writer contact form is a bit more in-depth, which lets you collect important lead data. A longer form also ensures higher lead quality. Serious leads will be able to fill out the project details. It's unlikely that someone who's just browsing or window shopping will take the time to fill out a full contact form. This lets you spend time on leads who are actually ready to hire you.
5. Coaching Inquiry Form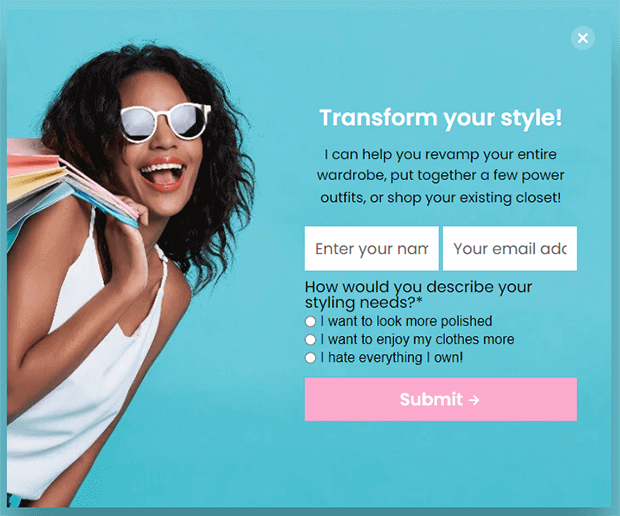 This coaching signup form is short and simple. There are 2 ways to use a form like this.
You could connect it to a customer relationship management (CRM) software like Salesforce and follow up personally with leads. This may be more effective if you're trying to sell more coaching packages quickly.
Another option is to build an email marketing sales funnel to nurture leads on autopilot. The radio buttons give customers a chance to self-segment so you can send them the appropriate marketing material. This strategy can work for coaching packages or digital products you may have.
6. Agency Lead Generation Form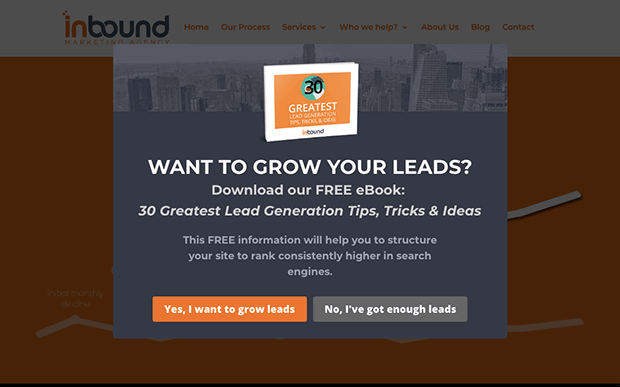 Inbound Marketing is a digital marketing agency that used a lead magnet to increase conversions 189%. To attract more leads, they offered a free eBook as a lead magnet.
Lead magnets are any piece of content or special incentives to encourage leads to sign up for your email list. They are a great way to demonstrate your expertise and build your lead pipeline.
Learn how to create a lead magnet or discover ideas for lead magnets with Google Analytics.
7. Segmented Lead Gen Form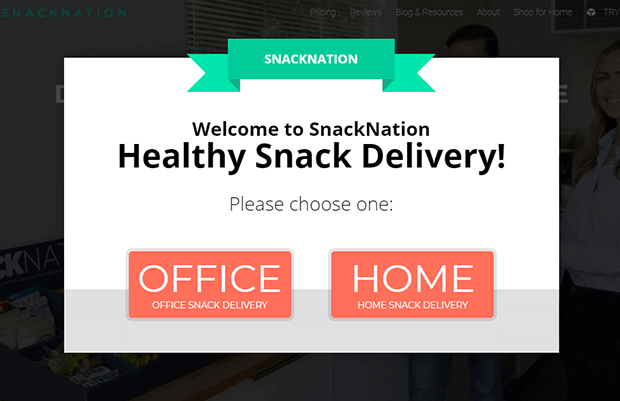 SnackNation is a snack subscription service that uses Yes/No forms to add 1200 new leads to their list every week. They have 2 very different types of buyers, and this segmented lead capture form places customers into the proper sales workflow.
Office buyers are directed to a sales call and free trial of the subscription. Home buyers, who usually have a less complex decision-making process, can purchase a subscription right away.
Like the multistep form we saw earlier, this form engages leads to take a small step toward buying. Once they take one small step, they are more likely to take another.
To learn more about segmentation, see our full list of email segmentation strategies you can try today.
8. Tourism Customer Lead Form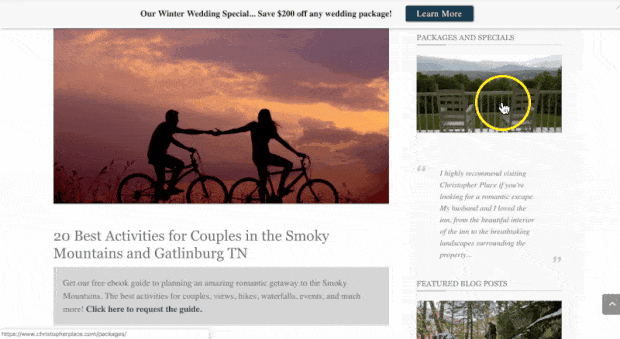 Christopher Place used a lead magnet and 2-step optins to convert 6% of targeted leads into customers for their bed and breakfast and wedding venue. New subscribers receive an email series that helps them plan their trip and invites them to stay at the resort.
The romantic getaway guide was perfectly tuned for Christopher Place's target audience. They also used MonsterLinks as another way to create 2-step optins out of different links and buttons on their website.
9. Online Course Lead Collection Form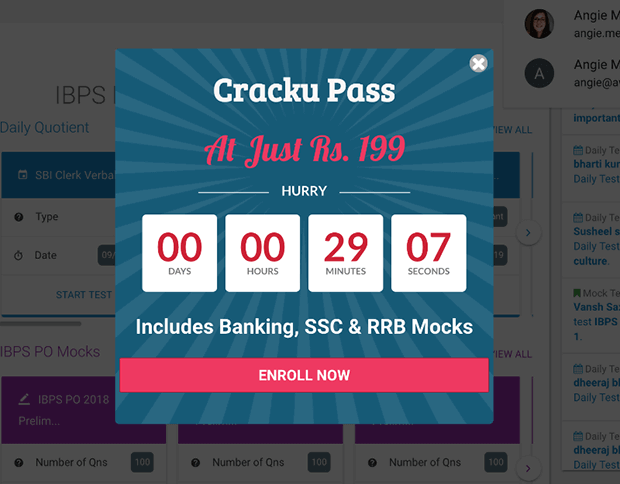 Cracku is an online course platform that used countdown timers to boost conversions 300%.
Every so often, Cracku offers discounts on their popular test prep courses. The countdown timer reminds visitors to take advantage of their special offer now.
Many online course leads need an extra nudge to sign up. The urgency provided by a countdown timer can help overcome any final hesitations.
Learn 5 ways to use a countdown timer to create scarcity and drive more sales.
10. Real Estate Sales Lead Form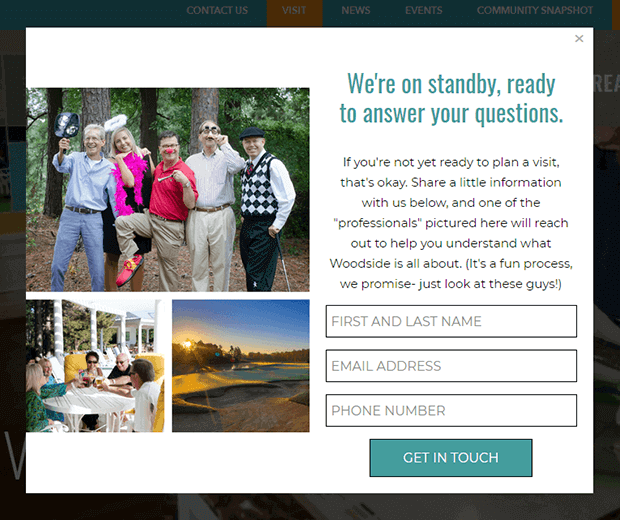 Woodside Communities increased leads 476% with a popup sales inquiry form. The lighthearted imagery and copy highlights how fun the sales team is to work with. We also like how the CTA button is a low-risk invitation to "Get in touch." You may need to experiment with different text or CTA button color to see what is most attention-grabbing.
11. Publisher Lead Capture Form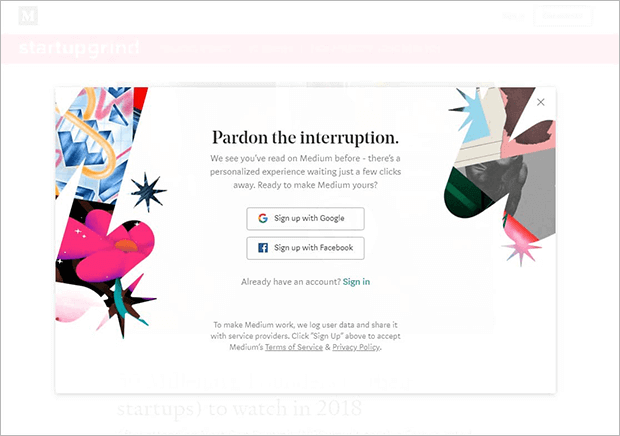 Blogs and online publications often use email marketing to drive traffic and advertising revenue. To do this, they need readers to sign up. This super simple lead capture form lets readers sign up with a single click using their Google or Facebook accounts. The reader gets a personalized user experience, while the publisher gets important contact information and increased user loyalty.
12. SaaS Free Trial Lead Form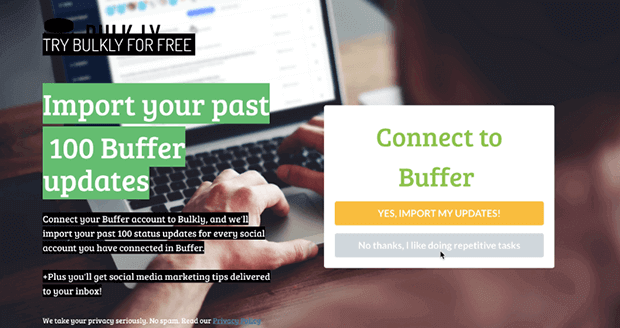 Bulkly is a social media tool that uses a free email course to increase free trial signups 134% in a single year. Like many of the examples in this list, their Yes/No form encourages signups with buttons that highlight the benefits of the software. The "No" button also reminds users what the cost of not using a tool like Bulkly could be.
Take a look at some other B2B SaaS lead generation strategies that really work.
13. Software Demo Registration Form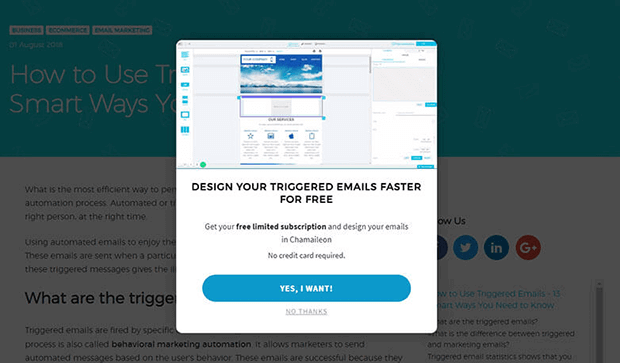 Chamaileon.io is an email design tool that increased their conversion rate for 5% to 16% using exit-intent popups. Their 2-step lead generation form offers a free limited subscription to the software. The form is set up with exit-intent. This means the lead gen form pops up when the user moves their cursor to the top of the screen to either close the window or switch to another tab.
Exit-intent is an incredibly powerful way to recover abandoning users before they leave your site for good. This strategy can drive more traffic and sales whether you're a SaaS company, eCommerce site, publisher, or small business.
14. Webinar Signup Form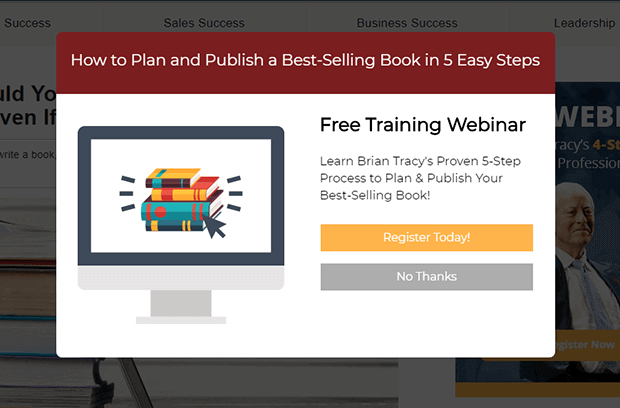 Brian Tracy is business and sales training authority who captured 11.8% of abandoning visitors with a free webinar registration form. He split test several signup form designs to find the best layout. This means he showed different versions of the same optin to his website visitors to see which one was the most effective.
Webinars are a highly effective lead generation strategy but they only work if people sign up. You can use the same lead generation form best practices you've seen in the rest of this article to drive more webinar signups.
For even more inspiration, check out these lead capture form examples. Finally, we'll show you a few ways to create a lead capture form.
Next Steps: How to Create a Lead Submission Form
You can create lead capture forms using a variety of methods.
First, you can use a form builder plugin like WPForms. WPForms is one of the best WordPress contact form plugins around. You can use WPForms to build contact forms, surveys, newsletter signups, and more. However, you are limited to creating WordPress contact forms with plugins like these.
Another method is to use the signup or lead generation forms that come with your marketing software. Most email service providers and CRMs have their own signup form or landing page builders. This has the convenience of putting new leads directly into your email marketing or customer relationship software. But you're often limited to premade templates without any options for advanced targeting or personalization.
But our favorite way to create lead generation forms is to use OptinMonster.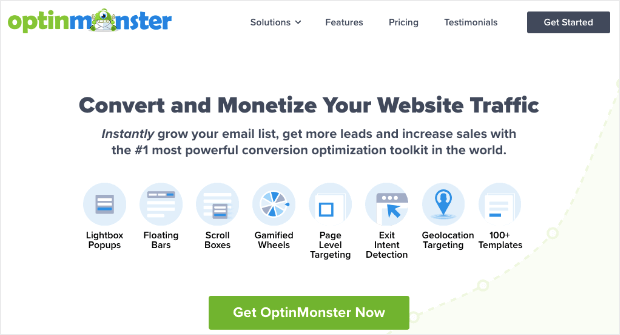 OptinMonster is the best lead generation tool you can find. You can use OptinMonster to build custom signup and contact forms, and show them to the right visitors at the right time using the industry-leading display and targeting rules.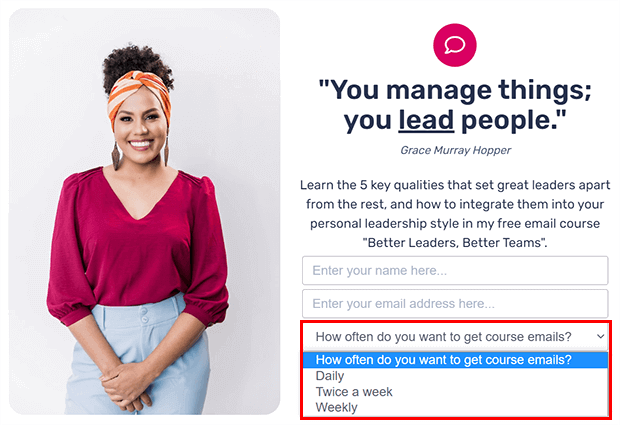 There's also a built-in lead storage system that notifies you about new leads, exports to all kinds of marketing tools, and lets you send personal emails to leads with one click. So if you're just getting started with lead generation for your business, you can use OptinMonster without an email marketing platform or even without a website.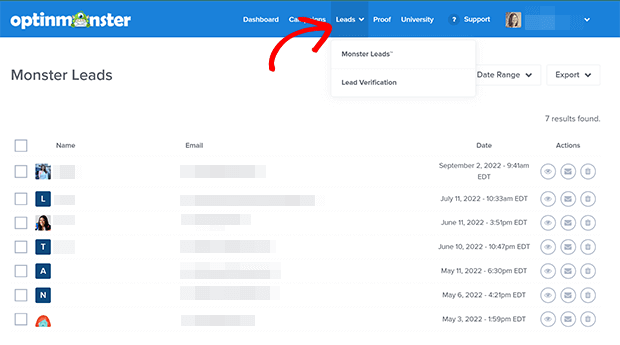 Plus, there's even a suite of lead verification tools. This is important so that you don't waste time and resources chasing unqualified leads or keeping spammers off your list.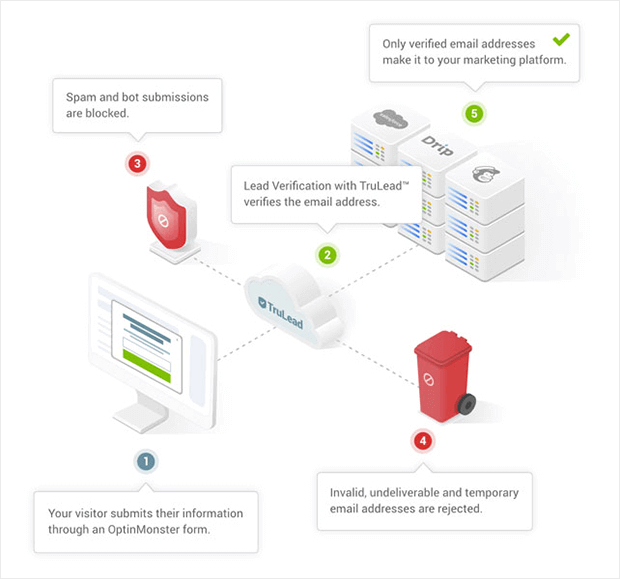 OptinMonster is way more than a popup builder. It's the best lead gen tool to have in your digital marketing toolbox. Give OptinMonster a try risk-free today!
Get More Leads With OptinMonster Today!
BONUS: Done-For-You Campaign Setup ($297 value)
Our conversion experts will design 1 free campaign for you to get maximum results – absolutely FREE!
Click here to get started →