Are you thinking about writing a great headline that converts?
Headlines are the most important element in your content that can hook your readers. A good headline will increase your chances of getting more clicks on Google Search and more people will end up visiting your site.
However, the importance of writing headlines is often overlooked. It doesn't have to be that way.
In this article, you'll learn how to use OptinMonster Headline Analyzer Tool for writing irresistible headlines.
What Is OptinMonster Headline Analyzer Tool?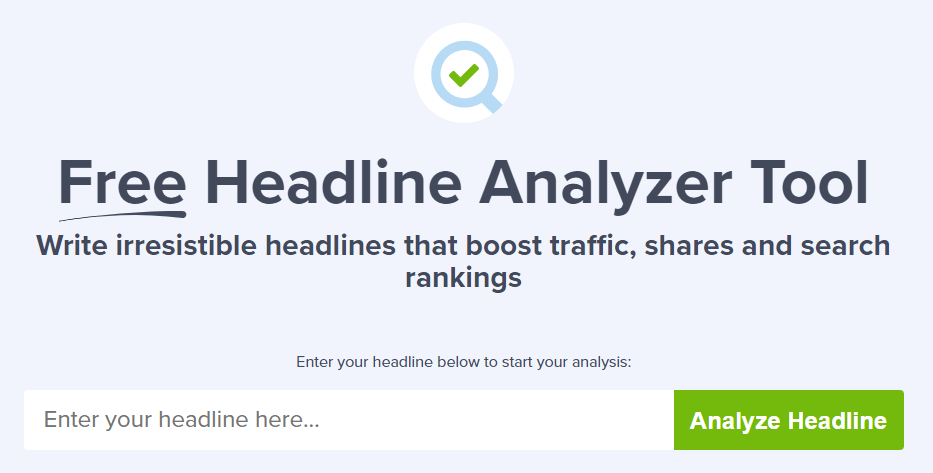 OptinMonster Headline Analyzer is a perfect tool to improve your headlines and post titles.
You can test how your headlines would be perceived among the audience with the tool. It makes headlines more engaging for the readers.
Here are some of the few reasons for using this tool:
Free: OptinMonster Headline Analyzer is absolutely free.
Availability: Anyone can use it. Even without an OptinMonster subscription.
Online: no need to download the tool on your computer.
Review: you get a free scorecard for your headline, so you get to know if it's good enough.
Suggestions: use the free tips to improve your headlines.
It's time to see the tool in action.
Heads up!
We've created a comprehensive video that shows the same steps covered in this tutorial.
If you prefer the text version, then please continue reading.
Step 1: Enter Your Title in Headline Analyzer Tool
The first step is to visit the OptinMonster Headline Analyzer Tool page.

Next, simply enter your SEO title.
And then click on the Analyze Headline button.
You'll see a popup asking for your name and email.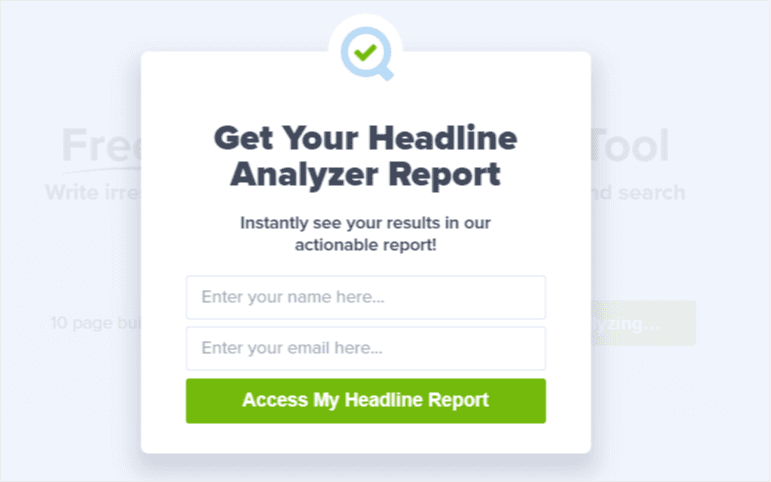 As soon as you submit the details, you'll be able to see your headline score.
Step 2: Find Your Headline Score

Scroll down on the page to check your headline score.
For better clickthrough rates, you're advised to aim for a score of 70+.
Don't worry if the score is below 70, you can use the Headline Analyzer suggestions to improve the score.
Step 3: Understanding the Suggestions
The Headline Analyzer Tool provides suggestions for improving the overall headline score.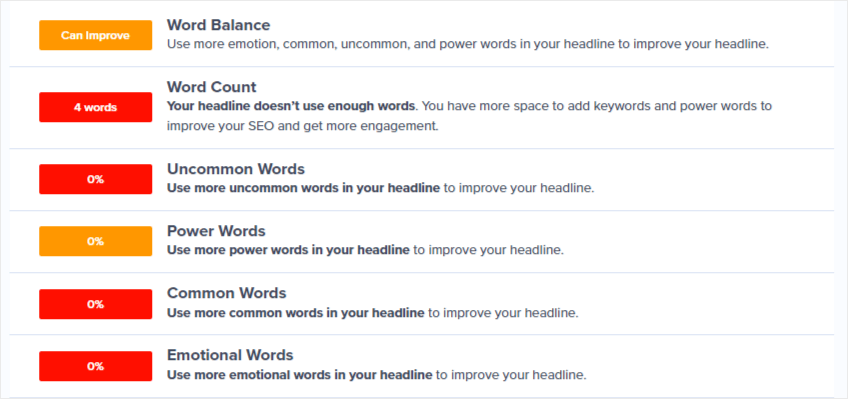 Let's take a deeper look at what these suggestions are and how they could improve your clickability. If you follow all these suggestions, you'll find an improved headline score.
To make it easy for you to digest, let's classify all these suggestions into 2 distinct groups. Based on words used and based on headline type and length.
Let's start with the suggestions based on the words used.
Word Balance: Word Balance checks the balance between different types of words in the title.
Word Count: Word Count tells you the number of words present in your title. As a general rule, a title containing 6 words is recommended.
Common and Uncommon Words: You can try adding a combination of some commonly and uncommonly used words.
Power Words: Copywriters generally use power words to trigger a psychological or emotional response. These words are persuasive in nature and convince readers to take action. List of 700+ Power Words can help you outrank your competitors and increase your chances of getting clicks manifold.
Emotional Words: Emotional words can be used with power words to trigger human emotions. Since emotions induce decisions, making the correct use of emotional words can trigger readers to take instant action.
Sentiment: Sentiment ensures whether a headline is positive, negative, or neutral. Positive emotions tend to get more clicks over neutral ones.
We covered all the word-related suggestions for improving your headline.
It's time to look at the remaining headline properties like length and type of the headline.
Headline Length: It checks the number of characters in your title.
Headline Type: It checks the type of headline from the below categories:

List – Commonly known as listicles or showcases. These are generally the top 10 items in any given category.
How-To – How-To articles usually are tutorials.
General – This covers the normal type of articles.
Question – If a headline is a question, then the article should provide a solution. For example, How do I clear cache?
You can check out more about types of headlines here.
Step 4: Making Changes to Improve Headline

At the start of this article, we purposely used a headline with a low score.
Moving along, we added some words and tweaked the headline to improve the overall headline score while explaining the suggestions.

And here is the final score after making some minor changes to the headline.
Just a couple of words in proper places can make a huge difference.
Step 5: Search Preview
Headlines that fit in a single line are more readable and perform better in the search engine results. You can use search preview to check if the title fits appropriately on the same line.
And finally, here's how our sample title would look in the search results.

Step 6: Check the Previous Headline Scores
Just below the search preview, you'll find all the different versions of your previous headline changes.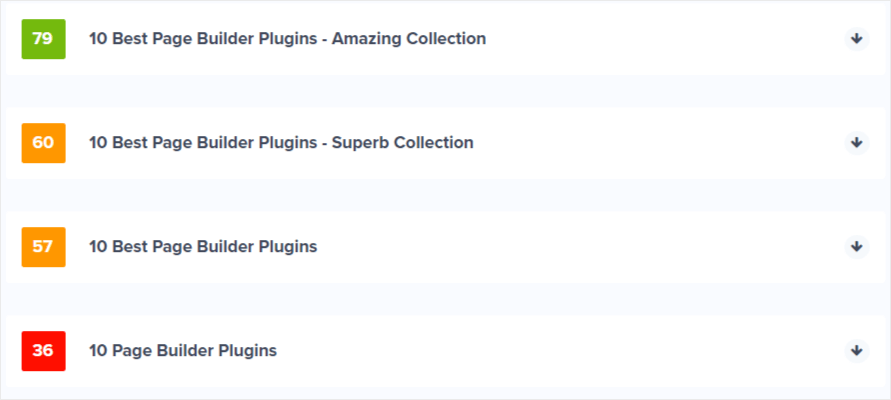 The arrow on the left will expand the results for each headline.
You can check the scores and note what improved the overall headline score.
Final tips on How to Write a Good Headline
In this article, we used our free OptinMonster Headline Analyzer to write irresistible headlines.
Before concluding this article, here are some tips for writing a good headline:
Be Specific: being direct and specific about a topic in the headline shows your confidence in the subject.
Numbers: don't forget to experiment with numbers if you're writing a list article
Emotions: emotions can influence people. Use them wisely. Otherwise, it may have a wrong effect.
Length: try to write a headline that just fits on a single line on devices. A good count is between 50 and 60 characters or 6 words.
And that's it!
If you have any questions about writing a good headline, don't hesitate to ask us in the comments section below. You can even check out these articles to get better at headlines: