Are you looking for real estate lead generation strategies that can work for you 24/7 with little to no extra cost?
Online lead generation for real estate can be a cost-effective way to grow your real estate business, even while you're asleep or on vacation!
In this article we'll go over 7 online real estate lead generation tips you can start using today.
What Is Real Estate Lead Generation?
Lead generation is the process of attracting and persuading someone to hire you or purchase your products. Real estate leads include potential home buyers, existing homeowners looking to sell their homes, landlords, tenants, and investors.
Real estate lead generation is the first part of the overall real estate marketing process. In order to have houses to sell, you need to find homeowners interested in selling. To earn buyer-agent commissions, you first need to find buyer leads who want to find a new home. So lead generation is critical for all real estate professionals.
Lead gen for real estate is an ongoing process. It may take a long time before a transaction closes and you receive your commission. Some new clients may decide not to buy or sell after you've spent weeks or months helping them. That's why realty professionals always need to focus their marketing efforts on generating new business.
Why You Need to Generate Real Estate Leads Online
Real estate is a competitive industry, even when market conditions are favorable. To get more clients and sales, you need to think about online real estate lead generatiofn strategies.
Offline lead generation for real estate can certainly be effective, but there are limitations.
For example, you can host open houses to meet potential buyers. But since you can only be in one place at a time, you're limited in how many leads you can generate. Plus, you need to have active listings in order to host open houses.
Another popular real estate lead generation technique is to send postcards or even small gifts like calendars or notepads. These giveaways are memorable but direct mail costs a lot, and many still end up thrown in the trash.
You can pay for Facebook ads or sponsor local events and organizations, but those tend to be quite expensive. You can also buy leads from lead generation companies, but these may not be high quality leads.
Mining your network of past clients for referrals can help, but you may eventually exhaust your warm connections and have to resort to cold calling.
On the other hand, online lead generation for real estate is practically unlimited.
People are searching online for homes and realtors day and night. These leads already have strong intent to sell, buy, or rent a home, so it's much less work to persuade them to work with you compared to making cold phone calls or sending mass mailings.
Generating leads from organic search traffic doesn't have to cost much, if anything. It's certainly cheaper than paid advertising. Plus, you can easily automate your email marketing and other online strategies to run while you serve your current clients.
Now let's look at the best ways to generate real estate leads online!
Best Real Estate Lead Generation Ideas to Use Online
We've rounded up the top 7 strategies for online real estate lead generation. The first 4 strategies don't even require your own website! We highly recommend that everyone do the first 2. The last 3 involve having your own website and blog, but building those can be pretty simple too.
Let's get started!
1. Start an Email List
Our first recommendation is to start an email list. Email marketing is the best converting marketing channel with the highest ROI, yet getting started is incredibly easy.
You need an email service provider and a way for people to subscribe to your list. For that, we suggest using OptinMonster.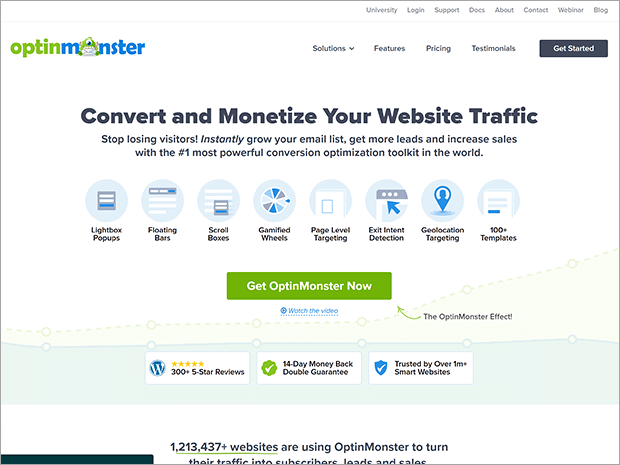 OptinMonster is the #1 lead generation app for growing your list of real estate leads. With its drag and drop builder, you can create eye-catching popups and other lead generation forms that are optimized to convert.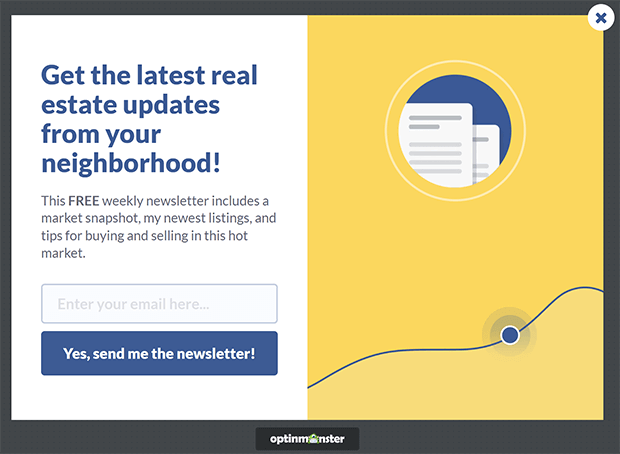 OptinMonster comes with dozens of beautiful prebuilt templates for popups, floating bars, full-screen welcome mats, and other campaign types.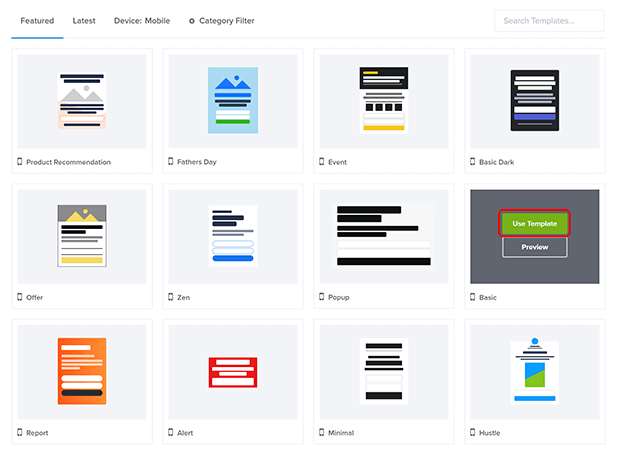 With its Field Mapping feature, you can capture detailed lead information with ZERO coding. You can add several fields in your lead generation forms, including:
Text
Text area
Radio button
Number
Dropdown
Checkbox
And more!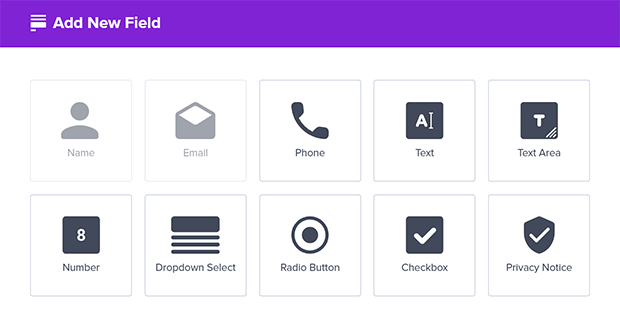 You can also use OptinMonster's first-class targeting and trigger features to show highly personalized messages, which are proven to convert better. You can target visitors based on demographics, browsing activity, location, and more. We'll show you some examples of user targeting later in this article.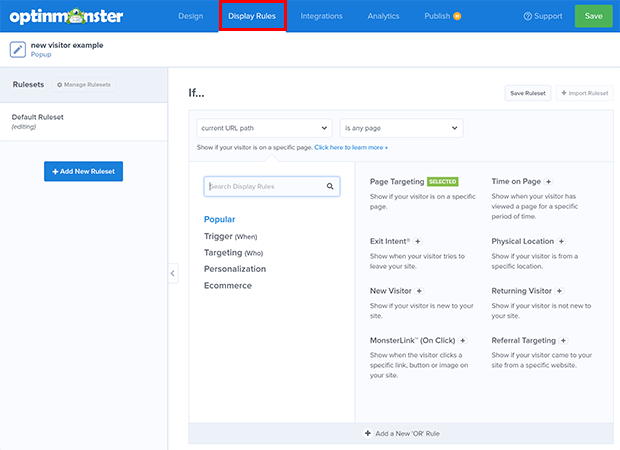 Best of all, you can use OptinMonster on ANY website. So if you don't have your own website yet, you can still add OptinMonster campaigns to your profile page on your brokerage or team website. That way, you still have access to IDX listings that lets users search homes in their desired area.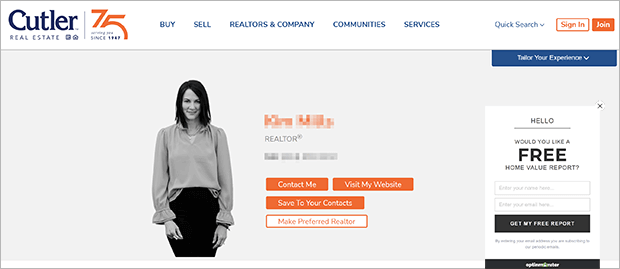 Get Started With OptinMonster Today!
BONUS: Done-For-You Campaign Setup ($297 value)
Our conversion experts will design 1 free campaign for you to get maximum results – absolutely FREE!
Click here to get started →
You might be wondering what to send to your new leads once they subscribe to your email list. Your email marketing doesn't have to be complicated! Just share what potential buyers and sellers are most curious about:
New listings in the area
Recent sales in their neighborhood (including final sales prices!)
General market conditions
Tips for preparing their home for sale
Checklists for moving out of or into a house
First-time home buyer guide
You can even create a segment of your email list for other real estate agents with your upcoming listings or what your buyers are looking for. This is a great opportunity to be collaborative rather than competitive.
2. Offer a Lead Magnet
One way to build your email list quickly is to offer a lead magnet. A lead magnet is something you give subscribers in return for their contact information. So rather than simply asking them to subscribe, you make a compelling and valuable free offer.
Some lead magnet ideas for real estate include:
Home sale checklist
Buyer documents checklist
Preferred vendor directory
An email course on staging a home for sale
Personalized home valuation or market report by phone, email, or even in person
Once they're on your email list, make sure to follow up with helpful content and clear opportunities to work with you. You can also enter new leads into your customer relationship management (CRM) software if you're using one.
3. Use Geolocation and Location-Based Marketing
Like they always say in real estate, location, location, location! Another real estate lead generation strategy you can do with OptinMonster is to use location-based digital marketing.
This means showing targeted and personalized marketing campaigns based on the user's location. For example, you can reference the specific neighborhood a seller lead lives in: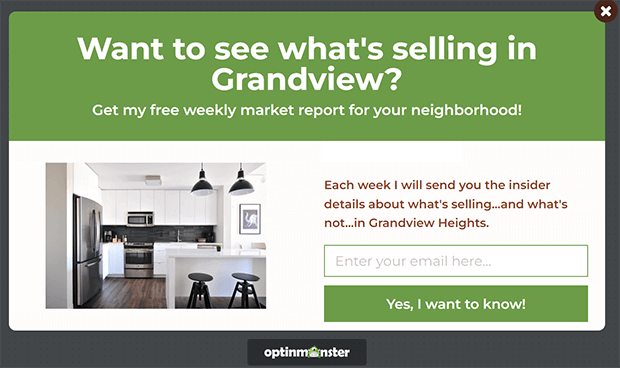 OptinMonster's geolocation rules are incredibly easy to set up and show potential clients that you really understand buying and selling in their community.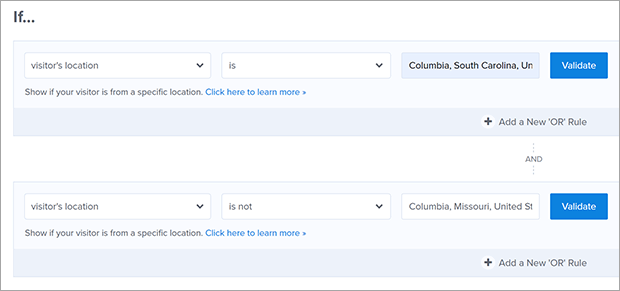 4. Write Guest Blog Posts
Whether you have your own blog or not, you can use guest blogging to generate potential leads for your real estate business.
Guest blogging is when you write blog posts (or create other content) for other blogs within or related to your industry. The goal is to show up in other places where your potential clients are looking for solutions.
Perhaps someone doesn't feel quite ready to hire a realtor, but they're Googling home improvement projects to do before they list their home for sale. If they read an article you wrote about the home improvement projects with the best ROI for selling their house, they're more likely to remember your name and how you helped them. Plus, it's a natural way to promote your own email list.
Some places you might consider guest blogging include:
Title companies
Banks or credit unions specializing in home loans
Home improvement or house flipping blogs
Local home service vendors
Homeowner associations
You can use OptinMonster to show targeted campaigns based on referral source. For example, if your listings are shared on LinkedIn, Zillow, or Realtor.com, you can create campaigns targeted to traffic from these sources.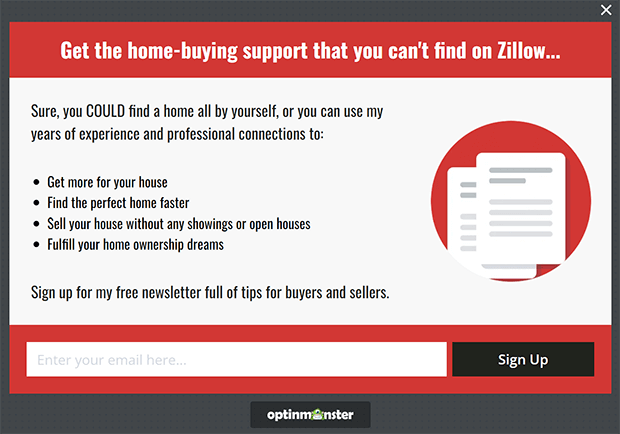 5. Build Your Own Website
All of the real estate lead generation strategies we've discussed so far can be done without your own website. You don't absolutely need one, but having your own real estate website has several advantages.
Your website is a powerful marketing tool that serves as a virtual home base for your business. It's an important way to build your personal brand so that people want to work with you specifically, not just any agent who will answer their emails.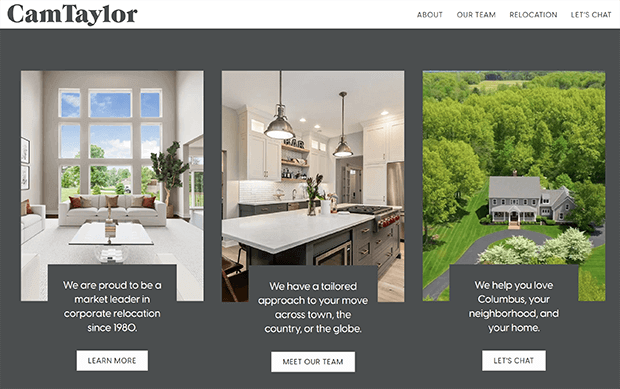 Having your own website means you can blog, create landing pages for your email list, rank higher on search engines, and just generally have more control over your online presence.
Making your own website doesn't have to be hard. We wrote a whole guide about how to make a one page website in WordPress if you'd like to get started!
6. Start Blogging
Once you have your own website, one of the best things you can do is start blogging.
Blogging is the perfect way to share your expertise and authority in the real estate industry. It's also excellent for improving your search engine rankings, especially if you use a plugin like All in One SEO to optimize your website and content.
Your blog, newsletter, and social media content can all work together to generate real estate leads for your business. It's easy to repurpose content across different platforms.
Not sure what to post? Here are some realtor blog post topics:
Tips for buying and selling a home
Suggestions for For Sale By Owner (FSBO) sellers, who may eventually decide they need a knowledgeable realtor like you
Vendor reviews
Roundups of local events
Weekly or monthly snapshots of local real estate activity
New listings and recent sales
Home improvement and organizing tips
When you have your own blog, you can also reverse the guest blogging strategy we discussed earlier and bring in your own guest bloggers. This makes content creation easier on you, plus those guest writers will naturally want to share their post with their networks, which will bring more traffic to your site.
7. Create a Vendor Directory
Our final real estate lead generation strategy is a variation on traditional networking: publishing a vendor directory on your website.
While some real estate companies jealously guard their favorite plumbers or interior designers, we think that sharing some of your professional network is a better idea. When you publicly recommend a vendor, they're more likely to return the favor and refer business to you.
Plus, you may be able to capture some of their search volume. Someone searching for a local electrician could end up on your vendor directory page and find other helpful information. This makes them more likely to remember and reach out to you when they're ready to work with a realtor.
To make the directory a better list-building strategy, you could use gated content. This means that parts of the directory are hidden until someone enters their email address. You then have the perfect opportunity to send a complete vendor list to their email along with other lead nurturing content.
OptinMonster makes it easy to create gated content using inline forms.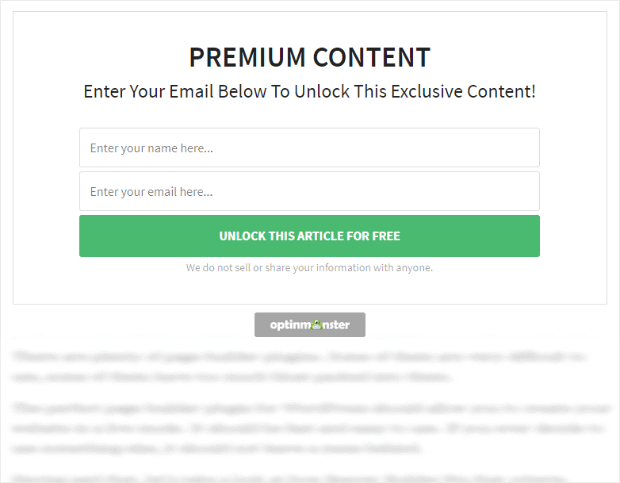 And that's a wrap! We hope you enjoyed our top 7 online real estate lead generation strategies.
If you're curious, check out our master list of best lead generation tools that can be used across industries, including real estate.
What are you waiting for? Start building your list of real estate leads today with OptinMonster!