We're so excited to introduce our newest integration: Monster Leads!
Think lead generation software is just for collecting leads? Think again.
Monster Leads gives you…
A built-in way to store your hard-earned leads—right in your OptinMonster dashboard and without an email marketing service provider!
Search and filter functions. Filter leads by Site, Campaign, or even Tag—and then refine even further by entering a date range.
Full control over when and where you use your leads with export tools. You can export leads for easy import into your email marketing service or to share with your sales team.
Notifications of new leads, if you want them. You can get immediate notifications or sign up for daily or weekly digests.
The ability to send individual emails to leads using your own email client. See a name you recognize on your leads notification? You can send them a personal email just by clicking the email icon next to their name.
And right now, the Monster Leads integration is included in your OptinMonster dashboard for free. ?
Who Can Benefit From Monster Leads
Everyone who uses OptinMonster can benefit from using our Monster Leads integration. Let us explain…
If You Already Have an Email Marketing Service
It's awesome that you found the service provider for you! Quick question: how often do you backup your list? ?
Monster Leads works alongside your existing integration inside OptinMonster to keep a backup of all the leads you get through your OptinMonster campaigns. In real time.
This makes Monster Leads invaluable as a double optin recovery tool, allowing you to personally follow up with subscribers to make sure they get onto your list—before you lose them forever.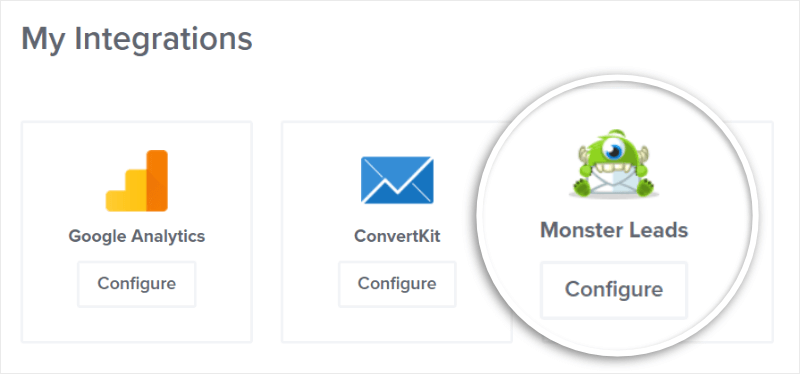 If You Don't Have an Email Marketing Service
We get it. Choosing the right email marketing service is a big decision. The marketing equivalent to getting married.
Seriously. We all know how painful it can be to break up with your email marketing service, don't we?
But don't let it keep you from putting yourself out there and getting leads!
Monster Leads will safely store all of the lovely leads you collect using your awesome OptinMonster campaigns until you've found The One. ?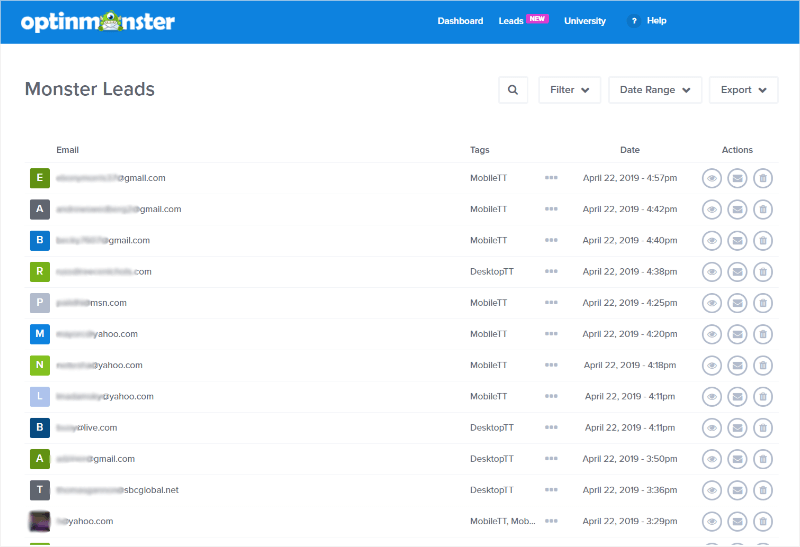 By the way, if you're looking for an excellent email marketing service, we recommend Constant Contact, Drip, or SendinBlue.
Want to really hit the ground running? You need to check out OptinMonster University for free, actionable execution plans that will give you everything you need to succeed with email marketing, eCommerce, and more.
Search, Filter, and Export Leads
You can filter leads by site, campaign, and tag. So, that in-person training you're hosting in Phoenix? A quick filter and you can see every lead you've gotten for that campaign.
Then, just export those leads and you've got your sign-in sheet!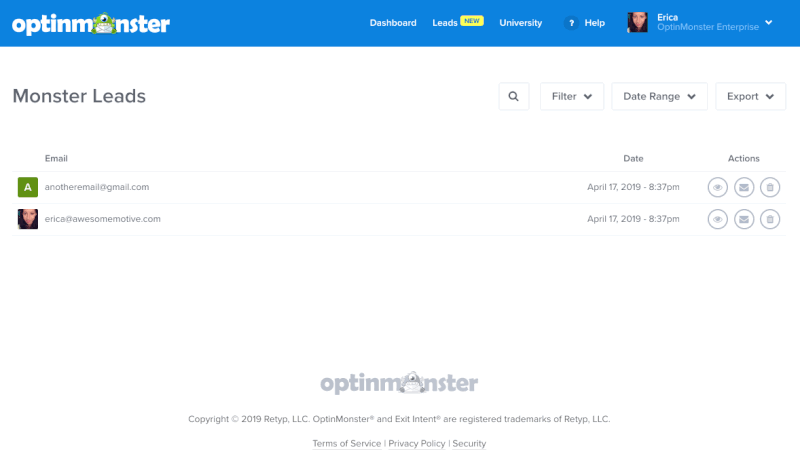 Check out the full Monster Leads documentation for more information on this powerful new integration.
Grow Your Business Today With Monster Leads
Don't wait until juuuuuust the right time to start collecting leads or you're going to miss out. OptinMonster is the best lead generation software available and now you don't even need to have an email marketing service in place to start building your list.
Get started with OptinMonster today and start building your email list while searching for the right email marketing service for you.