Do you know how to run a successful email marketing campaign?
According to a study by Campaign Monitor, for every $1 spent on email marketing, the average return on investment is $44. With such high ROI potential, knowing how to run an email marketing campaign successfully is crucial.
In this blog, we'll cover everything you need to know about running an effective email marketing campaign step-by-step.
1) What Is an Email Marketing Campaign?
2) What Are the Types of Email Campaigns?
3) Email Marketing Campaign Examples
4) Step by Step Guide To Create an Email Marketing Campaign
Exclusive Bonus: Level up your email marketing! Click here to get the free checklist + BONUS resources and see your results skyrocket.
What Is an Email Marketing Campaign?
An email marketing campaign is a marketing strategy that involves sending a series of targeted and personalized emails to a group of people to promote a product, service, or brand. The emails are usually sent to an audience who has subscribed to the company's email list or has given permission to receive marketing emails.
An email marketing campaign aims to build a relationship with the audience and encourage them to take action, such as purchasing, signing up for a service, or visiting a website.
What Are the Types of Email Marketing Campaigns?
There are various types of email marketing campaigns that businesses can use to achieve their goals. Some common types include:
Newsletter Email Marketing Campaigns:
Newsletters are a great way to keep subscribers engaged and informed about the latest news, updates, and industry trends related to a brand. Newsletters can include various content types, including articles, blog posts, videos, and images. They can also be customized to target specific subscriber segments based on interests or behaviors.
Promotional Email Marketing Campaigns:
Promotional emails are designed to promote a sale, discount, or special offer to subscribers. These emails can be highly effective in generating immediate revenue and encouraging customer loyalty. Promotional emails can also be personalized based on subscriber behavior, such as past purchases or website browsing history.
Onboarding Email Marketing Campaigns:
Onboarding emails are sent to new subscribers, welcoming them to the brand and introducing them to its products or services. These emails can set the tone for the subscriber's relationship with the brand and provide a valuable opportunity to make a positive first impression. Welcome emails can also include incentives, such as discounts or freebies, to encourage subscribers to purchase.
Abandoned cart Email Marketing Campaigns:
Abandoned cart emails are sent to people who left items in their online shopping cart without making a purchase. These emails encourage potential customers to complete the transaction by reminding them of the things left in the cart and providing incentives such as discounts or free shipping.
Re-engagement Email Marketing Campaigns:
Re-engagement emails are sent to inactive subscribers to re-engage them with the brand. These emails can include incentives, such as discounts or exclusive content, to encourage the subscriber to take action.
Re-engagement emails can also be used to gather feedback from subscribers about why they have been inactive and what the brand can do to improve their experience.
Email Marketing Campaign Examples
Here are some examples of successful email marketing campaigns that businesses have used:
Dropbox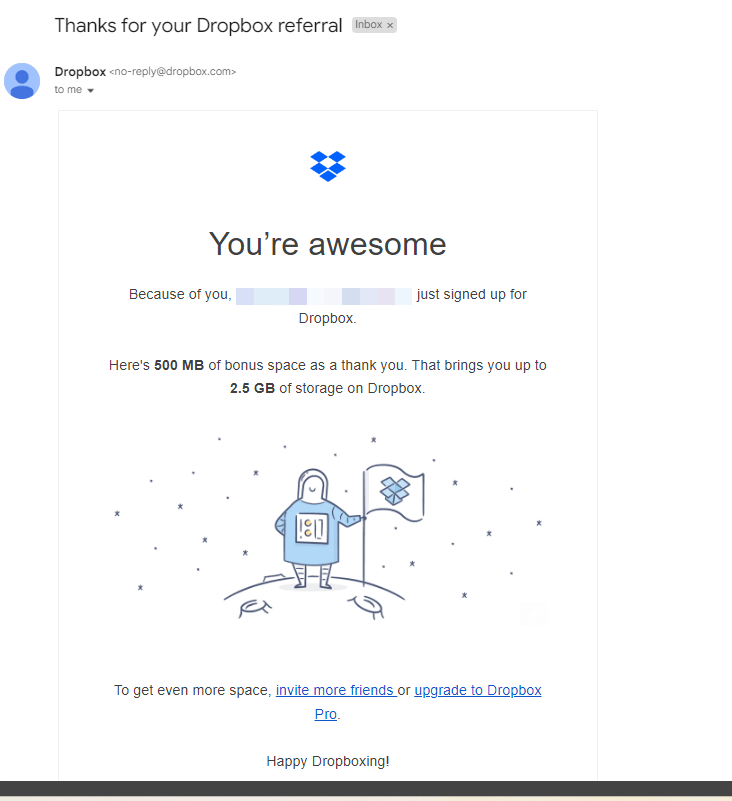 Dropbox's referral program is a classic example of how email marketing campaigns can be used to grow a business. Dropbox offered its existing users free storage space if they referred their friends to use Dropbox.
The referral program was promoted through email campaigns, and users were encouraged to refer their friends through personalized referral links in their emails. This successful email marketing campaign generated over 4 million new users for Dropbox.
What worked: The referral program was simple and effective, and Dropbox leveraged the power of word-of-mouth marketing through its existing user base. The personalized referral links made it easy for users to refer their friends, and the free storage space incentive was a powerful motivator.
TheSkimm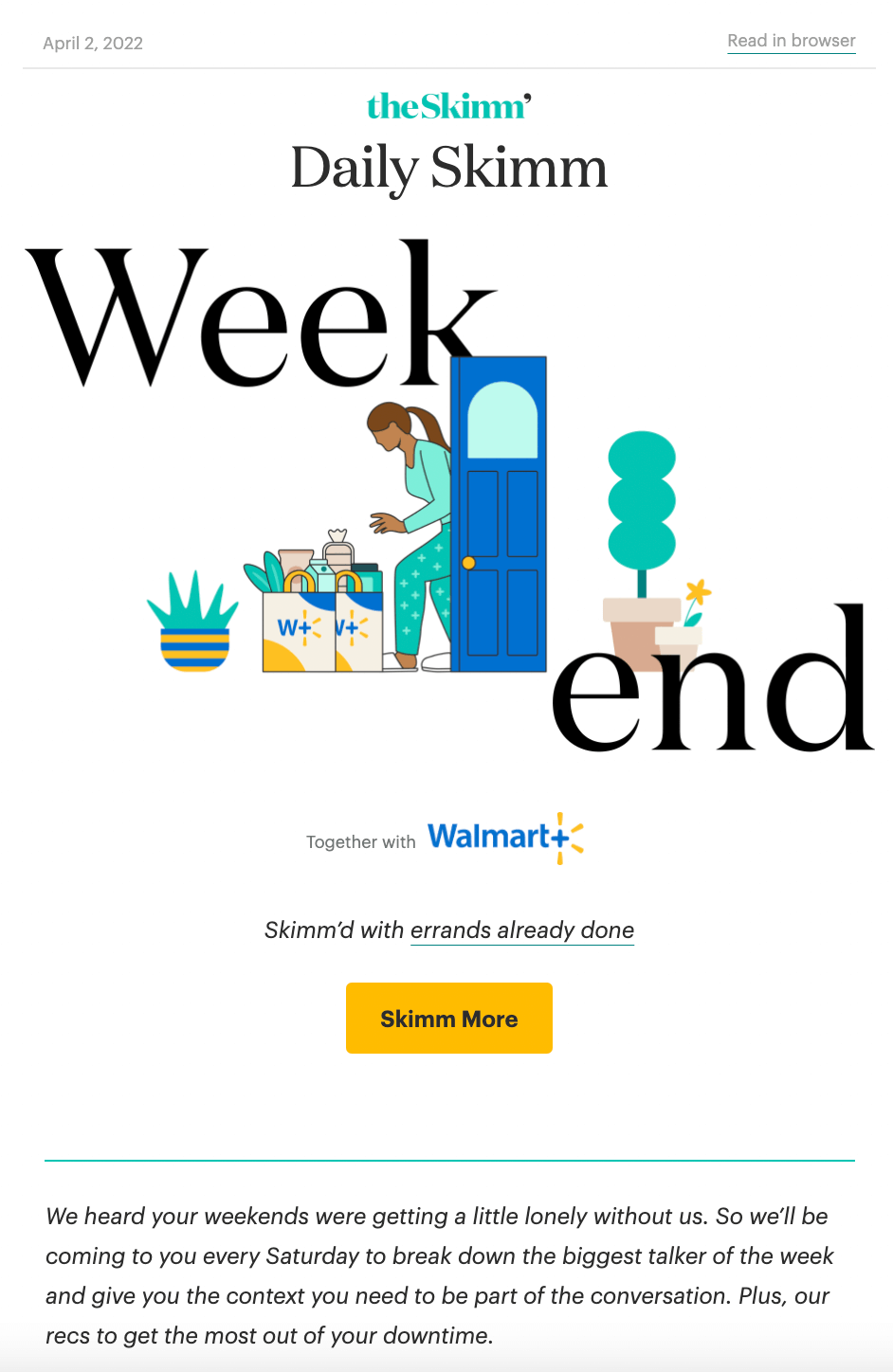 Our next email marketing campaign example is from TheSkimm, a daily newsletter that delivers news and information in a conversational and engaging tone. TheSkimm has over 7 million subscribers, and the newsletter generates revenue through affiliate partnerships and sponsored content. TheSkimm's email marketing campaigns focus on growing its subscriber base and engaging its audience.
What worked: TheSkimm's email marketing campaigns are highly personalized and targeted, and the newsletter content is designed to resonate with its audience. TheSkimm also uses data and analytics to track the performance of its email campaigns and optimize them for better results.
Charity: Water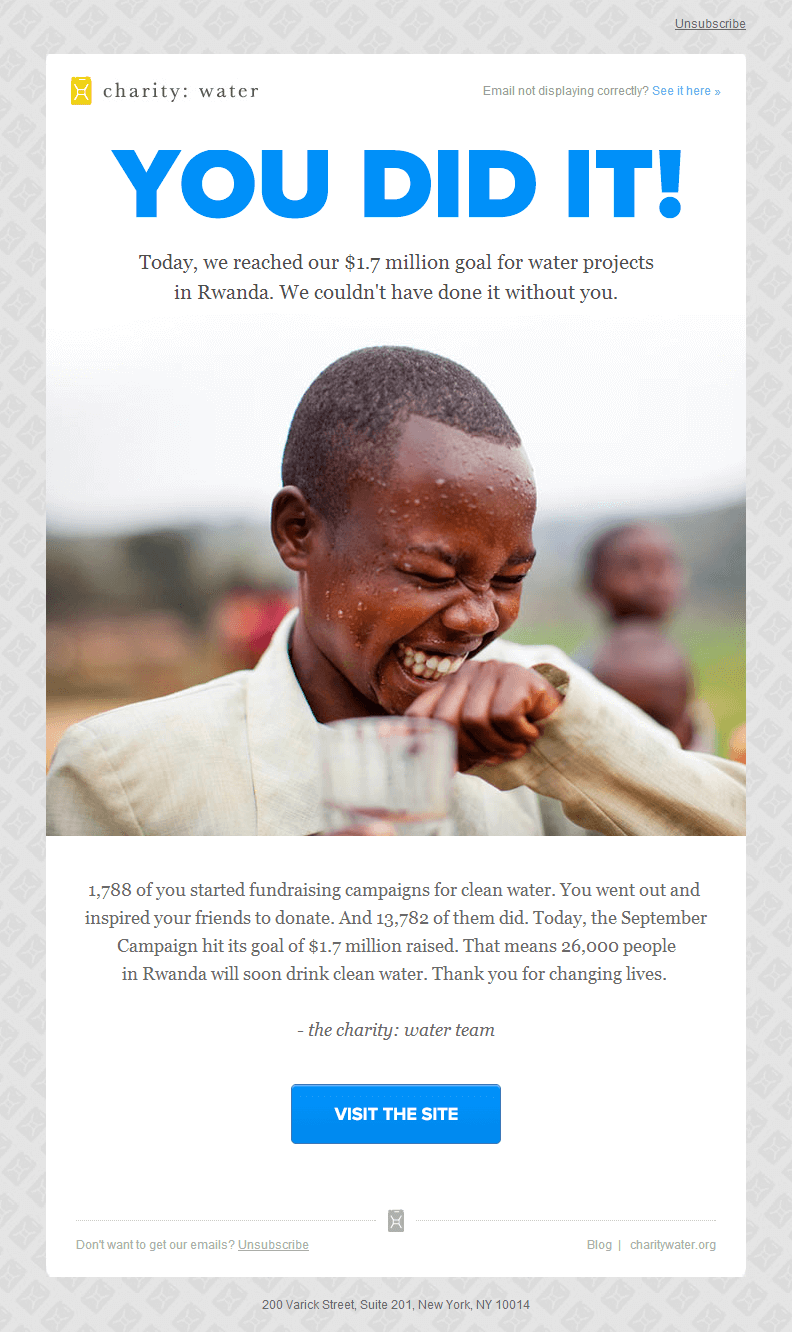 The last successful email marketing campaign example is of a nonprofit organization. Charity: Water uses email marketing to promote its campaigns and drive donations. Charity: Water's email marketing campaigns are focused on storytelling and emotional appeals, and the organization uses personalized emails to connect with its audience and build relationships.
What worked: Charity: Water's email marketing campaigns are highly emotional and engaging, and the organization uses storytelling to create a personal connection with its audience. Charity: Water also uses data and analytics to track the performance of its email campaigns and optimize them for better results. The organization's focus on transparency and accountability also helps to build trust with its audience and encourage donations.
Step-by-Step Guide To Creating an Email Marketing Campaign
Step 1. Build a Targeted Email List
The most successful email marketing campaigns start with an email list full of qualified leads interested in what you offer. The best way to build a targeted email list is to convert your website visitors into subscribers.
You'll need to create attractive optin forms that get attention and encourage people to sign up. Experiment with different types of optin forms on different parts of your site, including:
Welcome gates, which appear when people arrive on your site. You can also use our page slide feature so people can get straight to the content when they're ready.
Lightbox popups can appear on any page and temporarily blank out the rest of the content to focus on the optin. These convert very well.
Exit-intent popups, which appear when people are about to leave the site. That's a good time to offer your lead magnet.
But did you know that, on average, 80% of your website visitors will leave your site for good without signing up for your newsletter?
We recommend using exit-intent popups to convert those abandoning visitors into subscribers and customers.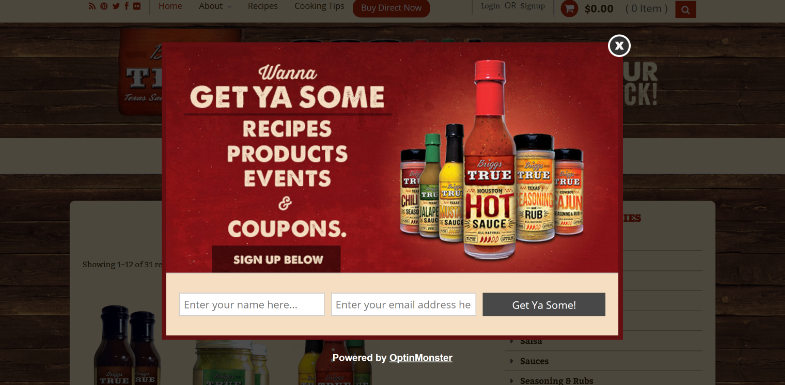 Exit-intent popups detect user behavior to prompt them with a targeted campaign when they are about to leave your site forever. This smart technology can skyrocket your conversions.
What can an exit intent popup do for your business? See our case studies for examples:
Click here to get started with OptinMonster today and skyrocket your email list with targeted leads.
Step 2. Know Your Goals
All good marketing starts with setting goals, and email marketing is no different. Consider what you want to achieve to run a successful email marketing campaign. Typical goals for an email marketing campaign include the following:
Welcoming new subscribers and telling them about your business and values, so you build a relationship with them.
Boosting engagement with your content and your business, whether promoting a webinar or trying to make an initial sale.
Nurturing existing subscribers by providing something they'll value.
Re-engaging subscribers who haven't been particularly active.
Segmenting your subscribers so you can send more targeted email marketing campaigns.
You can also set email marketing goals according to your conversion goals.
Step 3. Understand Email Types
It's also important to understand the different types of emails that you can send. People group these differently, but here are the three key email types.
We're all familiar with promotional emails, which talk about offers and sales and are self-promotional.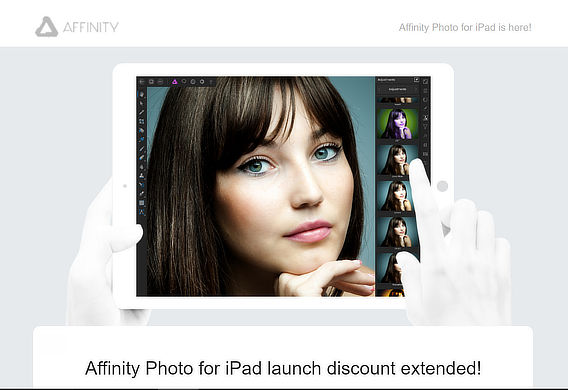 Then there are relational emails, which give subscribers what you've promised, like a weekly newsletter, a free gift, relevant information they can use, and so on.
There are also transactional emails, which include:
Subscriber signup confirmations
Welcome messages
Order or purchase confirmations
Acknowledgments of changes to subscriber information
Transactional emails are usually triggered by subscribers' actions and relate to an action they've taken on your site.
Now that you know the types of emails you can send, it's time to move on to the next step to creating a successful email marketing campaign.
Step 4. Know Your Audience
If you've been doing email marketing for a while, you'll likely know who your audience is. If you're just getting started, you'll have to make some educated guesses so you can target your content. Don't worry; you'll start collecting subscriber information the minute you send your first campaign, so next time, you'll have actual data to work with.
In the meantime, gather data from Google Analytics and your social media profiles, like the Facebook Insights data shown below:

Both sources have data on demographics, location, and interests, plus many other metrics, giving you a snapshot of who your customers are and what they're interested in. That's a good starting point for crafting successful email marketing campaigns.
Step 5. Use Technology Wisely
The best email marketing services have tools to help you create more successful email marketing campaigns. Look for features like:
Easy campaign creation and automation, including templates and workflows.
Integrations with software you already use, like WordPress and OptinMonster.
Ways to segment your audience.
In-depth analytics on email campaign performance.
Features like Mailchimp's automation pictured below will help you schedule transactional emails and blog-driven updates, respond quickly to customers, and create and deliver promotional and relational emails. These are all excellent ways to build success with email marketing.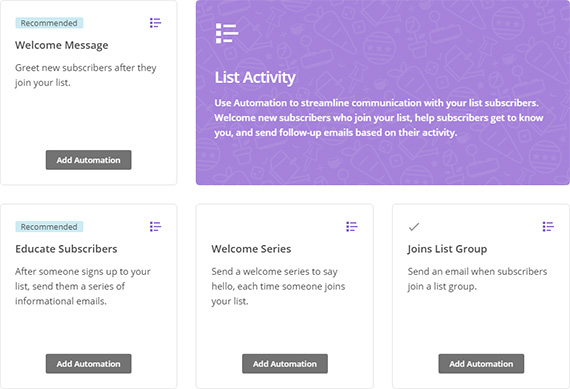 Step 6. Plan Emails and Followups
Once you know your goals, email type, and audience and have attracted people to your list with targeted optins, it's time to plan your email marketing campaign. This will give you an overview when you start creating the emails in steps #7 through #9.
A good approach is to note down the following:
Email frequency, which we'll look at below
Type of email, as mentioned in step #2
A rough idea of content
The main action you want subscribers to take (such as signing up for an event, following you on social media, or buying a product)
Kuno Creative says that in creating your emails, you need to make them timely, relevant, interesting, and valuable.
For example, many companies welcome new subscribers with a short email series to help them get to know their products and services.
Asana sends a series of 4 emails. The email subject lines are:
Welcome to Asana
What do you need to get done this week?
Plan your day with Asana
Hit your next deadline
The first is a welcome email with three key tasks you can accomplish in the software. Three days later, another email asks what you need to get done and encourages you to start using the product. Two days later, there's an email talking about the Asana dashboard. The series ends with an email two days later highlighting the calendar view.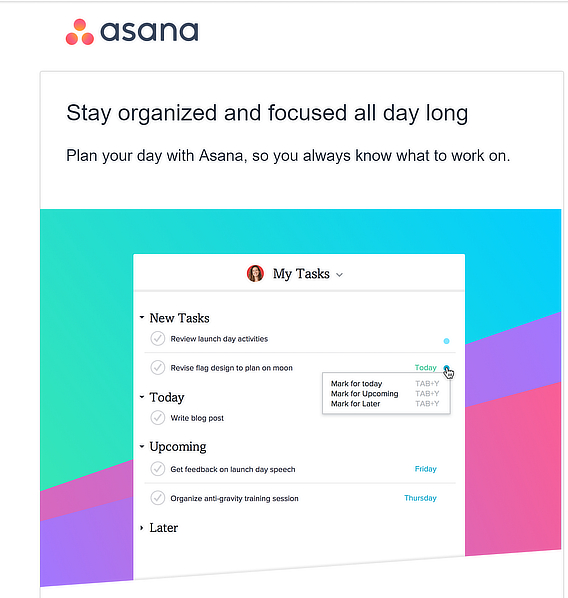 Don't overwhelm your subscribers by emailing too often. That will send them straight to the spam button. Instead, please stick to the schedule you've told them about so they know what to expect.
Feel free to ask for subscriber input on email scheduling via a poll or survey. You can also offer an "opt down" option for those who love your emails but don't want to get them as often.
Once you've outlined your email plan, it's time to start writing.
Step 7. Craft Your Subject Line
A good starting point for any successful email marketing campaign is the subject line, which is crucial in getting people to open and click on your emails. Like the headline on your blog post, an email subject line has to get attention so people want to go further.
You only have a few words to make an impression. Campaign Monitor's data shows that most subject lines range from 41 to 50 characters. Even less of your subject line shows on mobile screens, so putting the most important parts at the start is wise.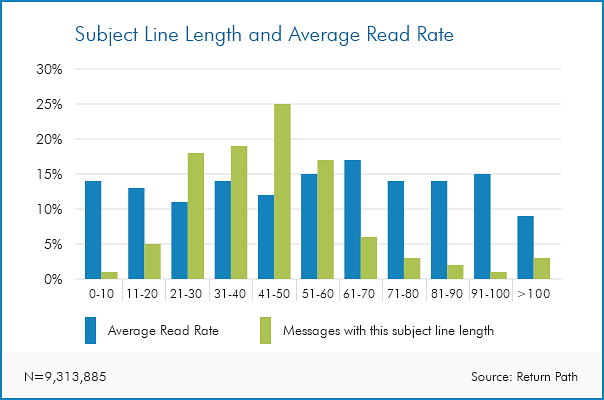 Options for improving your subject lines include:
Telling people what they'll get when they open your emails; no need to be clever or witty unless that's your brand's personality.
Adding personalization, such as including people's names in the subject line, can keep them more engaged.
Avoiding spam trigger words, so your emails make it to the inbox.
Borrowing one of these high-converting email subject lines and adapting it for your own use.
Step 8. Write the Copy
Next, it's time to write your email marketing copy. You'll want to create a hook right at the start that will get people to want to read on.
Keep email marketing copy short for best results, and avoid pitching your offer too early. You want people to get comfortable first.
Address subscribers by name. Personalized emails are more successful. Buffer also suggests personalizing your emails based on need by sending emails that meet different user expectations. This makes them more targeted and more likely to be successful. Some studies show that educating and segmenting your audience will boost your email click-through rate by up to 50%.
Other items to consider for your email copy include the following:
A personal story. Being human never hurts a company and often helps people connect emotionally. Some of the most successful emails we've seen use this technique.
Something of value to your readers. That can be a piece of content, useful information, or the resource you're promoting. Make it clear how this will help them. The example below from SEMrush underlines the potential benefit in the first line of the email.
A poll, survey, GIF, or video keeps readers more engaged.
Of course, you don't have to put all of those in every email. Ideally your emails should be short, with only a couple of main points within each one. If you do decide to go longer, make your email scannable.
The last part of your email marketing copy is the call to action (CTA). Your CTA reflects the one thing you most want people to do when they've read your email.
CTAs usually appear multiple times within your email marketing copy. While you don't want to pitch to readers too soon, there'll likely be a CTA near the start, middle, and end.
The best calls to action are short and clear. If you've got your copy right, then it should be a no-brainer for subscribers to click your link.
Step 9. Focus on Email Marketing Design
Email design matters in any successful email marketing campaign. If your emails look terrible, that reflects poorly on you and can make people stop reading. With more people than ever reading emails on mobile devices, it's important to use a responsive email template, so your email resizes automatically whether people are reading it on a phone, tablet, or desktop.
Most good emails have more text than images. There's no denying that images make your email more attractive, but know that many people disable images. That means your email still has to work even if people can't see them.
Our tip is to avoid hiding information in images, which is bad for email accessibility. And remember to use alt tags to describe images so people who've disabled them know what they're supposed to see. A good description might enable subscribers to enable images, making your emails look even better.
Step 10. Test and Track
Finally, emailing is just the first step in achieving email marketing success. To nail it, you've got to collect data to improve future campaigns.
That means testing everything: design and layout, email marketing copy, subject lines, and calls to action. Consider testing emails with different segments and experimenting with email send times.
You'll also want to monitor email analytics from your service provider relating to opens, clicks, unsubscribes, and forwards. This will enable you to figure out what's working and what's not with your email marketing campaigns.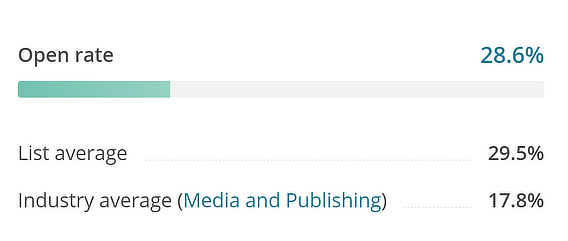 Another issue to monitor is your sender's reputation, which affects email deliverability. Use Sender Score to see if any red flags might stop your emails from reaching subscribers' inboxes.
Finally, manage your email subscriber list by attempting to re-engage inactive subscribers and remove them if your attempts fail. It's better for email marketing open and click rates to have fewer active subscribers than large numbers of inactive ones.
Exclusive Bonus: Level up your email marketing! Click here to get the free checklist + BONUS resources and see your results skyrocket.
It goes without saying that you need to get people on your email list to run a successful campaign, and with OptinMonster's email optin solutions, you can do that with simplicity and ease.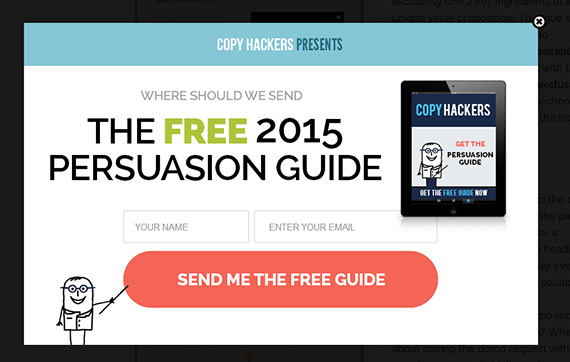 Check out our guide to optin types to see all the options for creating optins for your email marketing campaign.
For best results, put optins in multiple places and choose how they appear with rules and page-level targeting. That cuts down on the annoyance level while maintaining effectiveness.
What can optin popups do for your business? See our case studies for examples:
Click here to get started with OptinMonster today and skyrocket your email list with targeted leads.