Are you looking for email marketing examples for your next campaign?
Creating an email that reaches the inbox, gets opened, and is clicked is more challenging than it looks.
From writing email copy that converts to visually appealing designs, there are many ways to take your email marketing strategy to the next level.
Many brands are already nailing their email marketing campaigns. You can get inspiration from them and run a successful email marketing campaign for your brand.
That's why, in this blog, we have shortlisted the ten best email marketing examples for you.
But before you can get to any of that, you still need one crucial component: to send out email marketing campaigns, you first need a robust list of people to send them to!
The best way to grow your list is with OptinMonster, the #1 lead generation tool! Click below to start your 100% risk-free OptinMonster subscription to start growing your email list faster right now:
Get Started With OptinMonster Today!
BONUS: Done-For-You Campaign Setup ($297 value)
Our conversion experts will design 1 free campaign for you to get maximum results – absolutely FREE!
Click here to get started →
With that out of the way, here's a look at ten brilliant email marketing examples to inspire you.
10 Email Marketing Examples That Work
1. Uber
The first email marketing example we have is from Uber.
Uber does it right every single time. It has a straightforward yet creative approach to email campaigns and knows how to keep things short.
You can see it in the image below. The text is precise, with a clear call to action. It works great for subscribers who only have a little time and might skip longer texts.
For those who want to know more, there's a link they can follow.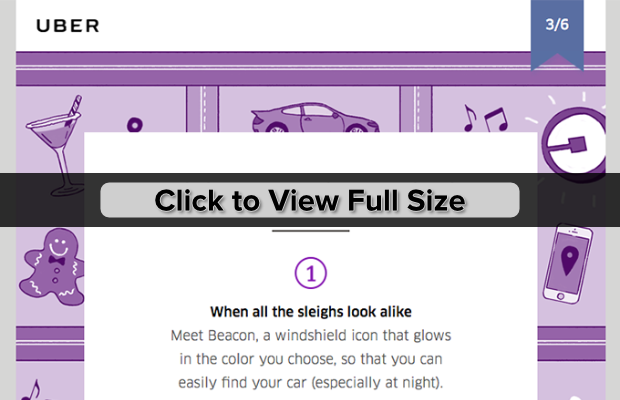 Uber also sends emails that include detailed insights into your rides: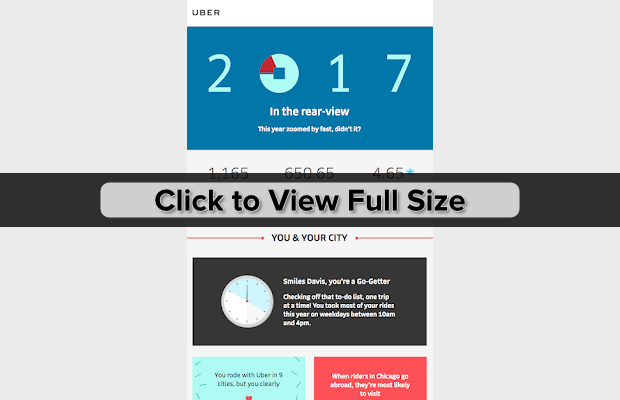 2. Starbucks
Second on our email marketing examples list is Starbucks.
Starbucks knows how to engage its subscribers. It always gives the customers a good reason to engage with its brand.
Check out how it leverages Valentine's day with a quirky message to entice customers to buy.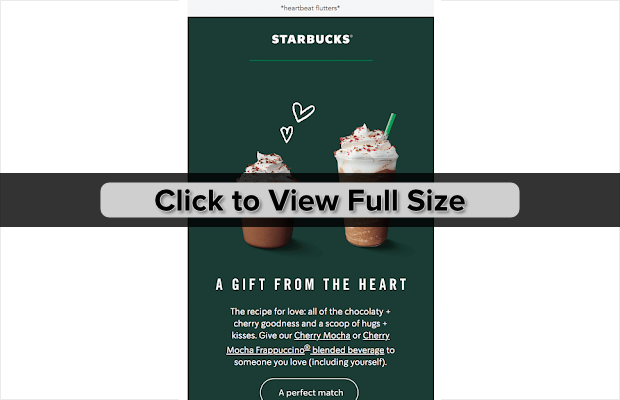 3. Airbnb
Airbnb had to make it to the list because they are just about the perfect email marketing example.
Airbnb's email design has fresh colors, and the copy is beautiful. This email has everything a customer would want.
They also keep their emails to the point with a clear and strong CTA.
And every newsletter includes a guide to different cities. The email below is all about exploring the wonders of Jordan.
Plus, it highlights other Airbnb adventures that readers can enjoy across the globe.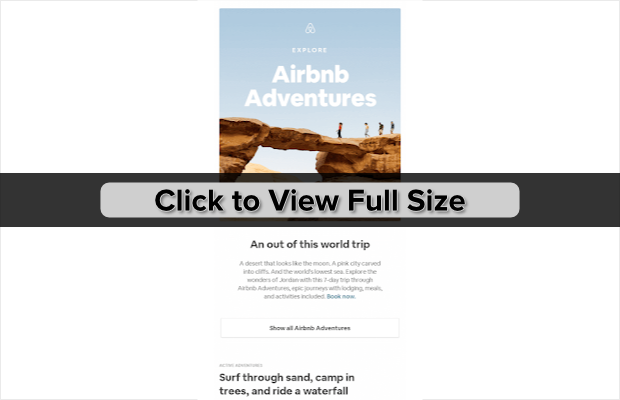 4. Chiptole
This email from Chiptole would brighten any customer's day. After all, who doesn't like getting a gift on their birthday?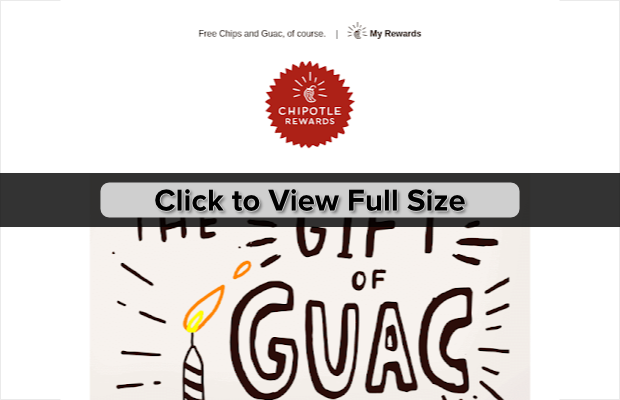 According to the research, brands that use birthday emails have 324% higher revenue than other email campaigns.
All in all, birthday emails aren't only a great way of making your customers feel special but also work as product personalization while increasing your sales and conversions.
5. Lego
Lego gives us a perfect email marketing example by using visual appeal. It even includes a video!
This email would grab any customer's attention with the eye-catching video and minimal but exciting copy.
The highlight of this email is that the reader doesn't need to leave the email to watch the video; it plays directly in the email itself.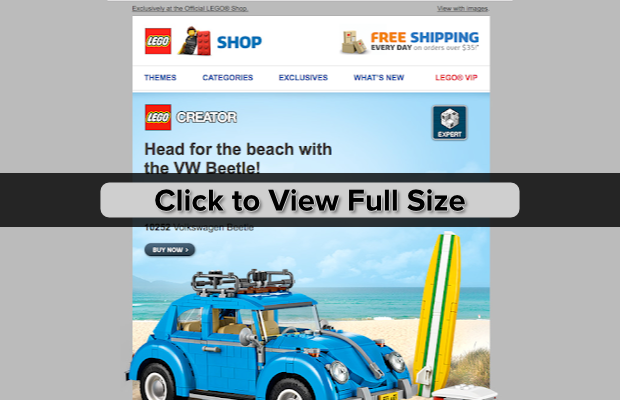 6. Email Uplers
Email Uplers, previously known as EmailMonks, has taken AMP in emails to the next level. This email template example from Email Uplers leverages click-based animation to reach subscribers with this Halloween-themed email.
When the email recipient clicks on the CTA, "CLICK HERE TO GET THE FEEL," the entire email design changes to match the spooky vibes of Halloween. Take a look: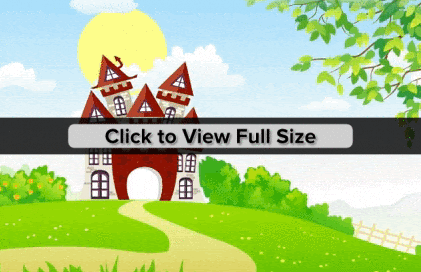 7. Tinder
Welcome emails have an average open rate of 52.9%. Tinder makes good use of its welcome email with a creative GIF for welcoming new customers.
From the sleek background and clear CTA to the step-by-step illustration of the sign-up process, the whole email is eye-catching and visually appealing, and that's why it makes a good email marketing example for marketers.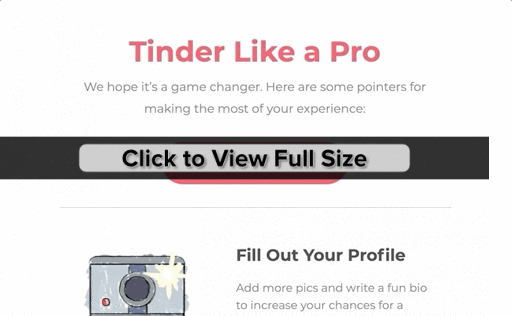 8. Bonobos
Bonobos make good use of the cart abandonment email. It's an intelligent way to lure back a potential customer and recover them.
In addition, Bonobos goes a step further and gives a 20% discount on the customer's first order. That's an offer many people would never abandon.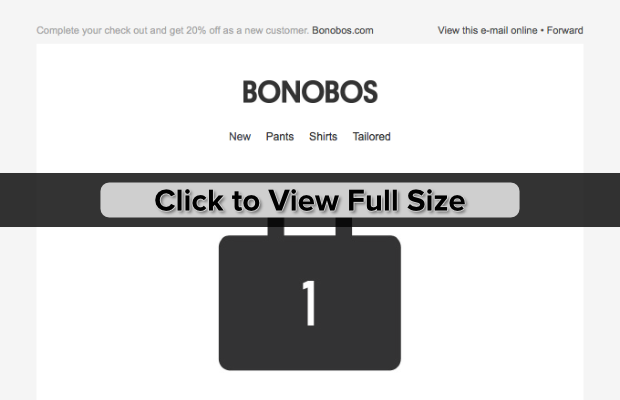 You can re-engage your customers with cart abandonment emails like this.
Set up an automated email series to recover abandoned carts for best results. Here's everything you need to know about creating an email autoresponder series.
Here's a tip: use phrases that connect with customers directly, like "forgot something?" or "still want it?"
9. BuzzFeed
Did you know BuzzFeed's email newsletter is one of its top traffic sources?
They write great content. Everything would encourage you to open these emails immediately, from their subject lines to previews.
The newsletter below is from one of the most popular BuzzFeed series, This Week in Cats. It delivers the best and the cutest cat stories to the subscriber's inbox every Friday.
There's a "Dear Dumb Cat" feature in the newsletter. Like "Dear Abby," you can ask the cat a question and get a humorous and sarcastic answer in the following email. Now, that's funny and interesting!

10. Saks Fifth Avenue
This email by Saks Fifth Avenue could be anyone's email design crush. You get everything from beautiful cinematography to exciting content in this email marketing example.
It comes with brief and relevant descriptions, but if you want to explore, you can always click on the CTA button for more.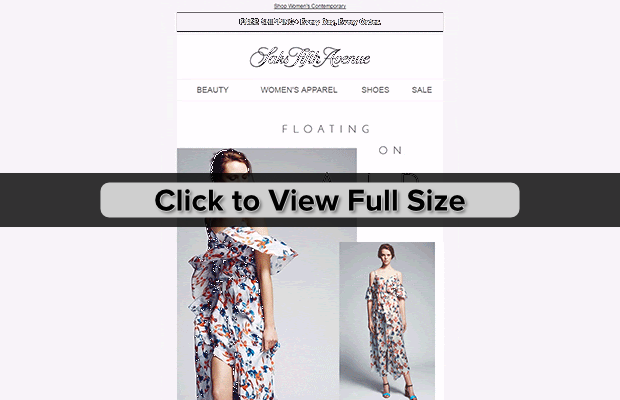 Wrapping Up
That's it!
If you found this article useful, don't forget to explore 8 Product Recommendation Email Examples to Drive Sales.
Email marketing allows you to connect with customers regardless of where they are. It's a strategy that your business can only grow with.
That's where  OptinMonster comes in.
With OptinMonster, you can grow your email list to start nurturing leads, driving engagement, and increasing revenue with floating bars, exit-intent popups, scroll box campaigns, and more.
Once you've started building up your email list with OptinMonster, the email marketing examples we've mentioned here can help you develop fresh and new email marketing ideas.
Get Started With OptinMonster Today!
BONUS: Done-For-You Campaign Setup ($297 value)
Our conversion experts will design 1 free campaign for you to get maximum results – absolutely FREE!
Click here to get started →