Not sure what your email subject line length should be?
The subject line is one of the main reasons a subscriber will open your email. More people are using mobile devices, so you have to make sure your email subject line is readable by everyone in your audience.
In this article, we'll go over how long your subject line should be and some tips for making the most of your subject line character limit.
What is an Email Subject Line?
The email subject line is the headline of the email that appears in the recipient's inbox. It usually gives the reader some idea of what the email is about.
There are 2 other things that often appear in the inbox along with the subject line. Those 2 things are the sender name and the preview text.

The sender name can be a personal name, a company name, or both. It simply indicates who the email is from.
The preview text, or preheader, is additional text that appears after the subject line. It usually gives more detail about the content of the email.
What is the Ideal Length of an Email Subject Line?
Like just about everything in digital marketing, the ideal subject line length depends on the context. Here are some factors to consider:
Device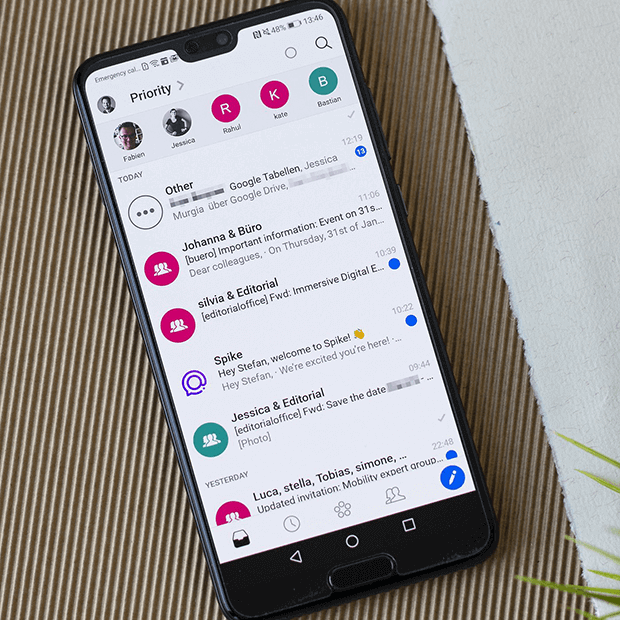 The biggest factor is the screen size that the email is being viewed on. Smartphones and other mobile devices have made it easy for customers to check email on the go. But this comes at the cost of smaller screens. You don't want most of your subject line to get cut off on a small screen. This isn't usually a problem on larger screens like desktops, laptops, and most tablets.
Email Client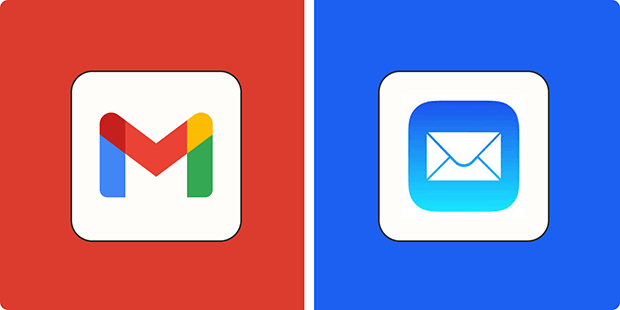 The app or program that someone uses to open an email can also affect how much of the subject line is visible, regardless of what device is being used. Here are some of the default subject line character limits on popular email apps:
Gmail: 70 characters
Yahoo Mail: 46 characters
Outlook: 54-73 characters
iPhone: 41-64 characters
Past Performance

While the number of characters is a basic guideline, most of the time what matters most is the content. Short subject lines that are boring or generic will not magically outperform longer subject lines that are more optimized.
Look at your email metrics for trends in open rates. You might notice that there's a particular format or word choice that consistently gets your target reader's attention.
Getting the Most From Your Email Subject Line Character Limit: Best Practices
Improving your subject lines can result in higher open rates and click-through rates. This can improve your email deliverability and overall conversion rate. While writing the perfect subject line alone can't be your entire email marketing strategy, it's an easy way to boost your email marketing campaigns.
Here are some actionable tips for writing better subject lines.
1. Put the Good Part First
Because you have such a small character count to work with, there will inevitably be times when your subject line gets cut off in the recipient's inbox. Make sure to put the most important and engaging information first so it doesn't get lost.
2. Pick Eye-Catching Words
Use action verbs and engaging language to stand out in a crowded inbox. What sounds more exciting:
Customer Appreciation Month specials
Open to save 10% on all beauty services this month
The first example is vague and doesn't invite any sort of action. The second example tells the reader exactly what they'll receive and how to get their discount.
3. Keep It Short and Simple
We've already gone over why shorter subject lines may perform better. But regardless of the overall subject line length, you can use shorter, simpler words. This improves the readability of your emails. No one wants to open something if they don't understand what's in it.
For example, this subject line for eCommerce is way too long and complicated:
Behold, Esteemed Patrons of Flora! Our Latest Acquisitions of Exquisitely Cultivated, Botanical Specimens Have Been Carefully Curated and Are Now Available for Your Esteemed Consideration, to Beautify Your Domiciles and Elevate Your Surroundings.
It's practically an entire marketing email crammed into the subject line. A much better and simpler version might read: New Arrivals: Fresh and Beautiful Plants for Your Home
4. Use Numerals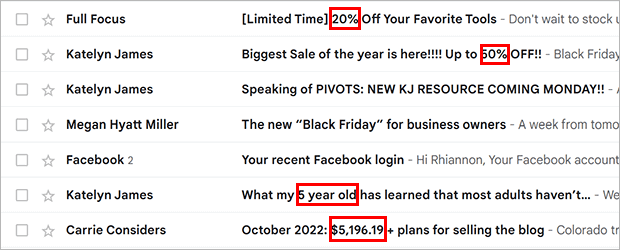 Using numerals makes your subject lines easier to scan and also lets you use fewer characters compared to writing out the number. Using 17 instead of seventeen saves 7 characters.
5. Choose at Least 1 Emoji
Emojis are small visual icons used to express emotions and ideas in a single character space. Many brands like to use emojis to make their marketing feel more personable. Feel free to add a few emojis to add emphasis or fun to your subject lines.
But don't use too many as that can appear spammy. Furthermore, different emojis can mean different things in different cultures. You don't want to accidentally offend someone. They also may not be fully readable to customers using screen readers and other accessibility aids.
6. Capitalize and Punctuate Wisely
Generally, we recommend using sentence case for email subject lines. This means that the first letter is capitalized. But you can experiment with capitalizing all words or no words, depending on your specific brand voice.
As for punctuation marks, all you need is one. Too many punctuation marks or using ALL CAPS can trigger spam filters. It may also come across as SHOUTING AT YOUR CUSTOMER!!!!!!!! (Not very pleasant to read, right?) Many subject lines don't have punctuation at all since it's just a preview of your full email content.
7. Preview Before Sending
Your subject lines are very important for keeping your emails out of the spam folder. Make sure they look right using an email subject line analyzer that looks at character count, word choice, and other factors. You can also send test emails from your ESP and preview the subject line on different devices and email clients.
8. Test Your Subject Lines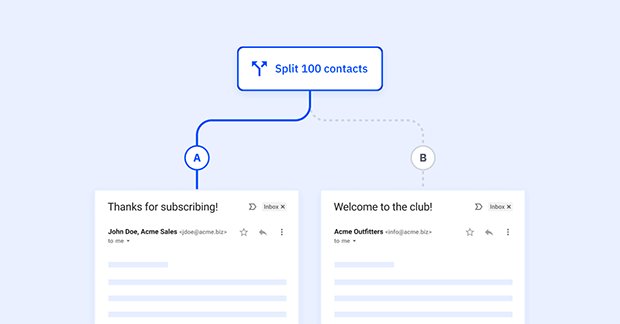 A/B testing, or split testing, lets you compare email open rates for different subject lines. You create 2 subject lines for the same email campaign. Then the email service provider (ESP) sends one segment of subscribers the first subject line, and the second subject line to a different segment. Some ESPs like Mailchimp let you test with a small portion of the audience, then send the winning subject line to the rest of your list.
You can also split test different email templates, call to action (CTA) buttons, follow-up timing, marketing automation structure, and more.
You never know exactly how your audience will react to something until you do it. It's okay to take risks and make mistakes as long as you collect data and use them to determine future email campaigns.
Conclusion: How Long Should an Email Subject Line Be?
We hope this article answered your questions about subject line length. To recap, the ideal length for email subject lines is:
Less than 10 words
Between 20-40 characters
Dependent on context
To lift your open rates even more, check out our list of email subject line best practices.