Want to write headlines that make a lasting first impression? Your headline is often the first (and only) chance you'll get to impress a potential reader, subscriber or customer. In this guide, we'll share 26 tools that'll help you create better headlines.
According to David Ogilvy (a.k.a. "The Father of Advertising"):
"On the average, five times as many people read the headline as read the body copy. When you have written your headline, you have spent eighty cents out of your dollar."
Your headline will determine whether or not someone reads your blog post, becomes a subscriber, or purchases your product. That's why you need to put a significant amount of focus on crafting better headlines.
Here are 26 headline tools that can help…
Headline Analyzers
Not sure whether the headline you've written is any good? Use these tools to analyze your headlines and identify areas for improvement.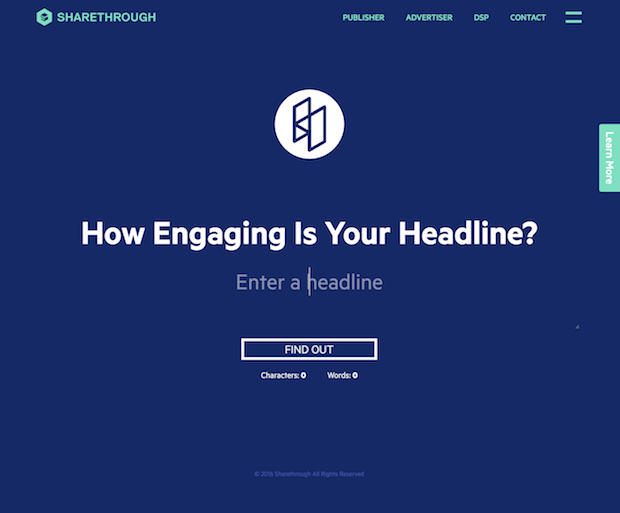 The Sharethrough headline tool analyzes your headline and gives it a score based on a multivariate linguistic algorithm built on the principles of Behavior Model theory and Sharethrough's neuroscience and advertising research.
The algorithm takes into account more than 300 unique variables, including EEG data and Natural Language Processing, enabling your headlines to capture attention, increase engagement and deliver a stronger impression.
2. Blog Post Headline Analyzer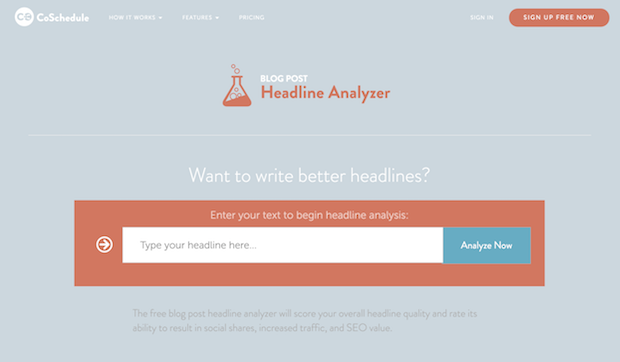 The Blog Post Headline Analyzer by CoSchedule will score your overall headline quality and rate its ability to result in shares, increased traffic, and SEO value.
This tool is one of the most fully-featured headline analyzers I've seen. It tells you your headline type, analyzes individual words and overall structure, grammar, and readability, and even gives you a preview of what your headline will look like in Google search and as an email subject line.
3. Emotional Marketing Value Headline Analyzer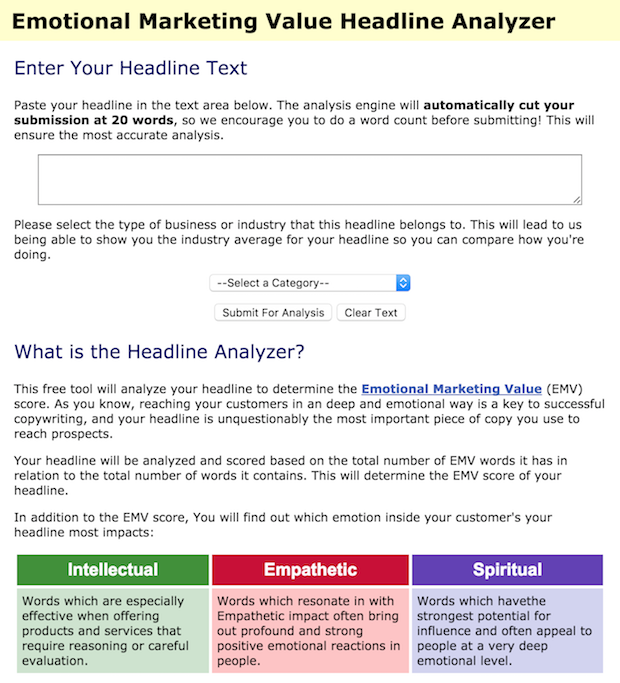 The Emotional Marketing Value Headline Analyzer by Advanced Marketing Institute will analyze your headline and give it a score based on the total number of EMV (Emotional Marketing Value) words it has in relation to the total number of words it contains.
The EMV rating is based on the research of Dr. Hakim Chishti, which started in the late 1960s and early 1970s. His research found that the basic sound tones of language can cause an emotional reaction which are in some ways even more powerful than the dictionary meaning itself. Whereas the meaning of a word can sometimes be mistaken, these sound tones are always interpreted the same way on an emotional level.
In addition to the EMV score, you will also find out which of the 3 major emotions your headline most impacts: intellectual, empathetic, or spiritual.
4. Charcounter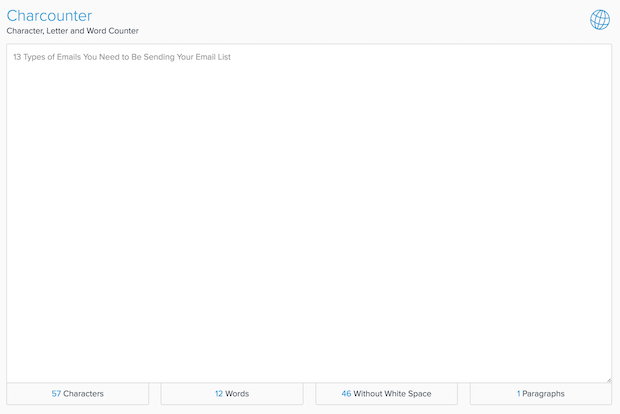 Charcounter is a free tool that will count the number of characters and words in your headline.
Use this tool to check that your headline (particularly your SEO title) is under 60 characters so that it appears correctly inside Google search.
5. Headline Capitalization

Not sure which words to capitalize in your headline? Use the Headline Capitalization tool!
To use this tool, just choose your capitalization style (Associated Press, APA, Chicago Manual of Style, or MLA Style), and then type in your headline. It will automatically capitalize the appropriate words for you.
Headline Generators
If you aren't sure what to write about in the first place, here are some headline generators that can help. With these tools, you'll have no shortage of headline ideas!
6. BlogAbout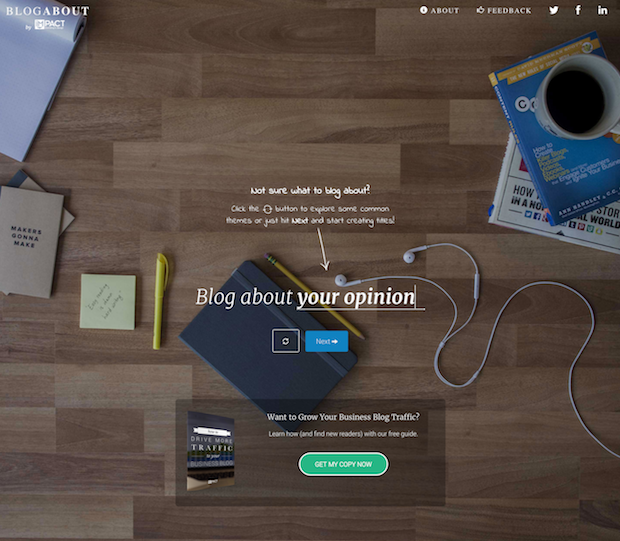 BlogAbout creates fill-in-the-blank headline templates based on your topic. All you have to do is select your topic, and fill in your words to complete the titles. If you don't like the headline template, just press the refresh button to try a new one.
The best part about this tool is that you can save headlines you like to your "notebook". Just hit the heart button to save a headline for later. Once you've filled up your notebook with headline ideas, the tool can email them to you.
7. Portent's Content Idea Generator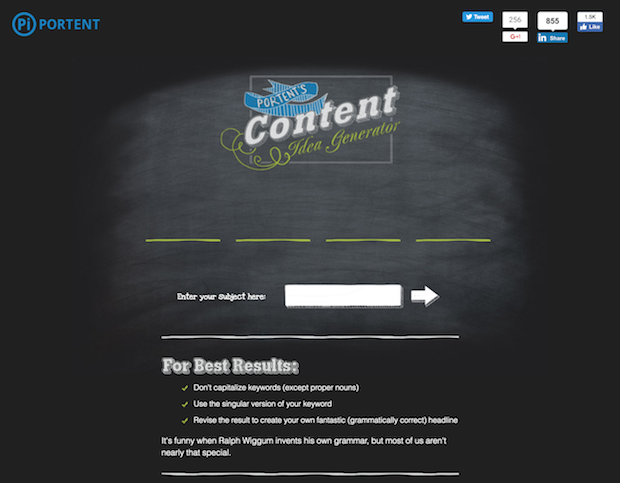 Portent's Content Idea Generator generates headlines based on your subject. Just type in your subject and it will create a headline for you!
What's great about this tool is that it breaks up your headline into chunks, so you can easily tweak and refine. It'll also tell you the reasoning behind why certain elements work in a headline.
8. HubSpot's Blog Topic Generator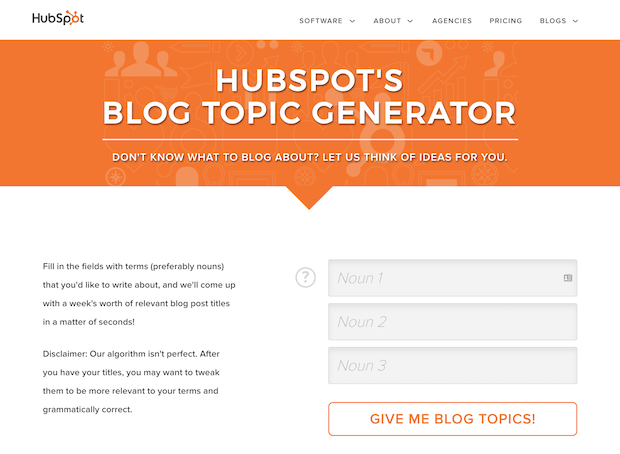 HubSpot's Blog Topic Generator is perfect if you are looking for ideas to fill your editorial calendar. Just type in 3 different topics that you cover on your blog, and it will generate a week's worth of article headlines for you.
If you want a year's worth of headline ideas, they'll email those to you when you optin to the HubSpot newsletter (consequently, a great lead magnet idea!).
9. SEOPressor's Blog Title Generator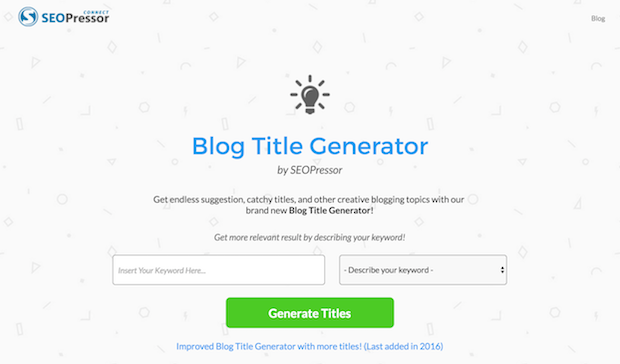 SEOPressor's Blog Title Generator gives you endless catchy titles for your blog posts based on the keyword you want to write about.
To use it, just type in your keyword, and choose the best description for your keyword from the dropdown menu: generic term, brand/product, event, industry, location, person's name, or skill. Then, you'll get a list of headline ideas to choose from.
10. Blog Title Idea Generator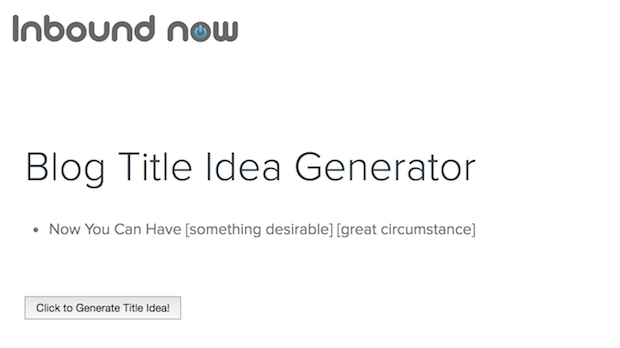 Blog Title Idea Generator by Inbound Now is a fill-in-the-blank headline generator. This is a good place to go if you just need some creative inspiration.
Each of the headlines in this tool are generic, so they can be applied to any industry. Just click on the button to view another headline template. Or, check out our cheat sheet of fill-in-the-blank headline ideas here.
11. Tweak Your Biz Title Generator
Tweak Your Biz Title Generator is another good headline generator to use for blog posts. Just enter your topic, select whether it is a noun or a verb, and choose how you would like to capitalize words. Then hit the submit button, and you'll get a huge list of headline ideas to choose from.
The list of headlines are organized by category: list, best, how to, questions, love, sex, celebrities, secrets, snark, business, motivation, problem and the kitchen sink. They also include a plain text version of the list that you can print or download for easy access.
12. Linkbait Title Generator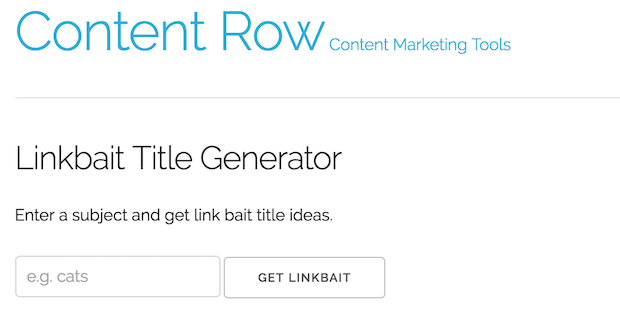 Linkbait Title Generator is a quick and simple headline generator to use. Just enter your subject to get a long list of headline ideas.
13. Quandary Content Idea Generator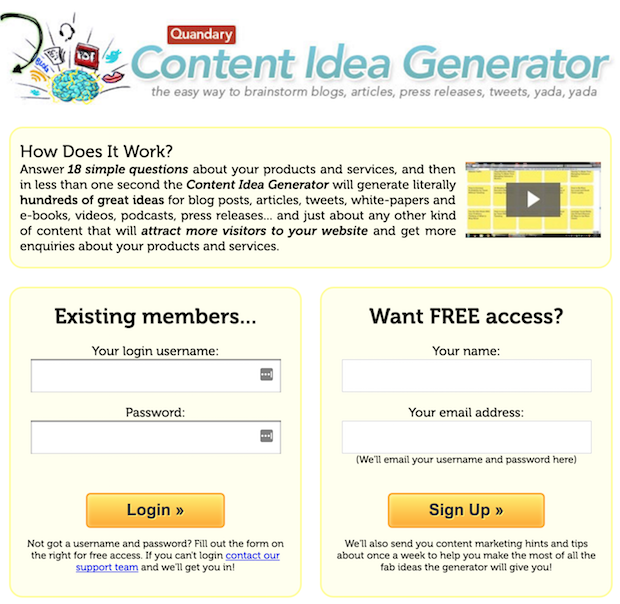 Quandary's Content Idea Generator is an easy way to brainstorm blog posts, social media posts, lead magnets, ads, and anything you need a headline for.
To use it, you'll need to enter your name and email for a free account. Then, you'll answer 18 simple questions about your products and services, and the Content Idea Generator will generate hundreds of headline ideas.
Headline Research Tools
Want to figure out what headlines your particular target audience will respond to? Here are some headline research tools that will help you discover the exact topics and headline types that your audience will love.
14. BuzzSumo

BuzzSumo is one of my favorite headline tools. Just enter your topic, and it will show you a list of all the most popular headlines for that topic (ranked by number of social shares).
The other cool thing you can do with this tool is enter the URL for one of your competitors and see what headlines are working for them.
15. Answer The Public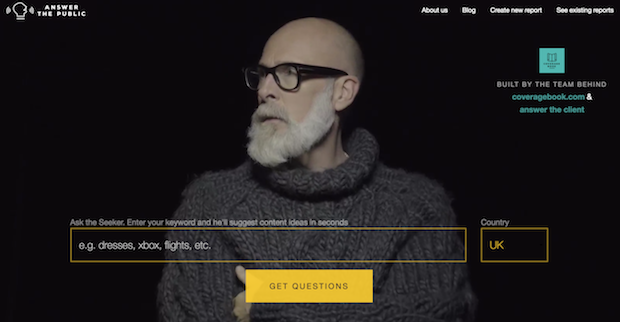 Answer The Public shows you what questions people are asking about your topic.
Enter your keyword, select your country, and then the tool will display various types of questions that people are typing into Google for that keyword.
16. StoryBase

StoryBase is another keyword tool that can help you create better headlines. When you type in your keyword, it will display a list of common phrases and questions that include your keyword.
You can also sort the results by search volume, and save keywords to a list for later.
17. Onalytica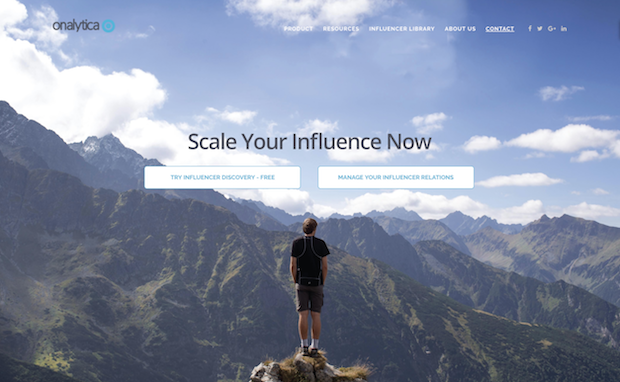 Onalytica is a tool that will show you the headlines of influencers and your competitors. It will also show you which are the most successful, so you can use that information when crafting your own headlines.
18. Moz Keyword Explorer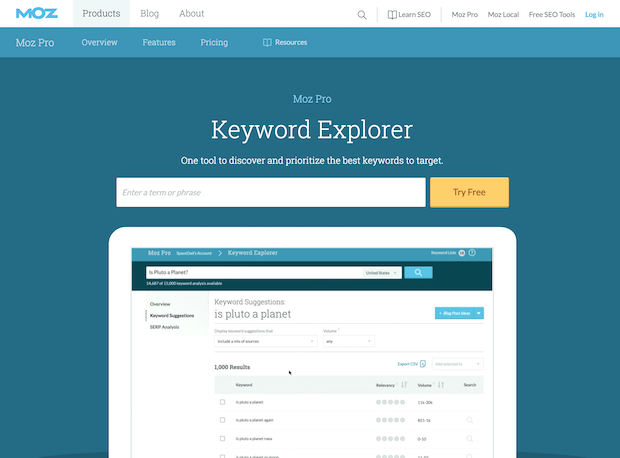 Moz Keyword Explorer is the ideal tool to use if you are looking to write a blog post that gets ranked in Google.
This tool will analyze the current search results for the keyword you want to use in your headline, and give it a score based on the difficulty, opportunity and potential for ranking it.
Headline A/B Testing Tools
Once you have a good headline, there's still room for improvement. You may want to split test your headlines to figure out which perform best. Here are some A/B testing tools that will do the job.
19. Optimizely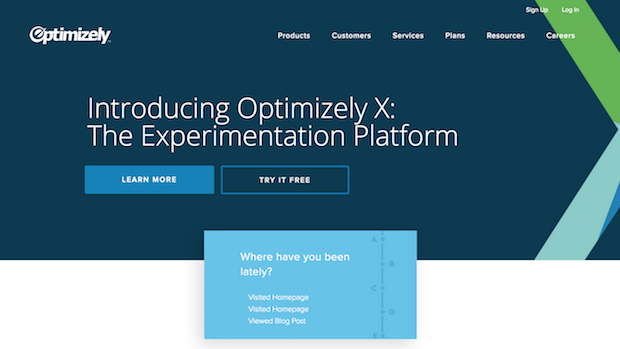 Optimizely is a fully-featured conversion optimization tool that you can use to test headlines, pricing and product features on your website and across all of your channels.
You can use Optimizely to test your headlines for a specific goal, such as click-through rates, conversions, social media shares, or engagement. You can also test your headlines in combination with your overall design.
20. HeadlineEnvy

HeadlineEnvy is a WordPress plugin that adds the ability to A/B test your blog post headlines through integration with Optimizely (above).
With this plugin, you can test as many different variations of a headline as you wish. You can even test headlines in your navigation, or anywhere on your site that uses titles (not just blog posts). Once you have statistically significant results and a winner has been selected, you can set it to automatically update the post with the winning headline.
21. Taboola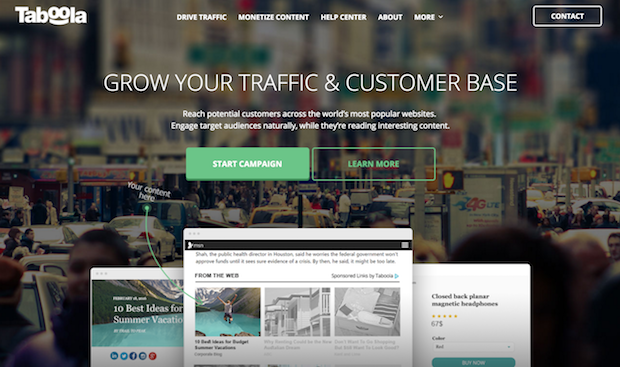 Taboola is a native advertising network, but it also has unique insights into the headlines that people are the most drawn to.
Aside from helping you to grow your traffic and customer base with their network, Taboola includes a headline testing tool. You can test your headlines against their custom click-through rate algorithm, which is based on data from its content recommendation service.
22. Qualaroo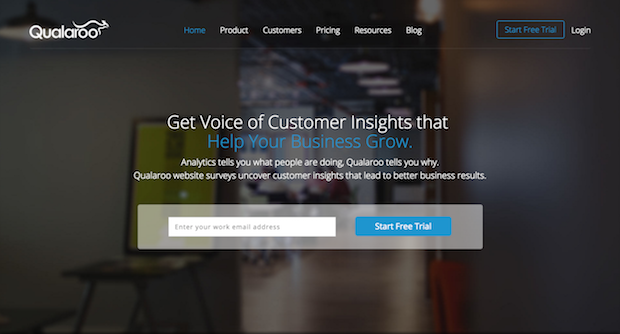 Qualaroo is a tool that allows you to get feedback from your website users on which headlines (or anything else on your website) work best.
Use Qualaroo to survey your website visitors about which blog posts caught their interest, and why.
23. Crazy Egg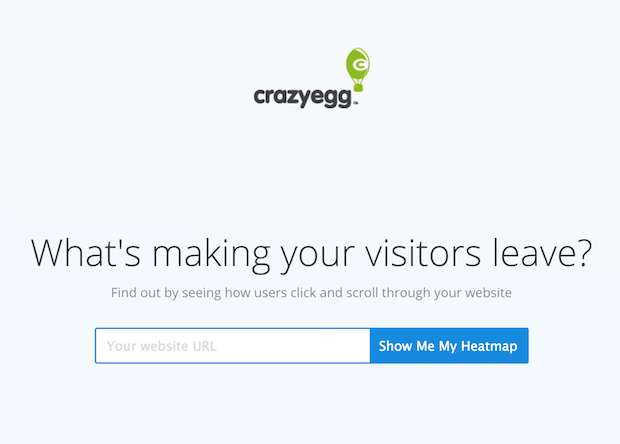 Crazy Egg is a heat mapping tool that allows you to see exactly what elements on your site capture your visitor's attention and what causes them to click.
You can use Crazy egg to see which headlines on your site are the most effective (or the least effective), and use that information to create more successful headlines.
Headline Resources
Looking for a downloadable resource to help you create better headlines? Here are some awesome headline resources that we recommend.
24. 700+ Power Words that Will Boost Your Conversions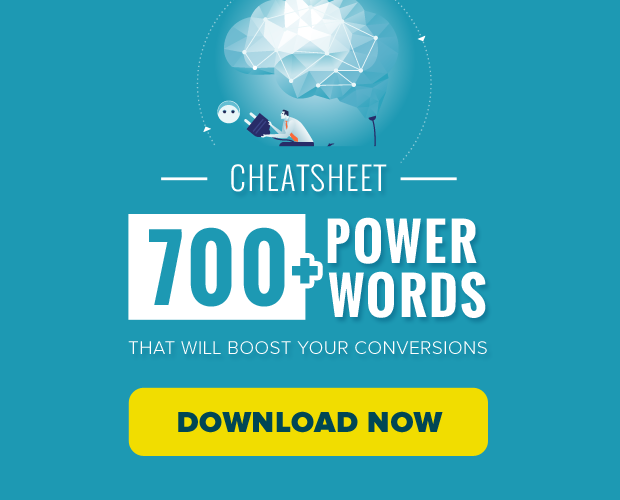 Power words are persuasive words used in headlines to trigger a psychological or emotional response. Using these words can increase your conversion rate by 12.7%!
For a comprehensive list, download our cheatsheet 700+ Power Words that Will Boost Your Conversions.
25. How to Write Magnetic Headlines (eBook)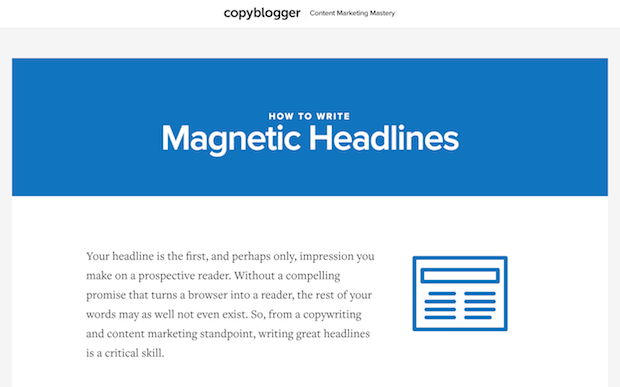 How to Write Magnetic Headlines is a free eBook from Copyblogger. Inside the eBook, you'll get guidance on what goes into writing a magnetic headline that turns someone browsing your site into a reader.
26. 52 Headline Hacks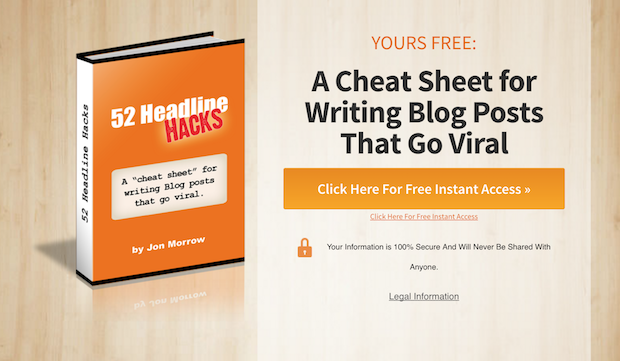 52 Headline Hacks is a cheat sheet by SmartBlogger that will help you to write effective headlines that get shared on social media. If you want your blog posts to go viral, these headline hacks can help.
That's it! 26 tools that'll help you create better headlines.
If you enjoyed this post, you may also want to check out our roundup of the best content marketing tools, and our other headline guides: