OptinMonster is leading the way in lead generation, especially in the WordPress environment. However, many people don't realize the power that OptinMonster allows users to have with its Canvas Addon — you can create custom surveys to collect more information for leads, design decisions, and more!
Collecting emails for lead generation is great and is highly encouraged because of the great success of well-designed email campaigns. But sometimes, you want to survey your visitors and collect more than a name and email address. Instead, maybe you want to receive input from your visitors on designs, feature-requests, contact forms. This post will show you how you can implement a custom survey using OptinMonster.
The Ingredients for Success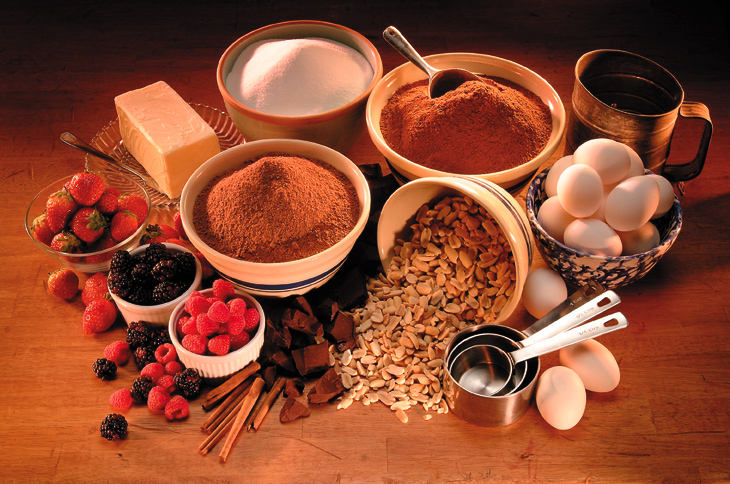 While OptinMonster is the best lead generation platform for WordPress, with a focus on email capturing, its Canvas Addon allows infinite possibilities to use the power of OptinMonster's lightbox and exit-intent technology. To create a custom survey popup, you will need the following.
Canvas Addon (requires a Pro Level license)
A survey tool (google forms or survey monkey, etc.) that gives an embed code
And a survey that is created
With these three items, you are ready to start building your survey.
How to Add a Google Form to OptinMonster
Every Gmail user has the ability to create a custom form. These forms can receive text, an email address, checkboxes, etc. A very great — and free — tool for anyone to set up within minutes.
The first thing you should do is create a form. After you create a form, go to the bottom on the page and click Send Form.

The next screen will allow you to access embeddable code by pressing Embed.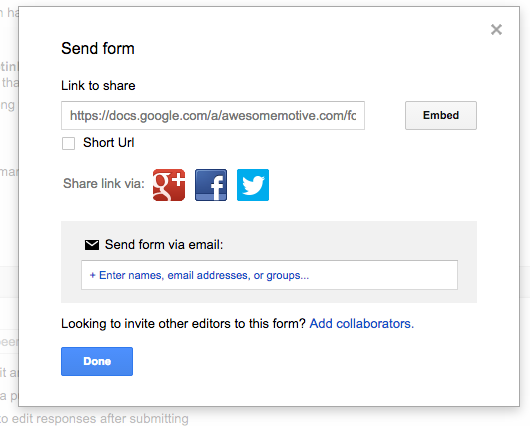 On this next screen you will see the iframe code you can embed.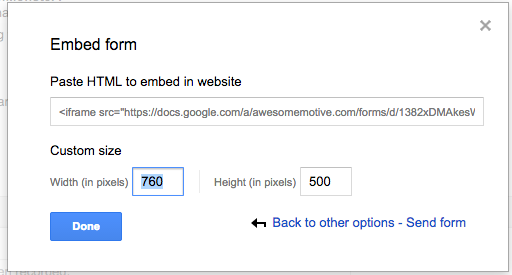 You can change the width and height of the form on the screen above or manually change the code later if you desire (it is very obvious where to do so because it says "width" and "height" in the iframe code.)
Copy this code and go to your Canvas Optin. Under the DESIGN tab, paste your iframe code in the textbox labeled Custom HTML.
Edit the size of your form and the size of of your canvas lightbox until it displays as you desire. (While Google Forms will always keep the "Google Form" stuff on the optin, other surveys may not.)
You can see in the images below that you can create multi-page forms within the lightbox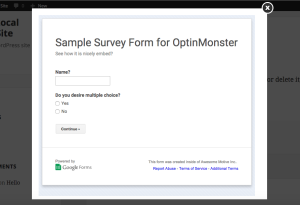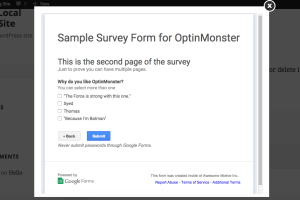 After one completes the survey and hits submit, you will see that the Google Form informs the user that the response is recorded. The user can then hit the X in the right hand corner to close the survey popup box. If you desire, you can make these exiting instructions clear by writing that in the "Thank You" response.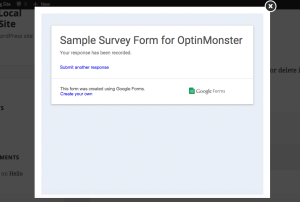 Congratulations, you have now made an Exit-Intent popup custom survey in OptinMonster.
How to Add Lead Generation Data to Your Email Service Provider
If you use this survey also to collect lead generation data, such as names and email addresses, then all you have to do is export from your survey provider a "CSV" file. Google Forms can easily export to a CSV, as can Survey Monkey.
Once you have the CSV file, you can import that file (once properly organized), into your Email Service Provider (ESP). Since every platform and provider is different, if you require specific instructions on how to make a CSV file, please contact support with your survey provider. Also, if you need help with importing a CSV file to a particular ESP like MailChimp or AWeber, please contact their support.
Ways to Implement your Custom Survey with OptinMonster
You may be thinking, "I like the idea of creating a custom survey that has exit-intent, but how could I implement that today?" Here are a few ideas.
New Website Design
If you are considering redesigning your website (or you just redesigned and you want to note its impact), consider creating a survey, asking a few questions:
What is the best thing about your experience on our website? Then provide a radio choice selection.
What is the worst thing about your experience on our website? Provide a radio choice selection.
Then add a comment box. "If you could change one thing immediately, what would you change?"
You can track the results and see how you measure up with your in-house thoughts on your web design.
Retailer's Checkout Feedback
A retailer may implement this differently. Perhaps you want to add this at the end of your sales process on a timed delay as a customer feedback loop of their check out experience.
On a scale of 1-10, with 10 being the best, how would you rate our checkout process? (HINT: Add a comment box and ask "Why?")
Did you have any problems finding items today? If so, how can we improve your experience next time?
Would you like to be added to our email list to receive future sales? If so, please add your name and email below. (You can then export this list to your ESP.)
And finally, you may be in real estate and trying to gather lead generation information for very probable leads (versus general lead generation where you gather only name and email) by having a button on your page saying, "Help me find a house!"
Real Estate Prospects
The best way to accomplish this is to create a survey form, with all the question fields you absolutely need. Meaning, you may have 20 questions you want to ask but you only need 9 to effectively do your job and follow up — only put the 9 questions! For example, they may be:
Please select your price page. Give them a drop down menu.
Please identify the areas where you are considering living? Provide a checkbox of local cities, etc.
When is the best time of day to contact you?
What is your name and email?
There you have it. A quick tutorial and guide on how to create a custom survey, with exit-intent technology, in OptinMonster. And with some starter ideas on how to implement your survey popup, you are surely going to be able to generate leads in no time!