Are you looking to create (or tweak) an opt-in landing page? If you want it to capture as many leads as possible, you'll need the right tools for the job. In this post, we'll share the best 30 tools to create effective opt-in landing pages.
Landing pages are the heart of any successful conversion funnel. No matter what your business, whether you're selling physical products, online services, or anything else, you need an effective method for capturing leads. And, an opt-in landing page is hands-down the best method.
However, for your opt-in landing page to convert, you'll need to invest in the right tools. Here are 30 that you can use to build, test, and optimize high-performing landing pages.
1. OptinMonster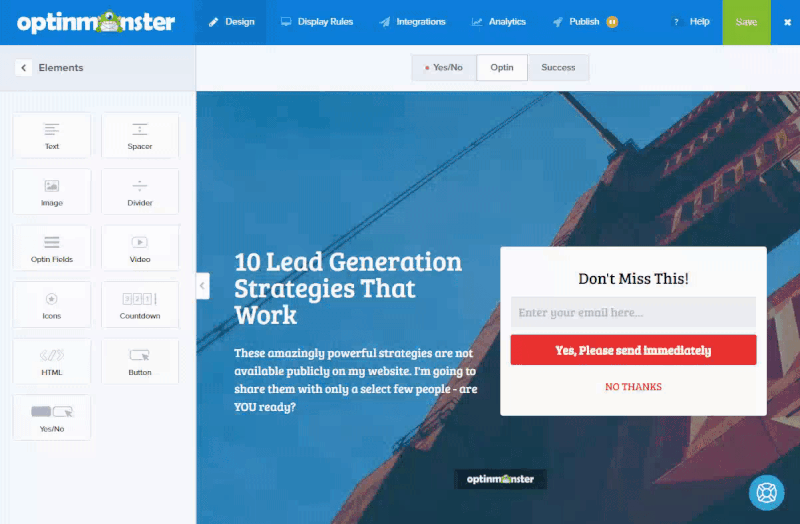 Every opt-in landing page needs an effective lead capture form and an exit-intent popup that maximizes conversions. OptinMonster helps you design both, and the result is beautiful opt-in forms that are simple, easy to use, and powerful.
Unlike generic opt-in forms, OptinMonster allows you to create dynamic, personalized campaigns depending on the user's behavior on your site.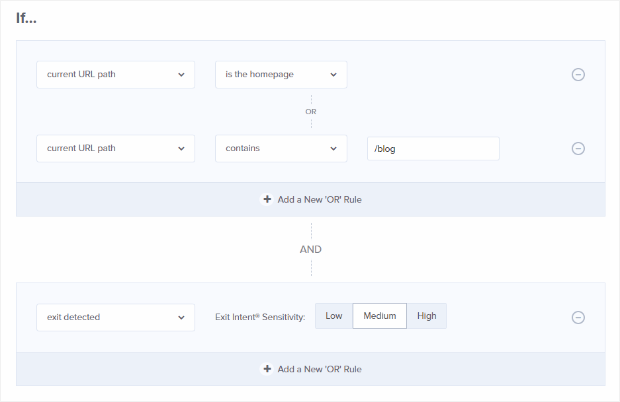 These leads can be automatically segmented into the appropriate email marketing campaign for them. Plus, easy A/B testing is built right in, so there's no need for a separate split testing software.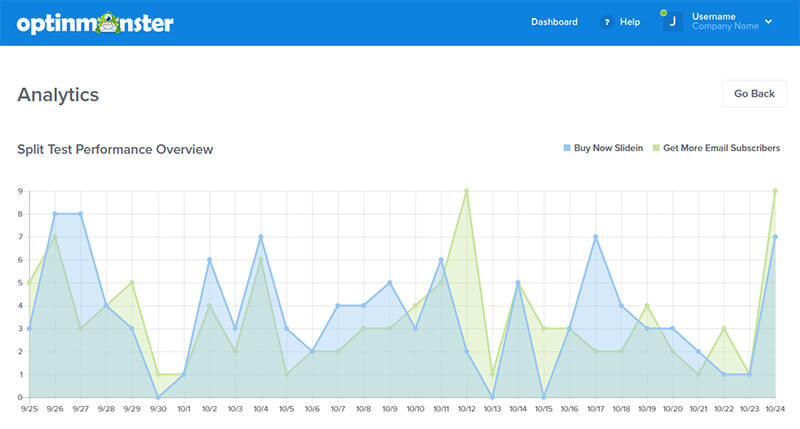 Create a simple landing page with OptinMonster using our step-by-step tutorial. 🙌
2. Divi Theme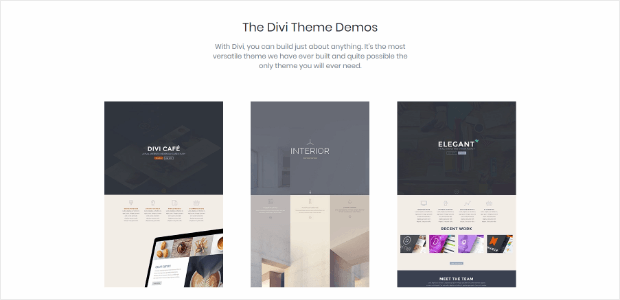 Divi is a powerful WordPress theme (created by Elegant Themes) which allows you to build landing pages with an easy drag-and-drop interface.
There are 46 pre-built modules which you can use to build any landing page in a flash. Pair this theme with your favorite opt-in form building tool, like OptinMonster, and you'll be off to the races!
3. Google Analytics

Google Analytics is a powerful tool, and arguably the most robust free analytics tool available today. Not only can you track demographic information about your landing page visitors, but you can also set up conversion goals to track your leads.
4. CrazyEgg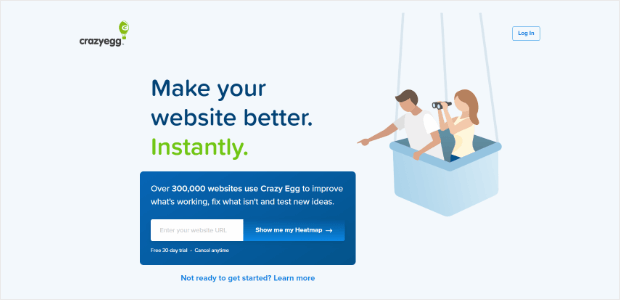 Do you know what's making your visitors stay or leave? CrazyEgg is a unique tool that helps you visualize where your visitors are spending their time and clicking by creating heatmaps of your landing page.
This is an especially nifty tool for analyzing your opt-in landing pages, especially when it's combined with Google Analytics.
5. Infusionsoft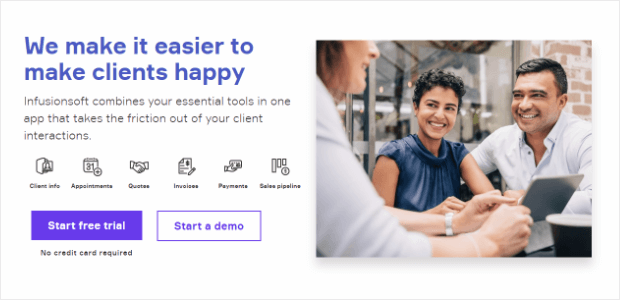 Especially for businesses that serve a variety of customer personas, it's essential to be able to deliver strategic emails, based on their particular needs and preferences. With Infusionsoft, you can create complex, tailored autoresponder sequences.
Pair Infusionsoft Tags with OptinMonster and you can trigger those special sequences to occur based on user's behavior on your opt-in landing pages.
6. GoViral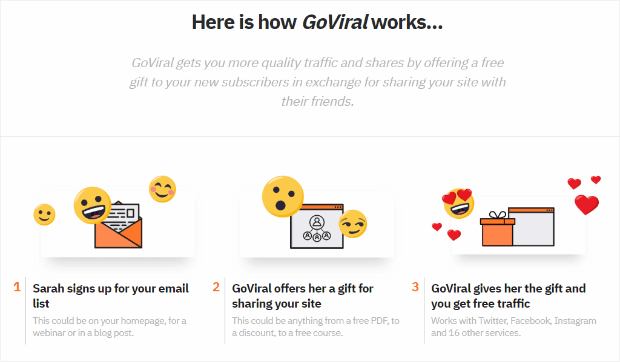 Every opt-in landing page needs an effective thank-you page to go along with it. However, GoViral takes the traditional thank-you page and throws it out the window, replacing it with something far more effective: a bonus incentive page.
This free tool allows you to generate more opt-ins, and even make your landing page go viral, by incentivizing new subscribers to share your opt-in on social media.
7. WPForms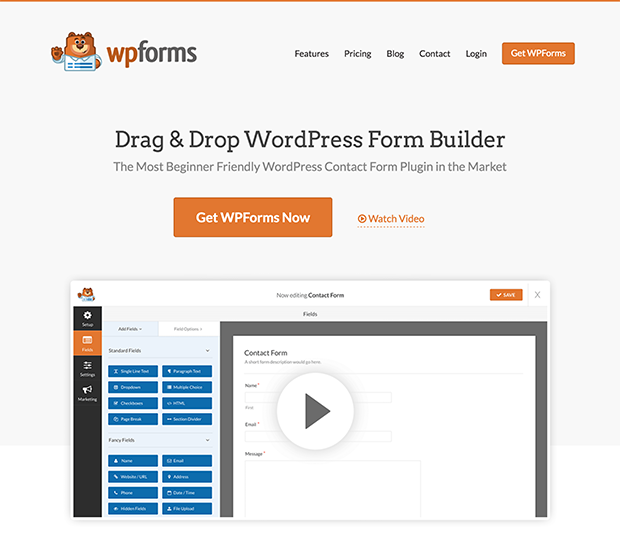 Need a more complex opt-in form, but still don't want to overwhelm your visitors? WPForms is a drag & drop form builder for WordPress that is both easy and powerful. With it, you can create multi-page forms to collect more information without overwhelming your users.
8. Optimizely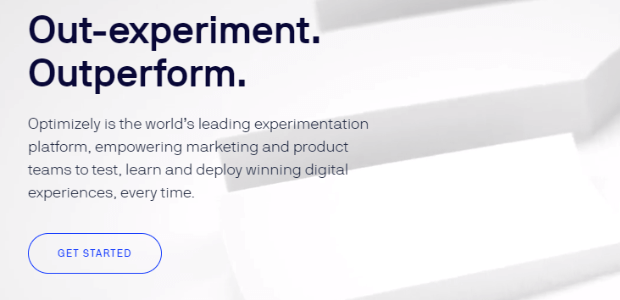 Optimizely is a powerful A/B testing, analytics, and optimization solution for marketers who want to streamline these duties. If you don't have the ability to A/B test your landing pages, then you may want to try out their free plan.
9. Optimal Workshop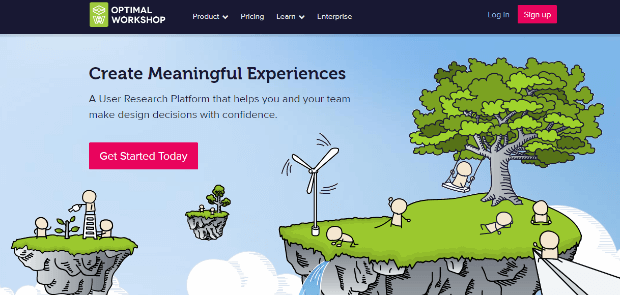 Optimal Workshop consists of four individual yet connected tools which help you to test your opt-in landing pages by giving you insight into how your users digest them.
For instance, Treejack identifies elements that may lead to landing page abandonment. Chalkmark shows you the users' first impressions after uploading wireframes.
10. Visual Website Optimizer

Visual Website Optimizer is a hands-on tool makes it easy to test, tweak and optimize your landing pages without a ton of pre-existing expertise. In addition to the standard features, it has a multivariate testing tool that helps you see how visitors are interacting with your page.
11. Usabilla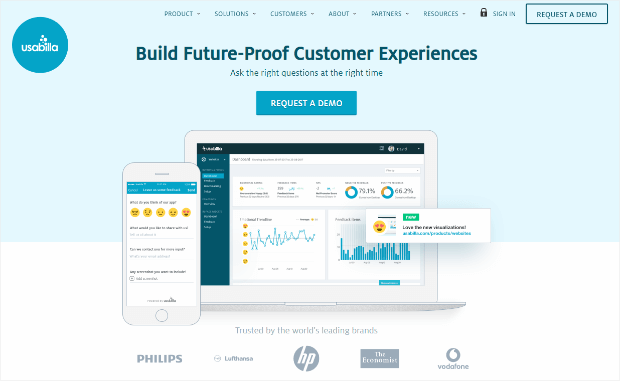 Usabilla lets you capture user feedback from any device: something most landing page testing tools don't offer. Another neat feature is the ability to conduct targeted exit surveys to help you understand why users are leaving without converting.
12. HotJar Insights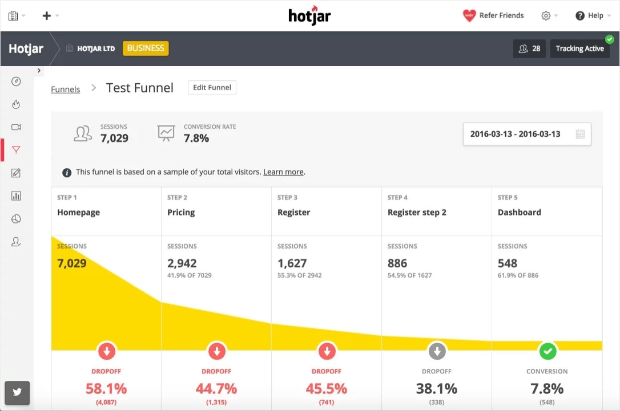 In addition to heatmaps and visitor recordings, HotJar Insights shows you conversion funnels. You can set up unlimited steps and find out where your process can be improved by identifying where visitors are leaving your site.
13. Five Second Test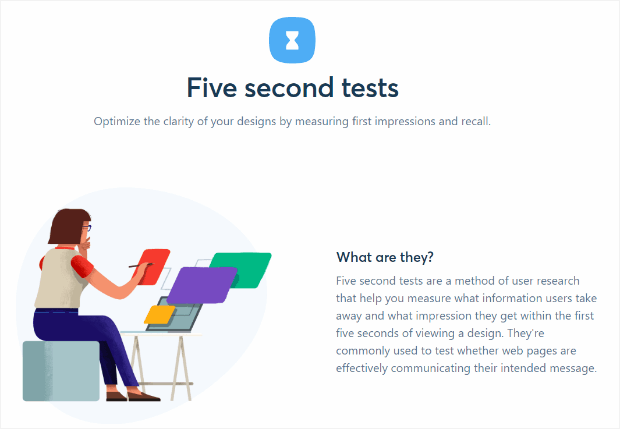 When you recognize that most users form their opinions about a page within the first few seconds, it makes sense that your testing and optimization would be based on the quick dissemination of information. As the name suggests, Five Second Test empowers marketers to create simple, timed tests on their opt-in landing pages and study the results.
14. MouseFlow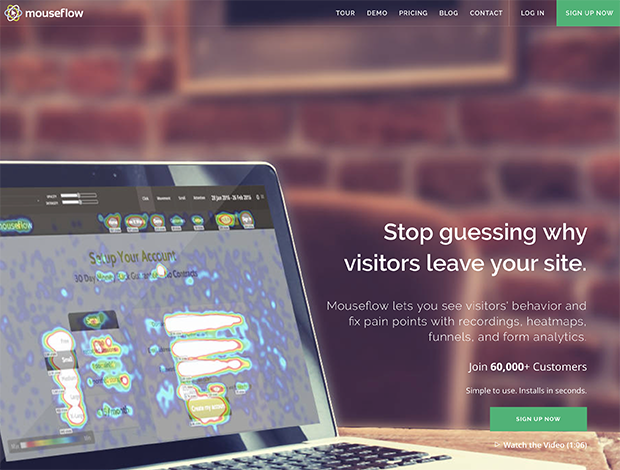 MouseFlow is a tool that enables you to stop guessing why visitors leave your site. The tool records user sessions with heat maps, funnels, and a variety of other analytics features.
15. Lucky Orange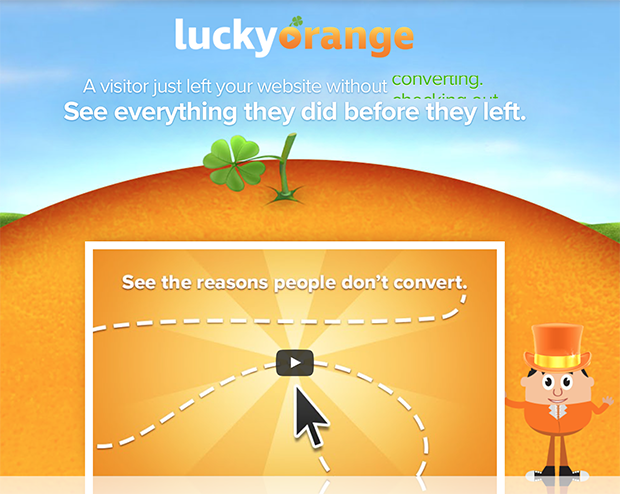 Lucky Orange is another tool that helps you to figure out why visitors leave your landing pages without converting, but it does so by recording your visitors' sessions. This way, you can watch exactly what they did prior to leaving. You can even filter and segment these recordings to quickly find the exact information you need.
16. Matomo

Google Analytics is great, but sometimes you need a different setup to do the job. Matomo is a free, open-source software that can liberate your analytics efforts via easy customization and in-depth visibility.
17. Landing Page Analyzer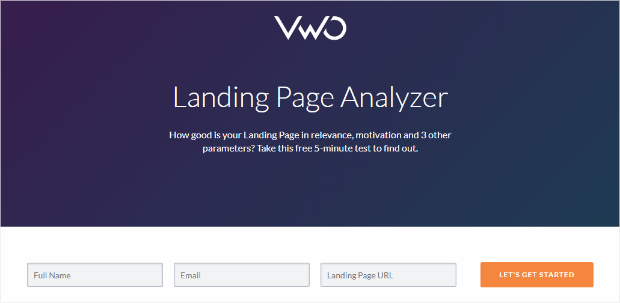 Landing Page Analyzer is a free tool from Visual Website Optimizer that lets you plug in your landing page URL to receive an immediate analysis of the efficacy of your page. It's not as robust as some tools, but it makes for a great bookmark for quick use at any time.
18. LivePages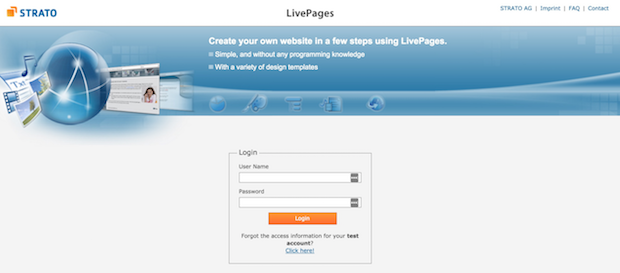 Do you need to design a landing page, but don't have the skills to create something that would be impressive, with a high return? LivePages is a simple drag-and-drop design tool that streamlines the process from start to finish.
19. Clicktale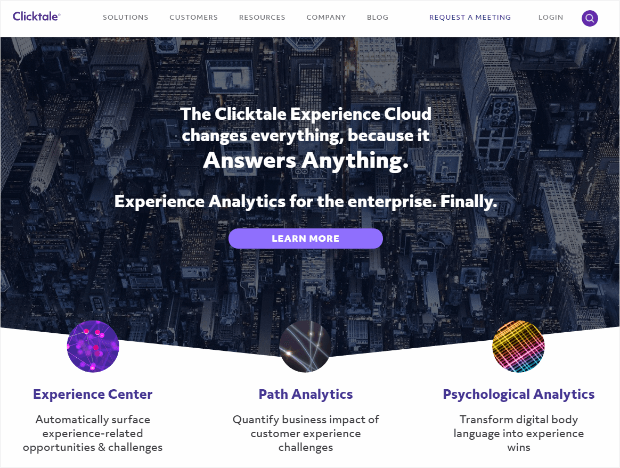 Do you have a content-heavy landing page that's underperforming? ClickTale helps you improve conversion rates by identifying which form fields and elements are slowing users down and potentially encouraging them to leave.
20. Mixpanel

One fact about landing page analytics is they never stop. So why should you use an analytics tool that spits out insights only when you ask for them? With Mixpanel, you'll have the ability to push insights continuously based on predetermined settings.
21. Convert

Some A/B testing solutions are too technical for their own good, but this is not one of them. Convert streamlines A/B testing by letting users choose between three different formats: WYSIWYG, stylesheet editor, or HTML.
22. UserTesting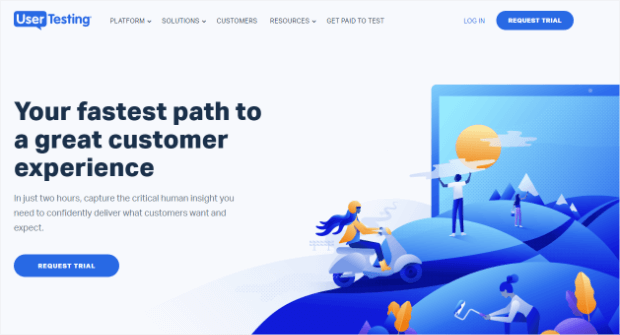 Snippets of feedback are fine for simple landing pages, but more complex pages may demand more detailed information. With UserTesting, test users can actually record audio of their experience with your landing page so you can hear their actual thoughts and empathize with them.
23. Browsershots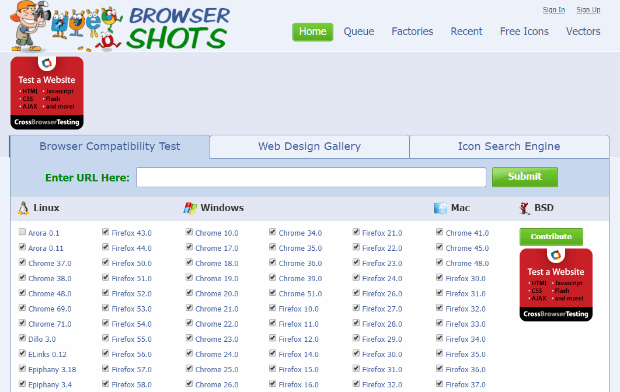 There are dozens of different browsers and browser versions. Your landing page might be optimized for a few, but it's also possible that it shows up as a jumbled mess on others. Browsershots gives you compatibility feedback for as many browsers as you'd like.
24. Pingdom Website Speed Test

Do you know how fast your landing page is? Page loading time is one of the biggest determining factors in bounce rate. You can use Pingdom Website Speed Test to time your page accurately.
25. Juicy Studio Readability Test
Is your landing page correctly aligned with your target demographic's reading level? This may not be something you typically think about, but it matters! Use Juicy Studio's readability test to gain insights into how your page resonates with users.
26. SurveyGizmo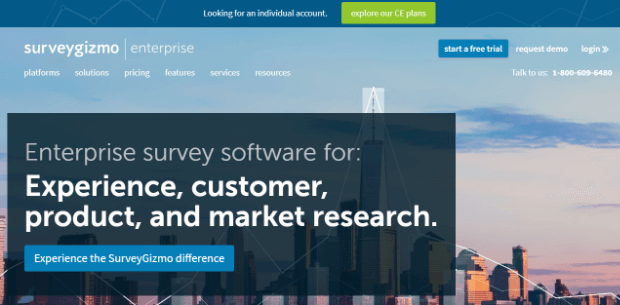 Developing landing pages that your users enjoy and respond to requires you to understand them. With SurveyGizmo, you can gather information in the form of polls, Q&As, and more with advanced reports.
27. SimilarWeb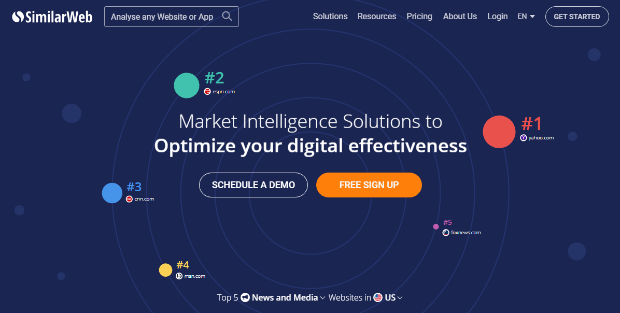 Sometimes you can learn more by studying the competition than by analyzing yourself. If you want to see what your competition is doing with landing pages and how successful they are, use SimilarWeb to track them.
28. Owler

Another tool that lets you study the competition is Owler. More than 80 percent of Fortune 500 companies use this tool, which should tell you something about how effective it is. The cool thing about this tool is that it allows you to keep up-to-date on your competitors with a daily snapshot and weekly reports.
29. Responsinator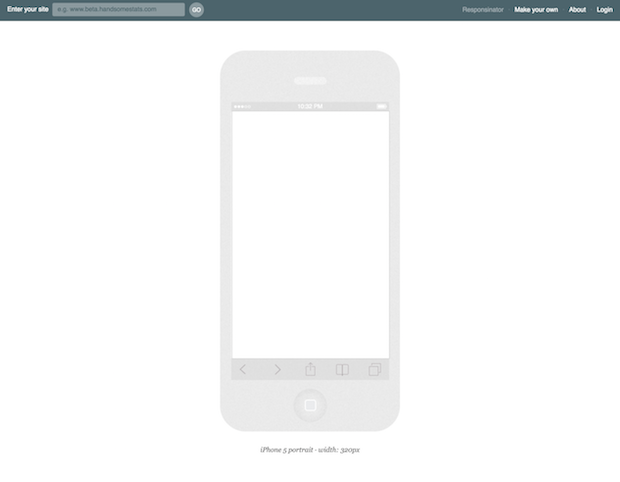 Every opt-in landing page needs to be properly optimized for mobile devices. Responsinator is a free tool that allows you to test your site for responsiveness on various mobile devices.
30. Vimeo

The latest trend in opt-in landing page design is the use of video, and video isn't going away any time soon… in fact, it's rapidly on the rise. Vimeo is a tool that stores your videos and allows you to embed them on your landing page, with advanced options for how and where you want your video displayed (and where you don't want it displayed).
That's it! We hope this article has helped you to find the best tools to create effective opt-in landing pages. If you're interested in getting started with one, give OptinMonster a try. It has everything you need to create high converting opt-ins. Sign up for OptinMonster today!