Have you experimented with lightbox optins in the past and found they just didn't work for you? Did you give up trying to build your list because you felt frustrated with underperforming popups? In this case study, we'll share how Photowebo increased conversions 3806% by switching from popups to gated content.
Meet Photowebo
Photowebo empowers photographers to build a stronger online presence through their websites, social media and online commerce. Aaron Hockley from Photowebo shared exactly with how he uses OptinMonster to grow his email list of professional and hobbyist photographers.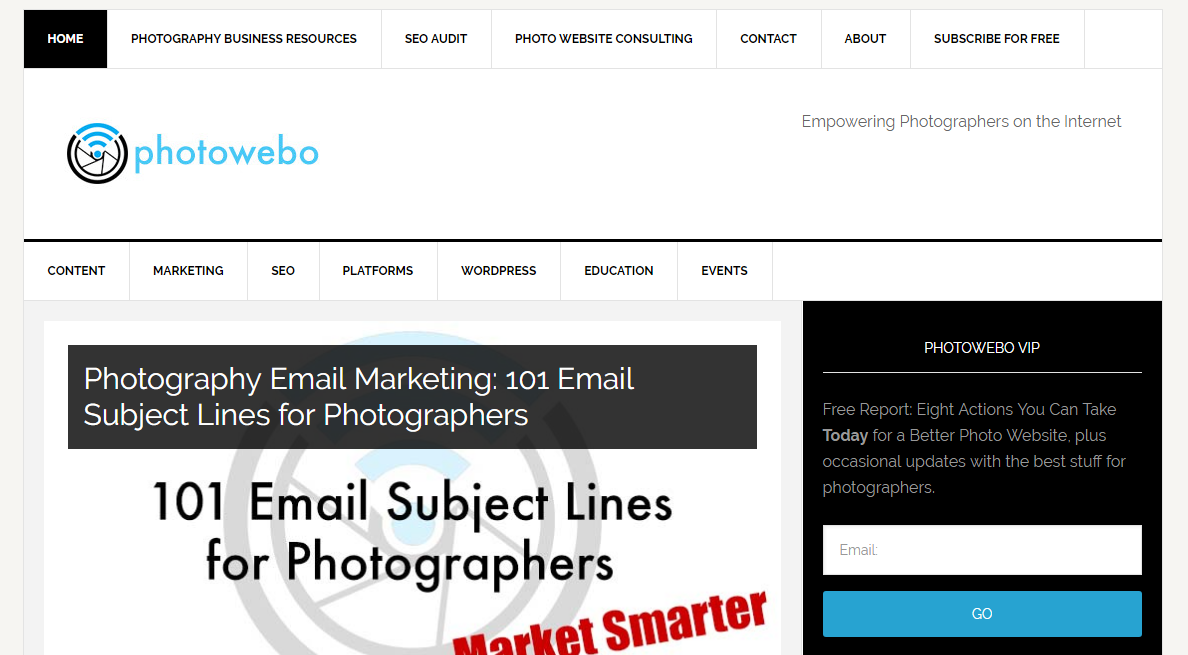 Establishing an email list is often overlooked when launching a new website, but it's critical to bringing readers back to your site over and over again.
Aaron's goal in using OptinMonster is to increase the number of subscribers on his list. He plans on eventually offering his own products on the site and wants to be able to market those products to readers already familiar with Photowebo.
Having a targeted, engaged email list will allow him to do that when he's ready.
Before using OptinMonster, Aaron collected subscribers using a basic optin form in his sidebar, and another after the content of several articles. He admits list growth was slow. Some days, he would have no new subscribers at all. On his best days, maybe 12 or 15 subscribers.
Aaron knew OptinMonster offered more creative optins with better targeting options than he had been using, so he decided to give it a try.
How Photowebo Uses OptinMonster
Aaron started by adding an exit-intent optin targeted to appear on any page of the website. Exit-intent optins appear when the reader attempts to leave the site. Exit-intent optins are a great way to make one last offer to convert abandoning visitors before they leave for good.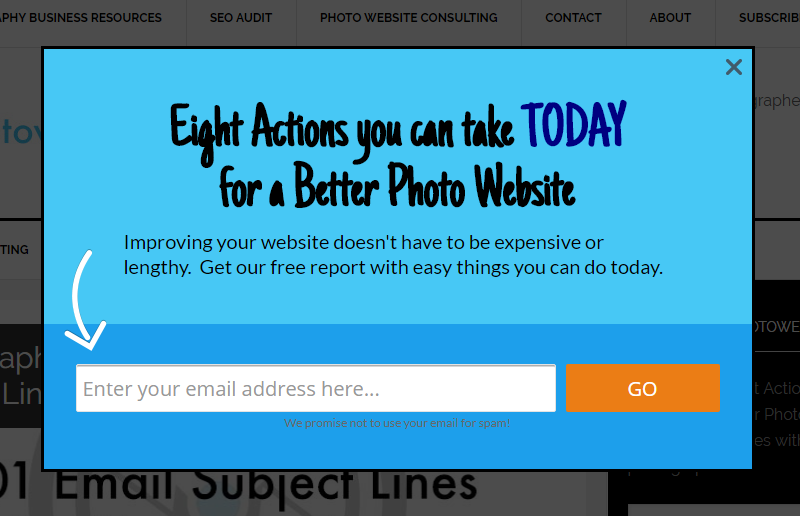 This optin converts about 1% of visitors. Even that is an improvement over his previous optins, but Aaron knew he could do better.
Using Gated Content To Add Subscribers
Next, Aaron added inline optins to turn his most popular blog articles into gated content.
OptinMonster's Content Locking feature will blur or remove content below a set point on the page, so visitors have to opt-in to see the whole article. This is a no-hassle way to grow your email subscriber list with content you've already published.
The content locking optin below hides 101 Email Subject Lines for Photographers from readers until they subscribe. Once they enter their email address, the huge list of subject lines is displayed immediately on the same page.
This optin converts 15.38% of readers.
After seeing how well this optin performed, Aaron decided to try the same technique on other articles.
In this article explaining the basics of email marketing for photographers, Aaron again turned it into gated content, protecting his best tips until the reader shares their email address.

This optin converts 17.65% of readers.
Gated content is a great strategy to use your popular blog posts as tantalizing content upgrades. Simply add the inline optin immediately prior to the most important paragraphs of your existing content, and watch your conversions increase.
Aaron also used an inline optin to let readers sign up for SEO Sundays, a five-week drip campaign about SEO.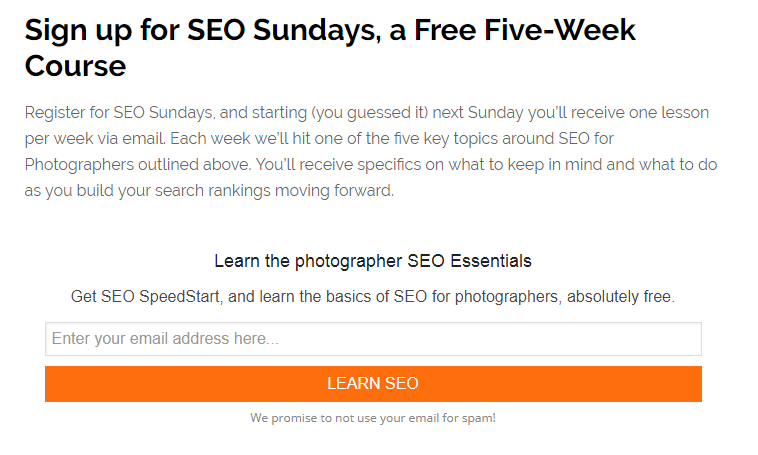 This optin converts a whopping 50% of readers. Using inline optins to match your offers to the specific content your reader is viewing is a very smart way to build a targeted email list.
Results
Photowebo used content specific inline optins and exit-intent optins to build a targeted email list when launching their new website.
Photowebo doubled their list size using OptinMonster.
Photowebo increased conversions up to 3806% using inline, content-locking optins compared to using only exit-intent optins.
Summary
No one solution is the perfect fit for every website. That's why OptinMonster offers you multiple ways of displaying your campaigns to help produce the highest conversion rates.
Using content-specific offers with any optin type instead of a general newsletter subscription offer will help increase conversions. Our inline-optins allow you to make content specific offers easily, without tiring your visitors with multiple lightbox popups.
"OptinMonster lets me connect and build relationships with my site's readers. They get access to new resources, and I have a stronger base to build business and revenue. It's a win for everyone."
Aaron Hockley, Photowebo.com