Are you using Twitter for lead generation, or are you wasting the potential of your social media followers?
With 330 million monthly active users, sending around 500 million tweets daily, it's a platform you shouldn't ignore.
Some people question whether Twitter is still relevant, especially with falling user numbers, and a decline in revenue.
But a lot of people still love the platform as a way to create buzz, find information, deliver customer service, and network with influencers and followers.
And you can still make sales on Twitter, too. According to Twitter's own statistics:
66% of people have discovered a new business on Twitter
94% are planning to buy something from the businesses they follow on Twitter
69% of people have bought something as a result of a tweet
Those stats add up to the amazing potential of Twitter to help you find leads for your business.
In this guide, we're going to share our favorite tips for using Twitter for lead generation, arranged from simplest to most advanced.
Here's a list of all the tips, so you can get started with your favorite Twitter lead generation tip.
Let's get started …
1. Create Two Twitter Accounts
Are you using your own personal Twitter account to market your business?
Then your first step in using Twitter for lead generation should be to create a second account.
If you already have a business or brand account, then you don't need another one. But if you're already tweeting from a personal account, you'll make more headway promoting your brand if it has its own online presence.
For example, if you're a business owner or a serial entrepreneur, it makes sense to have a Twitter presence both as yourself, and for your business. Or you might have separate accounts for different parts of your business.
This is a technique Twitter also uses. The Twitter founders have their own accounts, and there are official accounts for Twitter as a whole, as well as Twitter video and other products.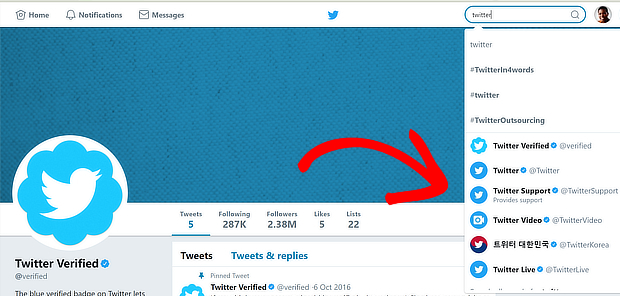 With a separate account for your business, you'll be able to focus your strategy to solidify your brand and attract your target audience, without confusing your followers with more personal updates.
2. Improve Your Twitter Bio
Another useful Twitter follower generation tool is your Twitter bio, which you can optimize for lead generation.
The bio's the first thing people see when they check you out on Twitter. Even though it's just 160 characters, that's still plenty of space to make an impact.
Most people include a description of who they are and what they do, but that info doesn't have to be boring. Your bio can be a great Twitter lead generation tool if you include:
Links to your best or latest content
A link to your lead magnet or email newsletter
A call to action (CTA) leading to a landing page with a great offer (we'll talk more about this in tip #15)
Hashtags related to your main topic
Other Twitter accounts (see tip #1)
Here are a few Twitter bio examples:
SEMRush uses its bio to highlight the hashtag for its weekly search marketing chat: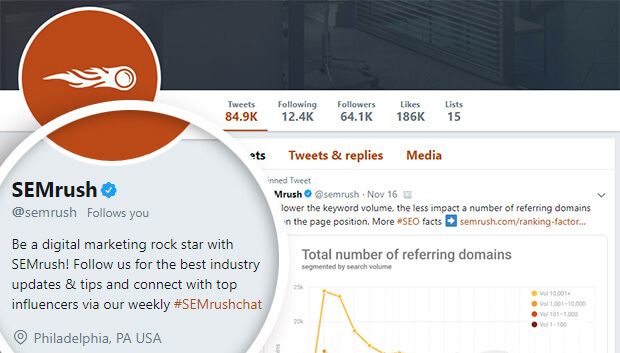 OptinMonster co-founder Syed Balkhi links to the Twitter handle for other products he's a part of: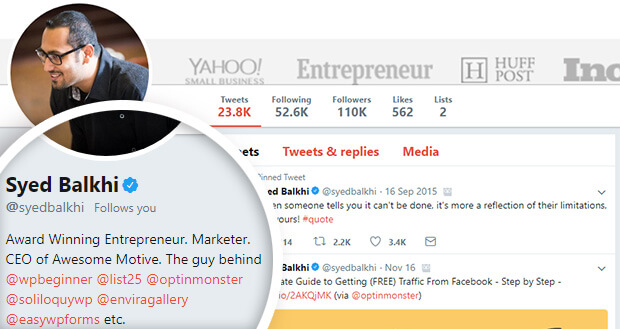 Other Twitter bio ideas that can help with lead generation include using keywords in the bio and adding information about awards or other social proof.
3. Add Text to the Header Image
When people visit your Twitter profile, the first thing that'll draw their eyes is the huge header image at the top. That's why it's a great place to add some information you may not be able to fit in the bio.
For example, you can add your business's slogan or tagline, as we do on our own Twitter account: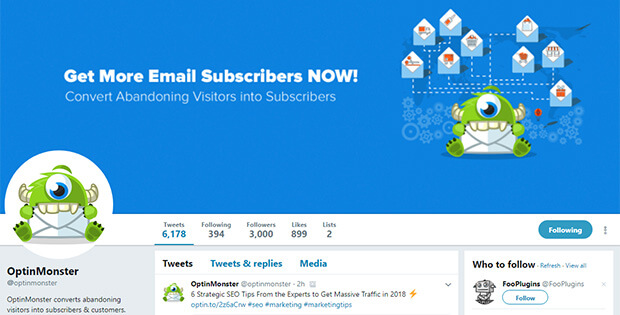 You could highlight a new addition to your products and services, as Grammarly does: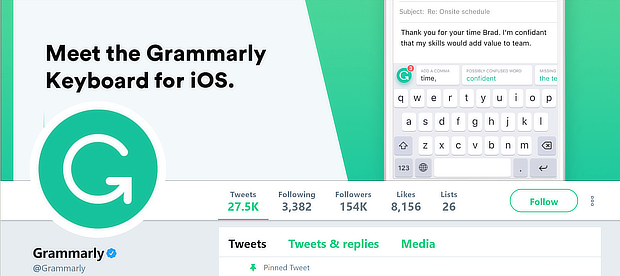 You can promote a venture with a hashtag, as Bette Midler does: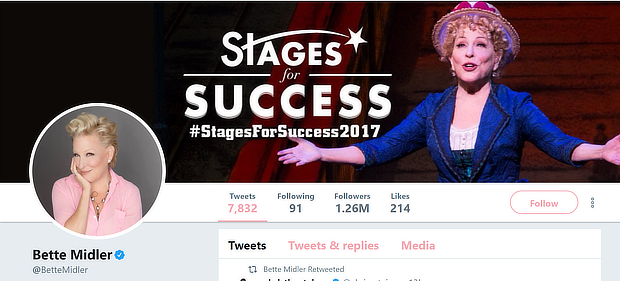 And, of course, you can add a CTA for whatever you're promoting, like the promo for this podcast by Larry McGuire: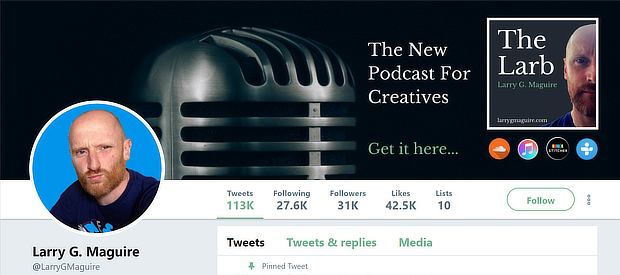 If you include a link in the Twitter header image, keep it short and memorable, as header image links aren't clickable so people will have to type it manually.
4. Optimize Your Posting Schedule
A key part of nailing lead generation on Twitter is making sure the audience you want to attract sees your tweets. And that means you need to tweet when they're online, and most likely to take action.
A good starting point is to use Hubspot's advice on ideal Twitter posting times.
Hubspot suggests that Wednesday's the best day to attract B2B customers on Twitter, while if you're focused on consumers, weekends are the best Twitter posting times.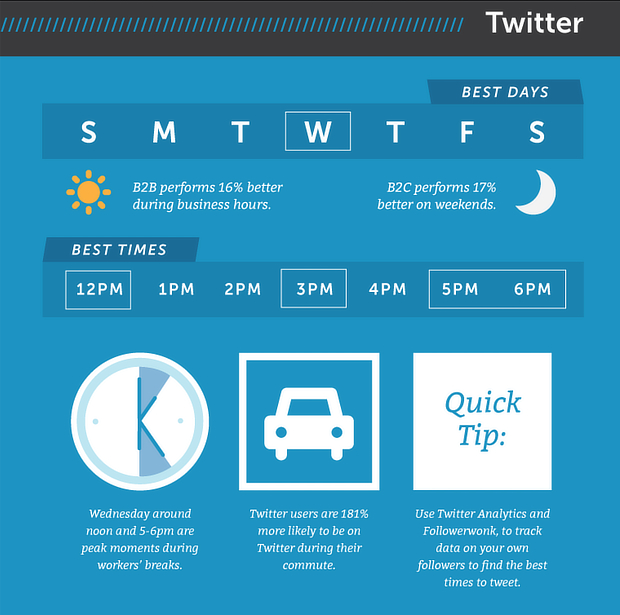 Hubspot's suggestions are a good starting point. But after you've had a Twitter presence for a while, you can switch to using real data from your actual followers, which is always better than a generic approach.
Tweriod can help with that by providing a free basic analysis of your followers' Twitter activity. Here's how you use it.
First, sign up with Twitter, then click one of the buttons to get your analysis. Since we'd used Tweriod in the past, we clicked Request another free analysis.

Wait a while and you'll get an email or direct message to let you know the analysis is complete. When it's done, you'll be able to see when your followers are online: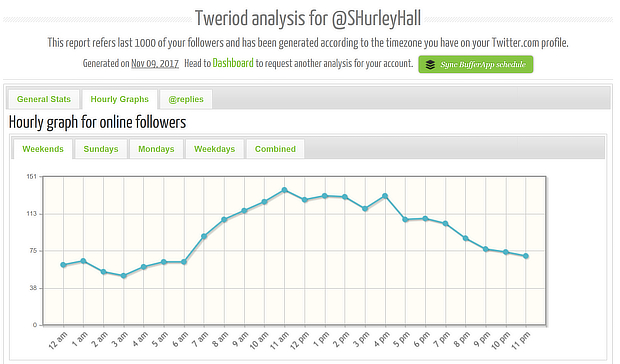 and when they are most responsive: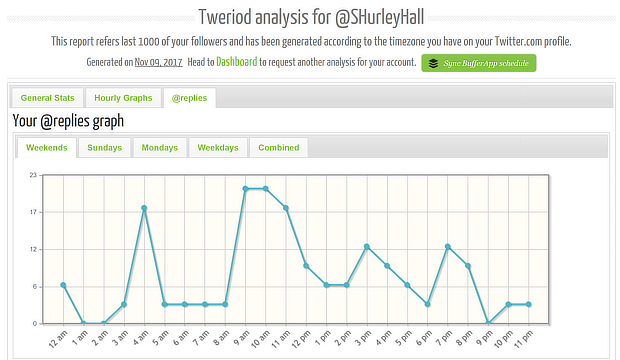 Once you have that information, you can use it to:
Post Twitter updates manually at the best times
Integrate it into a social sharing tool for automatic posting. For example, Tweriod offers one-click integration with Buffer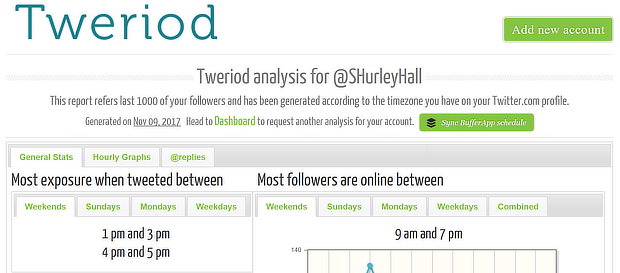 Then you can integrate that information into your social sharing tool. Tweriod offers one-click sync with Buffer's posting schedule.
5. Know Who You're Talking To
When using Twitter for lead generation, it's also important to understand your audience. That's because when you know your Twitter buyer personas, you'll be able to market to them more effectively.
It's easy to find this information with Twitter analytics. To access Twitter's analytics tool, click on your profile image then select Analytics from the drop-down menu. This will take you to analytics.twitter.com which you can also type directly into the browser bar.
You'll see a summary of activity on your account for the current month. Data for previous months is available when you scroll down.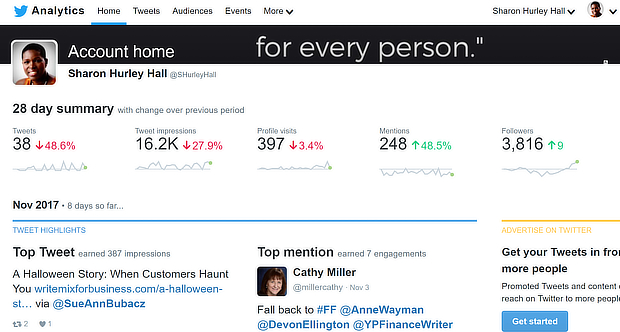 Use the links in the navigation bar to get data on tweet impressions (how many times your tweets have been shown) and more.
Audiences is one of the most important menu items for lead generation, because you'll get an overview of your Twitter audience.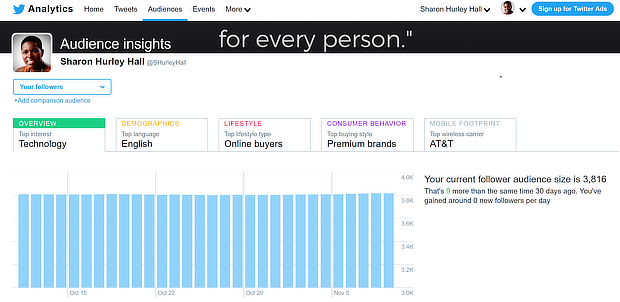 You can also use the selector under your profile image to see data for all Twitter users, your own followers, or your organic audience (which can include people who don't follow you.
Click on Add comparison audience to compare two sets of metrics, such as your followers with your organic audience.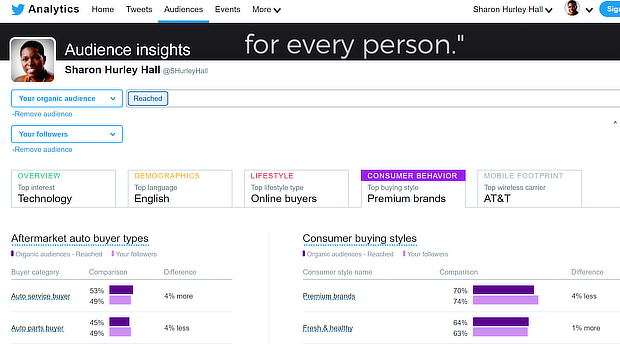 It's worth spending time going through the tabs related to your audience. That'll help you to learn:
What languages your audience speaks
Age, gender, location, education, occupation, and income level
Interests, TV viewing habits, and political affiliations
Types of purchases and buying styles
Mobile devices and phone service providers
That can help you build up a rich picture of your audience so you can share the type of content that's most likely to interest them, encouraging them to click through for more information. Gain and keep their interest, and that'll help you generate more leads.
For example, Adobe used demographic information from Twitter to target promotions and double lead conversions.
6. Write Better Tweets
One of the best tips when using Twitter for lead generation is to write better tweets. Tweets take a number of forms: status updates, images, links, video (see tip #8), but some types of tweets get more attention than others.
One way to eliminate the guesswork and write tweets that will encourage your Twitter audience to respond and share is to make your tweets more engaging. CoSchedule's got a great free (opt-in) tool to help with that. It's called the Social Message Optimizer, and here's how you use it.
Put your tweet into the onscreen box, and select Score My Message.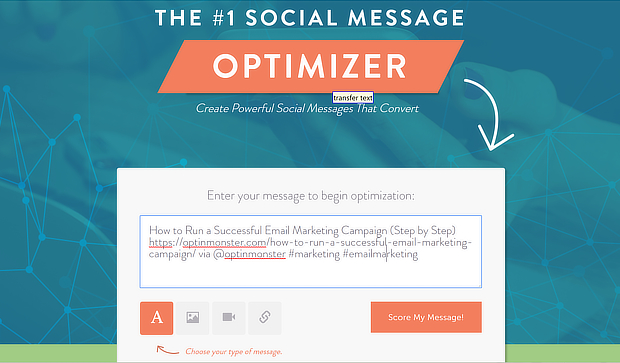 You'll see an overview score, plus a breakdown in five sections: message type, character count, hashtags, sentiment and emoji. Our draft tweet scored 65, so we tried to improve it.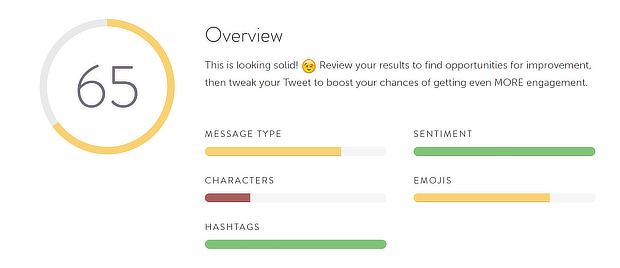 Further down the page, there are more detailed recommendations for each section, and you can keep tweaking till you improve the score.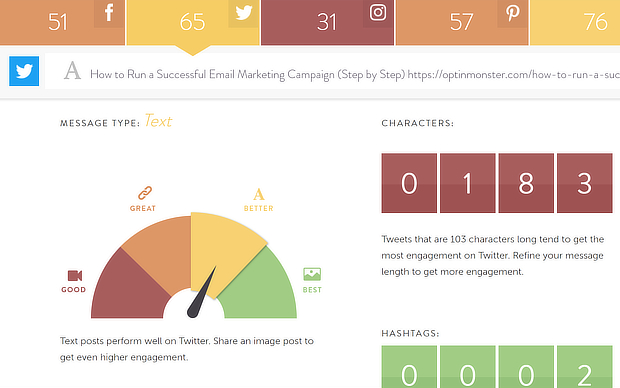 We followed CoSchedule's recommendations to:
Add an image to the tweet
Include an emoji
Shorten the message
By the end, we'd improved the score to 89, which should result in more attention from our Twitter audience.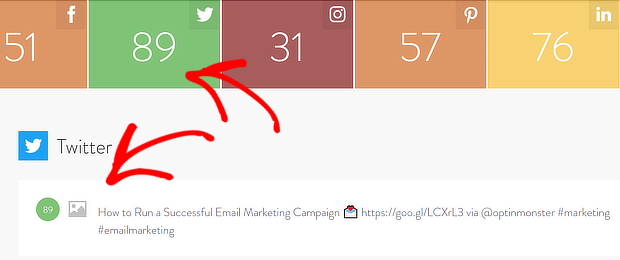 It's also important to get the mix of tweets right. If everything you tweet is promotional, you'll soon turn off your audience and reduce Twitter's lead generation potential. Lead Forensics suggests your Twitter stream should contain:
30% content you own, such as content created for your blog
60% curated content, which is content from others you think is worth sharing
10% promotional content
Get the balance right, and you can win over your audience so they pay attention to all your content.
7. Use Hashtags Wisely
With 452,000 tweets sent every minute, according to Cumulus Media, that's a lot of social media noise you need to cut through.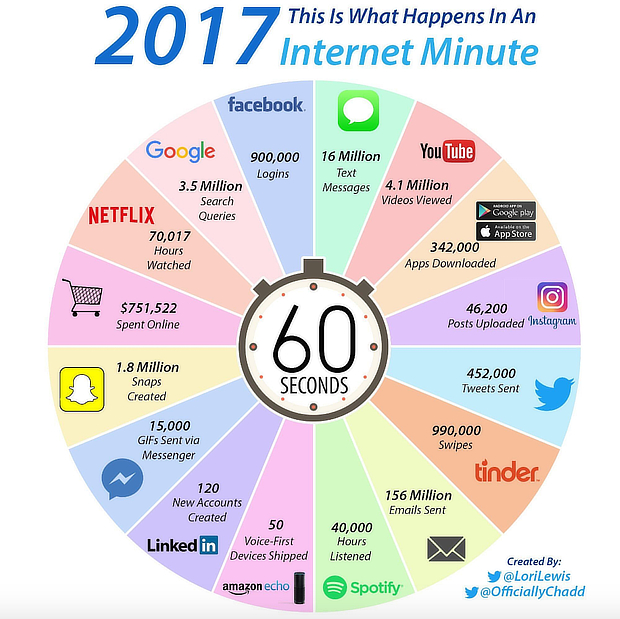 One way to do that is by using the right hashtags so people searching Twitter know what your tweets – and your business – are all about.
A good strategy is to find out which hashtags are most popular in your niche, and there's no better place to research these than hashtags.org, which tracks and analyzes hashtag performance.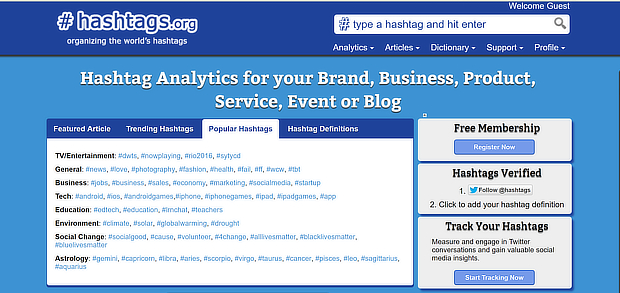 You can use hashtags.org to:
Find out which hashtags are trending or popular
Discover the meaning of particular hashtags
Create and define your own hashtags, for example for a branded Twitter chat (see tip #16)
You can also search Google for niche-specific hashtags, like this lead generation hashtag list from Socedo.
This research is important if you're to avoid a brand hashtag fail, which can be highly embarrassing, and could sabotage your Twitter lead generation strategy.
8. Use Live Video
Another excellent strategy when thinking about how to get clients on Twitter is to use video. According to Twitter, videos get 3x as many retweets as GIFs, and 6x as many as images. That's no surprise, given the popularity of video across the web.
But if you want to take video marketing even further to generate even more leads, consider going live. According to Go-Globe:
80% of social audiences prefer watching live video from brands to other interactions
67% of viewers would buy a ticket to an event after watching a similar event live
Twitter's Periscope has a respectable 9% of America's live streaming audience
Here's how you start a live video from the Twitter mobile app.
Press the little pen icon to create an update.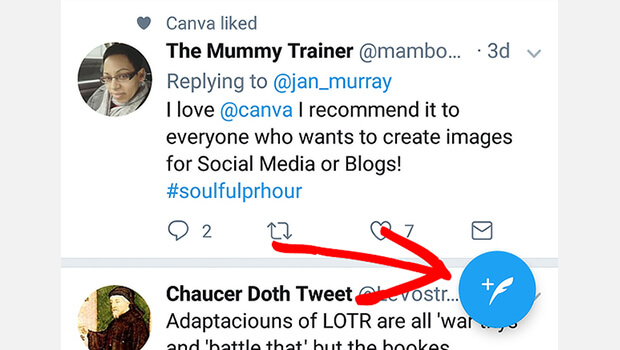 Then press the Live button to start broadcasting.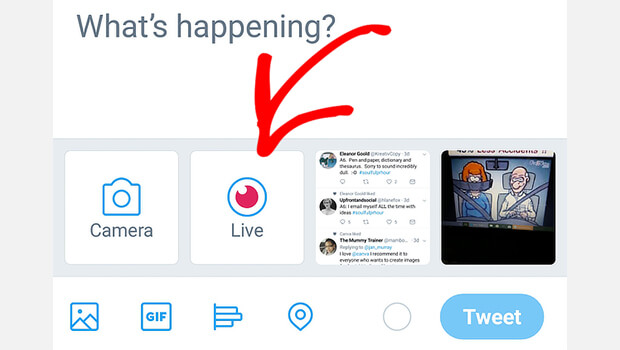 You can also broadcast directly from Twitter's Periscope app.
9. Search Twitter for Leads
We mentioned using hashtags as a tool for potential customers to find you. However, you can also use Twitter's search functions to find, follow, and interact with your own leads.
Here's how to find consumers on Twitter that you can turn into leads.
Navigate to the top of the Twitter page and you'll see a search box. Type a word or phrase related to your niche into the search box. Twitter will suggest topics and Twitter users related to your search terms. We've used "content marketing".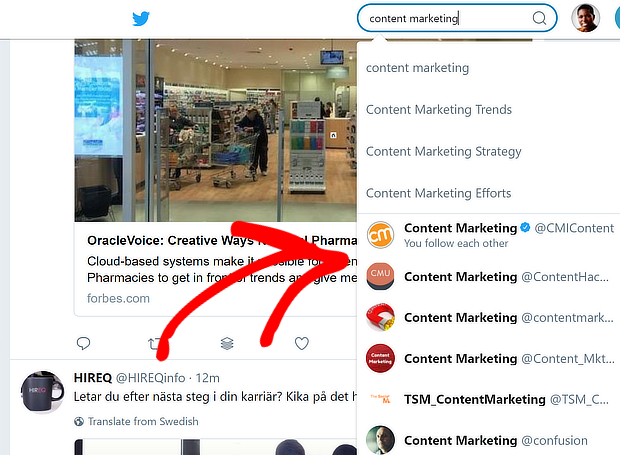 Click the magnifying glass icon to see a page with all your search results. In the sidebar, Twitter will suggest related search terms and people to follow and you can click on the menu items to refine your results by people, photos, videos, news or broadcasts.
To refine your search even more, click on the search filter section so that you can choose to search among people you follow, people near you, and people tweeting in different languages.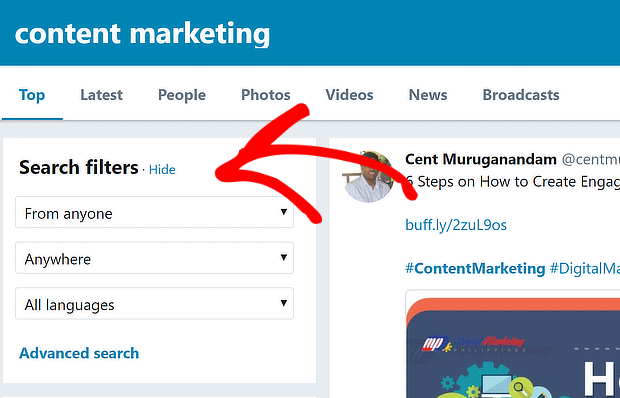 You can also use the advanced search button to refine your search even further.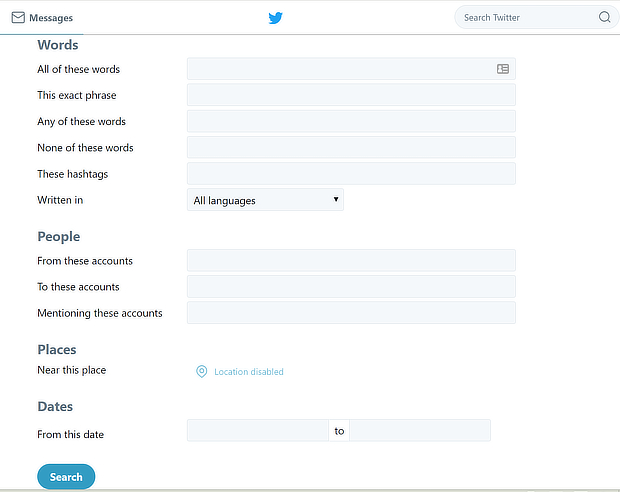 Tweaking search parameters and filters will help you to identify people who are talking about or interested in your niche. Then you can start a conversation with them, by writing a tweet to them, by clicking on the Tweet To button on their profile, or by scrolling down their timeline to find content to respond to.
You can also add them to a Twitter list (see tip #10) for ongoing interaction.
10. Segment Your Audience with Lists
As we've seen, the sheer volume of tweets on Twitter makes it difficult to have any personal interaction with all your followers. Most of their tweets will slide by before you have a chance to see them, unless they mention you specifically, and you're monitoring those mentions (see tip #18).
That's where Twitter lists come in. Creating lists lets you segment your Twitter audience into smaller groups so you can keep up with their tweets and interact with them. This is a great way to build up a more personal relationship with targeted groups of followers, so they get to know you and your business and become leads.
Twitter users create lists based on:
Niches, like content marketing, digital marketing, and so on
Behaviors, such as lists of people who have your products
Status, such as current clients or interested followers
You get the idea. Here's how you create a Twitter list via the web interface.
Click on your profile icon and select Lists from the drop-down menu.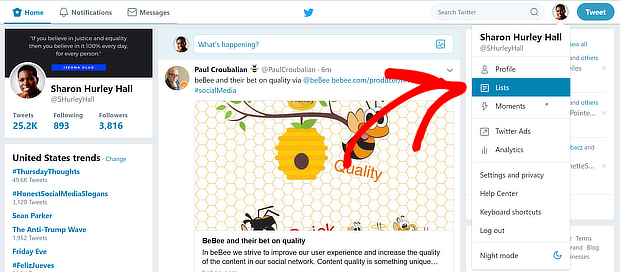 Then go to Create New List in the sidebar.
Give the list a name and choose the privacy settings. Private lists let you add people to a list without anyone else being aware. Public lists will be visible on your profile.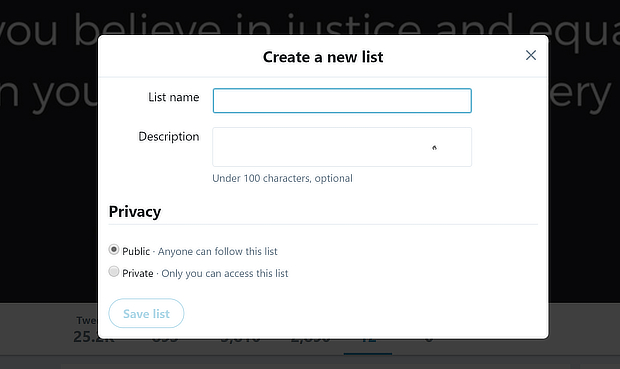 When you create the list, you'll go to the list page, where you can search for people to add. If you know who you want to add, type their username into the search box to see their profile.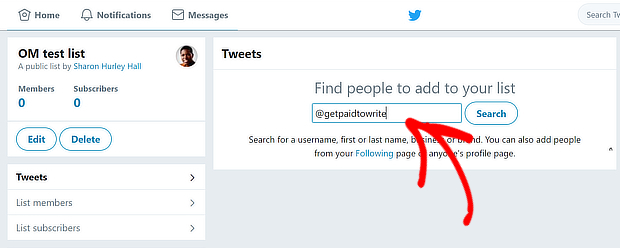 Then click the three-dot menu to the right, and click Add to List. Choose the name of the list you want to add them to.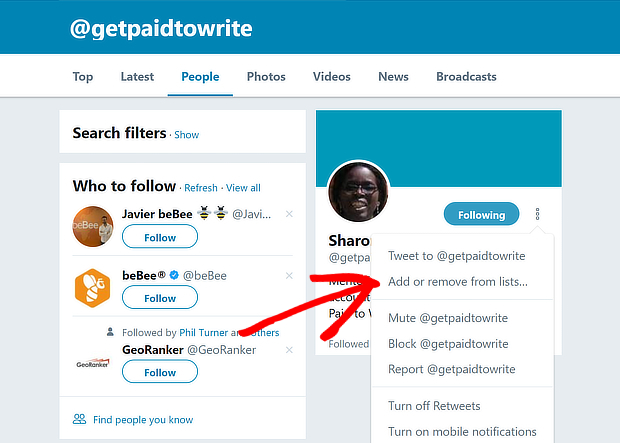 You can edit lists at any time by navigating to them from your profile or the dropdown menu.
A while back, Twitter updated list settings to allow you to have up to 1,000 lists with 5,000 members each. That still seems pretty noisy to us, so we recommend using smaller lists to get the most benefit from this strategy.
Curating a public Twitter list of useful sources on a topic can also be a good lead generation strategy. Twitter allows people to subscribe to public lists, and this helps to enhance your reputation as an expert.
Related ContentHow to Make Money on Twitter: 9 Twitter Monetization Tips
11. Find Twitter Influencers with Klear
Another way to expand your reach and generate more leads on Twitter is to use Twitter influencers. As we said in our article on digital marketing hacks, influencer marketing is a great way to spread the word about your business for improved lead generation.
For example, the Clever marketing agency used influencer marketing on Twitter as part of its strategy to promote their Rescue Remedy campaign. During the campaign, the branded hashtag became a trending topic on Twitter.
So, how do you find Twitter influencers? Klear is a useful tool for doing that. The basic plan is free, though you'll need to create an account.
Once you've done that, go to the home page, navigate to Influencers, and type the skill or niche you are interested in into the search box. Press Search.

Alternatively, select from some of the pre-created categories.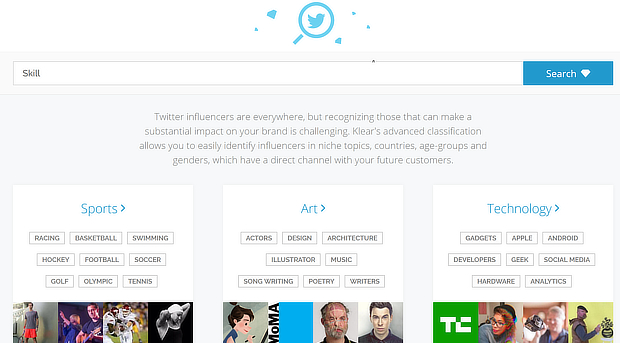 Either way, you'll see a list of Twitter influencers, with brief descriptions of their follower numbers, social media presence, location, and more.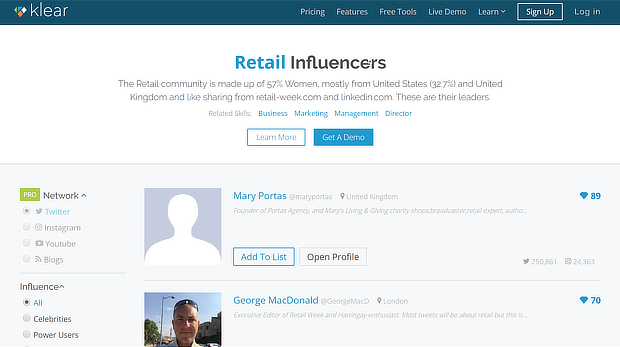 You can click through to their Klear profile for more detail on how influential and engaging they are, their reach, and a snapshot of their Twitter presence. You can also get more detail on their content, audience demographics, and network.

Click on the Twitter icon in their Klear profile to go to their Twitter profile and add them to your list of influencers.
With a paid Klear account, you can create your own influencer lists within the app. Klear also tracks data for other social networks, including Instagram, Facebook, and LinkedIn pages.
12. Offer Customer Service
Whether you're in a service industry like restaurants or travel, or you're offering products for sale, don't ignore the power of customer service to improve lead generation. According to Groove, a single happy customer will tell nine more, which means up to 9 more people could become customers based on that recommendation.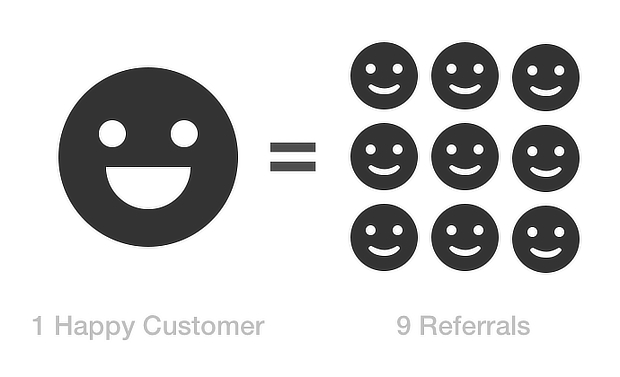 It turns out that more than 65% of online users are looking to social media for customer support. If you're not providing it, you're missing out on a chance to wow your customers and win more business.
The great thing about Twitter is that if you're monitoring it properly (see Tip #18), you can respond instantly, creating more happy customers to spread the word about how great your business is.
When handling customer service on Twitter, Twitter suggests you:
Keep positive conversations public
Move issues that need to be handled to private direct messages
Retweet and quote positive reviews or recommendations
Other tips include:
Have a customer service Twitter account, but let people know there's a real person behind it, perhaps by adding the customer service rep's initials at the end of a tweet
Put yourself in the customer's shoes and respond accordingly
Know how you'll handle different kinds of queries, and provide a guide for whoever's running your customer service account
13. Pin Your Tweets
Here's a simple tip for getting more visibility for your content so it can generate more Twitter leads: pin a tweet to your profile. Pinned tweets sit at the top of your profile so they're the first things people see when they check you out on Twitter.
To generate the most leads, we recommend pinning a tweet that links to a landing page with a lead magnet optin form, or to a gated piece of content. This way, you can offer valuable content to your target audience in exchange for their email address, converting your Twitter followers into leads.
You can pin a single tweet at a time. Here's how you do it.
When logged into Twitter, click on your name and select the Profile link. This will bring up the page with all your tweets.
Go to any tweet and click the dropdown arrow to the right. This will show a menu.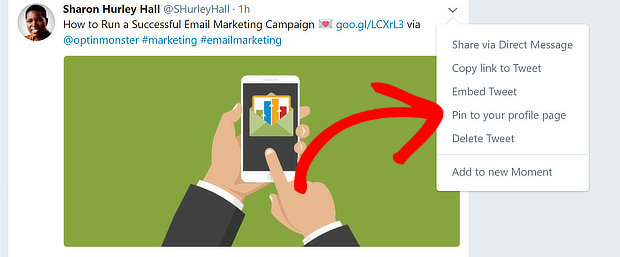 Press the Pin to your profile page link. You'll get a confirmation message.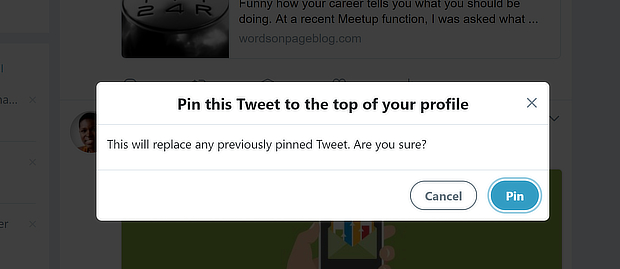 When you confirm, the tweet you've pinned will appear at the top of your profile.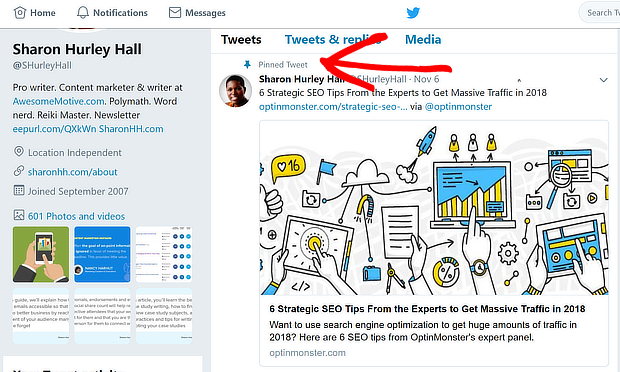 You can unpin a tweet at any time by clicking the arrow to the right to bring up the dropdown menu.
14. Grow Followers Onsite
If you want to generate leads on Twitter, it's useful to increase your follower numbers. And one of the best places to ask people to follow you is on your own website, because your visitors are there because of their interest in your business and your content.
To capitalize on this interest, you can embed your Twitter feed on your site using a plugin like Smash Balloon.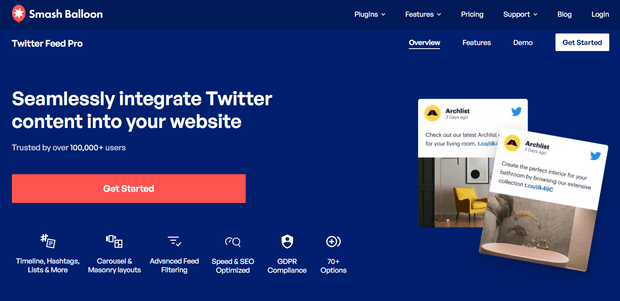 Smash Balloon's Custom Twitter Feeds Pro makes it easy to embed a Twitter feed anywhere on your site. Simply install the plugin, connect your Twitter account, and in less than 30 seconds you'll have a beautiful Twitter feed on your site.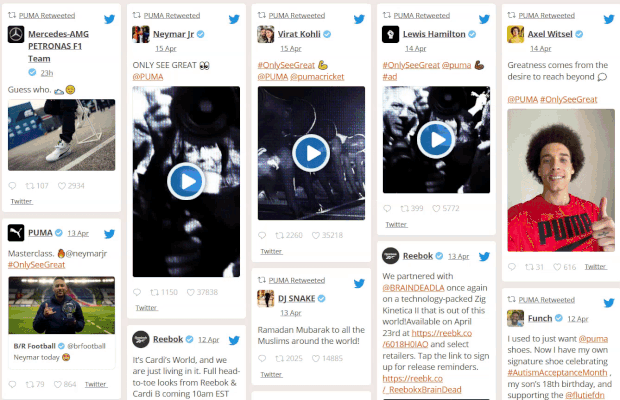 This makes it easy for your website visitors to check out your Twitter content. Plus, you can display a follow button and users can interact with your tweets, without having to leave your site.
OptinMonster is also an excellent tool to help you convince your visitors to take the next step and become Twitter followers.
OptinMonster's advanced targeting features help you create popups that don't annoy your visitors. You can use OptinMonster to show Twitter lead generation popups to visitors at exactly the right time. For example, you can:
Make sure visitors have a chance to interact with your content by delaying your popup till people have viewed a couple of pages
Use referrer detection to show your pop-up to people who have arrived on your site from Twitter, since you already know it's a platform they use
Grab visitors' interest by using Exit-Intent™ technology to show your Twitter follow pop-up just as they are about to leave your site
See our full tutorial on how to create a Twitter follow popup.
15. Create a Shareable MonsterLink™
One option for publishing OptinMonster campaigns is a shareable MonsterLink™, which allows you to share your campaign anywhere.
One way to attract leads is with a lead magnet, such as an ebook, checklist, worksheet or other download. This provides value for your visitors in exchange for their email address.
Often, you'll promote your lead magnet on your website, perhaps with a popup campaign so visitors see it when they're on your site.
But now, you can also promote that lead magnet right from your Twitter bio, by using a Shareable MonsterLink™. A Shareable MonsterLink™ means people can click on your campaign and sign up for your lead magnet, without even having to leave Twitter.
To make this happen, create an OptinMonster campaign as described above, then click the Shareable MonsterLink™ button when you're ready to publish. Grab the link, and add it to your Twitter bio.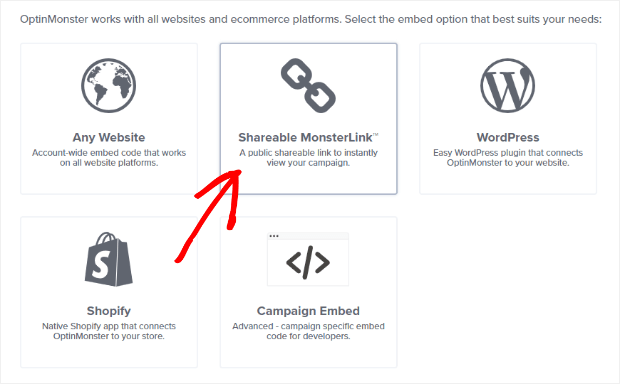 16. Take Part in Twitter Chats
A great way to expand your network when using Twitter for lead generation is to take part in Twitter chats.
A Twitter chat is a discussion on Twitter, usually related to a particular topic. For example, the social sharing app Buffer discusses social media in its weekly #Bufferchat. Many Twitter chats have an invited guest who answers a few questions, but usually all participants can chime in with their thoughts. Here's an example from SEMRush: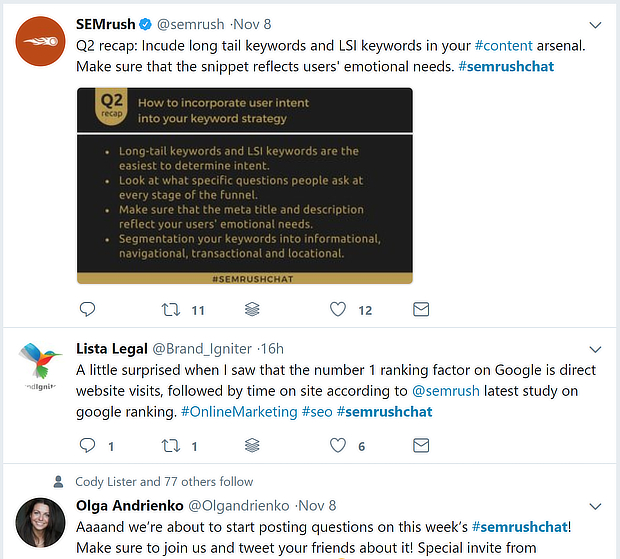 Our experience with Twitter chats shows that participants benefit by getting more retweets, mentions, and followers.
While you can take part in Twitter chats on Twitter itself, it's a lot easier to use a Twitter chat app. That's because an app allows you to only see tweets related to the topic, and to easily identify tweets from chat hosts and invited guests. One popular platform for following Twitter chats is TwChat.
So, how do you find Twitter chats to take part in? Try Twubs or Tweet Reports as a starting point.
And, of course, if you have a large, engaged audience, you can keep a constant flow of leads from Twitter, by starting your own Twitter chat.
17. Run a Twitter Contest
A fun way to improve Twitter lead generation is to use an online contest to raise brand awareness. Some example of Twitter contests include:
Asking users to tweet images with particular hashtags
Creating a sweepstake competition
Running a caption competition
Asking a question that followers can answer
When running a Twitter contest, make sure that you comply with Twitter's rules for running promotions.
And, if you want to run an online contest across multiple social media profiles, try using a viral giveaway plugin like RafflePress to make the process easier.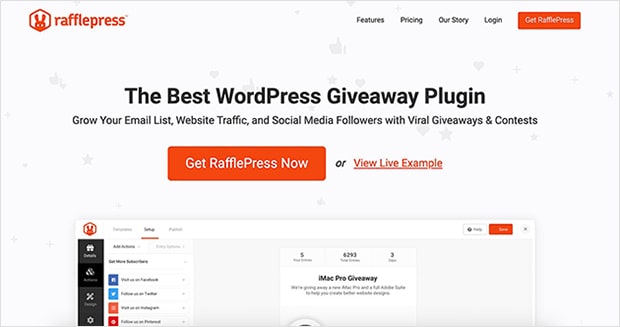 With RafflePress, you can create the perfect giveaway in no time using the drag and drop giveaway builder and viral giveaway templates.
Plus, RafflePress has bonus entry actions you can use to grow your Twitter following and boost engagement. For example, you can reward users with extra giveaway entries for following you on Twitter, tweeting a message, and more.
18. Monitor Conversations
Not only is monitoring Twitter conversations a great way to offer customer service (see tip #12), but it also helps you be more responsive, so you can quickly react to tweets from followers.
While there are lots of tools for monitoring Twitter conversations, you can also monitor them from Twitter itself. To do this, go to Twitter, click on Notifications, then Mentions to see all the mentions of your Twitter username.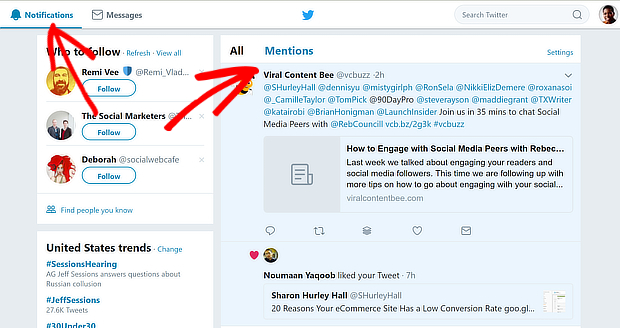 To get immediate notifications, click on your profile picture, and go to Settings and privacy in the dropdown menu. You can opt to get notified of tweet activity by ticking the appropriate boxes in Mobile, Email notifications, Notifications or Web notifications.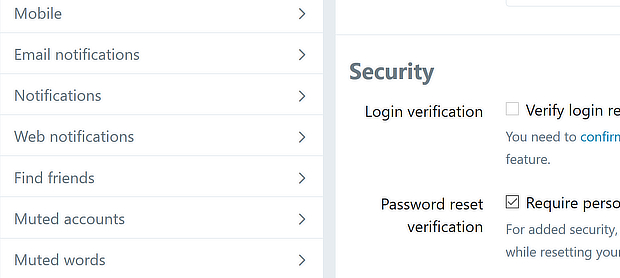 You can also track mentions with tools like Anewstip and Mention, which allow you to track brand mentions, and not just your username, so you can be even more responsive.
19. Promote with Twitter Ads
Like all social media sites, you can promote content on Twitter for increased visibility. If you meet the eligibility criteria and create an advertiser account, you can get to Twitter ads from your profile or by going to ads.twitter.com.
Once you're there, set an objective for your Twitter campaign. If you're using Twitter for lead generation, then use Website clicks or conversions so you can track the people who click through from your ad to your website.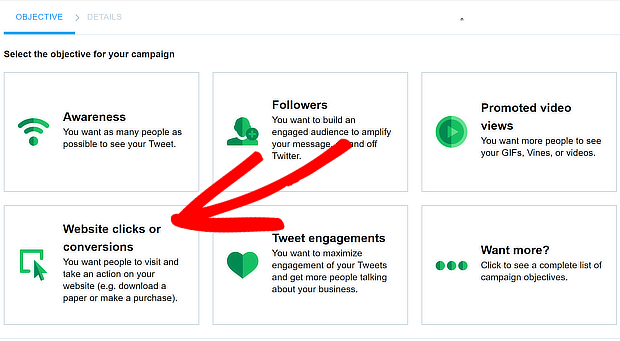 Name your campaign, choose a funding source, and set a budget.

Choose a creative, which is one of your tweets. It's useful to check Twitter analytics (see tip #5) to find your most popular or engaging tweets. That'll improve your chances of generating leads.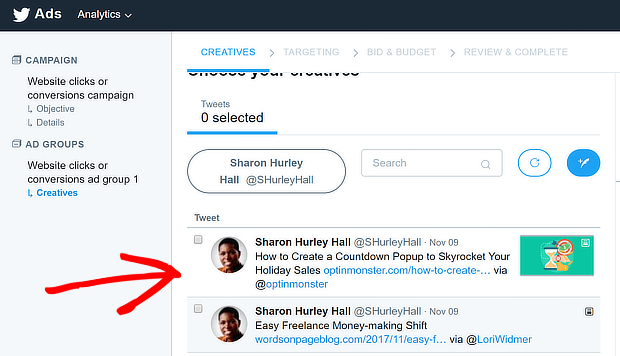 Choose ad keywords and targets, and pay attention to the chart on the right that shows how many people you can reach.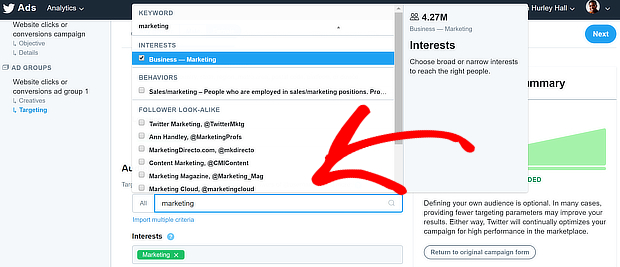 Review and launch your campaign.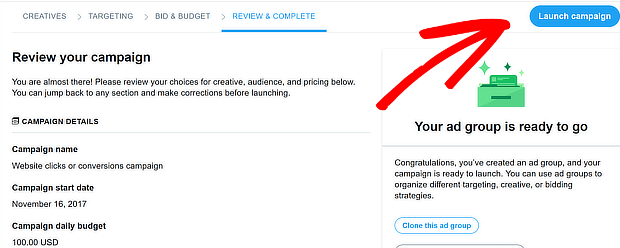 Larry Kim's Twitter lead generation cards case study says that ads that don't look like ads get more engagement. He suggests using funny images like memes with your ad so it gains more visibility.
That's it! These tips will help you nail using Twitter for lead generation so you can get more of your social media followers into your sales funnel. Next, try increasing your Facebook audience with Facebook popup and read our beginner's guide to email marketing to see how to make the most of those new leads.
Finally, don't forget to follow us on YouTube, Twitter, and Facebook for more in-depth guides like this one.