Do you want to generate more leads with your content? Smart content marketers know that going in with a clear strategy is key to your success. In this guide, we'll show you how to generate leads with your content marketing, step by step.
You've probably heard the old adage, "Content is King". That's because great content attracts an audience. With an audience, you can generate leads. And once you've captured those leads, you can market your products and services to make sales.
However– without great content, you'll have no audience and no leads, and you won't be able to make sales online. Period.
So what is great content, and how do you generate more leads with it?
By the end of this 7-step guide, you'll have a clear roadmap for creating content that generates leads and sales every time.
Ready to get started? Let's go!
Recommended Resource: Need to jumpstart your content marketing results? Get more traffic and conversions with our Ultimate Guide to Content Marketing in 2018.
Step 1: Research Your Customer Avatar
The first rule of great content is that it must appeal to your ideal customer. If it doesn't, it won't attract leads (or it will attract the wrong leads, which is just as bad).
Before you create a single piece of content, make sure that you have a deep understanding of your ideal customer. A great way to do this is with the customer avatar exercise.
Customer Avatar Exercise
A customer avatar is a detailed profile of your target customer. It's a fictional character, but it represents real people in your target market.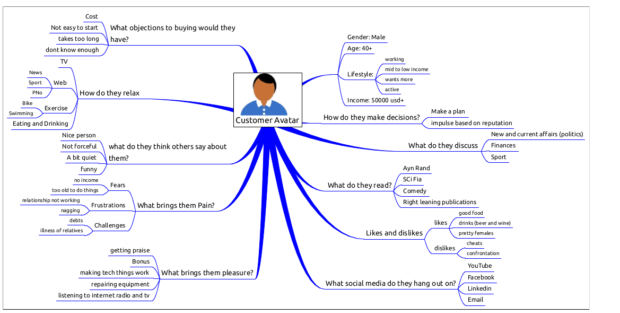 If you have several different target customers, you should create a customer avatar for each one. This will help you to create content that appeals to the specific types of people you want to attract as leads.
Remember: if you try to create content that appeals to everyone, you will end up appealing to no one.
To create your customer avatar(s), write down the following information:
Biographical info – Name, age, gender, income, location, profession, etc.
Values – What do they care about? What are their goals, hopes, dreams?
Pain points – What do they struggle with? What keeps them lying awake at night?
Favorite sources of info/entertainment – What blogs, magazines or books do they read? What are their favorite TV shows?
Role in purchase process – Do they have the final say when it comes to purchasing your product, or do they have to ask a spouse, a parent or a boss?
Objections to the sale – What are their main objections to purchasing your product?
Digital Marketer has a great customer avatar worksheet you can use to help you fill in this information.
But what if you have no clue who your target customer is? Well, you'll have to buckle down and do your research. Thankfully, there are lots of tools that can help.
Customer Research Tools
Here are some of the top tools that I recommend for researching your customer avatar…
U.S. Census Bureau
This data is useful for figuring out how large your target market is, and whether your customer avatars actually exist in the real world.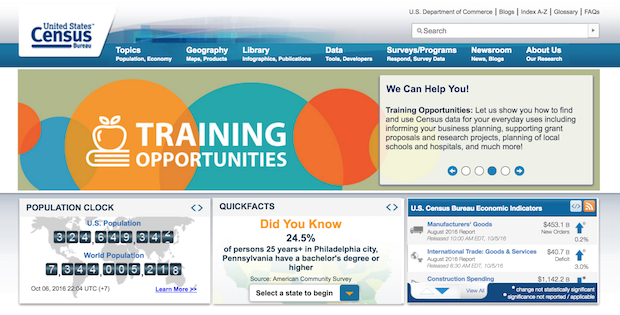 Facebook Audience Insights
This tool (located within Facebook Ads Manager) is a mother load of information on consumers. Add in a few interests or behaviors, and it will spit out tons more biographical and other information on those consumers.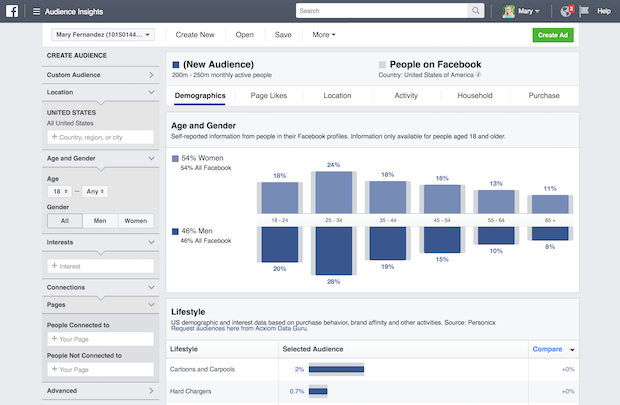 The Marketer's Almanac
This resource by Google is chalk full of insights into consumer behavior and trends.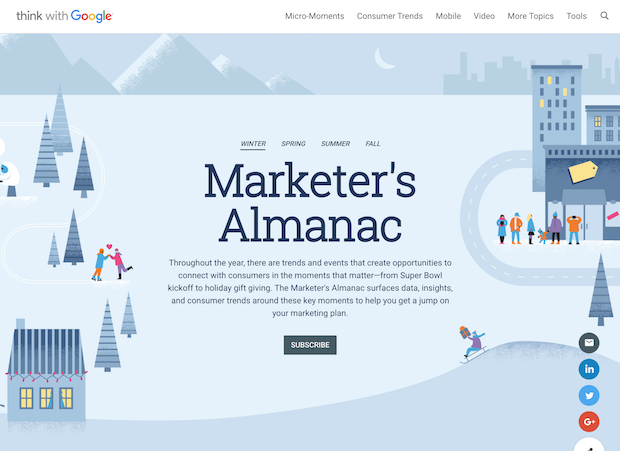 Quantcast
This tool helps you to understand your target audience with demographic and lifestyle insights.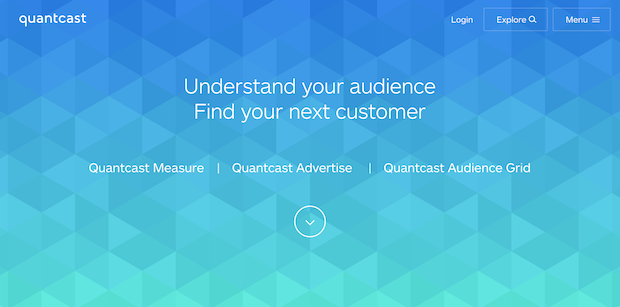 MyBestSegments
This tool gives you a peek into the brands that people in your target market are already buying. It also reveals their media habits and what they do in their free time.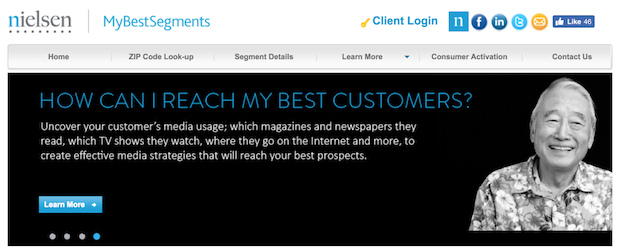 Survey Gizmo
If you already have an email list (even a small one), it is extremely helpful to survey them. This tool allows you to collect and analyze the most useful data about your existing subscribers.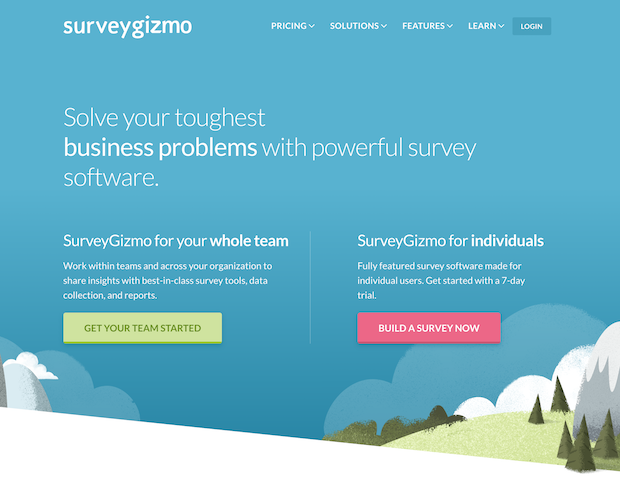 Now that you've done your research and created your customer avatar(s), you have a clear picture of who you are creating your content for. Next, it's time to decide what types of content you want to create for them.
Step 2: Choose Your Content Types
There are lots of different content types, but some are more suited to lead generation than others.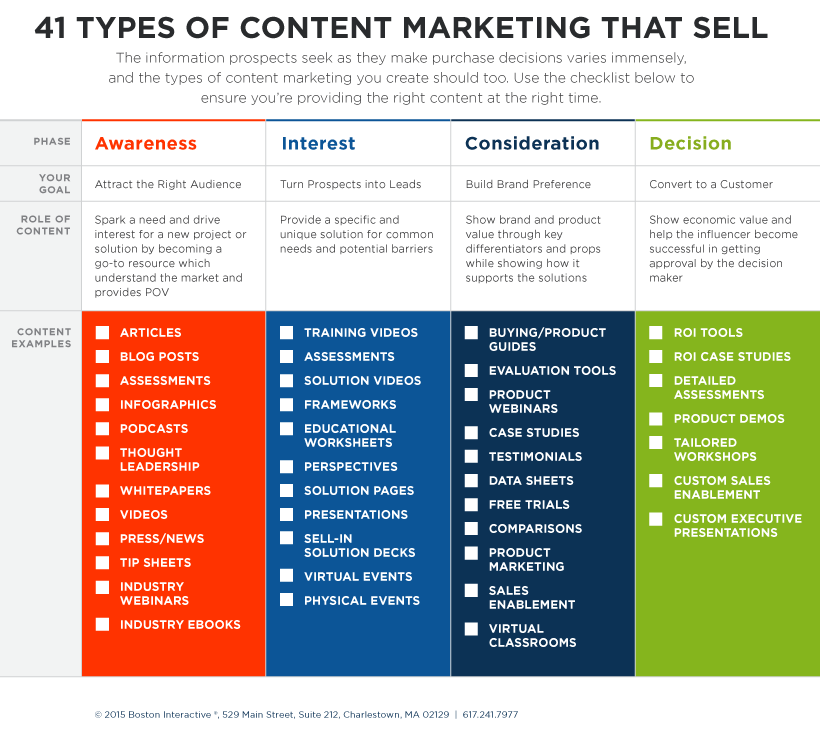 For your content to generate as many leads as possible, you should plan to include at least two primary types of content:
1) Traffic generating content
2) Lead generating content
Traffic Generating Content
Traffic generating content is important for getting eyeballs on your website and growing your audience. You can't generate leads without traffic.
Here are some of the best types of content for traffic generation. Pick a few from this list to include in your content plan.
Blog posts – this content type is a basic requirement for any content plan. Your blog is like your "hub": all other types of content should drive traffic to your blog.
Social media posts – these posts will help to drive traffic to your blog.
Videos – don't forget that YouTube is the second largest search engine. This is a great opportunity to drive organic traffic to your blog for years to come.
Podcasts – you can encourage your guests to share their episode with their audience, and grow your own in the process.
Infographics – you can include these in blog posts to encourage social sharing.
Photos – depending on your business, photos may be a type of content that you wish to use for growing your audience.
eBooks – listing free eBooks on Amazon is another great way to grow your audience and drive traffic to your site.
Now that you've chosen the types of content that you'll use to drive traffic, let's choose your lead generating content.
Lead Generating Content
Lead generating content is content that you package into lead magnets: valuable resources that you give away for free in exchange for someone's email address.
Lead magnets are a non-negotiable for generating leads. People don't want to give their email address out to just anybody, so you have to give them a good incentive.
Here are some of the best content types for generating leads. Pick a few from this list that you will use as lead magnets.
Useful resources – these can be checklists of tools or lists of resources.
eBooks & Free Reports – these offer something educational.
Webinars – webinars work really well as lead magnets because of their high perceived value.
Discounts & Coupons – perfect if you have an eCommerce business. All you have to do is offer a coupon code in exchange for an email address.
Free Trial – if you sell software, you could offer a free trial download, or a lite version.
Quizzes – you could offer a free quiz, but for your users to get their results they'll have to give you their email address.
Mini Course – this could be a series of emails or a series of videos explaining how to do something.
Free Challenge – if you help people to overcome obstacles or achieve goals, you could offer a free challenge to accomplish one thing over a set period of time.
Now you've chosen the types of content you will use to drive traffic and generate leads, next you'll choose your content distribution channels.
Step 3: Choose Your Content Distribution Channels
Your content plan is really starting to shape up now! You have a customer avatar, and you know which types of content you'll create for them. In this step, we'll decide where you will distribute that content.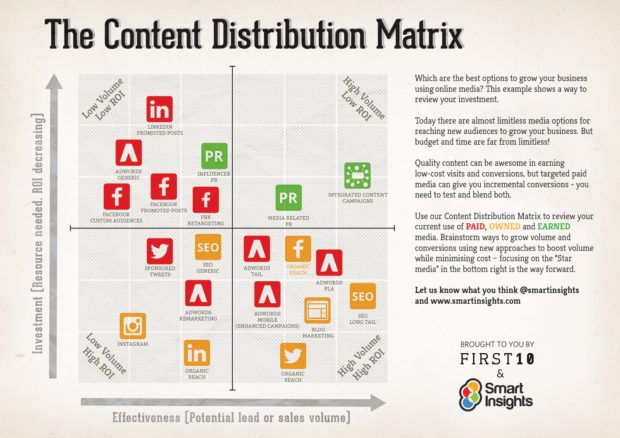 Although there are many different content distribution channels, they all boil down to two distinct methods: organic and paid.
Simply put, if you want to get eyeballs on your content, you'll either need to invest time or money.
Organic Distribution Channels
Organic channels do not require any paid advertising, so they are really great for a low budget. However, you can't expect to get organic traffic right off the bat. Organic traffic takes a bit of time, or even a few months, to get going.
These are the main organic distribution channels you have to choose from.
Search engines (Google, Bing, Yahoo, etc.)
YouTube
Facebook
Twitter
LinkedIn
Pinterest
Google Plus+
Tumblr
Instagram
You don't need to use all of these– just pick the channels where you know your customer avatar hangs out. If they don't spend time there, don't use those channels!
Search engines, however, are non-negotiable because virtually everyone uses them. So even though it may take some time to get your content to rank in Google, you should be working towards this goal from the start.
For help getting your blog posts to rank in Google, check out our On-Page SEO Checklist: How to Fully Optimize Your Posts.
Paid Distribution Channels
Paid channels require you to spend some money on ads, however they can get you traffic a lot quicker than organic methods. In many cases, all you have to do is purchase a few ads and your traffic will be off to the races within a matter of hours!
Here are the main paid distribution channels that you'll want to consider.
Social media ads
Google AdWords
Native ads (ads that appear on other platforms)
Banner ads
Content discovery networks (ads for your blog posts that appear in the "around the web" and "recommended stories" sections of large online publications)
Out of these paid distribution channels, I highly recommend trying out social media ads, and Facebook ads in particular. If your customer avatar is on Facebook, this type of ad has some seriously amazing targeting capabilities.
Just make sure that you optimize your Facebook ads for conversions following my 7-step guide here.
Step 4: Map Out Your Content Plan
Now that you've decided on your content types and distribution channels, it's time to pull everything together into a cohesive content plan.
A good content plan maps out what content you'll publish, by whom, and how frequently. How many days per week will you publish blog posts? When will you offer live webinars? How frequently do you plan to promote your content on social media? Which team members will be creating and promoting the content?
You may also want to create an editorial calendar to map out your blog posts and keep track of what's coming down the pipe.
A really great tool that we use here at OptinMonster is the Edit Flow WordPress plugin.

This free plugin allows us to have a month-to-month view of our content, define the key stages in our editorial workflow with custom statuses, and even communicate between team members with editorial comments.
Once you've mapped out your content plan, it's time to put it all into action! Let's start by creating an irresistible lead magnet…
Step 5: Create an Irresistible Lead Magnet
Remember how we said that a lead magnet is a non-negotiable part of any content marketing plan? Well now it's time to create one.
In order for your lead magnet to be effective at generating leads, it must be absolutely irresistible to your customer avatar.
All irresistible lead magnets have certain characteristics in common. Let's go over those characteristics so your lead magnet can be highly effective at generating leads.
7 Characteristics of an Irresistible Lead Magnet
It solves a real problem – if your lead magnet doesn't solve a real problem that your customer avatar has, or if it doesn't give them something they really want, it won't work at all. This is why we did the avatar exercise in step 1.
It promises one quick win – your lead magnet should promise (and deliver) one quick win for your avatar. In other words, it should help them to easily achieve something.
It's super specific – don't create a lead magnet about something general. The more specific you are about the benefit of your lead magnet, the better it will convert leads.
It's quick to digest – PDF checklists tend to convert really well because they are so quick and easy to digest. eBooks or lengthy reports may make your prospects feel overwhelmed.
It's high value – your lead magnet should have both high perceived value and high actual value.
It's instantly accessible – your lead magnet will work best if it is something that can be delivered right away. People love instant gratification.
It demonstrates your expertise or UVP – when someone consumes your lead magnet, it should demonstrate your expertise or your unique value proposition. This helps turn leads into customers down the road.
Here on OptinMonster, one of our lead magnets is "12 Proven Ways to Convert Abandoning Visitors into Subscribers". If we may say so ourselves, it's pretty irresistible.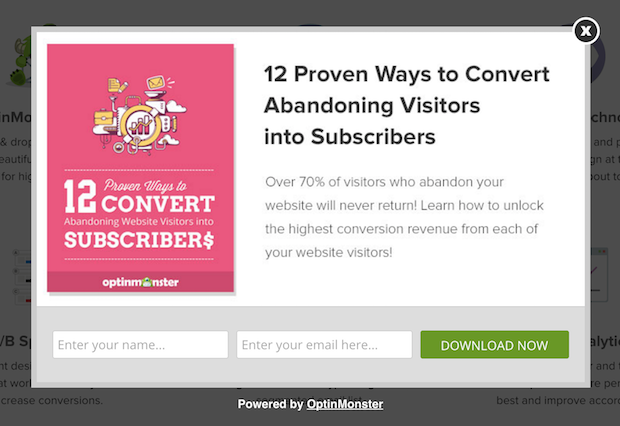 The reason this lead magnet works so well is because it:
Solves a real problem our customer avatars have: visitors abandoning their site, never to return.
Promises one quick win: converting those abandoning visitors into subscribers.
It's specific: we aren't teaching you how to convert all your visitors, just your abandoning visitors.
It's quick to digest: it's a PDF checklist.
It's high value: following these 12 tips can directly translate into a big increase in sales for your business.
It's instantly accessible: you can download it at the click of a button immediately after entering your email.
It demonstrates our expertise: we are really awesome at converting visitors into subscribers, and this lead magnet proves that.
For more help with creating your lead magnet, check out our lead magnet guides:
3 Amazingly Effective Lead Magnets You Can Create in Minutes
Lead Magnet Blueprint – How to Create a Lead Magnet that Converts
How to Use Google Analytics to Discover Ideas for Lead Magnets
Once you've created your own irresistible lead magnet, you'll be ready for the next step: writing high-converting blog posts.
Step 6: Write High-Converting Blog Posts
As we said before, blog posts are a non-negotiable part of any content marketing plan. Now that you have a lead magnet, it's time to write some high-converting posts to grow your audience and get eyeballs on your lead magnet.
Just like all irresistible lead magnets have certain characteristics, all high-converting blog posts have certain characteristics too. Let's go over those so you'll know how to write an effective blog post every time. (By the way: these characteristics apply to other types of content too.)
7 Characteristics of High-Converting Blog Posts
For your blog posts to be effective at driving traffic and generating leads, they must contain the following.
A really enticing headline – unless someone is really interested in your headline, they won't read your post. You can learn how to write enticing headlines in 6 simple steps here.
Long-form content – these days, the longer and more in-depth your blog posts the better. Long-form content ranks better in Google and gets more social shares.
Useful or educational content – always strive to be useful or educational. Remember, people look to the internet for answers to their problems. Give them the solution, and they will love you.
Relevant visuals – in most cases, your blog posts shouldn't be text-only. People need to see some relevant visuals to help drive the point home, and make your posts more pleasant to read.
Your keywords – always be thinking about what keywords people are searching for and incorporate those into your blog posts. If you want your post to rank in Google, you should write it with a specific search query in mind.
Links to high-quality resources – always make sure you link to other high-quality posts on the topic. This increases the usefulness of your content, and Google will reward you for it too.
Links to related posts on your own blog – you should also be interlinking your own blog posts as it makes sense to do so. This helps keep people reading your blog, and it helps your posts to get indexed by search engines.
Now that you know how to write high-converting blog posts, it's time to optimize those blog posts for lead generation.
Step 7: Optimize Your Blog for Lead Generation
First thing you need to do to optimize your blog for lead generation is to add optin forms for your lead magnet.
At the bare minimum, I recommend installing a sidebar optin form and an exit-intent popup on all of your blog posts.
A sidebar optin is just a simple optin form that lives in your sidebar, like this.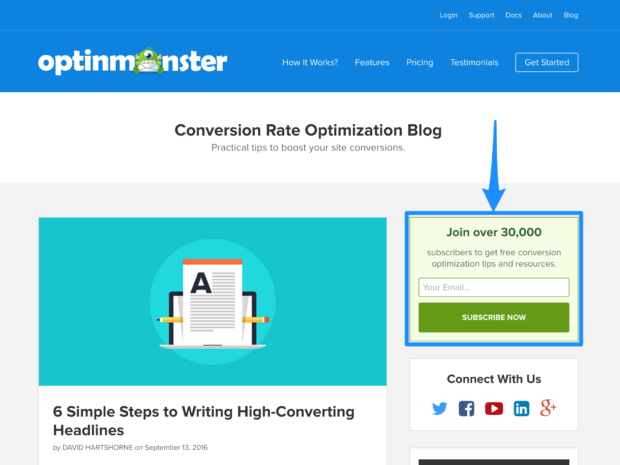 An exit-intent popup is an optin form that appears when the visitor is about to leave your site, like this.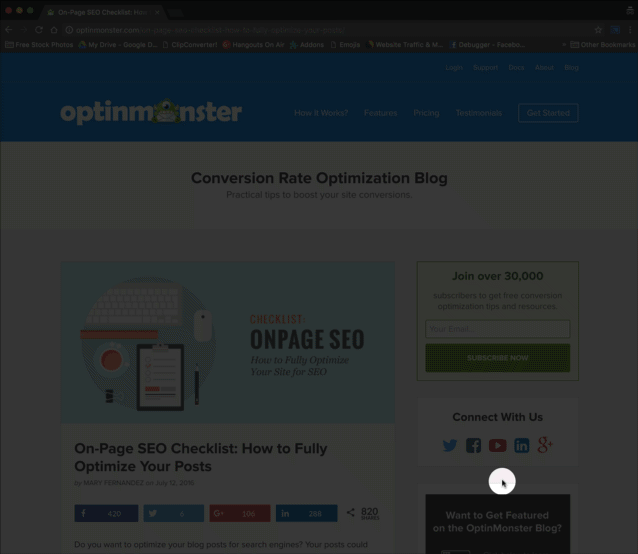 These two types of optin forms are absolutely essential for any blog.
If you want to take it one step further, you may also want to include a slide-in form that appears on scroll. (These optins are particularly important if you have long-form content.)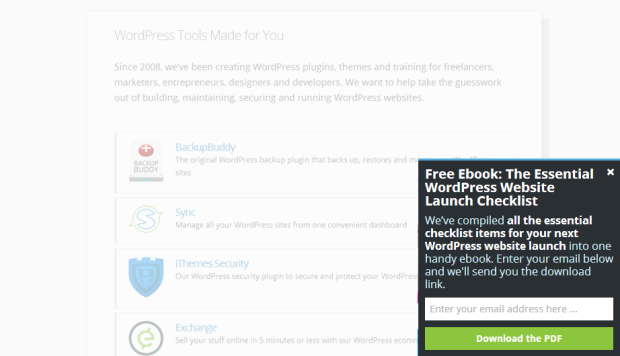 Once you have those basic optin forms installed on all your blog posts, you should monitor which posts are generating the most traffic and leads. You can do this with OptinMonster's conversion analytics.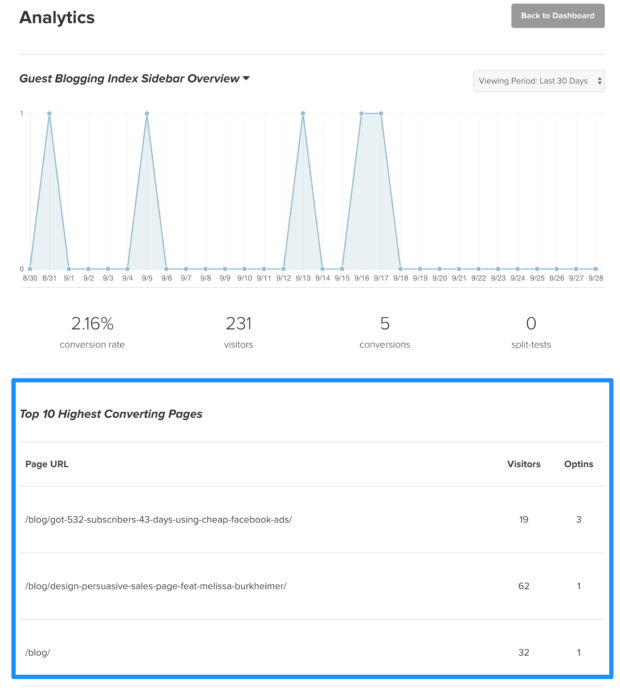 Once you know which posts are the most popular, you should optimize those posts with content upgrades.
How to Optimize Popular Posts with Content Upgrades
A content upgrade is a lead magnet that is specific to a particular blog post. Posts with content upgrades convert 5X better than other posts, which is why we recommend that you add content upgrades to all your popular posts.
For example, we have a popular post on the OptinMonster blog about creating the ultimate optin form. Since it's a really popular post, we've added a content upgrade to it: the "Ultimate Optin Form Checklist".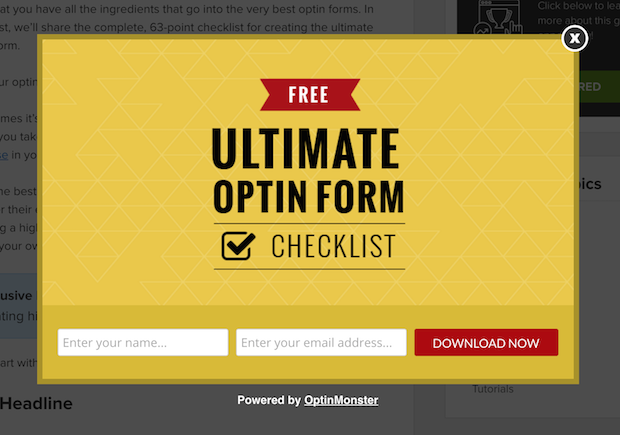 When adding a content upgrade to your blog post, make sure to always use a 2-step optin.
A 2-step optin means that users will have to click on a link before they see the optin form. These 2-step optins convert much better for content upgrades than a traditional optin form.
Here's an example of a 2-step optin form in action. In this example, the blog post is our on-page SEO checklist, and the content upgrade is a downloadable PDF of that checklist.
In order to get the download, the reader has to click on an image inside our blog post, and then the optin form appears inside a lightbox popup.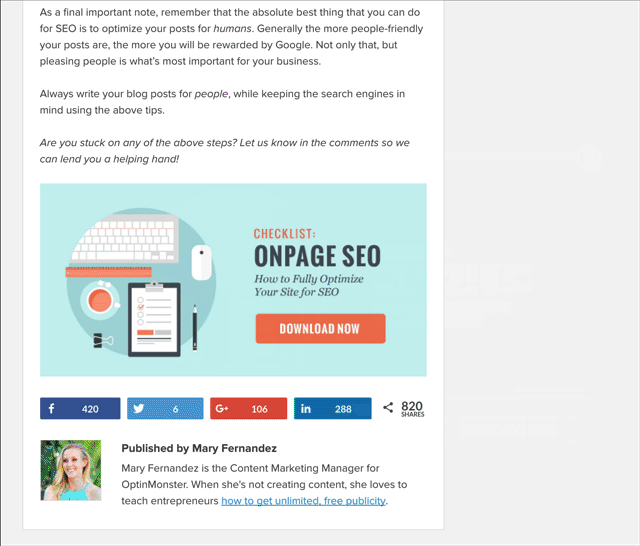 That's it! Now you are all ready to generate leads with your content marketing.
Conclusion
Any business can generate leads online with a solid content marketing strategy. To generate leads with your content marketing, you'll need to:
Research your customer avatar
Choose your content types
Choose your content distribution channels
Map out your content plan
Create an irresistible lead magnet
Write high-converting blog posts
Optimize your blog for lead generation
With all of these pieces in place, your content marketing campaigns will generate leads like a well-oiled machine!
Next, see our roundup of the best lead generation tools to get more targeted leads.