Are you wondering whether restaurant email marketing could help you attract more customers? With more than 1 billion restaurant locations in the US alone, there's fierce competition for a share of this $799 billion industry.
If you want to succeed, you need a way to get more people into your restaurant.
One of the most cost-effective ways to grow any business is email marketing.
As our roundup of email marketing statistics shows, email marketing remains a great way to connect with both existing and potential patrons:
In the US alone, more than 90% of adults use email.
The ROI of email marketing is 28.5% better than for direct mail.
Every dollar you spend on email marketing brings you $38 in return.
This guide will highlight restaurant marketing ideas and trends, including statistics on restaurant email marketing, innovative ways to collect customers' emails, email marketing content ideas for restaurants, and email marketing best practices. Throughout, we'll include examples of restaurant marketing optins and email campaigns.
By the end, you'll have everything you need to improve your restaurant email marketing campaigns and get more diners sitting at your tables.
Benefits of Email Marketing for Restaurants
We already know that email marketing rocks, but how popular is it in the restaurant industry, and what are the potential benefits? According to SinglePlatform, restaurants spend 15% of their marketing budgets on email marketing.
The Rail adds that just over one-third of restaurant owners send email monthly, with 71% using their newsletters to send details of upcoming events.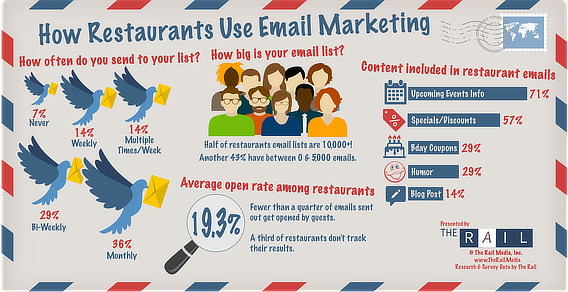 The Rail's data also shows that more than half of all restaurant email lists have more than 10,000 subscribers and the average open rate is 19.3%. Mailchimp's email benchmarks put the open rate for this sector a bit higher at 21.17%, with a click-through rate of 1.25%.
What's the ROI of restaurant email marketing? Depends who you ask:
A study published on WebpageFX says the ROI of email marketing, in general, is $44 for every $1 spent.
ChowNow has a slightly lower ROI, at $43 for each $1 spent.
And EZCater is a bit more conservative, at $38 for each $1 spent.
Whichever number you go with, those are pretty great returns that prove that email marketing is a successful strategy for restaurants.
Other benefits of restaurant email marketing include:
Making it easy for small, local businesses to compete with bigger ones, especially if they get their strategy right.
Building brand awareness among existing and new customers.
Marketing to a "warm" audience, as people actively sign up for updates from their favorite restaurants.
Increasing customer retention. According to an ebook from Gourmet Marketing, 70% of customers want restaurants to send them coupons and are prepared to use them.
For restaurant owners, as for other business owners, email marketing remains one of the most effective ways to reach your customers. In fact, it outperforms social media and, unlike social media, you retain control of your audience.
Here's how to get started.
Step 1: Set Up Your Email List
If you're just starting out with email marketing for your restaurant, you'll need to choose an email service provider. In addition to the ones you've already heard of, Fishbowl specializes in the restaurant industry. Other restaurant marketing platforms include BentoBox and Bridg.
When choosing email marketing services for restaurants, pay attention to the availability of templates, so you can style your emails appropriately depending on the offer, niche or season. Our OptinMonster templates allow you to change the images on your optin forms to reflect your restaurant business, as this example from a site promoting eating out in New Jersey shows: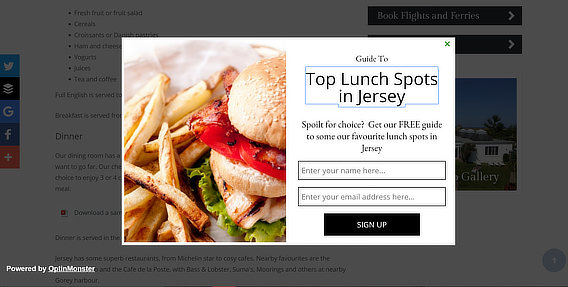 Here's how that same template looks for a recipe-focused site: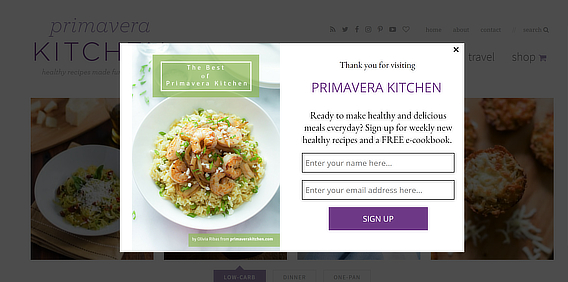 Make sure your restaurant email marketing software has in-depth analytics so you can measure the success of your marketing campaigns. Learn more about email marketing requirements in our beginner's guide to email marketing.
Step 2: Collect Email Addresses
If you're going to build a successful restaurant business, it's essential to generate a steady stream of new and potential customers so your establishment is always booked solid.
To connect with potential diners, you'll want to get their emails so you can give them reasons to try you out or to keep coming back.
Wondering how to collect email addresses? Here are some ways restaurants can do that.
Use an optin form on your restaurant's website to get people to sign up for your newsletter. For best results, ensure that your email signup form is visible on all relevant pages of your site.
You can sweeten the deal by offering a discount coupon customers can use the first time they eat in your restaurant, or by offering giveaways, as in the optin form for Mahoney's Poboys below.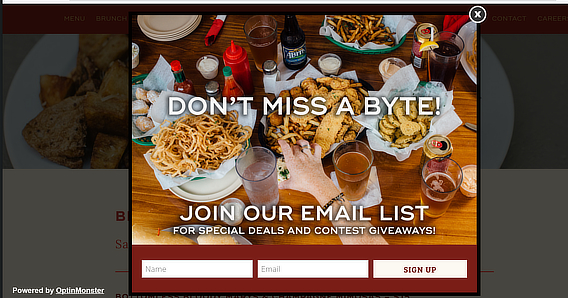 Here's our guide to creating your first campaign with OptinMonster to help you get started.
Some restaurants encourage people to sign up for the email list when they make reservations, as in the example from The Hardware Store Restaurants below.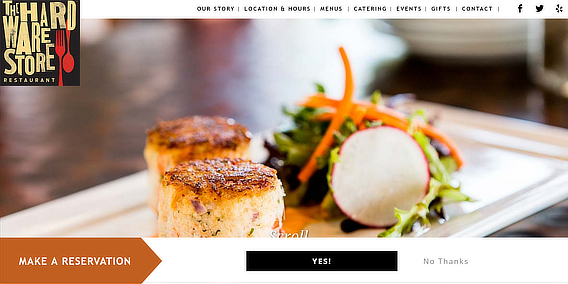 This also works if people are placing an order online. Remember, you'll still need to follow email marketing best practices and get potential customers to opt-in.
You'll also need to consider offline marketing to get email addresses for your restaurant, including methods like:
Adding a free appetizer offer popup in your main website menu
Putting a signup URL on a card that you add to every takeout or delivery order.
Encouraging people to sign up by including an offer and signup URL on bills and receipts.
Running a prize draw, and asking people to enter by leaving their business cards and opting into your restaurant marketing emails.
Using SMS marketing and asking people to send a text message to subscribe to your updates.
All of these will increase the number of potential customers for your restaurant.
There are also several ways you can use OptinMonster to improve lead generation. For example, you can set up an exit-intent campaign to show a coupon to visitors who are about to leave your site. The Essence Restaurant Group uses this OptinMonster lightbox popup on all four restaurant websites.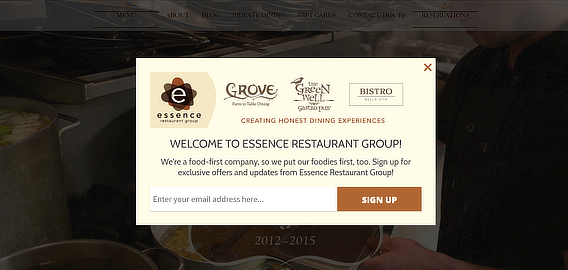 You can also use onsite retargeting and page-level targeting to show offers related to what potential diners are looking at. That means you could target offers to either meat-lovers or vegetarians, for example. And if someone is looking at your gluten-free menu options, you could encourage them to subscribe with a related lead magnet.
Snack Nation, an office food delivery service, tempts customers with a free sample: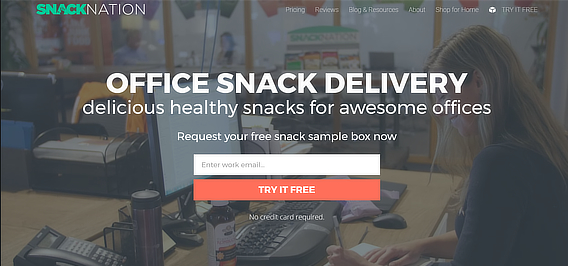 Once you've collected some emails, it's time to start emailing your subscribers.
Step 3: Send Promotional and Relational Emails
The best restaurant email campaigns include three types of emails. Aside from transactional emails, which confirm an action the subscriber takes, like subscribing or updating information, you'll likely send two other types of emails: relational emails and promotional emails.
Relational emails help build your relationship with the subscriber, by delivering free information and sometimes free gifts. Promotional emails promote your business and include notifications about offers and sales.
If you're like many content marketers, you might be stumped for ideas about what to include in your emails so you can keep that customer connection going month after month. We've got some restaurant email marketing ideas to help you offer value with every email you send:
Highlight new menu items, changes to old menu items, chef's specials and themed menu nights.
Tell the story of how your restaurant got started.
Introduce subscribers to the people behind the restaurant, like the owners, chefs and staff members.
Show how you create some of your recipes. The example below from Jean-Georges Restaurants links to a short video showing the creation of a seasonal recipe.
Give tips on food preparation.
Show off interviews, reviews, and positive coverage.
Include blog content.
Celebrate your customers.
Provide discounts, deals, and coupons.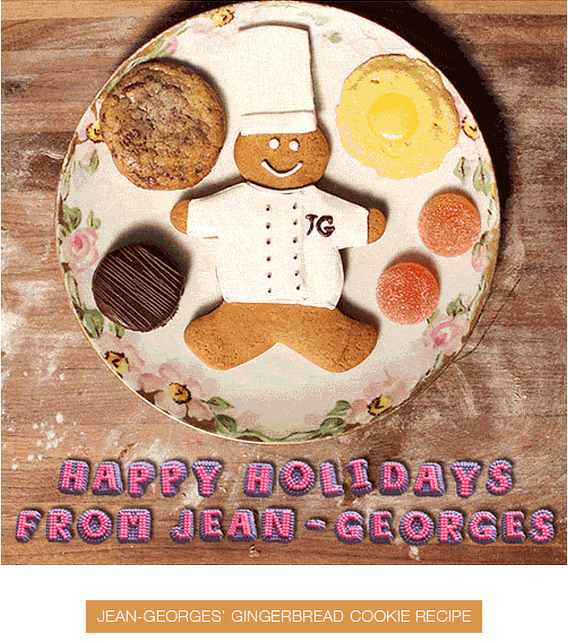 You can also ask customers for reviews and encourage them to send in ideas. Not only will this help you get content for your email newsletter, but it will also improve your relationship with them. Polls, quizzes, and surveys work well for this, too.
When customers book a table, always ask if it's a special occasion. That'll allow you to note it down so you can send birthday and anniversary emails later.
Plan your email marketing calendar in advance, including special promotions for:
National holidays. The email below from Major Food Group links to the New Year's menus for all their locations.
Food celebrations (like National Ice Cream Day).
Seasons.
Special annual events, like local food festivals.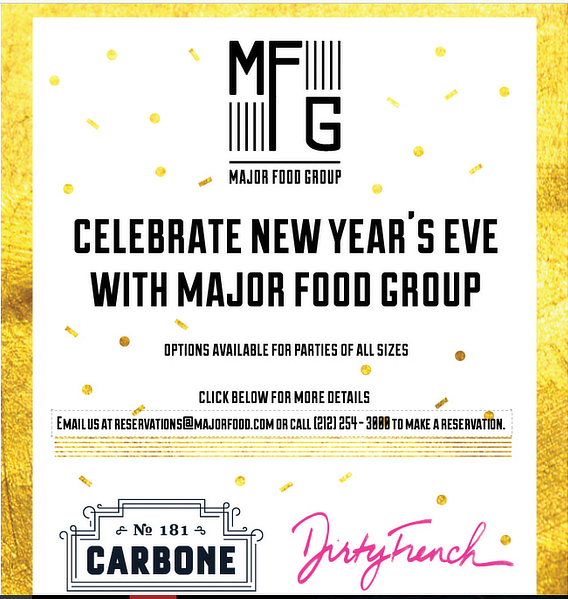 You can also use email marketing to:
Create and nurture a customer loyalty program, as in the example from The Counter below.
Win back diners who haven't been to your restaurant for a while.
Follow up people who have taken a special deal from a site like Groupon.
Target people who've asked about your restaurant but haven't made a booking.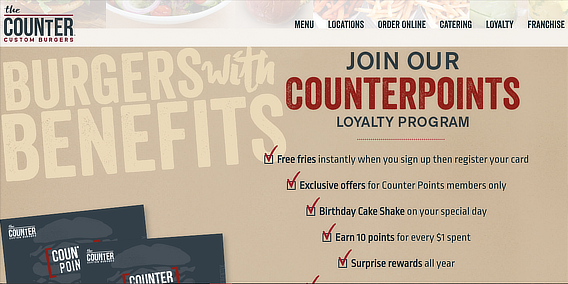 All emails should include information about your location, opening hours, and how to order online and make reservations, as well as details about private dining or catering, and gift cards, if you offer those services.
And here's one last tip: the best way to get inspiration for your own email newsletter is to see other restaurant email examples, so subscribe to updates from other restaurants and see what you can learn.
Email Marketing Best Practices
Here's how you can run even more successful email marketing campaigns for your restaurant.
Send a welcome email that starts building the customer relationship. If you promised a lead magnet, deliver that within the email. It's also a good idea to deliver your lead magnet immediately, which you can do with OptinMonster's success actions.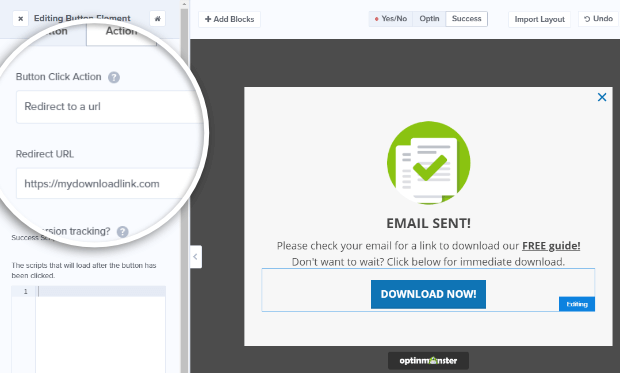 If you want the best restaurant email campaigns, you'll need to nail the email subject line to get people to open your emails, otherwise, your campaign will be dead in the water.
If your email marketing service allows it, edit the preview text which shows up in the inbox to make your email even more appealing. Here are a few restaurant email marketing subject lines we liked:
It's YO Birthday. Get 1/3 Off Your Food Bill – Yo Sushi!
Dinner is covered: $10 carryout deal on large 1-topping pizzas – Donato's pizza
Late-night cravings? We've got you covered – Del Taco
Go ahead, get two – Papa Murphy's
Thanksgiving Dinner Has Never Been Easier – Munchery
Once people have opened your email, you want them to click through to take up your offer. Here are some tips on improving your email marketing click rate to help with this.
Segmentation and personalization will also help your restaurant marketing campaigns be more successful by dividing your subscribers into smaller groups for more targeted marketing. The more relevant your emails are, the more likely people are to open them and act on the information they contain.
Consider segmenting your list according to niches like the type of cuisine, the dishes people are interested in, and so on. For example, someone who regularly eats Italian dishes will likely be interested when you create a new Italian recipe.
You can segment by location, too. When you sign up, Boloco asks you to choose a restaurant location and an email list, so it can send you appropriate content. It also has an optional birthday field, to allow the restaurant to send birthday offers.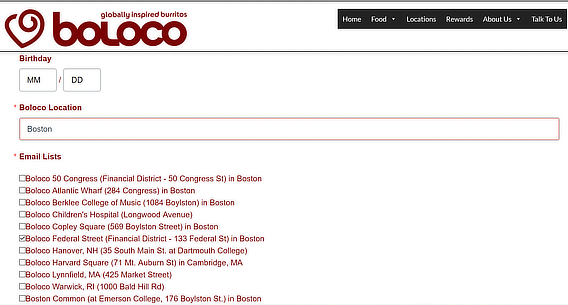 Here's a guide to email list segmentation to help you with this step.
Brand your email consistently so that anybody who receives it knows that it's coming from your restaurant.
Pay attention to email marketing analytics to see when you're getting the most opens and clicks, then use this information to tweak your send times. There's little point in sending emails when nobody's going to read them.
Don't be afraid to integrate email marketing for your restaurant with other types of marketing. As mentioned earlier, you can use SMS marketing to drive email signups.
You can also link email marketing with social media marketing by including links to social media profiles in every email and adding email signup forms to your social media sites. For example, here's how you add an email signup form to your Facebook page with OptinMonster.
You can also use OptinMonster to promote your social media profiles with a popup.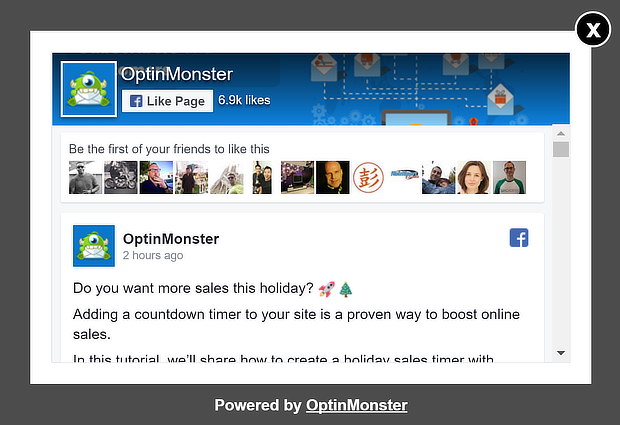 But don't just market your restaurant on Facebook. Instead, use your own website as a hub for marketing and consider marketing with local events, too. Remember, you can always have a tablet on hand so people can sign up for your email list.
Email marketing is an affordable way for restaurant owners to reach their customers, and it can pay off, especially if you avoid being spammy.
As Constant Contact says: "Treat your email subscribers like your patrons, and they'll become patrons."
Now you know how to attract more customers with restaurant email marketing, take a look at our guide to writing high converting email marketing copy to make your strategy even more successful.