Do you want to learn more about restaurant email marketing, but you're not sure where to start?
Many people think that email marketing is only for large tech and SaaS companies.
For local businesses like boutiques or restaurants, they rely on traditional advertising methods, such as handing out flyers or putting out physical signs throughout the community.
But email marketing can help any kind of business grow–so long as you follow the right email marketing best practices for your niche.
That's why, in today's post, we're going to cover 9 strategies specifically for restaurant email marketing.
The goal of these tips is to grow your restaurant's email list and send better email campaigns to drive more customers through your doors.
Before we get started, though, let's get clear on why email marketing for restaurants is so important.
Restaurant Email Marketing: Why It Matters
As we mentioned earlier, many restaurant owners think that email marketing belongs in the confines of Silicon Valley.
After all, brick-and-mortar shops, like restaurants, require a different approach to attract members of the community.
And email simply isn't designed to build the kind of personal relationship needed to get more loyal customers, right?
Wrong.
In fact, email marketing can breathe fresh life into your restaurant. That's because it will give you a significant edge over your competition.
The fact is that most restaurant owners are so busy running their actual restaurant, they neglect BIG opportunities to scale through smart digital marketing strategies.
But when you have your customers' email addresses, you can keep them coming back to your restaurant over and over again. You do this by sending email campaigns that:
Include promotional deals like discounts
Inform customers about live events
Gather feedback about your customers' experience
Handle questions, concerns, or problems customers may have had
Display new recipes or meals your restaurant is working on
And so much more…
The point is that email marketing is one of the only channels that gives you direct access to your customer base.
And unlike paid ads, you don't need to increase your daily spending budget to reach your email list. Instead, all you need to do is hit Send.
Now that we know the benefits of email marketing for restaurants, let's look at 9 ways you can grow and monetize your restaurant's email list.
Restaurant Email Marketing: 9 Actionable Tips
1. Grow Your List Faster
First and foremost, you should know that growing your list is like a marathon, not a sprint. In fact, you might have tried to grow your email list in the past with little success.
But you can drastically speed things up by having the right tool. That's where OptinMonster comes in: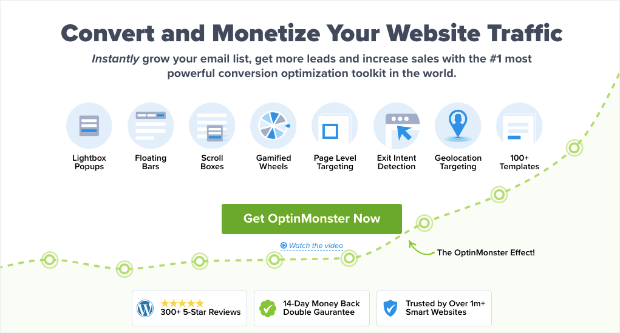 OptinMonster is hands down the best lead generation software to help restaurants with email marketing. That's because OptinMonster allows you to build professional optin campaigns for your restaurant's website in a matter of minutes.
By "optin campaigns," we mean things like popups, floating bars, and other types of campaigns you're probably familiar with.
These are small messages that appear on your site with a call to action (CTA), which usually asks people for their email address.
You've likely seen these before. They look something like this: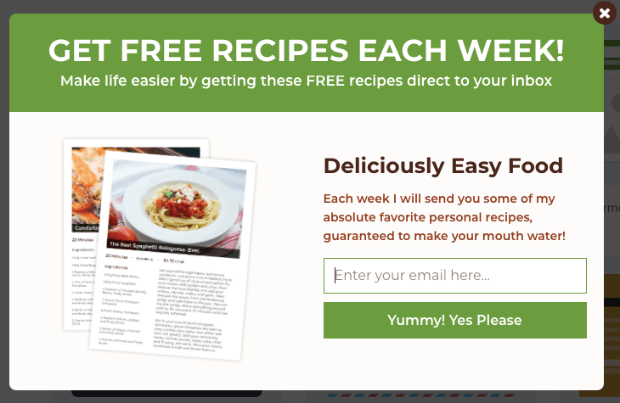 The image above is one of OptinMonster's standard templates and wasn't modified at all.
Plus, OptinMonster has over 50 other premade templates that you can use to save time, energy, and headaches in the campaign design process.
And OptinMonster's drag and drop editor makes any of these templates simple to modify: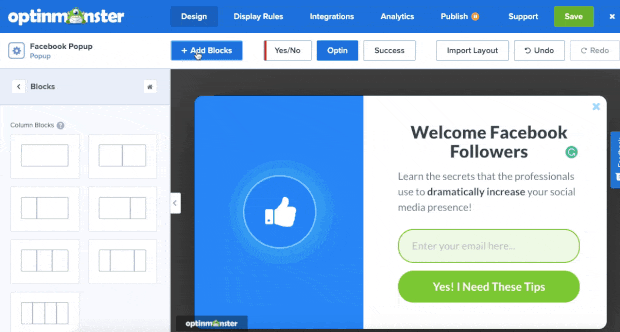 This allows you to create professional-looking and high-converting campaigns in minutes.
But now you're probably wondering, "Does it really work for restaurants?" In short, yes.
That's how one Italian restaurant added over 1000 subscribers to their list in just 4 months.
Why does it work so well? Because OptinMonster doesn't only let you create these stunning campaigns. It also allows you to target (and retarget) these campaigns to the right people, in the right places, and at just the right time in their customer journey.
With OptinMonster, you get powerful targeting rules like:
MonsterLinks™: Turn any campaign into a clickable link via button or anchor text.
Exit-Intent® Technology: Capture visitors as they're actively abandoning your website.
Page-Level Targeting: Target specific URLs or categories on your restaurant's site.
Geo-Location: Display popups to people from specific regions to make sure you're only getting local customers.
HTML Elements: Add tracking pixels to your campaigns to optimize your paid ad strategy on platforms like Facebook, Google, and others.
And much more. These are just a few of the examples of targeting rules you can use to grow your email list with the right kinds of customers.
The point is that OptinMonster makes the process easier, faster, and more affordable than any other list-building tool on the market.
Ready to get started? Click below to start your 100% risk-free OptinMonster account today:
Grow Your Email List Today!
BONUS: Done-For-You Campaign Setup ($297 value)
Our conversion experts will design 1 free campaign for you to get maximum results – absolutely FREE!
Click here to get started →
2. Create a Lead Magnet
Making a stunning optin campaign is only half the battle when it comes to growing your restaurant's email list.
The other half is giving your target audience an incentive to sign up. And for that, you'll need a lead magnet.
A lead magnet is a promotional offer or valuable piece of information that your audience will want (and don't already have).
Some popular lead magnets include:
Discounts for meals
Recipe books
Coupons for free drinks, appetizers, or desserts
Informative guides (like pairing wine with meals or "how to eat healthy while eating out")
And more…
Struggling to come up with lead magnet ideas? No worries. Just check out this helpful resource on the topic: 69 Highly Effective Lead Magnet Ideas to Grow Your List.
Once you create your lead magnet, you'll be able to use it to motivate your target audience to subscribe to your mailing list.
But when they sign up, where will their contact information go? That leads us to our next strategy.
3. Find the Right Email Service Provider (ESP)
When you're growing your list, you need to find the right email service provider (ESP).
This is a platform that will store and organize your email list. It will also let you send email campaigns to your customers to nurture the relationship and bring in new customers.
There are several options you can choose from, but here are our top picks:
Constant Contact: an excellent solution for small businesses who value phone/email support
Brevo (formerly Sendinblue): the perfect choice for businesses on a budget looking for a free option to get started
Drip: the most advanced option for eCommerce
These options come with free trials, too, so you can try them out before committing to a paid plan.
But if you want your list to be extra secure, we always suggest that OptinMonster customers use Monster Leads to store their list, too.
Monster Leads is a built-in feature with OptinMonster that lets you store your leads separately from your ESP.
So not only does every email provider sync with OptinMonster (meaning your new leads go directly to your ESP), but you can use Monster Leads to keep a second list as your backup: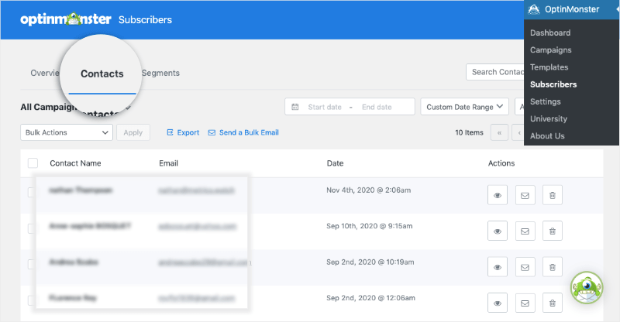 This reduces the risk of losing your email list if there is a problem with your email service provider.
And since it's built into OptinMonster, setting it up can be done in under a minute. For more information, check out this resource: How to Set up Monster Leads With OptinMonster.
4. Combing Email With Other Marketing Channels
One problem many small business owners make when it comes to marketing strategies is thinking in terms of "either/or."
They think they need to do either email marketing or something else to grow their restaurant's foot traffic.
But in the world of digital marketing, things are a bit messier than that. In fact, you SHOULD be using multiple approaches to get as many new leads and customers as possible.
And email marketing is one of the best ways of combining strategies to do just that. One of the best opportunities is using your optin forms to retarget users on your paid ad platforms.
Here's how it works:
You get a tracking pixel from your paid ad platform like Facebook or Google. For this example, let's say it's Facebook.
Then add the Facebook tracking pixel to your OptinMonster campaign
When users subscribe through that campaign, Facebook will know to show those users more targeted ads for your business in their social feed
You increase business for your restaurant
Now, we know what you're thinking: "I run a restaurant, not a tech company. There's no way I can set up such a sophisticated marketing strategy."
But with OptinMonster, it's ridiculously easy. The best place to start is here: Facebook Retargeting Ads Made Simple (+ How to Create and Install a Facebook Pixel).
This resource will have everything you need to get you started (and the information can be applied to other paid ad platforms like Google Ads, Instagram, LinkedIn, and more).
5. Target Your IDEAL Audience
This tip really depends on the size of your business. If you're a large franchise with multiple chains, your target audience is much bigger than if you're a smaller restaurant in your local community.
For big businesses, your ideal audience is simple: people who eat food in or around cities where your restaurants are based.
But what about small businesses? How do you target people who can actually sit down at your restaurant?
In other words, how can you grow your list with customers from your community?
For that, you'd need OptinMonster's Geo-Location targeting rule.
This allows you to display or hide your optin campaigns based on where your users are physically located. That means you'll be able to target people in your hometown where your restaurant actually is.
And setting this up couldn't be easier. You'd simply click on Physical Location in OptinMonster's display rule dashboard: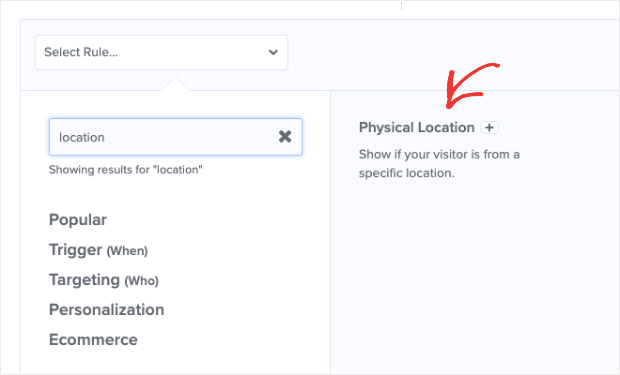 Then select the city or region you want to target: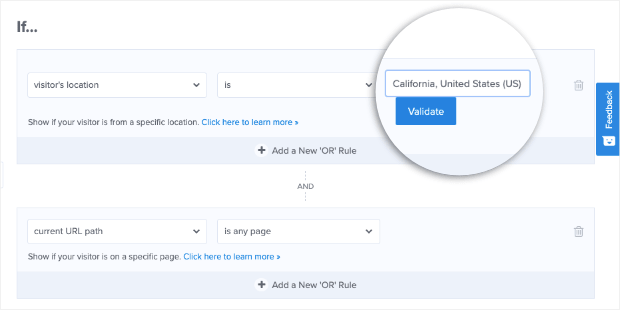 Once that's done, your campaign will only display in the regions you've pre-defined.
That means you'll grow your list with people who have the potential to be paying customers rather than people who came by your website on accident.
6. Send Weekly Promotions
Once you've grown your email list, now it's time to use it. How?
By sending promotional content that your audience will love!
There's one pizza chain, Papa Murphey's, that does this really well. Here's a Valentine's Day promotion they recently sent out: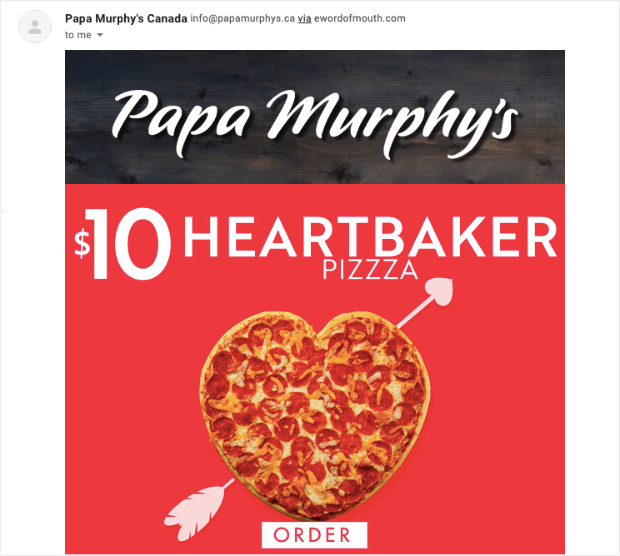 And while this example was specifically from a holiday promotion, they send weekly campaigns as well.
This usually includes coupons for $5 OFF or a discount of 20% on "orders over $30," but the result is always the same: by giving customers a concrete reason for coming into your restaurant, you'll increase the chances that they actually will.
Use your email list to send out these kinds of weekly promotions to see more sales for your business.
7. Collect Customer Feedback
Probably the most underused strategy for email marketing is using your list to get customer feedback.
This is extremely important.
That's because you want to build a quality relationship with your customers. If you do, you're more likely to have guests coming back to your restaurant again and again.
And the best way to know what your customers want or like is to ask them.
Use your list to send out a survey form asking about your customers' most recent experience. Here are a few best practices to keep in mind when you do:
Keep It Short: Keep survey responses limited to 3-5 minutes. If you make your survey forms too long, you'll harm the user experience (UX) and turn off customers.
Make It Timely: Create a system for sending an email to users shortly after they've eaten at your restaurant (like when they redeem their coupon, for example).
Give Them a Reason to Say "Yes": Give customers an incentive for filling out your survey. Offer a discount or free appetizer to get more data.
That last tip is essential. Because, in the end, you need to remember this: your customers don't owe you anything.
If they've eaten at your restaurant and they've paid their bill, they have no reason to keep engaging with your business.
But by offering lead magnets, promotional deals, and discounts, you can re-engage them and see more profits generated in the long run.
8. Optimize Everything With A/B Testing
Ok, so at this point, you've got your whole system dialed in. You:
Built an optin campaign with OptinMonster
Created a lead magnet to motivate people to subscribe
Targeted these campaigns to people in your community
Send weekly promotional deals to get more foot traffic to your restaurant
Gather customer feedback consistently
And things are improving. Now you can sit back and enjoy the progress, right?
Not totally. Because if you really want to be successful at restaurant email marketing, then "optimization" is the keyword.
The best way to optimize your success is with A/B testing.
A/B testing lets you duplicate your optin campaigns so you can make and test minor changes to images, text, video, and more.
Then you'll see which version of the campaign does best, and you can choose the winner.
Over time, this will let you be more confident that you're not leaving any leads on the table. But now there's just one problem:
You're not a statistician or a professional marketer.
How can you A/B test your optin campaigns without spending hours of time setting up or analyzing the results? Again, OptinMonster makes this easy.
With the click of a button, you can split test any of your optin campaigns: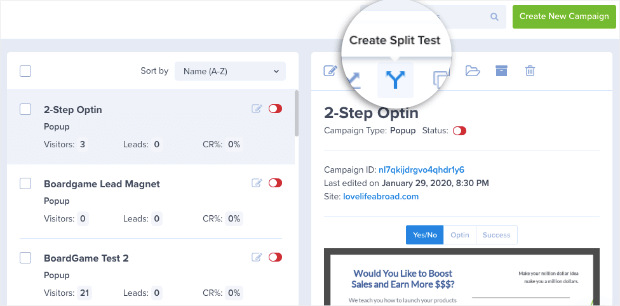 That will make a duplicate version of your campaign. You can then make changes to the:
Headline
Lead magnet
Image
Sign up field forms
And more…
You're changing one of these aspects to test whether or not the campaign will perform better than the original.
When the results are in, you can deactivate the other campaign and generate leads with the most effective optin form possible.
Want to learn more about how A/B testing can grow your list faster? Start here: 11 A/B Testing Best Practices You Can Use Today.
9. Clean Your List Regularly
Last but certainly not least, you'll want ot clean your email list regularly.
This is more important than you might think. Here's why:
Most email providers charge you by the number of contacts you have on your list (one exception is Brevo, which charges by emails sent).
So if you're list is loaded with contacts who aren't a good fit or won't engage with your emails, then you need to get them off that list.
Otherwise, you'll be paying for them to just sit there.
This is especially important in the restaurant industry. People may come from out of town to your restaurant and never plan on coming back.
Or you might have local customers move to another city where you don't have a restaurant chain.
Either way, you don't want people on your list who aren't engaged with your emails. And if too many people join your list without interacting with your messaging, your deliverability rates will suffer, too.
Large email services like Gmail or Hotmail try to keep SPAM and promotional content from their users' inboxes. In doing so, they look for signals like:
Open rates
Click-through rates
Bounce rates
And more…
These factors determine where your email ends up: your customer's SPAM folder or their inbox.
By cleaning your list regularly, you can ensure that your emails will end up where they're supposed to. Plus, it will get your promotional deals to the right members of your community.
As a result of all your list cleaning, you'll see more people coming in to eat at your restaurant and more profits generated.
And that's it! These have been the 9 best restaurant email marketing strategies to grow your business.
Grow Your Email List Today!
We hope you found this article helpful. If you did, you might also enjoy the following resources:
These articles will have everything you need to improve your restaurant email marketing strategy, grow your list, and get more customers.